Overclocking
The OC Touch Panel
Gigabyte has designed and included the OC Touch Panel for overclockers to edit clock settings on the fly. It is an addition PCB board that is attached to the motherboard that can control the BCLK or multiplier of the CPU. It will be useful for overclockers who want to maximize their benchmark scores. For example, during a portion of a benchmark, knowing that it will utilize all threads on the processor, the frequency can be reduced to ensure stability. When the benchmark reaches a single threaded test, the CPU clock can be increased to maximize the single threaded score.
Additionally, by plugging in an additional 4-pin molex plug, it can power up an additional 6 fans via the panel's 4 pin connectors.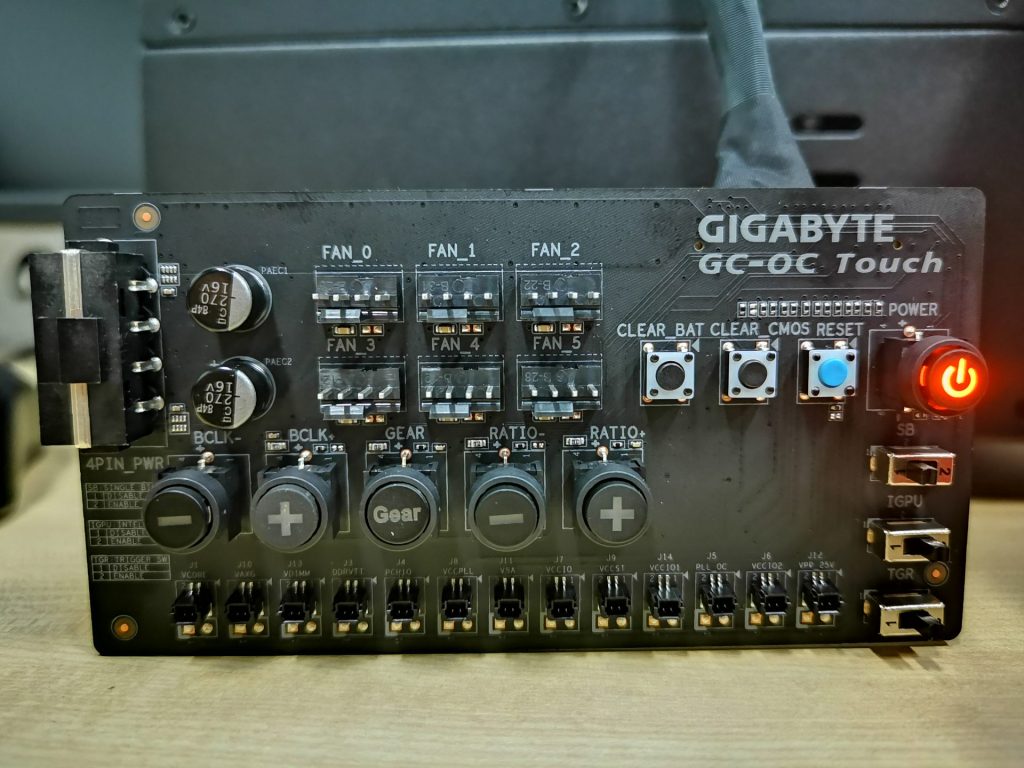 Moreover, there are also voltage readout pins at the bottom of the OC panel for overclockers to have an accurate reading of the current voltage of the various component of the system. This setup should be very useful for extreme users who know what they are doing with this motherboard. The layman should probably have no use for this accessory at all.

While the OC Panel is an interesting tool to have to overclock the system, we still decided to go with the more traditional way for the overclocking of the system. With the help of both the motherboard's BIOS and EasyTune software, we managed to get the system to complete Cinebench R15 benchmark at 5.25GHz. Do also take note that the stock CPU fan was insufficient to cool the CPU, and was swapped out with a AIO water cooling setup – Cryorig A80.

The overclock of the system gave a 9.5% improvement to the overall CPU score. However, users must take note that we did change the cooling solution in order to achieve such an overclock. If you do not have plans to upgrade to a more superior cooling solution for your CPU, such an overclock is quite impossible without any thermal throttling to the CPU.