Imagine you're in any one of these situations:
You're sitting outside the doctor's office at a clinic, waiting for your turn.
It's the weekend, you woke up but you're not ready to crawl out of bed yet.
Your Zoom meeting is delayed and you're just sitting at your desk waiting for it to begin.
You're at an awkward gathering and everyone else is using their phones.
Chances are, if you've ever found yourself in situations like these, you'd whip out your phone. For many of us, our go-to app is Instagram. In fact, the popular social media platform beats out TikTok, Twitter, Pinterest and Snapchat with roughly one billion monthly active users.
Despite its popularity, there are times whereby Instagram fails us – like any other app, Instagram falls victim to bugs that can cause issues like delayed direct messages or frequent errors while uploading pictures. Needless to say, such bugs are disruptive and are rather annoying.
If you've ever found yourself rage shaking (or throwing) your phone whenever Instagram malfunctions, we've got incredible news for you. Nope, Instagram didn't resolve all their bugs overnight. Instead, the team at Instagram has made reporting bugs and issues a whole lot more fun, thanks to the new "Rage Shake" feature.
What is "Rage Shake"?
Although it was introduced on Instagram in November 2021, "Rage Shake" is a feature that has been available on popular apps like Google Maps, Snapchat, and Facebook.
Simply put, "Rage Shake" on Instagram allows users to shake their phones, triggering a popup that allows them to report faults or errors in detail.
If that sounds like something you want to make use of, follow these steps to enable "Rage Shake" on Instagram.
How to enable "Rage Shake" on Instagram?
To enable the "Rage Shake" feature, you're going to have to report a problem on Instagram the "normal" way first.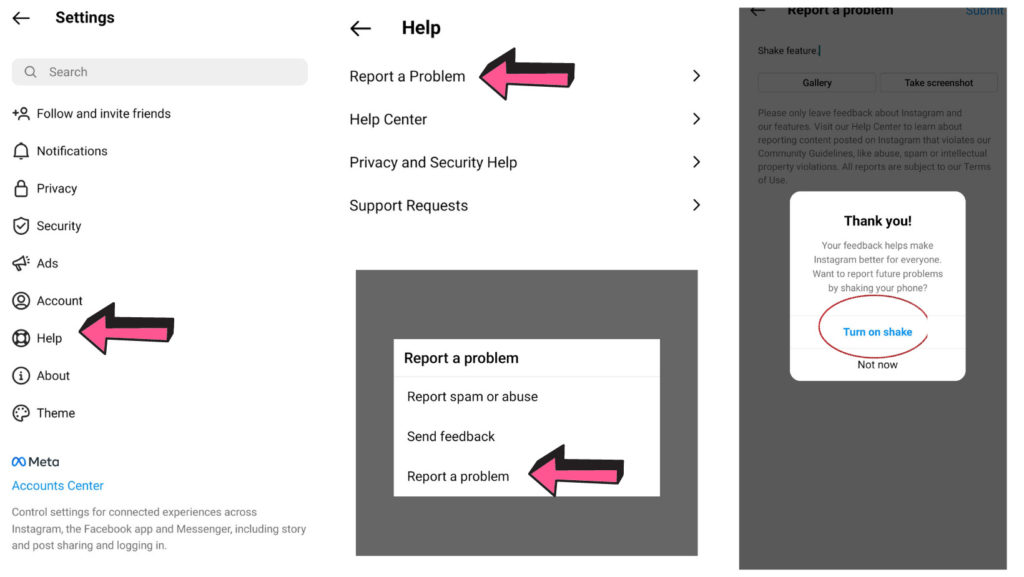 To do so,
Click on the hamburger menu on the top right of your Instagram profile page
Tap on "Settings" > "Help" > "Report a Problem" > "Report a problem"
Type something into the text box that appears and click "Submit"
A pop-up will appear thanking you for your feedback. Click on the option to "Turn on Shake" to enable this feature or "Not now" if you don't want to do so now
After you've turned on the feature, try shaking your phone. You should be prompted to report a problem that you're facing with the "Something isn't working" option.
Congratulations! You can now unironically rage shake your phone and have Instagram solve your problems!
How to disable "Rage Shake" on Instagram?
So, you've tried the feature and realised that it isn't good for you. Perhaps rage shaking your phone isn't good for your rage. Or maybe the feature makes you want to throw your phone in anger.
Here's how you could disable the "Rage Shake" feature after enabling it previously.
To do so,
Shake your phone until the prompt for you to report a problem appears
Instead of clicking "something isn't working", click "Disable shake"
There you have it, "Rage Shake" will be disabled in two simple steps. If you solved your rage issues and want to get back the feature, simply follow the steps in the previous section to enable the feature again!
Why you should turn on "Rage Shake" on Instagram?
"Rage Shake" allows for immediate error reporting, saving time and effort spent navigating through the settings menu to find the report option. It's quick and easy for users.
But more than that, according to Adam Mosseri, head of Instagram, the feature would help developers prioritize bugs and other issues that need to be fixed right away.
Clearly, "Rage Shake" isn't just a cute and fun feature with no real thought behind it. Along with other Instagram features, it adds to the overall user experience of the popular app.
For more how-to guides of your favourite apps and platforms, check out: