Sudio is known to many as a premium wireless earphones brand. We've previously tested many Sudio products, such as the Sudio Elva, Ett, Fem and many more. While generally, most of the brand's products are well designed, we realized that there were hits and misses when it comes to audio quality. This time, Sudio has released the Sudio Nio earlier this year as a new contender for an affordable truly wireless earphones lineup.
The Sudio Nio are designed with a rather popular minimalist design. They look similar to the Apple Airpods but are in fact targeting a different segment of customers. Firstly, the Sudio Nio comes at a retail pricing of S$129, significantly more affordable that what the other premium brands are offering. Of course, in this review article, we are going to see if the Sudio Nio is worthwhile for your considerations, even if it's much cheaper than expected.
Sudio Nio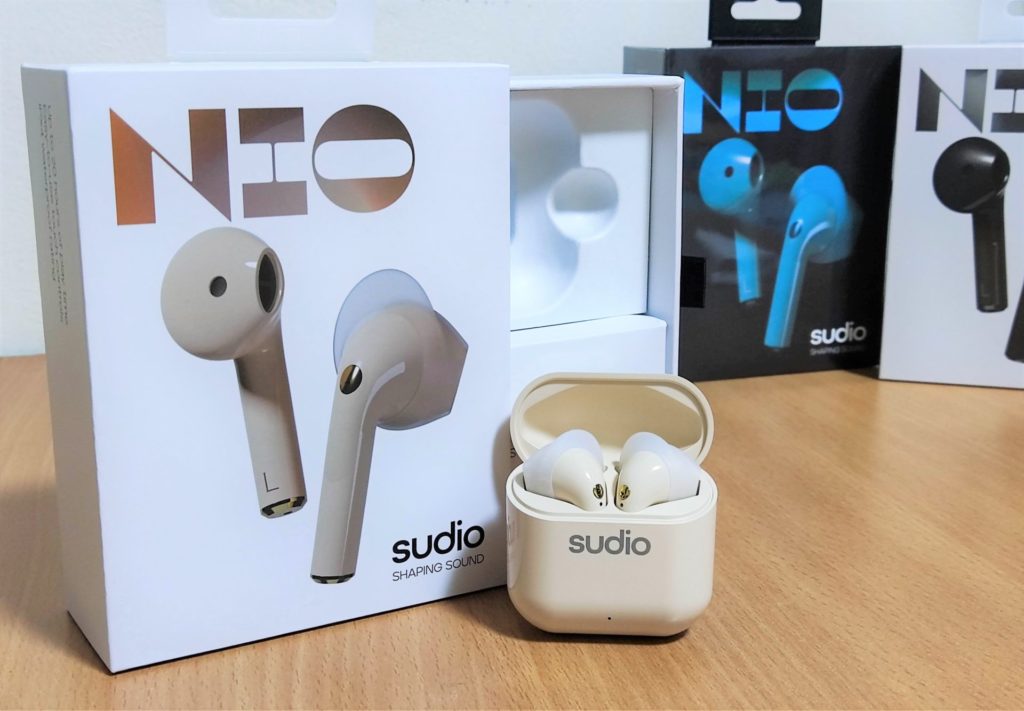 Sudio brands the Nio as earphones for the people. They aim to work well in all the different kinds of settings you use it, be it during your travels, or even when you are doing your sports. This is why, the Sudio Nio is also rated IPX4, which means that it is resistant to splashes of water. It also features an "adaptive dual-microphone technology" which is designed to filter out noise when you are on a call.
While all these features are interesting, what we really want to know more about this product is its usability and audio performance. But before that, let's take a closer look at this set of wireless earphones.
The two sides of the earphones fit nicely into the little charging case, as the case contains magnets within them that sets the earphones into position. As you can see, the whole charging case is also designed to be very small and portable to be brought around easily.
Charging is done only via the charging case, and it is charged with a USB Type-C port.
To customize the fit of the earphones to your preference, there are a total of 4 sets of wingtips of different sizes. Inside the box is also a quick start guide and a USB Type-C charging cable.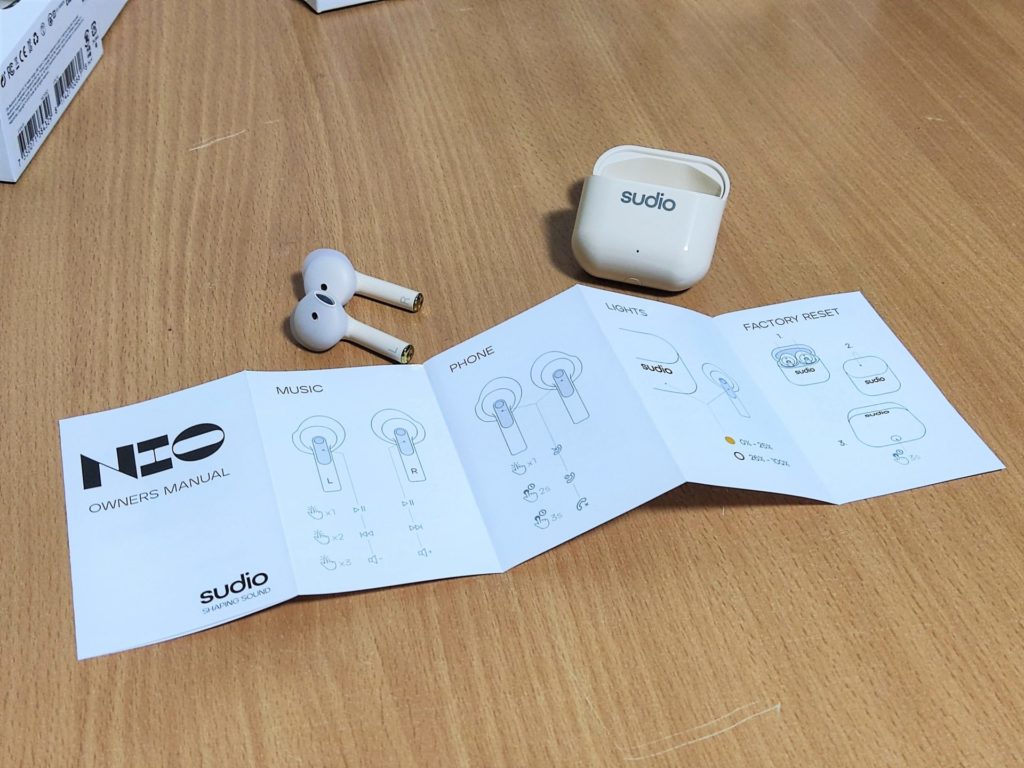 Similar to its predecessors, the earphones also make use of a touch sensitive body that allows you to have quick access to various playback and audio control actions.
For those who wants a nice leather case for your Sudio Nio earphones, you can also consider what Sudio offers from their official store. What we had for review is a simple Apple Skin leather case which fits the charging case nicely. However, we do find that there is an extra step to retrieve the earphones when using the leather case. It still looks stylish though.
Specifications
| | |
| --- | --- |
| Compatibility | Android, iOS |
| Bluetooth Wireless Version | 5.0 |
| Play Time | Up to 20h total |
| Sweat Resistant | IP X4, for daily use |
| Codec | SBC |
| Built-In Microphone | Yes |
| Range | 10m |
| Wireless | Yes |
Now let's get to the real review. Here are our thoughts.
Usability
We liked the fact that Sudio has included multiple sizes and styles of wingtips for you to customize the fit of the Nio into your ears. What we realized is that the choice of wingtips not only greatly affects the fit, but also the audio style of the earphones.
We found that the overall usability design of the Sudio Nio was lacking. Our time using the product was not pleasant, as there were several aspects of it being unintuitive.
Firstly, getting the earphones out from the charging case is not easy. As mentioned earlier, the earphones are secured into the case with magnets. That's great, but the magnets used are considerably strong that I often found it difficult just to take out the earphones. The wingtips on the earphones don't help either, as they are also slippery to touch. Sometimes, I had to resort to pulling the wingtips with my fingernails or more exaggeratedly, use something with a sharp end to get the earphones out.
As the Sudio Nio aren't in-ear earphones, it can be expected that they will feel insecure while placed in your ears. Of course, you would want to push the sides of the earphones into your ears as the earphones start to get loose from your ears. However, it often causes me to inadvertently activate the quick actions and pause my song.
Using touch controls for audio is not straightforward. We've previously complained about this with the Sudio Fem, and the Sudio Nio faces the same problems as well. Basically, to pause or play, you would tap the earphones once. To skip to the next/previous song, double tap on the right/left earphones, and make it three taps for volume control. In spite of the understandable controls, the earphones do not provide feedback whenever taps are registered
Not to mention, the sensitivity to touch is needs to be improved. It is required to touch the earphone's sweet spot, and with a precise amount of force. Quite often, the earphone registers the unintended number of taps, and I do find myself resorting to taking out my media device to control directly. Thus far, our experience with such touch controls have not been satisfying.
Audio quality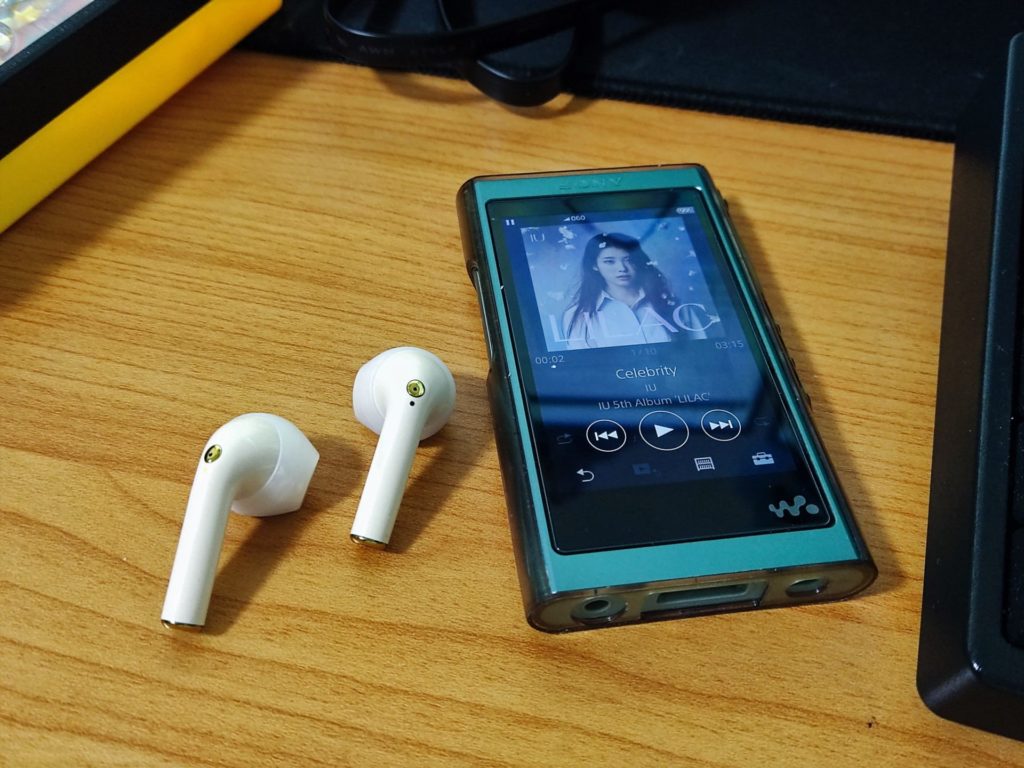 For our listening tests, we have our trusted Sony NW-A55 as our media player.
The first thing we realized is that the Sudio Nio only supports SBC codec. Thus, we can't really expect any high resolution or lossless audio to be streamed to it via Bluetooth. Its support for the latest Bluetooth 5.0 does still bring about several nice improvements like Bluetooth Low Energy, etc.
The Sudio Nio is somewhat a unique product, as the fit of the earphones directly affects how it appears to sound to you. If you make use of the wing tips that are smaller, resulting in a tight fit into your ears, you will realize that the earphones were able to produce a very warm sounding style. This, however, removes the clarity one would expect from a typical earphone.
While with a more loosely fitting wing tip, things start to get slightly better, but still far from what we expect from a good sounding pair of earphones. Generally, the earphones lack clarity, as all the different parts of a song or music do not have proper separation. There also wasn't a focus on any parts of the frequency range – and everything sounded rather flat.
Moreover, as these are not truly in-ear earphones, do note that some form of sound leakage is expected.
Final Words and Conclusion
The Sudio Nio makes their focus pretty obvious with the "Airpods" design and availability of different colors (white, black, green, sand and aurora), which is targeted towards the youthful crowd. However, it does lacks noticeable focus in two important factors: usability and audio quality. These two, in addition to a sleek design, is required of a good pair of wireless earphones in our opinion.
Definitely, Sudio has a lot of room to improve when it comes to the Nio, as it is an earphone with several steps backwards compared to the rest of their products.
The Sudio Nio is not for those who are looking for good audio quality with a defined sound signature. However, if you want to be in with the youths, the Sudio may still meet your requirements. If you're interested, you still can use our discount code 'techrevo' at checkout to get 15% off.