Sudio is a brand that should be familiar to many of our readers, as we've been reviewing products from the same brand since 2016. From 2017 and onwards, the brand has been focusing mainly on truly wireless earbud products, competing in a crowded market dominated by the Apple AirPods and other prominent brands such as Samsung, Sony, Sennheiser and Jabra. The Ett is the latest addition to Sudio's lineup of wireless earbud range.
The Sudio Ett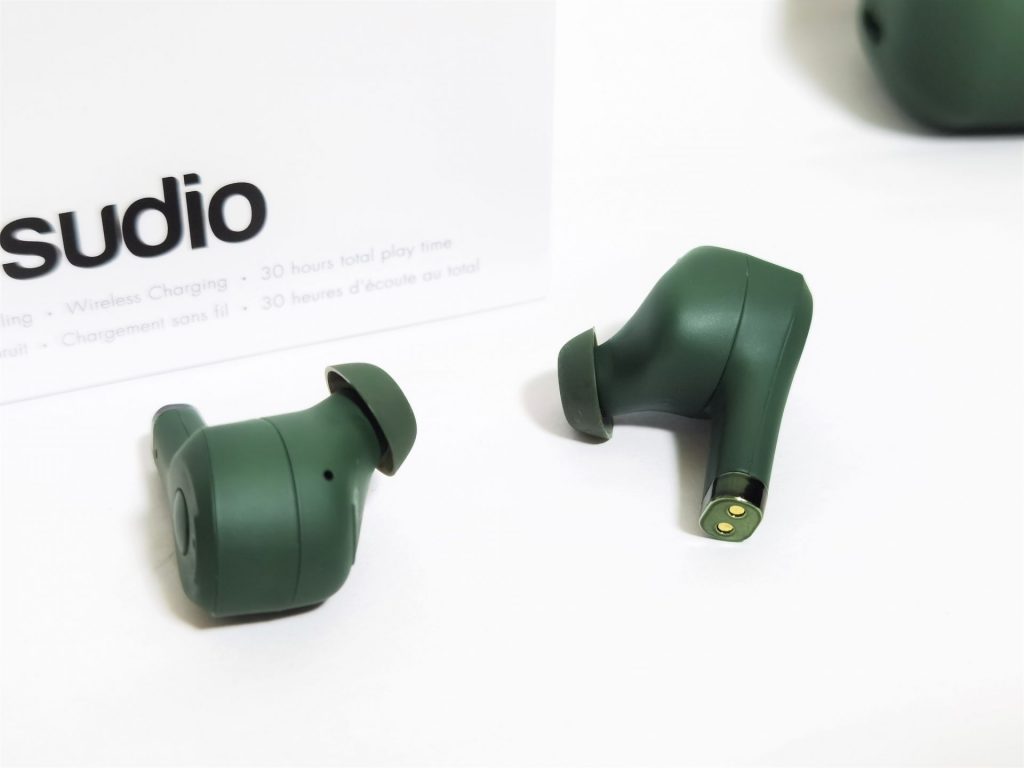 Like its predecessors, such as the Sudio Fem, Sudio Tolv and Sudio Niva, the new Sudio Ett are bluetooth wireless earbuds. The main difference of the Sudio Ett is that is it the brand's first wireless earbuds that comes with Active Noise Cancelling (ANC) feature. ANC works by using the microphone on the earbuds to detect the environment noise, and then neutralizes it before it reaches the ear. This is achieved by the generating sound that is phase-inverted by 180 degrees to the unwanted noise, resulting in the two sounds cancelling each other out.
Other than ANC, the Sudio Ett is also the first in its series to feature IPX 5 rating. This means that it will be perfect for use in the outdoors, and will be especially useful for enjoying music while exercising.
The Sudio Ett also come with its own charging case. After listening from users, Sudio has redesigned the charging case and made them even more portable than ever. The charging case is now smaller than before, and it fits really nicely in the pocket.
| | |
| --- | --- |
| Compatibility | Android, iOS, Windows |
| Play Time (with ANC enabled) | 20 hours (4 hours in a single charge) |
| Play Time (without ANC enabled) | 30 hours (6 hours in a single charge) |
| Range | 10m |
| Built-in microphone | Yes |
| Bluetooth Version | 5.0 |
| CODEC | SBC |
| Water Resistant | Yes – IPX 5 |
| Wireless Charging Support | Yes |
Inside the Box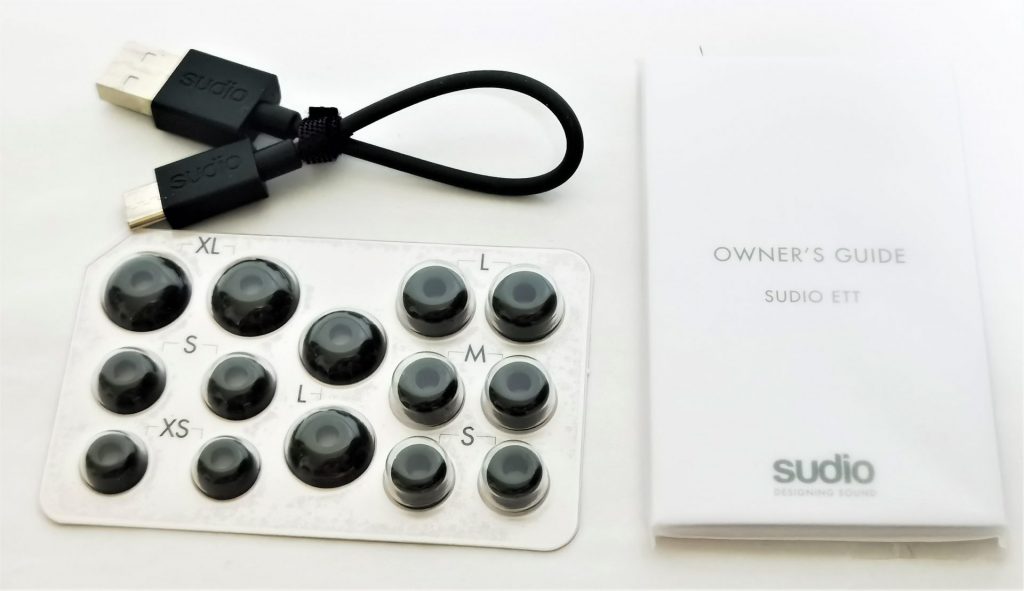 Within the box, there are 7 pairs of earbuds for you to ensure that you have the perfect fit to the Sudio Ett. Do make sure that you choose the right earbuds with the right fit, as it will affect sound quality and comfort. Other than than, there is also a Owner's Guide which explains how you can operate the Sudio Ett earbuds.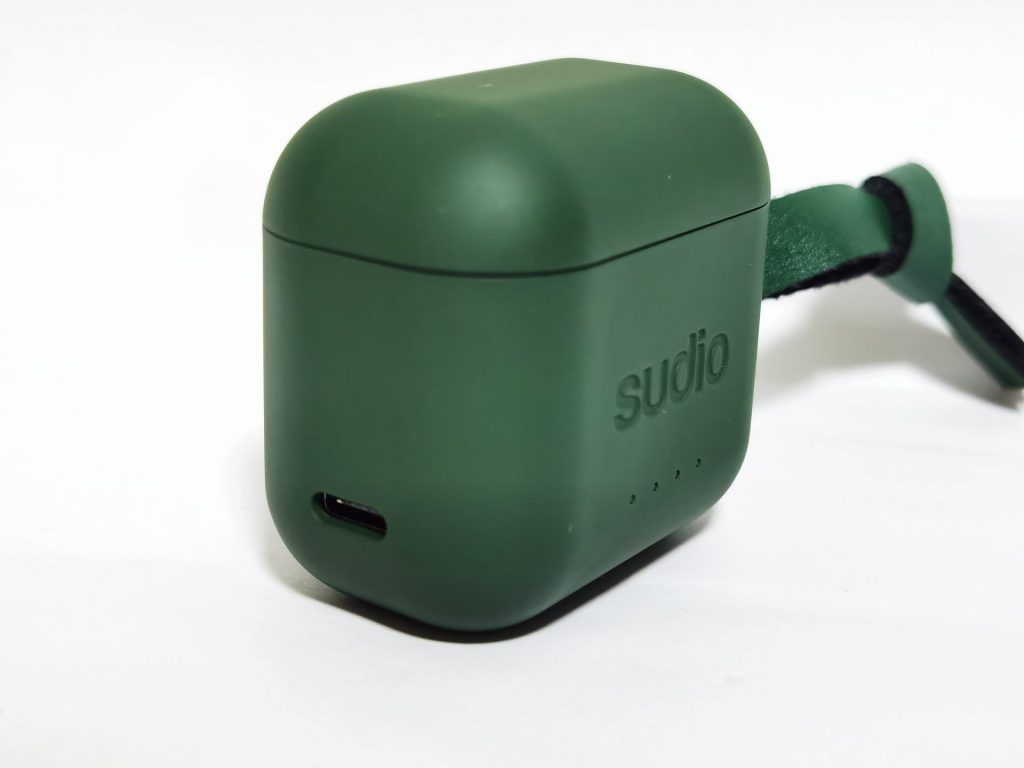 Sudio has also included a short USB Type-C cable for wired charging of the charging case. If you have a supported Wireless Charging Pad, the Sudio Ett's charging case also supports wireless charging as well! That's something quite useful and unique. With some smartphones that supports reverse wireless charging, such as the Samsung Galaxy S10 series and the Huawei P30/P40, Mate 30 series, you can even charge your wireless earbuds' charging case on the go without any cables.
Usage Experience
One of the most obvious upgrade to the Sudio Ett is its button design on each earbud. In its predecessors, they were touch sensitive buttons which lacks touch feedback. Now, the Sudio Ett comes with actual physical buttons. This allows users to be certain of their button presses, making it a lot straightforward to access quick controls.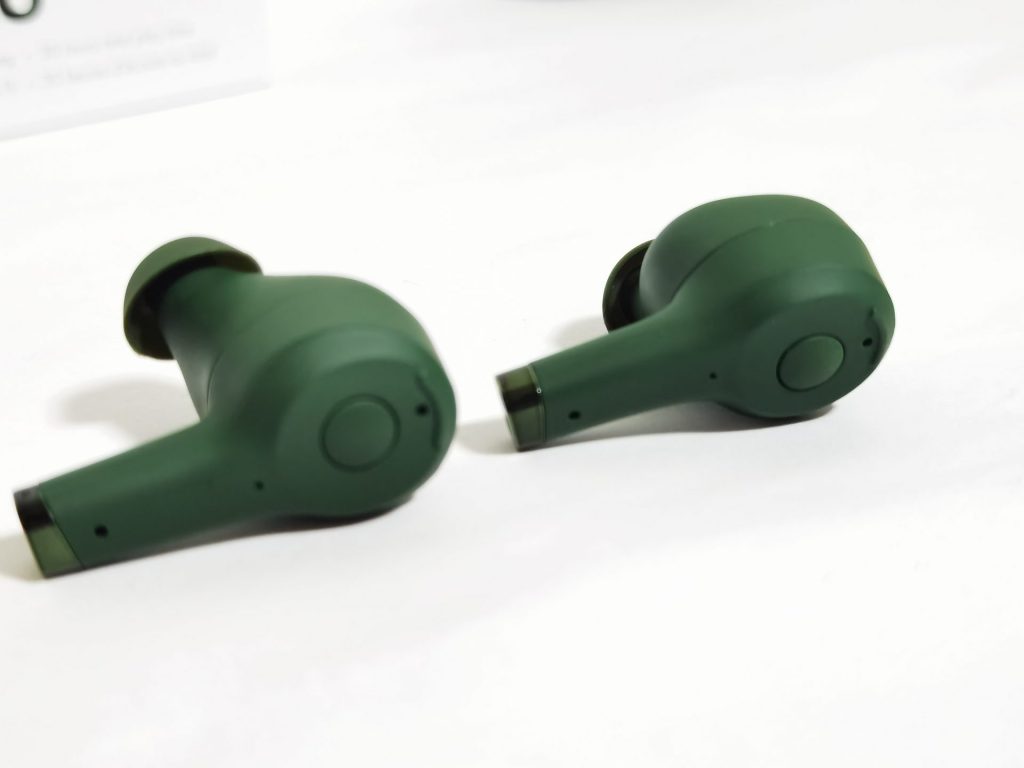 With these physical buttons, the quick controls makes so much sense now. You can confidently control your music playback with these buttons as such:
– Music –
-Phone calls-
-Turn on/off the earbuds-
-Turn on/off active noice cancelling (ANC)
One click: Pause and play music
Two clicks: Jump to the next song
Three clicks: Go back to the previous song
One click: Receive/end a phone call
Press and hold for 2 seconds: Reject a phone call
Press and hold for 6 seconds: Turn off
You can only turn them off by pressing the button for 6 seconds.
In order to turn them on, put Ett back in the charging case and take it out.
Press and hold for 2 seconds
Most controls are rather straightforward and easy to remember. However, we realised that you had to use two clicks to jump to the next song, and three clicks to go back to the previous song. It's certainly something that quite troublesome. In the past, we simply had to use two clicks on the right earbud to move to the next song, and two clicks on the left earbud to move to the previous song.
Perhaps, this change in operation mode is to allow better adaptability to single earbud mode. Yes, you still can listen to your music even only with one earbud in your ear while the other continues charging in the case. Moreover, we also found out that switching between single earbud mode and dual earbud mode was also a breeze. There's no additional settings required and pairing will just work automatically, regardless if you have one or two earbuds.
Another factor that we really liked about the Sudio Ett is that it's really light and fits really well in the ears. While listening to music, it is as if there is nothing in your ears, and you are free to walk about and enjoy the audio experience.
Battery Life
On a single charge, we only managed to get about 3 hours 45 minutes of playing time from the Sudio Ett with ANC enabled. This should be more than sufficient for your daily commute, or even exercising. However, if you want to use it for listening for a longer period of time, perhaps you'll have to look at alternatives.
The trouble with these wireless earbuds is that if they run out of battery, you will be out of luck to use them while concurrently charging. Luckily, we found that the Sudio Ett earbuds were able to charge up quite quickly and provided a few more hours of listening time with just about 30 minutes of charging time.
Sound Quality
We've got to say that the ANC feature worked adequately well. It was able to cancel out most of the ambient noise in the background, allowing us to simply focus on the music. At the same time, the ANC technology does not create an overbearingly quiet void like what some competing products offer. It's just the right amount of noise cancellation.
Before delving into sound quality, we must always state that sound quality is subjective. What I think is good or bad may not be the same for you. These are my personal opinion, and please take these comments with a pinch of salt, as you may feel differently when you get to test these earphones for yourself.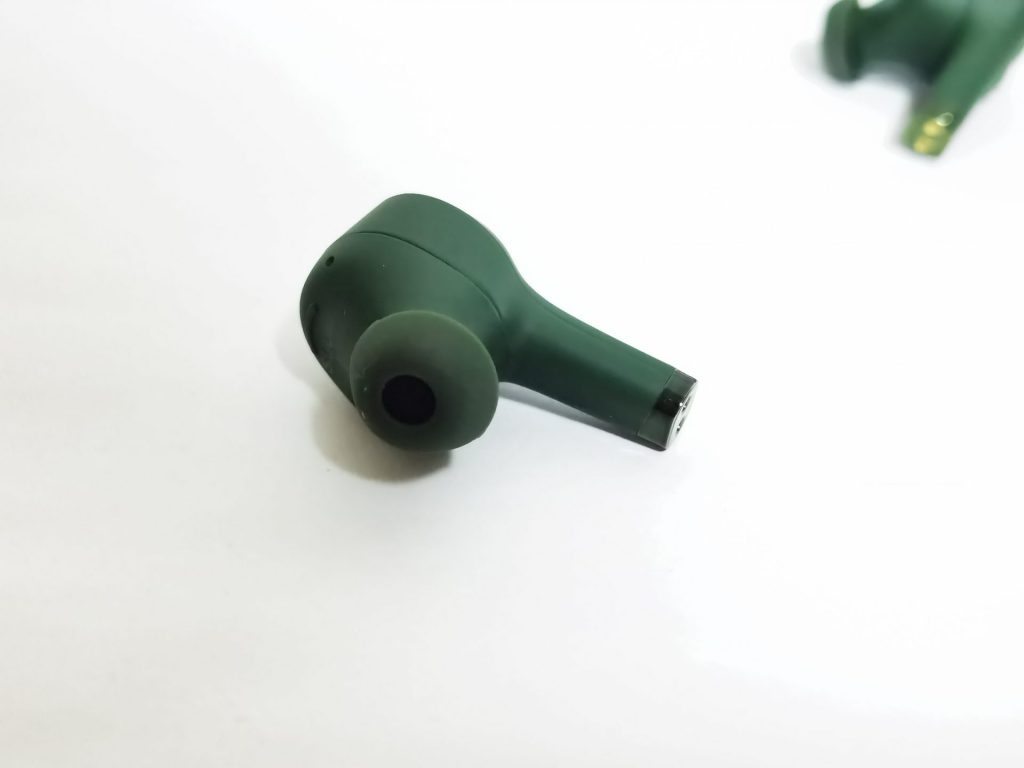 Honestly speaking, the Sudio Ett isn't the best sounding earbuds which we've tested. We would like to put the blame on the lack of a high bit-rate bluetooth streaming codec (the Sudio Ett only supports a low bit-rate SBC codec) such as aptX or aptX-HD. This prevents expressive and uncompressed music to reach the earbuds in its full glory. Audio will be compressed and many details will be lost.
Generally, we would say that the Sudio Ett has a focus on the mids and the mid to high frequencies. Vocals sound nice and up close to you, especially with the added ANC features. Percussion instruments and drums also sound rather defined and crisp, but there was a lack of impactful bass. Even though the Sudio Ett has got this kind of rather pleasing sound signature, the most glaring downside of it is that it lacks clarity and across all frequencies. There are many moments where we could hear awkward moments of distortions and crackles, which was made even more obvious with ANC turned on. The earbuds were extremely limited in bringing out the true expressions of the music, making things dull.
Or perhaps, it's just because we've been testing more high-end audio products, until that everything not as good just sounds bad. Honestly, I just think that the general audience will still think that the Sudio Ett will sound perfect for that. That's just because you haven't tried something even better.
Conclusion
I can see the Sudio Ett becoming the daily driver for many people out there who are not too particular with audio quality. It's new and improved features and design such as ANC, water resistance and wireless charging has made it a truly usable product. We also liked the fact that Sudio has added physical buttons on the earbuds for improved handsfree playback control, as well as a smaller charging case for better portability.
However, we just got to say that the Sudio Ett fails to meet our mark for audio quality. The whole audio stream coming out from the earphones just sounds muffled, even though we were streaming high-quality lossless music to it.
Regardless, if you are interested in the Sudio Ett, you still can purchase it from the Sudio Web store at www.sudio.com. Use promo code techrevoEtt to get 15% off your purchase. Also, get a new Sudio tote bag for free with every purchase from sudio.com (Until end of July, or while stock last).
Specially for Black Friday, Sudio will also be having a 35% discount from November 23-30, 2020. You can use the discount code "techrevo". For Ett, the price will only clost SGD 157.02 after discount.