The thin and light notebook category is usually neglected by PC manufacturers. Sometimes, users aren't just looking for over the top performance machines that weighs a hell lot. But rather a simple and ultralight system with good enough performance for everyday office use. That is why when ASUS presented the ExpertBook B9450, we needed to get our hands on it to test it out.
The proposition that the ASUS ExpertBook B9450 presents is simple. Bring the newest 10th Generation Intel Core processors to an extremely lightweight laptop. The weight of the Expertbook sets it apart from any other competing products in the market. Weighing just 870g (wutwhaattt), the ASUS ExpertBook also comes with the latest Intel Core i7-10510U, 16GB LPDDR3 system memory and a 1TB NVMe SSD storage. Just based on the specifications, the notebook is made to perform – but can it meet our expectations?
ASUS ExpertBook B9450 – Specifications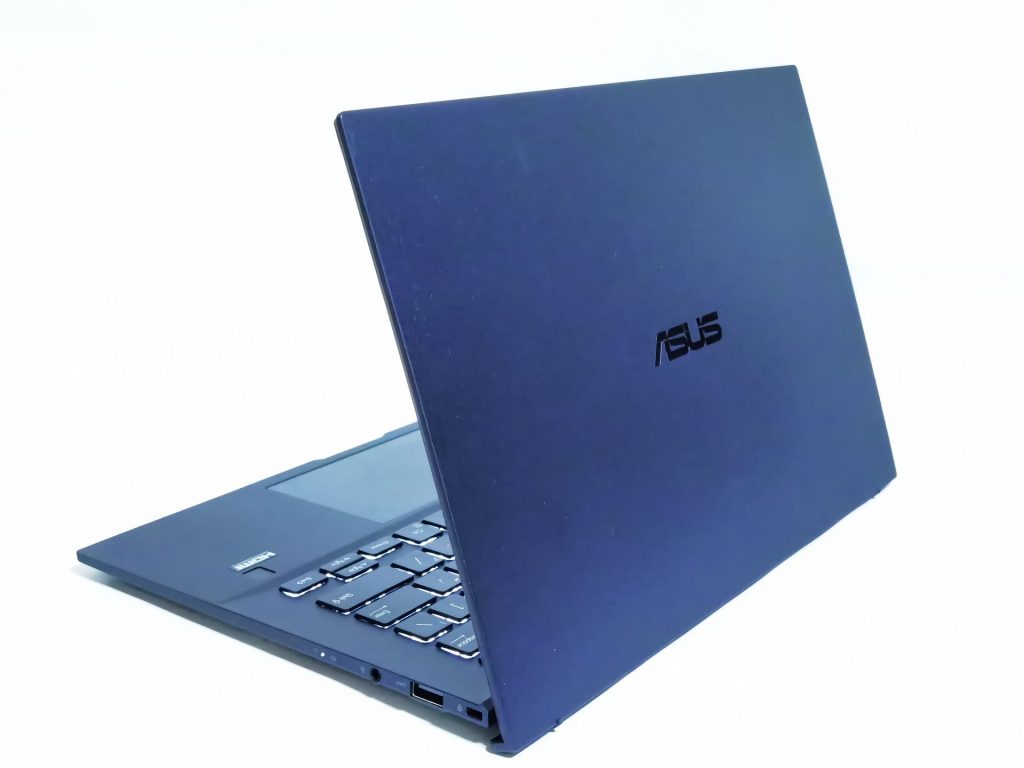 Feature
Technical Specifications
Processor
Intel Core i7-10510 Processor

1.8GHz quad-core with Turbo Boost (up to 4.9GHz) and 8MB cache

Graphics
Integrated Intel UHD Graphics 620
Display
14" LED Backlit, IPD Full HD (1920 x 1080) anti-glare screen
Memory
16GB 2133MHz LPDDR3 (onboard, soldered)
Wireless
Wifi 6 (802.11ax)
Bluetooth 5.0
Onboard LAN chip
Battery
33Wh 2-cell lithium polymer battery
Weight
0.870kg
Dimensions
14.9 x 320 x 203 mm (Height x Width x Depth)
What's in the box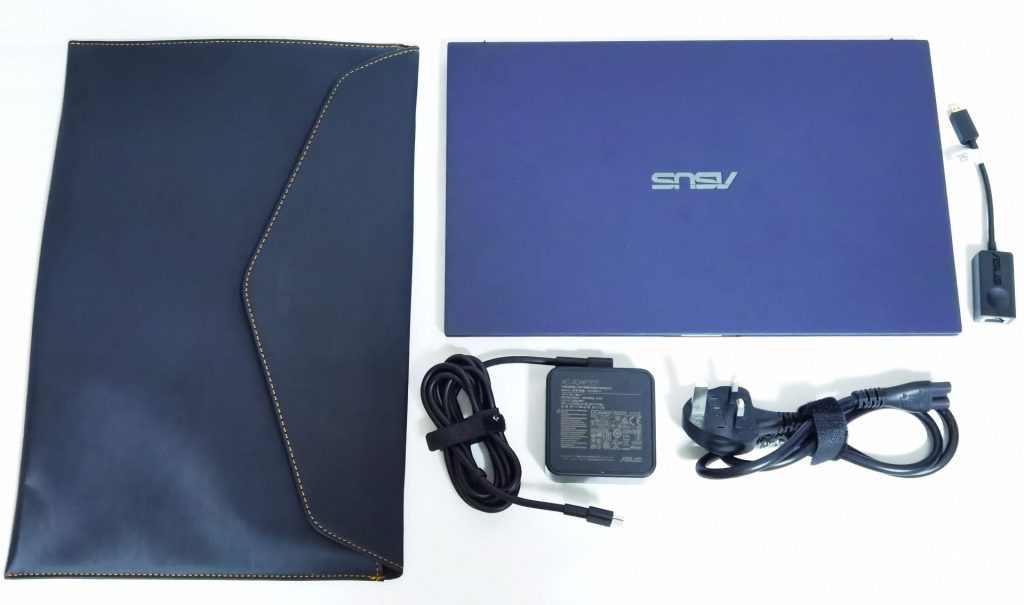 With the purchase of the ASUS ExpertBook B9, it also comes with sleeve case and MicroHDMI to RJ45 Ethernet Port. Of course, the power adapter (65W) that charges the notebook via a USB Type C interface also comes in the box.
Input / Output Ports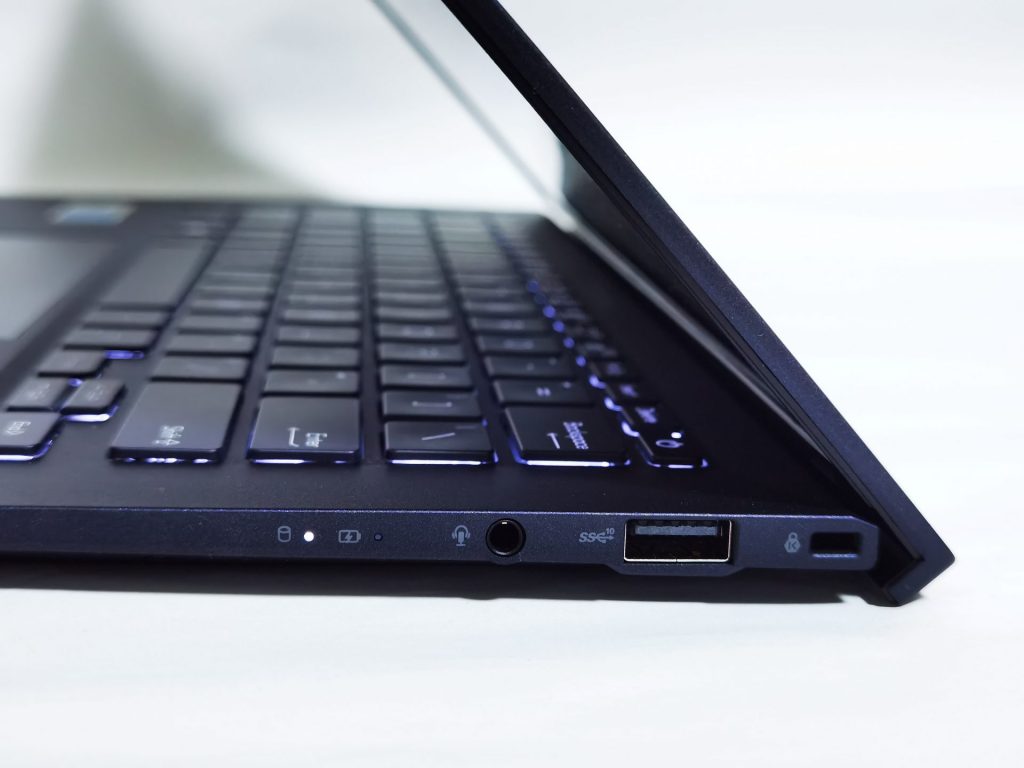 On the right hand side of the design, there is a Microphone/Headphone combo jack, a USB 3.2 Gen 2 port which has a bandwidth of 10Gbps. Further on the edge, we can also see a kensington lock port.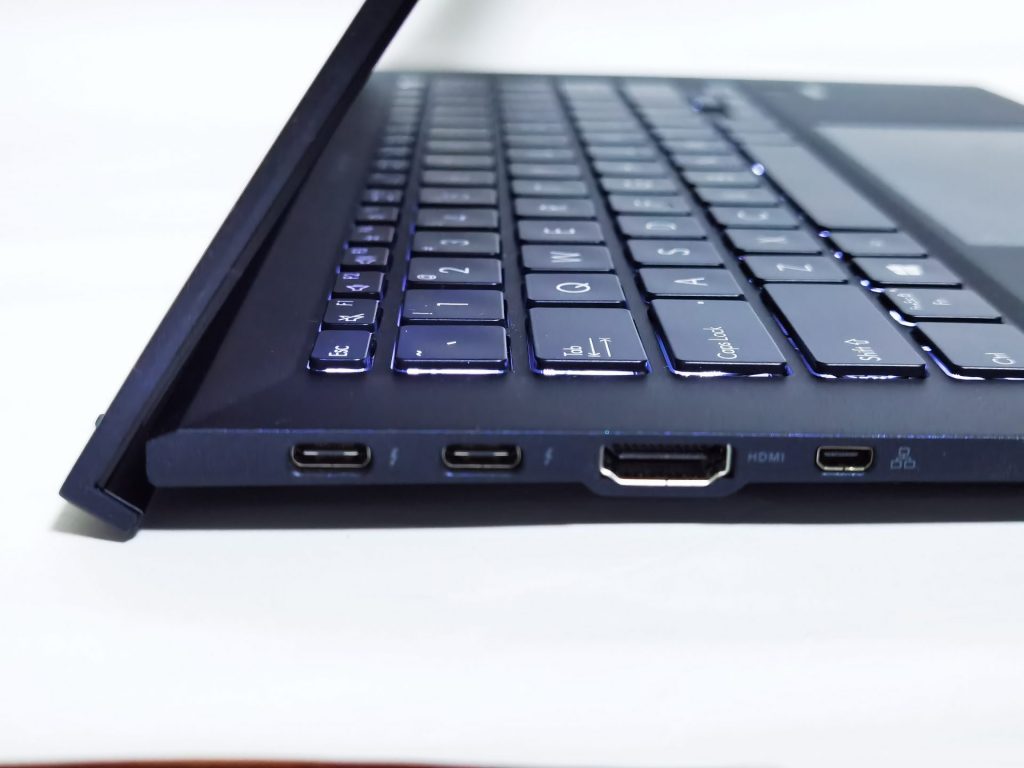 On the left side of the ASUS ExpertBook B9, there are two Thunderbolt 3.0 ports which comes in USB Type C interface. There is also a full-sized HDMI port for display output. Lastly, there is a single micro HDMI port for a wired Gigabit Ethernet connection.
In case you're confused just like us, ASUS had indeed went with a micro HDMI interface to transmit Ethernet signals to a full RJ45 port via a converter that comes within the box. HDMI specifications allows the interface to handle Ethernet signals, but it just isn't used commonly. Moreover, such an adapter will be very rare in the market. It can even be considered proprietary to ASUS. This is also why we recommend that you keep good care of this adapter, as you wouldn't be able to find one out in the open market (at least not from ASUS).
We can understand that ASUS went with a micro HDMI port in order to keep it the port small. However, something more common, such as a mini ethernet port, will probably be more conventional and sensible.
The reason that there is a need for such a unique converter is due to the usage of the onboard Gigabit LAN chip. Other manufacturers usually include an additional USB Ethernet LAN adapter, but to improve performance and reliability, ASUS went with such a design instead. Honestly speaking, we thought that regardless of either implementation, both works. However, their implementation method seems more complex, leading to workarounds (usage of an non-conventional adapter) to achieve something that's actually quite simple.
Industrial Design
The ASUS ExpertBook B9 looks like the perfect companion for any professionals. Don't be deceived by the simple design and the weight of this notebook, as it is equipped with some latest technologies available. Unlike the popular Zenbook series, the ExpertBook B9 managed to keep itself a lot lighter with the use of a magnesium lithium alloy body. Yes – even though it looks and feel a lot like plastic, it's actually metal.
The unique choice of magnesium lithium alloy allows the ASUS ExpertBook B9 to achieve both its light weight and durable properties. This notebook has even passed the MIL-STD 810G certifications, which a United States Military Standard. This means that the ASUS ExpertBook B9 is even able to withstand drops or bumps and operate in hard environments. The certification is a testament of the benefits of magnesium lithium alloy for notebook computers.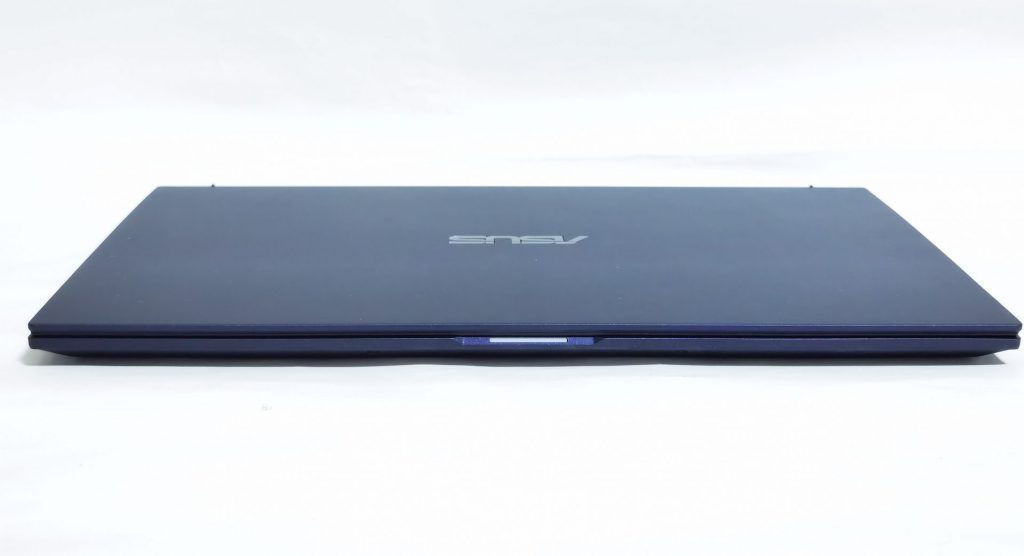 The ASUS ExpertBook B9 is created for the work environment. This is why its design is also kept minimal. Forget about over the head RGB lighting or fancy over the head design features, the ExpertBook keeps thing professional. It only comes in a single colour – Star Black. But don't be misguided, it's actually more like midnight/dark blue.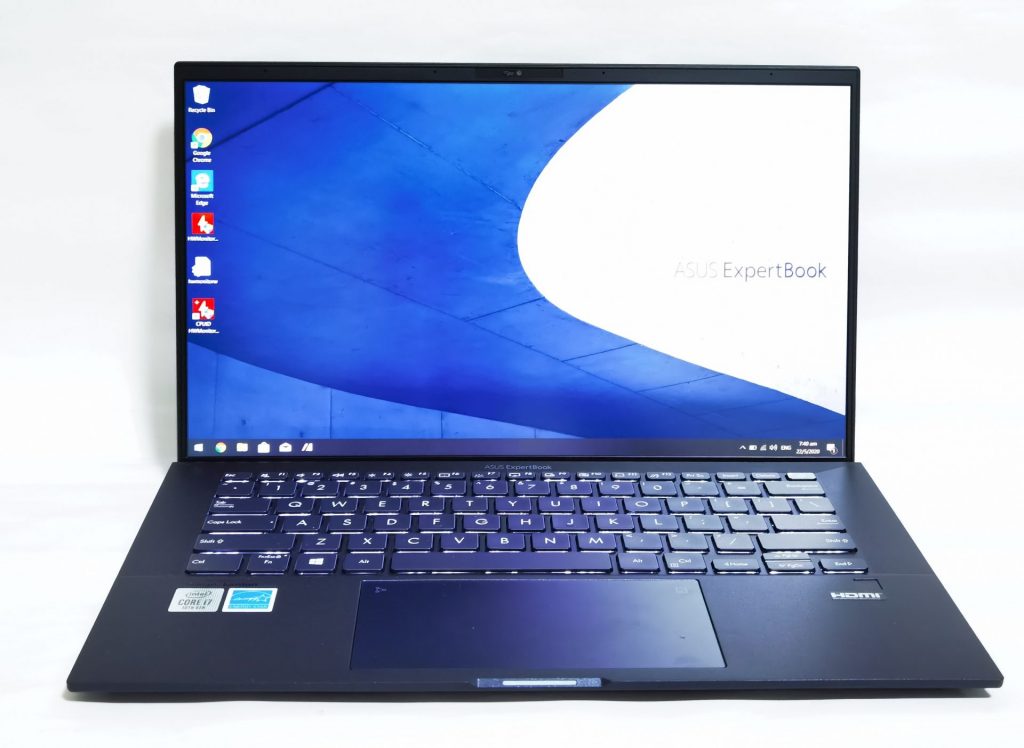 Hinge Design
If you are familiar with the Active Aerodynamic cooling system found on the ROG Zephyrus gaming notebooks, you will realise that the ASUS ExpertBook B9 has also inherited the key concepts of it. When the base of the notebook will be slightly lifted to ensure that there will be sufficient airflow to the bottom part of the system. At the same time, the angle of the keyboard also makes it easier to type. This is known as the ErgoLift hinge design.
Other than ergonomics and better airflow, ASUS also states that it will improve audio resonance, as the space between the notebook and the platform acts as a sound chamber.
Bezel-less
Of course, being one of the latest designs from the ASUS Design team, the display on the ASUS ExpertBook B9 comes with very thin bezels. Usually, most notebooks claim that they are bezel-less, but only covers the top, left and right portion of the display. You can see the example of what I mean in our review of the LG Gram 13. The ASUS ExpertBook B9 has managed to achieve the impossible, maximizing the display area on the notebook and leaving out all the pointless space. If you hold this notebook in your hands, you would have thought that you are holding on to a 12 or 13 inch display notebook, but in fact, it has a full 14-inch display.
Enhanced Security
As a notebook designed for professionals, security and privacy features are equally important as well. This is why we can see that the ExpertBook B9 has adopted multiple security features to assure that their data is kept well within the system.
In our recent review of the Dell XPS 13 2-in-1, we saw that Dell did not manage to integrate an IR Camera for Windows Hello facial recognition authentication with its log in support. This is because of the thin bezels that support the display. With the ASUS ExpertBook B9, we can definitely see that what Dell claims is an excuse. It's definitely possible to include a Windows Hello Capable webcam on thin bezels.
Moreover, the Webcam on the ASUS ExpertBook B9 also comes with a privacy shield. You can slide a physical cover over the webcam to cover its lens.
Other than the IR camera for Windows Hello, the ASUS ExpertBook B9 also comes with an integrated Fingerprint sensor. You can use either authentication method for Windows Hello authentication.
Inside the ASUS ExpertBook B9450
It's quite easy to remove the base cover of the ASUS ExpertBook B9. However, it is limited in its upgradeability, as both the RAM and CPU are already soldered onto the motherboard. The only component that can be easily upgraded is the system's SSD. There are two M.2 SSD slots, with only one being used. If you are looking to add an additional drive on the ExpertBook B9, you can actually do so.
You may have also realised that the battery takes up a slightly smaller area that usual. This is because, the ASUS ExpertBook B9 SKU we has a smaller battery at 33Wh. Another SKU, which comes with 66Wh is also available. Regardless, the battery life of this device is still not too shabby. In our PCMark 10 Modern Workload Battery Life test, we managed to get 9 Hours 44 minute while draining the battery from 100% to 5%. It's definitely more than enough for a full day of work, and we are satisfied with that.
Usage Experience
Track Pad and Keyboard
Just like any other modern notebook computers, the trackpad must be big enough. While you may think that a larger trackpad is just simply like a trend taken from Apple notebooks, in fact, it's not. A larger trackpad makes it easier to drag and drop items across the screen. It also helps you to have more flexibility when operating with Windows 10.
Personally, I felt that the trackpad on the ASUS ExpertBook B9 does not seem to be as responsive as what it's like on other competing device. There is a very slight delay with user input to what's responded on the screen. Hopefully, ASUS will release improved drivers to fix this issue.
Of course, being a premium ASUS product, following the norm is just not good enough. This is why, they have included the ASUS exclusive NumberPad 2.0. The NumberPad 2.0 is an LED-illuminated numeric keyboard that is activated with a single-touch of a touch button on the top right corner of the trackpad. This makes up for the lack of a physical keypad on the ExpertBook B9. I found it to be quite useful, especially when this feature is used with the Calculator or Microsoft Excel on the PC.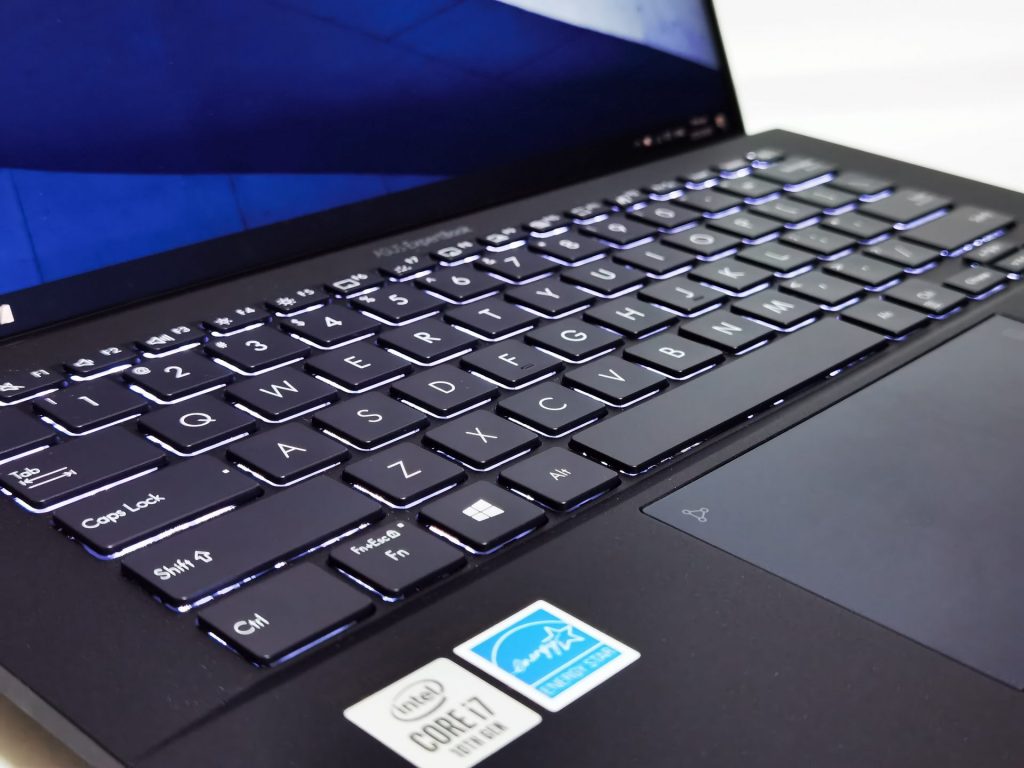 I had a very pleasant experience typing on the ASUS ExpertBook B9. The keyboard is in its full-sized glory, and there was no time wasted trying to get used to it. Each keys are also individually lit to ensure that you can also work and type in the dark.
There's nothing too much special about the feel on this keyboard. It's quite standard, like any other membrane based keyboards on notebook computers.
Media Consumption
Even though the ASUS ExpertBook is made for professionals, it worked pretty well when it comes to media consumption as well. The screen is bright and colours presented is vibrant, making it perfect for watching movies and YouTube videos. This notebook was able to produce sounds to a good level of clarity, allowing it to stand out from competing products in the market. However, it would be better if the speakers could be louder.
Test Setup and Performance
The problem with most thin and light notebook is that they are usually equipped with a lackluster cooling solution, thus causing thermal throttling issues. Of course, thermal throttling is not desired, as this means that you're actually paying for the performance that you can't actually achieve.
In our tests, we will compare the ASUS ExpertBook B9 with the HP Elite Dragonfly. They are both thin and light systems, just that the HP Elite Dragonfly is still based on previous generation Intel Core processor. Both the ASUS ExpertBook B9 and the HP Elite Dragonfly for comparison are similar in their specifications. In fact, the Intel Core i7-10510U found on the ASUS ExpertBook B9 is almost identical to the Intel Core i7-8565U processor. It is only that the former has a higher Boost clock speed of 4.9GHz as compared to the latter at 4.6GHz.

As compared to a notebook computer based on a previous generation platform, we would expect that the ASUS ExpertBook B9 would perform better. However, our test results show otherwise. We had to run more tests to find out what's actually happening which causes this problem.

Interestingly, when it comes to 7-Zip benchmark, the results seem to look as expected. It's interesting to also see the actual performance improvement in decompressing 7-zip archives when compared to a notebook from previous generation. However, this does not explain why we got the results in PC Mark 10 Extended test.

The Cinebench R20 test gives us some insights to the inconsistent results which we are getting. It seems like in single threaded workloads, the ASUS ExpertBook B9450 has got no problems reaching its expected performance. However, when it comes to multi-threaded workloads, it seems to suffer.

The performance issue is also observed in the HEVC h.265 decoding tests on the ASUS ExpertBook B9.


Both Blender and wPrime results also concur that the ASUS ExpertBook B9 will perform poorer when compared to the HP Elite Dragonfly when in multi-threaded applications.

On the other hand, single threaded applications, like SuperPi 32M is not affected by the performance hit.

As for memory, both the ASUS ExpertBook and HP Elite Dragonfly uses the same kind of LPDDR3 technology. These are not the fastest memory technology around, but are known to perform well without consuming too much power. The memory performance of both systems are considered to be similar.


As the HP Elite Dragonfly comes with an identical SSD with the ASUS ExpertBook B9 (they are both Samsung PM981 1TB SSDs), there is nothing much we can compared. Instead, we compared the SSD to a Toshiba GB4 SSD, which is a SSD found on the Dell XPS 13 2-in-1, just to show that the Samsung PM981 really performs well. It's considered one of the better SSDs you can have in your system.
Thermals and Performance Analysis

The reason for the lackluster performance of in multi-threaded applications of the ASUS ExpertBook B9 is due to thermal limitations. We managed to chart a graph showing temperatures and core frequency against time while running the Cinebench R20 Multi-Threaded benchmark. The benchmark started on the 24 second mark, and ended at the 300 second mark.
At the start, as the CPU package is not considered hot, the CPU was able to reach a Turbo Boost clock speed of about 2.6GHz. This is already much lower than its expected 4.9GHz. At the point when the CPU reached about 86°C, the system knew that the heat is too much to handle. It had to reduce the CPU clock to between 1.8 and 2.0GHz. Then, throughout the rest of the test, the CPU stayed consistently at this level, even though it it could technically get faster. Then, its temperature remained at about 70°C.
However, we must specify that this is NOT thermal throttling. If thermal throttling occurred, the CPU frequency will go even lower than 1.8GHz (which is the Core™ i7-10510U's base frequency). It's just that the cooling solution on the ASUS ExpertBook B9 is limiting the processor to perform at an expected higher frequency in Turbo Boost Mode. Most of the times, we do expect processors to be properly cooled in order to run with Turbo Boost enabled most of the times.
Conclusion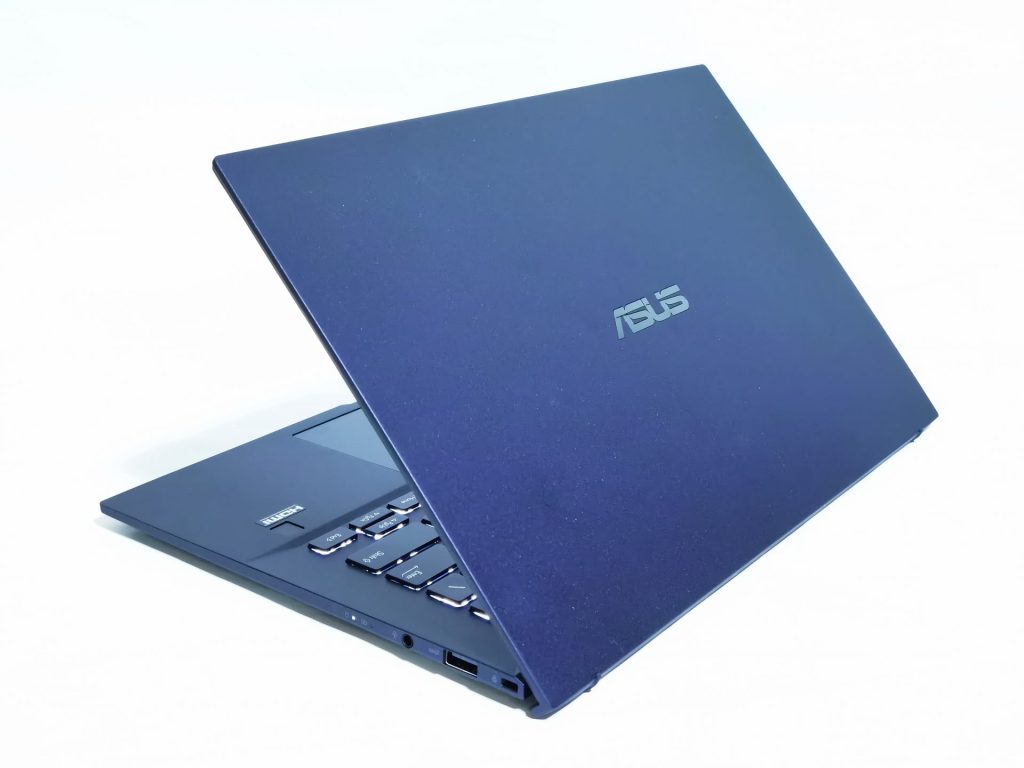 It's quite a deal breaker to see that the ASUS ExpertBook B9 was not able to perform up to expectations. It's holding us back from recommending it, as we know that you will be paying for something but not able to achieve its full performance. Instead, we would recommend that you should explore into a lower SKU, such as the one with the Intel Core i5 processor instead. It should produce less heat, and therefore have a probable chance of performing even better than the Core i7 version.
However, do take note that the system can still perform very well. We're quite sure that it can handle all office workloads without any problems at all.
ASUS has almost everything done right. There was really no other complains we had for the ASUS ExpertBook B9, as it has got all the features that we want as a simple daily driver. It's one of the lightest notebook computer out in the market, and looks really sleek and modern. With these characteristics, there is no doubt that it would be a hit with the professionals who are always on the go.
Let's just hope that ASUS will improve the next version of the ExpertBook with a better cooling solution. After trying out this product, we know that the ASUS ExpertBook series is here to stay for the long term.