With the launch of the 10th Generation Intel processors, many notebook manufacturers are pushing out refreshes and even product redesigns to their current product lineup. However, not all 10th Generation processors are made the same. There are some mobile processors which are based on a 14nm process technology (Comet Lake H), while others on 10nm (Ice Lake).
The benefits of a smaller process technology brings out many advantages. Processors are expected to perform more efficiently and cooler. Of course, they are also expected to bring about more performance per area.
Introduction
Riding the benefits of the new Ice Lake processors, Dell has decided to redesign their XPS 13 2-in-1 lineup. The XPS series is known to many as a modern and reliable system that targets pro-users. The 2-in-1 variant should definitely also attract those in the creative industry where the use of a stylus is required for their work. Of course, convertibles also bring about versatility, and could also be in a perfect form for students as well. They can easily switch between different usage modes for various use cases, such as working on a project or taking notes in a lecture using the stylus.
In today's article, we are going to take a closer look at the brand new Dell XPS 13 2-in-1 notebook computer. The focus of the review will be on our usage experience on the device, as well as quantitatively assessing the performance of it to see if there's really improvements to previous generation processors.
Dell XPS 13 2-in-1 7390
The Dell XPS 13 2-in-1 7390 is a 13-inch convertible notebook computer. It was one of the first few notebook computers that was announced along with Intel's new Ice Lake 10th Generation processors in August 2019.
Dell has changed the design of the XPS 13 2-in-1 for this update, taking advantage of the new technologies from the Intel Ice Lake processors. Even though it now spots a more powerful processor, the XPS 13 2-in-1 still retains the core aspects of what makes it an XPS machine – a thin and light ultra portable that meets the needs of all kinds of professionals.
Specifications*
CPU
Intel Core i7-1065G7 | Intel Core i5-1035G1 | Intel Core i5-10210U
GPU
Intel Iris Plus Graphics G7 | Intel UHD Graphics G1 | Intel UHD Graphics
Display
13.4" 4K UHD (3840 x 2160) – IPS
13.4" WUXGA (1920 x 1200) – IPS
HDD/SSD
Up to 1000GB SSD (512GB)
RAM
Up to 32GB (16GB LPDDR4 3733MHz)
OS
Windows 10 Home, Windows 10 Pro
Battery
51Wh, 4 cell
Dimensions
297 x 207 x 7-13mm
Weight
1.33Kg
*Components in bold are the configuration of the review unit
Even though the Dell XPS 13 2-in-1 is equipped with the latest generation hardware, it also has no choice but to live the dongle life due to its slim form factor. As such, we can only see mini ports around the notebook computer, such as the USB Type-C ports, MicroSD card reader and a 3.5mm audio combo jack. The good thing is that both USB Type-C ports on this machine are Thunderbolt 3.0 ports, which have the capability to carry PCIe 3.0 (with x4 bandwidth) signals to external peripherals. They also support the Display Port protocol, and can be used to communicate with external monitors as well.
So it makes sense that if you want a more complete experience with the Dell XPS 13 2-in-1, you should look out for a good docking station, such as the Dell USB-C Mobile Adapter or Dell Thunderbolt Dock.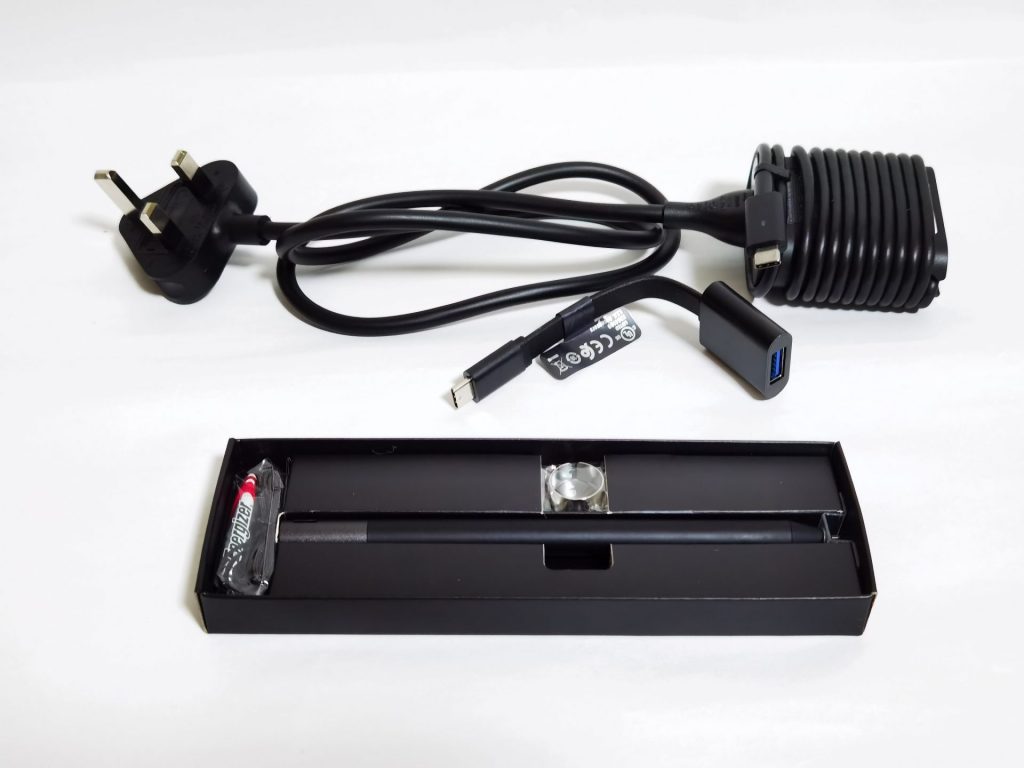 At least, minimally, Dell also included a USB Type-C to USB Type-A converter in the box. The touch display on the XPS 13 2-in-1 also supports stylus input. So it will also be a perfect machine for digital artists or students as well.
Key Design
The notebook retains a simple and minimal look. Even though the notebook looks very slim, it still feels slightly heavy when held. This is probably because of the unit's aluminum body that adds to to its weight. Regardless, weighing at about 1.33kg, it should still be considered to be in the class of a highly portable and lightweight machine.
Thanks to its aluminum body, we also found the Dell XPS 13 2-in-1 to be extremely sturdy. It also has a carbon fibre composite palm rest that comes in black. The palm rest is also fingerprint and stain resistant, which adds some extra good points to the notebook.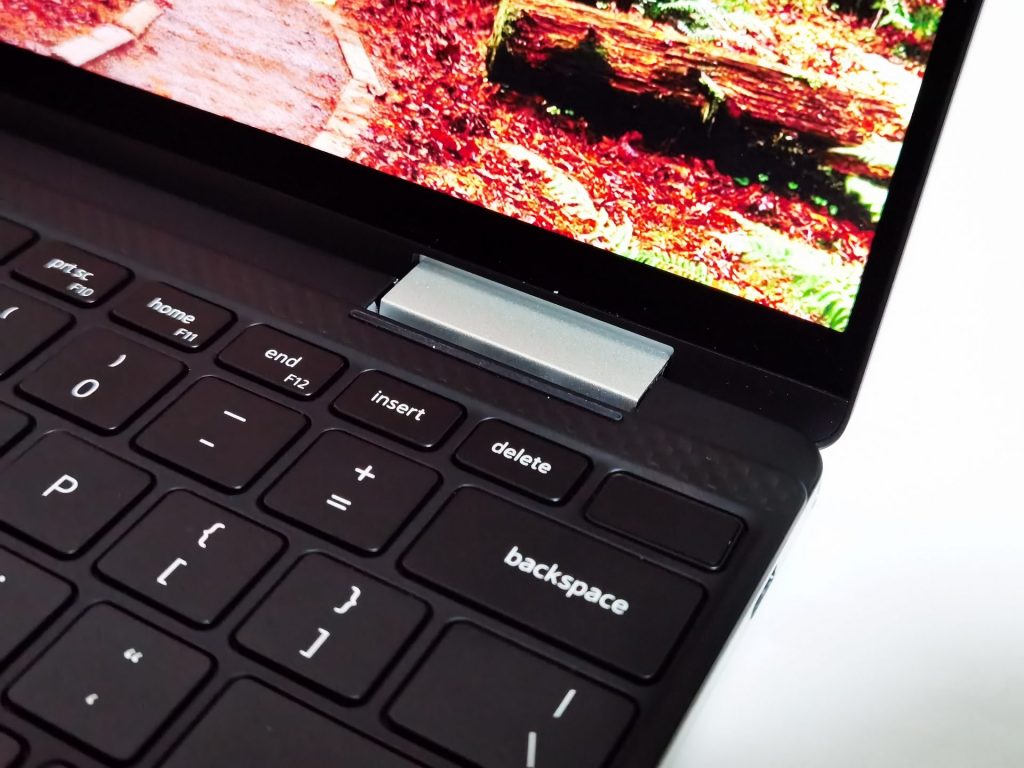 Another design aspect that we have taken note is that the space between the hinge to the keyboard has also been reduced. The new smaller hinge design has made it possible to reduce the physical size of the notebook while retaining the screen size. Perhaps, this is how Dell even managed to fit in a 16:10 display on the Dell XPS 13 2-in-1 notebook, instead of the usual 16:9. Of course, the reduced bottom bezel on the display also allows the notebook to look so much better.
Remember the infamous webcam that appears at the bottom of the display? Gone were the days of such horrible design decisions. Dell has managed to even fit a webcam at the original spot – at the top of the display. We were thankful of the change, which has made the XPS 13 2-in-1 even more perfect that ever. However, it must be noted that this camera system does not support Windows Hello facial recognition authentication. Perhaps, that is something which Dell can work on next.
The Dell XPS 13 2-in-1 notebook simply screams premium. There not a single aspect of it feels cheap. We are glad that Dell has managed to cover even the smallest details in order to make this a perfect convertible notebook in their mind.
Usage Experience
Typing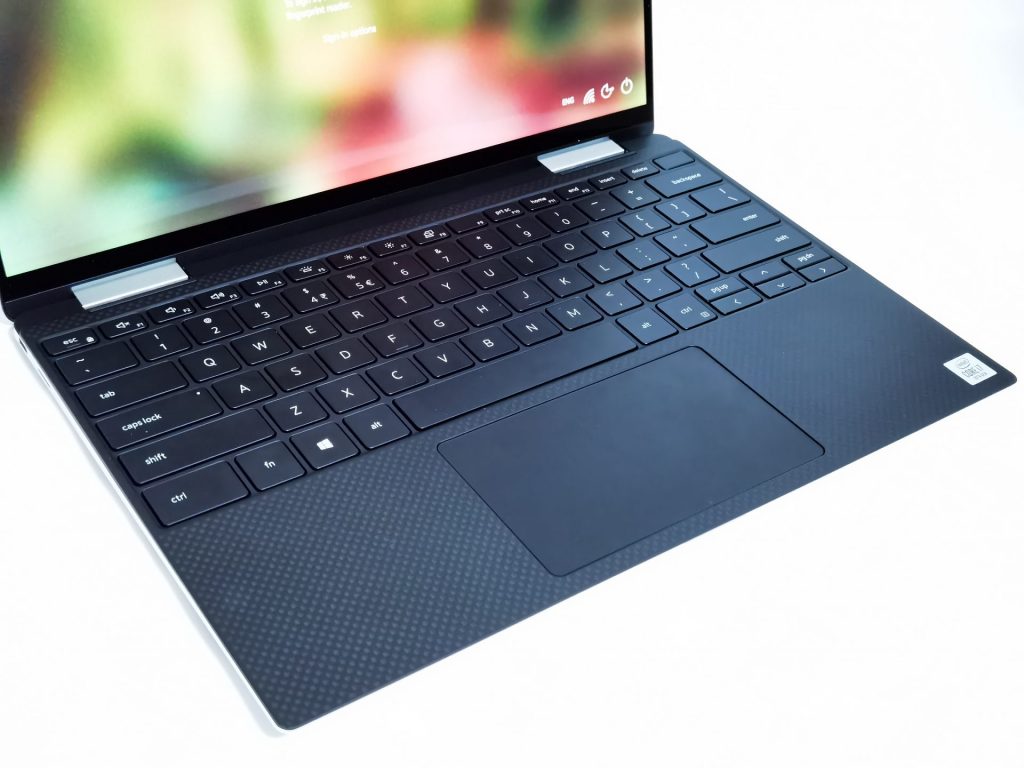 To retain the Dell XPS 13 2-in-1 notebook's slim design, the keys on the keyboard had to accomodate a smaller travel distance. Therefore, Dell has introduced the new MagLev keyboard to this machine. Supposedly, each individual key is hoist by magnets to keep them in place.
Honestly speaking, they aren't as bad as they seem to be and feel just like any other keyboard on other notebook computers. In fact, I would personally prefer the keyboard on the Dell XPS 13 2-in-1 over traditional dome based membrane keyboard any time. The keys on the MagLev keyboard was quite a bit firmer, similar to pressing on buttons on a old-school feature phone. On every keypress, each key also produces a resolute click (it's a different kind of click from mechanical keyboards), making the whole typing experience all so better.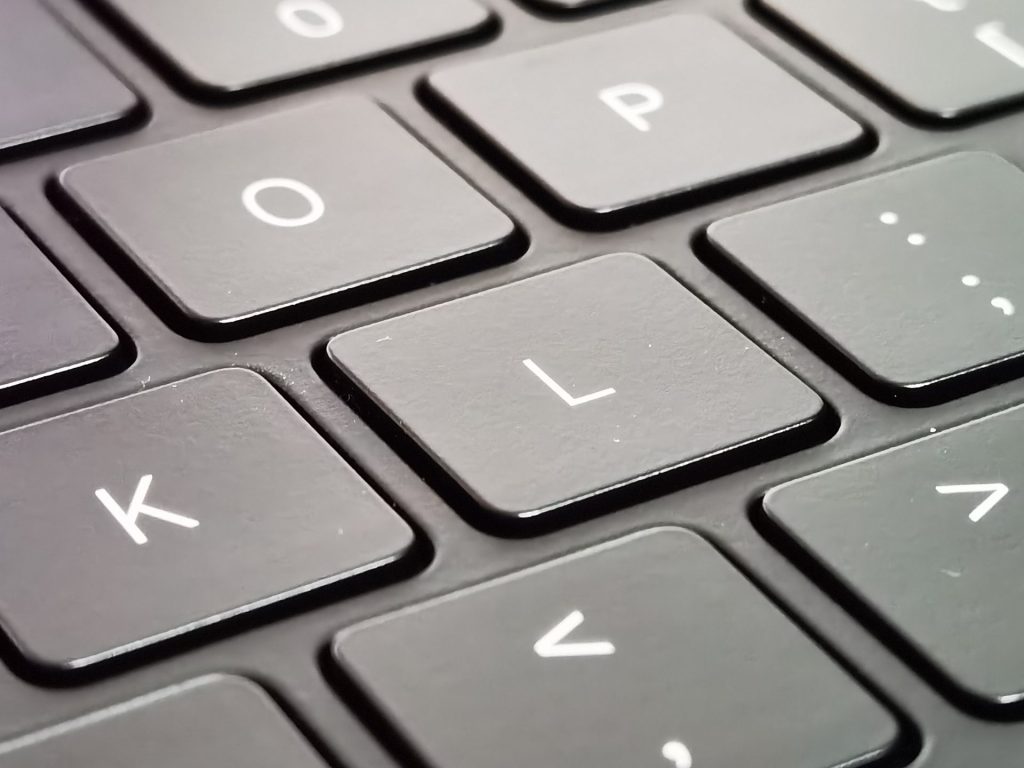 Of course, keyboard preference is a personal opinion. I liked it, but it may not be the same case for you. However, I'm quite sure that you will appreciate the full sized keyboard found on the XPS 13 2-in-1. Despite the notebook's small size, the keys are still well spaced, and there was no time wasted to get use to typing on the keyboard.
Media Consumption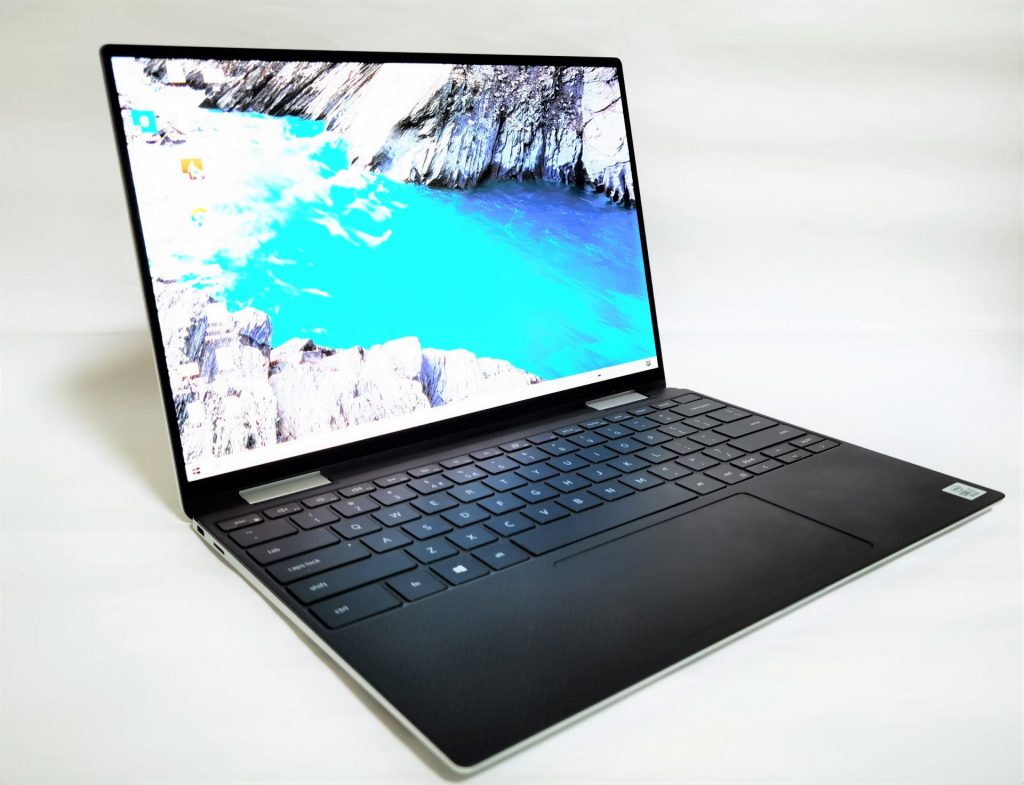 Our review unit came with a UHD display, so we can only comment on that. No doubt, the high pixel density of the UHD display has certainly made the display appear clearer than usual. It was a joy looking at the crisp and sharp image while playing native 4K videos. Moreover, as this 4K IPS panel also supports HDR, we were also able to enjoy HDR content on the Dell XPS 13 2-in-1 as well.
It's quite a pleasure consuming media content from the notebook. There's also an added versatility to it, as this convertible notebook can switch between different physical modes best suitable for your environment.
Of course, the display is only part of the equation for the whole media consumption experience. Audio quality is also equally important as well. The speakers on the Dell XPS 13 2-in-1 sounds above average. They were being able to produce loud and defined sounds which is suitable for general listening. However, there is really nothing much special about it as it lacks character. For the ultimate listening experience, it's recommended that you can connect the device to an external speaker or headphones. Thankfully, the notebook still comes with a 3.5mm audio jack.
Performance
In our tests, we are going to compare the Dell XPS 13 2-in-1 with a ASUS Zenbook 14 UX434FL. The ASUS Zenbook 14 UX434FL runs on an Intel Core i7-8565U, comes with 16GB of LPDDR3 RAM and a Samsung PM981 NVMe PCIe M.2 512GB SSD. With these two notebooks, we should be able to compare between the previous generation Whiskey Lake to the current Ice Lake notebook platform. 

Based on the PC Mark 10 Extended benchmark which simulates real world usage, the Dell XPS 13 2-in-1 came up on top. This probably shows that in day to day usage of the notebook in application covering web browsing, video conferencing, office applications, photo editing, video editing and gaming, the Dell XPS 13 2-in-1 should perform better.

Moving on, we tested both notebook's performance to compress and decompress archives and files using the 7-zip benchmark. Similarly, the Dell XPS 13 2-in-1 showed to be able to process files at a higher speed than the ASUS Zenbook 14.

However, things were changed when rendering graphics using the Cinebench R20 benchmark tool. As shown above, the Dell XPS 13 2-in-1 performed worse than the ASUS Zenbook 14 in single threaded test. We could associate this score to the lower Turbo boost clock speed of the Intel Core i7-1065G7 on the XPS 13 2-in-1 at 3.9GHz. On the other hand, the Intel Core i7-8565U on the ASUS Zenbook 14 had a Turbo boost clock speed on 4.6GHz. 
This definitely also means that the Dell XPS 13 2-in-1 is probably not as powerful when it comes to single threaded applications as well.

Similar to the results shown in Cinebench, the Dell XPS 13 2-in-1 was also slower than the Zenbook 14 when it comes to video decoding.

wPrime, which is a multi-threaded CPU benchmark, showed exactly that the Dell XPS 13 excels in multi-threaded workloads.

For single threaded workloads, such as the SuperPi 32M test, the Dell XPS 13 2-in-1 was less ideal.

One of the key advantages of the new Ice Lake platform is its support for high speed DDR4 memory. Equipped with 3733MHz LPDDR4 memory, the Dell XPS 13 2-in-1 has showed how efficiently its memory modules were able to perform in the system. It has scores that significantly surpassed the speeds of previous generation LPDDR3.


As for disk benchmarks, we realised that the XPS 13 2-in-1 uses a Toshiba GB4 KBG40ZPZ512G 512GB SSD. This isn't the best performing SSD out in the market, and it was shown to lose out to the faster Samsung PM981 the ATTO Disk benchmark in all setup configurations.
Temperature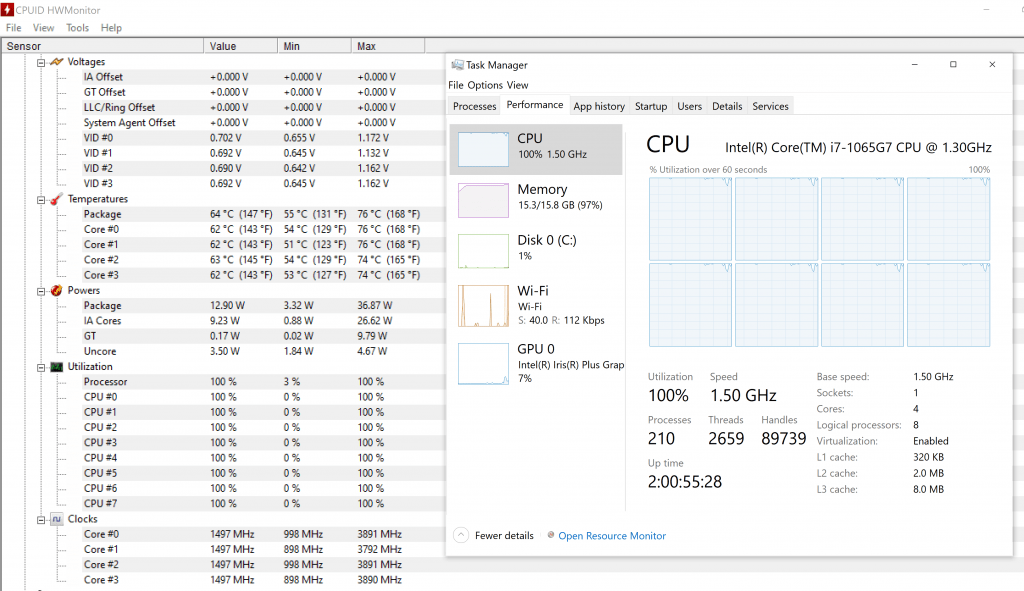 By stressing the system with Intel Burn Test, we managed to maxed out the CPU usage on the Dell XPS 13 2-in-1. The maximum stable temperature recorded was about 65 degree Celsius, which is considered to be very good.
In fact, the area that heats up most is the bottom of the notebook. The heat that is conducted to the keyboard and palm rest area is slight and almost negligible. Even under intense compute workloads, I was able to operate the machine comfortably without getting affected by any heat issues.
Also, we can see from the above test that even though the system was stressed with software, there are also no signs of thermal throttling. The Core i7 1065G7 processor was still able to perform at its rated speed of 1.5GHz.
Battery Life
Running the Dell XPS 13 2-in-1 continuously looping a video (with screen brightness set to 110 lux) , we managed to achieve an impressive battery life of 10 hours and 3 minutes. Most definitely, there is no doubt that the Dell XPS 13 2-in-1 will last you the whole day without a single recharge.
On the PCMark 8 Home Conventional test which tests various workloads such as web browsing, writing, photo editing, video chatting and casual gaming, we still managed to get a battery life of 4 hours and 50 minutes (extrapolated).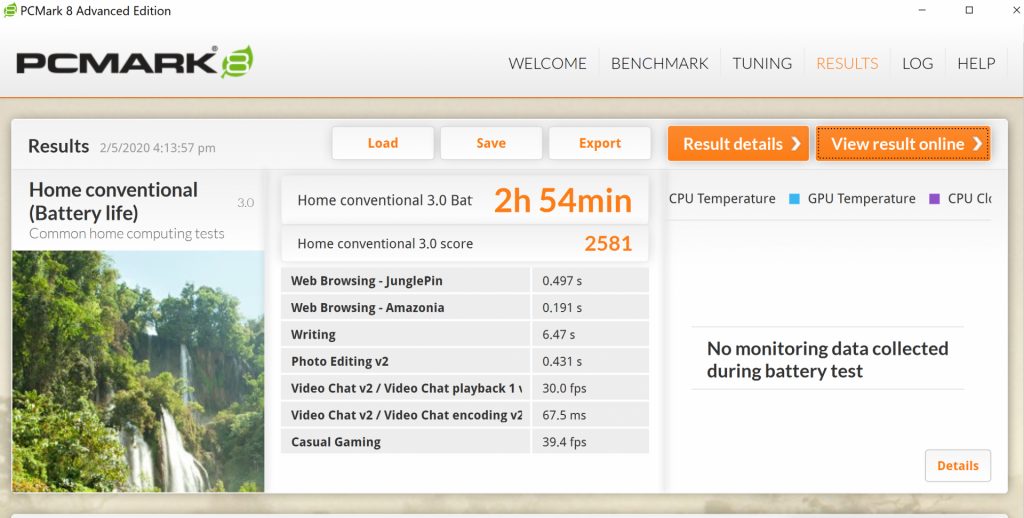 Conclusion
After spending two weeks with the Dell XPS 13 2-in-1, I had no doubt that this is one of the best notebook computers that I've reviewed to date. Dell has successfully redesigned their XPS 2-in-1 and made it even more usable than ever. In terms of the machine's usability and design, even if I had to nitpick, there just simply wasn't anything much that's worth complaining about. Everything just works.
However, there seems to be some discrepancies when it comes to the performance of the notebook. We would expect that a processor with a improved process technology would lead to better performance compared to its previous generations. This was apparently not the case for Ice Lake. Comparing the same class of processors, the Intel Core i7-1065G7 performed worse than its Core i7-8565U predecessor, as it had a lower Turbo boost frequency. This largely affects the performance of the Dell XPS 13 2-in-1 in single threaded application performance. Also, Dell should also have opted for better performing SSD for their notebooks, as (1) these systems don't come cheap and (2) as the SSDs are soldered onto the motherboard, there leaves no room for upgrades.
Judging the excellence created by the Dell XPS 13 2-in-1, we can perhaps ignore the performance difference caused by the new Ice Lake processor. Don't get me wrong, as the new Ice Lake processors are considered to perform very well for day to day usage. But when looking at the Dell XPS 13 2-in-1 as a whole, it seems to be that one small lacking factor that defers it from perfection.
Nonetheless, we would still highly recommend the Dell XPS 13 2-in-1 for anyone looking for a new convertible notebook.