Customers can look forward to getting their hands on the latest HUAWEI MateBook 13, MateBook D 15 and MatePad Pro
Pre-order available from 30 May – 7 June 2020 with exclusive premiums
SINGAPORE, 26 May 2020 – Huawei today announced that its two mainstream laptops: the HUAWEI MateBook 13 and HUAWEI MateBook D15 as well as its flagship tablet, HUAWEI MatePad Pro will launch in Singapore on 8 June 2020. Pre-orders are available from 30 May to 7 June. These devices focus on mobile productivity, innovative smart design and delivery of a seamless and powerful user experience.
As an important point of entry to the smart ecosystem, the HUAWEI MateBook series and HUAWEI MatePad Pro are designed to synergise with Huawei handsets, wearables and other devices. These products enable the company's unique Multi-screen Collaboration feature that delivers a seamless multi-device experience to consumers with a simple drag-and-drop file transfer between smartphones, laptops and tablets.
Phil Xu, Managing Director of Huawei Consumer Business Group Singapore said, "We are excited to introduce a new range of laptops as well as the latest tablet in Singapore that are the perfect companions for consumers looking for high performance and extreme portability. These devices are stylish, powerful and smart, which makes it perfect for both work and relaxation. As we continue to expand our product offerings in the market, we would like our customers to enjoy a seamless interconnected experience within the product ecosystem including our handsets and wearables."
Experience powerful and seamless performance with HUAWEI MateBook series

The HUAWEI MateBook Series launching in Singapore include the MateBook D 15 in Mystic Silver (left) and MateBook 13 in Space Grey (right).
The HUAWEI MateBook 13 delivers extreme portability, premium build quality and powerful performance in a stylish, elegant package. The laptop boasts a HUAWEI FullView design with an industry-leading screen-to-body ratio of 88 percent[1]. It comes with 3:2 high-quality 2K display and side bezels measuring only 4.4mm[2] to allow display of more content with vivid details, speed and accuracy. A 2K HUAWEI FullView Display with Multi-touch is also available as an option which tracks multiple touch inputs with high precision and supports Finger Gesture Screenshot.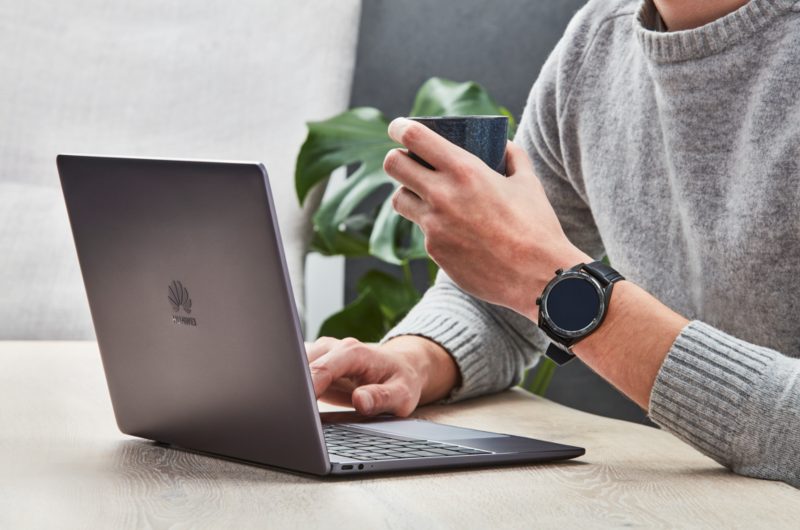 The HUAWEI MateBook 13 is a 13-inch portable device that combines premium aesthetics and powerful performance.
Powered by its 10th Generation Intel® Core™ processor, 16 GB dual channel RAM and impressive graphics processing powers, users can expect fast reading and writing speeds, image and video editing tasks, as well as entertainment experiences.
Meanwhile, the new HUAWEI MateBook D15 Series joins the MateBook family as a PC targeting younger consumers, offering an innovative smart experience in a design that is signature to the HUAWEI MateBook series.
Both the HUAWEI MateBook 13 and MateBook D 15 are fitted with the HUAWEI Shark Fin Design 2.0, new s-shaped fan blades which optimises air flow dynamically for improved cooling and laptop performance. The Intelligent Filtering solution also monitors temperature change in real time and ensures stable performance, providing for maximum thermal cooling without any noise or disruptions to the usage.
Rethink creativity and performance with HUAWEI MatePad Pro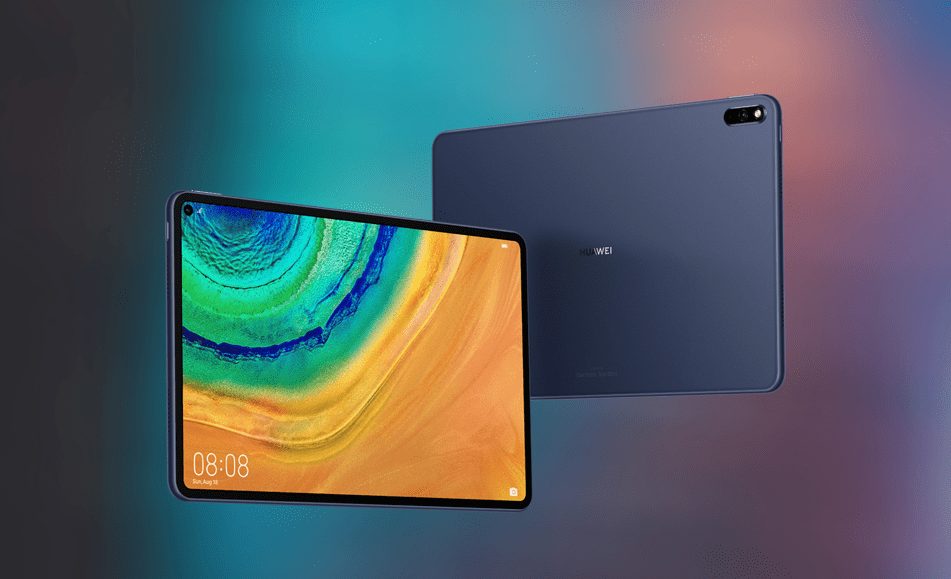 The HUAWEI MatePad Pro will be available in Midnight Grey.
Representing a breakthrough in design, technology and mobile productivity, the HUAWEI MatePad Pro features a large display with ultra-narrow 4.9mm[3] bezels and the world's highest tablet screen-to-body ratio at 90 percent[4]. The tablet comes with high-quality features like 2K QHD resolution and high-amplitude quad-channel quad-speaker, offering superior entertainment and audio experience.
The HUAWEI MatePad Pro delivers excellent battery life thanks to the high-capacity 7250mAh battery and power-saving features integrated into the Kirin 990 flagship chipset and EMUI. It is also the world's first tablet to support wireless charging and reverse wireless charging, providing a convenient and reliable alternative for users to keep their devices powered throughout the day[5]. The tablet's micro-curved design ensures a comfortable hold while the magnesium alloy frame keeps it light yet durable. It is also a great companion for work with accessories to elevate the experience such as the HUAWEI M-Pencil[6] to deliver a natural and intuitive writing process and the Smart Magnetic Keyboard[7] that can be easily connected via Bluetooth.
Enjoy intelligent all-scenario user experience

The HUAWEI MateBook Series enables cross-device collaboration which makes life and work easier.
To drive the future with new innovations catering for all scenarios and delivering an interactive experience, both the HUAWEI MateBook Series and HUAWEI MatePad Pro are fitted with Multi-screen Collaboration, a function of Huawei Share for advanced cross-platform functionality. This feature seamlessly incorporates Huawei laptops, tablets and smartphones in an ecosystem for a more intelligent and efficient experience.
Huawei devices can now share a single display – contents saved in the Huawei smartphone can be viewed directly on the laptop or tablet and files can also be transferred simply by dragging from one interface to the other. Users can also play music saved on the smartphone, pick up calls or respond to text messages directly from the laptop or tablet.
The HUAWEI MateBook 13 also features the Fingerprint Power Button[8] that integrates power, fingerprint verification and system sign-in into one button while the HUAWEI MatePad Pro features the Multi-Window[9] function that enables multitasking with support for up to three apps at once.
Local availability and pricing
The HUAWEI MateBook 13, HUAWEI MateBook D15 and HUAWEI MatePad will be retailing at S$1,598, S$998 and S$798 respectively from 8 June 2020 in all Huawei Concept stores, selected consumer electronic stores and official online stores with Lazada and Shopee.
In addition, customers can look forward to receiving an additional 1 year warranty on top of the standard 1 year, with every purchase of the HUAWEI MateBook 13 or the HUAWEI MateBook D 15, while stocks last.
| | | | | |
| --- | --- | --- | --- | --- |
| Product | Processor | Storage | Colour | Retail Price |
| HUAWEI MateBook 13 | Intel i5 | 512GB + 16GB RAM | Space Grey | S$1,598 |
| HUAWEI MateBook D 15 | AMD R5 | 256GB + 8GB RAM | Mystic Silver | S$998 |
| HUAWEI MatePad Pro | OS: EMUI 10.0.1 (Based on Android 10.0) | 256GB + 8GB RAM | Midnight Grey | S$898 |
Pre-orders for these devices will be available from 30 May to 7 June 2020 with exclusive bundle deals, while stocks last: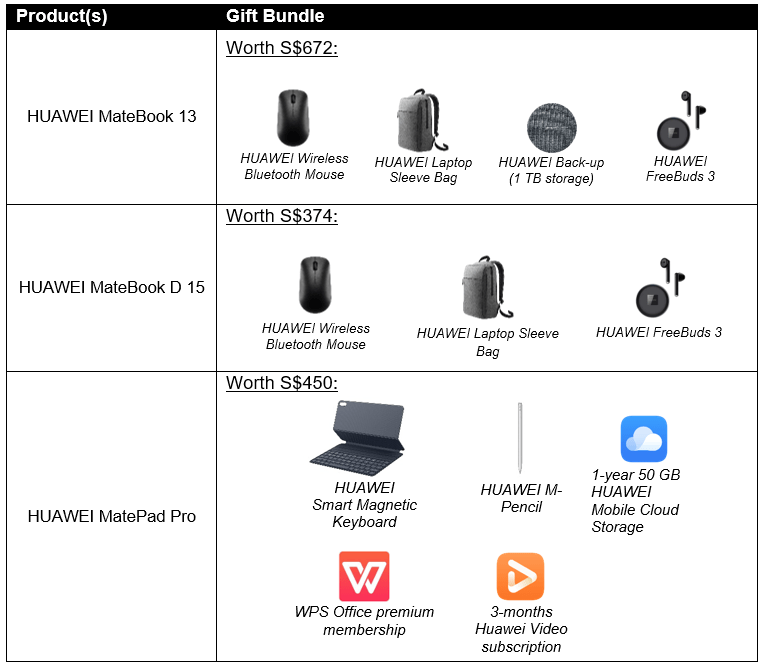 HUAWEI MatePad Pro:
HUAWEI MateBook 13 and HUAWEI MateBook D15:
[1] Data comes from Huawei labs. The screen-to-body ratio is calculated by dividing the active area (AA) by the touch panel (TP) area. The actual screen-to-body ratio may vary
[2] Data comes from Huawei labs. The actual product size may vary depending on the product's configuration, manufacturing techniques, and calculation methods
[3] Data on data measurements obtained from Huawei labs. Actual measurement may vary depending on specifications and manufacturing differences.
[4] Data obtained from Huawei labs. The screen-to-body ratio is calculated by dividing the active area (AA) by the touch panel (TP) area. The actual screen-to-body ratio may vary.
[5] Supports reverse wireless charging on Huawei labs-certified devices.
[6] Purchased separately.
[7] Purchased separately.
[8] This function is only available on HUAWEI MateBook 13 with PC Manager version 9.1 or above and with relative drivers.
[9] This feature is only supported on selected apps. Actual experience may vary across apps. Future updates may improve this functionality.