Since the introduction of the concept "Ultrabooks" more than a decade ago, thin and light notebook computers have found their place in their market. Almost every PC/Notebook manufacturer has got a dedicated series of thin and light notebook product, as demand for them continue to grow. Gone were the days where the impression of notebook computer were big bulky machines with poor performance. With many years of innovation and improvements, thin and light notebook computers today are just as good as any other PCs.
Targeting this segment of the market, AMD has released their Ryzen 7 7040U series of notebook processor, aiming to bring out the most features and performance in a thin and light notebook computer. The Swift Edge 16 is one of the latest offering from Acer, which features the top of its class AMD Ryzen 7 7840U processor. Weighing less than 1.3Kg, many wouldn't believe that this notebook is packed with an 8-core 16-thread processor and even equipped with Radeon graphics. Moreover, with the Ryzen 7 7840U processor, AMD is also bringing the world's first integrated AI Engine to a thin and light notebook computer for advanced computer and AI workloads. It excites us and makes us want to learn more about the Acer Swift Edge 16.
The Acer Swift Edge 16
Based on first impressions, the Acer Swift Edge 16 is a beauty. It is measured to be 12.95mm and weighs 1.23Kg – certainly worthy of what "thin and light" means. Acer has also kept designs simple and minimal, making it suitable for both work and play.
The Acer Swift Edge 16 is equipped with a large 16-inch OLED display. Despite its large display, the notebook still remain rather portable, due to its narrow bezel design. Acer has also decided to give the display a glossy finish to better accentuate the clarity and colours.
The notebook also comes with a numpad for improved productivity. Its large trackpad is also another plus as it makes it easy for navigating the PC.
Despite its slim profile, the notebook still has an rather comprehensive set of expansion slots. It has two USB Type-C ports on the left side, where they also act as charging ports. There is also a full-sized HDMI port and a USB Type-A port.
On the right side, there is a kensington lock slot, another USB Type-A port, a audio combo jack and a MicroSD card slot for storage expansion.
Truly, the Acer Swift Edge 16's thin profile makes it really stand out. While the notebook does come with the powerful AMD Ryzen 7 7840U processor, we will need to put it to the test to better understand how it actually performs.
The AMD Advantage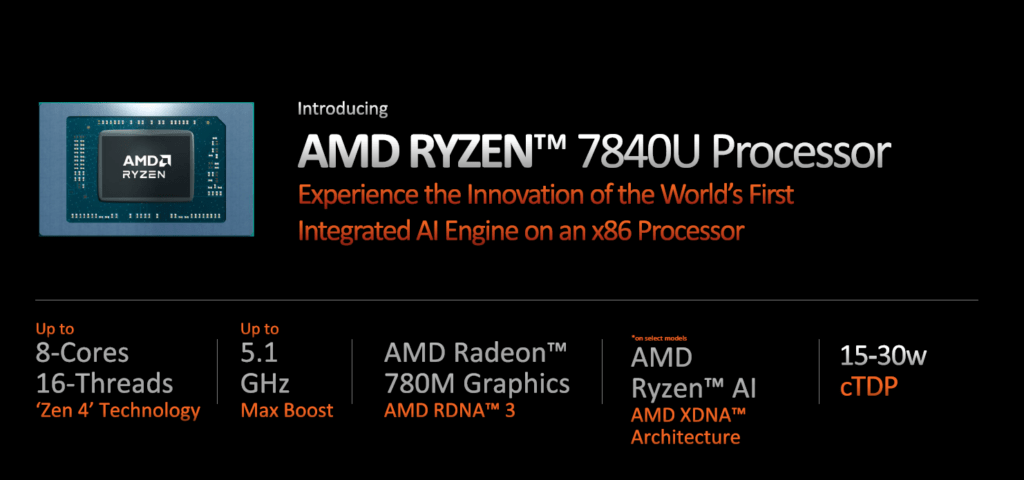 While AMD has been making strides in the notebook PC computing space since the introduction of Ryzen processors, they have been perfecting their solutions. With the Ryzen 7040U series processors, they have made further upgrades to their solutions, making it even more compelling for manufacturers to create various new products. The Acer Swift Edge 16, is one of the examples of what the Ryzen 7040U series of processors can do – high performance in an extremely thin and light form factor.
With the Ryzen 7840U processor on the Acer Swift Edge 16, AMD has brought a tons of great features and performance to the table. There isn't many products in the market that can successfully include an 8-core/16-thread processor into a thin and light notebook. Moreover, this processor still has the ability to achieve a maximum boost speed of 5.1GHz.
On the graphics end, the Ryzen 7840U processor also includes dedicated graphics computing cores within the same SoC package. This brings the Radeon 780M graphics performance to thin and lights. However, since these graphics core share memory with the system, rather than having its own VRAM, performance may not be the same as dedicated graphics solutions.
Furthermore, for the first time, AMD is bringing their XDNA cores to their notebook processor products. This is the first time an AI engine is found within the x86 part, and brings heterogenous computing to a whole new level. The Ryzen 7 7840U is an all-rounder – dedicated compute, graphics and AI processing units makes it suitable for a wide range of user applications.

With the XDNA AI engine, users of the Acer Swift Edge have the advantage in faster processing of AI workloads. For example, with the Windows Camera App, you can enable AI enabled features with Eye Contact, Automatic Framing and Background Effects. This can all be done without relying on either the CPU or GPU, ensuring a smoother experience. The AI engine also allows developers to better train, quantize and deploy AI models.

Specifications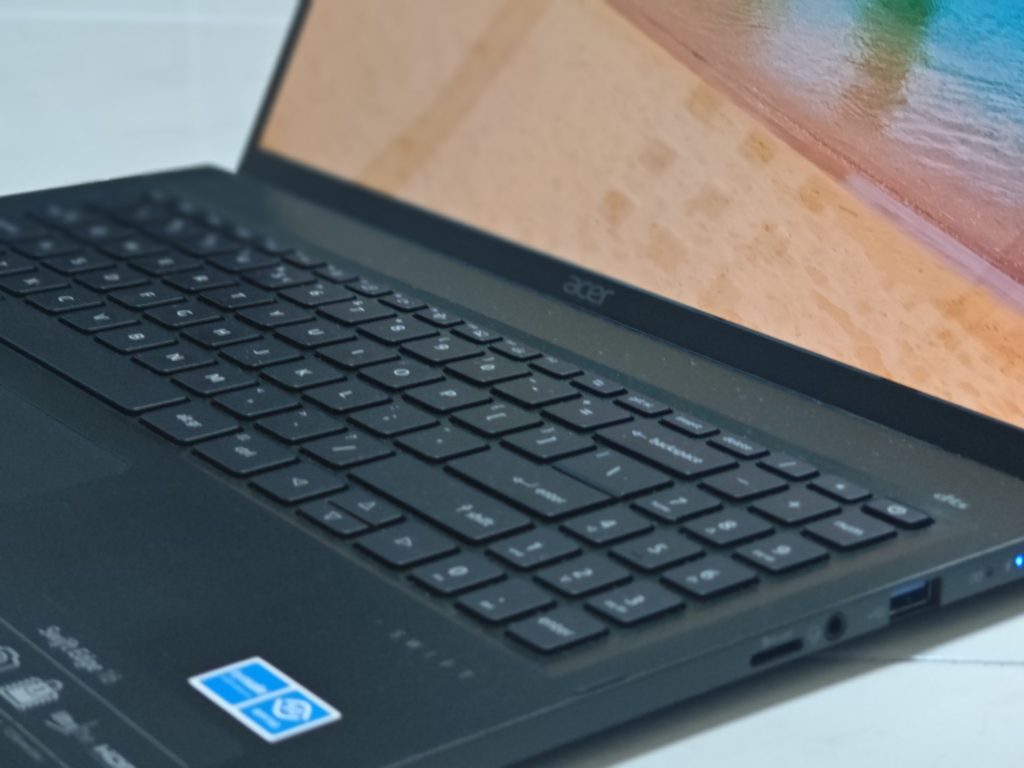 System Model

Acer Swift Edge 16 (SFE16-43-R98R)

Processor Model

AMD Ryzen 7 7840U

Boost Frequency

5.1GHz

Base Frequency

3.3GHz

Physical Cores

8

Threads

16

cTDP

15-30W

Battery

54Wh

Memory

4 x 4 GB LPDDR5

Graphics

AMD Radeon 780M RDNA3

Display Panel

16-inch OLED 3200 x 2000 400 nits

Refresh Rate

120Hz

Storage

512GB

OS

Windows 11 Home

Dimensions

Dimensions / Weight : 357.55 (W) x 245.9 (D) x 14.48-15.24 (H) mm

1.24kg
We are going to compare the Acer Swift Edge 16 with the following notebook PCs:
ASUS Vivobook 15X OLED (Intel Core i7-1360P, 16GB LPDDR4, Intel Iris Xe Graphics)
ASUS Zenbook S13 OLED (AMD Ryzen 7 6800U, 16GB LPDDR5, Radeon 680M)
ASUS Zenbook 14 OLED (Intel Core i7-1260P, 16GB LPDDR5, Intel Iris Xe Graphics)
Benchmark Utility
Settings
Remarks
PC Mark 10 Extended
Default
–
7-ZIP
Default
–
HEVC h.265 Encoding/Decoding
Default
–
Blender CPU BMW27
Default
–
Cinebench R20
Default
–
AIDA64
Default
–
Game Settings
Far Cry New Dawn
High
DirectX11
Deus Ex Mankind Divided
High
DirectX12
Tom Clancy Division 2
High
DirectX11
DOTA 2
Default
DirectX11
Shadow of the Tomb Raider
High
DirectX12
Metro – Exodus
High
DirectX12
World War Z
Ultra
Vulkan
Performance Results

Without much surprises in the PC Mark 10 Extended test which covers both productivity and graphics test, both AMD powered notebooks came up on top. The Acer Swift Edge 16, equipped with the latest generation AMD Ryzen 7 7840U processor was able to outperform its predecessor.

However, on the 7-zip benchmark, things aren't so straightforward for the Acer Swift Edge 16. Interestingly, the ASUS ZenBook S13 with the Ryzen 7 6800U was able to outperform it on the decompressing test, despite having the same number of cores and threads.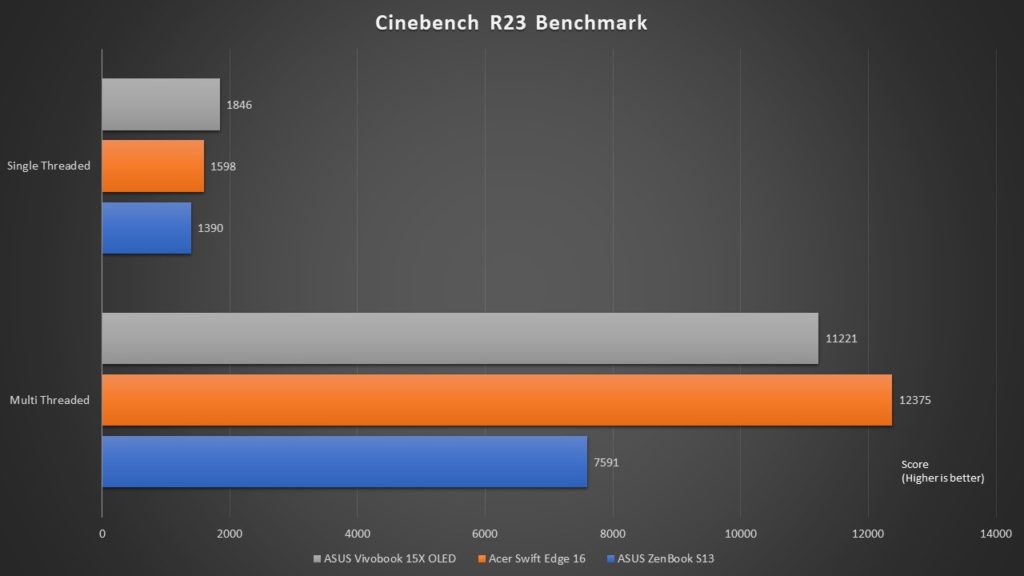 This time, the Acer Swift Edge 16's multi-threaded performance shines. Unlike the Zenbook S13 which thermal throttled on multi-threaded application scenarios, the Acer Swift Edge 16 still managed to tame both power and heat requirements of the CPU to provide an optimal performance for the system.

As compared to the Intel products, both AMD systems don't perform as well on the HEVC h.265 decoding test. However, we do see the improvement that the Acer Swift Edge 16 has over the Zenbook S13.

The Acer Swift Edge 16 shines on the Blender benchmark test. It comes out on top as the fastest system to complete the test.

What we couldn't really understand was how the Radeon 780M GPU on the Acer Swift Edge 16 didn't perform as expected, compared to its predecessor, the Radeon 680M on the Zenbook S 13. The Acer falls below the performance of the latter in all our tests.

In terms of memory performance, the Acer Swift Edge 16 is configured with a 4 x 4GB configuration in quad channel mode. It is no wonder that its memory performance was unexpectedly high, outperforming all other systems put up for comparison.

In terms of battery performance, the Acer Swift Edge 16 still managed to achieve 8 hours and 24 minutes on the PC Mark 10 Battery Test. Even though it's shorter than expected, you still can be sure that it will perform without running out of power for your full 8 hours of work.
Conclusion
The Acer Swift Edge 16 is a well-designed notebook. Equipped with the latest and greatest components from AMD for thin and light PCs, it balances well between portability, design, performance and usability.
We appreciate that AMD has also included new and interesting features such as an AI engine within the new Ryzen 7840U processor, which prepares the notebook for applications of the near future. However, due to the limited number of applications which can be accelerated by such an engine at this time, it didn't really make a difference. Moreover, compared to its predecessor, we don't really see a significant difference in terms of real-world raw performance compared to its predecessor. What puzzled us was its graphics performance.
Perhaps, the Acer Swift Edge 16 is a product that's ahead of its time. As more AI enabled applications are available for use, the Acer Swift Edge 16's propositions will get even more compelling.
Nonetheless, as a product, the Acer Swift Edge 16 still stands out as a powerful thin and light notebook PC.