As we spend more time at home due to the increasing necessity of working from home arrangements, we found out that there were many areas which we can upgrade in our home computing setup. Ultimately, we want an ultimate solution which works well regardless of its use case. One of the key areas that is worth considering an upgrade is your current PC monitor.
For those who solely rely on a notebook computer to work, an additional monitor will certainly increase your productivity significantly. Of course, if you would like to play games on your PC as well, the monitor is certainly a key aspect of the whole experience.
Therefore, once you have decided that you need a new monitor to upgrade your current setup, choosing the right monitor that suit your needs is the next thing to think about.
Today, we have the newly launched BenQ MOBIUZ EX3415R Ultrawide Curved Gaming Monitor for review. We'll see how this monitor performs, and if it checks all our boxes to be considered a worthwhile choice for your new monitor upgrade.
You can also check out our video review right here.
BenQ MOBIUZ EX3415R Ultrawide Curved Gaming Monitor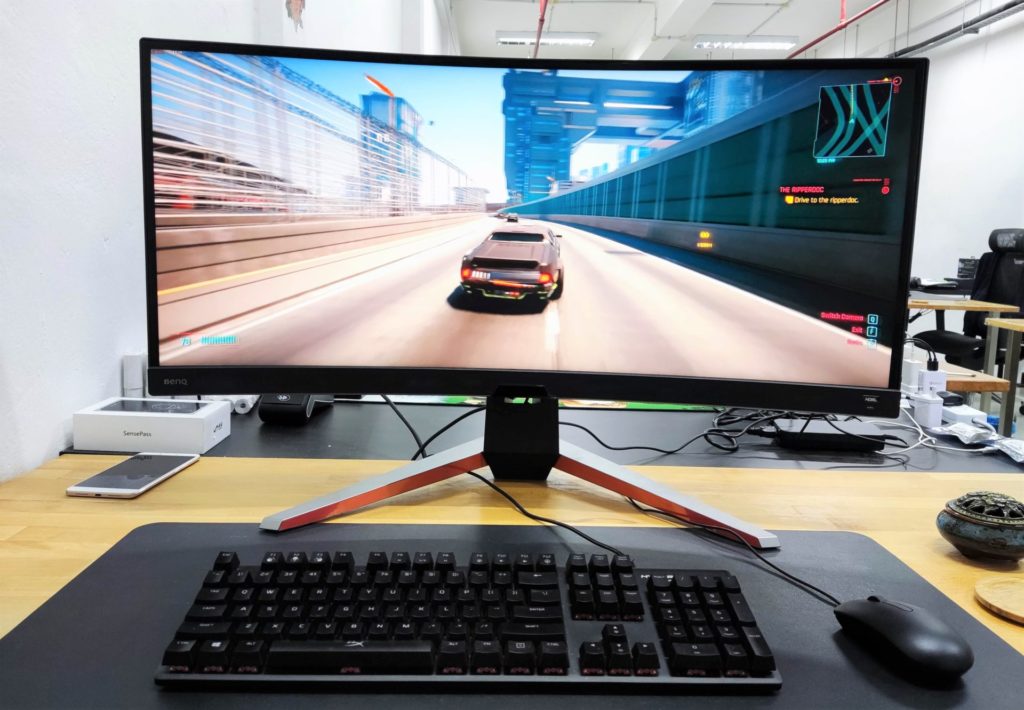 BenQ is one of the top monitor manufacturers globally, and they offer a large range of monitors including gaming and professional monitors. We've also previously reviewed BenQ monitors before, such as the BenQ EX3203R and its sub-brand, BenQ Zowie's XL2546K gaming monitor. Even though both products gave us a certain understanding and confidence in the brand, we'd hope that the BenQ MOBIUZ EX3415R monitor to live up to our expectations.
The BenQ MOBIUZ EX3415R Ultrawide Curved Gaming Monitor is designed mainly for games, but it is also considered to be useful for work as well. It ultrawide 21:9 aspect ratio also means that you can see more things on your desktop computer horizontally, allowing multiple windows to be placed side by side for improved productivity.
To get started, let's discuss more about the key specifications and features of this monitor:
LCD Size (inch)
34″
Aspect Ratio
21:9
Max. Resolution
3440×1440
Max. Refresh Rate
144 Hz
Display Area
799.8 x 334.8 mm (31.4×13.23 inch)
Typ. Brightness (cd/m2)
400
Typ. Contrast
1000:1
Panel Type
IPS
Viewing Angle (L/R;U/D) (CR≥10)
178/178
Response Time (ms)
1ms (MPRT)
Display Colors
1.07 Billion
Color Bit
10 bits
Color Gamut
98% DCI-P3
Input/Output Connector
HDMI 2.0*2/ DP 1.4/ Headphone jack
Dimensions (HxWxD)
H: 815.21×524.98×269.7mm (20.7×32.1×10.6 inch)

L: 815.21×425.13×269.7mm (16.7×32.1×10.6 inch)

Net Weight
8.5kg (18.7lb)
Net Weight W/O stand
5.74kg (12.65lb)
Gross Weight
13.2kg (29.1lb)
Accessories Included
Signal cable (default, varying by SKU)
Adapter with Power cord(1.8m),

HDMI 2.0 cable(1.8m),

DP to DP 1.2 cable(1.8m
For starters, the BenQ MOBIUZ EX3415R Ultrawide Curved Gaming Monitor is positioned and designed to be a premium gaming product. Therefore, BenQ did not scrimp when it comes to equipping the monitor with the most adequate technologies to serve its purpose. It is equipped with an IPS curved panel and has a 1440p resolution. Its effective resolution on the 21:9 aspect ratio is 3440 by 1440. As compared to typical 16:9 monitors, you will be getting about 31% more horizontal space on your monitor.
As a gaming monitor, the BenQ MOBIUZ EX3415R Monitor can also run at a high refresh rate of 144Hz, enabling smooth and responsive gameplay. It's a fundamental requirement for gaming monitors these days. The monitor is also rated at a 1ms MPRT, ensuring that your inputs can quickly be shown on the screen. The monitor is geared up to ensuring that it gives you that advantage in games.
To provide more immersive gaming experience, the monitor also comes with a 1900R curved screen. It also comes with a 2.1 channel speakers system built right into the monitor.
A Look at the BenQ MOBIUZ EX3415R and What's inside the box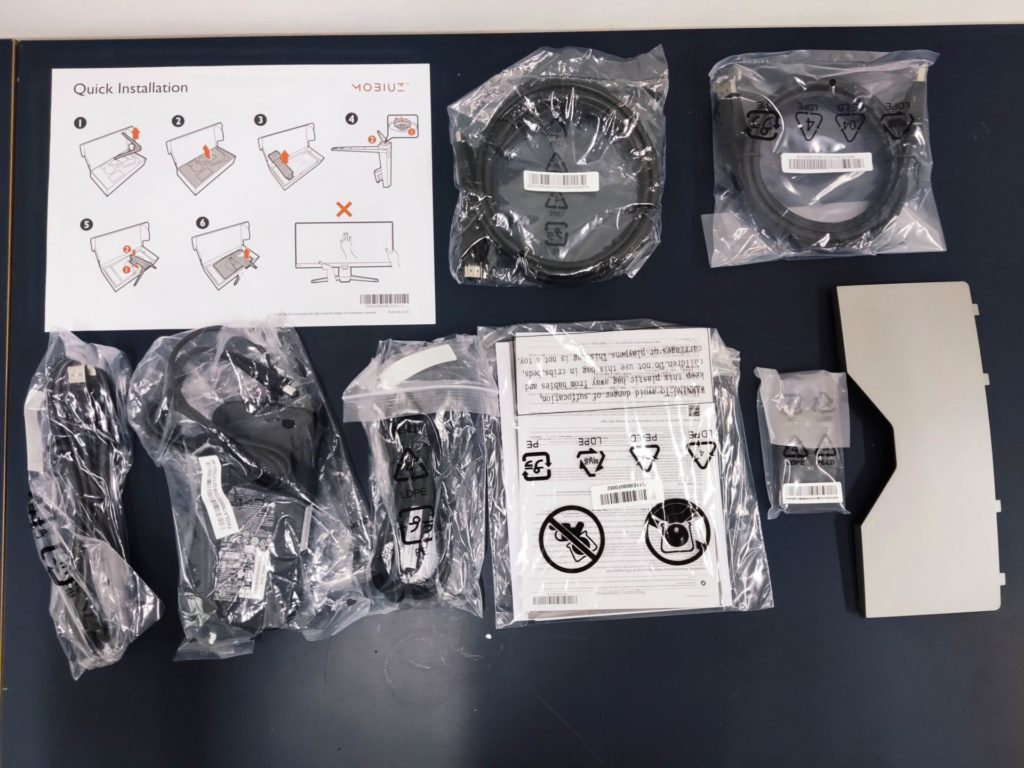 In the box, BenQ also included a USB cable, Power adapter, Installation Guide and Warranty Documentation, HDMI cable, Display Port Cable and a remote control.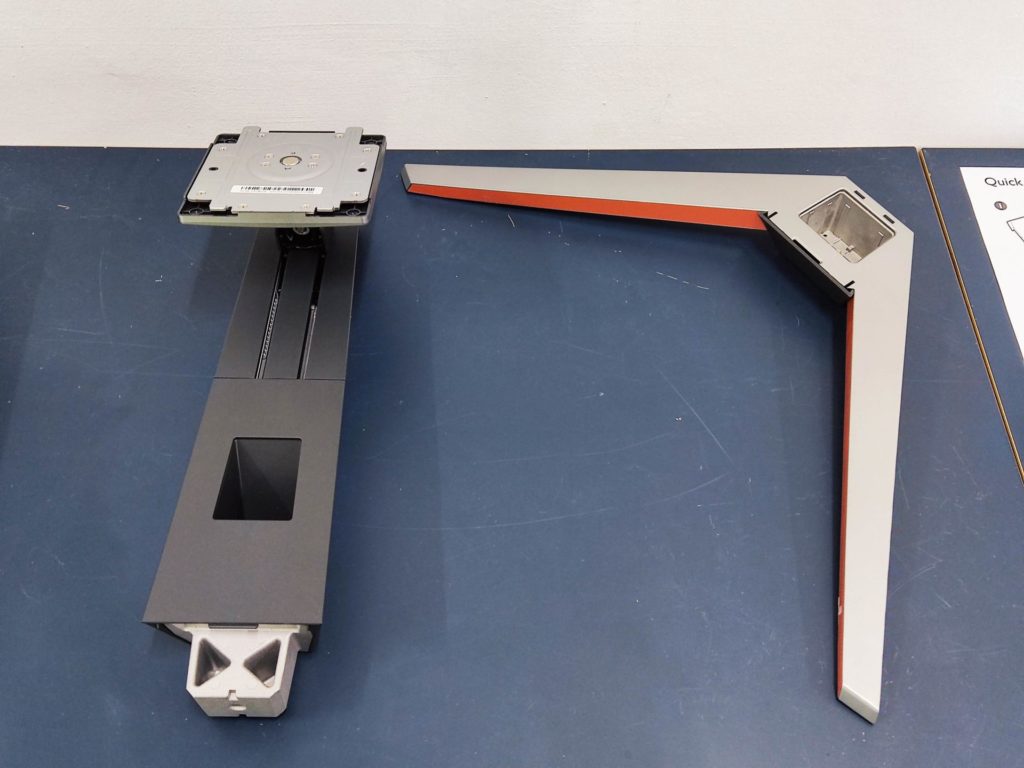 Because of the size and weight of the display panel, the monitor stand is made to be extremely sturdy. Installation of the stand was also very straightforward. In fact, the monitor can be easily assembled in three steps.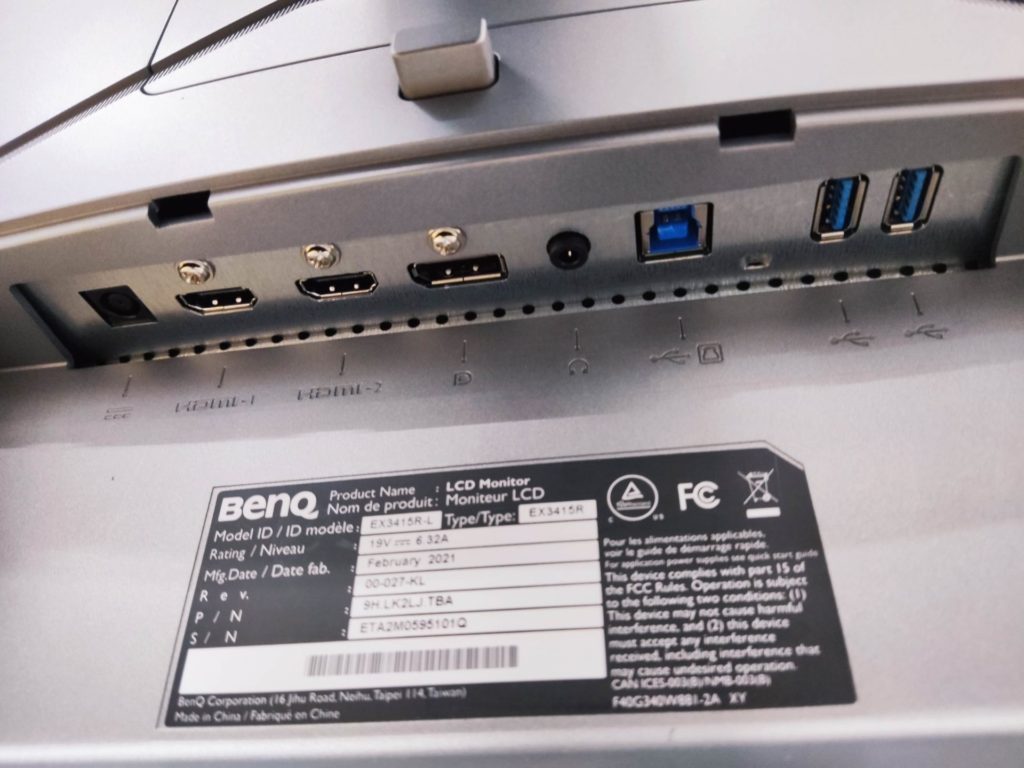 At the rear of the monitor, we can find the various connectivity and power jacks for the monitor. From the left to the right, we can see the power jack, 2 x HDMI ports, 1 x Display Port, an Audio Out Jack, an USB 3.0 Type B port, and 2 additional USB Type A ports.
The monitor comes with a built-in USB 3.0 hub. You can simply connect the USB Type-B cable to monitor and its other end to your PC, allowing you to use the two USB 3.0 Type-A ports for your peripherals. However, we've got to say that the location of the USB 3.0 Type-A ports is not placed at the most convenient or accessible location on the monitor.
Once you've connected the required cables to the monitor, you can simply attach the rear cover to make sure that your whole setup remains neat and tidy. As you can see, there is also a cable management hole on the stand that allows you to route your cables accordingly.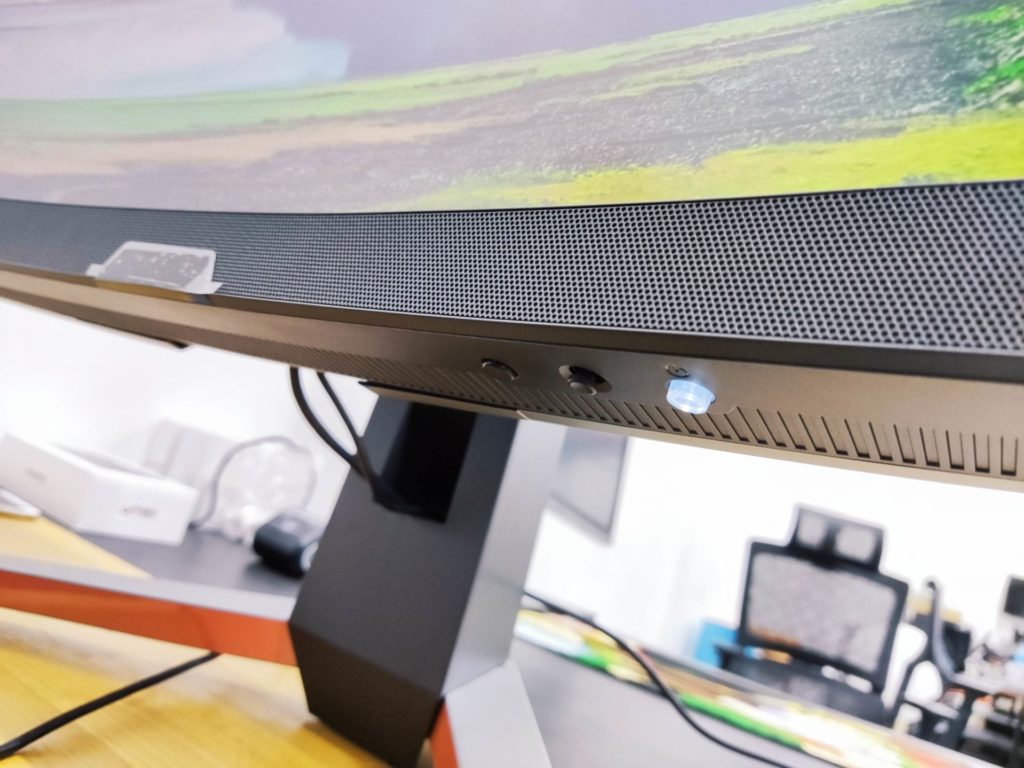 Moving on to the front of the monitor, we can see that the power button and menu joystick are found here. We do appreciate the usage of a little joystick to navigate across the menu items on the monitor, as it will be so much more natural.
Also, you can see that the "soundbar" is placed right below the monitor panel. This is where the 2.1 speakers are housed in.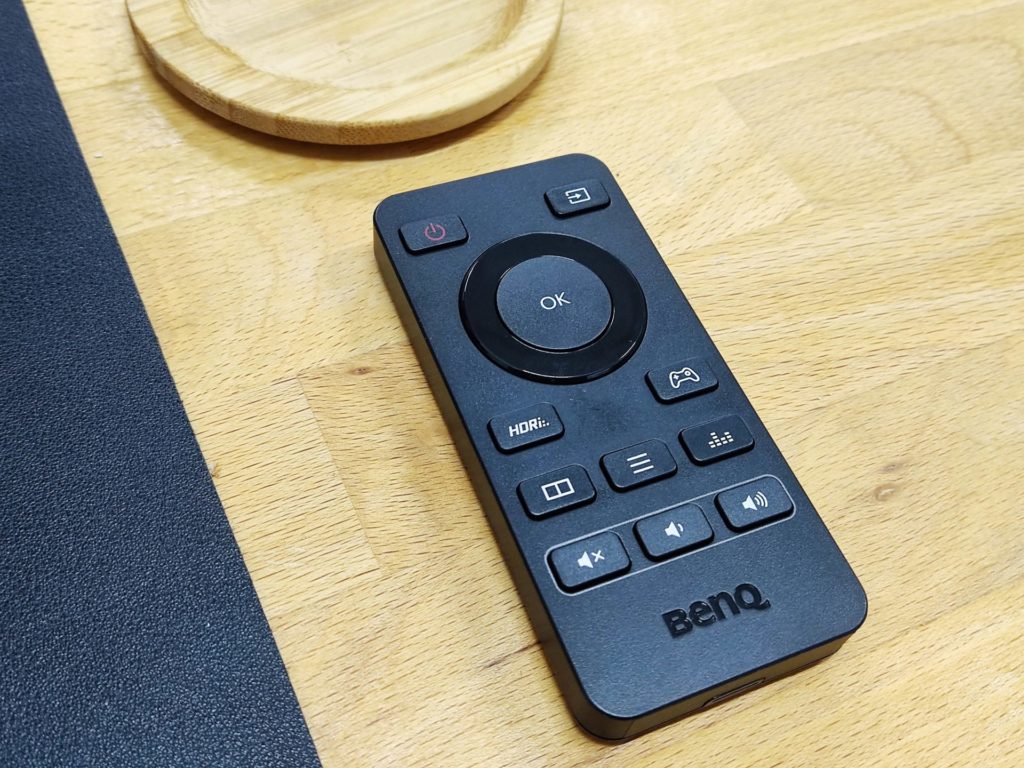 To allow you to quickly change the settings on the monitor, BenQ has even included a remote control for the monitor. With the remote control, you will have quick access to the hotkeys, reducing the trouble when you need to switch the game or sound modes. We can also see how convenient the remote control can be, especially when you are sitting a certain distance away from the monitor, such as when you are playing couch games.
You can also physically adjust the angle and placement of the monitor to suit your needs. The monitor stand lets you adjust the height and swivel, and to tilt the monitor panel to optimize your viewing angle.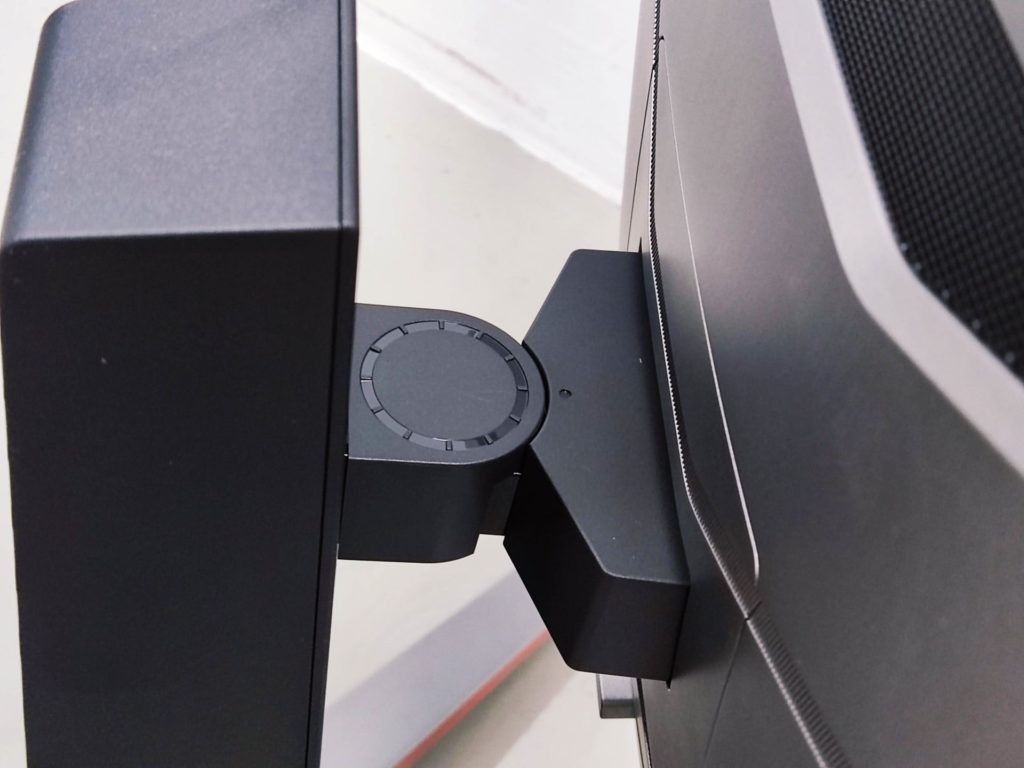 Interestingly, there is also a swivel indicator at the rear of the monitor, so that you can always be certain of your optimal monitor position.
Key Technologies
HDRi
Even though not advertised, the BenQ MOBIUZ EX3415R actually does support HDR. However, it is only rated at HDR400, which is an entry point for HDR. To further improve the image quality, BenQ has developed their own proprietary technology to further enhance visual quality on their panels.
HDRi can intelligently enhance the content you see on your screen, improving clarity. It even enhances standard definition content with its emulated HDR feature to make it seem like you are actually enjoying HDR content. Certainly, this technology is one of a kind for monitors.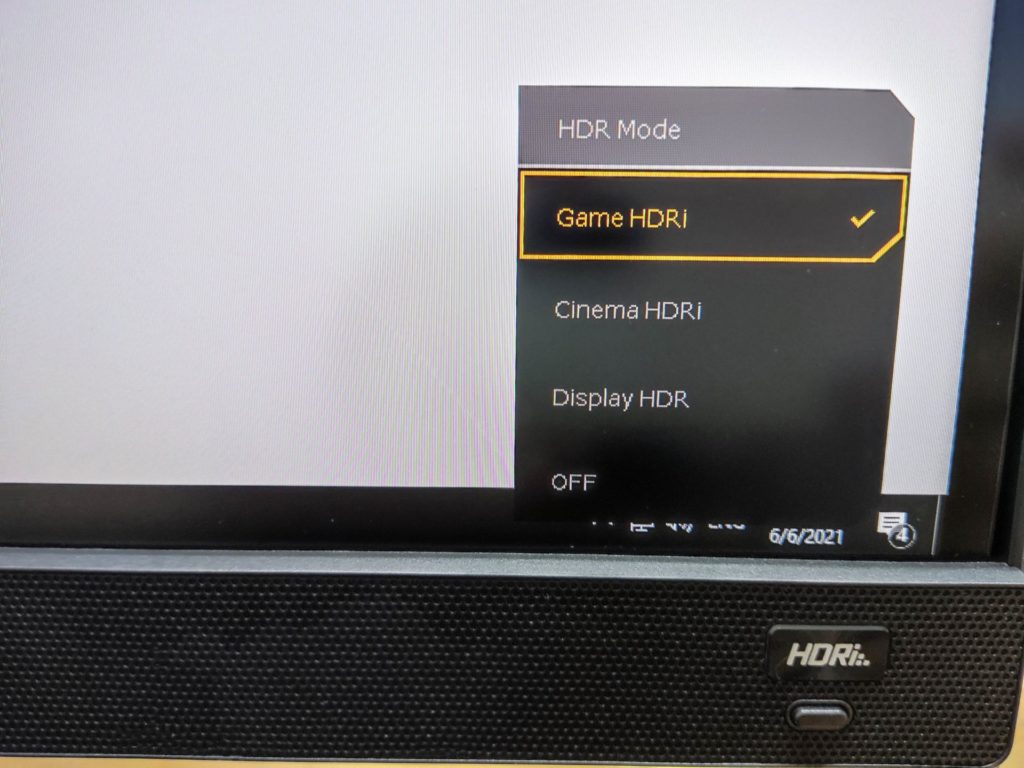 Within HDRi, there are also two modes that can be selected. They are the Cinema HDRi and Game HDRi modes. Based on the mode selected, the monitor will adjust its settings accordingly to give you the best outcome.

For example, in Cinema HDRi, the focus will be on making colors more vivid. The screen will show more saturated green/blue/cyan colors. Skin tones will also be more natural as well. On the other hand, Game HDRi largely balances the brightness of a scene, allowing you see more details in darker areas, allowing you to see more.
MOBIUZ image optimizer – Light Tuner and Racing Mode
Within the monitor's settings, you can select multiple color modes which will change the color settings on the monitor to suit your usage scenario. There is even a dedicated racing game mode, which is suited for a ultrawide screen curved display!
With the different color modes applied, one of the settings which is changed is the Light Tuner value.
Light Tuner is usually used to allow you to see more information and details in your games. For example, if you enemies are hiding in a dark area, you probably wouldn't see them in a typical monitor. However, with the Light Tuner value turned up, the darker areas in the scene will appear much brighter, making it easier to spot your enemies. Moreover, Light Tuner also enhances the contract in bright scenes as well.

Eye-Care Technology
Another notable feature of BenQ monitors is their specialty in eye-care technology. If you are wondering why there's a black sensor area in the middle of the speakers, that's actually a light sensor. Known as the Brightness Intelligence Plus (BI+) feature, this light sensor allows the monitor to understand the light profile in the environment. This way, the monitor can adjust the brightness and colour temperature accordingly to an optimal state.
On top of BI+, the BenQ MOBIUZ EX3415R also features many eye care features which reduces the strain on your eyes with prolonged usage of the screen.

General Thoughts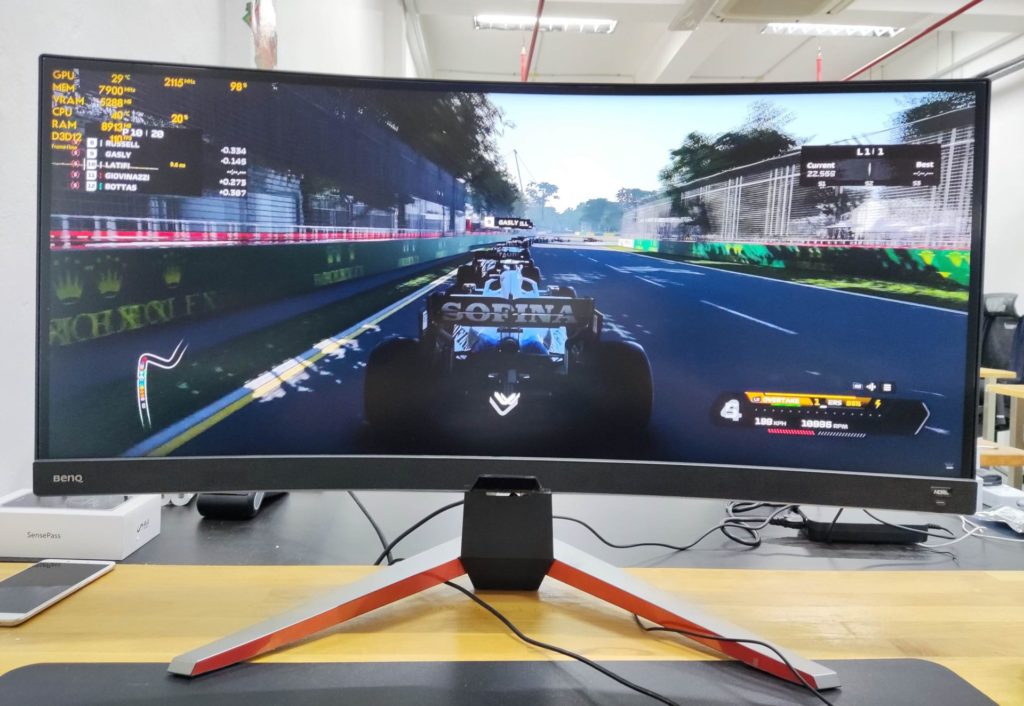 What I really liked about the BenQ MOBIUZ EX3415R monitor is that it is designed with a simple and minimal concept. These days, many gaming monitors are simply too pretentious, adding unnecessary motifs or special lighting features onto them. The more classic design on this monitor allows it to be more suited for any kind of scenarios – be it if you are using it for gaming, entertainment or work.
Also, I've got to say that even though the speakers built into the monitor are rather small, they sounded quite good. These treVolo speakers create sounds that are clear and expressive. They could also produce good effects in both games and movies. It's definitely something of higher quality when compared to the typical speakers you get from monitors. However, due to its physical limitation, the speakers can't really reach an higher volume than expected. Interestingly, with the curved design, the sounds coming from the speakers are directed towards the head, which is an optimized position for listening. Moreover, since the DisplayPort or HDMI cables also carries audio signal, the table can be free from another cable, making my whole desk even more clean without the need for a set of speakers!
As for the monitor's features, we found the HDRi modes to be useful and generally improves the overall quality of the images shown on the screen. However, there are times where such manipulations could be somewhat unnatural, and you would actually prefer to turn the feature off. Nonetheless, the good thing about the HDRi modes is that you can switch between game mode or cinema mode to best suit your use case, or even turn it off, or use the standard Display HDR mode based on your very own preference.
We were also quite impressed with the Light Tuner technology. We must emphasize that Light Tuner does more than just increasing the brightness of the screen. We realized that even though the darker areas are already manipulated to be more brightly lit, the supposed bright areas didn't get over exposed. This intelligent tweaking of the image could really give gamers the advantage when it comes to a competitive setting. We can appreciate how this technology can be useful for them.
Conclusion
We were looking for an all-rounder monitor that could excel in work and play while we spend more time than ever at home. The BenQ MOBIUZ EX3415R monitor has certainly got what it takes to meet our requirements. Just by being a widescreen monitor, we were able to get more work done with more content on the screen. Moreover, having a curved display also reduces the eye strain from looking at the extreme sides of the monitor. It's great for work.
Furthermore, with all the advanced features such as HDRi and Light Tuner technology, the monitor is really optimized for both games and media consumption. What BenQ has done right was that they had figured out that gaming experience is more than just about what you see. This is why they have also included a set of speakers that's built into the monitor, so that they can provide both visual and audio experience for the user.
Certainly, if you do have plans to upgrade your computing setup at home, do give the BenQ MOBIUZ EX3415R some thought. It simply gets the work done.
If you are interested in the BenQ MOBIUZ EX3415R Ultrawide Gaming Monitor, you can visit the official website link here.