What comes into your mind when it comes to purchasing a new gaming monitor? Is it high resolution and refresh rates, or is it unique gaming focused features which sets a monitor apart? How about professional eSports players? What are the types of monitor which they use?
Even though there are many computer monitors around which claim that they are great for gaming, only a very small fraction of them are actually good enough for competitive eSports players. In fact, it's actually very easy to find out which monitors are selected by these professional players – just look at what's used in tournaments. You'd be surprised that it's not your usual Republic of Gamers ROG or Acer Predator gaming monitors. Those are just simply not good enough.
Not your usual "gaming" monitor
Perhaps, not many have heard of the brand BenQ ZOWIE, but they are one of the big shots when it comes to eSports and pro gaming. In fact most of the competitive gamers actually use BenQ ZOWIE's monitors because of their no-nonsense approach to the development of their products.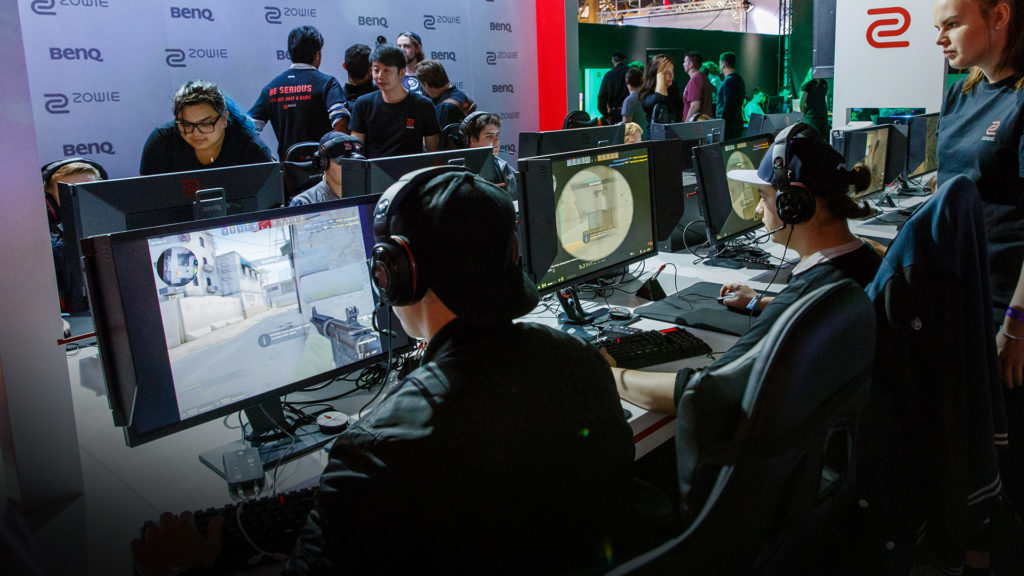 If you have noticed, the monitors featured on the image above don't have any branding or logo placed there. BenQ ZOWIE thinks that because the logo could be a source of distraction to players, they even decided to sacrifice their branding to ensure that pro gamers only get the best possible experience in their games. This is what I meant by a no-nonsense approach when it comes to the designing of monitors. It somewhat makes competing "gaming monitor" brands a laughing stock, with their excessive RGB lighting and out of the way designs.
BenQ ZOWIE Monitors
Three years back, BenQ ZOWIE released their XL2540 monitors in Singapore. It's the first monitor which comes with a 240Hz refresh rate, making it very suitable to be used in fast paced FPS games. However, the team of engineers and designers simply didn't stop there. By further understanding their target market, they further improve this monitor range with the XL2546, which comes with the brand's proprietary DyAc technology. We will share more about this technology later.
This time, BenQ ZOWIE has just released the successor to the XL2546, which is the XL2546K. The BenQ ZOWIE XL2546K further pushed the limits of a professional gaming monitor, further reducing the GtG (Gray-to-Gray) time of the monitor from 1ms to 0.5ms. With this improvement, they were also able to optimize their DyAc technology to bring a further competitive edge to professional gamers.
There are so many features on the BenQ ZOWIE to cover, so let's just get the review started proper.
The BenQ ZOWIE XL2546K eSports Monitor
To get started, you will have to understand that the BenQ ZOWIE XL2546K is an eSports focused monitor. It aims to bring out the best in competitive eSports gamers by giving them the edge with their gear. You wouldn't expect any sort of fancy design or odd decals that does not serve any kind of practical purposes.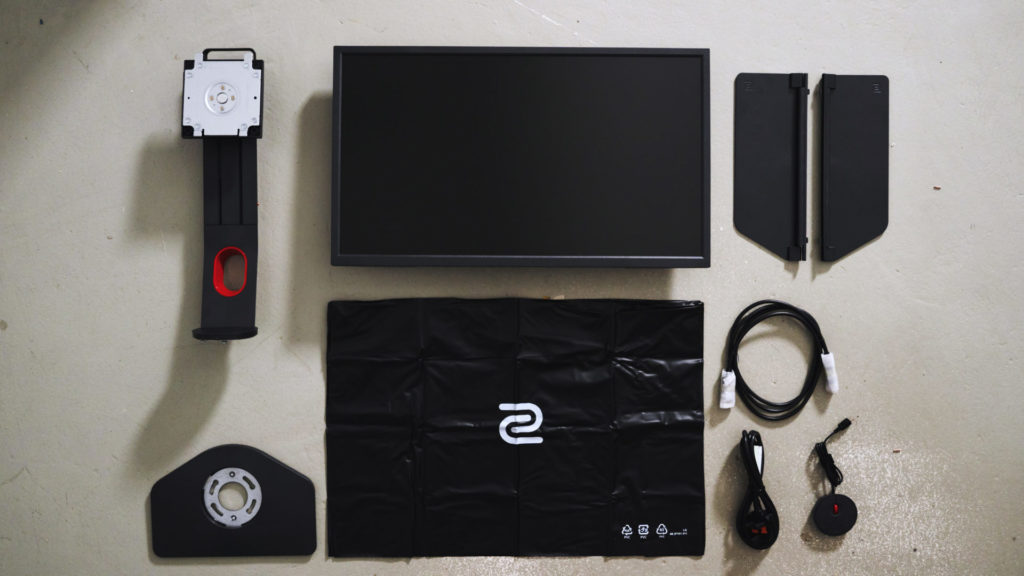 Our first impression of the BenQ ZOWIE XL2546K is that it's just looks so plain and minimal. It's not a disadvantage, but rather it is purpose built and designed specifically this way to reduce any kinds of distractions on the pro gamers when they are in the cusp of their game.
Physical Design and Features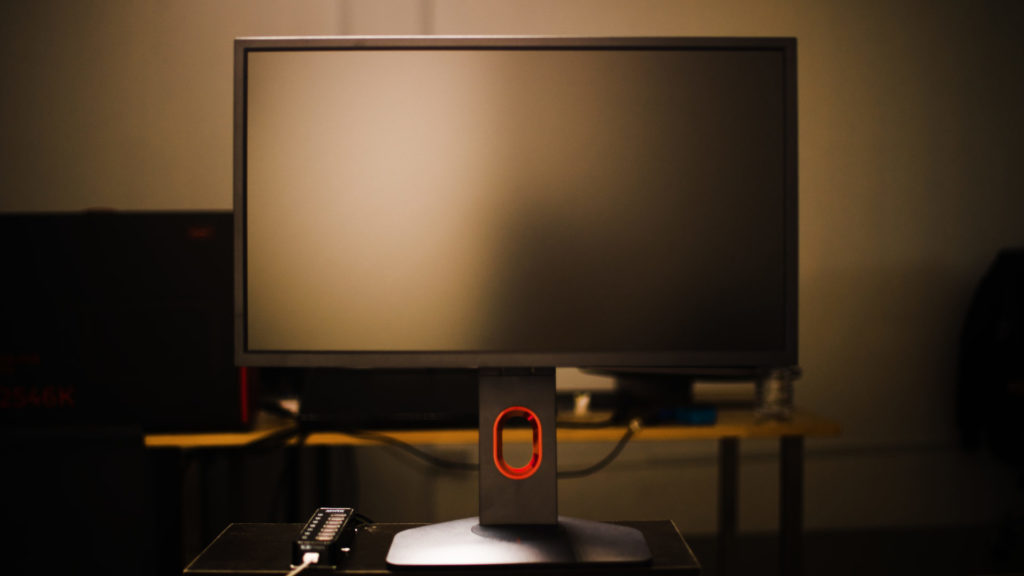 As mentioned, there are no logos or any sort of graphics at the front of the monitor, allowing professional gamers to focus solely on their games. Previously, the BenQ ZOWIE XL2546 has its power button at the front bottom-right corner of the display. After getting feedback and understanding that the LED light from the power button could be a source of distraction, the power and control buttons are now placed at the back of the screen instead.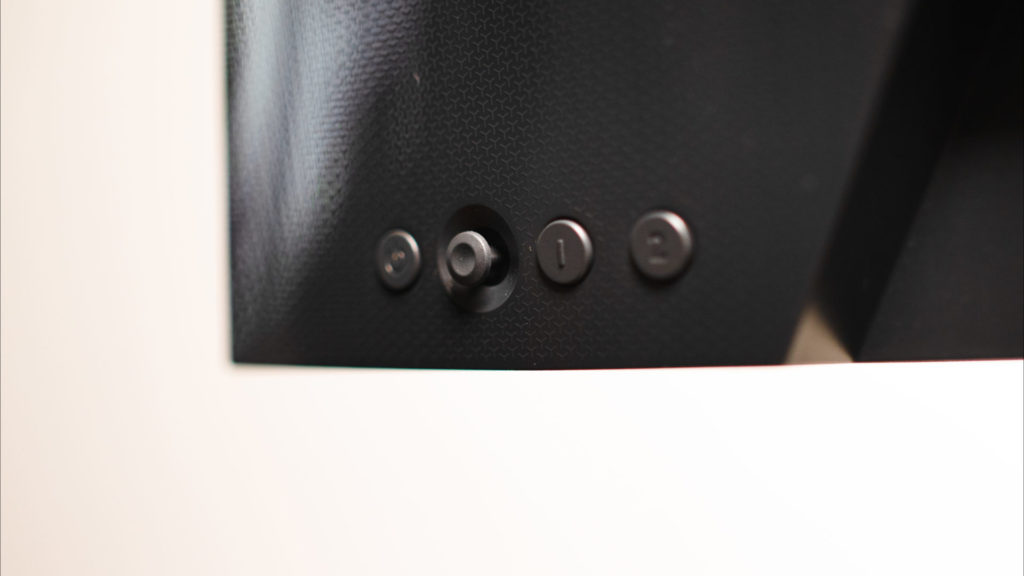 What I really liked about BenQ's ZOWIE products is that every single design aspect can be explained. The designers and engineers from BenQ have certainly put many considerations and attention to details in designing their products.
The monitor can be tilted, swiveled and rotated. This ensures that the monitor can be placed in the most optimal position for gaming sessions. The versatility of this monitor also allows it to be used in different usage scenarios.
When we mean attention to details, BenQ ZOWIE really shows it in their products. To ensure that the monitor is rotated at the correct angle, they even have a rotation scale that's found on the base of the monitor. A little arrow also shows where is the center, so that you can be certain that the monitor is always in the right position as defined. Similarly, base stand's mount can also adjust the height of the monitor as well. There is even a little sliding knob to indicate your preferred height of the monitor, so that you can always shift it back to that position. Where in other monitors can you find these sorts of features?!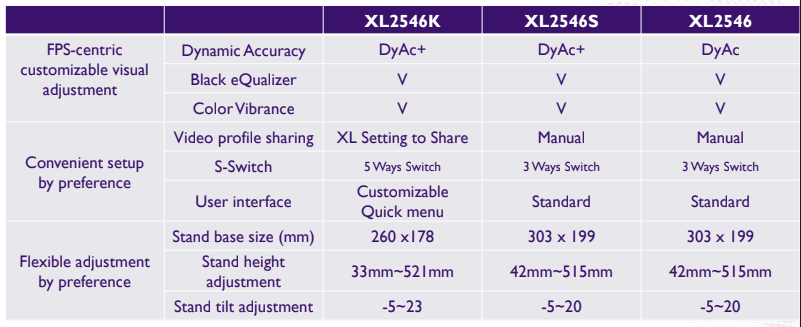 The physical adjustment of the BenQ ZOWIE XL2546K has been improved from its predecessors. It has a wider range of height and tilt adjustment, and yet still features a smaller base stand without compromising on the monitor's stability.
While there isn't a need to rotate the monitor for more pro-gaming, we were still glad that the feature is there. It also makes it extra easy for us to plug in the video and power cables after rotating the monitor 90degrees. For this monitor, there are 1 x Display Port 1.2 and 2 x HDMI 2.0 interfaces. It also supports HDMI audio passthrough, where you can simply plug your headphones into the monitor instead of the PC's system unit.
Interestingly, at the back of the monitor is a hidden ledge that can be used as a headphone holder. This feature is extremely useful, as it keeps the keeps the whole setup minimal and tidy. This headphone holder feature should in fact be part of every gaming monitor out in the market!
If you're wondering what the side "shields" are for, you are not alone. I must say that I'm not a professional gamer, but rather just a casual player. Upon installing the shield, I couldn't understand its benefits. But after playing games on the XL2546K for about a week or so, I decided to then remove the shields (you can actually just fold it backwards) and find out the difference. I then realized that without the shields, it's very easy to be distracted by what's happening around in the environment. The shields do serve its purpose, ensuring that you can fully focus on your games, and perhaps even give a more immersive experience by minimizing distractions around you.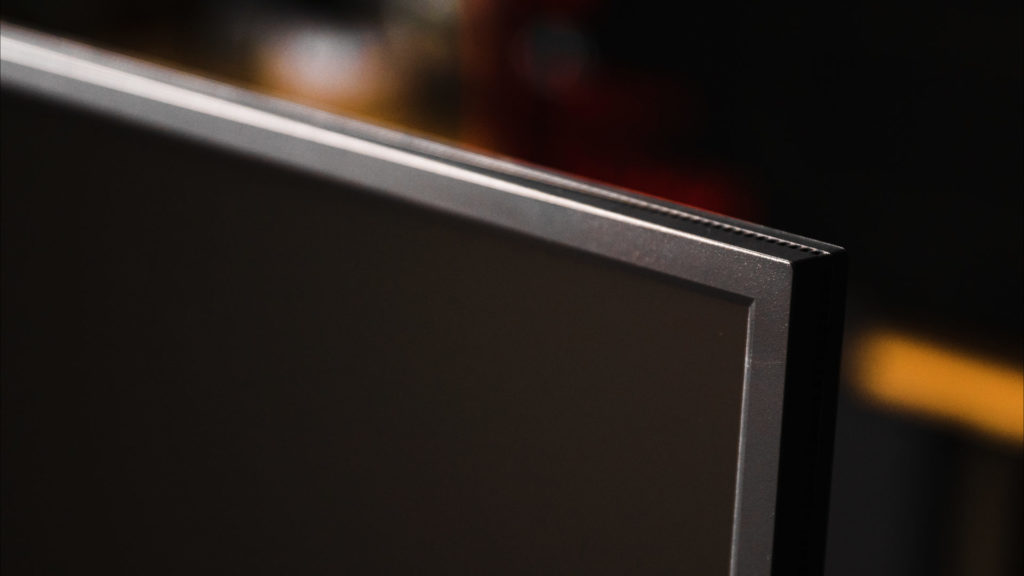 BenQ explained to us that instead of going for something that's futuristic and having a "bezel-less" design, they strive to design a product that is optimized for competitive eSports gamers. To them, the wider the bezels, the better, as gamers can fully focus on the crosshair.  This is similar to why art pieces in galleries always have a frame to them. This allows its audiences to only focus on the art.

Another unique feature of the BenQ ZOWIE monitors is the S-Switch. S-Switch makes it extremely easy for users to control the settings on their monitor. Instead of guessing if they've pressed the button correctly on the monitor, you can be certain with the S-Switch. S-Switch also makes it very convenient to change monitor profiles.
Previously, the S-Switch only features verticle scrolling features. Now, with the horizontal control buttons, it makes navigating through the OSD menu on the monitor even more natural as well.
Display Features
DyAc+
There is no doubt that we can enjoy the smoothness and fluidity that comes with a 240Hz refresh rate display. However, when you are the peak of your eSports career and when everyone is using the same types of monitor, you will probably need more than just high display fresh rate for your win. That is why BenQ developed their proprietary DyAc technology for their monitors. This time, with advancements in display technology, BenQ has further improved DyAc technology on the BenQ ZOWIE XL2546K and has called it DyAc+.
DyAc, or in its full form – "Dynamic Accuracy", is a feature that is aimed to reduce blur in fast paced games. BenQ has specifically designed this feature to enhance "Spread Control" or "Recoil Control" in CS:GO.
Usually, after a sudden change in a scene, such as after a gunshot, images will become blur and have after images. This is despite the fact that the monitor already runs on a high refresh rate. DyAc keeps the same display refresh rate and smoothness of the gameplay, but adds clarity to moving objects on the screen. This allows gamers to better track along better moving objects. It's especially useful for aiming in FPS games.
There are three options for DyAc – (1) Premium – most clear, (2) High – medium clarity or (3) Off. Users can vary the clarity of moving objects based on the types of games they play.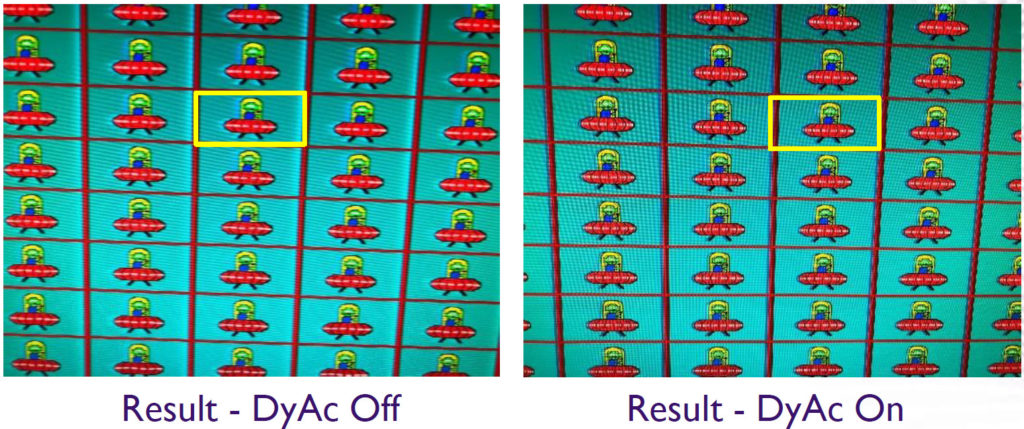 If you are wondering if DyAc really works, or if it is just a gimmicky feature that does nothing – we have to say that it certain works as what it claims to be. This feature can be experimented and shown with actual results. Based on our tests, with DyAc Off on the UFO Test, images appear to be slightly blurry. When it's turned on, the UFO is much sharper.
AMA – Advanced Motion Acceleration
BenQ's Advanced Motion Acceleration feature essentially overdrives the liquid crystal in the panel. This allows the pixels to react even faster than what it is rated at, allowing the even lower input lag. There are also two three options available, (1) Premium – max overdrive, (2) High – usual overdrive and (1) Off. Specifically, each setting gives 0.5ms, 1ms and 3ms of response rate respectively. This response rate is down significantly from its predecessor's 1ms, 3ms and 5ms respectively.
Black Equalizer
The Black Equalizer feature is also rather common in today's gaming monitor series. We've first tested this kind of feature out in GIGABYTE's AORUS AD27QD tactical monitor, which had a feature of the same name. The technology feature acts similarly – it increases the brightness level of the picture shown on-screen, so that you can see more things than its standard dark in-game environment.
With the Black Equalizer on the AORUS AD27QD, we noted that enabling the feature brings about certain degradation of image quality and game experience. This is because it applies the brightness across the whole screen, rather than important areas that needs to be lit. This makes the whole screen considerably washed out and have an unusual tint to it.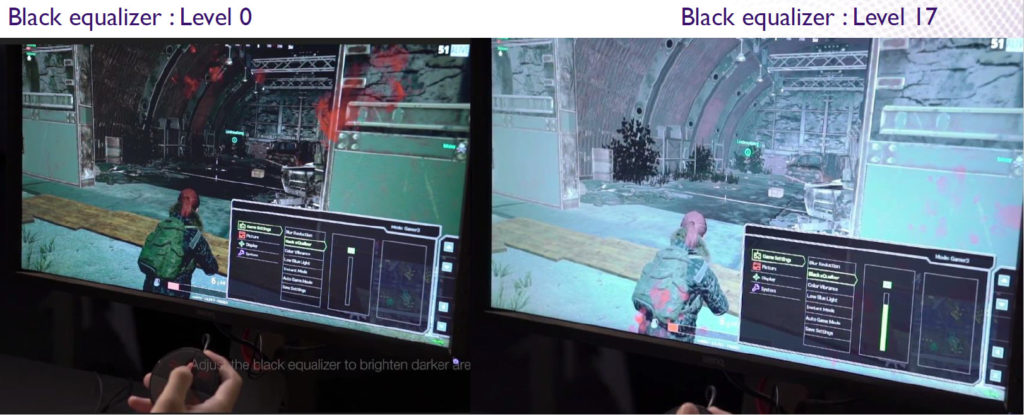 On the other hand, the Black Equalizer feature on the BenQ ZOWIE XL2546K does this differently. Even with varying levels of black equalizer, the content in-game still looks rather natural. This certainly gives gamers that extra advantage in their games. Black Equalizer also allows us to see more details than usual, especially in poorly lit in-game environments.
ColorVibrance
ColorVibrance is another tool to change the color profile of your display. It comes in 20 levels as well, similar to Black Equalizer. ColourVibrance can help professional gamers in certain games to better spot their enemy, especially when the enemies tend to blend into the background. This feature works well together with Black Equalizer in order to give users that unfair advantage against their opponents.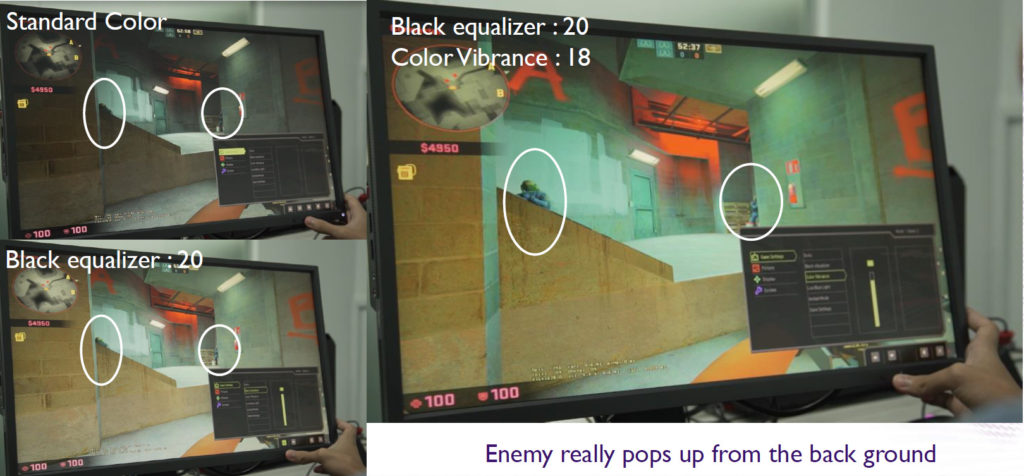 Conclusion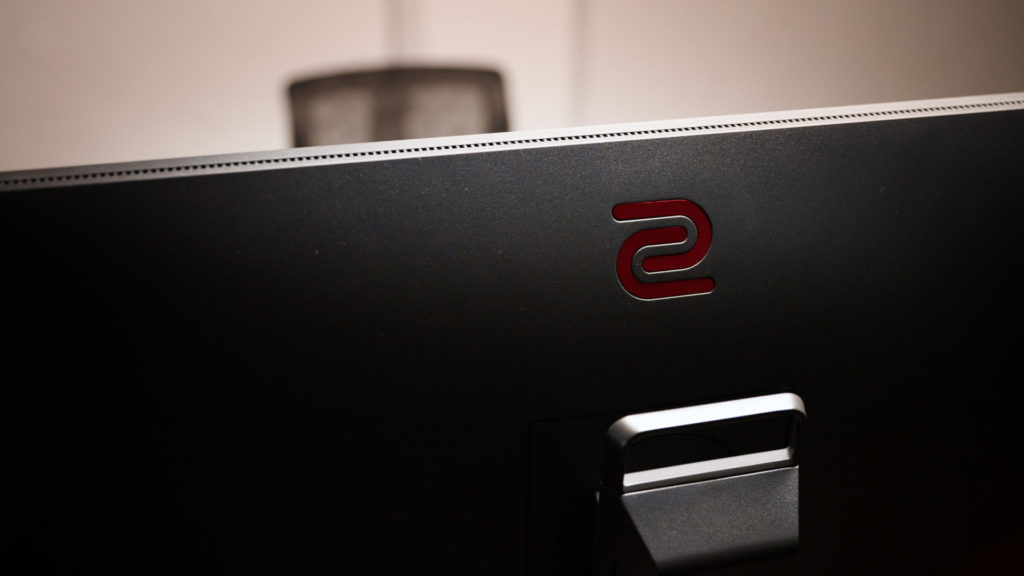 We usually don't give extreme opinions in our reviews, but honestly speaking, the BenQ ZOWIE XL2546K really performs that well. There should be no other monitors that comes close to how specifically the XL2546K is designed for competitive eSports games. Its pixels respond very quickly thanks to both its 240Hz refresh rate and unique DyAc technology, empowering those at the top of the game to do better than how they are doing now. The product also pushes the limit of competitive eSports, showing off that hardware equipment also matters as much as the skills of each sportsman.
Just like how a pair of running shoes which can give runners improved performance, the BenQ ZOWIE XL2546K certainly gives eSportsmen that advantage when it comes to their games. It's rare to see how daring BenQ is when it comes to developing for such a niche market product, rather than just appealing to the masses. We laud the efforts of BenQ to be different from the norm, and understanding the real needs of their users to develop their product. Not many brands are willing to do these today.
No doubt, if you are seeking the best of the best gaming monitor in the market, look no further as the BenQ ZOWIE XL2546K is the cream of the crop. It keeps us excited to see what other unique features that BenQ can come out in the future with their BenQ ZOWIE lineup of monitors. We're just wondering where else can be improved, as the BenQ ZOWIE XL2546K already seems perfect in our opinion.
Resources
To find out more about the range of BenQ ZOWIE monitors, you can visit the links below:
XL2546K: https://bit.ly/385HCR9
XL2411K:  https://bit.ly/35XS2zl
Purchase Links
Do take note that we do not benefit from your purchase. These are NOT affiliate links.
LAZADA
XL2546K https://bit.ly/3el0ufN
XL2411K https://bit.ly/34QVCMs
Shopee 
XL2546K https://bit.ly/34R1IMV
XL2411K https://bit.ly/2TPBB2p