Known for their quality control, BenQ has a great track record when it comes to building reliable monitors. That is why we are excited to try out the new BenQ EX3203R, which boasts a high 144Hz refresh rate in a larger than typical 31.5-inch HDR QHD display. Let us take you through what caught our eyes as a gamer, and how it helped us in our profession.
State of high refresh rate displays
Having experienced displays with high refresh rates every now and then, the slight tinge of euphoria is unavoidable. The silky smoothness of every action is as welcoming as the scent of waffles in a cafe, distinct and appetizing. As 120Hz or higher refresh rates slowly become the mainstream, budget-conscious gamers can only indulge this sort of luxury in short spurs.
144Hz QHD
Descending back to reality, the EX3203R boasts a decent 144Hz display. Perfectly suited for this day and age where 4K@60FPS is a dream for many. If you are rocking one of the newer graphics cards available, the QHD (2560×1440) and 144Hz is a great step up from the old but gold FHD@60FPS. Not only that, this one-two combo hits the sweet spot in terms of resolution and playability for even the most demanding titles.
Furthermore, the QHD resolution scales extremely well with applications on Windows 10. Windows are not tiny, as compared to some scaling proportions seen in 4K. Additionally, the QHD resolution (over FHD) is a rather godsend. Being able to fit 3 separate sets of codes comfortably in a single display is a giant leap over 2 cramped sets of panels in FHD.
"Size does not matter, it's how you use it". This is also applicable when it comes to gaming monitors. What the EX3203R shines is checking the boxes for many, while offering it in a 31.5″ body. However, QHD may not be large enough for the actual size of the display. Text are not as crisp as it is normally is in a smaller 24″ FHD display. This can result in some strain when a ton of reading is needed, and can be especially aggravating for programmers and writers. Thankfully, the built-in Low Blue Light mode helps to alleviate this by quite a bit.
FreeSync2 HDR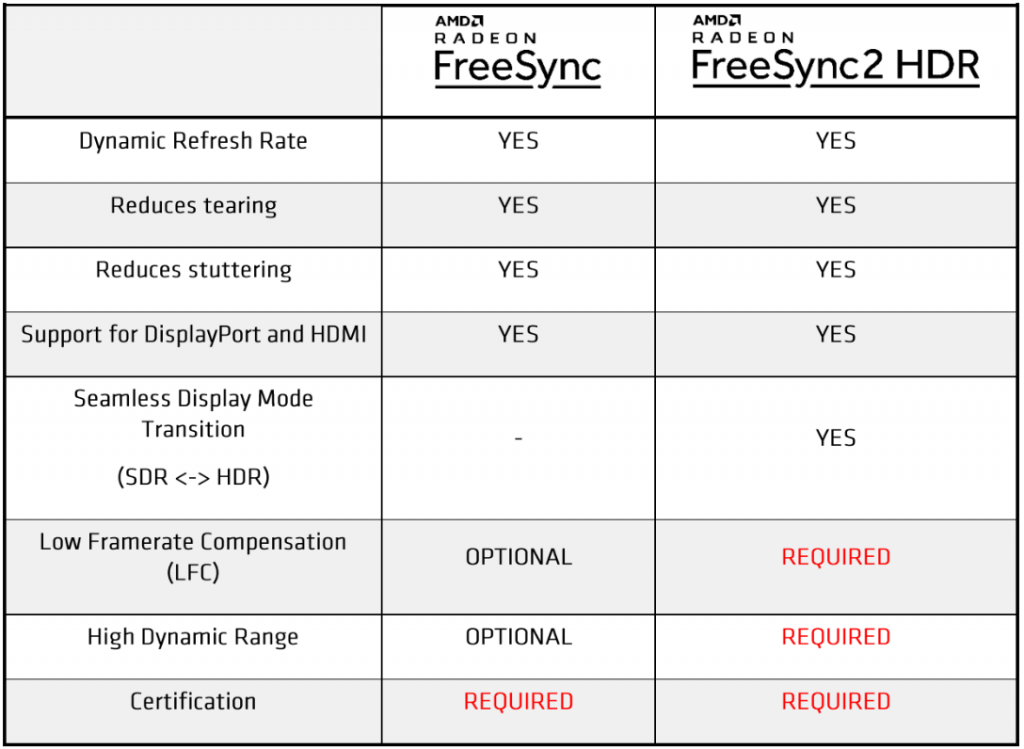 The EX3203R not only sports a fast engine, but also has a great suspension for comfortability. In a bid to remove the common problem of tearing when gaming, it comes with FreeSync2 HDR. This upgrade brings about Low Framerate Compensation, letting weaker PCs breathe a little better. Most notably, HDR is also introduced, with seamless transition between SDR and HDR. Instead of merely slapping on a HDR sticker and calling it a day, BenQ managed to get a Vesa Certified DisplayHDR 400 label. This ensures that the display gets to meet a certain standard of contrast and brightness levels on top of its 90% DCI-P3 coverage.
Gaming with AMD Radeon
Tom Clancy's The Division 2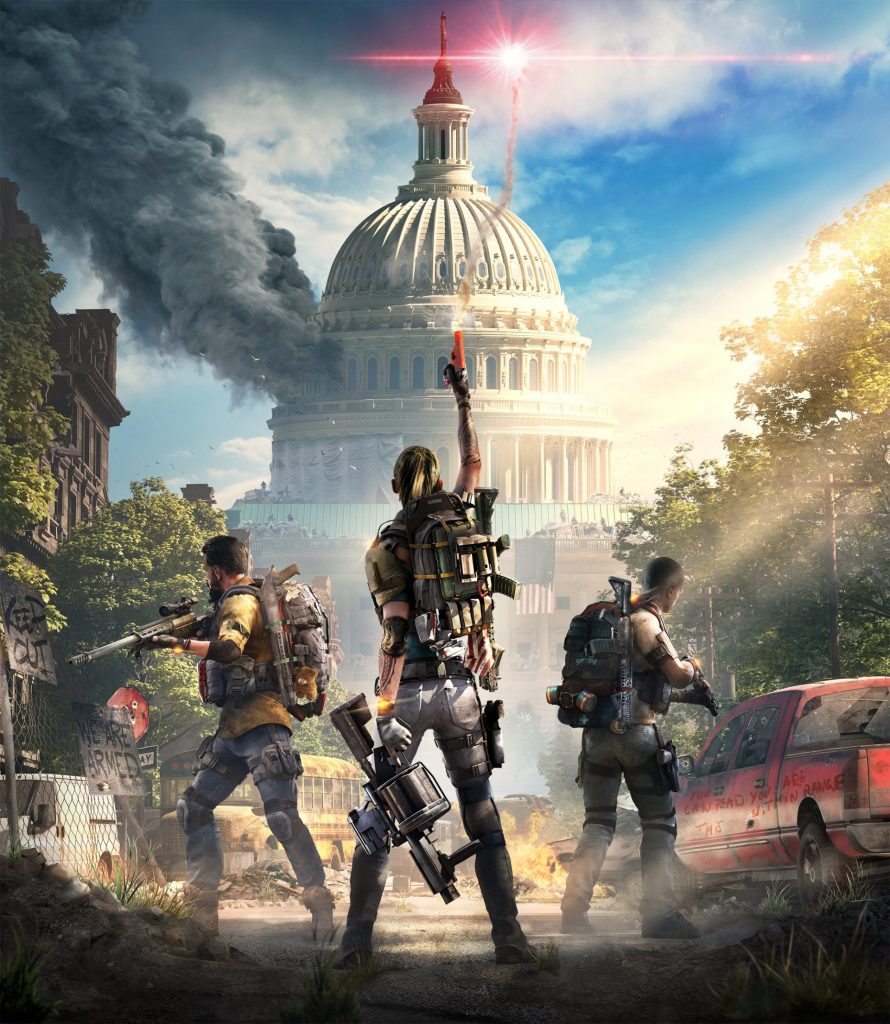 Moving on to actual juicy details, actually gaming on this behemoth of a monitor. For starters, we got our hands (and eyes) on the latest titles, and started with The Division 2. Powering this gaming session is the AMD Ryzen 1700X and most importantly, the Radeon RX Vega 64. This one of the best cards that AMD is offering, while supporting FreeSync2 HDR that this monitor features.
What was outstanding at one glance was how bright the sun glare was. Instead of merely ramping up the brightness, HDR managed to keep details in scenes with varying lightings. Take the brightly lit streets of Washington D.C. for example. Objects that are under direct sunlight does look like what it should in real life, blindingly glaring. Other props further away correctly diminish in brightness in relation to the distance, as it should. For one, kudos to the developers from Ubisoft for developing such a lovely engine (Snowdrop). On top of that, the EX3203R's capability to display this slight shift in contrast is rather remarkable. This would have not been noticeable when playing on other typical monitors.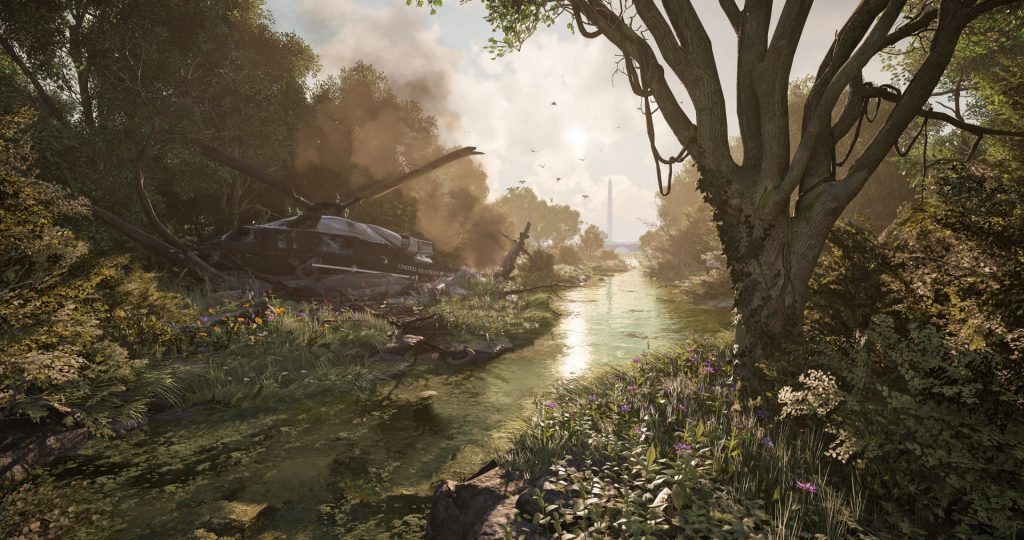 All is not sunny in the world of HDR, however. The extreme brightness output of most HDR displays can be rather straining to the eyes. As such, BenQ included their very own Brightness Intelligent Technology Plus (BI+) feature with the EX3203R. BI+ basically softens the intensity of extremely bright portions of the screen, while keeping the details in dark scenes clearly visible. When used together with HDR, it gives users the ability to still view an amazing range of luminosity with less strain.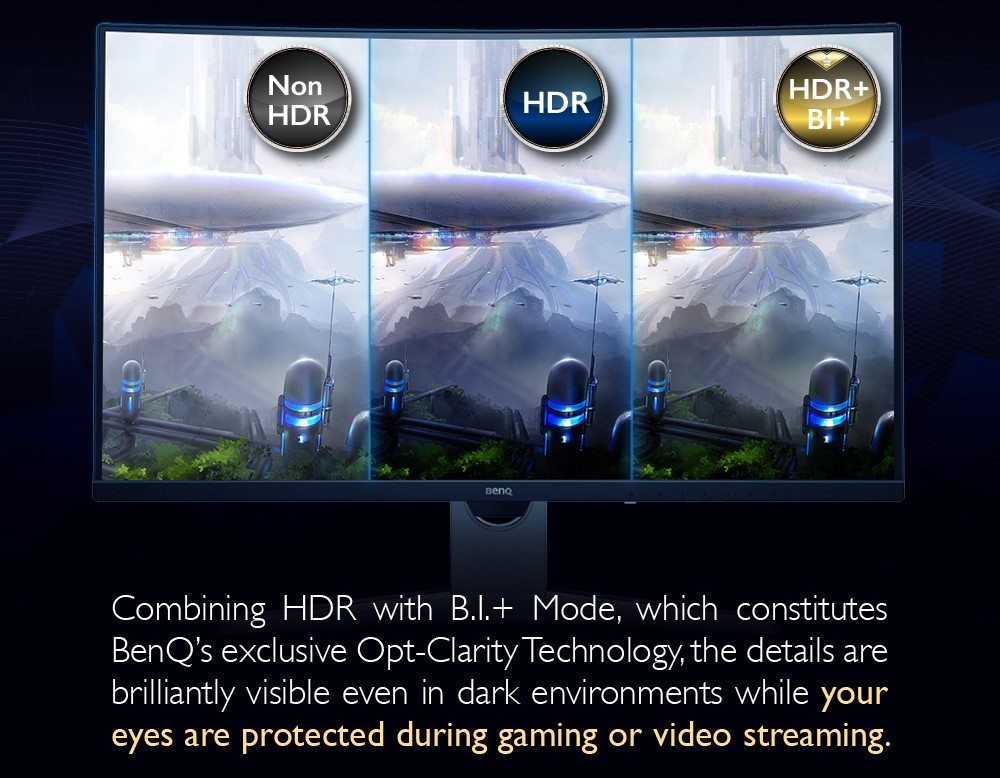 How about smoothness? With a respectable response time of 4ms, it is more responsive than cheaper alternatives (e.g. PRISM+ @ 6ms). Also as mentioned previously, the LFC that the new FreeSync iteration brings does help to a certain degree. When the framerate drops below minimum required refresh rate for the FreeSync to work, there is reduced motion judder. Unfortunately, the game is still in its infancy when it comes to optimizations. Framerate drops are a norm at QHD @ High setting, and is still somewhat jarring even with LFC. Hopefully these issues are ironed out as the game matures.
Design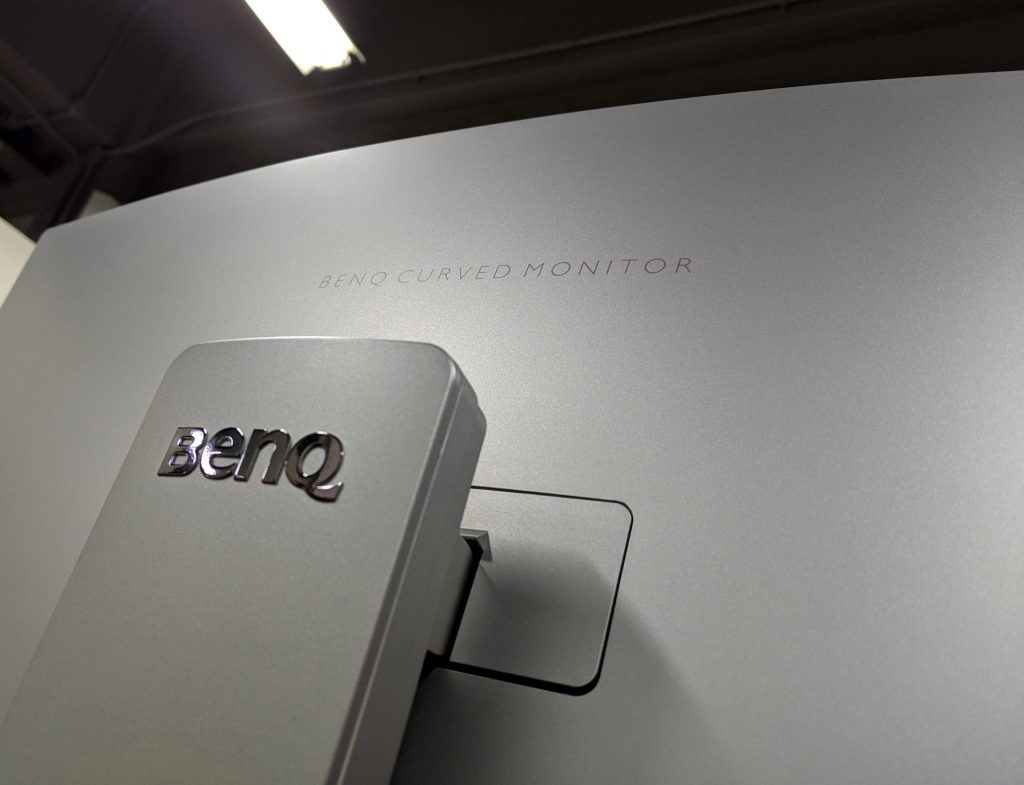 Them Curves
Moving onto the slightly less exciting, yet important, aspect of any monitors – Design. Plastered right at the center of the monitor's rear is one of the key defining aspect, its 1800R curvature. With larger displays comes some difficulty in viewing content on the edges. This worsens when used in uncontrolled environments where glares from the sun can be a problem. As such, a curved display is of utmost importance when it comes to keeping all those issues in check. It reduces possible glare, while removing the need to stretch your head to view content near the edges.
Talking about edges, the EX3203R's does come with tiny bezels (10mm) on all edges save for the bottom. In terms of adjustments, it allows for vertical (60mm up and down) but not horizontal movements.
Quality of Life improvements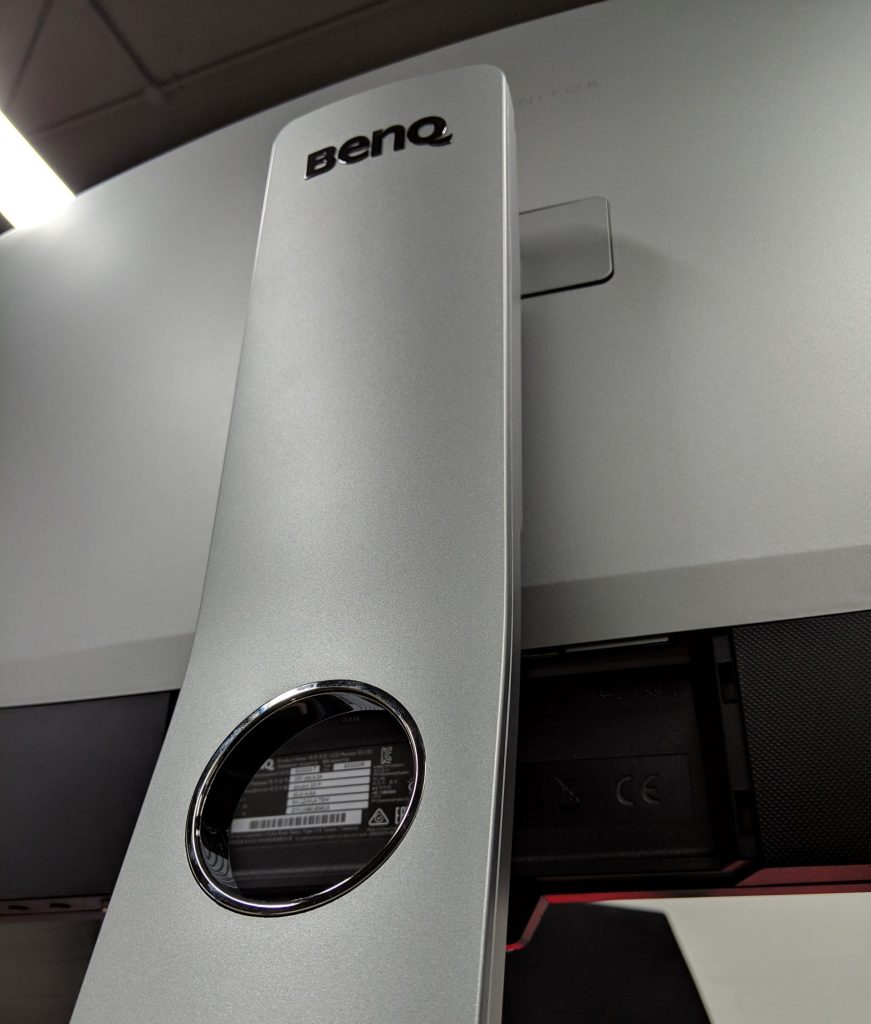 The EX3203R houses one of the rarer features that many other monitors do not – an ambient light sensor. This sensor is built-in to the BI+ feature mentioned above, which allows the monitor to automatically tone down the brightness based on your surroundings. What makes this actually useful is if it is placed near a window, where lighting conditions are extremely varied. Gone are the days of needing to adjust your brightness when the sun goes up/down.
Conclusion
BenQ priced the EX3203R right smack in the middle amongst its competitors. Costing S$799, this gaming monitor can be considered cheap when looking at other brands like ASUS. When you take a look at other budget brands like PRISM+, some features like HDR are lost for a price as well.
With that said, BenQ managed to tick many requirements of a gaming monitor. FreeSync2 HDR for your smooth and vibrant window into the digital world, 144Hz @ 4ms for your responsive gaming feel, and QHD for its upgraded fidelity. If you are already rocking an AMD graphics card that is capable of driving this monitor to the fullest, the EX3203R can ripe for the picking.
For the full list of specifications and more information, you can check it out here. You can also check the price at BenQ Brand Store, and BenQ's Eye Care Gaming Monitor Lineup.