We've never tried anything from TOZO, so we were pretty excited when given the chance to review the TOZO Golden X1 True Wireless Earbuds.
The TOZO Golden X1 presents remarkable specifications that have the capacity to deliver exceptional sound quality, thanks to its dual driver configuration, Hi-Res certification, and LDAC support. Additionally, these flagship earbuds offer advanced features like ANC (Active Noise Cancellation) and transparency mode, which have become standard in top-tier earbuds today.
Let's check out if the USD$145 TOZO Golden X1 could be your next earbuds.
Technical Specifications
Frequency response
12 to 44,100 Hz
Driver
12mm dynamic driver + Knowles balanced armature driver
Battery life
Up to 5 hours per full charge (with ANC off = 8 hours)
Up to 32 hours with charging case
Weight
Earbuds: 5.8g each
Charging Case: 43g
Bluetooth
5.3
Water resistance
IPX6
Controls
Touch
Charging
USB-C, Wireless
What's in the box?
With your purchase, you'll find these items in the box:
TOZO Golden X1 Earbuds
Charging case
USB-A to USB-C cable
User manual
Ear tips: XXS, XS, S, M, L, XL
Design and build
Despite being constructed entirely of plastic (with the exception of the nozzle, which resembles metal), the TOZO Golden X1 earbuds exude a reassuring sense of durability.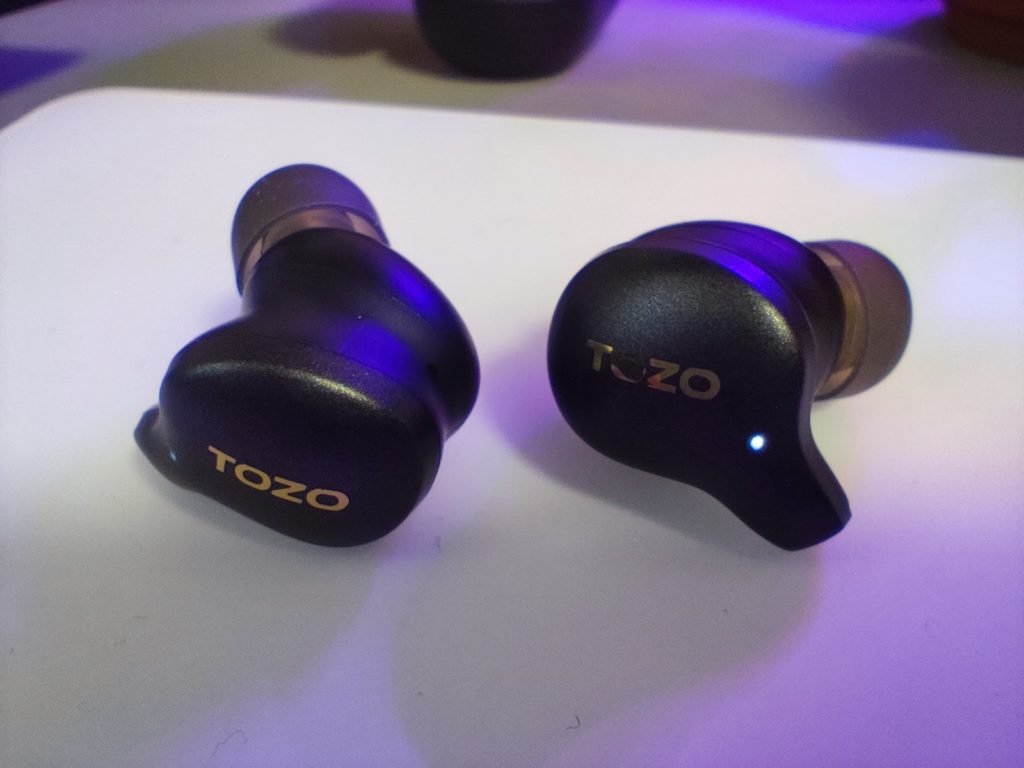 The earbuds boasts a sleek and elegant design that combines the best elements of stemmed and ear pod styles. They are ergonomically designed to fit comfortably in ears of all sizes, providing a glove-like fit in the concha. Despite their unconventional shape, we felt that the Golden X1 offers a smooth and pain-free wearing experience, even during extended periods of use.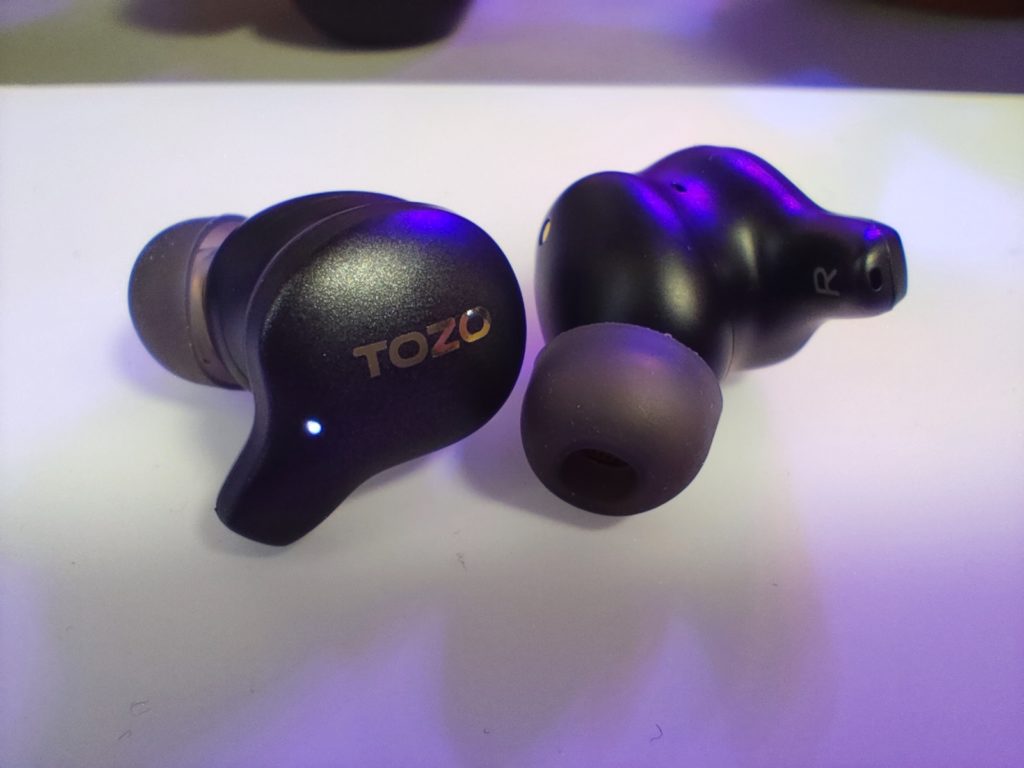 Although they feature two drivers, which adds some weight, the Golden X1 maintains their comfort level and avoids being excessively big. However, when it comes to stability, they may not be the most reliable option for a secure fit.
The small "wing" on the earbuds is not intended to keep them in place, but rather to face downward and bring the microphone closer to the mouth.
Instead of relying on hooks or ear fins, the Golden X1 relies on ear tip friction and the slim "waist" resting on the earlobes to stay in position. To cater to different ear canal shapes, Tozo includes six pairs of silicone ear tips with an oval shape for better adaptation. Nonetheless, if you require utmost stability, you may want to explore other options.
During casual use and even outdoor walks, the Golden X1 remains stable. However, for more intense activities like running or jumping, the seal may break, affecting the audio performance. As a result, they might not be the best for workout sessions.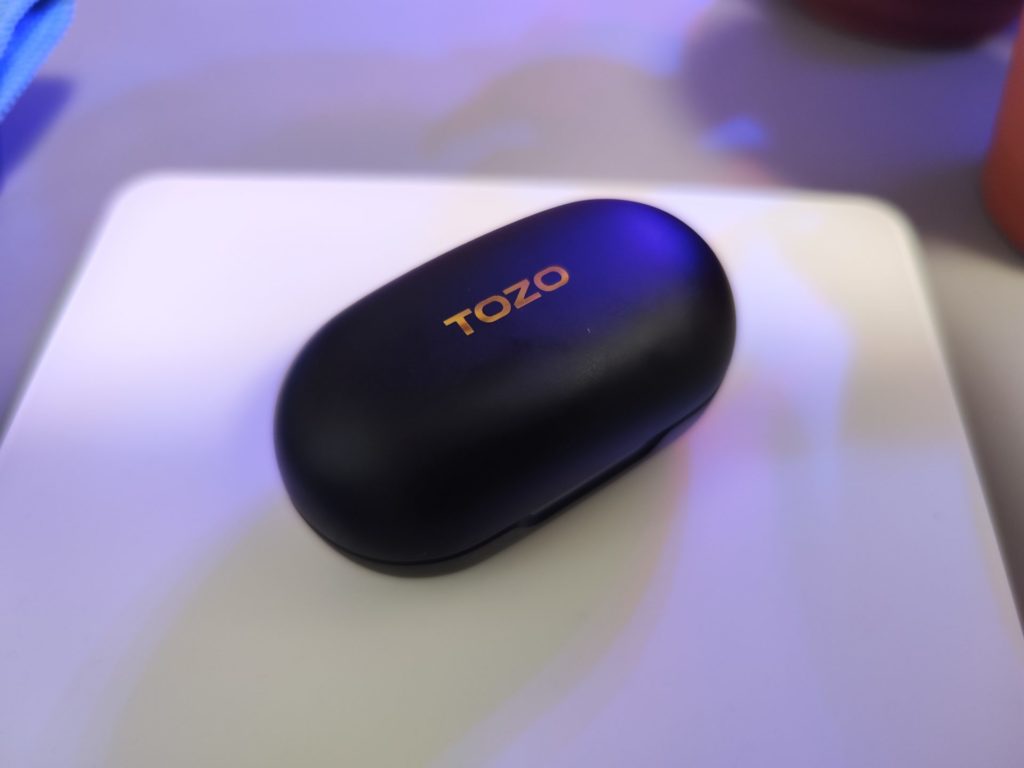 The praises we've been singing about the buds cannot be equally extended to the charging case. We did not like the clunky feel of the case. It does, however, feel sturdy and substantial, featuring a sleek matte black design.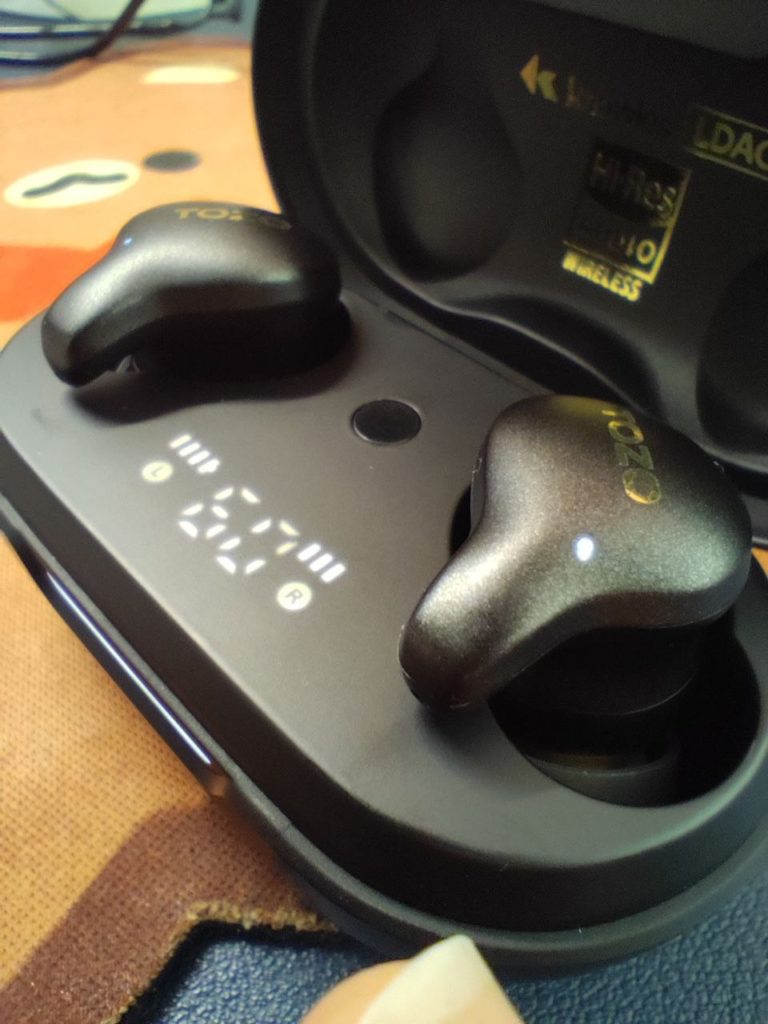 One standout aspect of the case is the inclusion of an internal display that indicates the battery levels of both the case and the earbuds.
Performance and sound quality
The TOZO Golden X1 earbuds truly excel in terms of performance and audio quality. They are equipped with LDAC high-resolution codec support and Hi-Res Audio certification, guaranteeing an outstanding listening experience. The combination of a dynamic driver and a customized Knowles balanced armature driver ensures the reproduction of Hi-Fi-level audio, covering an impressive frequency response range from 12Hz to 44.1kHz.
The earbuds deliver clear and well-defined highs, allowing vocals and instruments to shine with crispness and clarity. The balanced mids further enhance the overall sound signature, providing a natural and accurate representation of the music.
What sets the TOZO Golden X1 apart is its 12mm dynamic driver, which focuses on delivering powerful and impactful bass. This driver adds depth and richness to the low frequencies, creating a satisfying rumble and ensuring an immersive experience with bass-heavy tracks. The hybrid driver system, combining the dynamic driver and balanced armature driver, strikes a perfect balance between accuracy and impact, resulting in a well-balanced and engaging sound profile.
To enhance the listening experience further, the Golden X1 earbuds offer 16 preset EQ modes, allowing users to customize the sound according to their preferences. Whether you prefer a bass-heavy response or a more balanced output, the earbuds provide the flexibility to fine-tune the audio to suit your taste. Additionally, the earbuds offer six different noise reduction modes, which work effectively in indoor conditions. However, it's important to note that in busy and noisy environments, the noise cancellation may not be as effective as desired.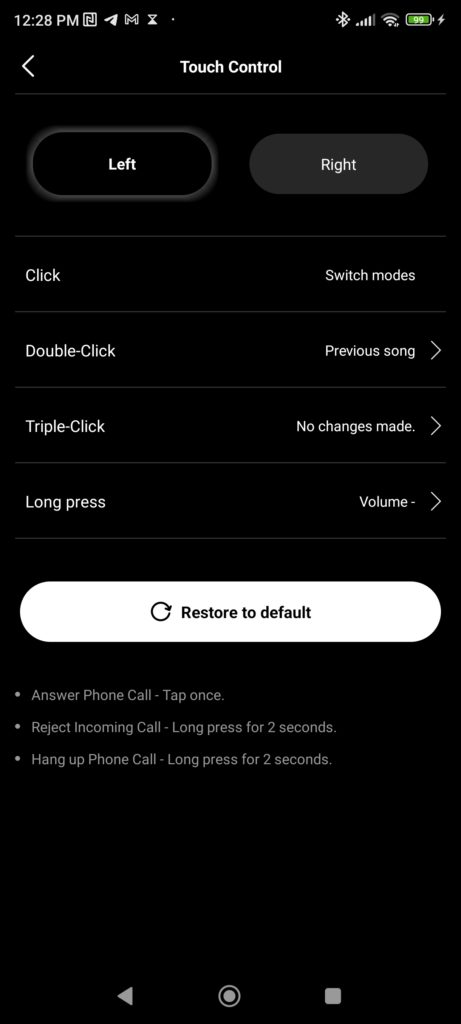 Navigating through the various features and controls of the TOZO Golden X1 is effortless. The pinch and swipe gestures are quickly recognized, and once you become familiar with them, they work seamlessly. This intuitive control system adds convenience and ensures that you can effortlessly manage playback, volume, calls, and noise cancellation modes.
When it comes to the ANC performance the TOZO Golden X1 surpasses expectations. It effectively suppresses low-frequency noises like engine rumble, almost entirely eliminating their presence. Additionally, it efficiently reduces higher-frequency noises such as rail squeals in MRT and vocal chatter, minimizing their impact to the point where they are hardly noticeable.
Microphone and call quality
The microphone performance of the TOZO Golden X1 is satisfactory. The voice output may sound somewhat distant, but it still maintains a decent level of clarity. When tested in noisy surroundings, the TOZO Golden X1 manages to reduce slightly more than half of the background noise, but this reduction comes at the expense of compromising vocal clarity. It's best to use the earbuds for calls primarily in controlled or quiet environments.
TOZO Sound App
The Tozo Sound app is designed to enhance the functionality of the Golden X1 earbuds on both iOS and Android platforms, offering a wide range of customization options and convenient features.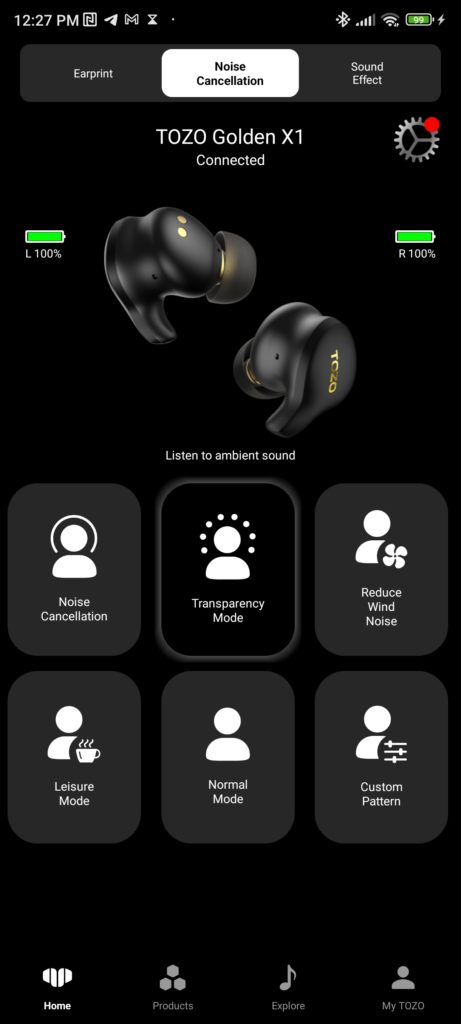 With the user-friendly interface of the Tozo Sounds app, you have the power to finely adjust the sound settings of the Golden X1 earbuds according to your personal preferences and hearing abilities. It allows you to easily tweak the audio parameters, including the equalizer settings, so you can create a customized sound profile that aligns with your musical tastes. Whether you prefer a bass-heavy response, a more balanced sound, or any other audio preference, the app enables you to tailor the audio output to suit your liking.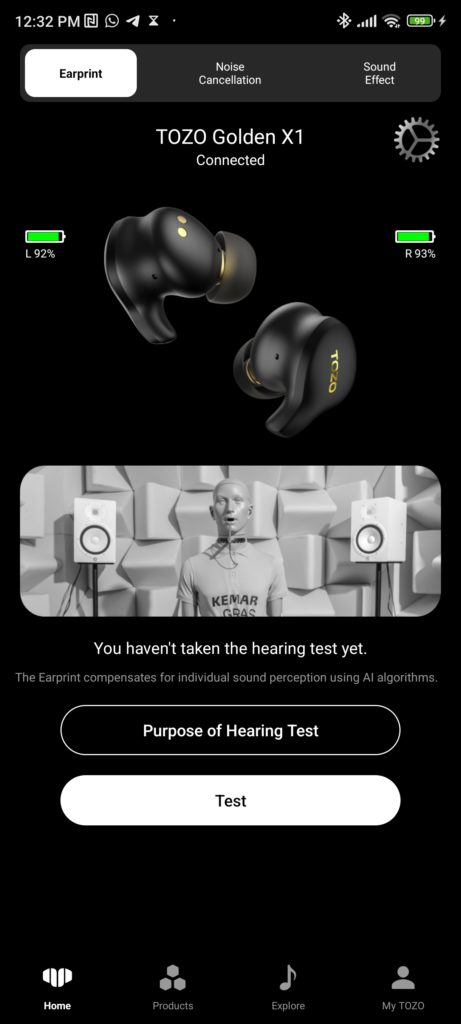 Monitoring the battery life of each individual earbud becomes effortless with the Tozo Sounds app. You can rely on the app to provide clear and accurate information on the power status of each earbud, ensuring that you always stay informed about their remaining battery life. There's even a section for you to explore different types of sounds – think things like soothing ASMR music that puts you to sleep.
Battery life
The TOZO Golden X1 provides approximately 5 hours of playtime on a complete charge, which, considering its compact size, could have offered a bit more battery life. Nevertheless, it should be sufficient for your daily commutes.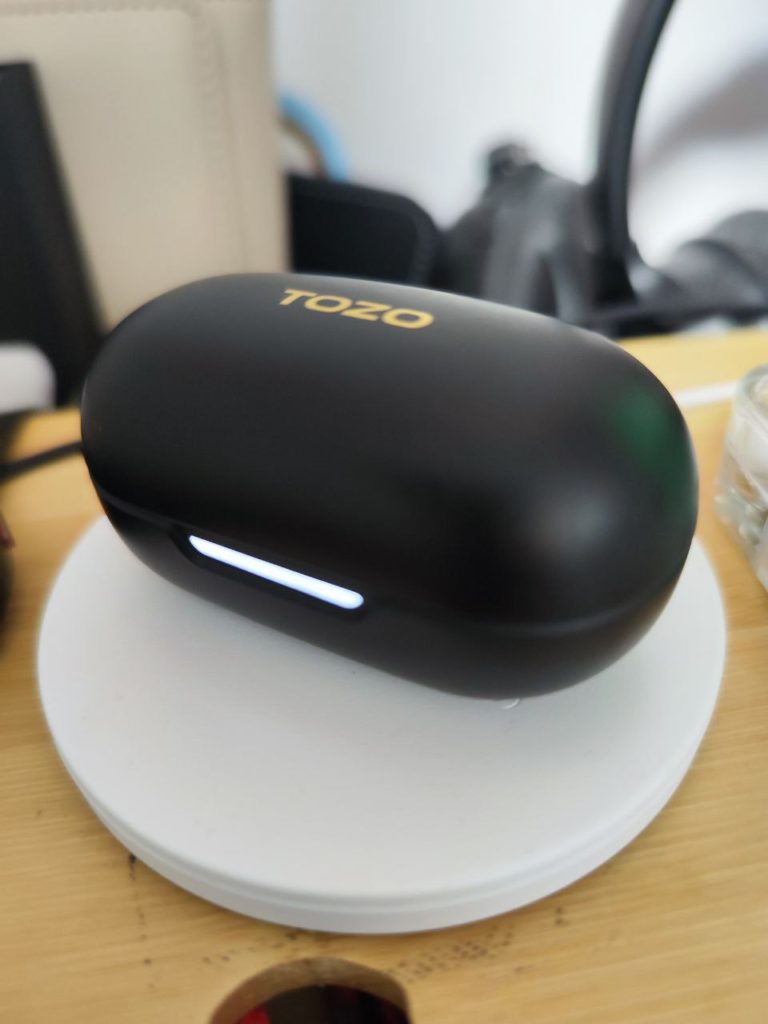 The TOZO Golden X1 can be charged either through USB-C or wirelessly. Although, there is no mention of fast charging capability.
Availability
The TOZO Golden X1 is available here.
Verdict
The TOZO Golden X1 is specifically designed for individuals who prioritize sound quality and enjoy a prominent bass response. It goes above and beyond by incorporating flagship features like ANC Transparency mode, customizable EQ, and even multipoint pairing, creating a comprehensive and feature-rich package.
While the earbuds fail to deliver some flagship features such as in-ear detection and fast charging, features commonly found in competing models, it's still a great set of earbuds to consider.