The ASUS ZenBook is one of the most popular notebooks in the market today. Since its inception in 2011, the ZenBook series has been known to many as a series that is prominent for its thin and light design. Thanks to the advancements in technology, computer processors are getting more powerful and efficient as the years go by. ASUS has taken these advantages to further improve their Zenbook notebooks, striving to design and engineer a perfect notebook for their customers.
Poised to be a great choice for school-goers
In the 2020 offering of the ASUS ZenBook 14 (UX425), ASUS comes close to delivering a perfect mainstream product for its customers, at least on paper. To put things into context, we are comparing it with thin and light notebooks that are below a price range of below S$2,000. In Singapore, the ASUS ZenBook 14 (UX425) comes in two variants, one of the Intel Core i5-1035G1, and the other with the Intel Core i7-1065G7. They retail at S$1,398 and S$1,698 respectively.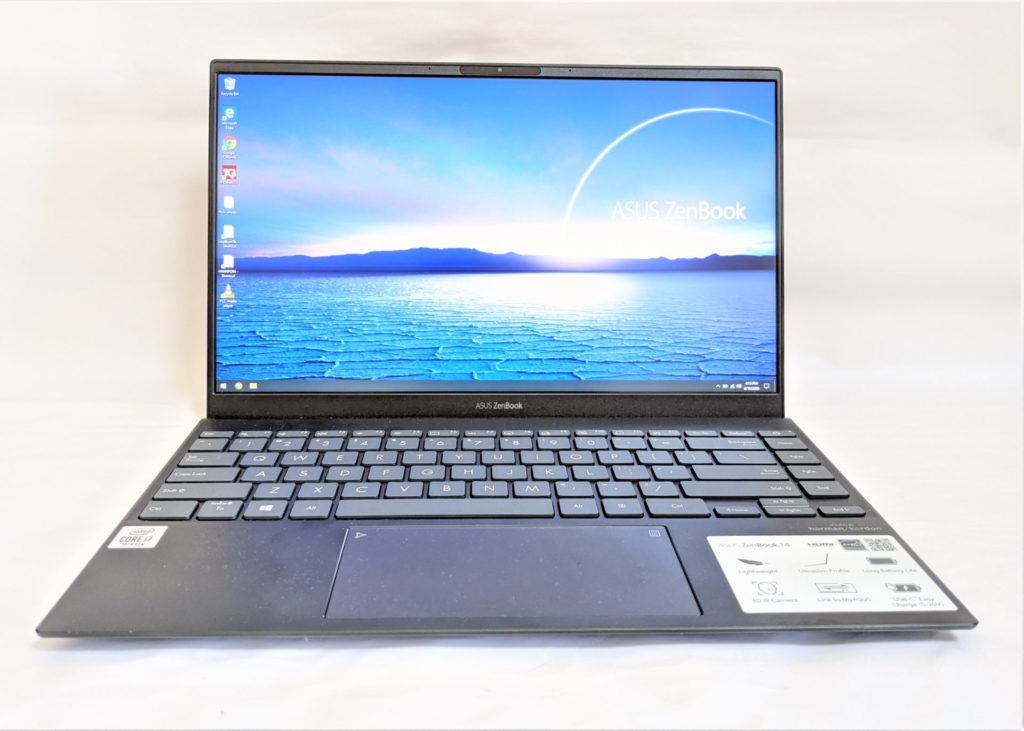 Since the new school term is starting soon, many students may be looking at a new thin and light notebook computer as their daily driver. The price tag of the ASUS ZenBook 14 should fit most their budget. Moreover, being fitted with the latest Intel Core processors, these notebooks are also expected to perform very well for day to day school work, which mainly consist of reports, presentation and online research. Of course, if you are in a faculty that requires specialized hardware, such as a dedicated GPU for deep learning training or 3D applications, you should look for alternative products.
We've come to know that ASUS may severely limit the performance of a notebook to achieve better temperature management and longer battery life, as seen in our review of the ASUS ExpertBook B9450. In this article, we will see if the ZenBook 14 suffers from the same issues, and if it performs up to our expectations.
The ASUS ZenBook 14 UX425

Weighing at just 1.17Kg, this year's ZenBook 14 is certainly one of the lightest notebooks from the brand. Based on first impressions, the ASUS ZenBook 14 UX425 has a professional look. It's certain that this Zenbook will attract the attention of many as it looks stunningly thin. It is on par, if not better than, competing products in the market such as the HP Dragonfly or Huawei MateBook 13. ASUS has made the extra effort to ensure that they have minimized the tradeoffs that are typical of thin and light machines. For example, instead of only having USB Type-C ports (like the MateBook 13), the ASUS ZenBook 14 still comes with full-sized ports. It's simply a notebook that's ready to use right out of the box without the need for additional dongles.

In the box, ASUS has also included a notebook sleeve case, the Notebook's USB PD Power Adapter, as well as a USB Type-C to 3.5mm Audio Combo jack. They explained that due to the design of the notebook, they are unable to include the 3.5mm audio jack, and had to rely on a converter instead. They also argued that since most users have a Bluetooth headset, the 3.5mm audio jack wouldn't be required for most users. However, they've included the converter just in case.

The lid of the ASUS Zenbook 14 (UX425) is made out of a lightweight, brushed aluminum alloy. This gives the whole notebook a certain sturdiness, as well as a premium and classy touch.
In order to improve the notebook's ergonomics and heat dissipation capabilities, the keyboard of the ZenBook 14 will automatically tilt upwards when the laptop is opened. This design can improve the general typing experience on the Zenbook 14. Moreover, with the raised base, more air can also be taken in from the bottom of the notebook for better ventilation.

The fan within the ZenBook 14 intakes cold air from the bottom of the notebook and expels hot air from the rear of the device. This ensures that the while unit remains cool to perform at its optimal performance levels. Also, we have also noted that the notebook does not get hot even after prolonged usage. As heat is concentrated on the top part of the keyboard, users won't really feel the heat at all as well.

It's also amazing to see how ASUS managed to squeeze in a Windows Hello compatible webcam into the thin bezels of the ASUS ZenBook 14. Windows Hello Facial Recognition is one of the best ways to unlock your notebook, as it's the most straightforward and transparent way for authentication.

Speaking up of thin bezels, there is no doubt that the ASUS ZenBook 14's display has really thin bezels. It allows this 14-inch notebook to come in the size of a usual 13-inch notebook. This makes the whole notebook so much more portable, while also looking so good!
Input/Output Interfaces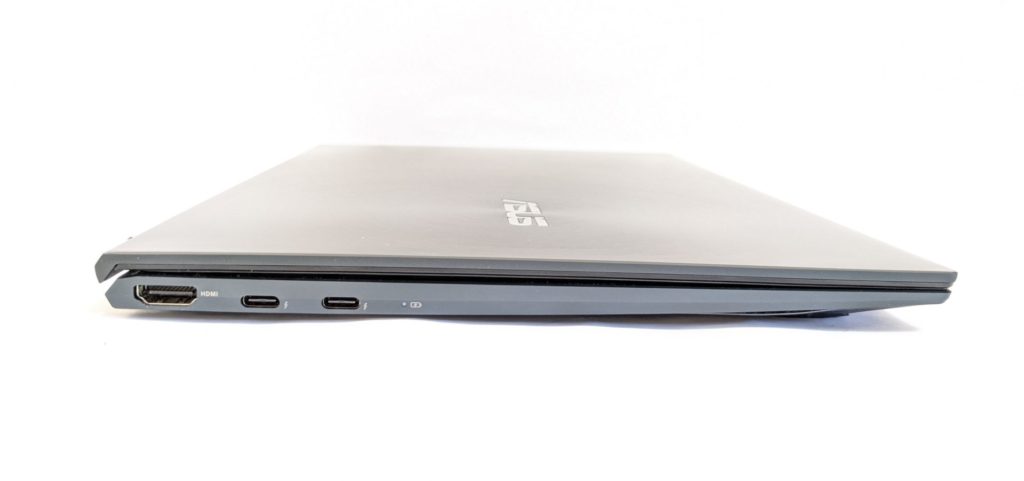 On the left of the device, we spotted a full-sized HDMI output port, followed by two Thunderbolt 3.0 ports. Essentially, the high-speed Thunderbolt 3.0 interface can allow users to connect the ZenBook 14 to a useful external peripheral: such as a fast speed external storage drive, or even an external graphics card. This will expand the use case of the ZenBook 14 from just a simple office notebook, to possibly even a high-end gaming notebook capable of running games at decent frame rates. Furthermore, either of the USB Type-C ports can also be used to plug in to the charger for charging. Thankfully, ASUS made use of the USB PD (Power Delivery) standard, so that any kind of charger based on this standard will work with this notebook as well.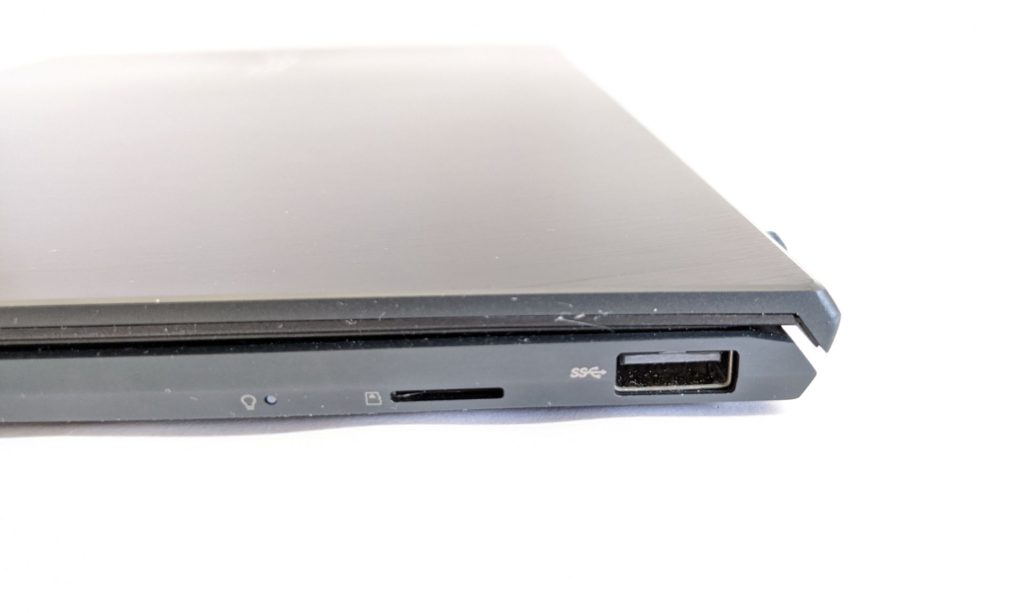 On the right side of the device, there is a full-sized USB 3.0 Type-A port, followed by a MicroSD card slot for further storage expansion. We would have hoped that this notebook could have come with a standard sized SD Card slot instead, as it's typically easier to convert a MicroSD card to a SD Card size, and not the other way around. Moreover, most digital cameras today still use a full size SD Card. You would still have to find a SD Card reader to connect it to the ZenBook 14 in order to read a full-sized SD Card. Regardless, having a storage expansion slot on the ZenBook 14 is better than having no slots. It would be useful if you just wanted to extend the storage space on the ZenBook 14. Simply pop in a MicroSD card (which even comes up to 1TB per card these days) and you'll instantly have more storage space without much effort.
Variants available in Singapore
Speaking of requiring more storage space, there are two main SKUs that are available here in Singapore, as mentioned in our introductory paragraph. Here are the details of their specifications.
ASUS ZenBook 14 (UX425)
Model
UX425JA-BM064T
UX425JA-BM065T
Price
$1,398
$1,698
CPU
Intel® Core™ i5-1035G1 Processor 1.0 GHz (6M Cache, up to 3.6 GHz)
Intel® Core™ i7-1065G7 Processor 1.3 GHz (8M Cache, up to 3.9 GHz)
Display
14-inch, LED Backlit, 300nits, Full HD (1920 x 1080) 16:9, Anti-glare display, sRGB: 100%, IPS-level Panel
Operating System
Windows 10 Home
Graphics
Intel® UHD Graphics
Intel® Iris® Plus Graphics
Memory
8GB 3200 MHz LPDDR4x onboard
Storage
512GB NVMe™ PCIe® 3.0  SSD
1TB NVMe™ PCIe® 3.0  SSD
Connectivity
WiFi 6 (802.11ax)

Bluetooth® 5.0

Camera
HD infrared (IR) webcam (supports Windows Hello)
I/O Ports
2 x Thunderbolt™ 3 USB-C® with ASUS USB-C® Easy Charge

1 x USB 3.2 Gen 1 Type-A

1 x Standard HDMI 2.0

1 x MicroSD Card Reader

Touchpad
ASUS NumberPad 2.0
Audio
Certified by Harman Kardon

ASUS SonicMaster Stereo Audio System with Surround-sound; Smart Amplifier for Maximum Audio Performance

Array Microphone with Cortana and Alexa Voice-recognition Support

Battery
67 Wh Lithium-polymer Battery, Up to 22-Hour Battery Life
AC adapter
65-watt Power Adapter

Output: 20 V DC, 3.42 A

Input: 100-240 V AC, 50/60 Hz universal

Dimensions
319 x 208 x 13.9 mm
Weight
1.17 kg
My advice is that you can just go for the Intel Core i5 version, as we can expect very rather small performance difference in the processor used between the two SKUs. Both the Intel Core i5-1035G1 and Intel Core i7-1065G7 are both quad core processors with hyper threading enabled. The only real difference is their clock speed and integrated graphics. The Core i5 is about 300MHz slower, but honestly, you wouldn't feel any difference in day to day usage. Additionally, since you probably won't be playing any games on the ZenBook 14 UX425, there shouldn't be any concern on whether the Intel Core i5-1035G1 or Intel Core i7-1065G7 have better graphics, since both just aren't good enough for any 3D games.
The Intel Core i5 version also comes with a smaller 512GB SSD, as compared to the 1TB SSD on the Core i7 version. You can easily overcome the storage space difference by either replacing the SSD on the system, or simply adding in a MicroSD Card.
Inside the ASUS ZenBook 14 (UX425)
Speaking of replacing the SSD within the ZenBook 14, we're just glad that the SSD is not soldered onto the motherboard. However, do take note that since the 8GB RAM is soldered onto the motherboard (LPDDR4x is only available soldered on), you will have no chance in upgrading the RAM on this notebook. If you truly require more than 8GB of RAM for the applications you run, then you will need to look for alternative products out there.
Usage Experience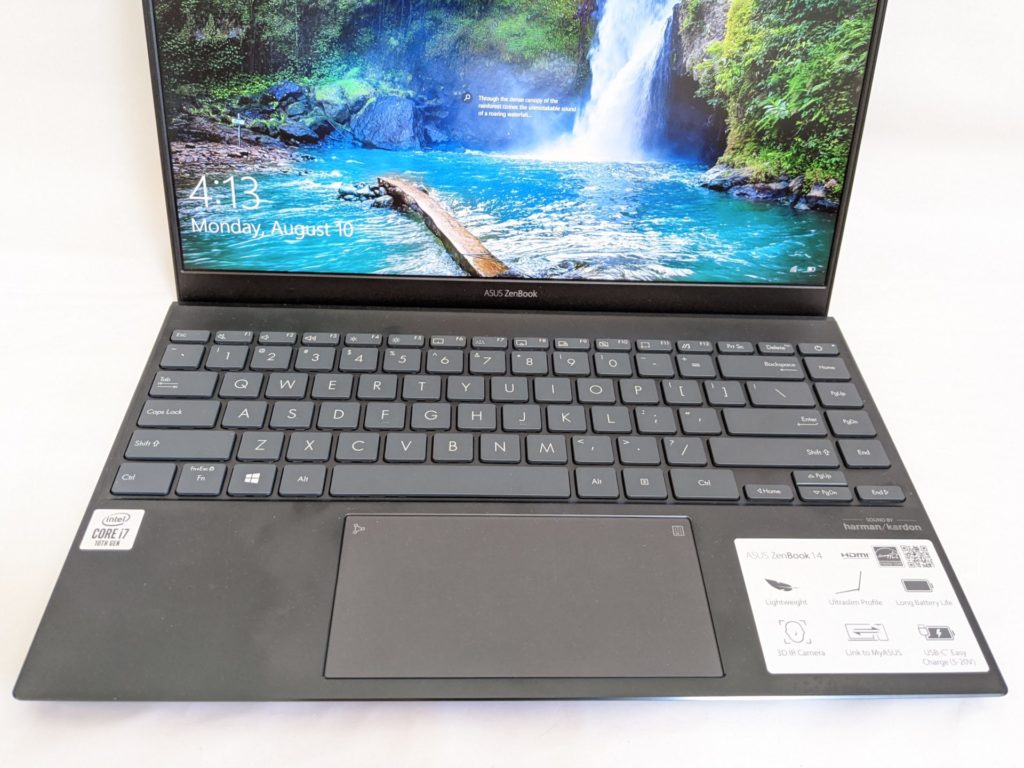 One of the key features I like the most of the ASUS ZenBook 14 (UX425) is the notebook's keyboard. Unlike many competing products that tries to cramp many keys onto the limited keyboard space, the ASUS ZenBook 14 realized that less is more. The full-sized keyboard, which is exactly the size of any standard desktop style keyboard, makes typing a breeze. I literally needed no time in getting used to this keyboard layout, and really enjoyed my experience typing on the ZenBook 14. I recommend all notebook manufacturers to focus on usability, rather than features which will most likely be neglected.
The keys on the ZenBook 14's keyboard are also very responsive, and you can be certain of every single key stroke that you've entered. Despite it being a chiclet-styled keyboard, each key has a 1.4mm long key travel, which is the longest of its class. It's no wonder that typing on the ZenBook 14 requires slightly more effort, but provides a more substantial feel.
The trackpad on the ZenBook 14 is also considerably large, given the limited space on the notebook. This model also comes with the 2nd generation ASUS NumberPad (NumberPad 2.0), which is a LED-illuminated numeric keyboard integrated into the touchpad. This NumberPad comes in handy when we were using the calculator, or when dealing with a lot of numbers in an excel spreadsheet. The advantage of the NumberPad is that even when it's turned on, it can still function as a usual trackpad. The system is able to intelligently differentiate between number inputs and usual trackpad inputs.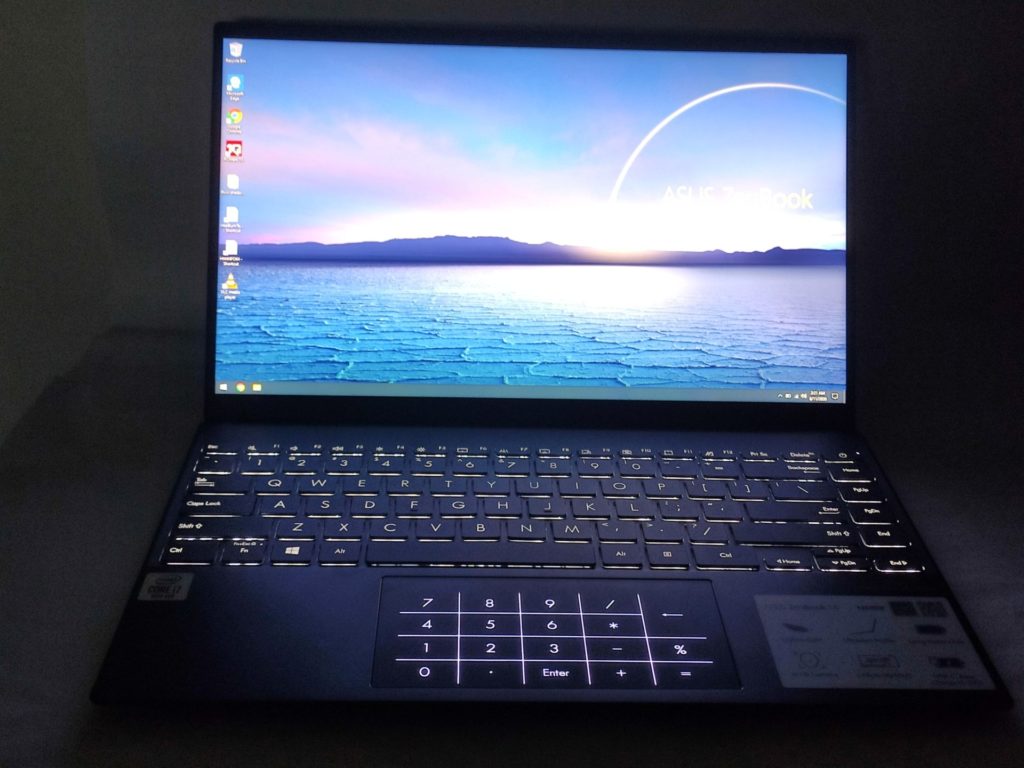 Moreover, the keyboard is also illuminated. This makes working in a dimly lit environment possible as well.
Media Consumption Experience
Honestly, I really enjoyed consuming content on the ZenBook 14 (UX425). The anti-glare LCD display is excellent for viewing any kinds of content, be it browsing social media or watching a movie. Even though ASUS did not choose an IPS panel for this model, and only could brand their display as "IPS Level", we had no issues with it. The viewing angles are still great, and the colors appear rather vibrant as well.
While the speakers' audio quality is something that is also worth noting, where it was a good mix between clarity and depth, we found it to be somewhat lacking in its maximum volume. Don't expect the speakers on the ZenBook 14 to fill the whole room. If you're just enjoying music or watching movies yourself, it will be good enough.
Benchmark and Performance Results
As the ASUS ZenBook 14 is meant to be targeted at professionals and students, we will focus our benchmark tests with productivity and creativity workloads. Moreover, we will also test each individual component's performance, and compare it to the Dell XPS 13 2-in-1, ASUS ExpertBook B9450 and Huawei MateBook 13. The benchmark tests and their respective settings are shown below.
| | | |
| --- | --- | --- |
| Benchmark | Settings | Remarks |
| PC Mark 10 Extended | Default | – |
| 7-ZIP | Default | – |
| HEVC h.265 Encoding/Decoding | Default | – |
| Blender CPU BMW27 | Default | – |
| Cinebench R20 | Default | – |
| wPrime | 1024m | – |
| SuperPi 1.5 | 32M | – |
| AIDA64 | Default | – |
| ATTO Disk Benchmark | Default | – |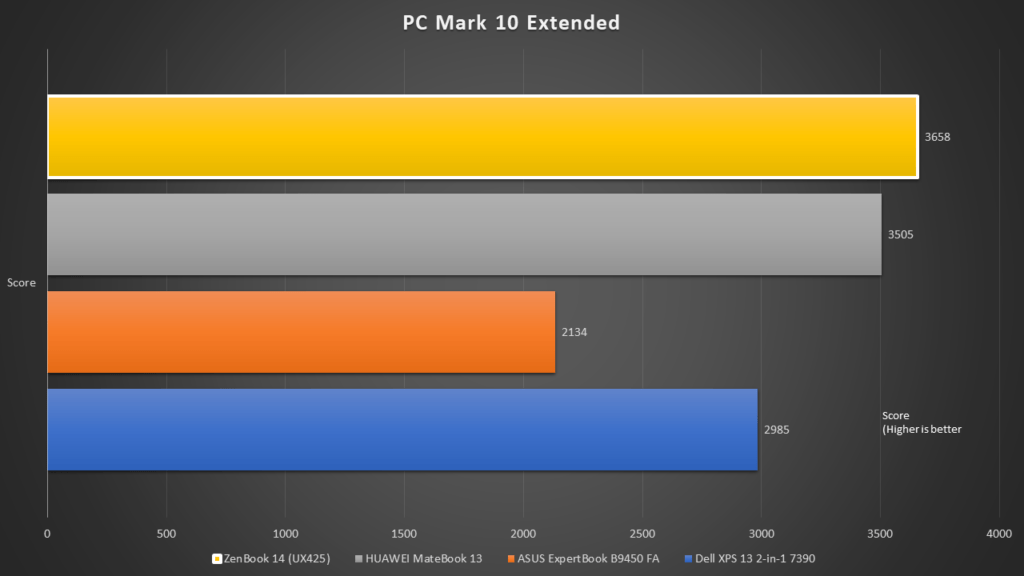 Surprisingly, the ASUS ZenBook 14 (UX425) performed the best out of all the three other competing thin and light computers. It was even faster than the HUAWEI MateBook 13 notebook which has a dedicated graphics card for improved graphics processing. As we understand that the PC Mark 10's score does not rely heavily on 3D graphics rendering performance, we can deduce that its general system performance, which is largely determined by the CPU and memory, is actually rather good.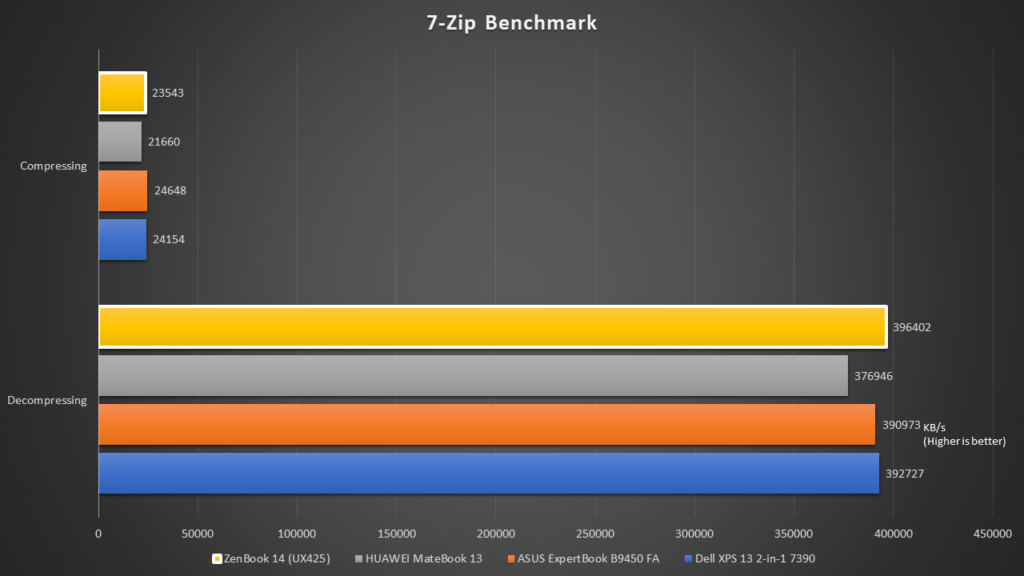 Similarly, the 7-Zip test also showed that the ASUS ZenBook 14 was performing up to the standard.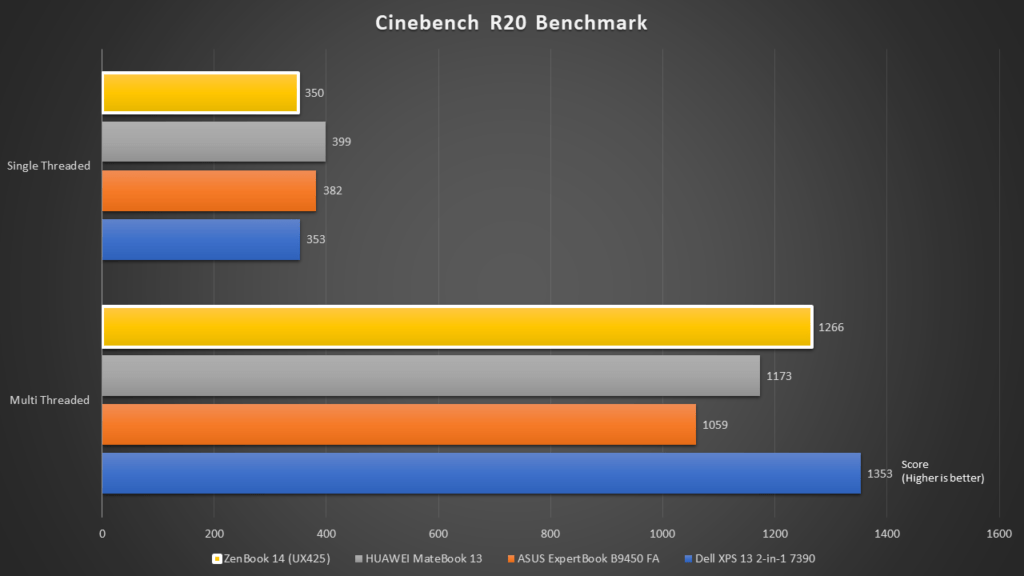 However, when it comes to the Cinebench R20 benchmark, we realized that the performance result at the PC Mark 10 Extended test was not translated here. This was caused by the CPU reducing its speed due to thermal throttling. As the Cinebench R20 is very compute intensive benchmark test, the CPU will reach its maximum turbo boost limit. However, as heat cannot be effectively dissipated, and that the temperature must be maintained at a certain level, the CPU will automatically reduce its frequency to reduce its temperature. Despite facing this issue, which is actually very common in all notebook computers, the ZenBook 14 still managed to achieve a very decent score. It simply means that comparatively, its overall performance is still quite good after all.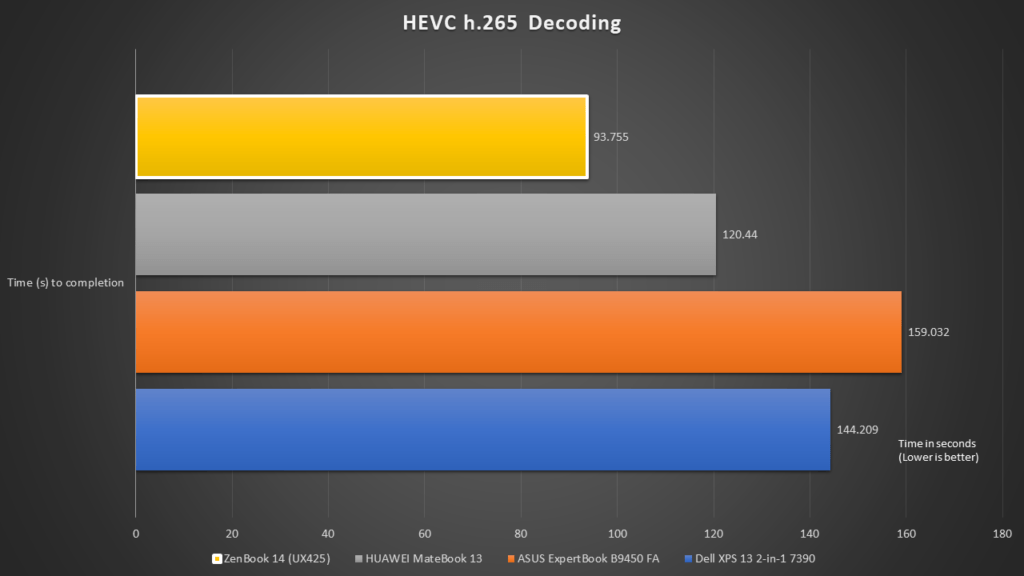 Interestingly, the ASUS ZenBook 14 retained its top spot in the HEVC h.265 decoding test again.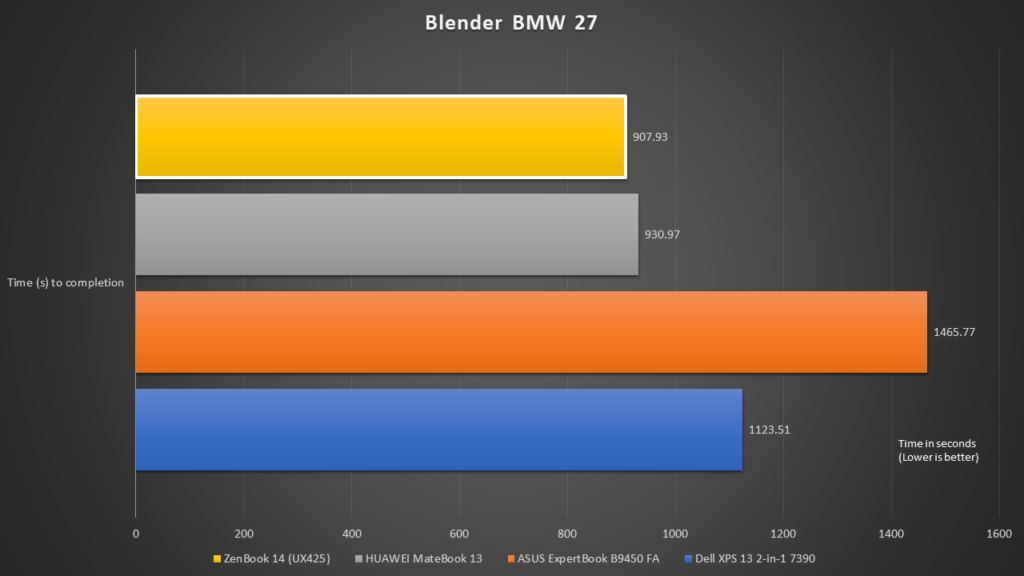 Even for the Blender BMW render test, the ASUS ZenBook 14 is still the notebook that finished the workload the earliest. This really shows that the performance level of the ZenBook 14 is indeed very good.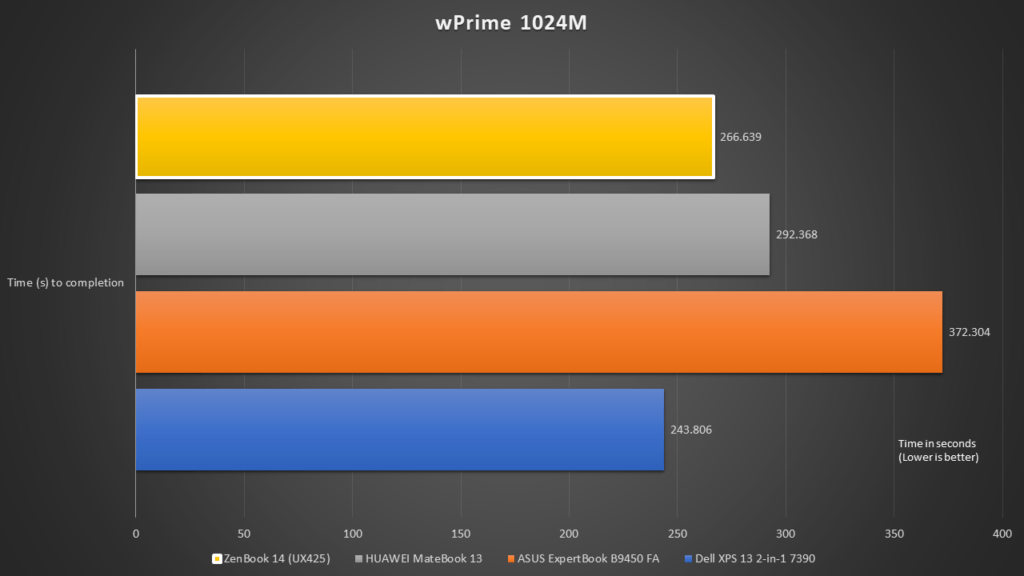 It's always a close fight between the Dell XPS 13 2-in-1 and the ASUS ZenBook 14. There are times when the former is faster, while other times when the latter is faster.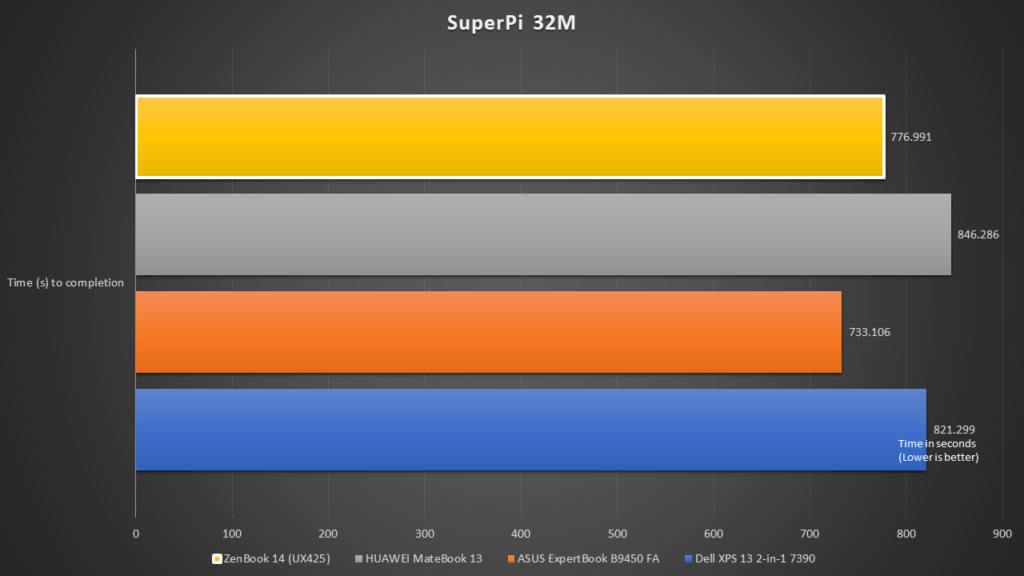 In the SuperPi 32M stead, the ASUS ZenBook 14 came in 2nd as well, just slightly slower than the ExpertBook.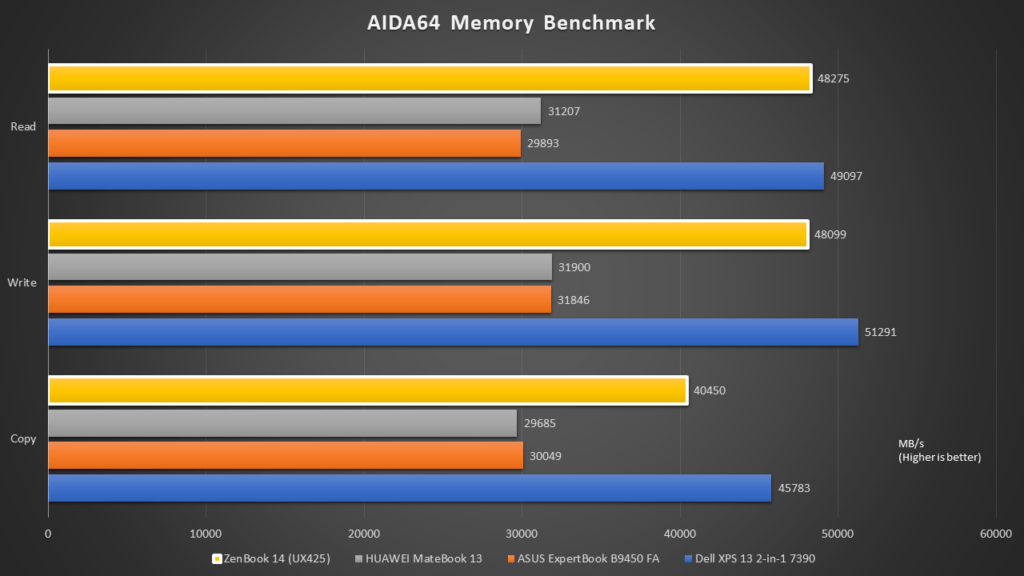 Thanks to the use of LPDDR4X memory that's clocked at a high speed of 3200MHz, the ASUS ZenBook 14 notebook was also able to perform very well in the AIDA64 memory test. It's only slightly slower than the Dell XPS 13 2-in-1, which had its memory speed clocked at 3733MHz.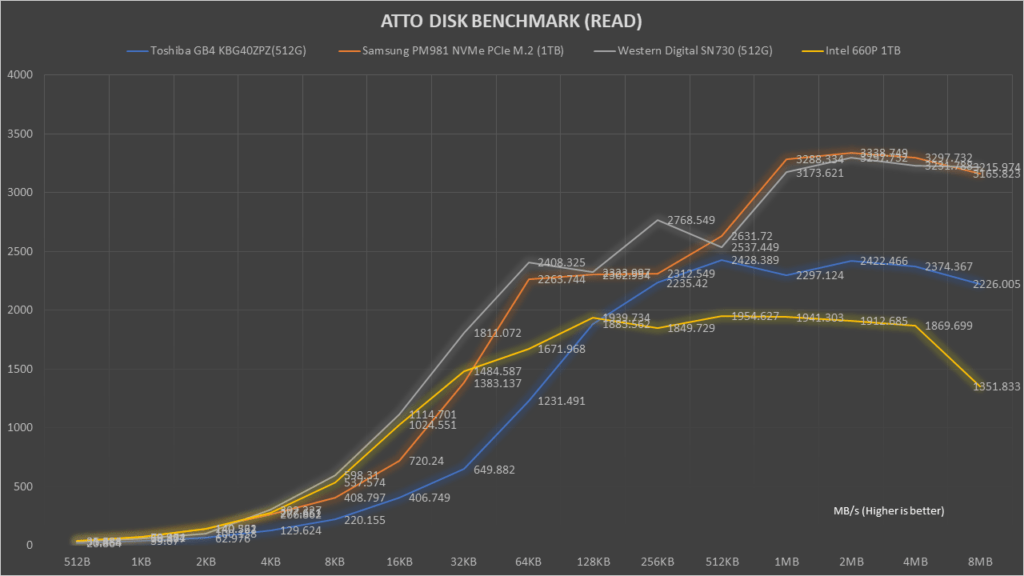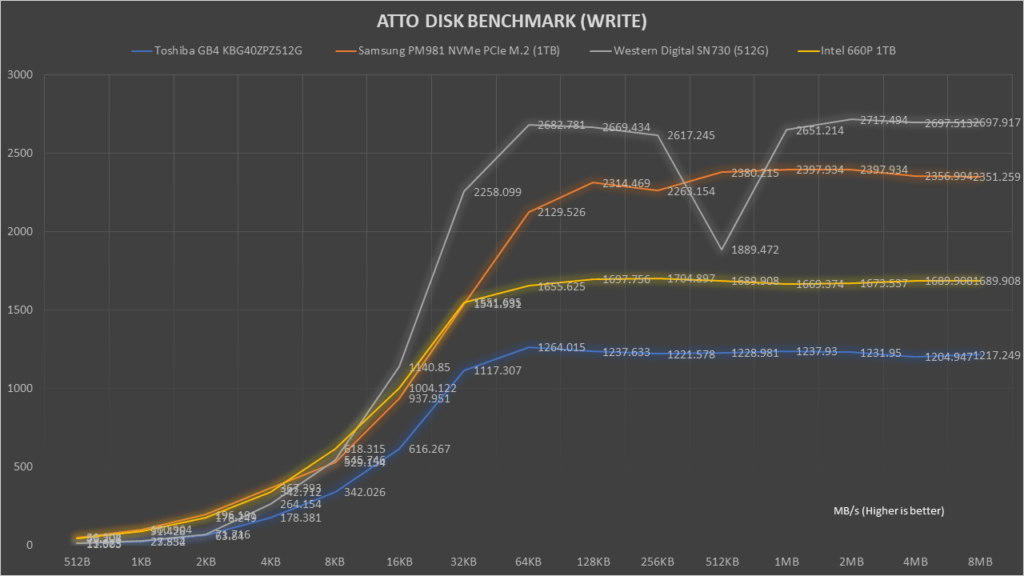 Moving on to the SSD test, the Intel 660P 1TB SSD was shown to a SSD that's considered mainstream. It wasn't a top of the line high performance SSD such as the Samsung PM981 or the WD SN730, nor was it a poor performing SSD like the Toshiba GB4. It's an average SSD with average performance, which I thought will still be good enough for daily compute tasks.
Battery Life

As for the battery test, the ASUS ZenBook 14 (UX425) managed to achieve an impressive score of 10 hours and 2 minutes on the PC Mark 10 Modern Office Battery Test. It's certain that this notebook will be able to last you for the whole work day before you need to find a power outlet to charge it up.
Conclusion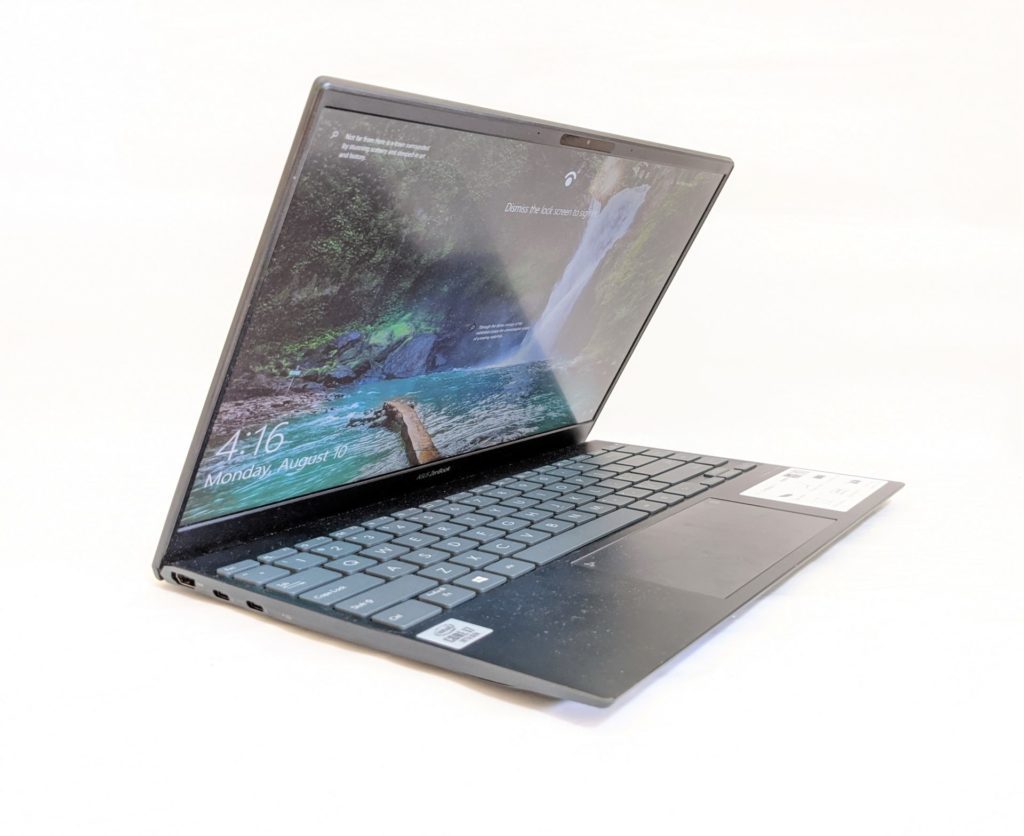 It has been really quite a while since I've seen a sensible notebook computer in the market. The ASUS ZenBook 14 (UX425) is a value-oriented thin and light notebook computer that comes with premium design and features. Even though it is designed to be highly portable, ASUS did not make any trade-offs with this model. Therefore, we are still able to enjoy the notebook's high performance, full-sized I/O ports and even the unique ASUS NumberPad 2.0.
Personally, I will definitely purchase the ASUS ZenBook 14 (UX425) for my own work, given that it's quite a no brainer. As mentioned earlier, I would go for the Intel Core i5 variant instead of the Core i7, as I do expect that performance differences will be minimal. The Intel Core i5 variant will provide even more value to users.
If you are starting school this week or next week, and are looking for a new notebook computer for your daily school work, the ASUS ZenBook 14 (UX425) has definitely got my recommendation. Two thumbs up from me!