ASUS ROG Strix SCAR 15 When it comes to gaming notebook computers, many will be reminded of the ASUS Republic of Gamers (ROG) products. There is no doubt that ASUS has managed to build an image of high performance and innovative products for their ROG lineup. Riding on their popularity, they have just introduced a new lineup of ROG gaming notebooks for the Singapore market.
The ROG Strix series of products from ASUS focuses purely on gaming performance. This is why you will see a multitude of features that are catered solely for the ultimate gaming experience, as we learn more about the ROG Strix SCAR 15 further on. However, before concluding anything, we've got to put the ROG Strix SCAR 15 to the test and see if it really lives up to the brand, as well as the expectations of ROG's loyal customers.
The ASUS ROG Strix SCAR 15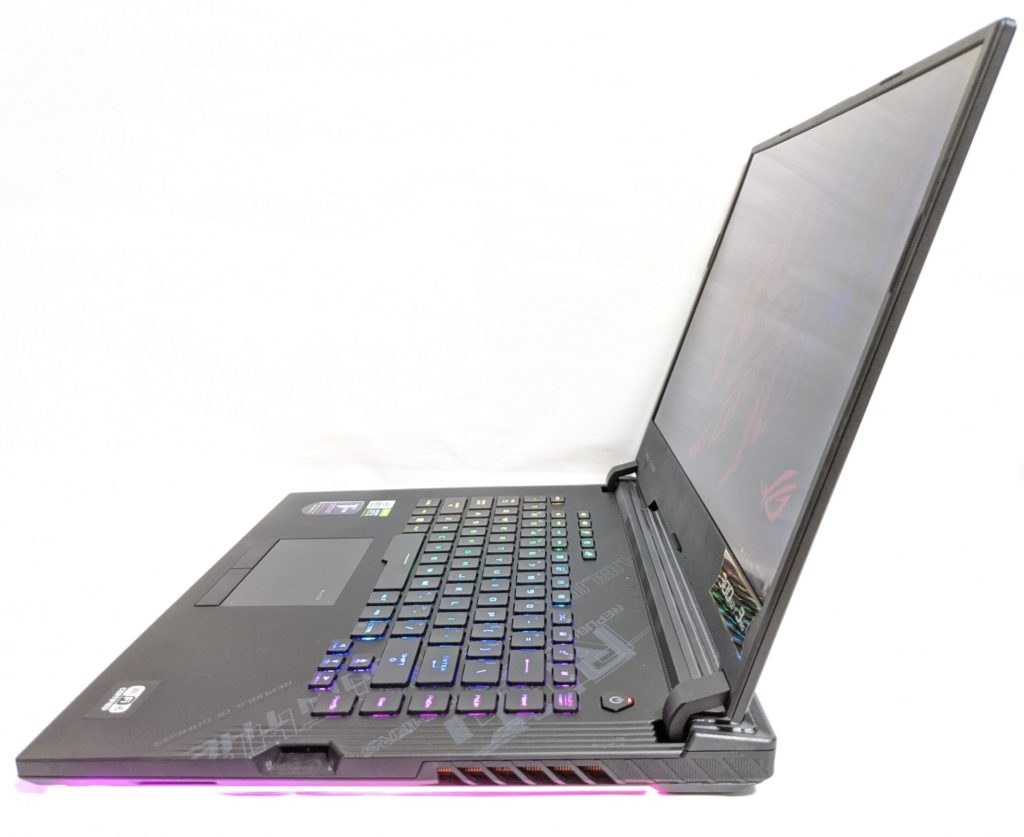 The ASUS ROG Strix SCAR 15 mentioned in this review is equipped with the latest system components from Intel. It features the latest Intel Core i7-10875H 8-core processor, which even has the ability to reach a maximum Turbo Boost frequency of 5.1GHz. Such speeds are previously not possible in previous generations of Intel CPU products. With such an upgrade, we can expect the best possible gaming experience with no compromise in CPU performance in games.
Furthermore, the ASUS ROG Strix SCAR 15 also comes with the latest NVIDIA GeForce RTX 2070 SUPER graphics card built in. The RTX 2070 SUPER has already been know to be a superb performer regardless of the type of games you will play on. Moreover, this graphics card also supports the latest NVIDIA technologies, such as Ray Tracing and Deep Learning Super Sampling (DLSS). You will be able to play your favourite 3D games on the ASUS ROG Strix SCAR 15 at the highest settings at high frame rates.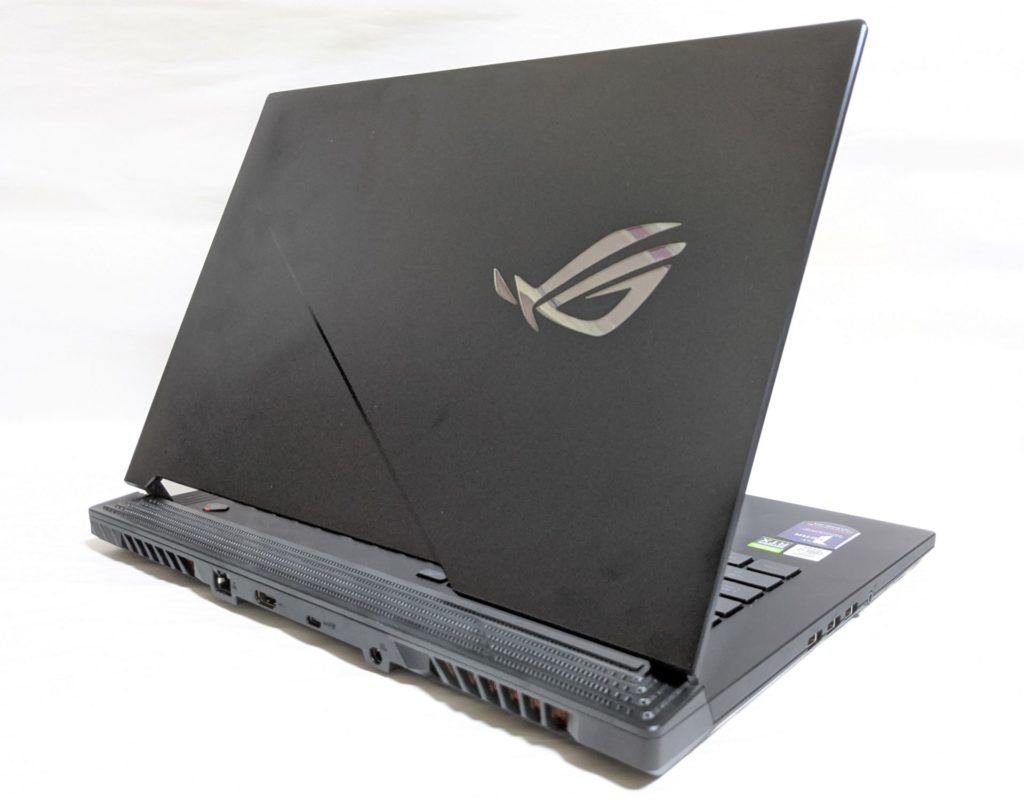 Specifications
Details
Model
ROG Strix SCAR 15 (GL532)
CPU
Intel Core i7-10875H (8-core processor)
GPU
NVIDIA GeForce RTX 2070 SUPER GDDR6 8GB (Max-Q)
OS
Windows 10
Display
15.6" 300Hz FHD IPS Panel
System Memory
Samsung 16GB DDR4 3200MHz (1 x 16GB)
Storage
1TB Intel 660P M.2 NVMe SSD
Audio

2 x 4.2W speakers with Smart AMP technology

Array Microphone

Network

Intel® 802.11ax (2×2) Wi-Fi 6 (Gig+) support Rangeboost technology

Bluetooth 5.0

Gigabit LAN

Dimensions

Width: 36cm

Depth: 27.5cm

Height: 2.1~2.49cm

Weight
2.57KG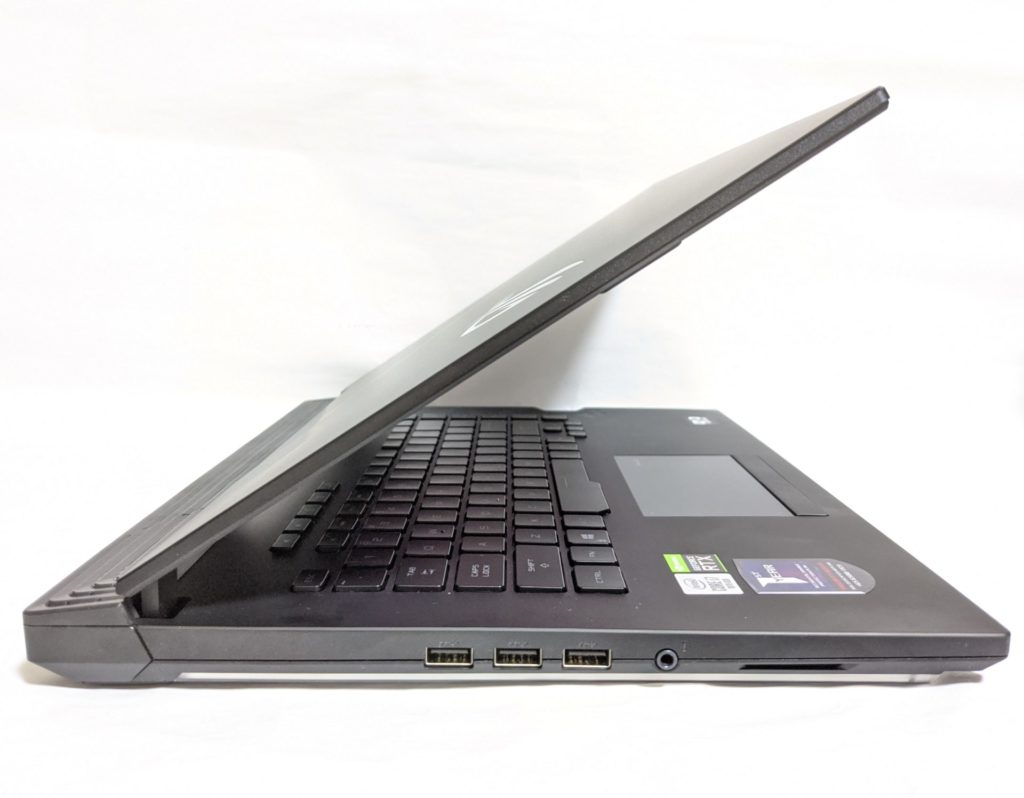 While the notebook's CPU and GPU specifications are important, they only contribute to a certain percentage of the whole gaming notebook's make up. We need to dig further to understand what makes this notebook so special. What makes it so uniquely different to be worthy of the ASUS ROG Strix brand? What makes this notebook different from any other gaming notebook in the market with the exact same specifications?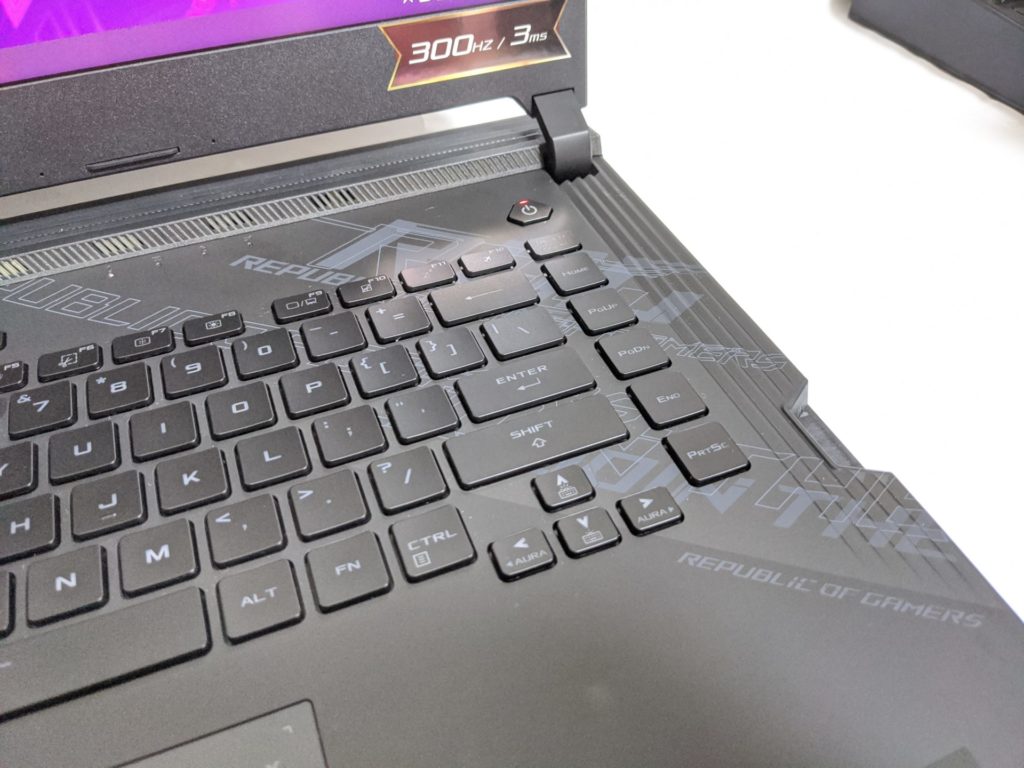 300Hz/3ms IPS Display Panel

As mentioned earlier, the ASUS ROG Strix SCAR 15 is designed to help gamers achieve their best possible performance in all the different kinds of games. Particularly for gamers which requires pin-point accuracy while aiming at enemies, a fast refresh rate display is required. The ASUS ROG Strix SCAR 15 is one of the few gaming notebooks in the market that is equipped with the world's fastest gaming laptop display. The 300Hz refresh rates makes fast-paced action look incredibly smooth, enabling gamers to perform at the peak of their capabilities. The display's 3ms grey-to-grey response time also reduces motion blur for precise target tracking.
While skills matters the most when it comes to competitive gaming, a high performance gaming notebook with a fast display refresh rate and response time can also give you the unfair advantage for defeating your opponents.
Keystone II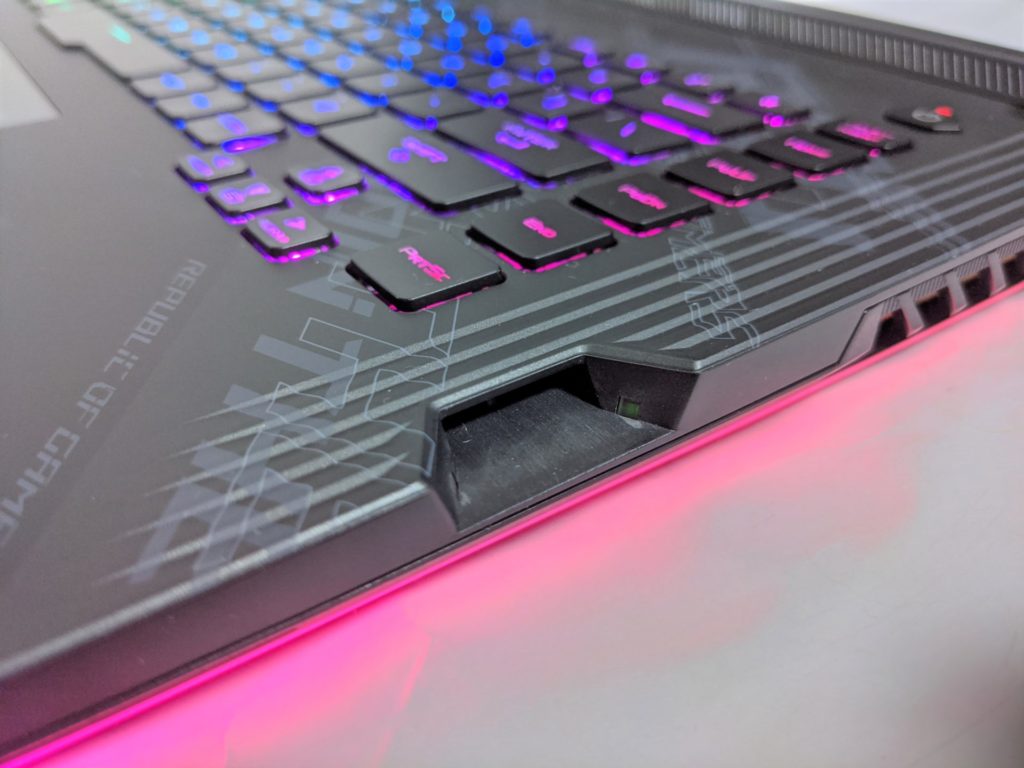 If you realised, there is a unique hole on the right side of the ASUS ROG Strix SCAR 15 which doesn't seem to fit any usual PC peripherals. This is because this slot is meant for ASUS's Keystone II NFC-enabled key. When placing this special key into the notebook, Keystone can apply personalized settings in your games and applications. It is also used as a physical key for "Shadow Drive", which is an encrypted and hidden drive within the PC. Shadow Drive is only accessible when you plug the Keystone II into the notebook. If you have something secretive to keep away from public eyes, Shadow Drive will be useful for protecting those important data.
NumPad
The ASUS ROG Strix SCAR 15 also features a digital numpad on the trackpad that can be enabled or disabled with the touch of the Num Lock button. It allows users to have quick access to a standard numpad for higher productivity while using applications such as excel or the calculator. However, we thought that it could also be useful in game as well. These number keys could be used as quick access buttons to specific actions for your games, which could come in handy.
RGB
What's a gaming computer without RGB lighting? If you are a big fan of fully customizatble RGB lights, you will be glad to know that the ASUS ROG Strix SCAR 15 is full of it. Firstly, the whole keyboard has a fully customizable RGB lighting feature. You can set individual RGB light on a per-key basis. There are also RGB LED strips placed along the sides of the chassis, which gives the ASUS ROG Strix SCAR 15 a special glow on the underside. It makes the whole notebook look like it's floating on top of a ring of light. It's certainly something which we don't see everyday.
Inside the Box

The ASUS ROG Strix SCAR 15 also comes with a lot of freebies within the box. By purchasing the notebook, you not only get the notebook itself, but also quite a number of peripherals. Inside the box, there is a ROG backpack and ROG Delta RGB DAC Gaming Headset.

Inside the notebook's box, we also found a ROG Gaming Mouse, a webcam (do take note that the ASUS ROG Strix SCAR 15 does not come with a built-in webcam), the ROG Keystone II hardware key and of course, the notebook's power adapter.
Input/Output Interface

At the rear of the device, we spotted the Gigabit LAN port, HDMI output port, USB Type-C Port, which also supports Display Port output and lastly, the DC-In Jack. The USB Type-C port at the rear is quite special, as it also supports graphics output. Since the ASUS ROG Strix SCAR 15 is powered by the NVIDIA GeForce RTX 2070 SUPER, you can even enjoy G-SYNC features with this notebook when you connect it to a G-SYNC enabled display.

On the left of the device, there are three more USB 3.0 ports, as well as the Microphone/Headphone combo audio jack. There aren't any other ports on the right side of the notebook.
Do take note that the hole you see on the right side of the image above is a speaker grill – please don't be mistaken that it's a SD card slot, as this notebook does not come with one.
Inside the ASUS ROG Strix SCAR 15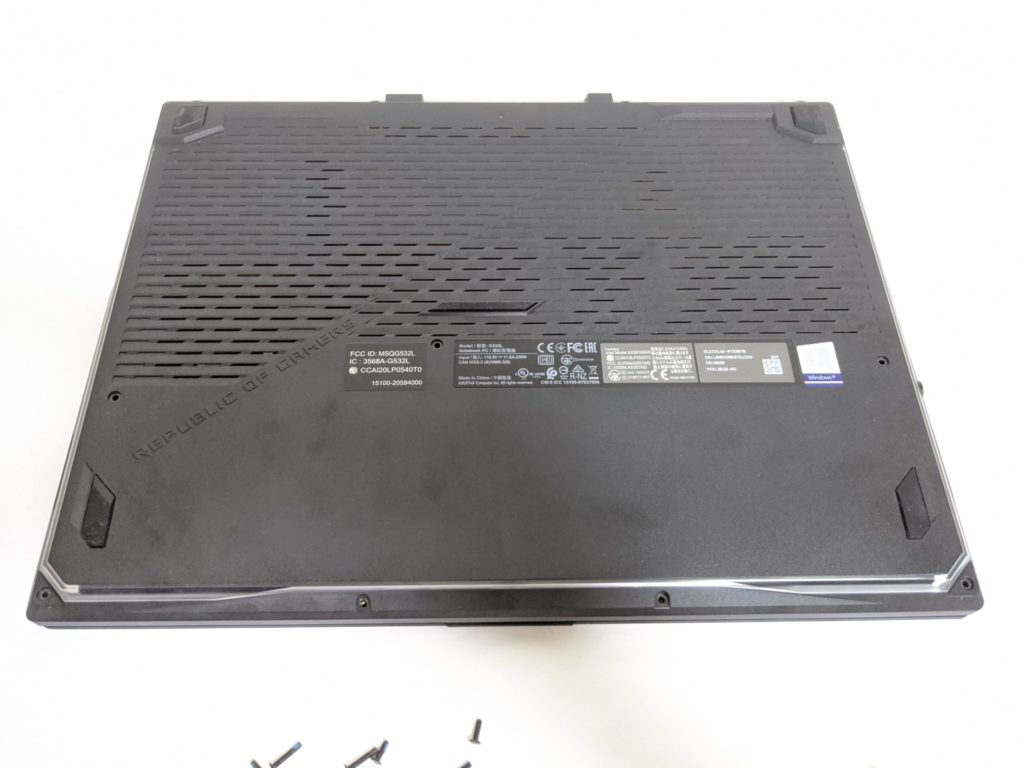 ASUS is advocating for the right to repair movement for all their new ROG branded notebooks. As such, it's actually extremely simple to remove the base cover of the ASUS ROG Strix SCAR 15. Just by removing a couple of standard philips screw, the base cover will come right off.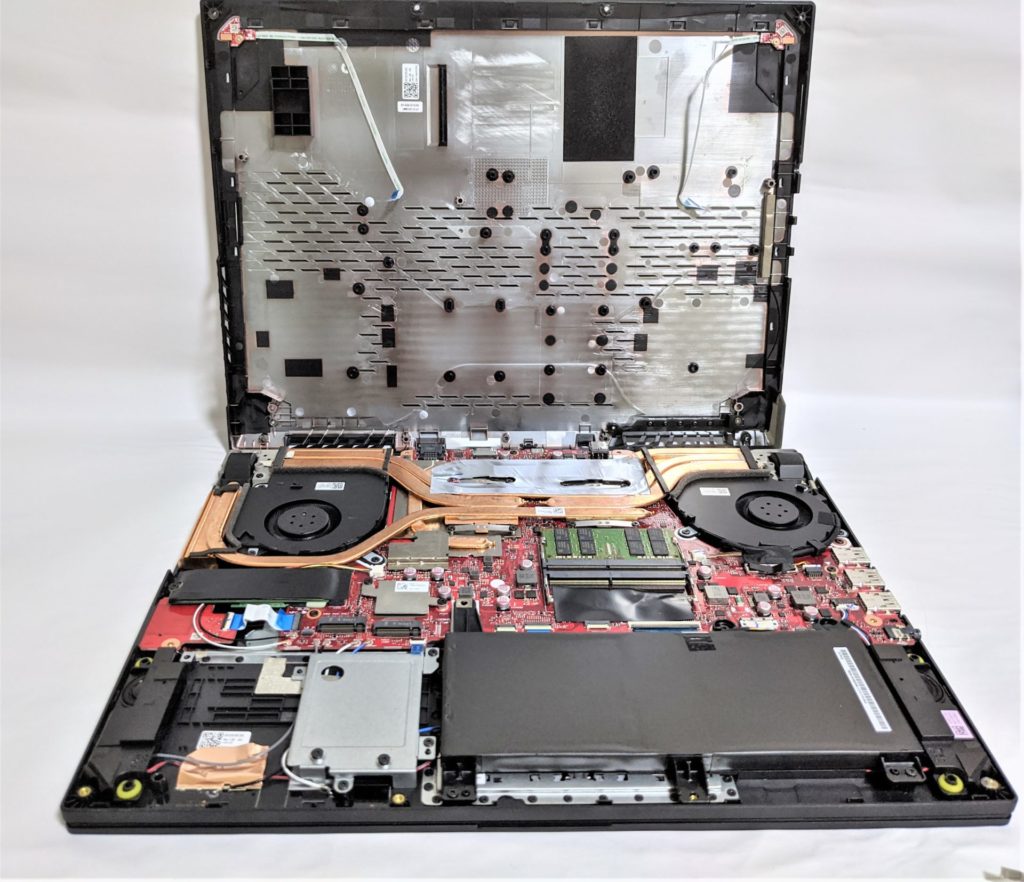 One thing we found really interesting about this notebook is that the while base cover is also equipped with a large metallic heatsink, which makes it a lot easier for heat dissipation to the base of the device.
The whole notebook can also be easily upgradeable, as it spots two DDR4 SODIMM memory slots and three M.2 SSD slot. This notebook even supports RAID 0, so if you are looking for the ultimate storage performance from your gaming notebook, you can actually do so with two very fast NVMe M.2 SSD.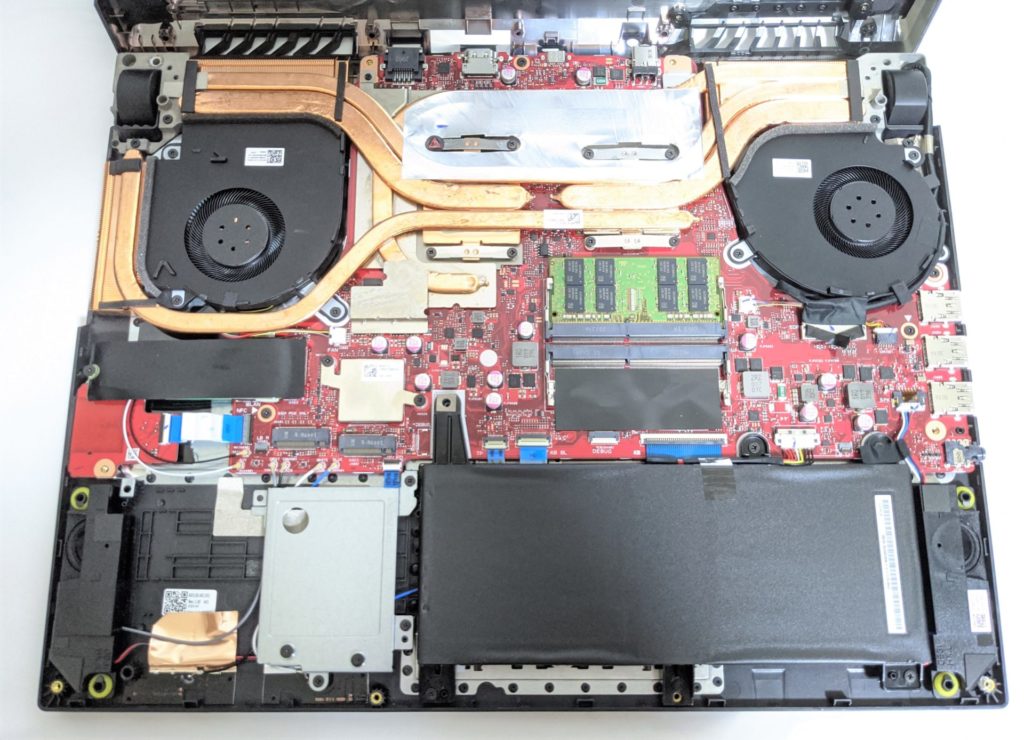 The ASUS ROG Strix SCAR 15 comes with two fans which takes in cool air from the bottom of the device and expels the hot air from the rear. Because of this design, users will feel that the device will heat up when using its keyboard or trackpad, as the heat is concentrated largely on the bottom and rear of the device. There are also large heatpipes connected to the heatsinks, which can effectively dissipate heat away from the CPU and GPU. Overall, the whole cooling system looks rather beefy, and should be capable of moving heat away from the notebook effectively to ensure that the notebook runs at full performance.
Based on our test, both CPU and GPU had an idle temperature of 50°C (the fans are running slowly). While under load, the CPU temperature reached a whopping 97°C and the GPU was found to be at 78°C. Despite the high temperature, we realised that the CPU remained in a high frequency state, and there was no thermal throttling. With this characteristic, we are quite certain that this notebook is going to perform quite well in the performance tests, which we will find out more later.
Single Channel Memory – Really?
There's something about the ASUS ROG Strix SCAR 15 which I can't really understand. If you look closer, it is only equipped with a single DIMM of DDR4 16GB RAM. As we understand, running DRAM in dual channel will ensure that the system can run at its optimal performance and speed. It is expected that if you only have the system memory configured in single channel mode, gaming performance will suffer.
Even though ASUS preaches so much about having the best possible gaming experience on the ASUS ROG Strix SCAR 15, the decision to only include a single stick of RAM, rather than two that can run in dual-channel mode is baffling. It's like having "DLC" on your notebook computer. When you purchase a new unit from them, you will only get a portion of its full performance. To enjoy the machine's full capabilities, you got to spend the extra money to buy another RAM at your own cost for an upgrade.
ASUS explains that it makes it easier for users to upgrade their RAM, as there's an empty slot there. My argument is that if's that a gaming system is already good enough, and that if you are preaching for a ultimate performance, no-compromise gaming experience on your notebook computers, there should be no additional room for any upgrades. As a customer, I expect that my computer is already running at full speed and performance out of the box. I simply do not understand the reasoning behind only including a single stick of RAM in the system.
Performance Test Benchmarks
System Benchmark Settings
PC Mark 10 Extended
Default
–
7-ZIP
Default
–
HEVC h.265 Encoding/Decoding
Default
–
Blender CPU BMW27
Default
–
Cinebench R20
Default
–
AIDA64
Default
–
Game Settings
Far Cry New Dawn
High
DirectX11
Deus Ex Mankind Divided
High
DirectX12
Tom Clancy Division 2
High
DirectX11
DOTA 2
Default
DirectX11
Shadow of the Tomb Raider
High
DirectX12
Metro – Exodus
High
DirectX12
World War Z
Ultra
Vulkan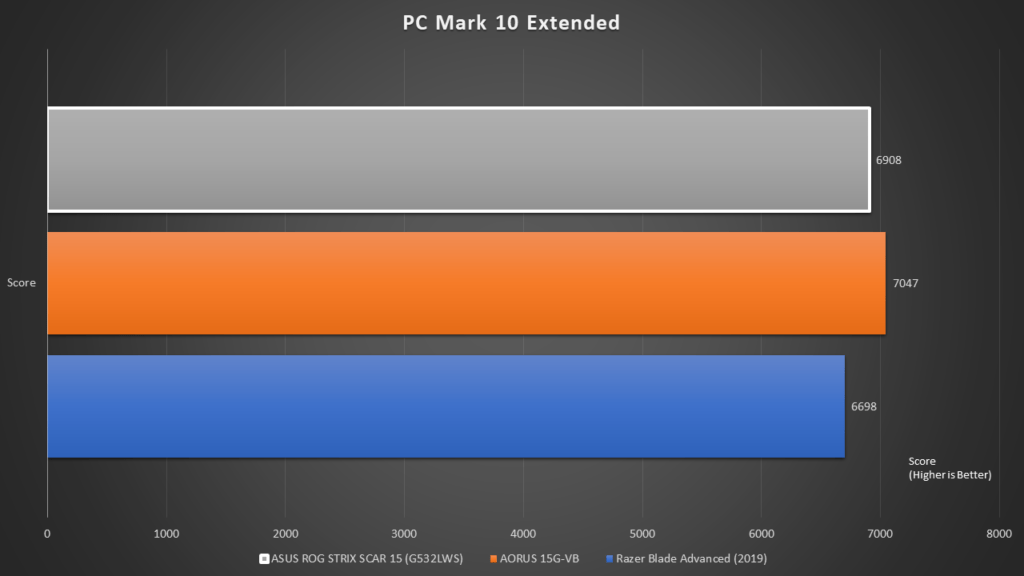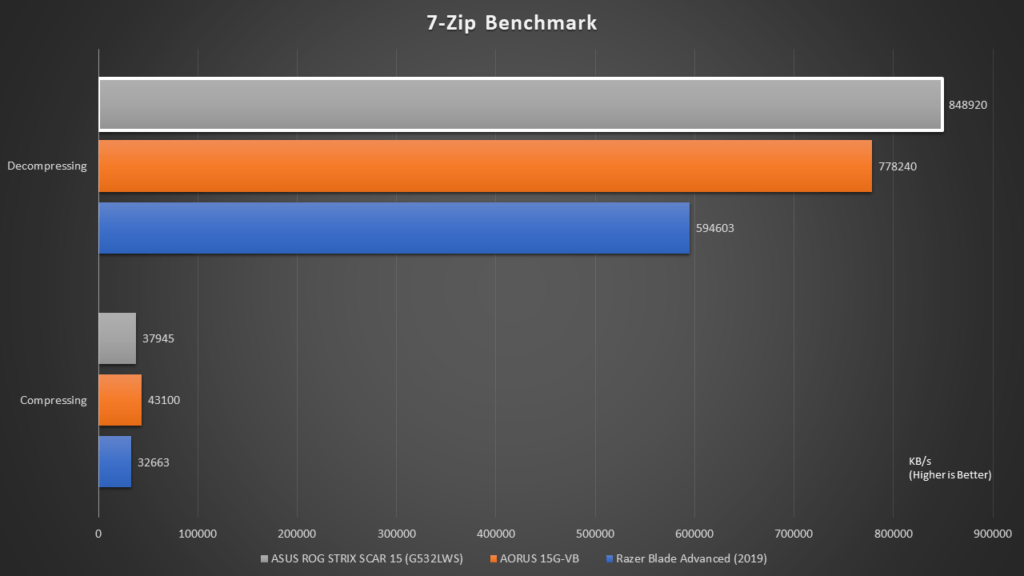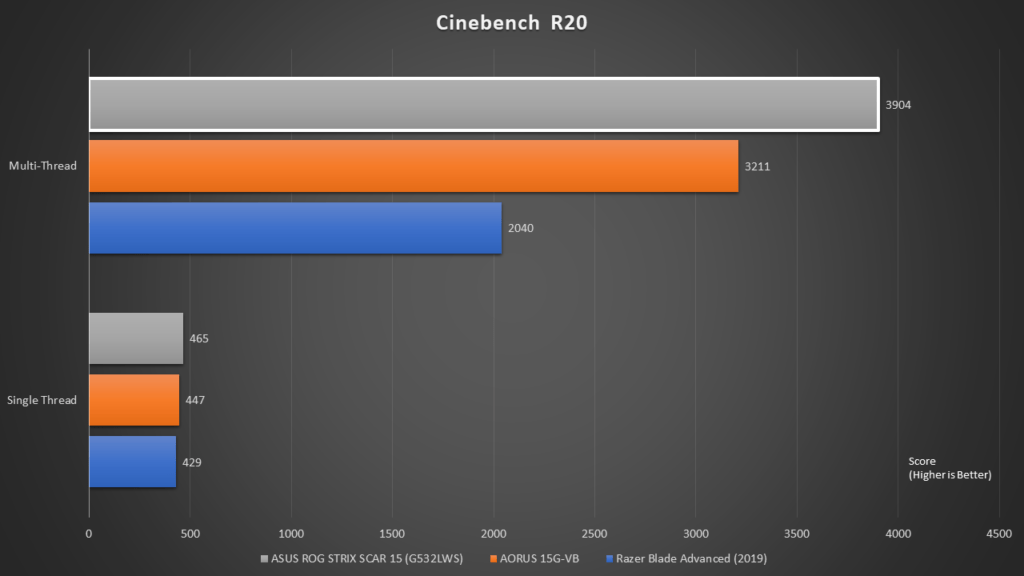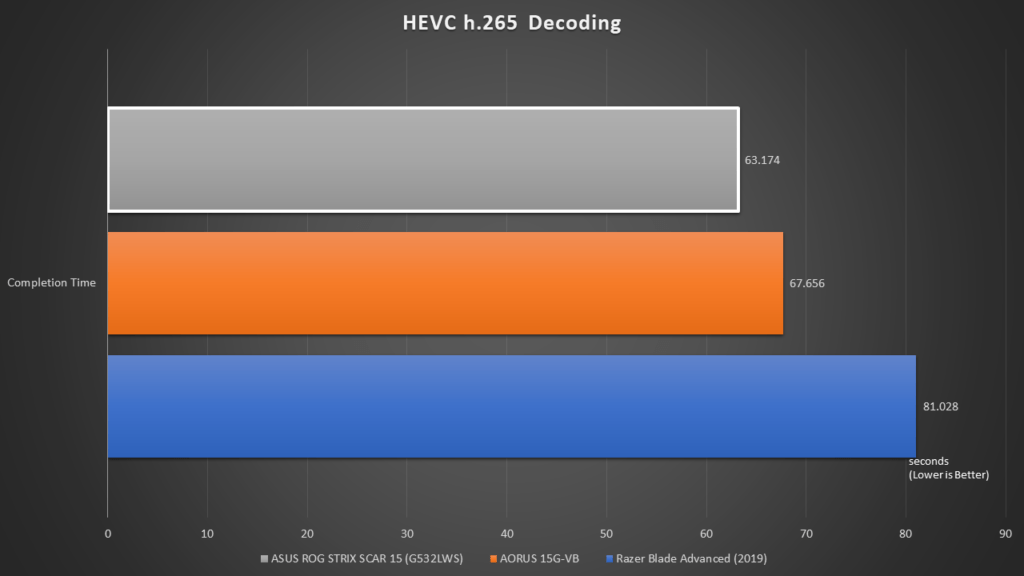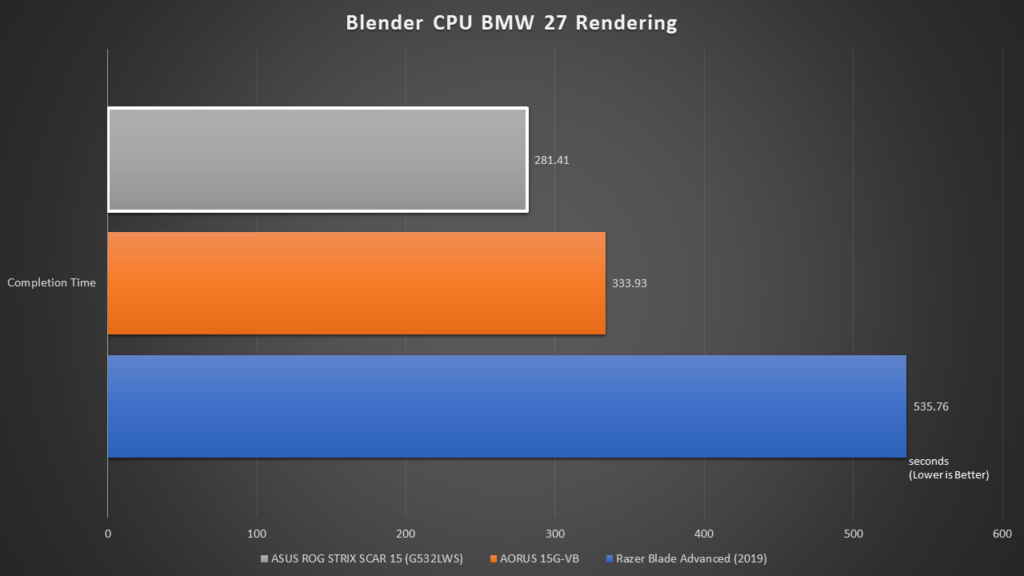 We've also tested the ASUS ROG Strix SCAR 15 in Dual Channel mode. We've equipped this notebook with a 2 x 8GB DRAM 3200MHz DDR4 DRAM for the memory and games benchmarks. The results are shown below.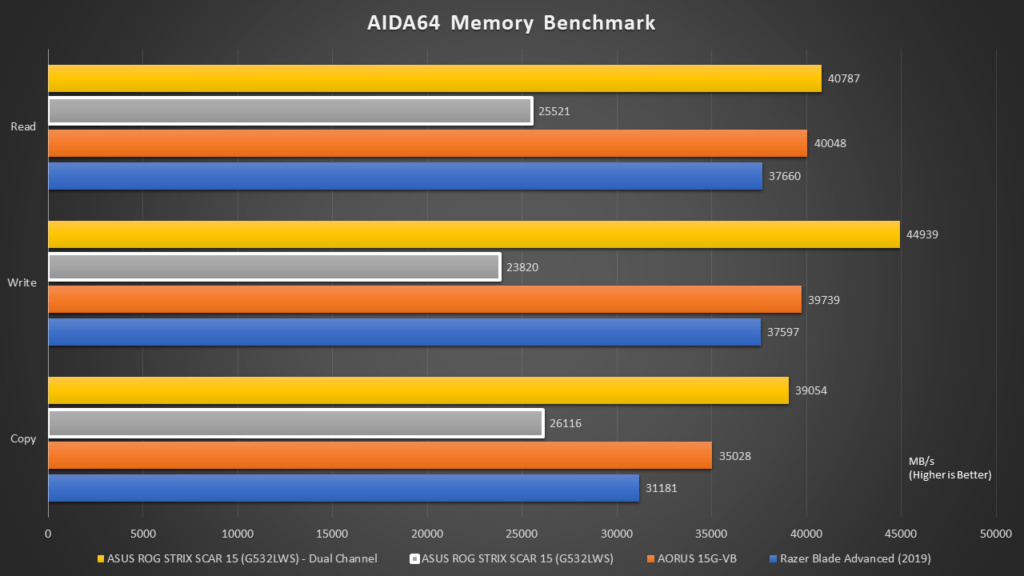 Conclusion
Based on the performance tests, we can see that the ASUS ROG Strix SCAR 15 really comes out on top in most of the CPU and productivity tests. The vigourous sustained turbo speeds on this notebook really allows its CPU performance to shine, flexing its true potential as a heavyweight in the gaming notebook scene. Everything will look perfect, if the ASUS ROG Strix SCAR 15 was equipped with a dual-channel memory configuration right out of the box. The gaming performance gap between a single channel and the dual channel memory configuration is just simply too much to ignore. We can see that just by having the system to run in dual channel memory mode, we can see more than 10% of improved performance.
Nonetheless, the ASUS ROG Strix SCAR 15 is a feature packed gaming system that is made to perform. We do not really have any other complains about this gaming notebook, as it works just as expected of a gaming PC. Gamers can simply not think about the hardware, but just focus on their games. They will feel empowered by the strong capabilities of the ASUS ROG Strix SCAR 15 bestowed to them, allowing them to perform to their best of the abilities.
We recommend that all customers of the ASUS ROG Strix SCAR 15 to purchase another stick of RAM and make sure that the system runs in dual channel memory configuration to get the most out of the machine. Else, it just doesn't stand out from any other competing products in the market.