When it comes to gaming on the PC, there are usually two factors that determines the whole gaming experience – performance and quality. Most of the time, gamers have to find a right balance between these two factors, which are closely related. If you raise the graphics settings, there will be a drop in frame rate performance (FPS). This could result in the game feeling less responsive. On the other hand, if graphics settings are reduced, frame rates will increase. However, things just wouldn't just look as good as it is supposed to.
As you can imagine, the holy grail for gaming is to achieve high-quality graphics without the expense of game performance. Although it may sound counter-intuitive, the latest in graphics technology finally made it a reality.
Introducing NVIDIA DLSS – The holy grail of Graphics Rendering
As one of the leading companies in producing both AI compute accelerators, NVIDIA has been researching into how they can use AI to improve graphics quality in games. Deep Learning Super Sampling, or DLSS for short, was announced by NVIDIA in September 2018 as a key feature of the GeForce RTX 20 series GPU.
Conventional Super Sampling methods render frames at a much higher resolution to obtain a more detailed image, then shrunk to its desired display size. As more information on the frame is now achieved with Super Sampling, the down-sampled image will appear to be of higher quality, with smoother transitions from one pixel to another along the edges of objects. However, as expected, Super Sampling requires huge computational cost as it literally renders graphics at a higher resolution. This causes gaming performance to be affected significantly.

DLSS uses Deep Learning methods to achieve Super Sampling. By training an AI model to look at how high-resolution frames are down-sampled, and applying this AI model to games, NVIDIA was able to significantly improve the quality of gaming graphics. Thanks to the use of dedicated AI compute system within the GeForce RTX 20 series GPU, known as Tensor Cores, DLSS compute (inference) is offloaded and graphics performance is not affected. This allowed them to achieve the unachievable – improving gaming graphics while retaining or even improving performance.
DLSS 2.0 – DLSS made even better
After introducing DLSS, research on the technology did not stop. Currently, DLSS technology is in its second iteration. With DLSS 2.0, there are quite a number of significant improvements, allowing DLSS to perform even better, producing even higher quality graphics.
Superior Image Quality – DLSS 2.0 offers image quality comparable to native resolution while rendering only 1/4 to 1/2 of the original resolution. It employs new temporal feedback techniques for sharper image details and improved stability from frame to frame.
Great Scaling Across All GeForce RTX GPUs and Resolutions – A new AI network which uses Tensor Cores more efficiently to execute 2X faster than the original. This improves frame rates and eliminates previous limitations on which GPUs, settings, and resolutions could be enabled.
One Network For All Games – The original DLSS required training the AI network for each new game. DLSS 2.0 trains using non-game-specific content, delivering a generalized network that works across games. This means faster game integrations, and ultimately more DLSS games.
Customizable Options – DLSS 2.0 offers users 3 image quality modes – Quality, Balanced, Performance – that controls the game's internal rendering resolution, with Performance mode enabling up to 4X super resolution (i.e. 1080p → 4K). This means more user choice, and even bigger performance boosts.
DEATH STRANDING and NVIDIA DLSS 2.0
DEATH STRANDING arrived onto the PC platform on July 14th, and is one of the new game titles which supports NVIDIA DLSS 2.0 out of the box. With DLSS 2.0, gamers can expect to achieve frame rates above 100 FPS at maximum graphics settings at 2560 x 1440 resolution on all GeForce RTX GPUs. It can even run in excess of 60FPS when played in 4K resolution with all settings maxed out!
DEATH STRANDING casts players as Sam Bridges. In the near future, mysterious explosions have rocked the planet, setting off a series of supernatural events known as the DEATH STRANDING. With spectral creatures plaguing the landscape, and the planet on the verge of a mass extinction, it's up to Sam to journey across the ravaged wasteland to save mankind from impending annihilation.
In DEATH STRANDING, NVIDIA DLSS 2.0 delivers performance improvements of up to 48% in Quality Mode and up to 90% in Performance Mode at max settings.
DLSS in "Quality Mode"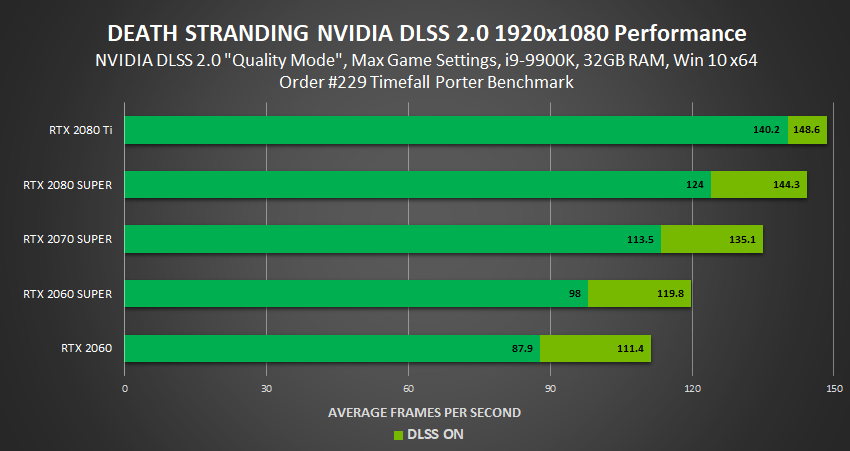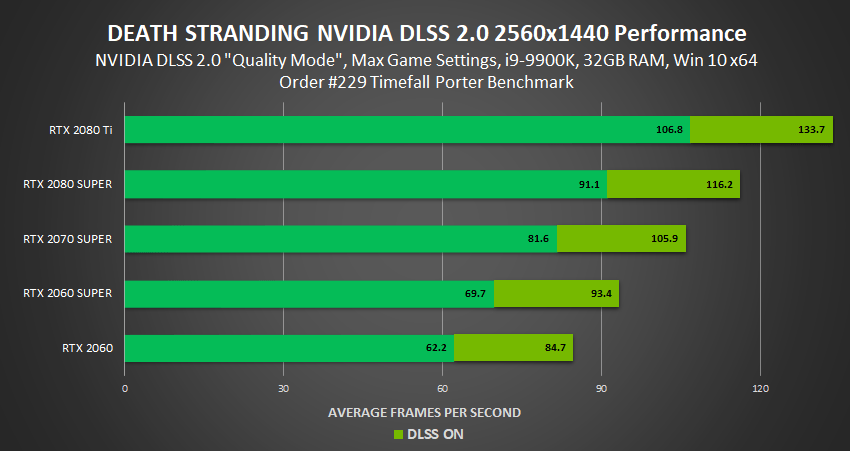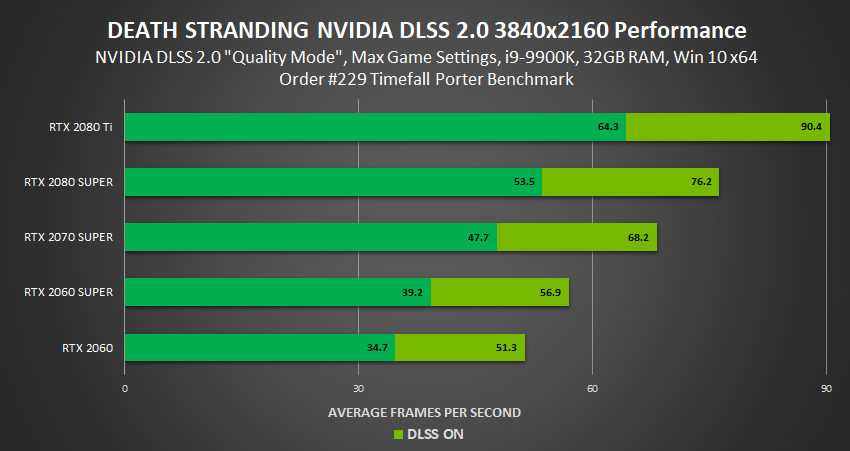 DLSS in "Performance Mode"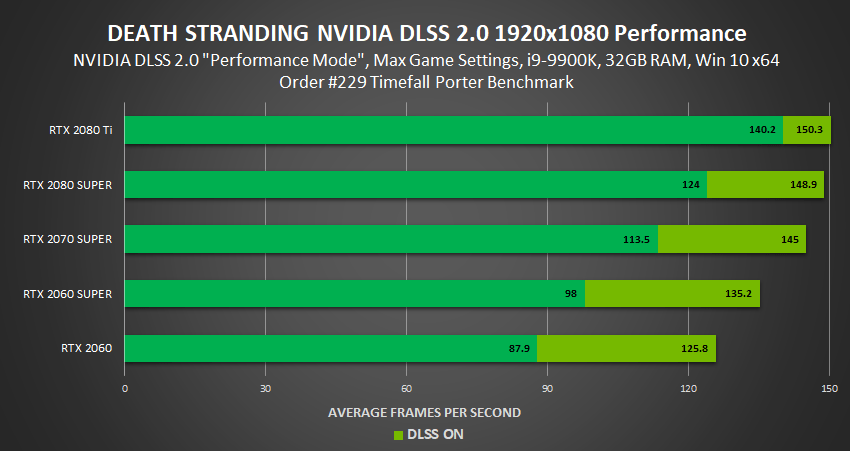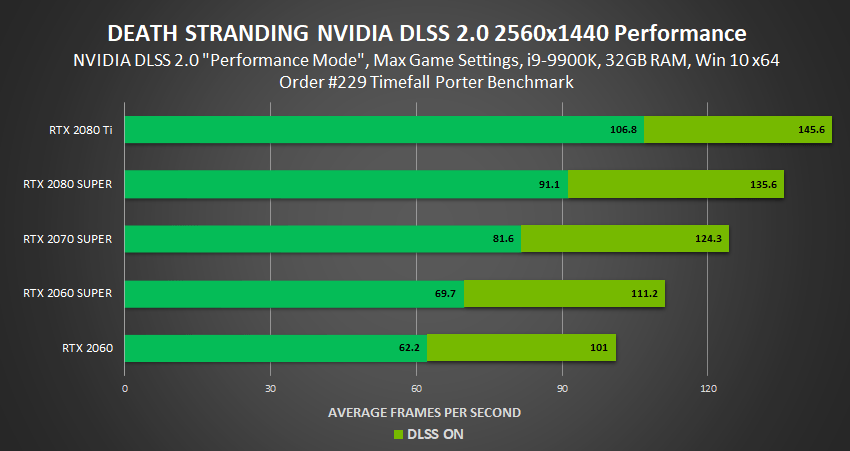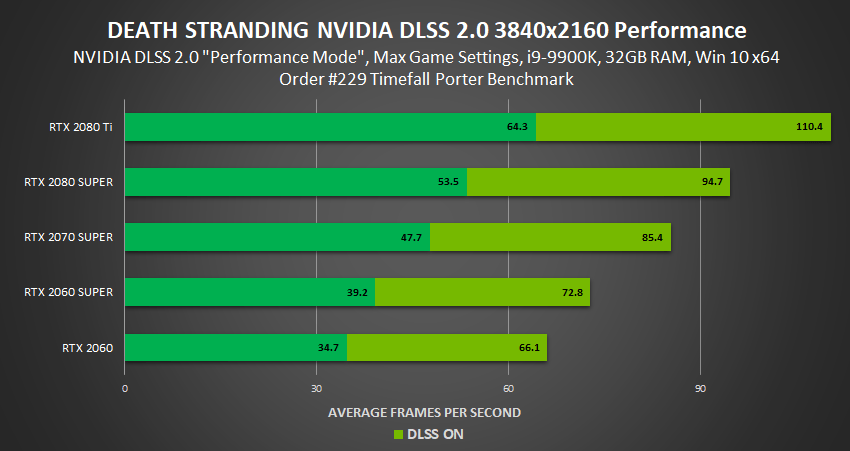 Graphics Improvements
With DLSS 2.0, image quality can be significantly improved while also increasing performance. Based on the sample in-game screenshots below, we can see how DLSS 2.0 is able to sharpen details, smooth aliased edges and boost clarity in DEATH STRANDING with max settings, using NVIDIA's DLSS 2.0 Quality Mode.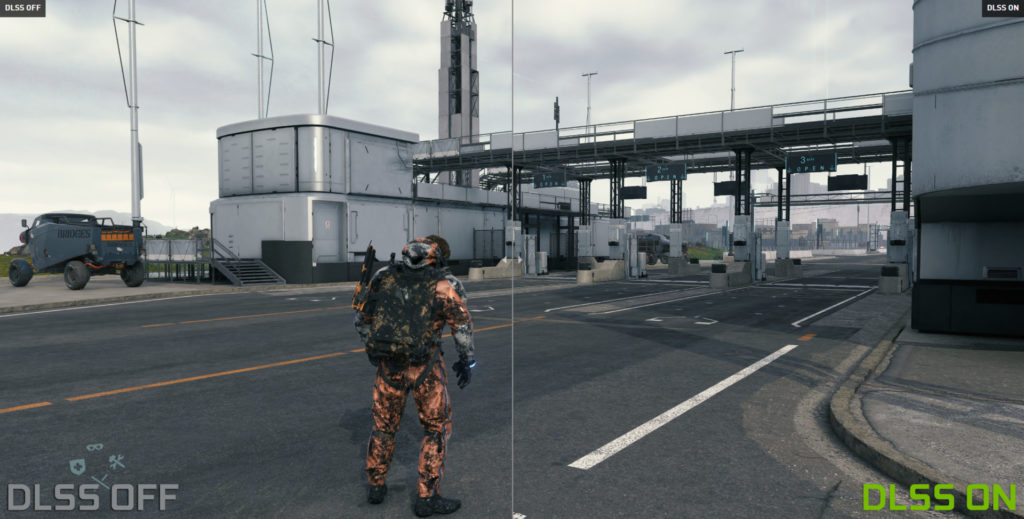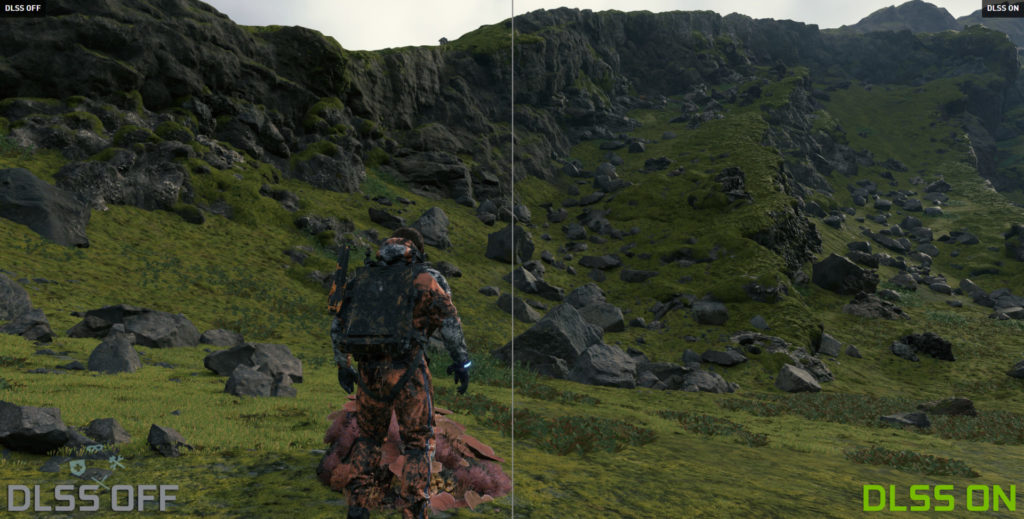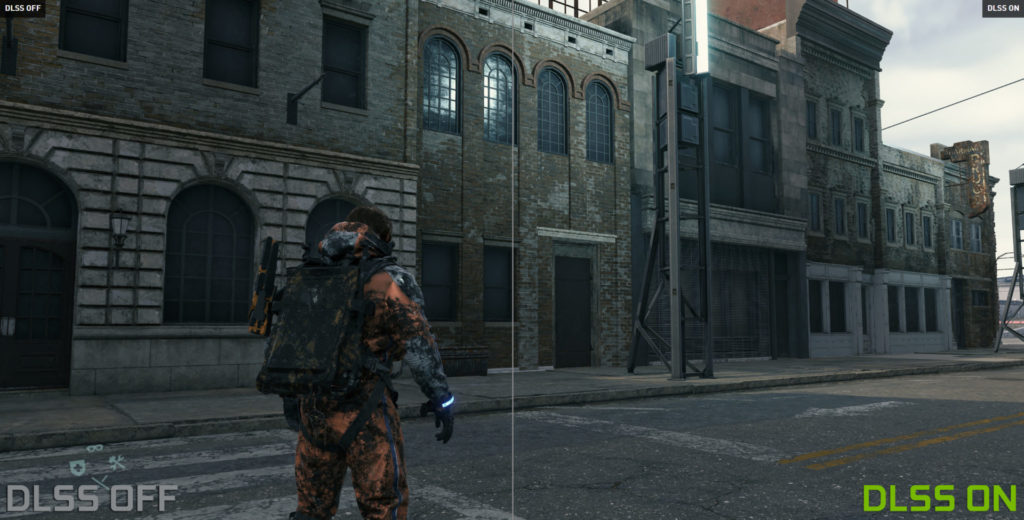 DEATH STRANDING Game Ready Driver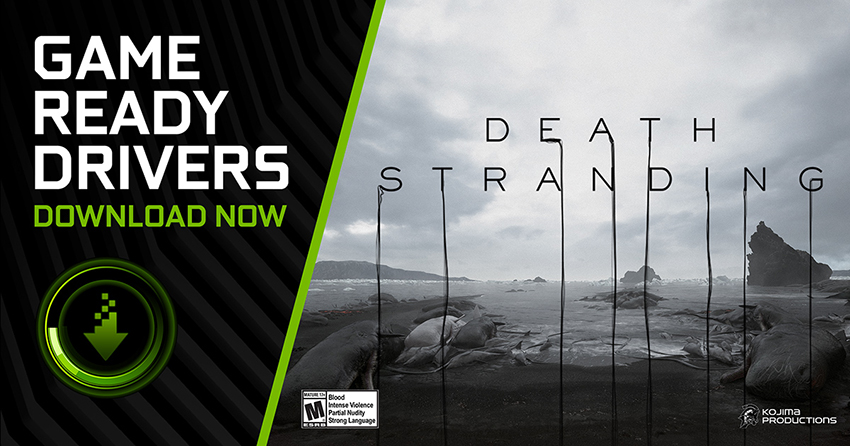 NVIDIA released their latest GeForce Game Ready driver to bring day-one support for DEATH STRANDING. With the latest Game Ready driver, gamers can be assured that their system can play DEATH STRANDING at the highest frame rate and quality. You can download the latest NVIDIA Game Ready driver here.
DEATH STRANDING Bundle – Free Game for every GeForce RTX purchase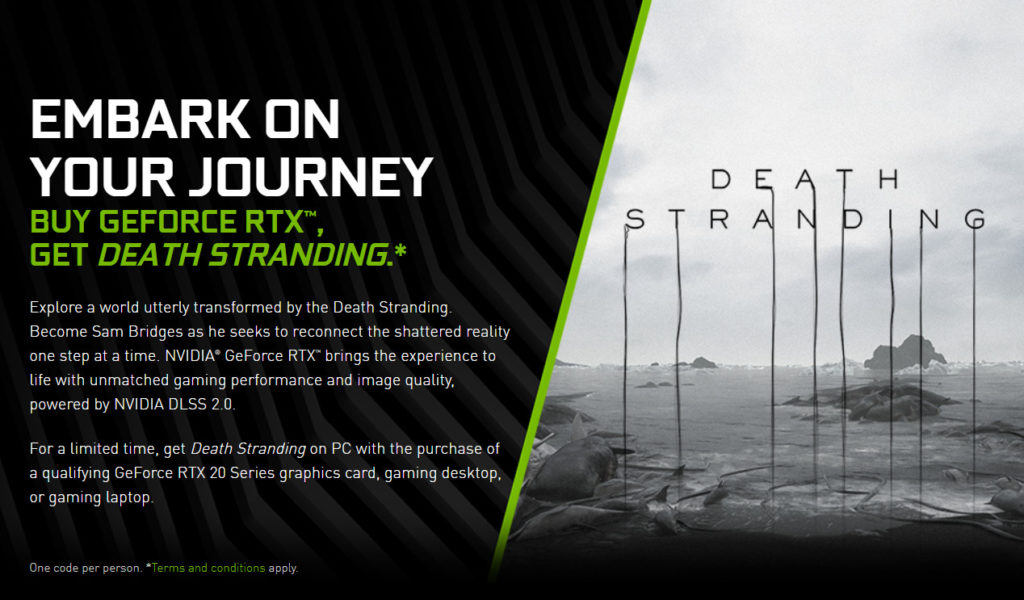 NVIDIA is currently bundling a copy of DEATH STRANDING with the purchase of select GeForce RTX graphics cards, laptops and desktops until July 29th. For more information, you can visit the DEATH STRANDING BUNDLE Campaign page.