Last year, we received news that HUAWEI MateBook 13 and MateBook X Pro will be available from the 30th May 2019, signifying the entrance of the Chinese brand into the notebook market in Singapore. However, their plans had to be set back as US placed them on its Entity List, which prevents the Chinese giant from buying parts and components from US companies.
Fast forward a year later, Huawei is finally back with their new 2020 version of the HUAWEI MateBook 13. As opposed to what was supposed to be launched, the delay also brings about newer and improved technologies and features. Instead of the supposed Intel Core i5-8265U processor, this year's HUAWEI MateBook 13 comes with a Comet Lake Intel Core i5-10210U Processor instead. The new 10th Generation Intel Core processor promises better efficiency and performance to bring out the best in mobile computing devices.
The HUAWEI MateBook 13 2020
Physically and aesthetically, the HUAWEI MateBook 13 2020 does not sport any difference as compared to its predecessor. The design remains the same. Unlike convention notebook computers with a 16:9 aspect ratio display, the HUAWEI MateBook 13 comes with a 3:2 display instead. This makes the whole notebook's body seem a lot more "squarish" than usual. This is similar to Microsoft's computing devices, such as the Surface Laptop 3, Studio 2 and Book 2, which is said to provide more vertical viewing space for increased productivity.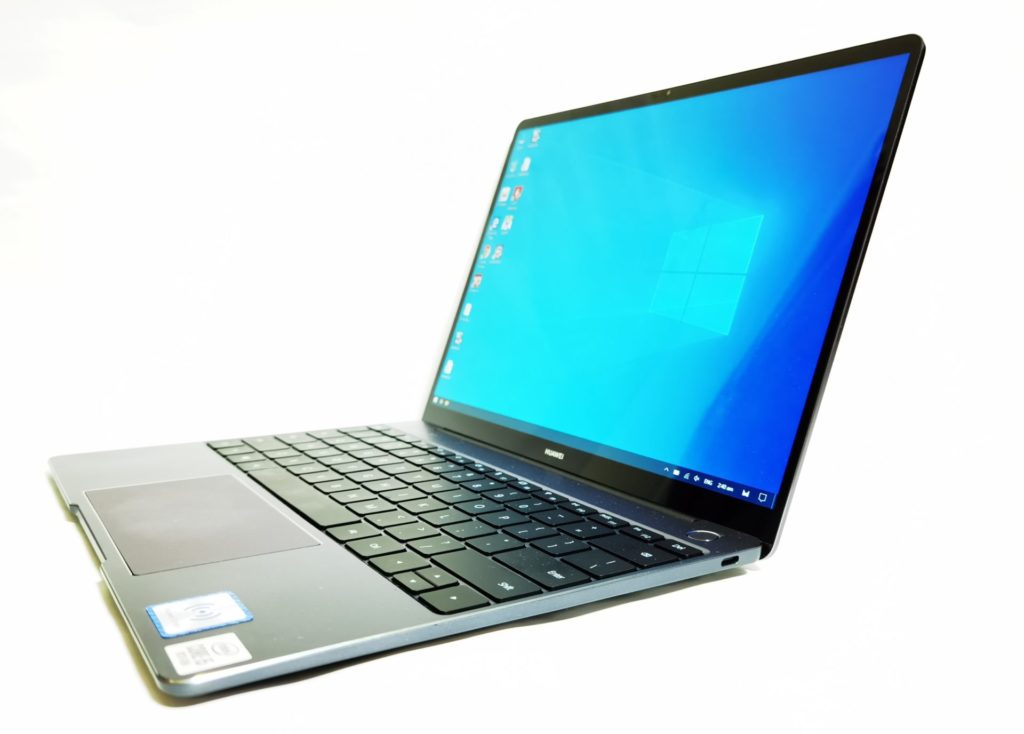 Despite being a thin and light notebook computer, the HUAWEI MateBook 13 tries to one-up competing products in the market by also integrating a dedicated GPU to offload graphics heavy compute. This should allow you to play even some casual games with this notebook. Combined with the latest Intel 10th Generation U-series Intel Core i5 processor, the HUAWEI MateBook is poised to be an excellent everyday portable workhorse for professionals.
Inside the Box

Huawei also included a USB Type-C PD 65W charger and its USB Type-C Cable, a USB Type-C to Type A (female) adapter within the box. Of course, the whole package also comes with a Quick Start guide and warranty information.

The power adapter included within the box is rated to run at a maximum of 65W. This is also considered a Huawei Super Charger, and can charge your Huawei smartphones, such as the Huawei P40, Mate 30, P30 and Mate 20 series at 40W.
Specifications and Design
Display
Size: 13 inches
Screen-to-body ratio: 88%
Resolution: 2160 x 1440, 200 PPI
Aspect ratio: 3:2
Viewing angle: 178 degrees
Colour: sRGB 100% colour gamut (typical)
Contrast: 1000:1 (typical)
Maximum brightness: 300 nits (typical)
Appearance
Dimensions (H x W x D): 286mm x 211mm x 14.9mm
Weight: approximately 1.3kg
Colour: Space Grey, Mystic Silver
Processor
10th Gen Intel® Core™ i5-10210U Processor
GPU
Intel® UHD Graphics 620/NVIDIA® GeForce® MX250 (TDP 25W) with 2GB GDDR5
Memory
8GB/16GB LPDDR3 2133MHz
Hard Drive
512GB PCIe SSD
Operating System
Windows 10 Home
Buttons and Ports
– Fingerprint Power Button
– 3.5mm stereo headset jack
– Power port x 1 (supporting data transfer and charging)
– USB-C port x 1 (supporting data transfer and DisplayPort)
WiFi
IEEE 802.11a/b/g/n/ac, 2.4/5 GHz 2×2 MIMO
Bluetooth
Bluetooth 5.0 (compatible with 4.1, 3.0 and 2.1+EDR)
Camera
Front camera: 1MP
Audio configuration
Digital microphone x 2, Speaker x 2
Battery
Material: Lithium polymer
41.7Wh (rated capacity)
Power adapter
HUAWEI MateBook Charger 65W
– Input: 100V – 240V AC, 50/60 Hz
-Output: 5V/2A, 9V/2A, 15V/3A, 20V/3.25ASupport multiple output modes, and quick charge for different devices, and HUAWEI SuperCharge for certain phones
The HUAWEI MateBook 13 looks like a very simple device. It has a classic look, while still retaining a premium and professional look. The whole body is made of an aluminum alloy material, which also gives the notebook a sturdy and solid feel to it, despite it being just 1.3KG light.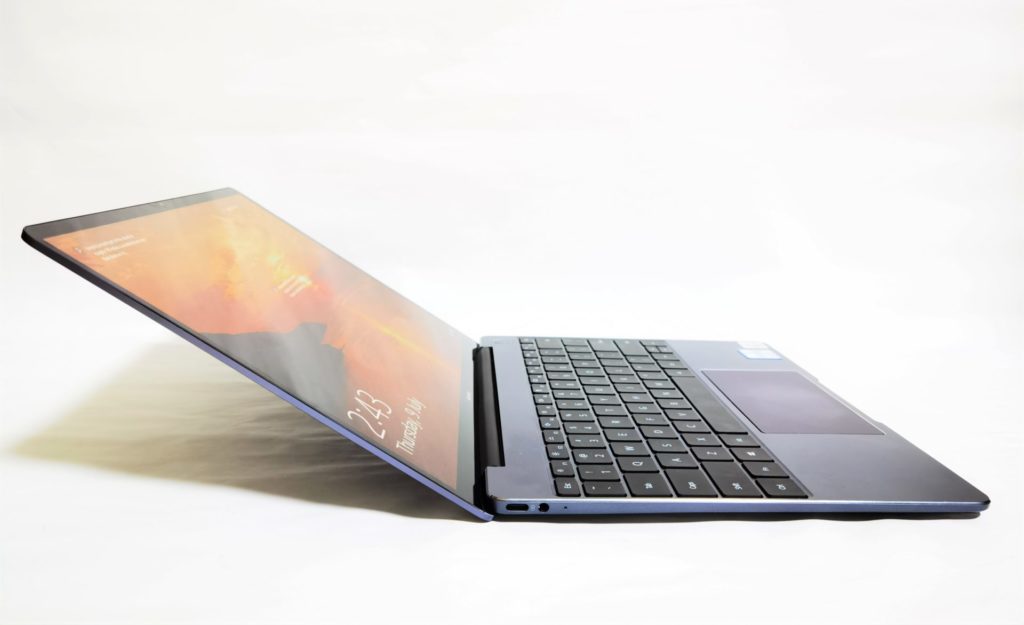 However, there are some trade-offs that Huawei made while designing this notebook's thin profile. As you can see, this notebook seriously lacks any form of full-sized ports, such as USB Type-A ports and HDMI ports. This essentially means that you will have to make use of external dongles in order for you to connect to external peripherals and devices. It's somewhat troublesome, as you can't just hook up your usual devices easily onto HUAWEI MateBook 13.
Thankfully, Huawei has also included a single USB Type-C to USB Type-A converter in the box. Minimally, you will be able to connect the notebook to an external mouse or any other device with the USB Type-A interface without spending extra money on an additional dongle.
There aren't many expansion options available on the HUAWEI MateBook 13 without the use of expansion dongles. On the left of the device, we can spot a USB Type-C port, which also is the charging port of the device. This also means that if you are charging you device, you are only left with only another USB Type-C port on the right side of the device. Well thankfully, Huawei still managed to squeeze in a 3.5mm audio combo jack to this notebook.
We can see how Huawei is willing to trade off usability of the device just for aesthetic reasons. Sometimes I wonder, is being slim and thin really that important? Perhaps, the actual weight of the device matters more. Since there are also slim notebook computers out in the market, such as the ASUS ExpertBook and LG Gram, that spots full size ports, there should be no reason why Huawei is lacking in this area. Or is it that they are just blindly following the Macbook?
This also brings us to the next point – weight. There is no doubt that the HUAWEI MateBook 13 is a lightweight computer. Considering the fact that the notebook has a dedicated graphics chip that requires additional cooling considerations, it's impressive that the MateBook 13 can still maintain this weight. However, we've also noted that even though it weighs 1.3KG on the scale, it feels heavier than that. This is because the weight distribution of the notebook is on the rear of the notebook. When you lift the notebook up from the front, the rear weighs it down. You will have a better understanding of this design further down, where we take a look at what's inside the HUAWEI MateBook 13.
Inside the HUAWEI MateBook 13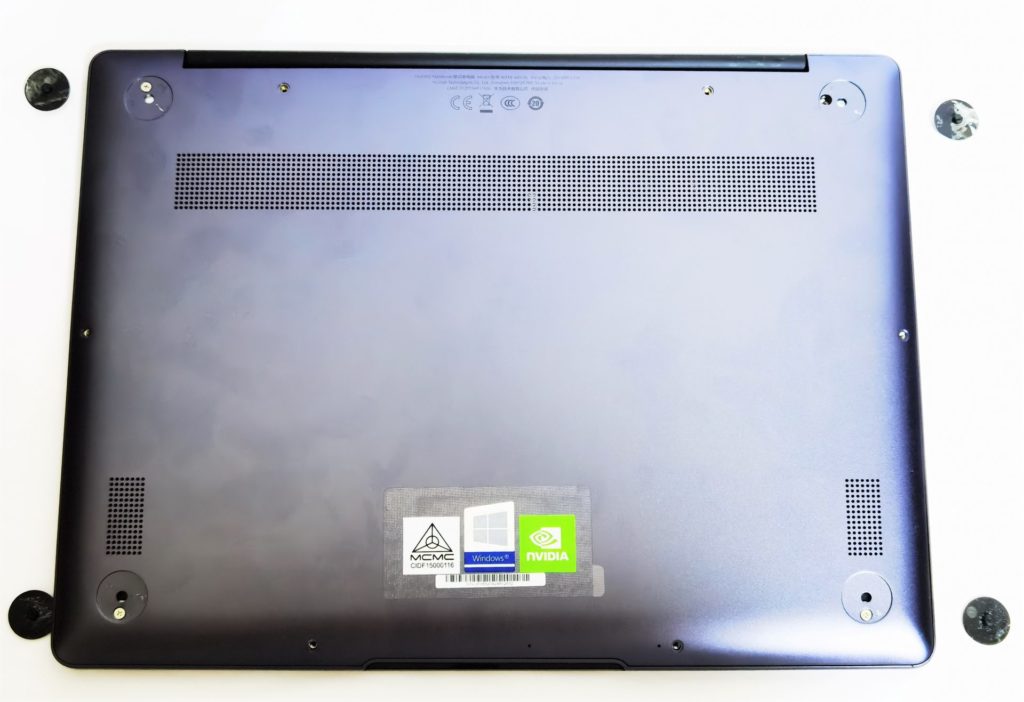 It's fairly easy to remove the bottom cover of the HUAWEI MateBook 13 for maintenance. However, do take note that there are also screws found beneath each of its rubber foot.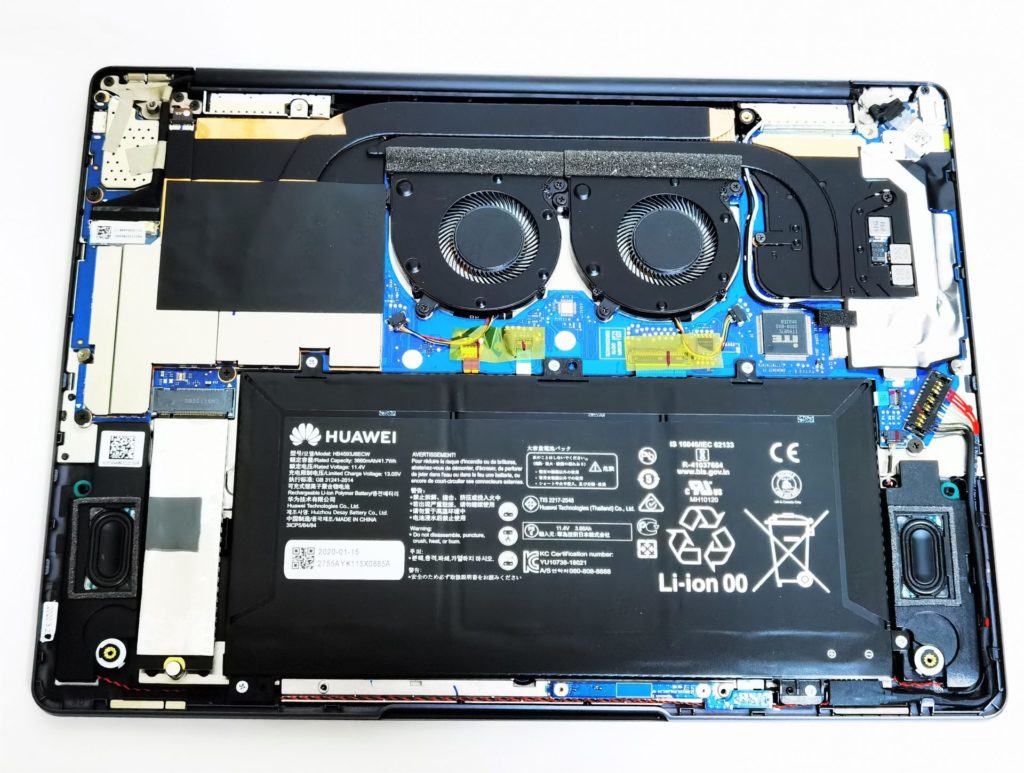 The layout of the components for the HUAWEI MateBook 13 is similar to most notebook systems. Beneath the trackpad area, we can see the 41.7Wh battery, which takes up a significant area of the whole notebook.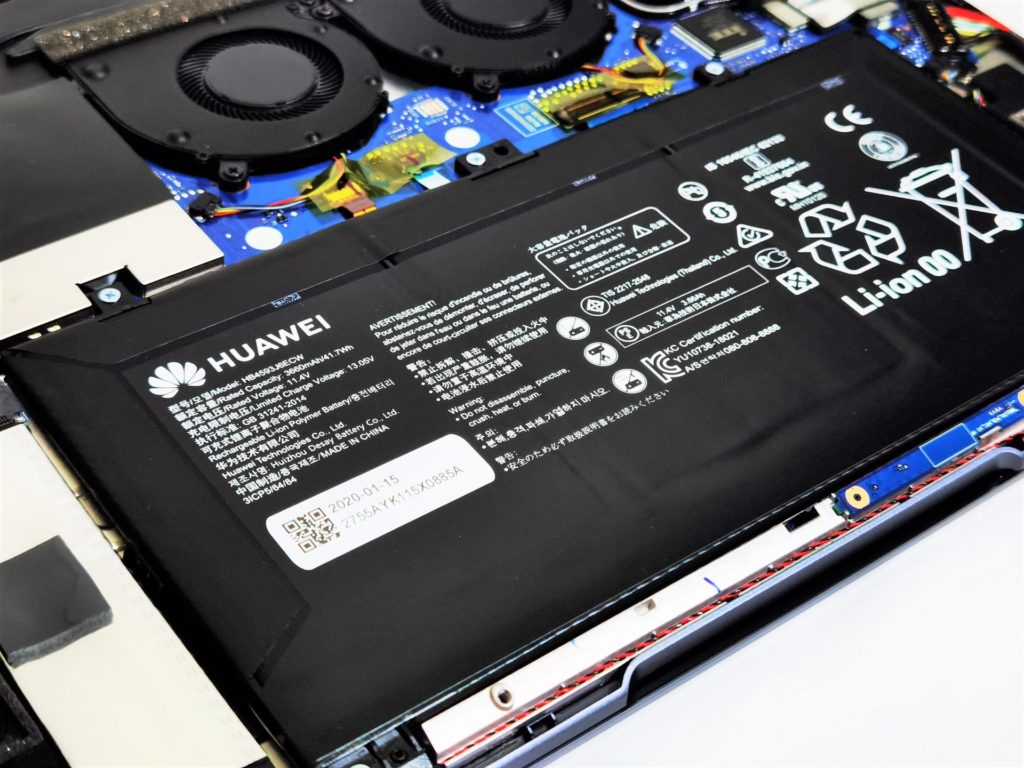 There's a good reason why the battery is placed here. As the battery does not produce too much heat, the area above it (which is the palm rest and trackpad area) will not get too hot, thus keeping things cool for the user.
However, we do see that the SSD is placed on the right of the palm rest (orientation as in actual usage). This also explains why this area can get quite hot when in used.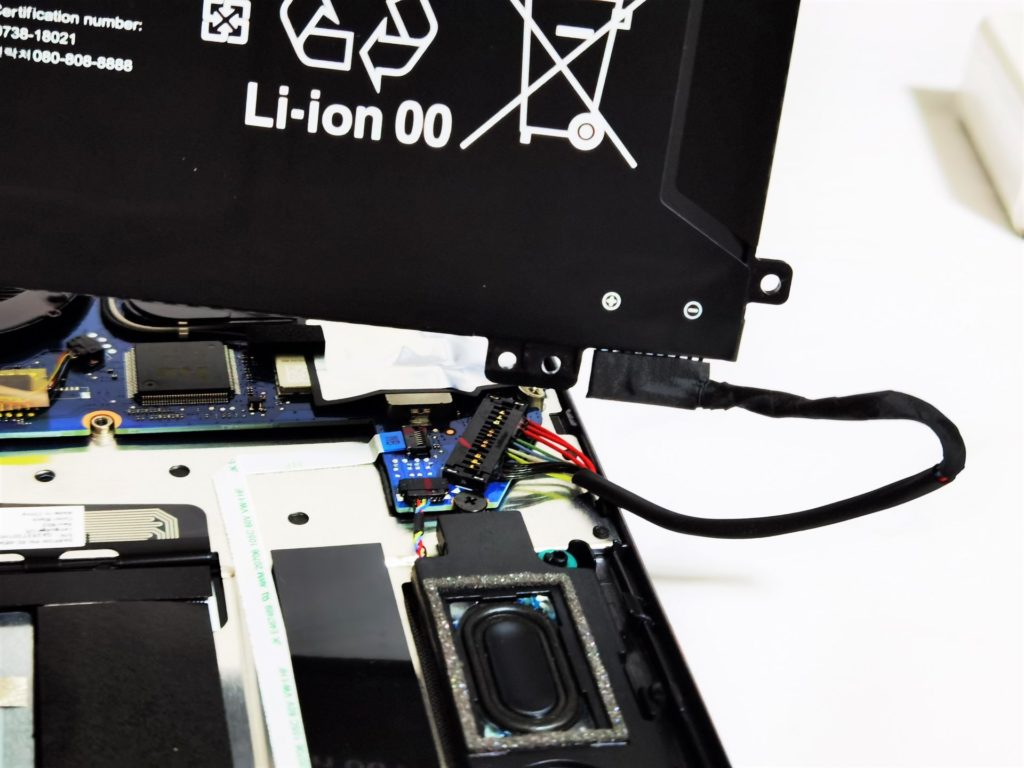 The battery comes with its own cables that connects to the mainboard directly. With this design, we can also understand that changing of battery for this model will be extremely easy. It could be done in the matter of seconds.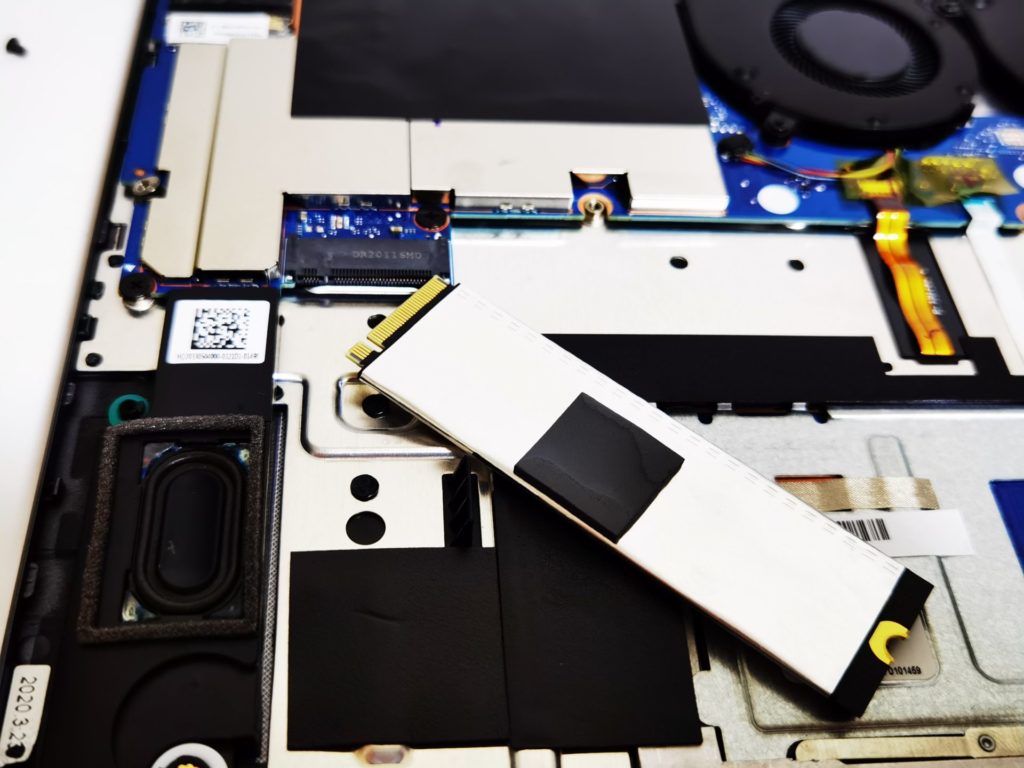 There is only a single M.2 SSD slot for the HUAWEI MateBook 13. If you are thinking of adding more storage to this notebook, I'm afraid that you can only replace the SSD with one of a larger capacity, rather than adding another drive. At least the SSD drive interface conforms to the M.2 standard, and you can easily find compatible PCIe NVMe M.2 SSDs in the market to replace or upgrade. However, there is a little sticker found on the screw securing the SSD in place, which likely means that you will void the warranty if you attempt to switch out your SSD. (Why?!)
The NVMe SSD is wrapped in a thin foil that acts as a heat transfer layer. The heat is mainly dissipated from the thermal pad to the metallic base of the notebook.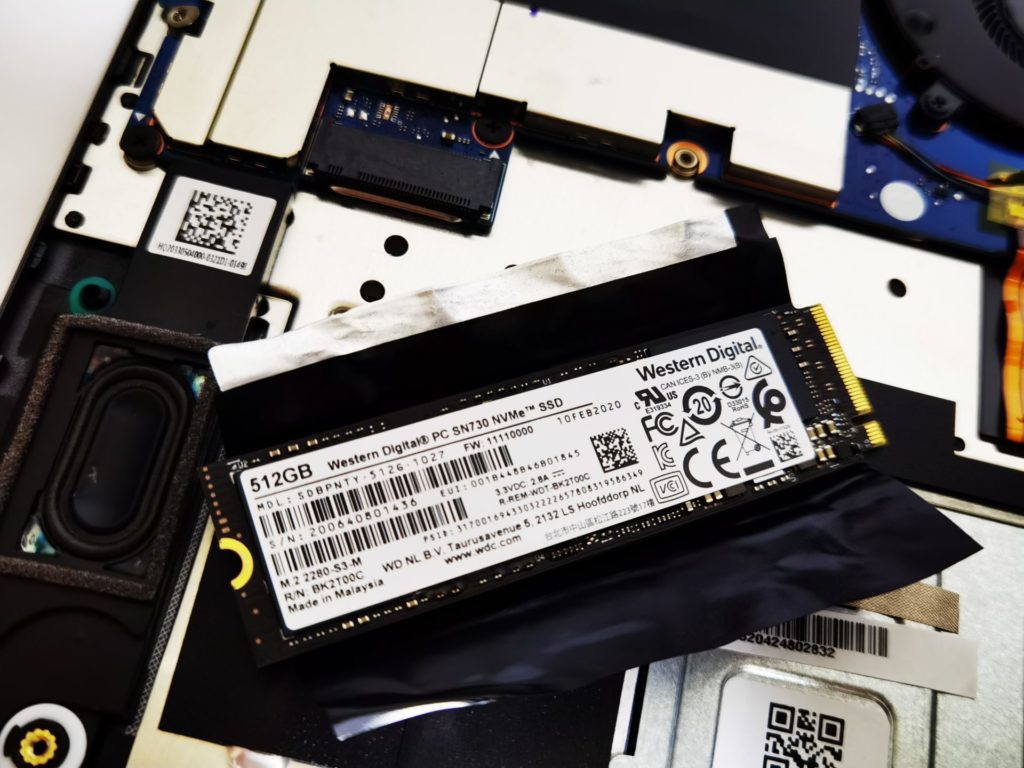 Upon closer inspection, we can also see that HUAWEI has chosen the 512GB Western Digital SN730 NVMe SSD as their choice. This is one of the better SSD from Western Digital, and is expected to perform very well under different kinds of workload, such as gaming, video creation and productivity applications. You can find out more about the performance of this device at the performance section of this article.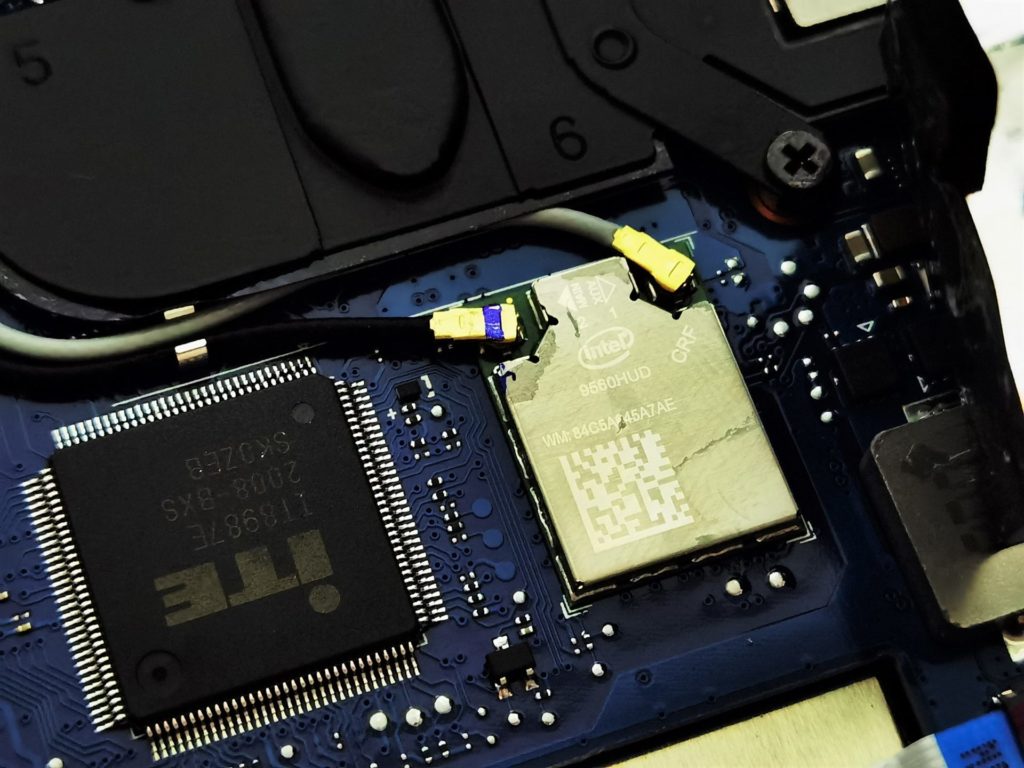 As the new Intel Mobile processors comes with an integrated WiFi adapter, which is known as the Intel Integrated Connectivity (CNVi), there is still a need for an additional Companion RF (CRF) module. This RF module is soldered down onto the motherboard, and are connected to two more antenna lines to improve WiFi and Bluetooth signals. Specifically, the HUAWEI MateBook 13 uses the Intel Wireless-AC 9560 CRF. Sadly, perhaps to keep costs low, this also means that the HUAWEI MateBook 13 only supports Wireless AC connectivity, rather than the latest Wireless AX standard (WiFi 6), which could reach even higher speeds.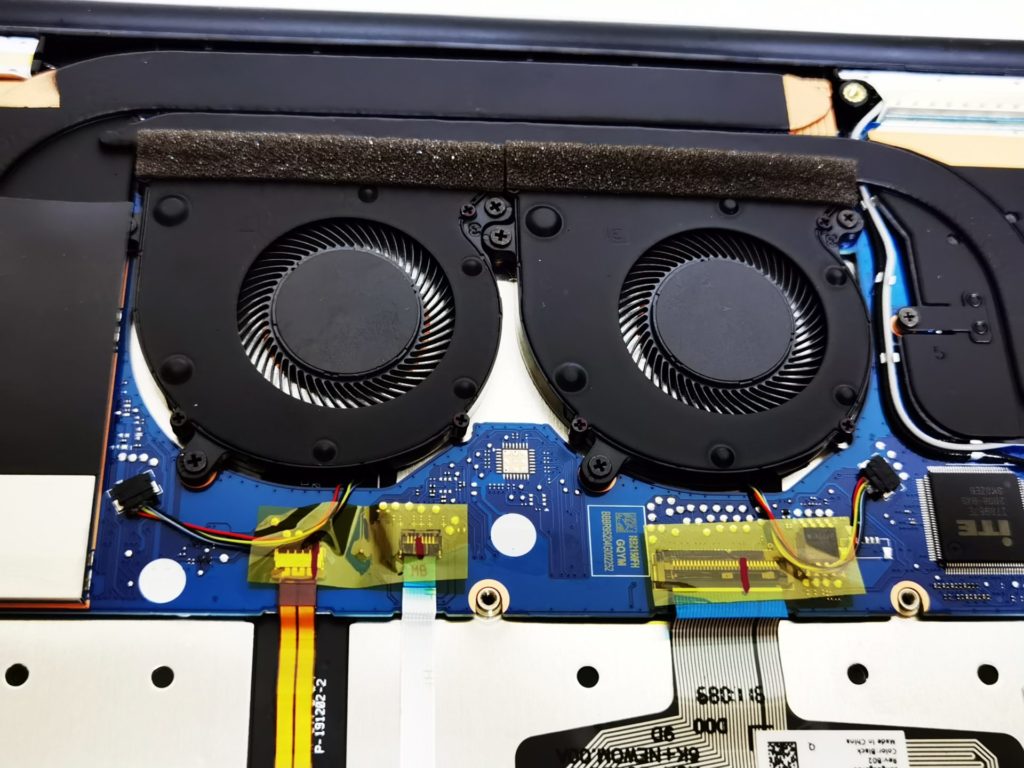 It takes great effort to properly cool a system with a dedicated GPU. As such, Huawei decided to include two blower fans into the unit. Thankfully, these fans do not operate that loudly to keep this system cool. The air is taken in from the base and expelled towards the back of the device. The whole heatsink covers the GPU, CPU and also DRAM of the device.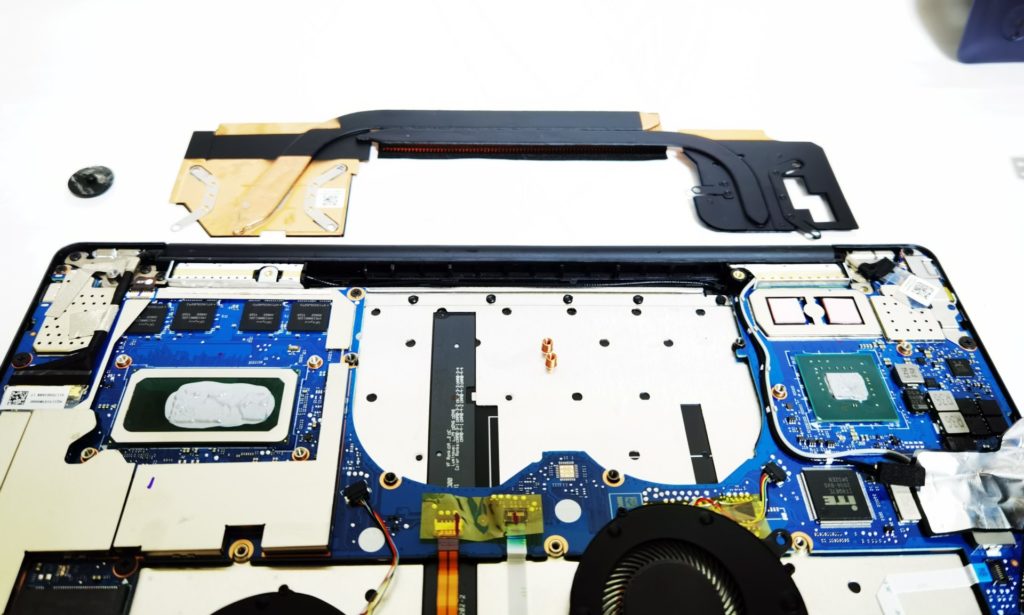 Both the NVIDIA GeForce MX250 GPU (left side) and the Intel Core i5-10210U CPU (right side) is covered with thermal paste that comes in direct contact with the heatsink. Heat is transferred via heatpipes to the central fin array, which is cooled by the air blown from the fans. The LPDDR3 DRAM chips also come in contact with the heatsink for improved heat dissipation.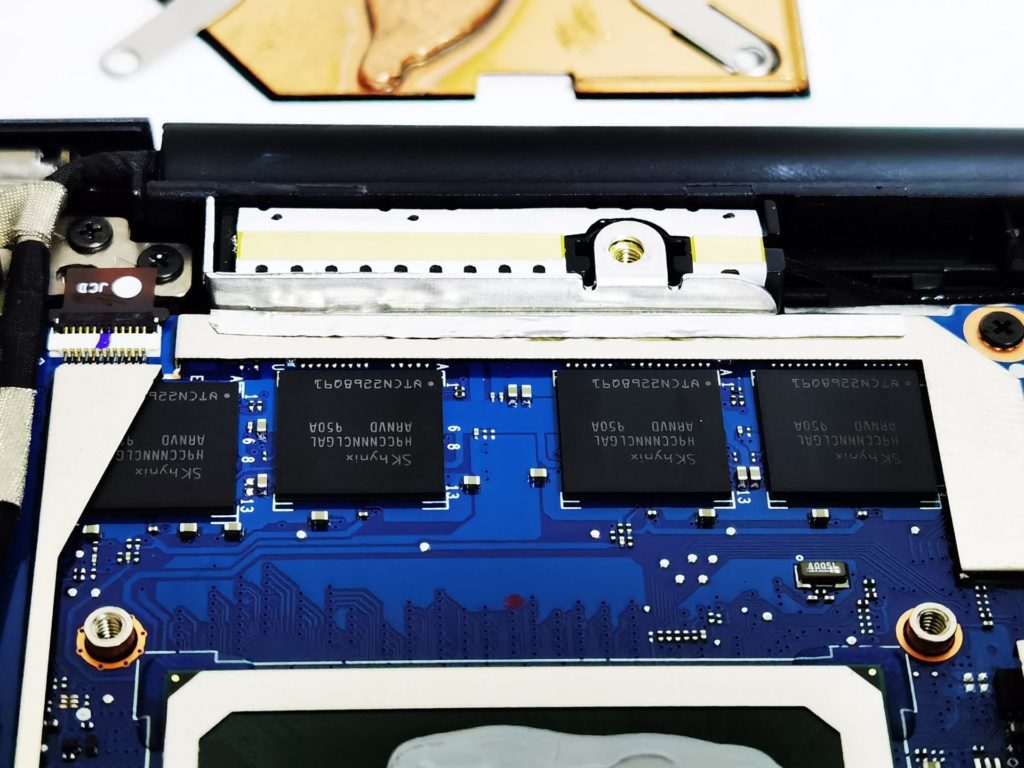 Huawei uses LPDDR3 DRAM chips from SKHynix. For the MateBook 13, it is equipped with 16GB of such memory, which is clocked at 2133MHz. Not the fastest memory we can get for optimal performance, but these memory chips can run at a much lower power consumption rate for improved battery life. Also, as you can see, the memory of the HUAWEI MateBook 13 is soldered down onto the mainboard. Therefore, memory upgrades on the MateBook 13 is not possible.
Usage Experience
After using the HUAWEI MateBook 13 for a few weeks as my daily driver for work and leisure, here are some of my thought while using the device.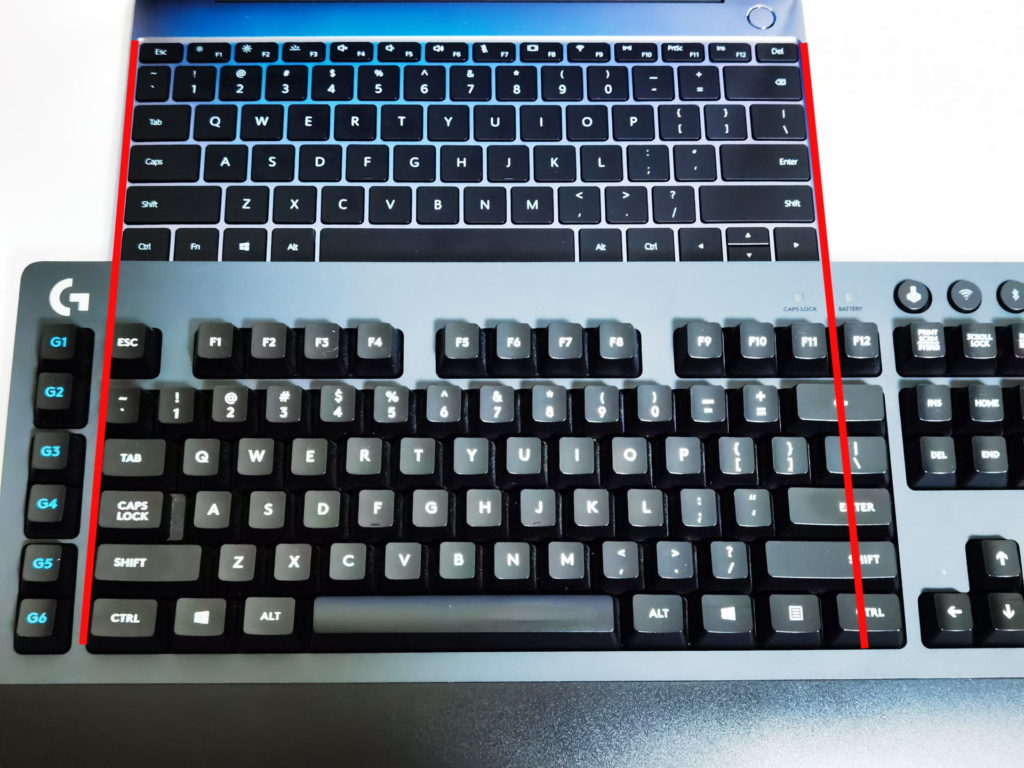 Typing Experience
For a start, if you are someone who's already gotten used to a full-sized keyboard, you will immediately realize the difference in keyboard size on the MateBook 13. As the notebook comes in a 3:2 display, we can also understand that it would be a challenge to include a full-sized keyboard, given its limited lateral size. Therefore, the keyboard on the MateBook 13 narrower than the usual keyboard. It takes time to get used to this new size, which could be quite annoying at first, but gradually, gets better when you are used to it.
The keys on the keyboard are also quite responsive, and it was quite enjoyable to type on. I prefer this kind of firm keys, as opposed to something which is mushy.
Trackpad Usage Experience
As for the trackpad, I think that it's quite responsive and usable. However, I've got to say that you will need to press down rather hard on the trackpad to register a click. It's something that isn't apparent at first, but as fatigue in your fingers kicks in after prolonged usage, you would wish that you could use less force while clicking. I ended up using tap gestures on the trackpad to get things done instead.
Media Consumption
I would say that a 3:2 display is not the best for media consumption. As most video content comes in either 16:9 or 16:10 aspect ratio, you will have to get used to seeing black bars at the top and bottom of the screen whenever you are watching videos. Furthermore, we've just have to put it plainly that the HUAWEI MateBook 13 needs to have a better pair of speakers. The sounds coming out from it is somewhat lacking frequency range, and just seems flat. Regardless, the whole media consumption experience is still considered to be acceptable if you aren't too fussy.
General Usage
For general work, I've got to say that I don't have any much complains with the HUAWEI MateBook 13. The whole system ran smoothly, and there wasn't an instance when we felt that the system was unresponsive. Furthermore, the notebook was able to last for us for a whole day of work on a full charge.
The only one small issue I faced was that the HUAWEI MateBook 13 can run hot. The heat is concentrated mainly on the bottom of the machine, as well as on the right palm rest. Therefore, I would not recommend you to use the MateBook 13 on your lap. You should place it flat on a desk.
The Huawei PC Manager, which is preinstalled with the HUAWEI MateBook 13, helps me to manage the things that I don't really want to care too much about. These includes ensuring that all system drivers are up to date, and that all hardware components are functioning properly. It makes downloading of drivers so much easier, rather than need me to visit the manufacturer website and download drivers one by one. The Huawei PC Manager is indeed a useful tool to have, and I don't mind it preinstalled as well.
Another key feature of the Huawei PC Manager is the Huawei One-hop and Huawei Share feature. By tapping a support Huawei Smartphone on the NFC logo on the Huawei MateBook 13, I can pair the smartphone on the MateBook 13. With that, I can then fully control the smartphone with my MateBook 13 with the new window that pops up. More importantly, I can even use the keyboard and mouse to control my smartphone, making it so much easier for me to reply my messages and check notifications without even touching my phone. Moreover, this is all done wirelessly! Even audio and video will play through the MateBook 13. I could even drag and drop files directly to/from my smartphone! It's certainly a unique feature that no other notebook systems in the market today can support. I'd like to see more smartphones, even non-Huawei smartphones to be supported in the future as well.
Testing Objectives and Methodology
In our tests, we are going to compare the HUAWEI MateBook 13 with two other similar notebooks which we've reviewed previously. They are the ASUS ExpertBook B9450 and the Dell XPS 13 2-in-1 7390. They are notebooks which are all in the same thin and light category, and are using Intel CPUs from the same generation. Interestingly, all CPUs have 4 cores and 8 threads. Will there actually be a difference when it comes to raw performance? We are here to find out.
Dell XPS 13 2-in-1 7390
ASUS ExpertBook B9450 FA
HUAWEI MateBook 13
Processor
Intel Core i7-1065G7
(4 cores, 8 threads)
Intel Core i7-10510U
(4 cores, 8 threads)
Intel Core i5-10210U
(4 cores, 8 threads)
RAM

16GB LPDDR4 3733MHz

16GB LPDDR3 2133MHz

16GB LPDDR3 2133MHz

Storage

Toshiba GB4 KBG40ZPZ512G – 512GB

Samsung PM981 NVMe PCIe M.2 – 1TB

Western Digital SN730 – 512GB
Dedicated Graphics Card
NIL
NIL
NVIDIA GeForce MX250
The benchmark tests and their settings are as follows:
Settings
Remarks
PC Mark 10 Extended
Default
–
7-ZIP
Default
–
HEVC h.265 Encoding/Decoding
Default
–
Blender CPU BMW27
Default
–
Cinebench R20
Default
–
AIDA64
Default
–
Game Settings
Far Cry New Dawn
High
DirectX11 , 1920 x 1080
Deus Ex Mankind Divided
High
DirectX12, 1920 x 1080
Tom Clancy Division 2
High
DirectX11, 1920 x 1080
DOTA 2
Default
DirectX11, 1920 x 1080
Shadow of the Tomb Raider
High
DirectX12, 1920 x 1080
Metro – Exodus
High
DirectX12, 1920 x 1080
World War Z
Ultra
Vulkan, 1920 x 1080
Performance Results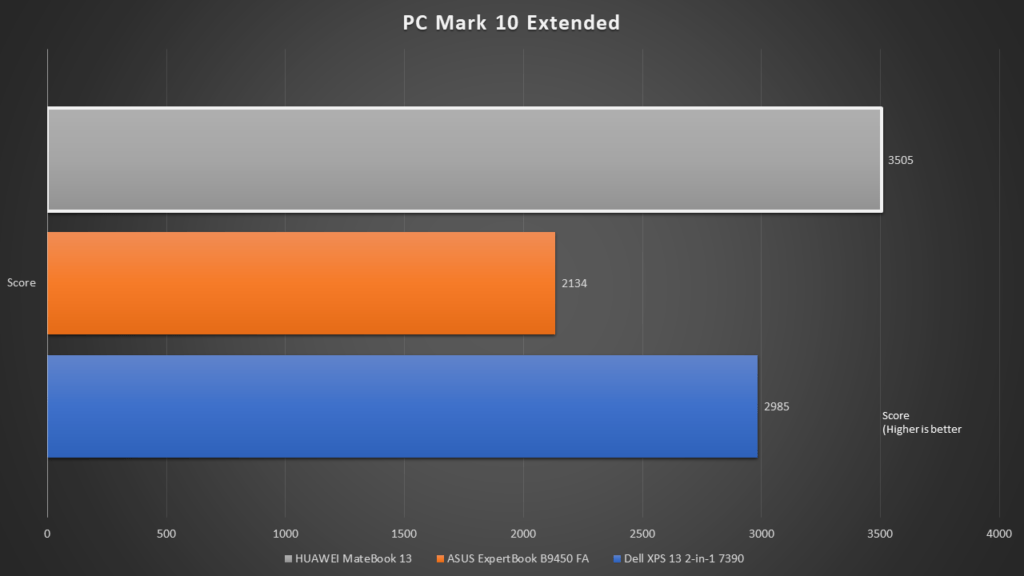 Interestingly, in the PCMark 10 Extended test, which simulates various real-life applications, the HUAWEI MateBook 13 came out on top. This is due to the additional dedicated NVIDIA GeForce MX250 graphics card found within the system, which allowed the MateBook 13 to fair better in graphics card games tests. The other two systems did not have a dedicated graphics CPU, and that could explain their poorer results.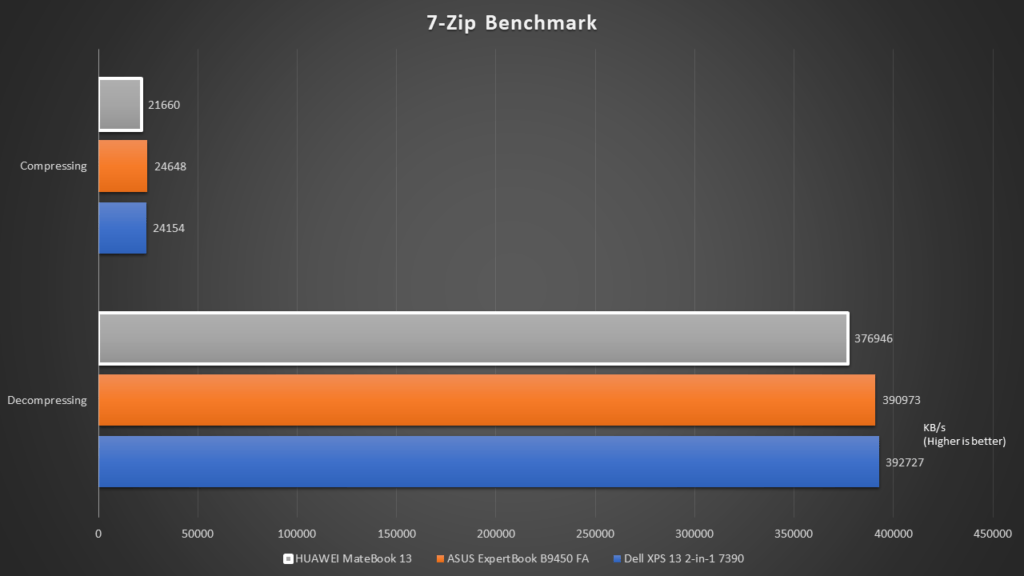 In the 7-Zip Compressing and Decompressing benchmark test, we found the HUAWEI MateBook 13 to be slightly lagging behind.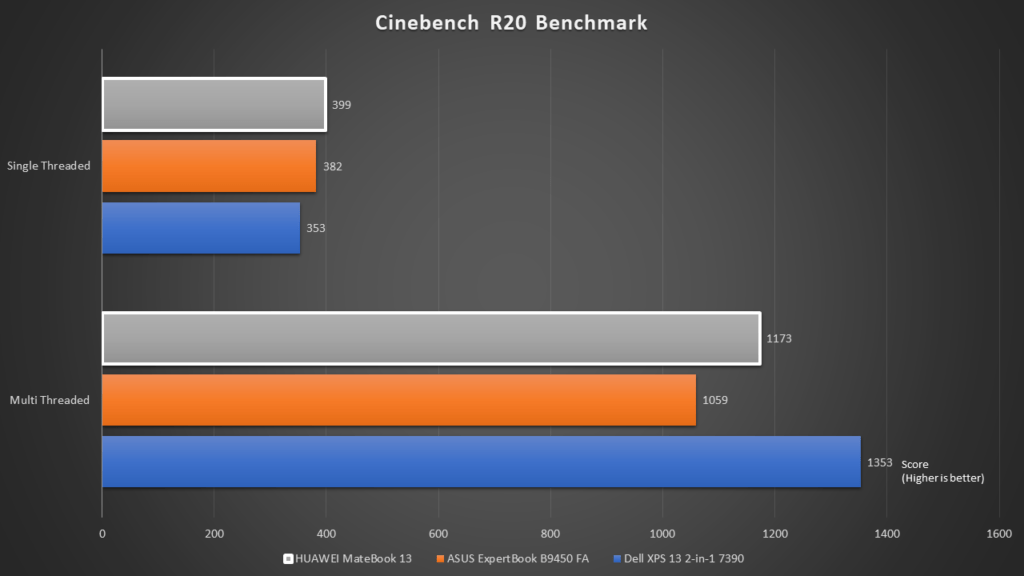 Interestingly, the HUAWEI MateBook 13 had the highest CineBench R20 score for the Single Threaded test. This is despite the fact that the Intel Core i7-10510U processor on the ASUS ExpertBook had a higher Max Turbo Frequency Clock at 4.9GHz, as compared to the Intel Core i5-10210U processor found on the HUAWEI MateBook 13 which only can Turbo Boost to a maximum of 4.2GHz.
It's likely that Huawei has employed a more aggressive boosting CPU profile, which resulted in better than expected score for CineBench R20 benchmark.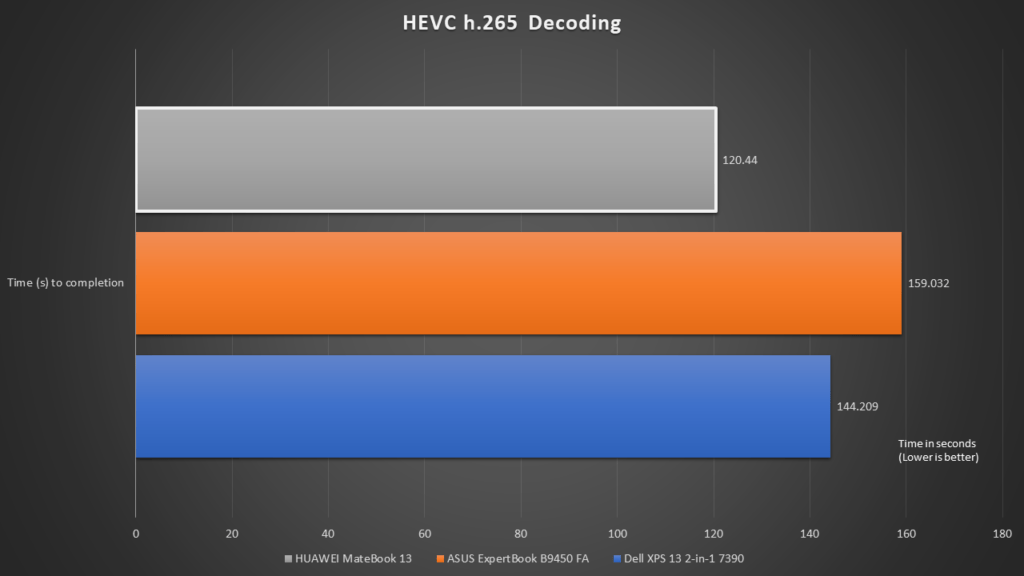 Based on the HEVC h.265 decoding test, we found that the HUAWEI MateBook 13 performed the best out of the two other notebooks.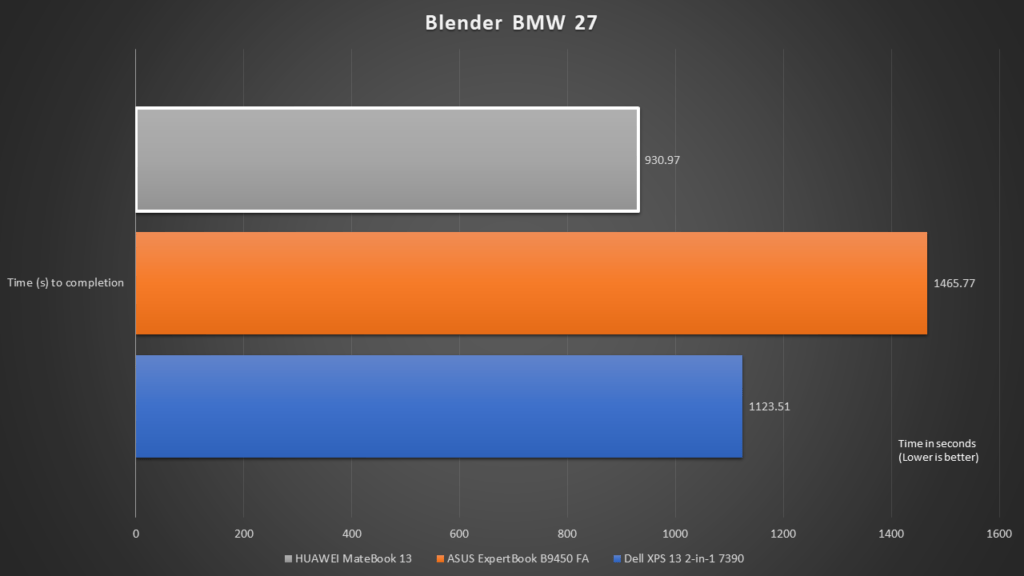 Similarly, the Blender BMW27 rendering test, which runs only on the CPU, also had the HUAWEI MateBook 13 come out on top to be the fastest system out of the three.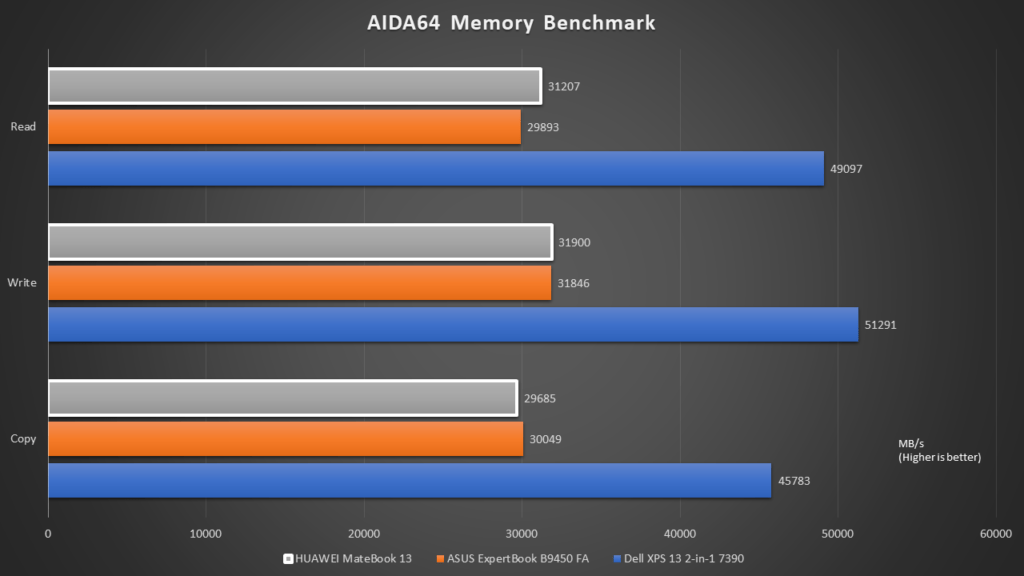 As for memory benchmark, the HUAWEI MateBook 13 scored similarly to the ASUS ExpertBook. This was expected as both systems are equipped with LPDDR3 2133MHz DRAM. In comparison, the advantage of a LPDDR4 3733MHz DRAM on the Dell XPS 13 2-in-1 was significantly faster.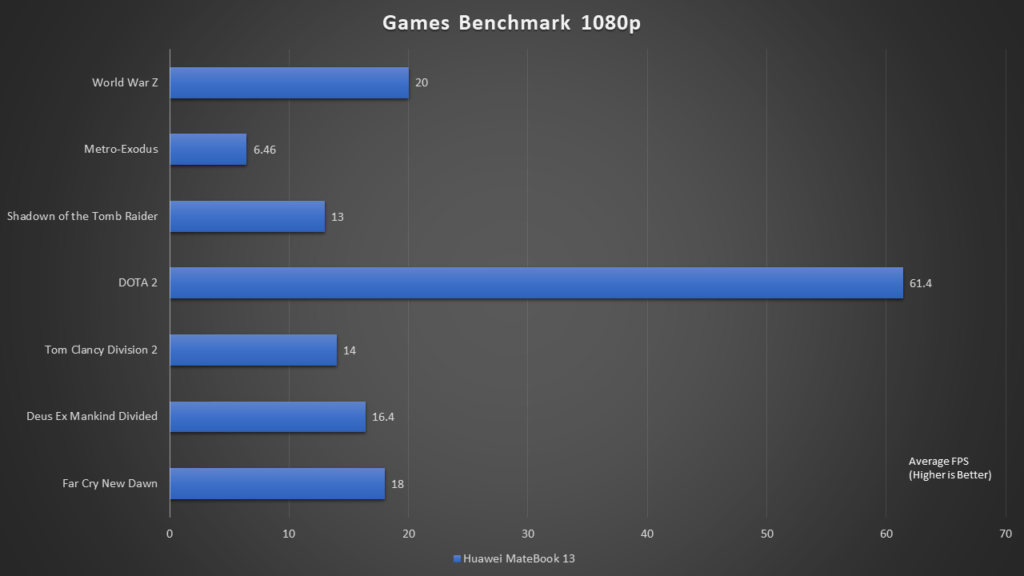 Don't expect to play graphics intensive 3D games on the HUAWEI MateBook 13, as it is simply not made to perform in these situations. Simple games such as DOTA 2 will still work just fine. We did not compare the HUAWEI MateBook 13 with the other two notebook systems, as those systems can't handles these games at all.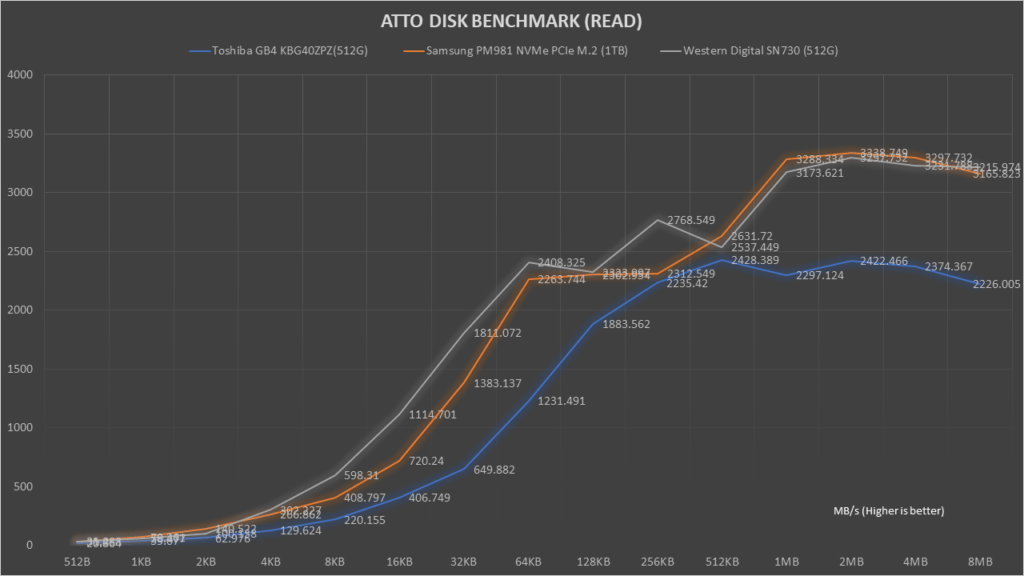 The Western Digital SN730 showed its high performance levels at lower file sizes. From 512KB onwards, it was only running a shy of the Samsung PM981.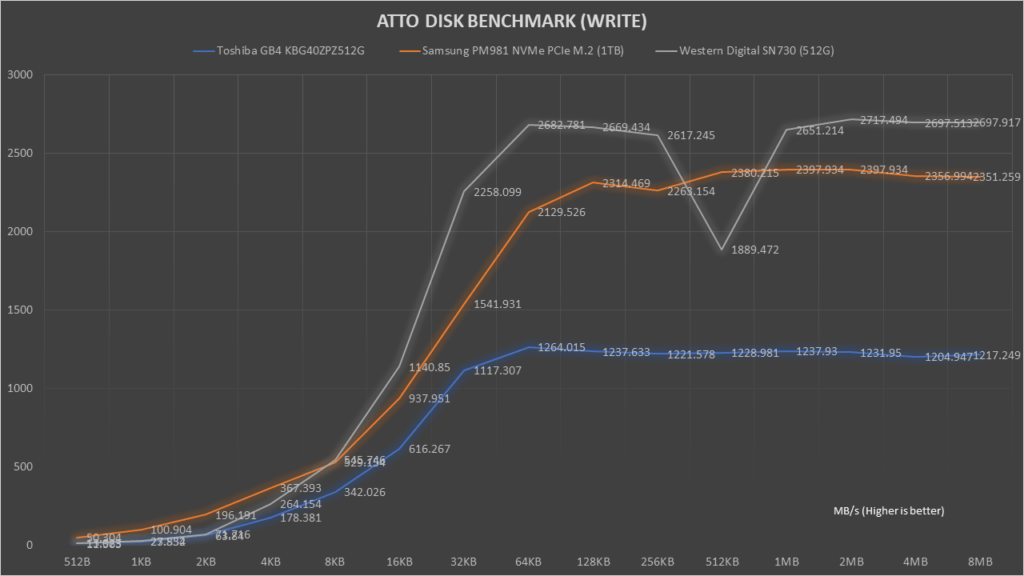 As for the Write performance, the Western Digital SN730 performed very well throughout the test. Other than an anomaly that happened at the 512KB state, it was generally faster than the two other drives in comparison from 8KB onwards.
Combining the data of these two drives, we can see that the SN730 on the HUAWEI MateBook 13 is indeed a SSD that's capable of great performance.
Battery Test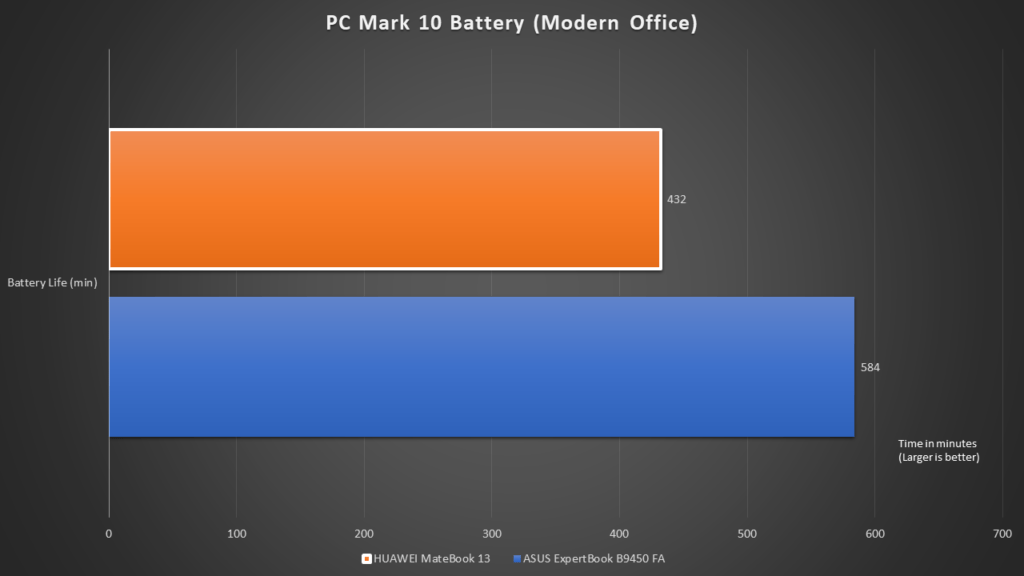 As for our battery test, which is based on the PCMark 10 Battery (Modern Office) test, the HUAWEI MateBook 13 resulted in a resultsof 7hours and 12 min. This is lower than the ASUS ExpertBook.
(We did not test Dell XPS 13 2-in-1 with PC Mark 10 Battery test previously)
Temperature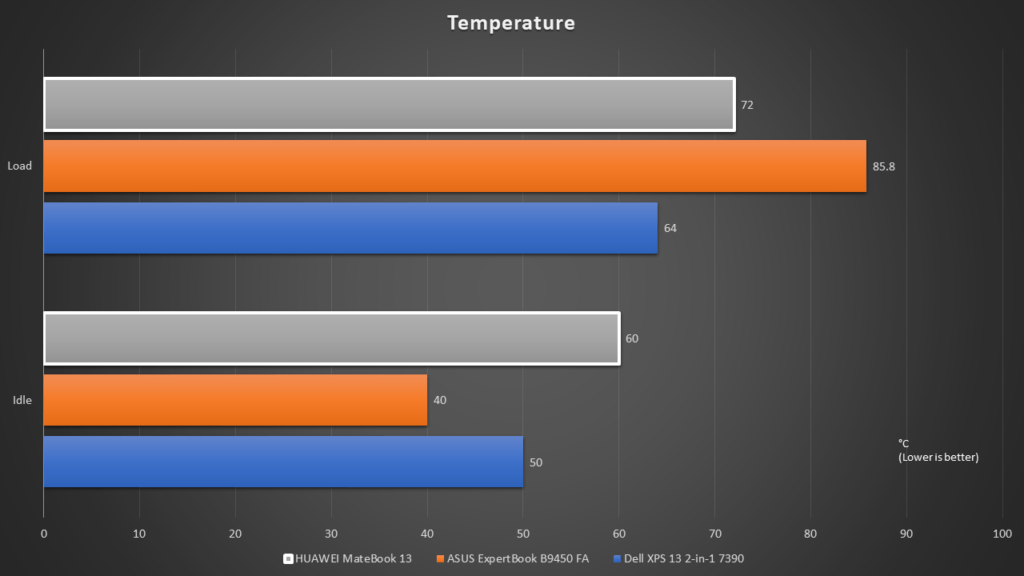 The HUAWEI MateBook 13 runs rather hot even when left in an idle situation. This could be attributed to the CPU+GPU setup, which was lacking in the other the setups compared. As the performance results showed that the HUAWEI MateBook 13 performed better than the ASUS ExpertBook, we can deduce that the former did not thermal throttle as bad as the latter. This allowed the MateBook 13 to have a longer sustained boost frequency, which resulted in better scores. The more aggressive boost profile also means that it will run hot. I'm just glad that the heatsink and fan cooling system can adequately cool the system without compromising too much on performance.
Conclusion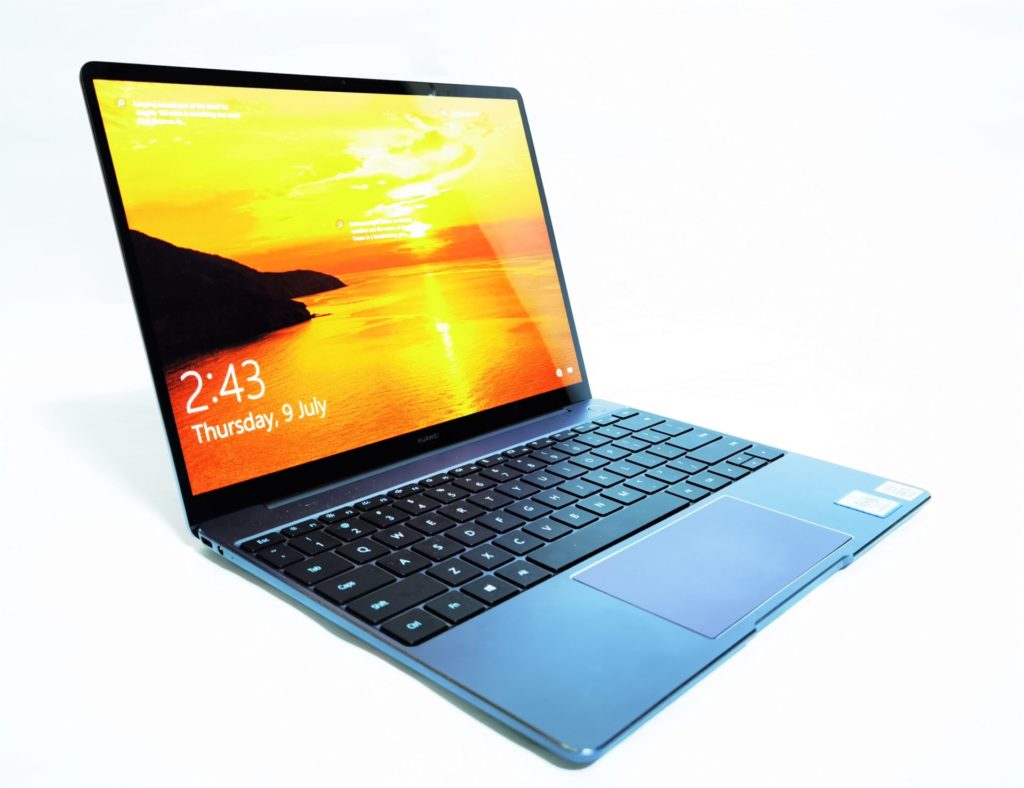 While the HUAWEI MateBook 13 does have its flaws, there's nothing significant that will make us stay away from it. It truly shines when it comes to compute performance, as it was able to even perform better than the higher end Intel Core i7 processors in competing products. Its lightweight profile, premium, yet minimal and simple design is sure to attract on-the-go professionals who are seeking for a new everyday workhorse.
Above all, only at a retail price of S$1,598, the HUAWEI MateBook 13 is certainly one of the most affordable notebooks in its class. It brings great value to consumers, and I'm quite sure that it will be a straightforward choice for many seeking for a thin and light, yet powerful notebook.