With so many brands of gaming RAM out there, it could be difficult to make the decision on which to choose when building or upgrading your desktop gaming PC. While popular brands such as G.Skill, HyperX, Corsair are considered reputable names in the market, they usually also come at a price premium for its brand.
Building a name for themselves, V-Color has recently gained popularity for their high performance RGB gaming DDR4 RAM kits. Their value proposition was very straightforward – capture the market with great design and performance at an affordable price.
In fact, V-Color has been in the market for quite some time. They were established in 2006, and have been producing both consumer and enterprise memory product since then. However, due to its limited distribution breadth, getting their products was not easy.
Recently, PCByte has recently introduced V-Color products to the Malaysia market, and they are also considering to bring them into Singapore. Thanks to the support from the friends at PCByte, we managed to get our hands on the V-Color Prism Pro RGB 16GB DDR4 Memory Kit for our tests.
Is the V-Color Prism Pro RGB 16GB DDR4 Memory Kit worth all the hype? Read on to find out more.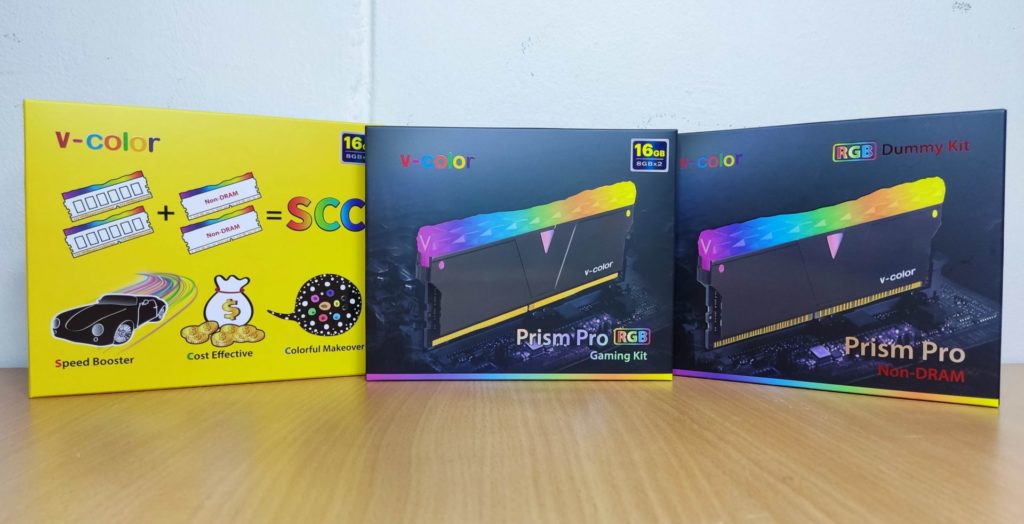 V-Color Prism Pro RGB 16GB DDR4 Memory Kit
The V-Color Prism Pro RGB DDR4 Memory Kit is quite different from what you get from a usual DRAM kit. Instead of just providing two sticks of working DDR4 DIMMs, the kit also comes with two more RGB dummy sticks. These two RGB dummy sticks comes in the same size and form as your usual DIMM, and also fits right into your DIMM slots. However, they are there only for aesthetic reasons, and serve no additional purpose.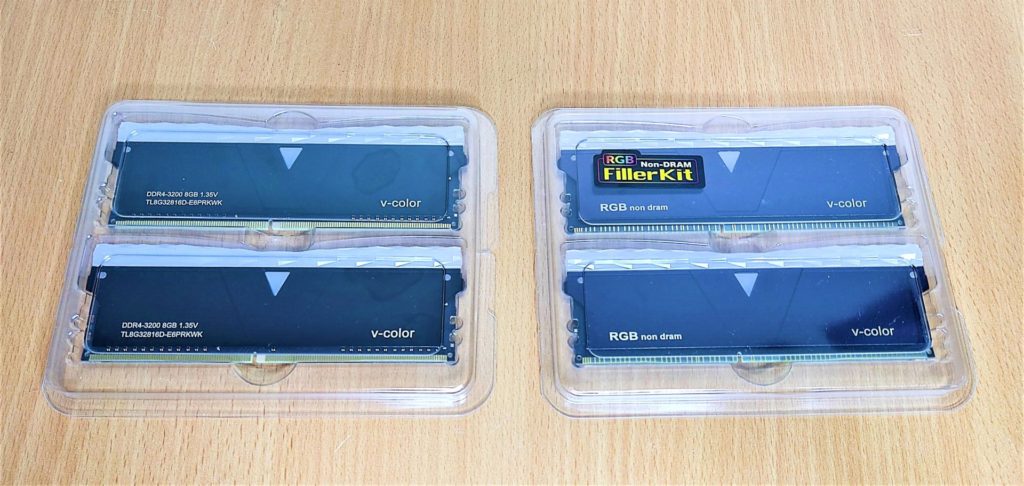 It's not the first time that we've seen such designs. A few years ago, we also saw the same design on the AORUS RGB Memory DDR4 kit, which also included dummy sticks.
On the left, we can see the dummy sticks. As compared to the actual working DDR4 DIMMs on the right, we realized that the dummy sticks had lesser number of contact pins. It's interesting to see that those are all the pins that are just responsible for RGB lighting and RGB lighting control.
V-Color has mentioned that the whole RAM kit will support RGB lighting control on the software and motherboard from ASUS, GIGABYTE, MSI and ASROCK.
Aesthetics

The V-Color Prism Pro RGB DDR4 Memory Kit has its RGB lighting featured on the top portion of each DIMM. There is also a triangle on each side of the DIMM that also illuminates in the respective configured RGB color. Without any configuration to them, each DIMM will just have a wave of RGB colors that changes simultaneously.
The lighting on each DIMM is styled with a frosted plastic layer, which gives the colors a more contoured effect. Rather than having bright LEDs which shines directly at you, we can appreciate this style of lighting style more.

Most certainly, the DIMMs can look very good if they are properly planned as part of a whole design of your new PC. It looks especially well with a motherboard with a black/dark PCB, as the colors on the DIMMS are accentuated. PC DRAM now serves more than just added memory space to a system, but also provides an added aesthetic layer to the whole look.
Test Setup and Performance Results
Specifically, the V-Color Prism Pro RGB DDR4 Memory Kit we had for review came with a 2 x 8GB DDR4 3200 DIMMs. The specific model is TL8G32816D-E6PRKWK.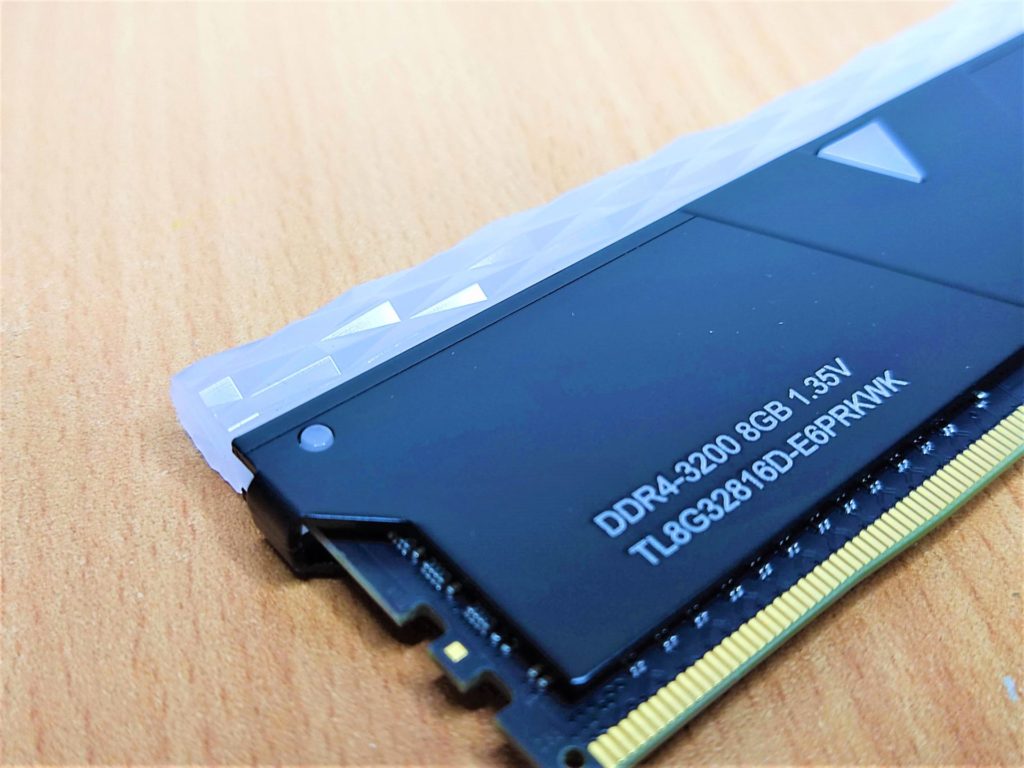 On its 3200MHz XMP profile, it is configured to have a 16-20-20-38 timing.
The system we tested this set of memory had the following specifications:
| | |
| --- | --- |
| Specs | Main System |
| CPU | AMD Ryzen 9 5900X |
| RAM | V-Color Prism Pro RGB DDR4, 2 x 8GB DDR4 Kit |
| Main Storage | Transcend PCIe SSD MTE110S 512GB (OS) |
| GPU | MSI AMD Radeon RX 6600 XT Gaming 8G |
| Motherboard | ASRock X570 Steel Legend |
| CPU Cooler | AMD Wraith Spire RGB Cooler |
| OS | Windows 10 Pro 64 bit |
When configured to the XMP profile, we managed to achieve considerably good performance on the kit based on the results from the AIDA64 memory benchmark. It had a read speed of close to 61GB/s and Write speed of almost 47GB/s. The rated latency was 64.8ns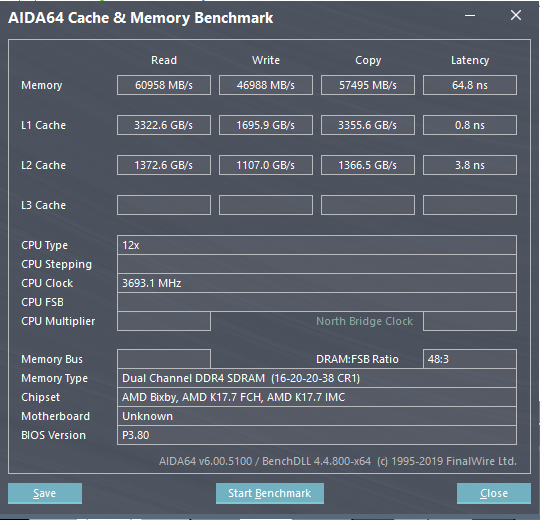 Trying to bring out even more performance at higher clock speeds, we had to loosen the timings of the V-Color Prism Pro RGB DDR4 Memory Kit. Based on the timings below, we managed to arrive at a RAM speed of 4524MHz. This is a 40% improvement over the stock speed.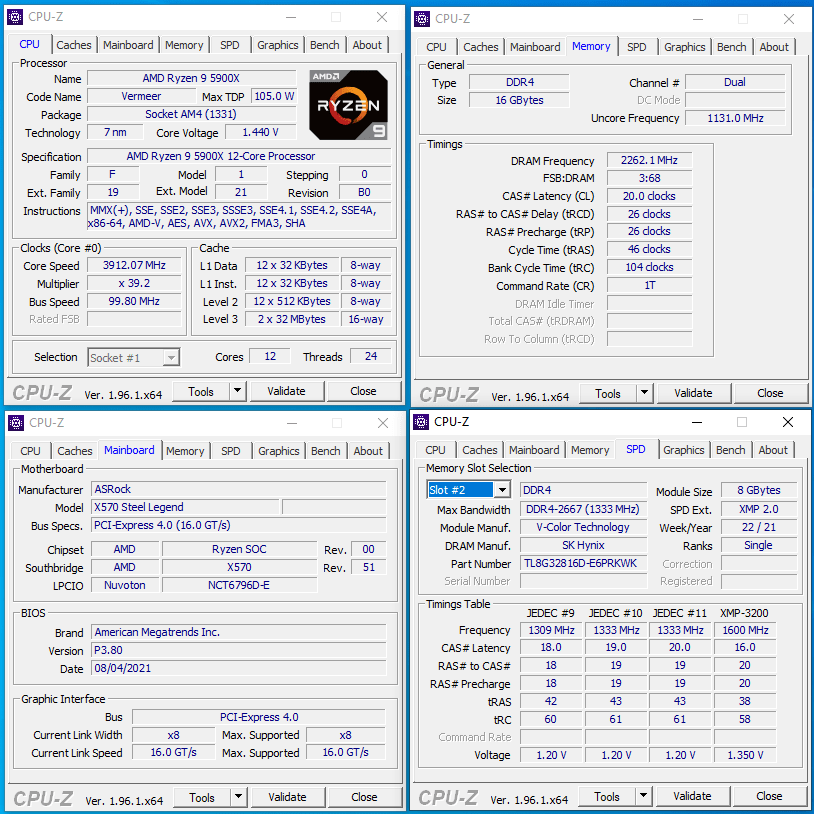 The above shows the new speed and timings after overclocking the memory.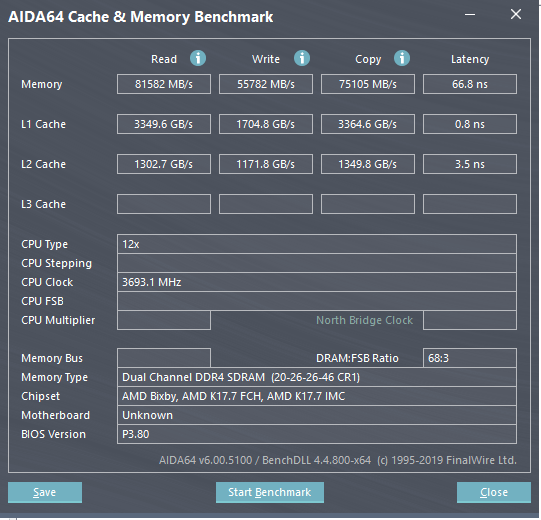 The new configurations allowed us to reap a much higher memory performance. The improvements were considerably significant, largely attributed to the DRAM frequency, despite looser timings.
Conclusion
It's rare to see a product that performs well and looks good, while still kept at an affordable price. Currently, Amazon lists the V-Color Prism Pro RGB DDR4 RAM Kit at 79.99USD and the dummy kit at 21.99USD (totaling to about 140SGD before taxes). In comparison, the same products from AORUS are listed at above 200SGD. Ultimately, it depends on how much the local distributors decide to price the product in Singapore.
Even though the V-Color Prism Pro RGB DDR4 RAM Kit is only rated at 3200MHz, it has shown us that it is made to do even more. It's very easy to overclock this set of RAM to achieve even better performance. Furthermore, it is designed to look particularly well in a system unit with a window or tempered glass setup. Without much doubt, the V-Color Prism Pro RGB DDR4 RAM Kit is poised to have its place in the competitive DRAM market.
Update – 25/09/2021
The V-Color Prism Pro RGB 16GB Kit DDR4 Desktop RAM (2x 8GB + 2x RGB Dummy) 3200MHz RAM is now available in Singapore at PCByte's Shopee store. It retails at S$189. More V-Color memory products will also be available in the near future.