As DRAM production increases in the recent months, we've seen a steady decrease in volatile memory products in the consumer PC space. The mainstream DDR4 memory DIMMs for desktop computers aren't as expensive as they used to be a year ago, and it may be a good time to invest in purchasing a new set of RAM for your PC.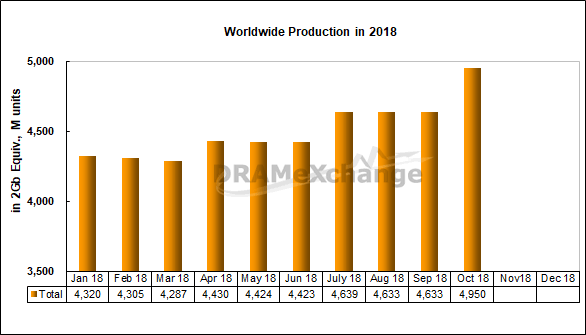 Typically, there are three main factors when it comes to purchasing your new RAM kits – price, design and performance. For those who are looking for a new RAM purely based on its price, simple value RAM will meet the needs. As the prices fall, perhaps you would have enough cash to spoil yourself with something more flashy and high-performing.
RGB RAM kits are rather in fashion these days, as we've seen many brands such as HyperX and AORUS showing off their RGB RAM kits at COMPUTEX 2018 earlier this year. Together with the launch of the new Z390 chipset from Intel and the improved memory controller, many motherboard manufacturers are also claiming that products can easily attain memory speeds of beyond 4000MHz. However, a lot of the times, we know that the speeds of the RAM that can be achieved matters more on the DRAM chips itself, and not the motherboard.
Today, we have our hands on a unit of the limited edition Gigabyte AORUS RGB Memory for our review. Will this product strike a good balance between aesthetics and performance? We'll have to deeper look to understand more about the product.
Design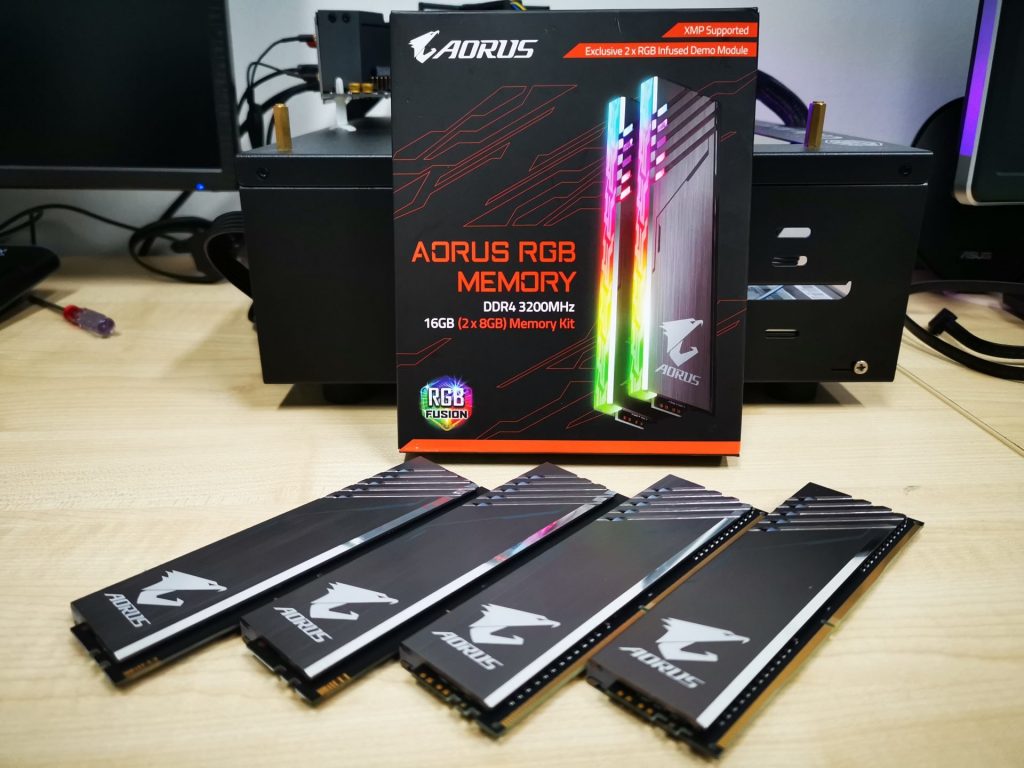 The AORUS RGB Memory DDR4 3200MHz is a 16GB (2x 8GB) Memory Kit. Wait… Didn't we see 4 RAM sticks in the image earlier? Interestingly, Gigabyte has included two additional RGB DIMMs that serves no other purposes other than aesthetics. This is why, you will realise that these RGB DIMMs have much lesser pins on them than the usual RAM sticks.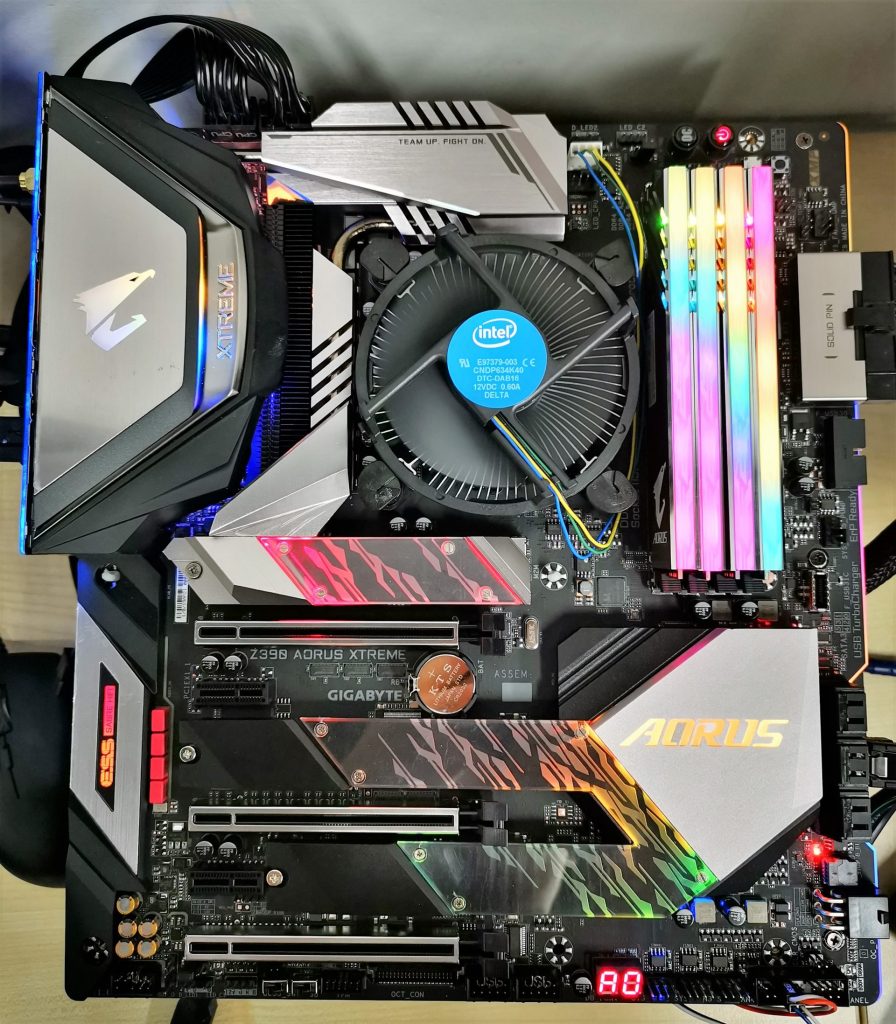 When paired with a RGB enabled motherboard, the AORUS RGB Memory kit really stands out. As it takes up a large rather large real estate on the motherboard that is fully covered with RGB LED lighting, this memory kit brings out the whole flashiness of the whole RGB colour scheme of the motherboard. By carefully designing and selecting the RGB colour effect and colour scheme, the AORUS RGB Memory kit could be a great addition to your RGB build.

Moreover, the memory sticks (including the dummy sticks) are also attached with a brushed aluminum heat-spreader, which can effectively cool the RAM for better overclocks. It also gives an extra taste to the whole RAM setup, bringing a metallic and rugged feel to the whole design. This could be aesthetically suitable for motherboard which uses the same kind of material for its heatsink (such as the Gigabyte Z390 AORUS XTREME Motherboard), achieving a refined and integrated theme.

The RGB Fusion software is used to configure the RGB LED lightings on the AORUS RGB Memory kit and can be downloaded from Gigabyte's website. The RAM kit and software supports many kinds of colour effects, such as Color Strobe, Wave, Droplet and Flash. If you prefer a simple colour scheme, setting a Static colour effect is possible as well.
Specifications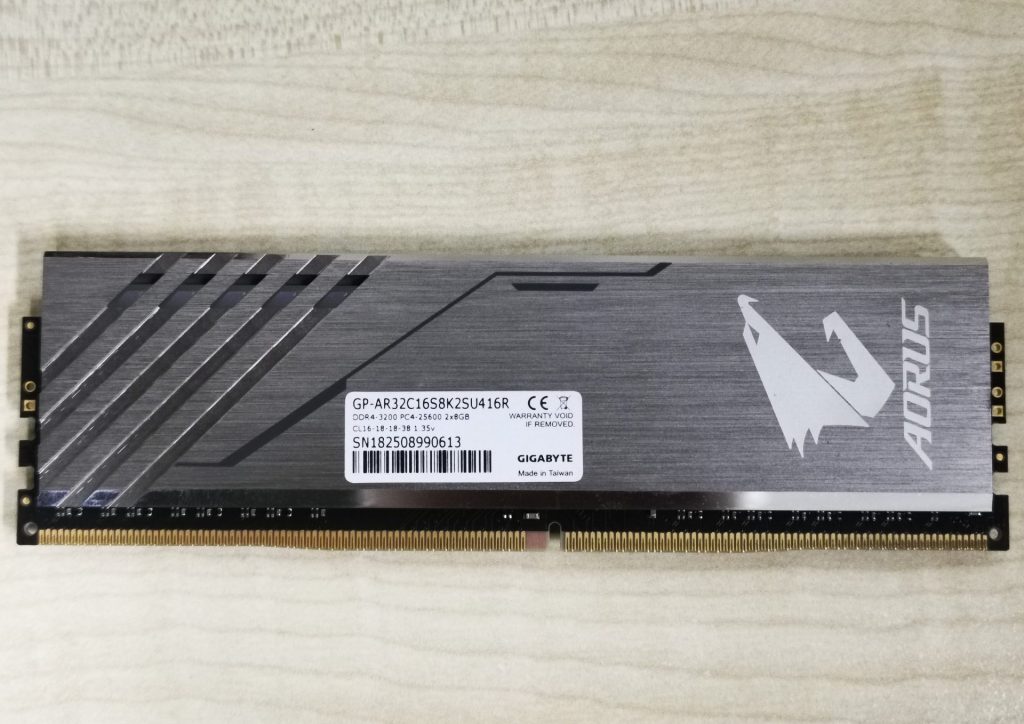 The AORUS RGB Memory is rated at 3200MHz speed at a timing of CL16-18-18-38 at 1.35V. This profile can be easily enabled through its XMP profile that is preconfigured on the memory itself.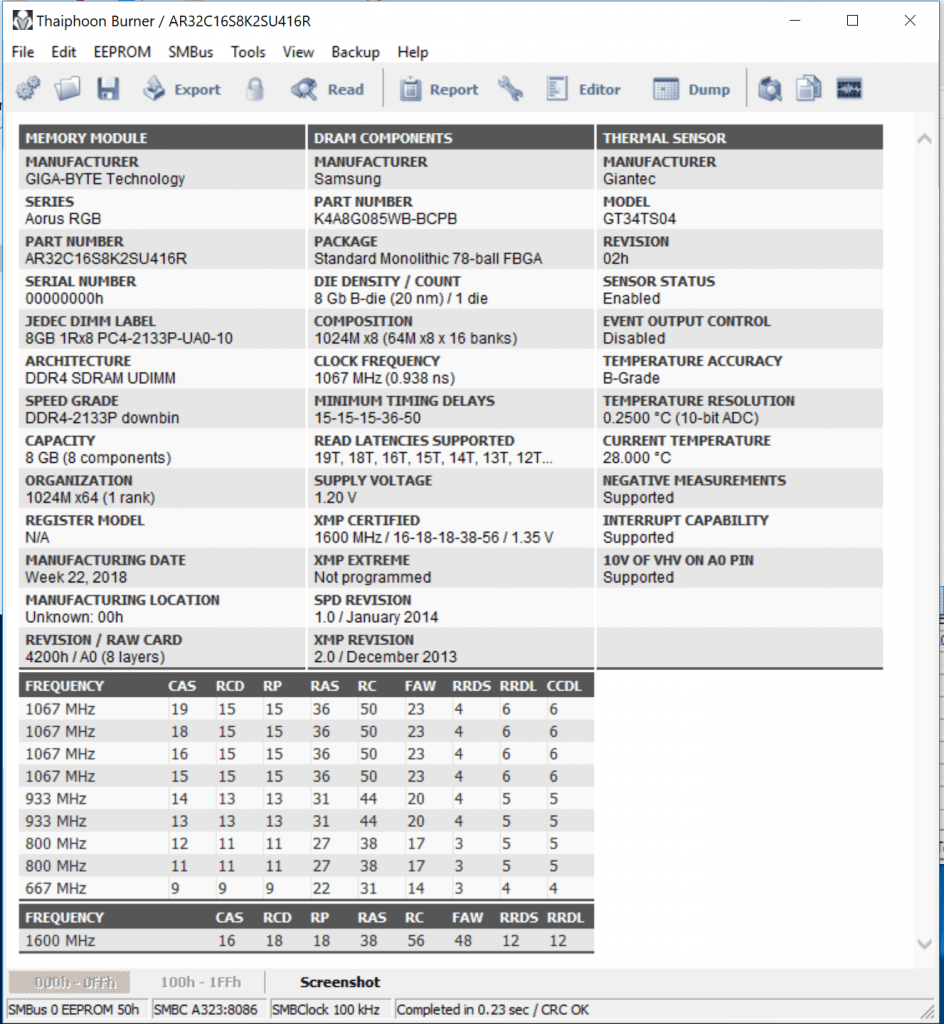 Based on the Thaiphoon burner software, we can understand that the DRAM chips are manufactured by Samsung. Yes! They are Samsung B-Dies, which are known to many to overclock well. However, since the AORUS RGB Memory is only rated at 3200MHz, we expected that these chips are likely not to be binned to reach high speeds beyond 4000MHz. Nonetheless, we will see how far beyond we can overclock this memory kit.
Test Setup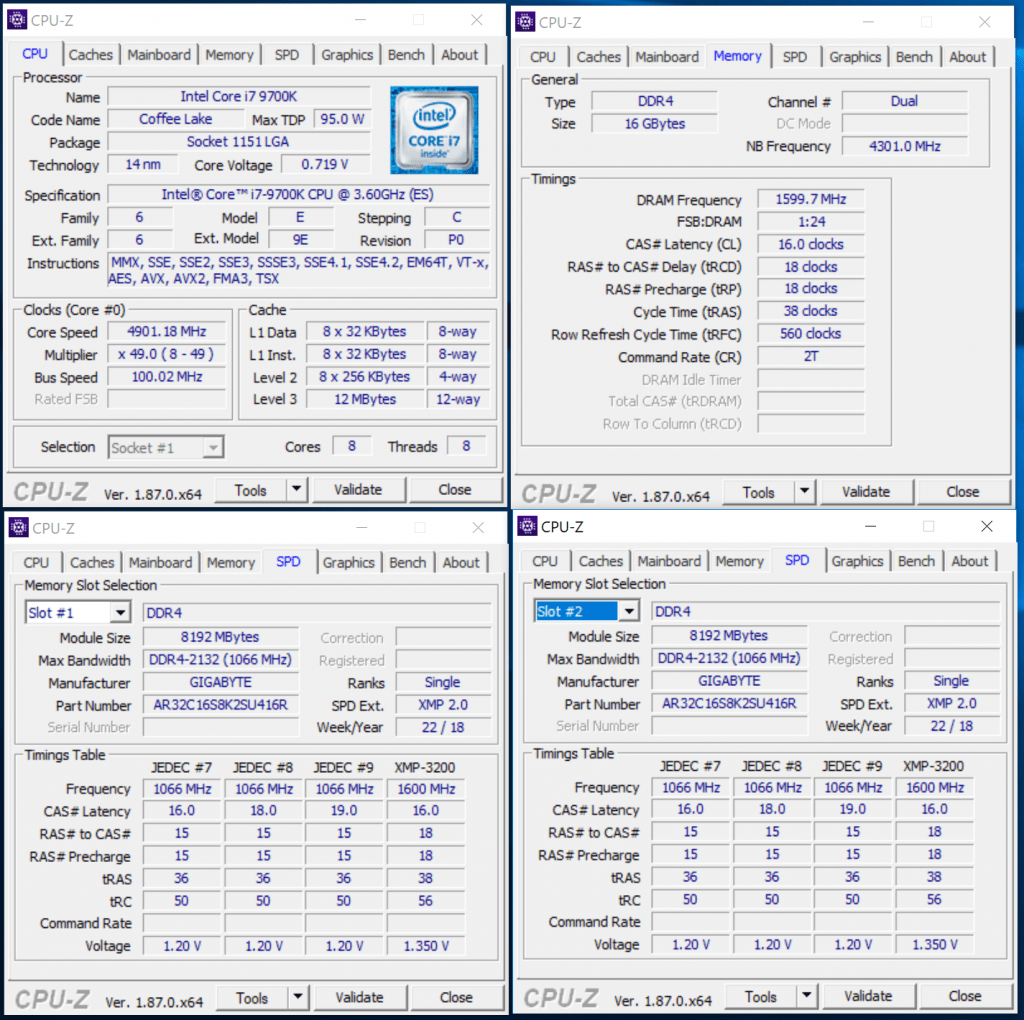 | | |
| --- | --- |
| Specs | Main System |
| CPU | Intel Core i9 9700K (Engineering Sample) |
| RAM | AORUS RGB Memory 3200MHz, CL16-18-18-38 2 x 8GB DDR4 Kit |
| Storage | Plextor M8V M.2 SATA SSD 256GB |
| GPU | iGPU |
| Motherboard | ASUS STRIX Z390-I |
| CPU Cooler | Stock Intel |
| OS | Windows 10 Pro 64 bit |
For our test, we will be using the Mini-ITX ASUS STRIX Z390-I from ASUS. We will test the baseline performance of this RAM kit at stock settings. We will make use of the AIDA64 software to measure the read,write and latency from the memory to the CPU. Then, we will try to overclock the memory kit by trying out different timings and frequencies. We will then benchmark the system again with AIDA64, and compare the new results from the baseline results.
Performance and Overclocking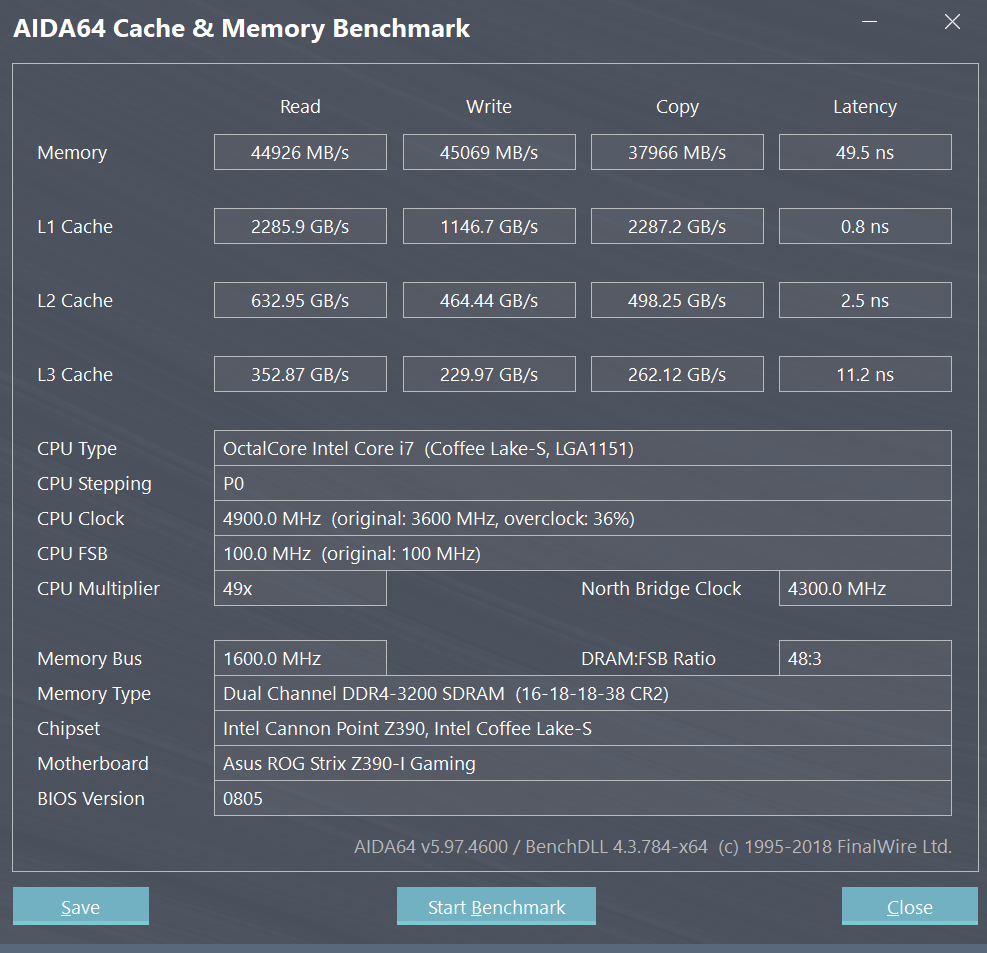 We tried to push this memory kit to beyond 4000MHz by loosening the timings, but the system simply was not able to boot. By slowly reducing the clock speed, we managed to reach a stable system at 3733MHz at 20-22-22-42 latencies. This overclock was achieved with 1.35V across the memory. We did not increase the voltage further, as we wanted to achieve a long-term stable overclock without the expense of decreasing the reliability of the memory chips due to increased voltages.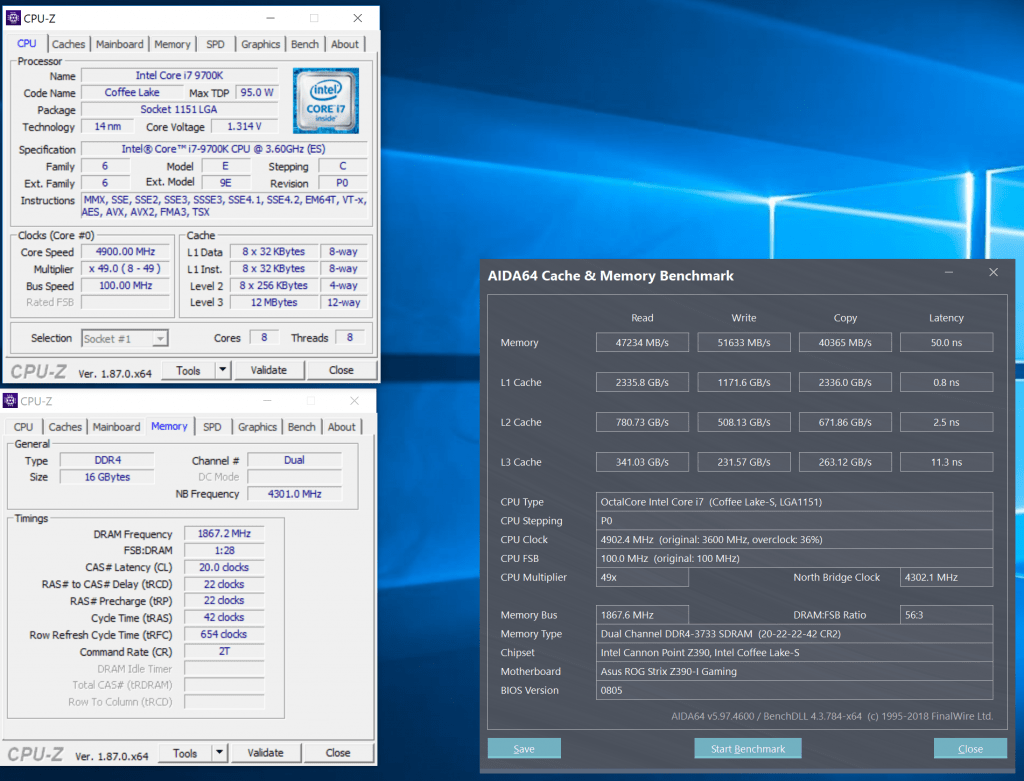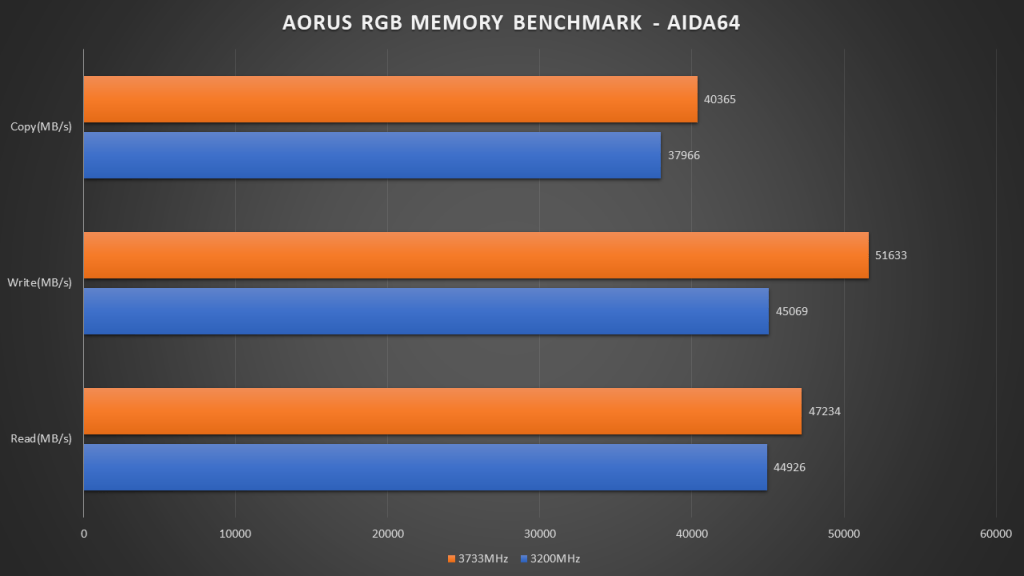 Even though the latency of the memory did increase due to the higher timings of the overclocked RAM, the improvements in terms of the kit's read, write and copy speeds were apparent. This shows the capabilities of the AORUS RGB Memory kit beyond its stock settings, which is achievable for a 24/7 stable overclock.
Conclusion
The AORUS RGB Memory Kit is the only product in the market now that provides two additional dummy RGB DIMMs. If you are focusing your build on aesthetics, this memory kit will be a good choice. However, it must be taken note that the extra material within the package does set the product at a higher price than other DDR4 RAM kits of similar specifications. If performance is an important factor for your build, you can get much better RAM kits out there with the same price.
Nonetheless, the AORUS RGB Memory Kit is a product that balances between design and performance, which may be perfect for many builders as well.