KIOXIA is the world's second largest NAND Flash memory manufacturer. If you aren't too familiar with the brand, you could be pleasantly surprised that KIOXIA was formally known as Toshiba Memory Corporation. That explains the significance they play in the industry. Moreover, with the recent acquisition of Taiwanese based company LITE-ON (which we visited back at COMPUTEX 2018/2019), KIOXIA is poised to be a leading player in both consumer and enterprise SSD market.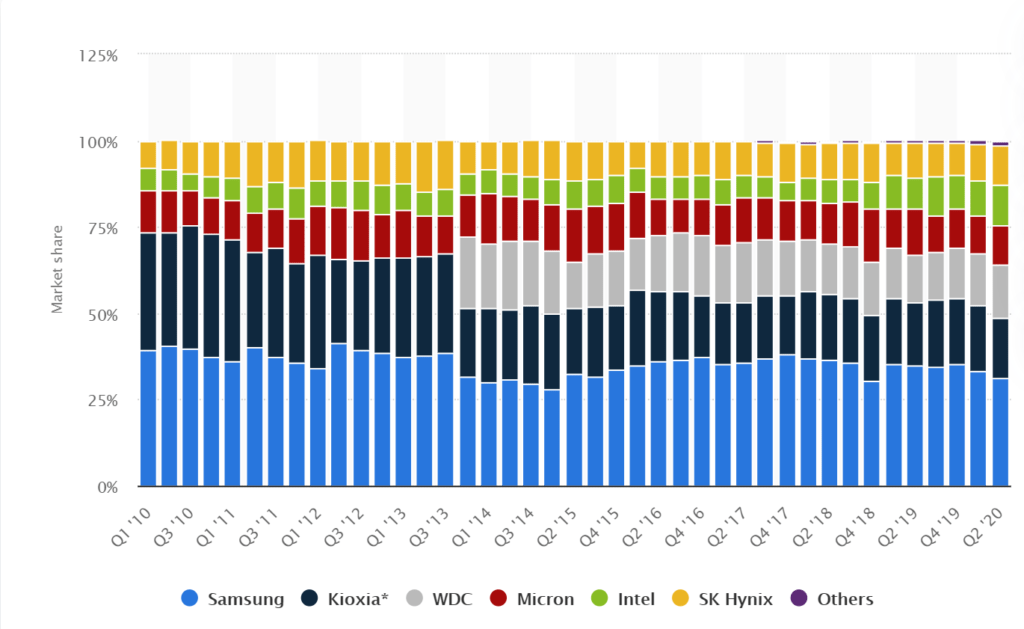 KIOXIA also has their own branded consumer products consisting of microSD/SD memory cards, USB Flash drives, and of course SSDs. Their products have just recently been made available online in the region via e-Commerce platforms, such as Lazada, Qoo10 and Shopee.
Of course, we do hold high expectations of KIOXIA products, as they have been known to perform with high performance and reliability. In our labs today, we have our hands on the KIOXIA Exceria Plus 500GB NVMe SSD for our tests. Let's see how this SSD holds up to competition in the market.
KIOXIA Exceria Plus 500GB

The KIOXIA Exceria Plus SSD is the flagship SSD product from the brand. It is designed and made with the latest in-house flash and SSD controller technology. Targeted at enthusiasts and gamers, the KIOXIA Exceria Plus SSD is designed to perform without compromises.
This SSD uses the Toshiba TC58NC1201GST-01-BB controller, which is one of the brand's fastest performing SSD 8-channel controller. This is coupled with a Samsung K4A4G165WF-BCTD 512MB DDR4 DRAM which acts as a cache. For this 500GB SSD, there are 4 NAND flash chips soldered onto the main PCB, each providing 1.024 GBit (128GB) worth of storage space. These are the KIOXIA's BiCS4 96-layer 3D TLC NAND Flash.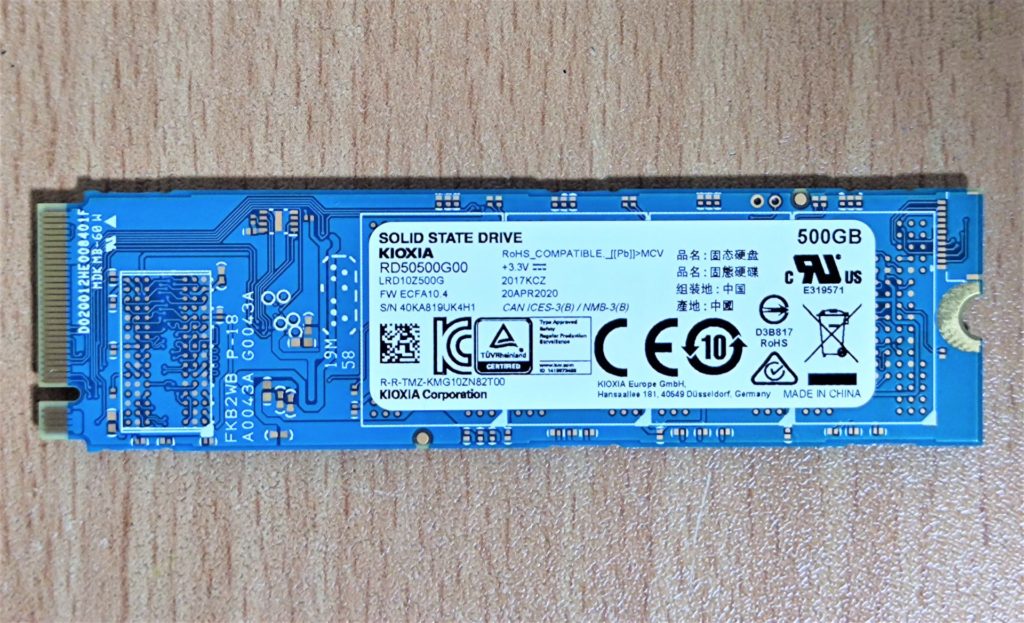 All components of the SSD are only found on one side of the PCB. The other side remains untouched, only showing an informational sticker about the SSD.
KIOXIA SSD Utility
Together with the purchase of the KIOXIA Exceria Plus SSD, you can also take advantage of a useful SSD Utility to manage your SSD drives. The KIOXIA SSD Utility can help you to ensure that your SSD stays updated with the latest firmware, tells you the health of the drive, and suggests methods to improve the reliability and performance.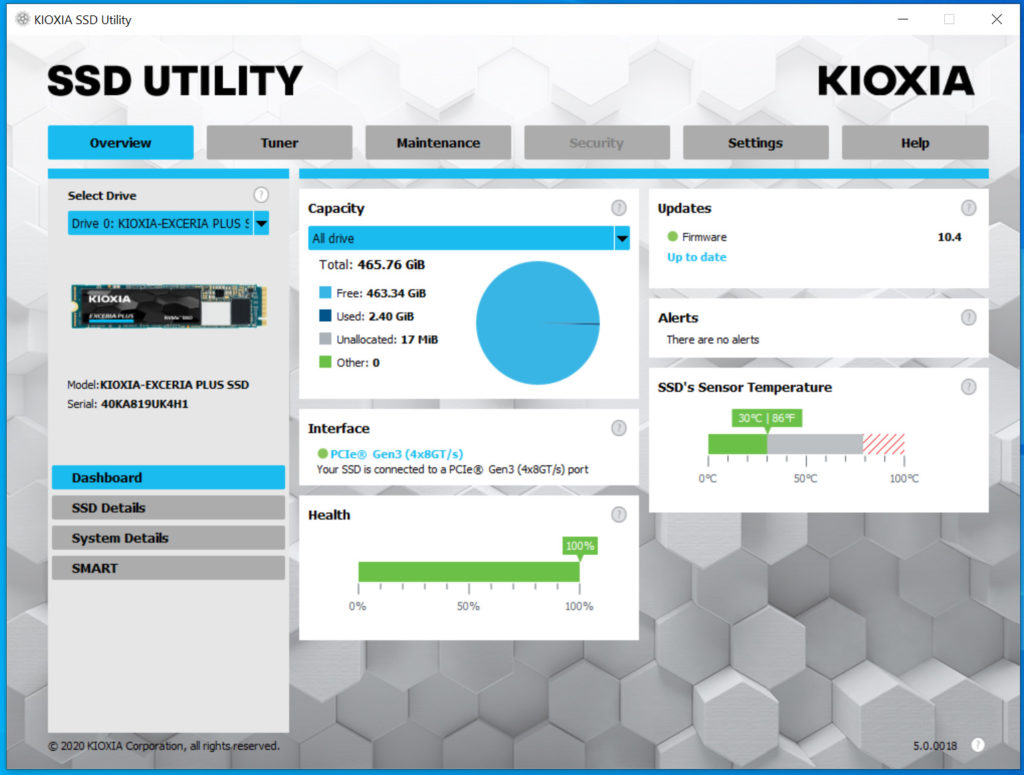 On the main page, the health of the drive gives an indication of how well the drive is performing. It pre-empts users to take remediation actions when their SSD's health is falling poor. Also, there are also information about the SSD's operating temperature and storage usage status.
There is also a built-in benchmark tool within the SSD Utility. Users can also choose to overprovision their SSD in order to enhance the SSD's performance and reliability. However, this is done at the expense of storage capacity. If you are curious on what SSD Over-Provisioning is about, this article from Seagate explains it clearly.
Further, the SSD Utility also comes with tools to help you with Secure Erasing of your KIOXIA SSD, which can restore the SSD's performance to its optimal level. There is also an alerts log which informs you of possible errors that occurred on your SSD – this would be useful if your SSD is starting to fail. You can even create a Bootable SSD Utility to manage your KIOXIA SSD drive without the need to boot into your operating system.
Testing Methodologies and System Configuration
In our tests, we are going to compare this drive to three other high-end NVMe SSDs in the market. They are the WD Black SN750, Seagate FireCuda 520 Gen4 and Kingston KC2000 SSDs. The Seagate FireCuda 520 is a PCIe 4.0 based SSDs and are expected to perform beyond the bandwidth limitation of PCIe 3.0 x4. The other SSDs are based on PCIe 3.0 x4 interface. We want to find out how the KIOXIA Exceria Plus performs when placed up against the both the new PCIe Gen4 and the current PCIe Gen3 SSDs.
Our system is setup as such:
Performance Results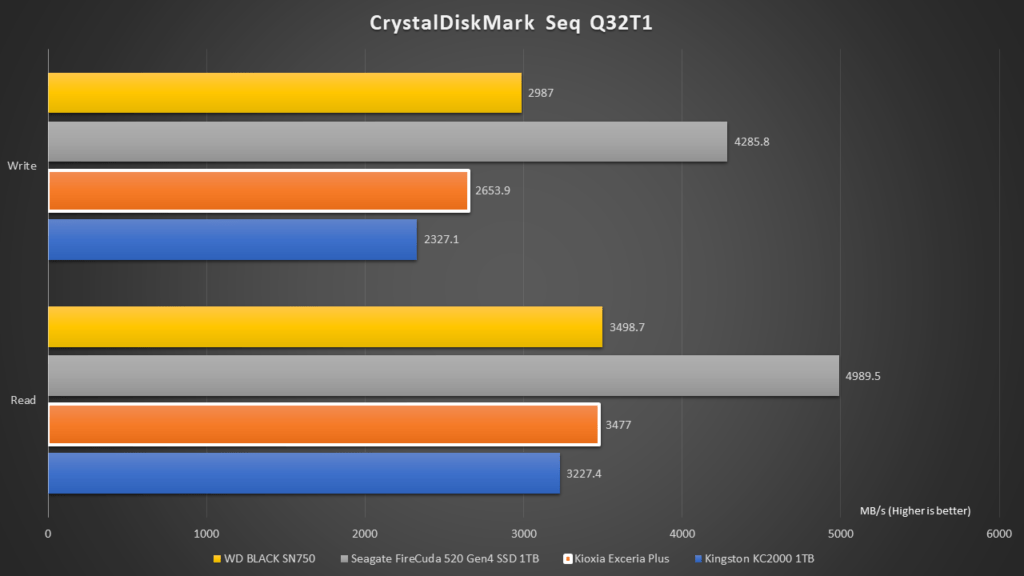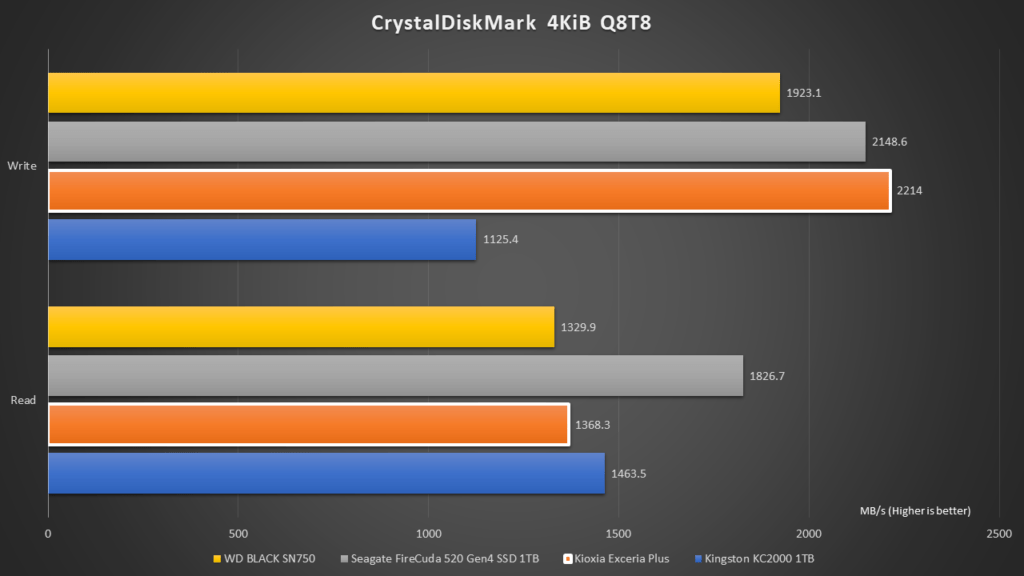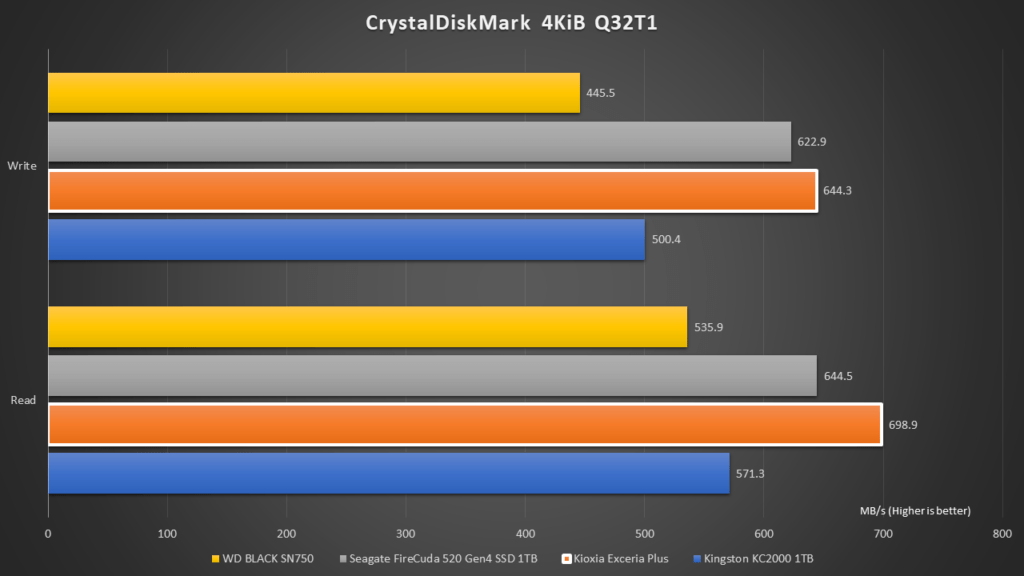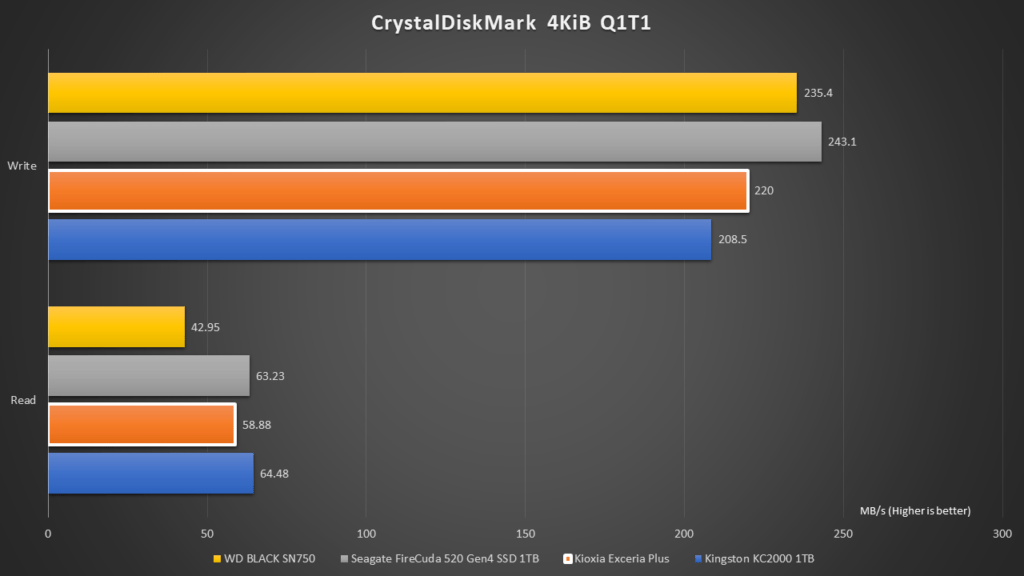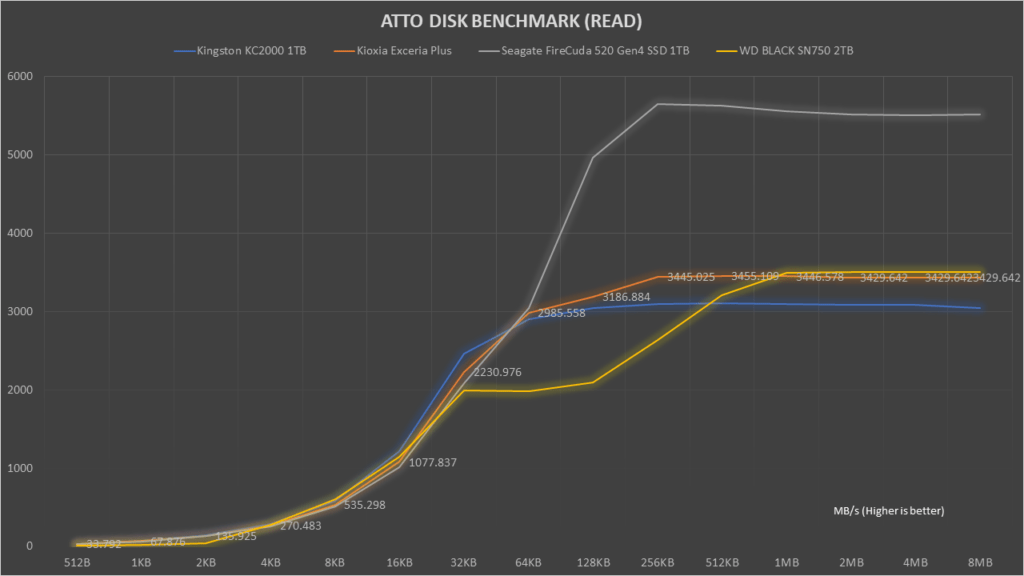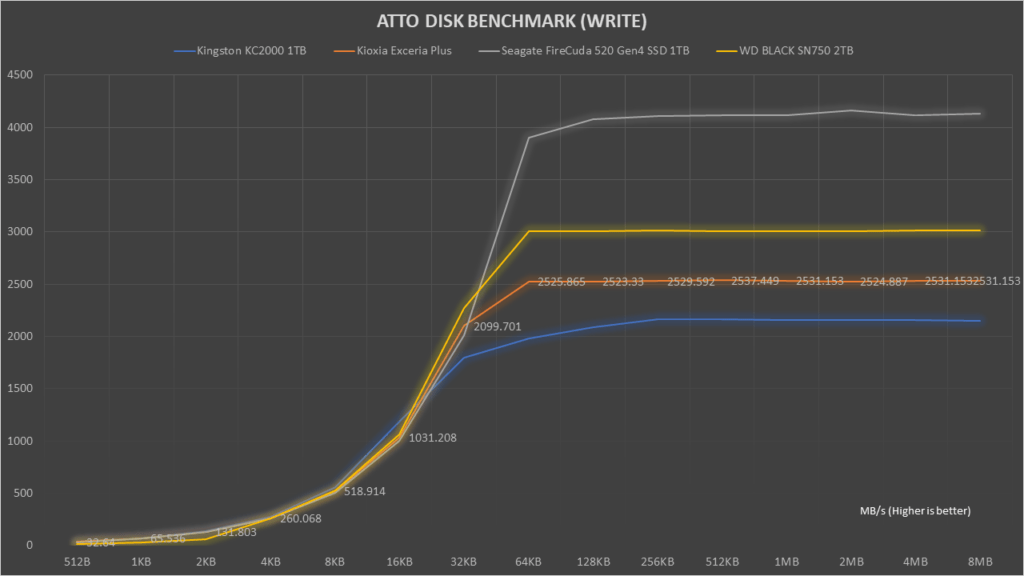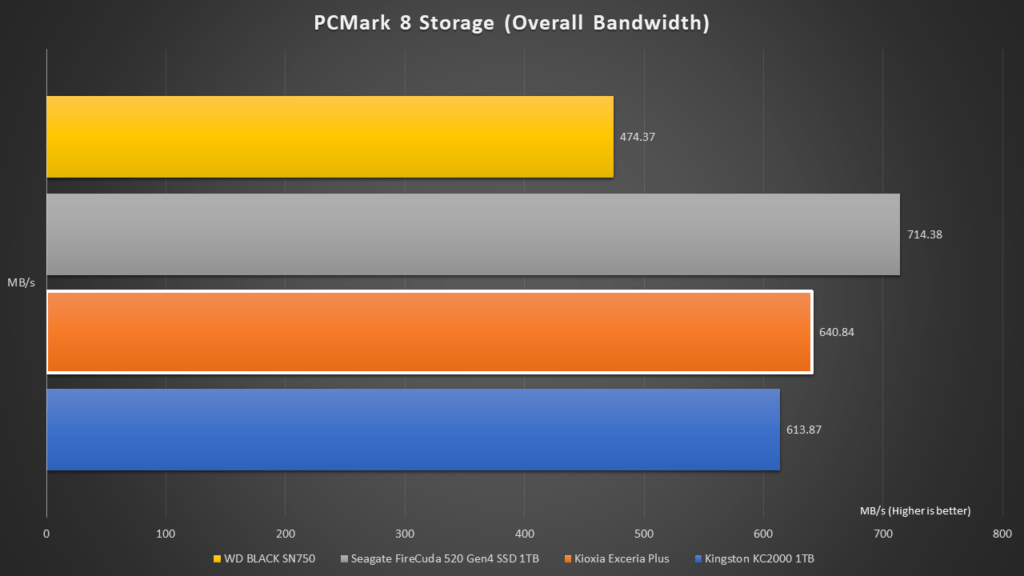 Even though the KIOXIA Exceria Plus does not perform as good as a PCIe Gen4 SSD in the market, it certainly is one of the fastest Gen3 SSD we've tested thus far. It is even able to exchange blows with the Western Digital WD Black SN750, which we've tested previously and determined it to be a great performer.
It was also obvious in our tests that the KIOXIA Exceria Plus is an all-rounder performer which showed an edge in all sorts of storage usage scenarios. It performed well regardless of the data file size, queue length and simultaneous processes. Perhaps, this the reason why it had a very high score in the PCMark 8 Storage benchmark, topping the charts when compared to the other PCIe Gen3 SSD.
Conclusion
The KIOXIA Exceria Plus is able to find its place in the market, being decently priced and packed with performance. There is no doubt that we will recommend the KIOXIA Exceria Plus for anyone looking to upgrade their PC with a new SSD. The KIOXIA SSD Utility is also very useful, allowing a one-stop access to the management of the SSD.
However, we also took note that competition is very tough in this SSD segment. With similar performance to the WD SN750 and many other products in this range, the KIOXIA Exceria Plus must differentiate itself in order to stand out in the market. It does not have an advantage in price, as their products are also priced similarly to competition.
Hopefully, people will know more about the KIOXIA brand with their range of flash storage products, and that they will build a reputation for themselves with this new name.