When it comes to PCIe Gen4 based SSDs, there simply isn't too many of them around. This is likely because the only computing platform that supports the new standard is only limited to the AMD X570 based systems. It only covers a small fraction of the whole PC market, and therefore, these PCIe Gen4 SSDs which cater only to those who are on the platform, has yet to become a mass market product.
No doubt, there are always enthusiasts and gamers who only seek out for the best hardware components. On the other hand, workstations owners who deem that having faster storage drives directly impact productivity, will likely be very interested in this class of SSD solutions as well.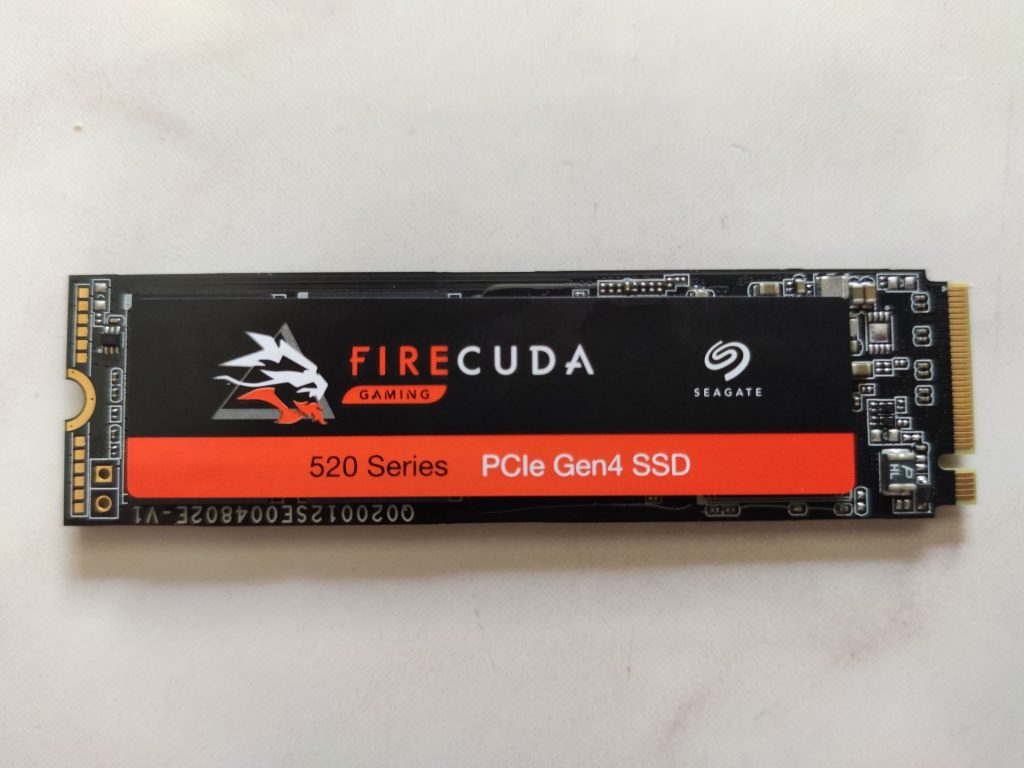 Seagate's FireCuda 520 PCIe Gen4 SSD offering has just been released for the Singapore market, even though it has been announced a year back. Claiming that this drive is able to reach speeds of 5000MB/s, we've got to put our hands on these SSDs and get a feel of it. Can it really live up to our expectations? Is it really as fast as it claims? How does it compare to other SSD solutions out there? Read on to find out more.
Specifications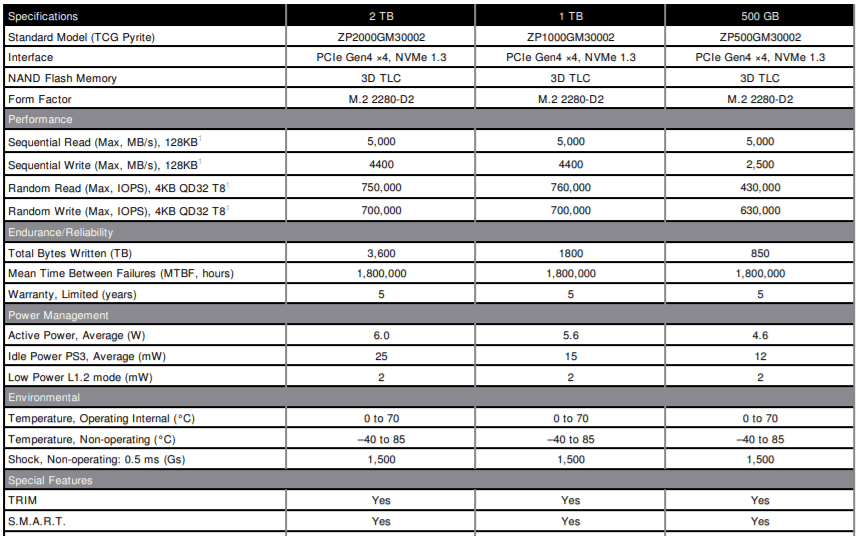 The Seagate FireCuda 520 SSD comes in three capacities. To reach the maximum performance limits of the drive, you should only go for the 1TB and 2TB versions. The 500GB version only can reach a sequential read speed of 2500MB/s due to storage designs.
For our review today, we have with us the 1TB version.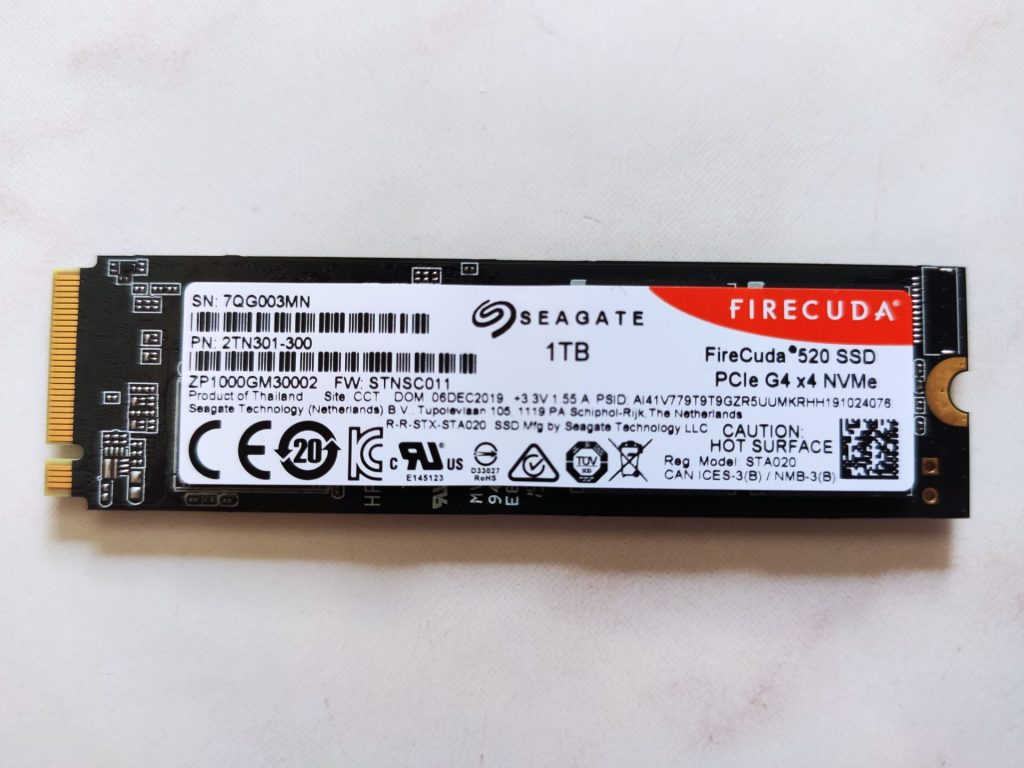 While the SSD does not seem in any way different from other M.2 SSDs out there, the key for its high performance is its controller and NAND Flash configuration.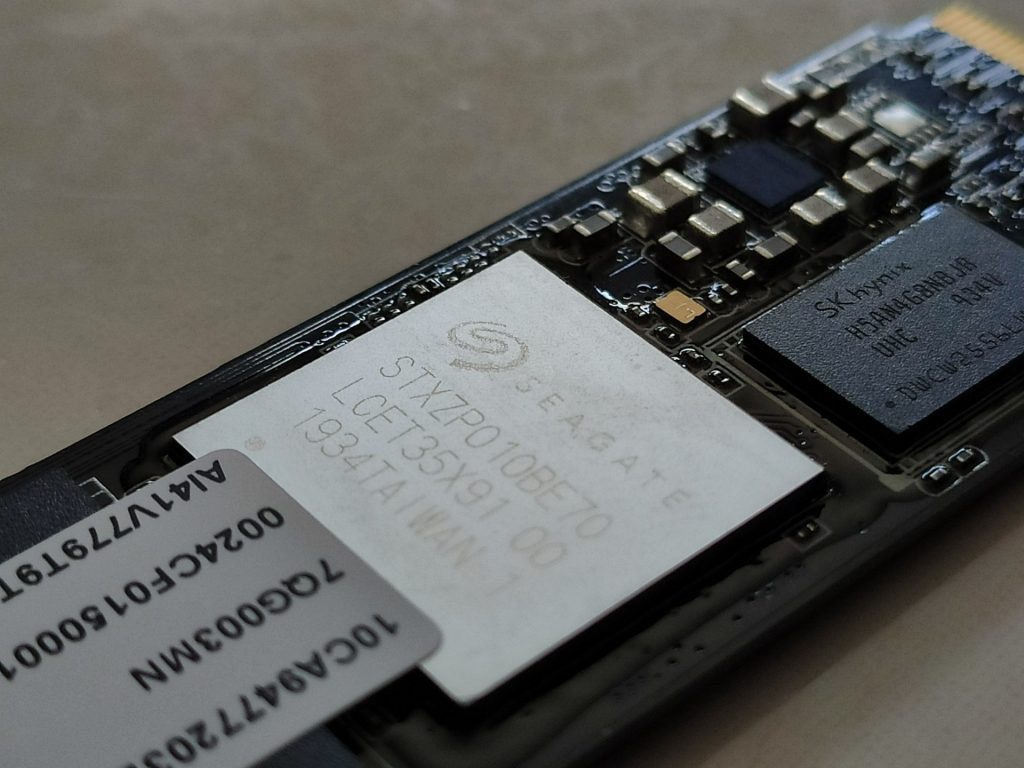 On a closer look, we saw that this drive uses a STXZPO10BE70 SSD controller. It seems to a SSD controller from Seagate, but in actual fact, it is simply a rebranded Phison PS5016-E16. How did we know that? The Firecuda 520's Datasheet said so.
Despite having R&D capabilities in the SSD space, Seagate still sources third party solutions to meet consumer demands. This can also probably help them to build a brand for themselves. We also realised that their own innovations in SSD is mainly on the enterprise segment, as seen in products such as the IronWolf 110 SSD. This could probably be their R&D focus instead.
Judging from this SSD "reference" design, it's highly likely that no technology from the Seagate FireCuda 520 SSD truly comes from the company.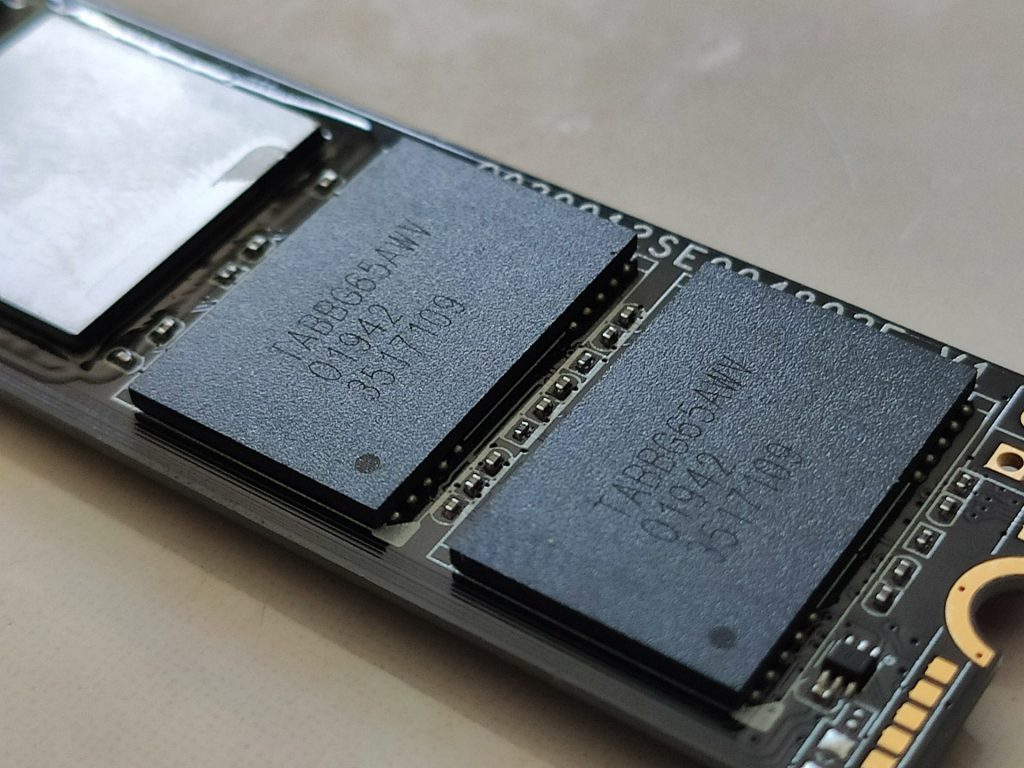 Similar to other PCIe Gen4 SSDs in the market such as the Gigabyte AORUS NVMe Gen4 SSD, the Seagate FireCuda 520 SSD also comes with Toshiba's BiCS4 96-layer 3D TLC NAND flash memory. These flash memory types are seen in many SSD drives today, and they are known for their high performance.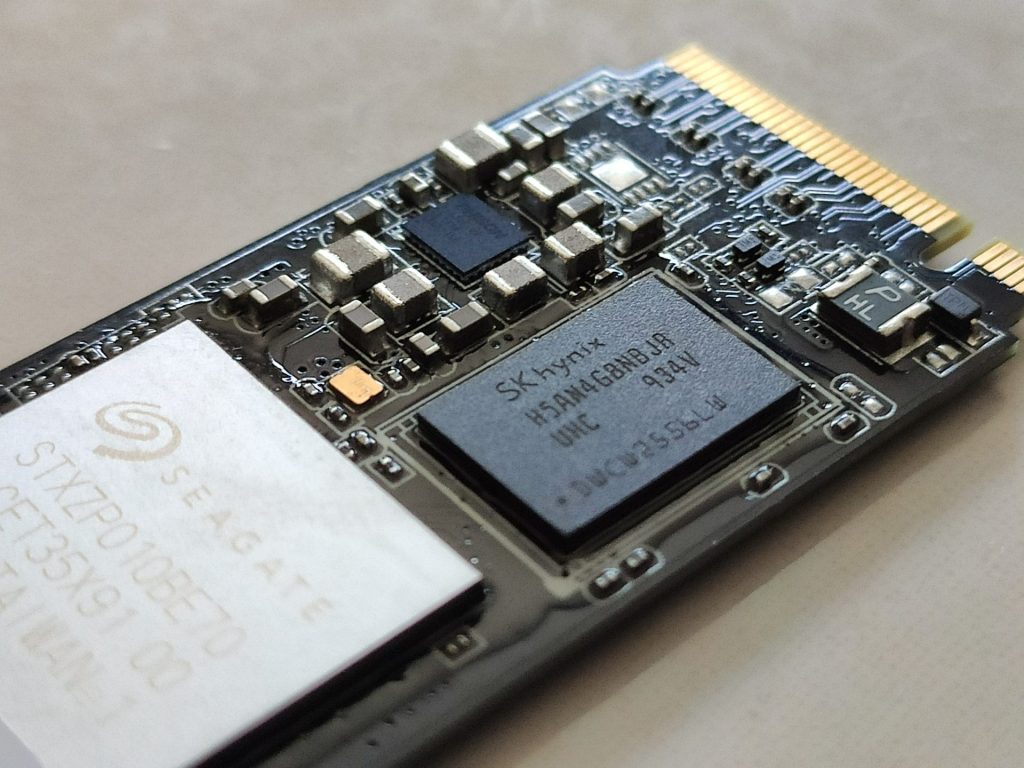 Moreover, the Seagate FireCuda 520 SSD also sports a 512MB (4Gb) DDR4 DRAM on each side of the SSD. This totals up to 1GB of dedicate SSD memory for cache purposes. A dedicated cache design allows the drive to sustains its performance regardless of remaining storage space. Of course, this is much preferred over a SSD with a DRAM-less cache design. The latter's design will cause performance to take a significant hit when the drive is almost full.
Software
The Seagate SeaTools for SSD is a tool that can be downloaded from Seagate's website. It provides many useful utilities that will be useful to manage your SSD. For example, the core SSD information and health and lifetime is shown. The software will be able to prompt you if there are any errors that occurs on the SSD.
Furthermore, it also comes with other essential applications such as SSD erase, firmware update and a feature known as "Tunable Capacity" which can help improve drive performance at the expense of capacity.
System Configuration & Testing Objectives
Specs
Main System
CPU
AMD Ryzen 9 3900
RAM
G.Skill Trident Z Royal 3600MHz, 2 x 8GB DDR4 Kit
Storage
Main: Transcend MTE110S 512GB (OS)
Comparison:
Seagate FireCuda 520 SSD
Kingston KC2000 1TB
AORUS NVMe Gen4 SSD 1TB
GPU
Sapphire Pulse Radeon RX 550 2GB
Motherboard
ASRock X570 Steel Legend
CPU Cooler
AMD Wraith Spire Cooler
OS
Windows 10 Pro 64 bit
In our tests, we will be comparing the Seagate FireCuda 520 SSD with the supposedly identical AORUS NVMe Gen4 SSD. We want to find out the key difference between these two drives, which most likely can only be attributed to their firmware.
Moreover, we will also add a Kingston KC2000 1TB SSD into the mix for comparison. This Kingston drive is also equipped with the same Toshiba BiCS4 96-layer 3D TLC NAND, but it only operates with the PCIe 3.0 interface. We can then see if upgrading to a PCIe Gen4 SSD is really required.
Performance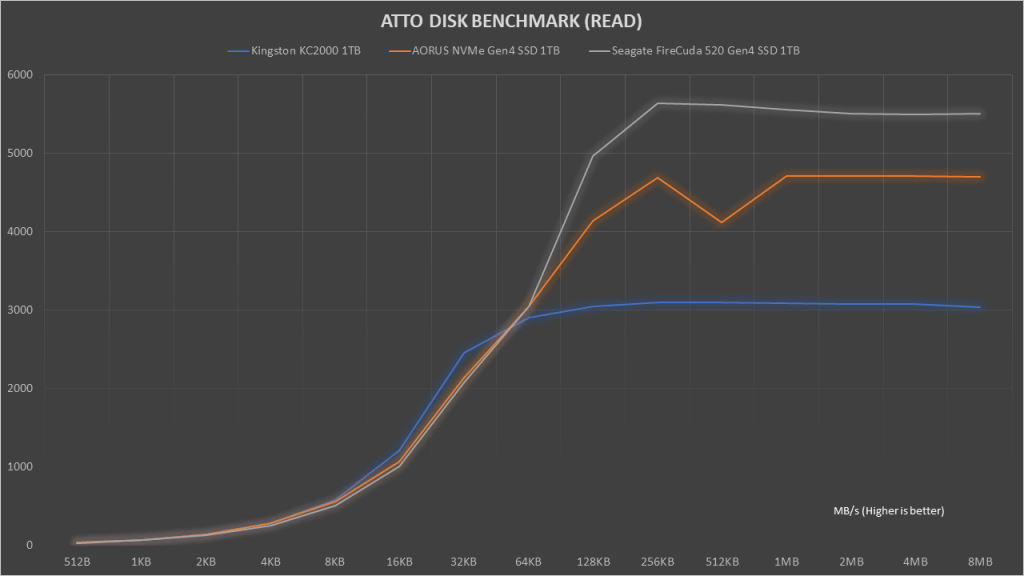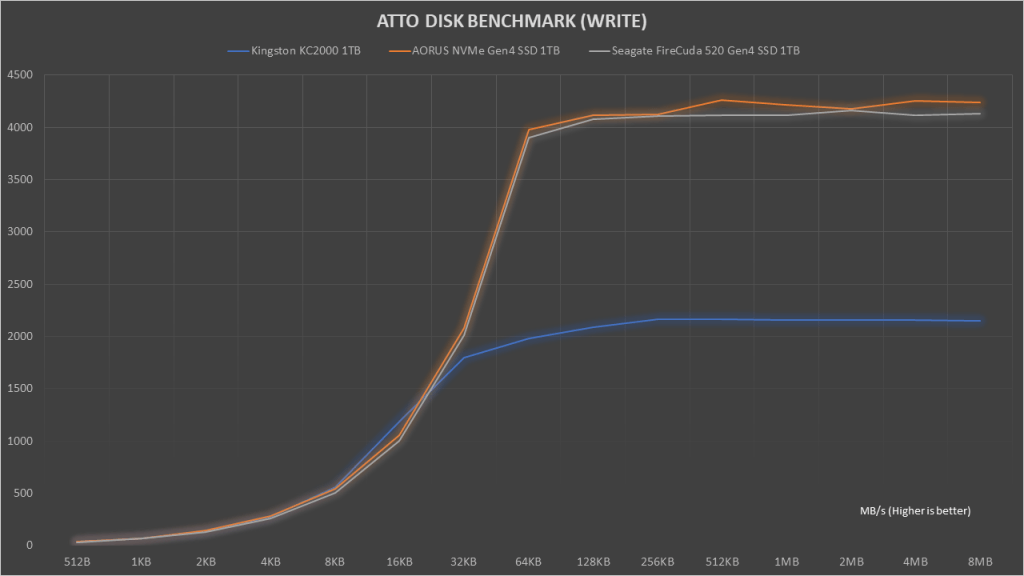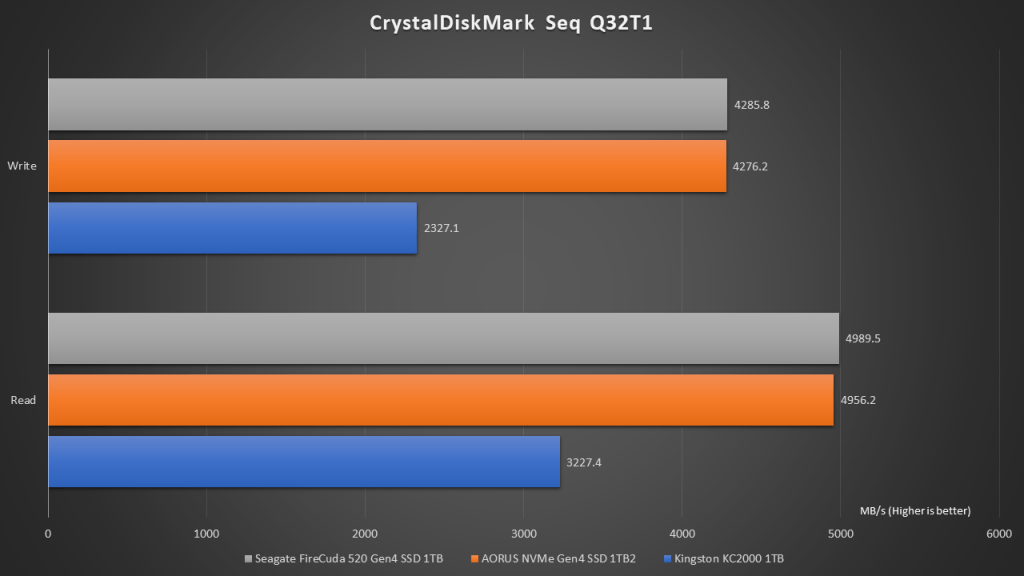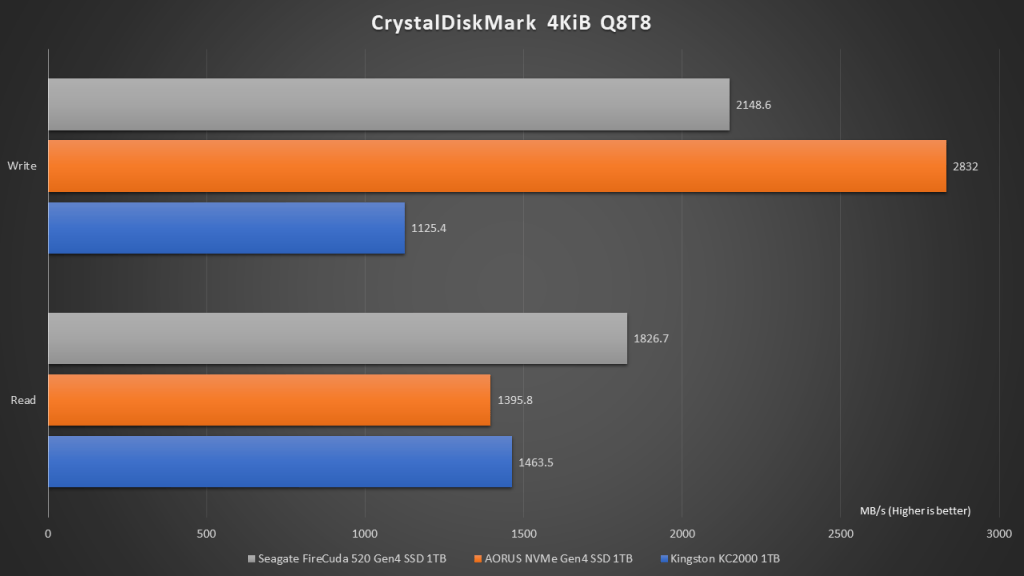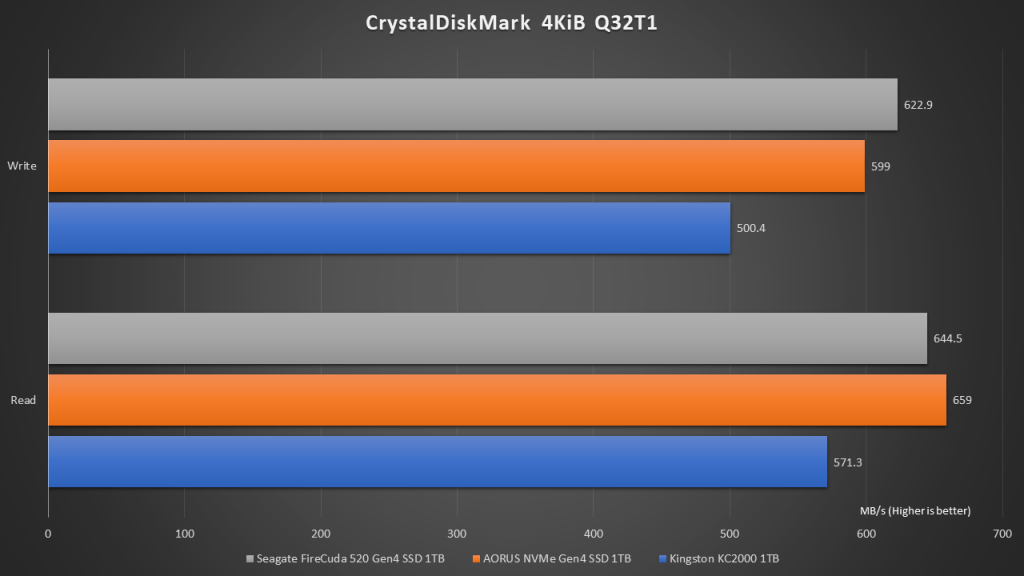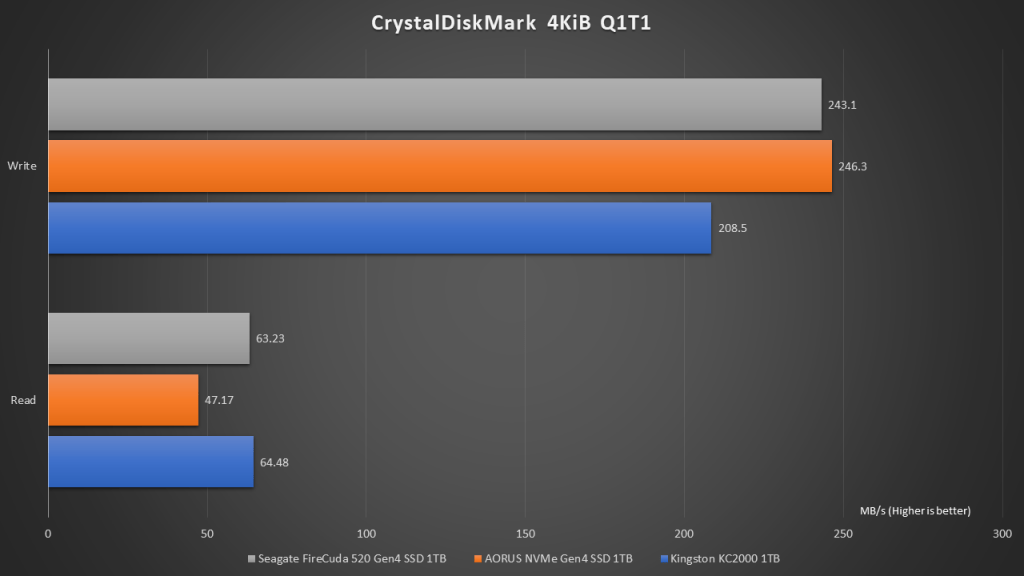 Performance Analysis
In our ATTO read tests, we were unsure why the Gigabyte AORUS NVMe Gen4 SSD was not able to even reach 5GB/s. Probably, because of an improved and later firmware that's installed on the Seagate FireCuda 1TB SSD, it was able to sustain a speed of even higher than 5GB/s. It managed to max out at 5.5GB/s, which is an impressive speed, even for a PCIe Gen4 SSD.
As for ATTO write tests, the performance differences between the two PCIe Gen 4 drives can be negligible.
As for CrystalDiskMark, other than the sequential read/write tests, the results looks rather inconsistent. There are times when the Seagate FireCuda 1TB SSD is faster, and also times that it is slower.
Also, we also noted that throughout all the tests, it was clear that the Kingston KC2000 1TB SSD was on the losing end in terms of performance.
Conclusion
There is no doubt that the Seagate FireCuda 520 Gen4 NVMe 1TB SSD is fast. In terms of raw maximum performance, it managed to reach the highest read speeds out of the three drives tested. Moreover, it also came in ahead in our simulated real world usage test in PCMark 8.
Comparing between the Kingston KC2000 1TB SSD, we can definitely see the benefit with a PCIe Gen4 based interface for a SSD. The Seagate FireCuda 520 Gen4 NVMe 1TB SSD was faster in almost every single way. Therefore, if you already are on a platform that supports PCIe 4.0 standard, it would be wise to maximize the benefits of performance improvements by acquiring a PCIe Gen4 SSD.
In our review of the Gigabyte AORUS NVMe Gen4 SSD, we said that it was the fastest SSD available in the market today. Although some of the scores are disputed, we are confident enough to allow the Seagate FireCuda 520 to take on the throne instead.