Seagate is one of the world's largest manufacturer of computer hard drives. However, with the advancement in solid state storage technologies, there has been a shift in the demand of hard disk drives in both the enterprise and consumer market. The acquisition of LSI flash businesses in 2014 has hinted that Seagate would also enter the SSD market, but we haven't seen too many flash based products from the company in recent years.
A new lineup of Seagate SSDs
It was only the year of 2019 which we saw a full range of flash based storage products from Seagate. Inheriting the same branding from the hard drive lineup, the new SSDs are categorized into various use cases. They are
BarraCuda for mainstream PC usage
FireCuda for gaming and performance systems and
IronWolf for Network-Attached Storage.
Furthermore, there are also other consumer based flash storage products such as external portable SSDs. One of which was the Seagate Fast External SSD which we have reviewed earlier this year.
Introduction- IronWolf 110 NAS SSD
In today's article, we are going to focus on the Seagate IronWolf 110 SSD. These SSD are optimized specifically for use in Network Attached Storage setups. We are going to take a look at the various features that sets the IronWolf 110 NAS SSD apart from any other SSDs in the market, and also look into the drive to see what this drive is made of. Of course, we are also going to test out the drive's performance in our standard drive tests.
Seagate IronWolf 110 NAS SSD Features
AgileArray Firmware – Optimized usage for both Tiered Cache or All Flash Array
The usage of a SSD in a general compute system and a Network Attached Storage is very different. In a hard drive based NAS setup, SSDs are sometimes used as flash cache. The SSD does not contribute to actual storage capacity of the system, but can improve the read and write performance of the overall NAS system. This is because commonly used data will be placed directly in the SSD for faster access, instead of requiring the physical arm movement of a hard drive to read data.
Alternatively, for the best possible NAS performance setup, all storage drives on it can be flash based. This will support simultaneous multi-user data reads and writes on a single system effectively.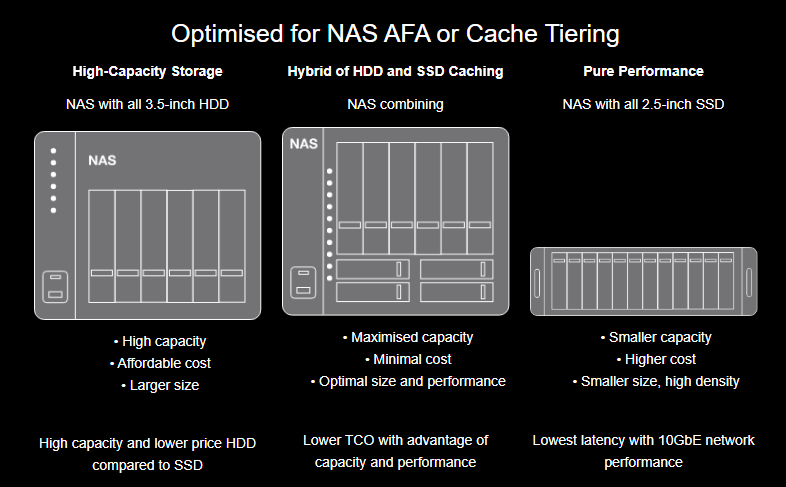 The good thing is the AgileArray Firmware that is found on the IronWolf 110 NAS SSD is optimized for both types of storage scenarios. Regardless if you are using the SSD for caching or primary storage, the drive has been made ready adapt to whichever drive configuration desired for your NAS.
Power Loss Data Protection
SSDs are very sensitive to sudden power loss. When writing data to flash memory, a power loss, known as a Write Abort, could cause file system corruption and internal device data corruption.
While file system corruption is not as serious, as most of today's operating systems can perform a file system repair upon detection of such an issue, an internal device data corruption is much more serious. An internal device data corruption could render the entire flash drive unusable due to a corruption to the SSD's internal metadata. A low level format will be required to fix this problem, but this also means that the entire drive's data will also be loss.
Seagate's Power Loss Data Protection integrates on-board polymer tantalum capacitors to provide supplemental power to complete write operations into the NAND flash, even when power to the system is interrupted. This is a feature which most current consumer SSDs lack.
You can learn more about the Seagate Power Loss Data Protection here.
DuraWrite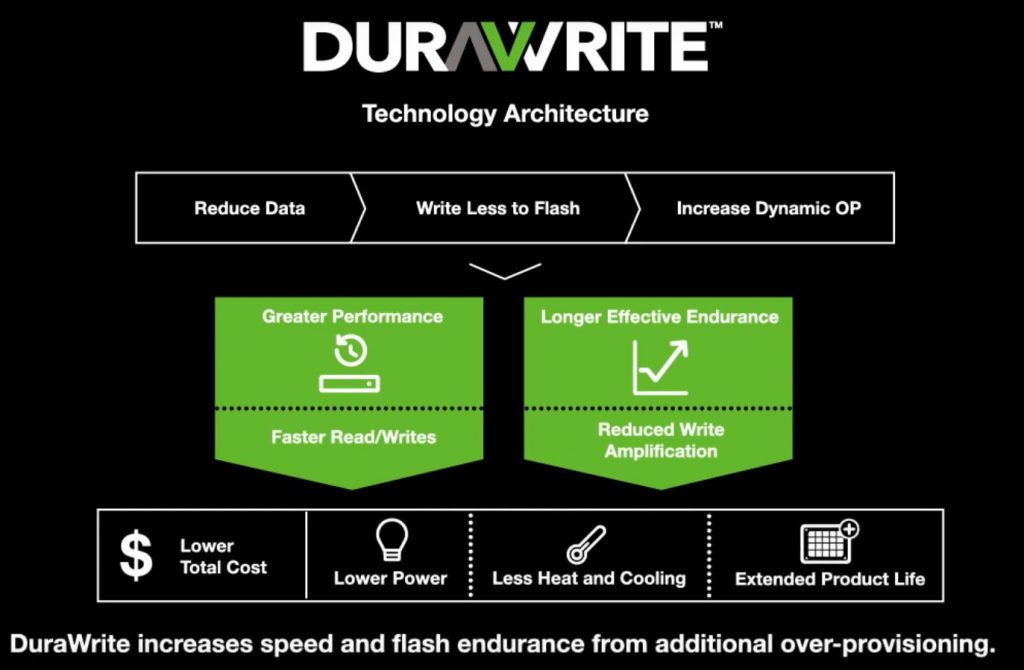 A NAND based flash SSD is only able to endure a limited number of write cycles. The number of write cycles before a SSD becomes unreliable is also known as endurance.
Seagate DuraWrite aims to reduce the number of unnecessary writes to the NAND flash in order to improve the endurance of the IronWolf 110 NAS SSDs. DuraWrite uses lossless compression techniques to reduce the amount of data stored on the drive. Moreover, the drive is also over-provisioned in order to reduce data write to the same NAND flash unit.
Inside the Seagate IronWolf 110 NAS SSD
The Seagate IronWolf 110 NAS SSD is a 2.5″ form factor drive. As expected, in order to be compatible with most NAS system in the market, it has to come in a SATA interface, instead of a faster NVMe M.2 interface.
The Seagate IronWolf NAS SSD comes with a full metallic enclosure, which also acts as a large heatsink for the whole SSD. The SSD controller and cache memory chips are also covered with thermal paste to transfer heat to the enclosure. This design keeps the whole SSD cool and prevents any performance throttling caused by high temperatures.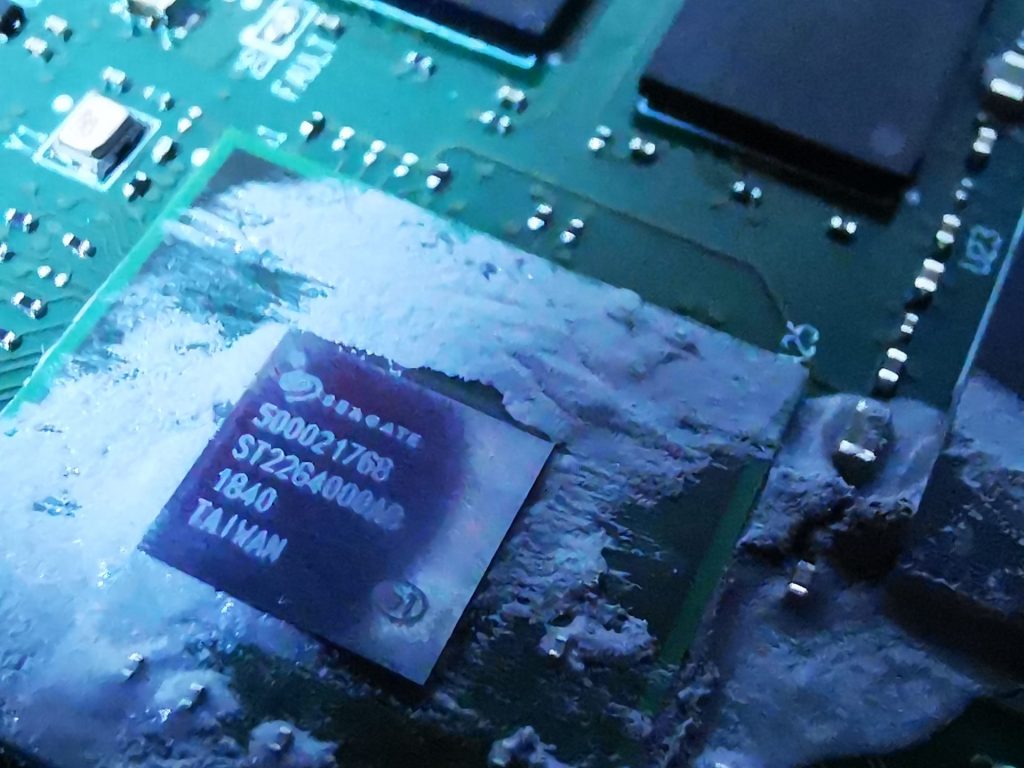 The IronWolf 110 SSD runs on a Seagate 500021768 proprietary SSD controller. We are unsure if this controller comes with technology from LSI SandForce, which was quite a popular SSD controller back in the days.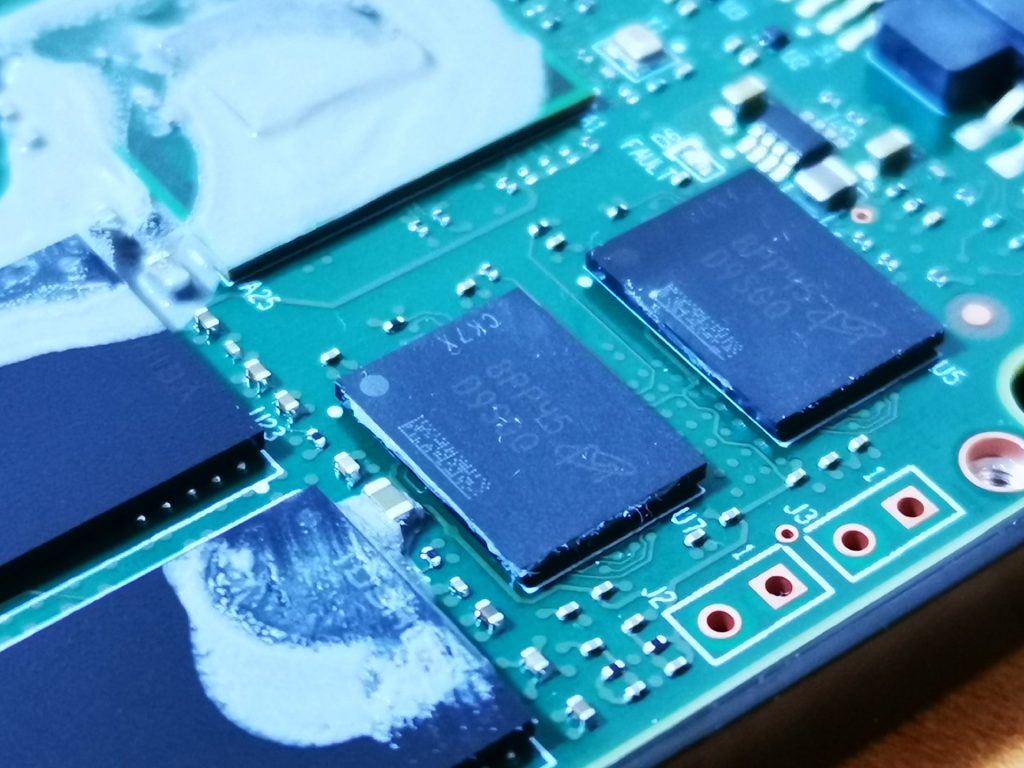 There are a total of 4 pieces of Micron DDR3 1866 256MB RAM Buffer chip on the IronWolf 110 SSD, two on the front side and two on the back side of the board. This means that the SSD comes with 1GB of DDR3 cache.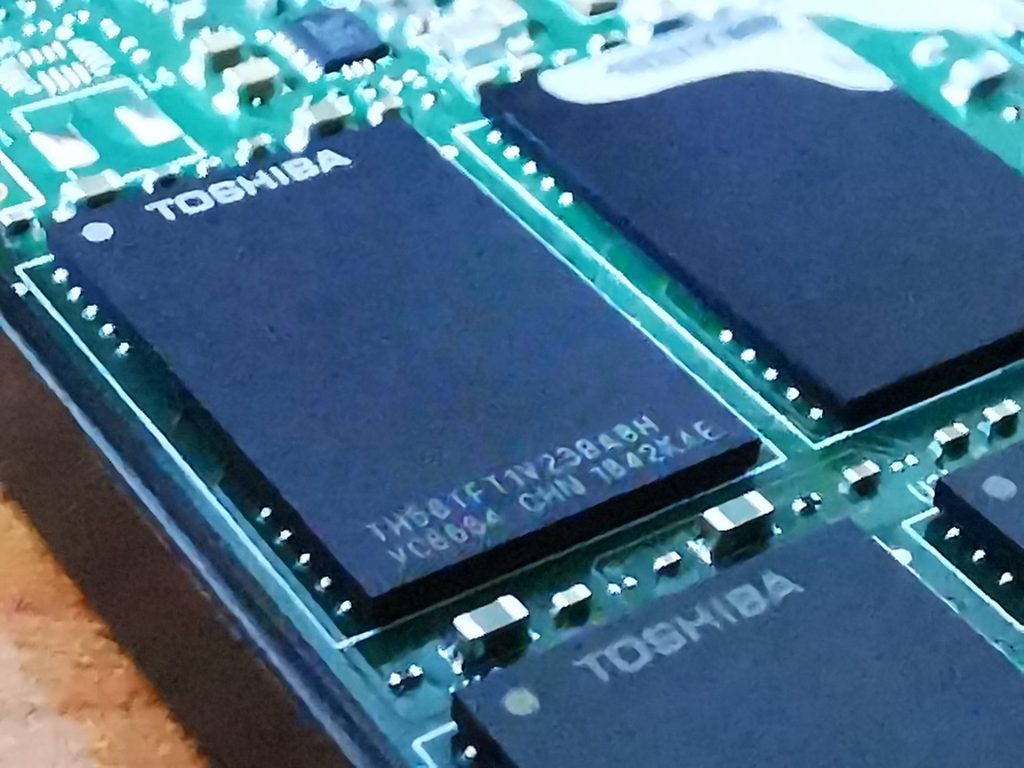 The SSD also uses Toshiba 64-layer TLC BiCS3 NAND chips which fulfills the 1.92TB worth of capacity for the drive.
Test Setup and Performance
| | |
| --- | --- |
| Specs | Main System |
| CPU | AMD Ryzen 7 1800X |
| RAM | G.Skill 3600MHz, 2 x 8GB DDR4 Kit |
| Main Storage | Transcend SSD230S 2TB |
| GPU | Sapphire Radeon RX 550 4GB |
| Motherboard | Biostar B350GTN |
| CPU Cooler | AMD Wraith Spire Cooler |
| OS | Windows 10 Pro 64 bit |
| Test Drive | IronWolf 110 SSD 1.92TB |
CrystalDiskMark
Comparing between the IronWolf 110 SSD and the Transcend SSD230S, we can clearly see that the IronWolf 110 SSD is superior in its performance in most types of storage test. It's only weak point was in the 4KB Q1T1 test, where the Transcend SSD230S showed a lead.
ATTO Disk Benchmark
The ATTO Disk Benchmark could show us a clearer picture of the performance of the Seagate IronWolf 110 SSD under various data size.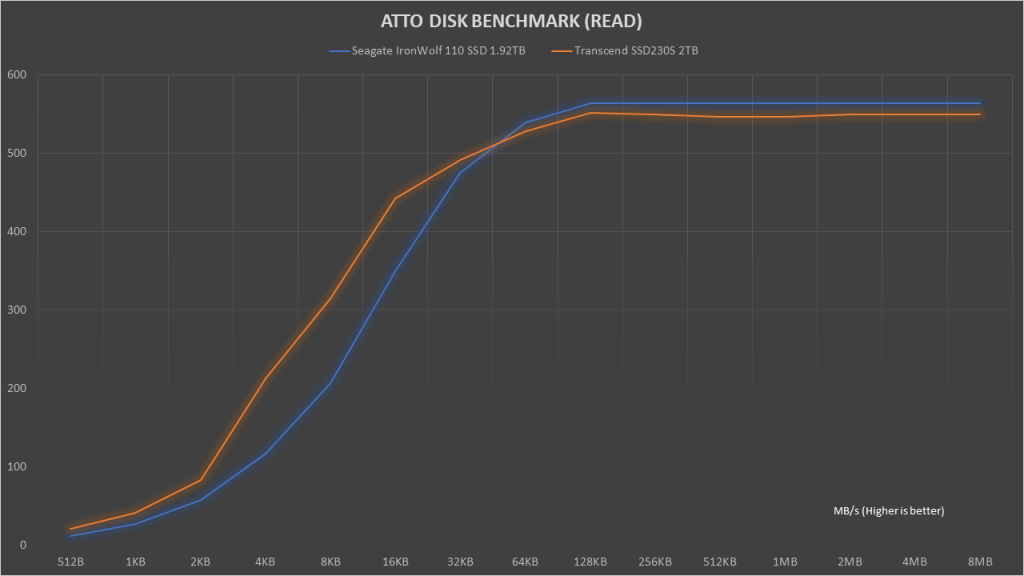 For read performance, we can see that the Seagate IronWolf 110 SSD comes in faster only when the data size goes beyond 64KB.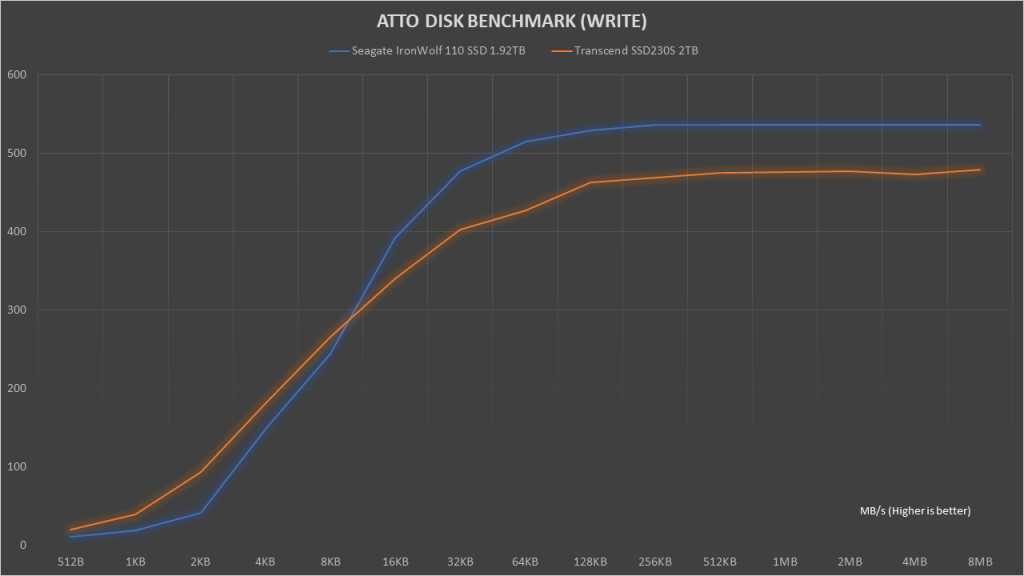 As for write performance, the Seagate IronWolf 110 SSD showed superiority in tests with data size that's above 16KB.
Conclusion
The Seagate IronWolf 110 SSD can identify itself in the market with distinct target audience in mind. By branding and defining the IronWolf SSD as a SSD for NAS, they Seagate manages to create a new product category by themselves for others to follow.
IronWolf 110 SSD boasts features that optimize its performance and reliability when used in a NAS environment. Its fundamental and unique features, such as the AgileArray Firmware and Power Loss Data Protection that sets the product apart from competition.
Based on the performance results, we can see that the IronWolf 110 SSD performs better in large data blocks, rather than multiple small data blocks when compared to the Transcend SSD230S drive. While there is no clear lead when it comes to drive performance, we would rather focus the aspects of reliability on a SSD made for a NAS system, rather than simply performance.
No doubt, if you are looking for a purpose built SSD that is optimized for usage in a NAS system, the Seagate IronWolf 110 SSD is a compelling product to consider.