When you hear the brand Seagate, you will probably think about hard drives. While their primary business is focused on hard drives, Seagate did also venture into the consumer SSD last year. Their first consumer SSD product was the BarraCuda SSD, which was a relatively basic 2.5-inch SATA based drive. With the technology available, they have also announced the new Fast External SSD. Seagate probably ran out of ideas while naming this external SSD, thus just calling it "Fast". But is it really as "fast" as it seems to be? Let's find out.
Design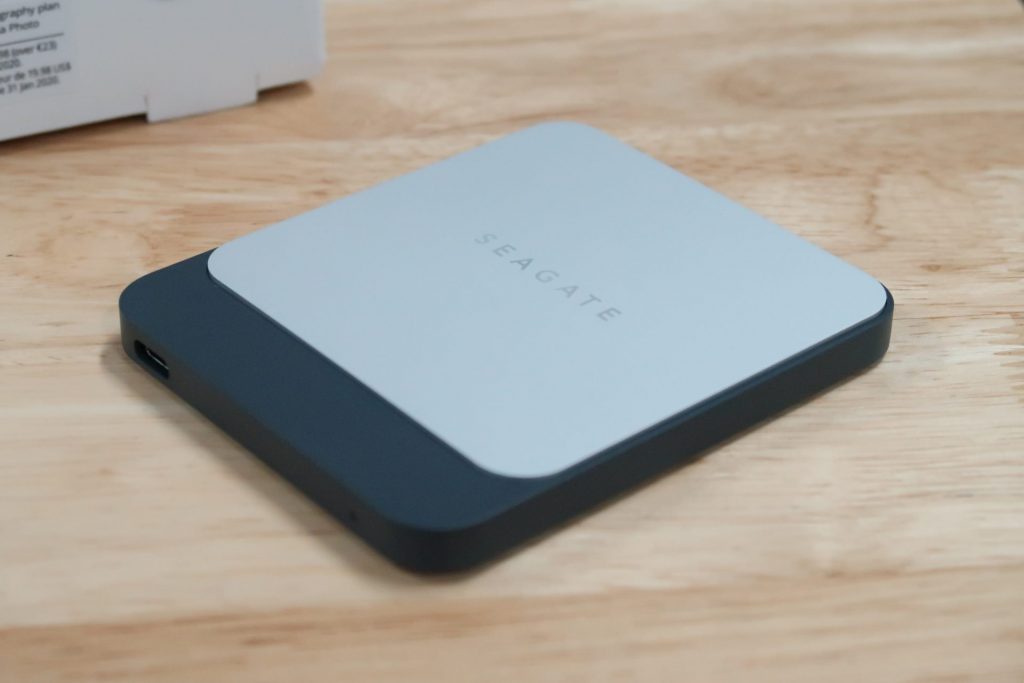 The Seagate Fast SSD comes in sturdy looking case. It sports a combination of metallic and plastic materials, both complementing each other to show a sense of premium product. This SSD comes with a USB Type-C port. Within the case, Seagate has also included both a USB Type-C to USB Type-C cable and a USB Type-C to USB Type-A cable. It's great that we can have both cables, and adapt the external SSD to the right interface needed.

It is a pity that the Seagate Fast SSD's size is still considered quite big when compared to other external SSDs on the market. In the market today, M.2 based external SSDs are a lot more portable. Judging on the physical size of the storage device, we can expect that this drive could contain SSD PCB that is created for a standard 2.5-inch form factor SSD.
What's Inside the Enclosure?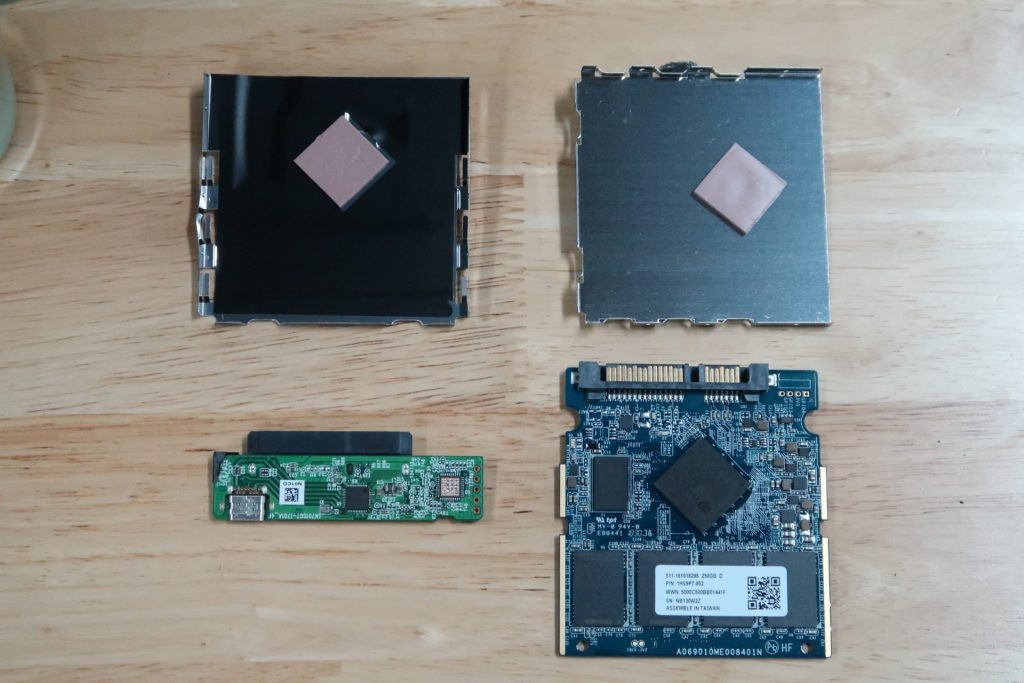 To better understand the Seagate Fast SSD, we had to do a tear-down of the device. Removing the enclosure was quite simple. We had to pry open the bottom side of the SSD, which was held in by latches. The metal portion of the SSD enclosure is not just for looks, but actually helps the drive to better dissipate heat. This is done by the use of thermal pads, which comes between the SSD controller and the metallic exterior.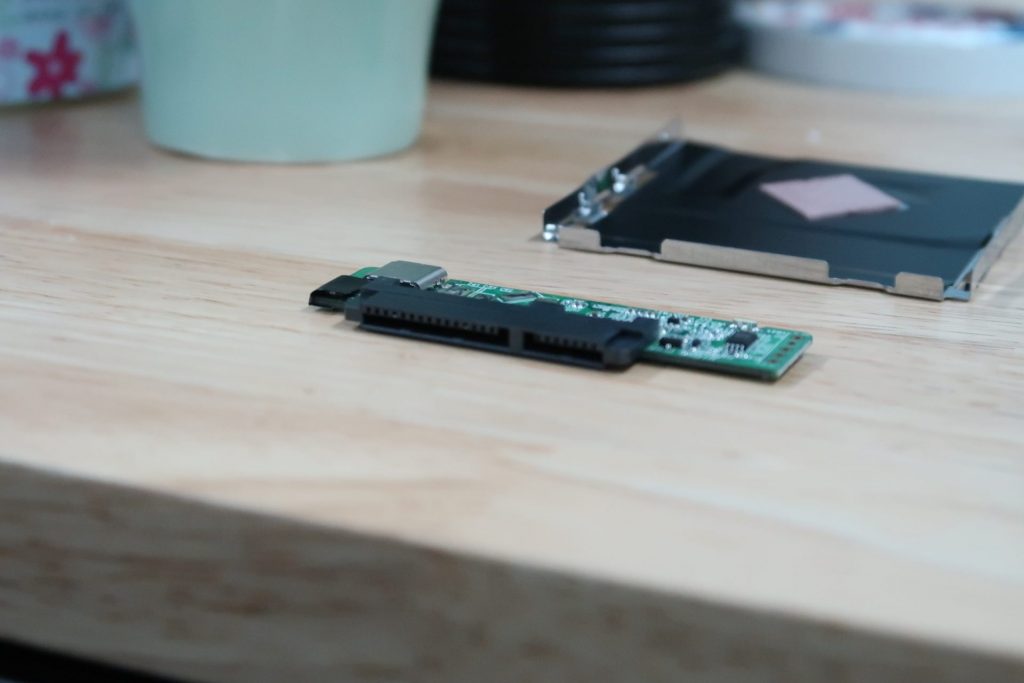 We realised that the Seagate Fast SSD is actually a very simple device. As seen from the images, the Seagate Fast SSD is actually an SSD with a SATA interface. They simply had to include a SATA to USB Type-C bridge in order for the SSD to work externally via USB. In this product, we saw that Seagate uses a ASMedia SATA to USB bridge chip. Even though the part number of the bridge chip is not clear, Windows recognized this as the ASMedia ASM2115 chip.
On the other hand, the main PCB of the SSD drive looks awfully familiar. In fact, this is the exact same board as Seagate's own BarraCuda SSDs. It makes sense for them to manufacture multiple of these SSDs and brand it differently as both internal and external products. This SSD is using a Seagate branded STXZA01EA3B7 controller, which is actually a rebranded Phison S10 chip. This storage controller also supports DDR3 caching. This is why, we also spotted a Nanya NT5CC256M16DP-DI DDR3 chip. The Seagate Fast SSD utilizes 3D TLC NAND flash from Toshiba, which is pretty much common for SSDs in this segment.
Test Setup and Performance
For our test today, we have the 250GB version of the Seagate Fast SSD. The test system used to benchmark the SSD is as follows.
Specifications
Hardware
CPU
Ryzen 7 2700
RAM
G.SKILL FlareX F4-3200C14-16GFX DDR4 Kit
Storage
Plextor M8V M.2 SATA SSD 256GB (OS)
Seagate Fast External SSD (For test)
GPU
AMD Radeon RX480 Reference
Motherboard
Gigabyte X470 AORUS Gaming 7 Wi-Fi
CPU Cooler
AMD Wraith Stealth Cooler (Stock)
OS
Windows 10 Pro 64 bit
The Seagate Fast SSD performs as expected. It was able to reach sustained read and write speeds of 560MB/s read and 530MB/s write, which is truthful to what is advertised on the box. When tested on a Windows file transfer with my Steam library, the SSD was able to continuously write at an average rate of 241MB/s. This is not too bad for an SSD in this market segment.
Usually, SSDs will get slower when many files are stored on it. This is because, actual NAND storage space is used for computation in order to increase the reliability and lifespan of the SSD. While utilizing the reserved storage area of the SSD for computation, simultaneous performance of the SSD is expected to fall. On the contrary, Seagate Fast SSD was able to overcome this issue. With its dedicated DDR3 RAM for caching, this SSD was able to perform as good as new, even when more than 90% of the drive has been filled.
Final Words and Conclusion
The Seagate Fast SSD does perform to what it promises. It is more than capable of helping you to transfer files across devices quickly, or as a backup of your important data. However, we thought that this SSD could have been designed in a smaller footprint to allow it to be more portable. Nonetheless, the Seagate Fast SSD does have its own value proposition to entice customers in the wild. If you are looking for a new SSD for your work or for storing your game library, you can give the Seagate Fast SSD a try.