When Gigabyte announced their first PCIe 4.0 supported NVMe SSD at COMPUTEX 2019, everyone was blown away with its performance. We were seeing numbers which were through the roof, and was not possible with technology at that point of time. Since AMD's launch of the new X570 chipset and 3rd Generation Ryzen processors, they have brought the support of PCIe 4.0 for mainstream adoption. Of course, the new PCIe 4.0 SSDs was going to be the talk of the town.
Introduction
Being the first known PCIe 4.0 SSD, the AORUS NVMe Gen4 SSD garnered quite a bit of attention. We were also able to receive a retail unit for our tests. So, let's take a closer look.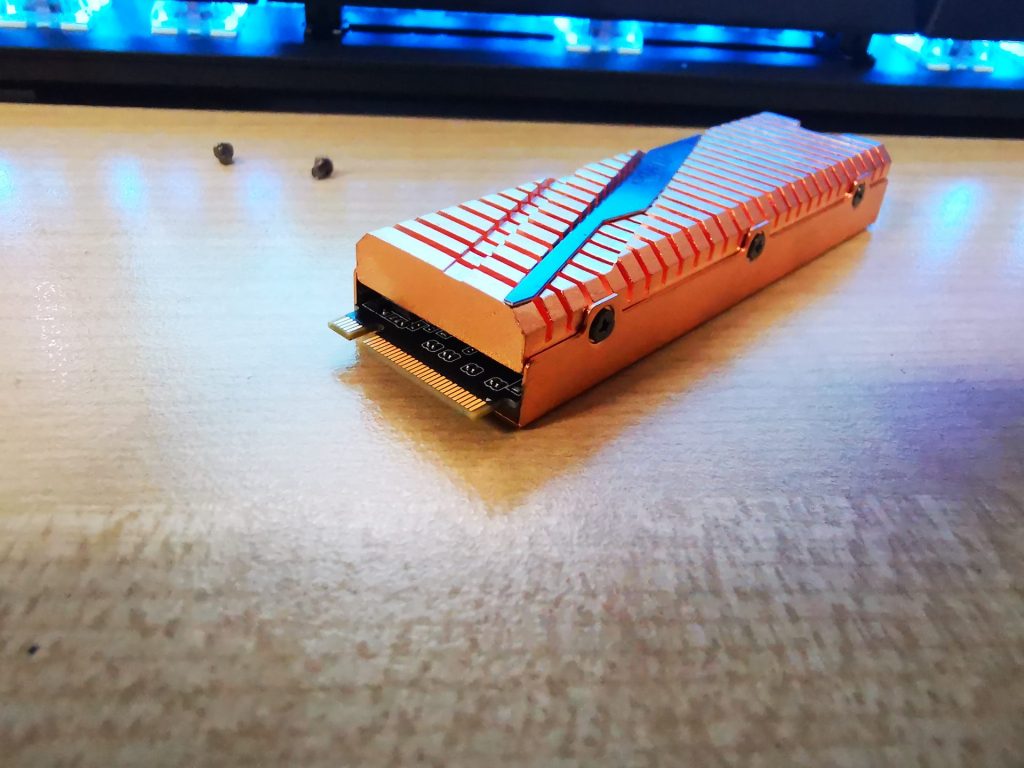 It's probably the first time we see such a large heatsink unit on a M.2 SSD. The AORUS NVMe Gen4 SSD 1TB comes with a copper heatsink on both its top and bottom. In case you are wondering if the height of the heatsink will affect compatibility with the graphics card placed above it, this was not a concern for us. The height of this storage device does not go beyond the usual full sized PCIe slots.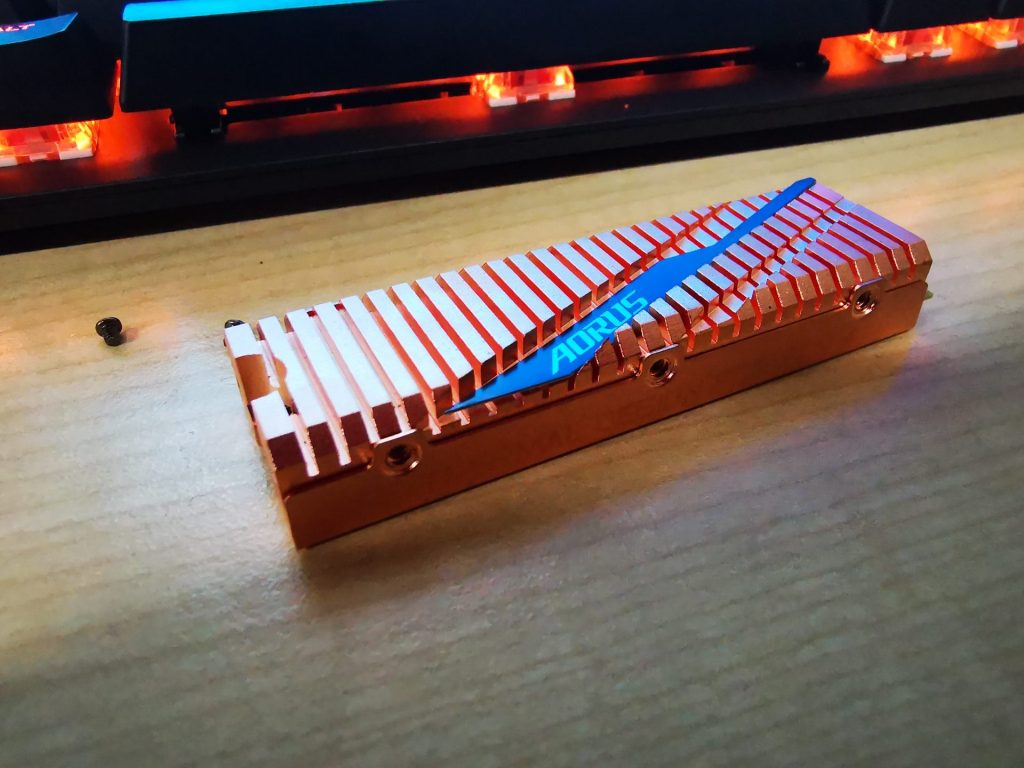 The golden finish on the AORUS NVMe Gen4 SSD 1TB makes this SSD stand out prominently. Based on the thickness of the heatsink, we can probably infer that this SSD will run hot. We will confirm this in our temperature tests later.
Taking the AORUS NVMe Gen4 SSD 1TB apart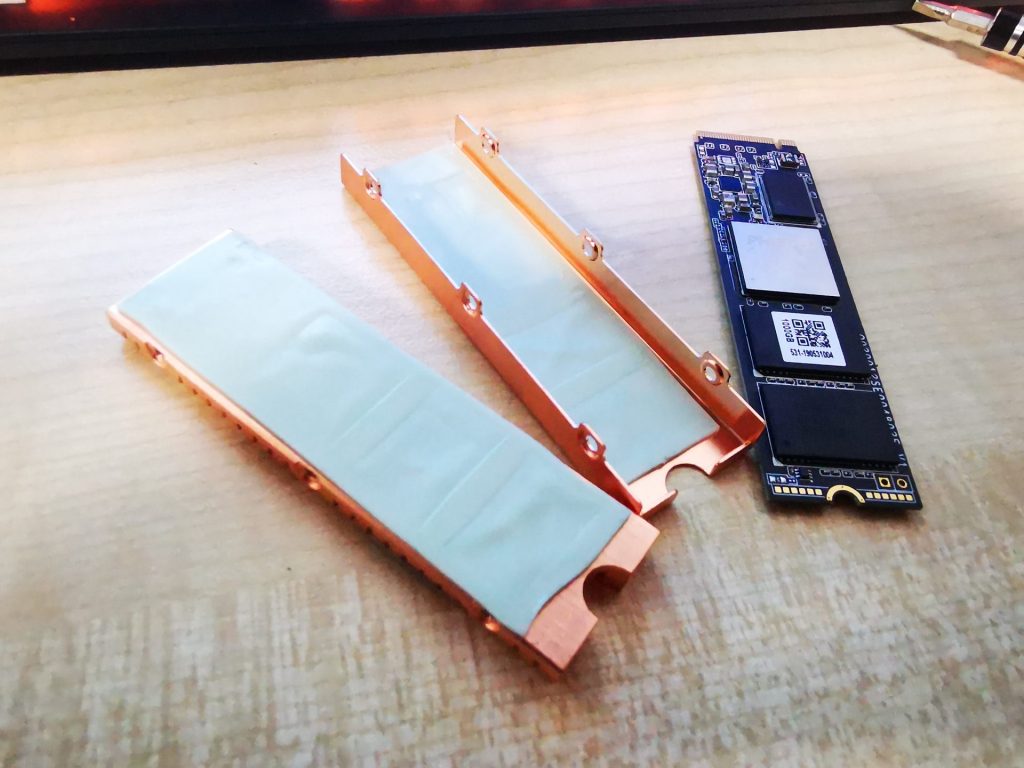 The AORUS NVMe Gen4 SSD 1TB can be taken apart by removing the screws on the side of the SSD. By dismantling the unit, we can clearly see that the heatsinks cool both sides of the SSD. All the main NAND flash, controller and DRAM cache components are in contact with the thermal pads for proper heat dissipation.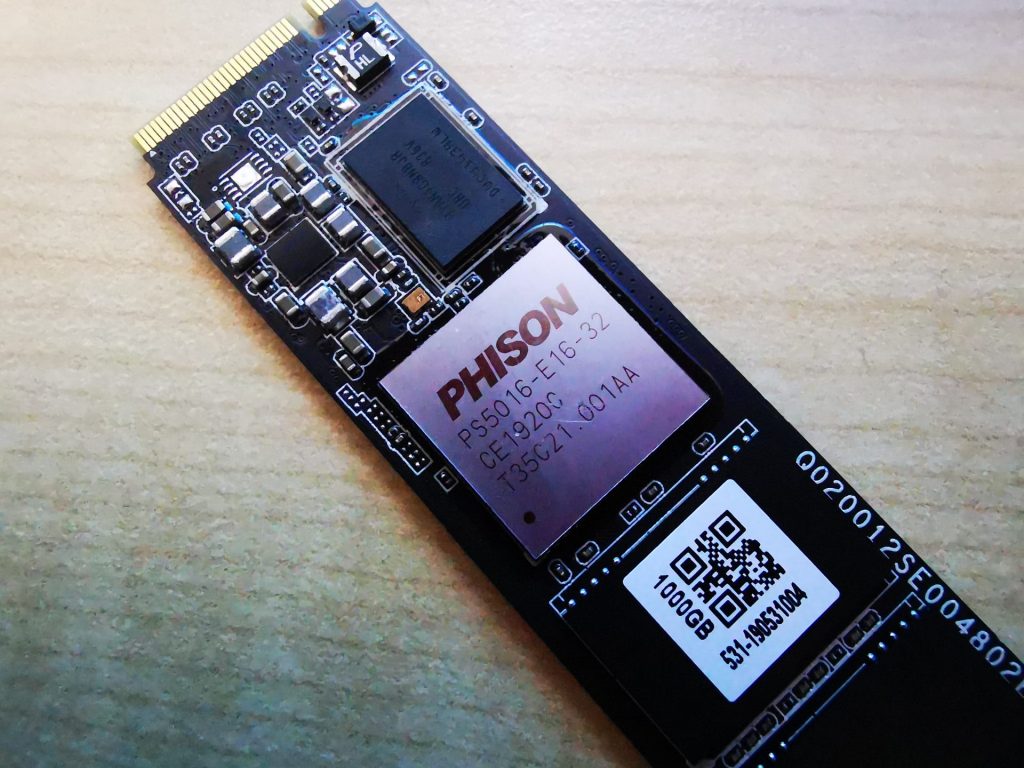 We already knew that the AORUS NVMe Gen4 SSD 1TB is none other than a reference PCIe 4.0 SSD from Phison. This SSD is equipped with the latest and greatest Phison PS5016-E16 PCIe Gen4 x4 NVMe SSD controller. It was said that this SSD was co-developed between Gigabyte and Phison.
Taking a closer look, we also realised that this SSD uses Toshiba's latest BiCS4 flash memory and a Hynix DDR4 cache. On the DDR4 memory chip, we saw the "H5AN4G8NBJR" letters, which is known to be a 4Gb SDRAM chip. This additional DDR4 cache design also allows for faster access time and read/write performance on frequently accessed data.
Operating Temperatures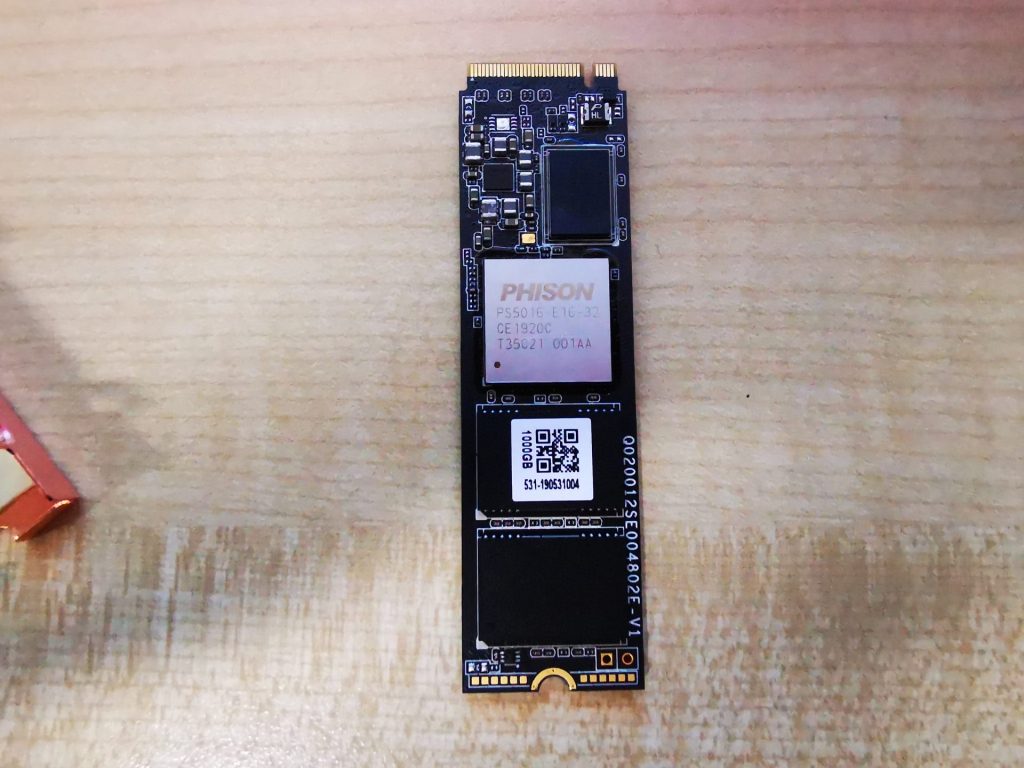 If heat wasn't a concern for these new Gen4 SSDs, they should also fit well into new notebook computers. However, it seems that heatsinks are still a requirement for these new SSDs, as they do run rather hot.

On first boot, the AORUS NVMe Gen4 SSD 1TB idles at a temperature of about 32°C. This is recorded in a case where the SSD was used as a secondary storage. We should expect that idle operating temperature should be higher if it was used as a main OS disk.
By running multiple runs of disk benchmarks, we reached a maximum of 69°C on the AORUS NVMe Gen4 SSD 1TB. This is considerably high for a SSD, but even at such a temperature, the SSD did not throttle, and the results of benchmarks still remained as high as they should.
Test Setup and Performance Results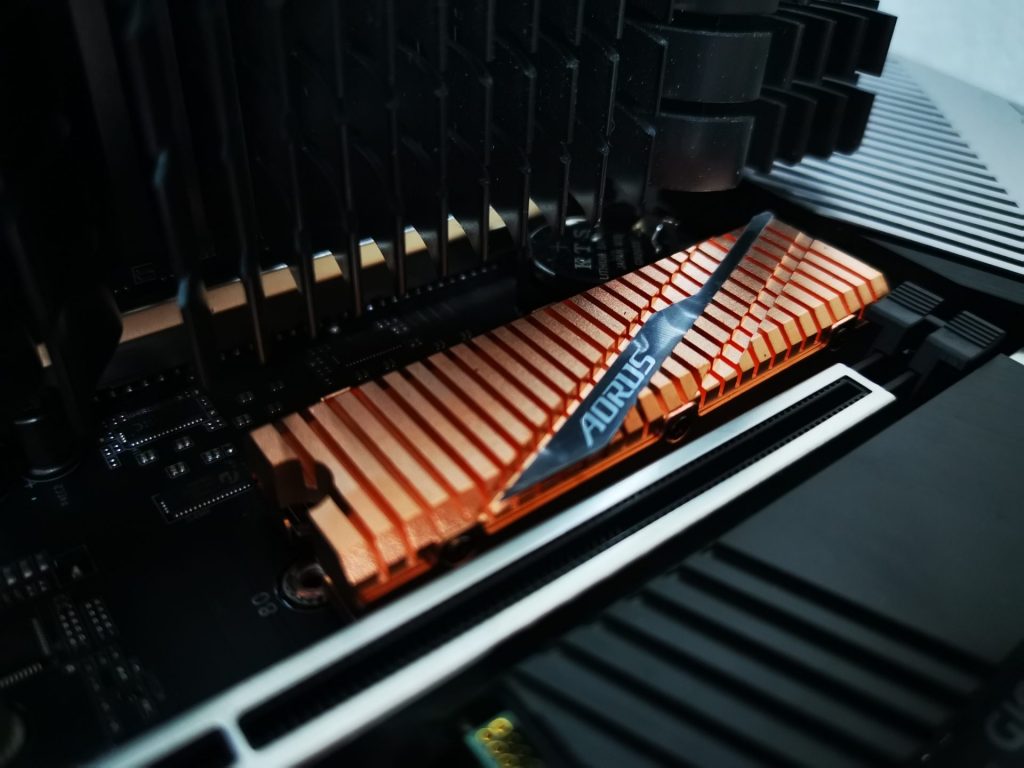 Specs
Main System
CPU
AMD Ryzen 9 3900X (PCIe 4.0)
AMD Ryzen 7 2700 (PCIe 3.0)
RAM
G.Skill Trident Royal 3600MHz, 2 x 8GB DDR4 Kit
Main Storage
Transcend PCIe SSD 110 512GB (OS)
GPU
GALAX GeForce RTX 2070 White (1-click OC)
Motherboard
Gigabyte X570 AORUS MASTER
CPU Cooler
AMD Wraith Spire RGB Cooler
OS
Windows 10 Pro 64 bit
Drivers
NVIDIA 430.86
We wanted to test the performance of the AORUS NVMe Gen4 SSD 1TB on both PCIe 4.0 and PCIe 3.0 setups. This way, we will be able to understand the performance difference between these two setups, and determine if it is worth its price when used with the PCIe 3.0 interface.
PCIe 4.0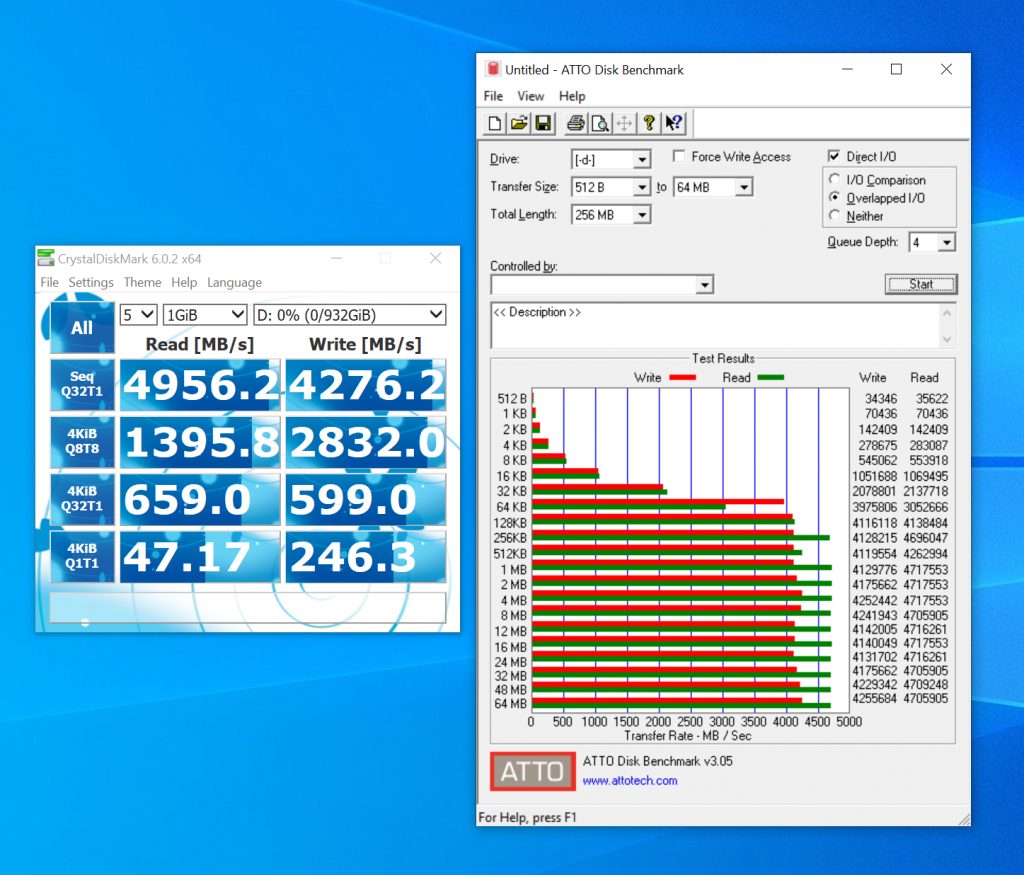 No doubt, this is one of the fastest 1TB SSD we've seen thus far. Nothing else comes close to the performance of the AORUS NVMe Gen4 SSD 1TB. It is simply amazing to see speeds coming near 5GB/s on the benchmark tests.
However, other than simply looking at impressive sequential read and write speeds, there could be some improvements to the AORUS NVMe Gen4 SSD 1TB in other areas. When it comes to 4K read writes with different queue scenarios, we've seen better numbers.
PCIe 3.0

It is obvious that there are signs of interface bottleneck when it comes to running the AORUS NVMe Gen4 SSD 1TB on the PCIe 3.0 x4 interface. As seen above, reads and writes are maxed out at about 3.2GB/s.
Conclusion
The Gigabyte AORUS NVMe Gen4 SSD 1TB is one of the fastest, if not the fastest SSD in the market right now. We have never seen such high sequential read and write speeds on SSDs before, and this signifies the starting point for even faster storage technologies.
However, other than high sequential speeds, there are current PCIe 3.0 based SSDs than perform close to the AORUS NVMe Gen4 SSD 1TB in other random read/write or small data size transfer performance. These matters more, as they are closer to simulating real world usage. It also means that even if you have a system with PCIe 3.0 M.2 slot, you should also get the same experience, unless you frequently transfer single large files to the SSD.
Luckily, the current low prices for NAND and SSDs, it should be the perfect time to purchase any SSD product. The AORUS NVMe Gen4 SSD 1TB is not priced too costly as well. If you just adopted the new 3rd Generation AMD Ryzen processors with the new X570 chipset motherboards, the AORUS NVMe Gen4 SSD series is highly recommend.
| | |
| --- | --- |
| AORUS GEN4 NVMe SSD 1TB | S$389 |
| AORUS GEN4 NVMe SSD 2TB | S$699 |