At COMPUTEX 2019, Kingston, the world largest memory product manufacturer, introduced to us a new lineup of memory and flash storage products. One of the new products that caught our eye was the Kingston KC2000 M.2 NVMe SSD. The proposition of this product was straightforward – to provide an affordable and high performance storage solution to consumers. Under the KC (Key Component) product lineup, the KC2000 targets all mainstream users and is poised to be a popular SSD in the market.
Putting all the talk aside, let's take a closer look at this product to better understand what it really is, and how well it performs.
Introducing the Kingston KC2000 M.2 1TB NVMe SSD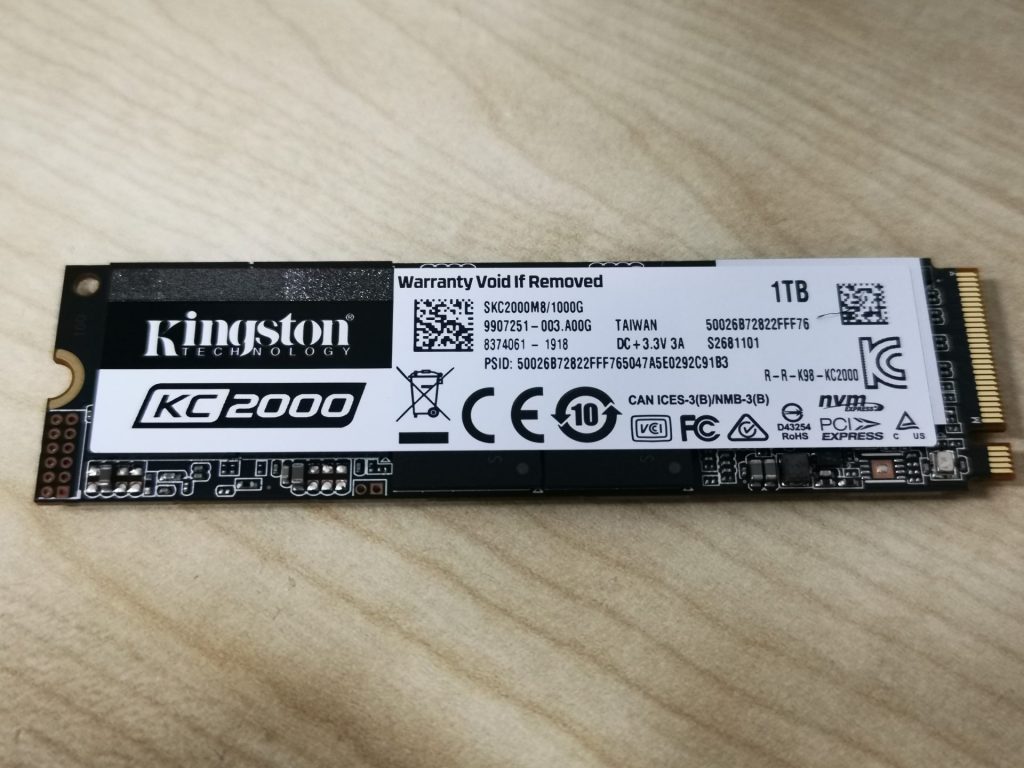 The new Kingston KC2000 NVMe PCIe SSD comes in a number of capacities ranging from 250GB to 2TB. This new SSD differentiates from competition in the market with the use of the new Toshiba BiCS4 3D NAND memory. For this new memory technology, NAND manufacturers are able to bring high density storage solutions at a lower cost to memory product makers.
The Kingston FB1280 NAND flash is a rebranded Toshiba BiCS4 TLC from Toshiba. There are 8 of these 128GB chips on the whole SSD, totalling to 1TB of storage. At the back of the SSD, we also spotted 2 x DDR3L DRAM chips which are used for storage caching. By pairing this setup with a high performance Silicon Motion SM2262EN NVMe controller, Kingston was able to produce a very compelling product for the market.
Moreover, with the use of the SM2262EN, the SSD also comes with a full suite of controller accelerated encryption and security functions, such as TCG OPAL 2.0, XTS-AES 256-bit and eDrive.
| | |
| --- | --- |
| Product | KC2000 1TB |
| Capacity (User / Raw) | 1000GB / 1024GB |
| Form Factor | M.2 2280 |
| Interface / Protocol | PCIe 3.0 x4 / NVMe 1.3 |
| Controller | Silicon Motion SM2262EN |
| DRAM | DDR3L |
| NAND Flash | Toshiba BiCS4 96L TLC |
| Sequential Read | 3,200 MB/s |
| Sequential Write | 2,200 MB/s |
| Random Read | 350,000 IOPS |
| Random Write | 275,000 IOPS |
| Encryption | AES-256 / Opal 2.0 / eDrive |
| Endurance | 600 TBW |
| Part Number | SKC2000M8/1000G |
| Warranty | 5-Years |
Testing Methodologies and System Configuration
In our tests, we are going to compare this drive with a new AORUS NVMe Gen4 SSD 1TB. We wanted to find out if there will be any difference if both drives were to run in PCIe 3.0 mode. This way, we will be able to better understand the real capabilities of the Kingston KC2000 1TB SSD, despite it being somewhat bottlenecked by its storage controller and the PCIe 3.0 interface.
Our system is setup as such:
Specs
Main System
CPU
AMD Ryzen 7 2700
RAM
G.Skill 3200MHz, 2 x 8GB DDR4 Kit
Main Storage
Plextor M8V M.2 SATA SSD 256GB (OS)
Kingston KC2000 1TB
AORUS NVMe Gen4 SSD 1TB
GPU
Gigabyte GeForce GTX 1650 Gaming OC 4G
Motherboard
Gigabyte X470 AORUS GAMING 7
CPU Cooler
AMD Wraith Spire Cooler
OS
Windows 10 Pro 64 bit
Drivers
NVIDIA 430.86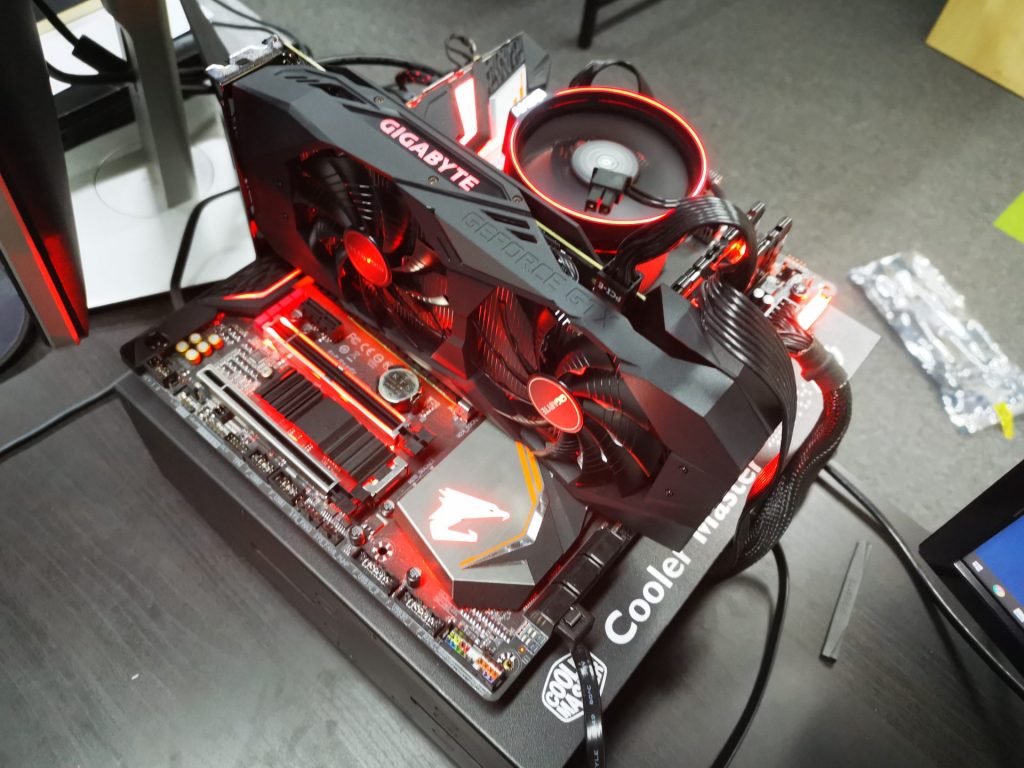 Performance Results
CrystalDiskMark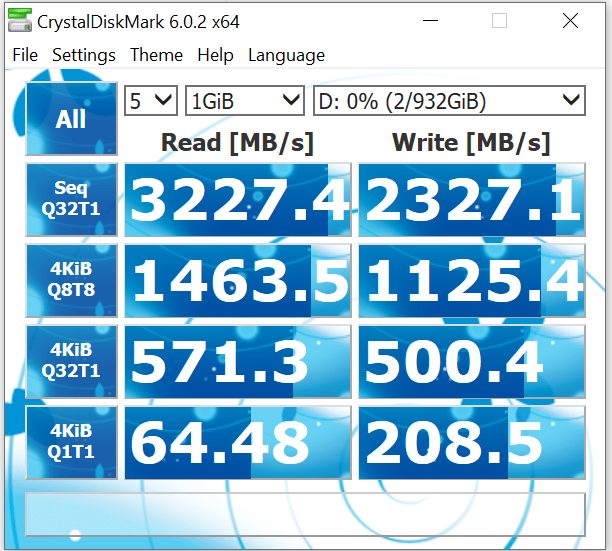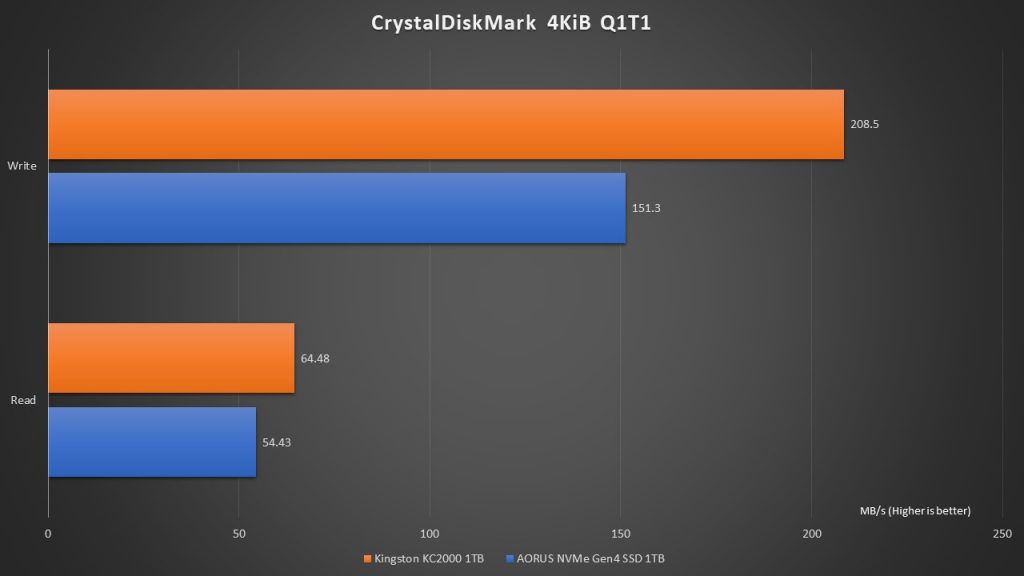 The Kingston KC1000 1TB SSD excels in the CrystalDisk Mark 4KB Q32T1 and Q1T1 tests. These are the setups which are more relevant to everyday use cases. However, if we were to measure the raw performance of the SSD, we can see that the AORUS NVMe Gen 4 SSD still has an edge when it comes to sequential test cases.
ATTO Disk Benchmark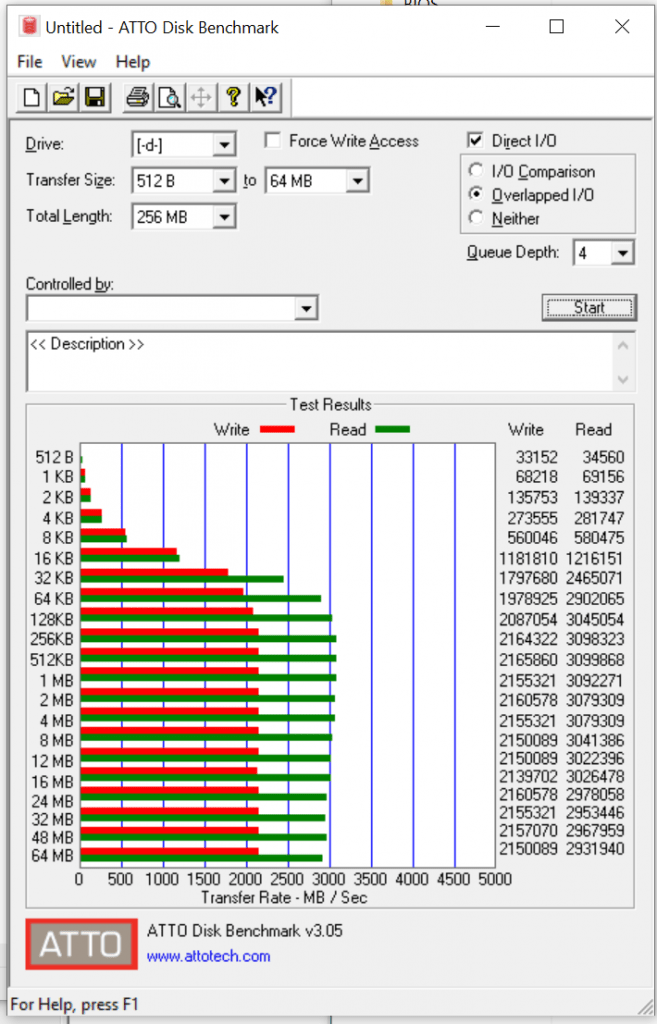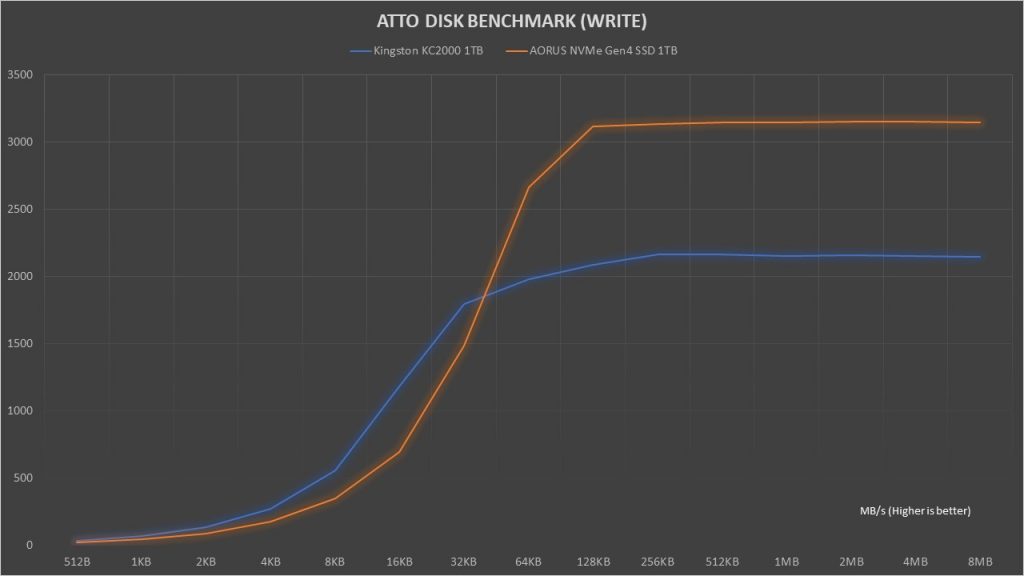 ATTO Disk Benchmark showed us a very special characteristic of the Kingston KC2000 SSD. We can see that it works much better with smaller data block writes than larger ones. It performed better than the AORUS NVMe Gen4 SSD for transfers of data block size below 32KB. However, we saw that the write speed is probably bottlenecked by the controller at 2200MB/s, as it struggled to keep up with competition. It is also worth noting that at the point beyond 128MB/s, the AORUS NVMe Gen4 SSD was also limited by the PCIe interface.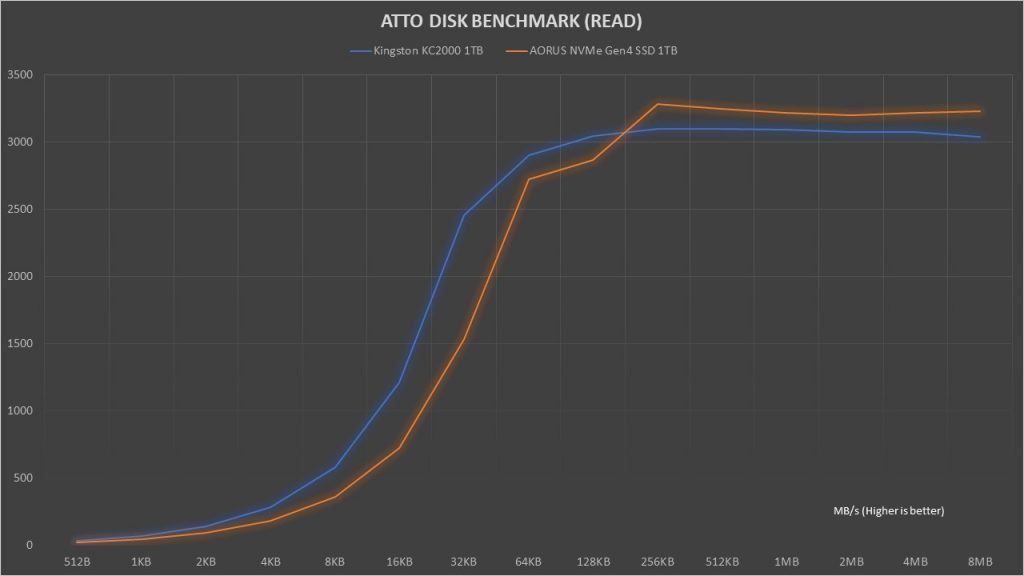 While many people may only look at maximum read and write sequential data speeds on the product packages of SSDs to determine its performance, there's really quite a bit more to it. In our read tests with ATTO disk benchmark, we can obviously see that the Kingston KC2000 1TB SSD was basically performing much better than competition for data sizes 128KB and below. As we know that the AORUS NVMe Gen4 SSD was bottlenecked by the PCIe interface, this also means that the read performance of the Kingston KC2000 was actually very close to reaching the saturation point of PCIe 3.0.
Conclusion
The Kingston KC2000 1TB NVMe SSD retails at a price of US$201.50. On the other hand, the AORUS NVMe Gen4 1TB is available at US$259.99. Just based on performance results and practicality, the Kingston KC2000 1TB NVMe SSD definitely has a place in the market. It was able to provide great performance (albeit not the best) at a great value to consumers who wants to upgrade from a SATA based SSD to a NVMe one.
Unless you are on the new AMD X570 chipset which supports PCIe 4.0, it would definitely make a lot more sense to go for a product such as the Kingston KC2000 1TB.