The TUF Gaming notebook series from ASUS has been known to many as a highly affordable system, especially for those who want high performance but are not willing to spend too much. With the introduction of the TUF Gaming A15, ASUS has even switched to the new AMD Ryzen processors to bring even more value to users. In this review, we are going to take a look at how these new AMD Ryzen 4000 series CPU perform on a notebook, and if the TUF Gaming A15 lives up to its expectations.
ASUS TUF Gaming A15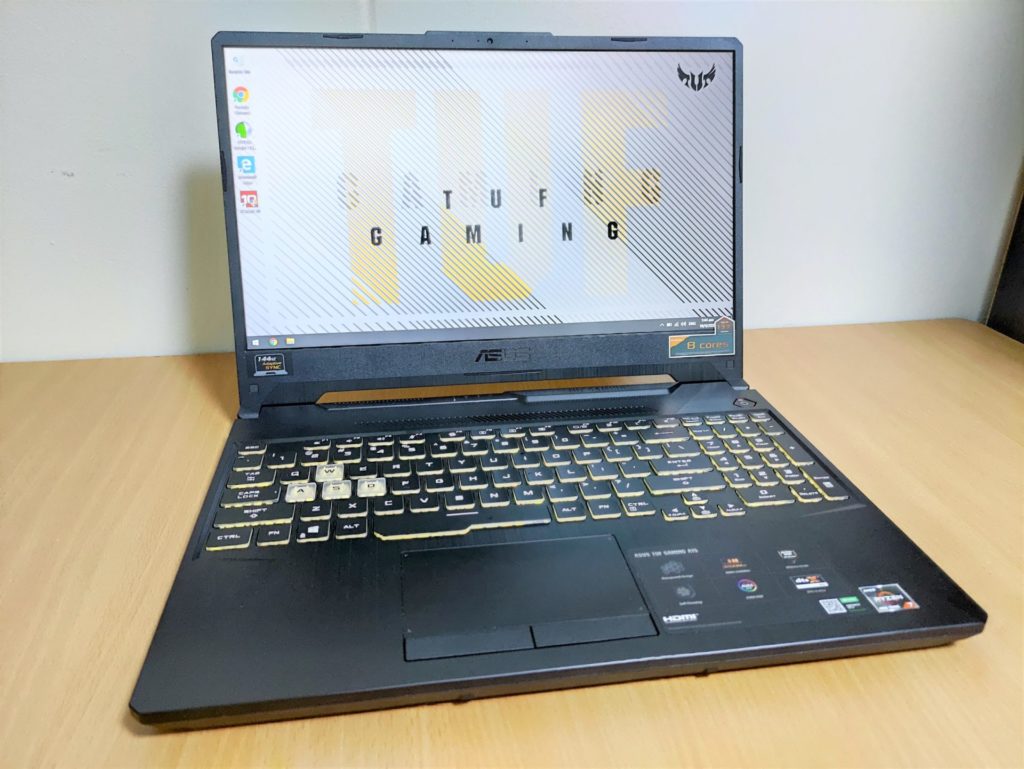 The ASUS TUF Gaming A15 is designed from the bottoms up as a new gaming system. ASUS has decided that as a gaming PC, it should minimally meet the expectations of a gamer. This is why they have included a 144Hz refresh rate display panel for the optimal gaming experience.
It's also the first time that ASUS is featuring the new AMD Renoir Ryzen 4000 series CPU on their TUF Gaming series. The review unit we have on hand comes with the latest AMD Ryzen 7 4800H mobile processor which comes with 8 core 16 threads for high performance multi-threaded computing. Comparing this to the offerings from Intel, notebooks with these specifications usually costs a lot more.
On top of that, the AMD Ryzen 7 4800H is fabricated based on a 7nm process node and AMD's Zen 2 architecture. It paths the way for unparalleled performance and efficiency, allowing gaming notebooks to perform very well, and also have a long battery life at the same time.
The TUF Gaming A15 is also equipped with the NVIDIA GeForce GTX 1650 dedicated graphics card. Even though it's probably not the best out in the market right now, it should be able to handle most of the 3D games well.
Putting all these talks aside, here's the full specifications of the ASUS TUF Gaming A15 that's available in Singapore, at an affordable price starting from S$1,498.
SPECIFICATIONS

ASUS TUF Gaming A15

Model
FA506IH-GTX1650
Price
$1,498
CPU
AMD® Ryzen™ 7 4800H Processor 2.9 GHz (8M Cache, up to 4.2 GHz)
Display
15.6-inch Non-glare Full HD (1920 x 1080), IPS-level panel

144Hz, AMD FreeSync™ technology

Operating system
Windows 10 Home
Graphics
NVIDIA® GeForce® GTX 1650 with ROG Boost
Memory
8GB 3200MHz DDR4
VRAM
4GB GDDR6
Storage
1TB M.2 NVMe PCIe SSD
Wireless
Wi-Fi

Intel Wi-Fi 5 (802.11ac)

Bluetooth®

Bluetooth V5.0

Camera
HD camera
I/O ports
1 Audio Jack Combo

1 x HDMI 2.0b

2 x USB 3.2 Gen 1

1 x USB 3.2 Gen 2 Type C Display Port 1.4

1 x RJ45 LAN

1 x USB 2.0

1 x Kensington lock

Audio
Dual Speakers with DTS:X Ultra

Array microphone with Cortana 2.0 support

3.5mm headphone jack

Battery
45Wh lithium-polymer battery

230W power adapter

Plug Type: ø6 (mm)

(Output voltage : 230W)

(Input : 100~240V AC, 50/60Hz universal)

Colour
Fortress Gray
Weight
2.3 Kg
Dimension
35.9(W) x 25.6(D) x 2.47 ~ 2.49(H) cm
TUF Gaming Design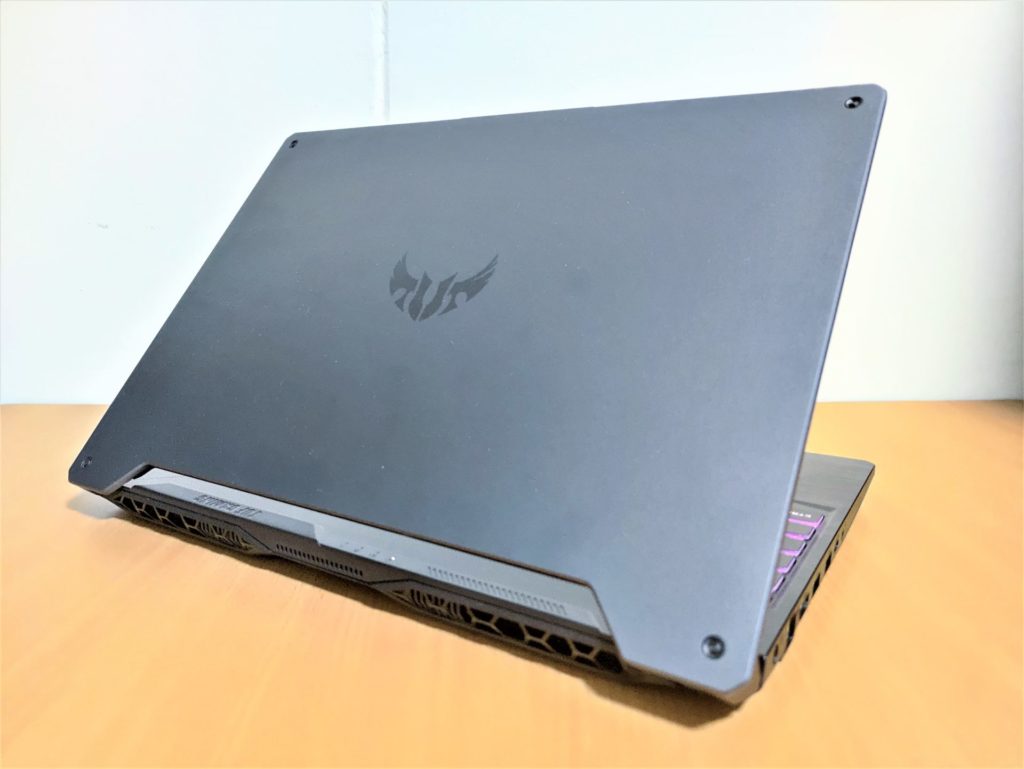 In case you are wondering, the TUF branding, which initially was known as "The Ultimate Force", was tagged to products specially designed with reliability in mind. The ASUS TUF Gaming A15 does not forget about the brand's origins, and is still designed to last. It has passed the MIL-STD 810H tests, which is a testament of the notebook's durable design.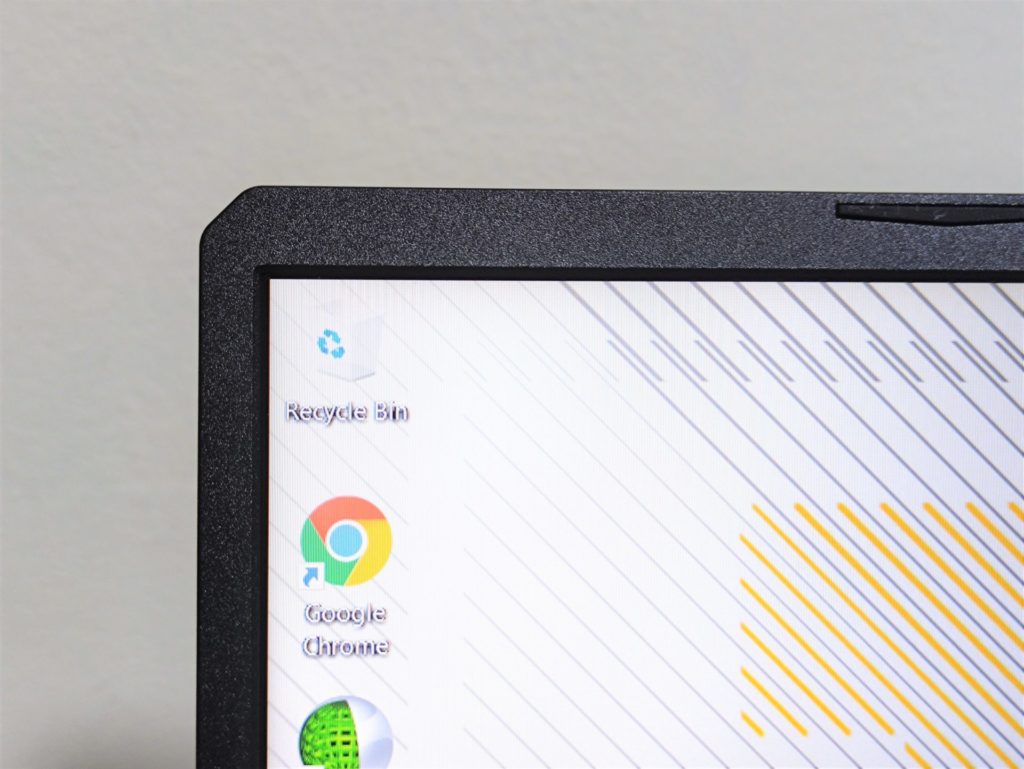 We also really like the reduced display bezel width as compared to the previous versions of the TUF Gaming A15. This new design gives the notebook a more modern look, which is considered a minimum design requirement for notebooks of today.
The ASUS TUF Gaming A15 also has its keyboard equipped with AURA RGB features. You can set your preferred RGB lighting profile on the keyboard. The keyboard also features a dedicated numpad, which could be useful for some games and perhaps also work. However, this comes at the expense of keyboard layout. The keyboard is narrower than a standard keyboard size, which will require some time to get used to.
You don't need to worry about the ports on this device, as the TUF Gaming A15 has got all what you need. On the left, we spotted the Power Jack, Gigabit Ethernet Port, HDMI output port, 2 x USB Type-A port, 1 x USB Type-C port and an Audio Combo Jack.
On the right hand side, there's another USB Type-A port (2.0) and a Kensington lock port.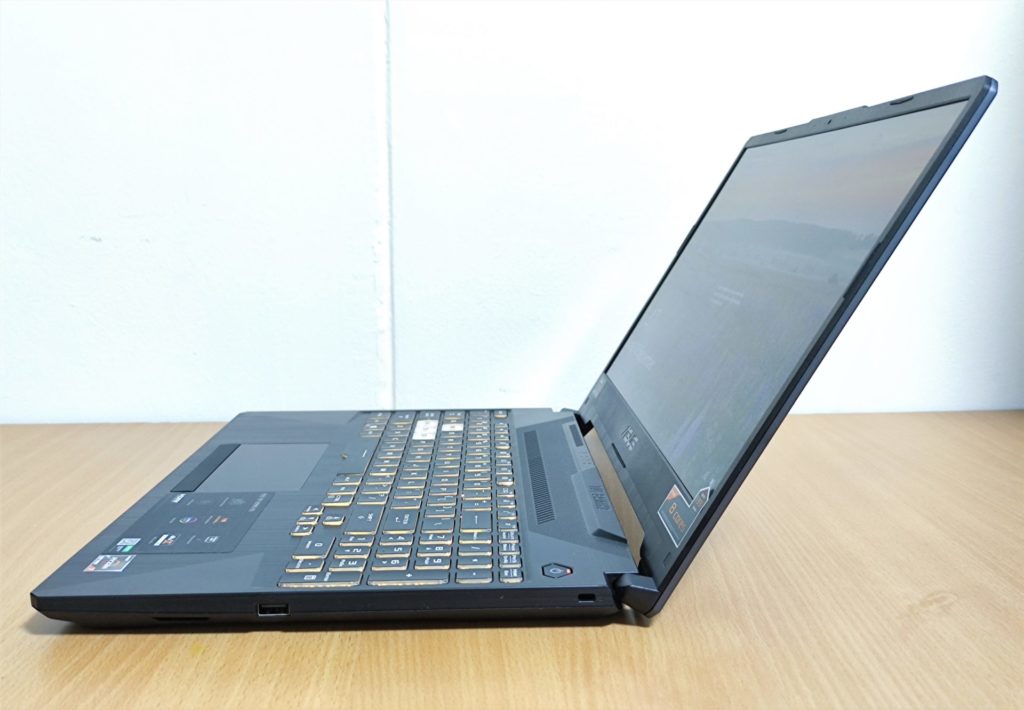 There have been claims made on the ASUS TUF Gaming A15 that its thermal design was lackluster. However, we did not find any problems with heat dissipation on the unit we had on hand. One of the main reasons is that the NVIDIA GeForce GTX 1650 graphics card does not produce as much heat as the higher end models. The current cooling system within the ASUS TUF Gaming A15 is already more than sufficient to effectively handle the heat. The wrist rest and keyboard area also doesn't really heat up. While the keyboard area could get slightly warm in games, we found it to be totally acceptable and didn't bother us too much.
Taking a look inside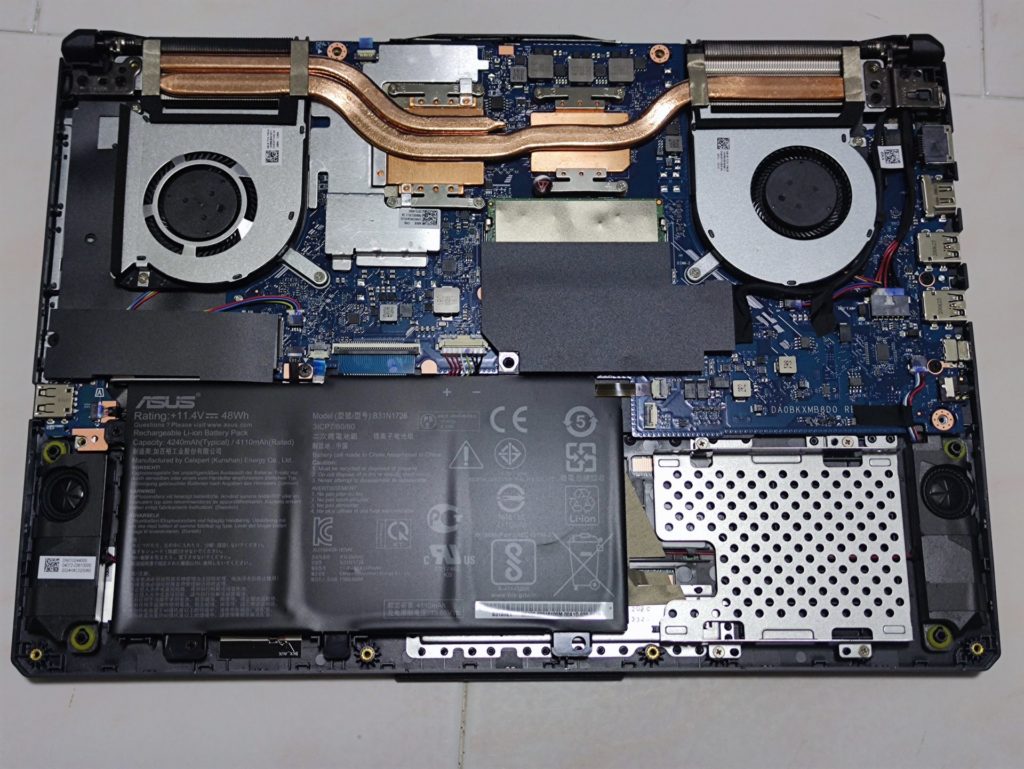 The ASUS TUF Gaming A15 also allows its owner to easily upgrade the notebook. It has an empty 2.5-inch bay for storage expansion. There are also two DDR4 SODIMM slots for your RAM, which you can easily upgrade from the provided 8GB to 16GB. We also spotted the preinstalled 1TB M.2 NVMe drive, which is a Western Digital SN530.
Of course, we will have to complain that ASUS should have just installed two SODIMM within the ASUS TUF Gaming A15 to allow the system memory to run in Dual Channel mode. However, as we also understand that this model is budget focused, it probably also makes sense to leave the option to the user. We will find out more later on the benefits of having two RAM sticks in the system in Dual Channel mode, as opposed to just a single 8GB RAM as per pre-configured in this system.
Performance Test Benchmarks
In our tests, we are going to compare the ASUS TUF Gaming A15 to the AORUS 5 which we've reviewed previously. The AORUS 5 is about S$500 more expensive than the TUF Gaming A15, and it has a higher end GTX 1660Ti graphics card instead. With this comparison, we aim to see if the TUF Gaming A15 is good enough, or you should fork out more for a higher end system.
System Benchmark Settings
PC Mark 10 Extended
Default
–
7-ZIP
Default
–
HEVC h.265 Encoding/Decoding
Default
–
Blender CPU BMW27
Default
–
Cinebench R20
Default
–
AIDA64
Default
–
Game Settings
Far Cry New Dawn
High
DirectX11
Deus Ex Mankind Divided
High
DirectX12
Tom Clancy Division 2
High
DirectX11
DOTA 2
Default
DirectX11
Shadow of the Tomb Raider
High
DirectX12
Metro – Exodus
High
DirectX12
World War Z
Ultra
Vulkan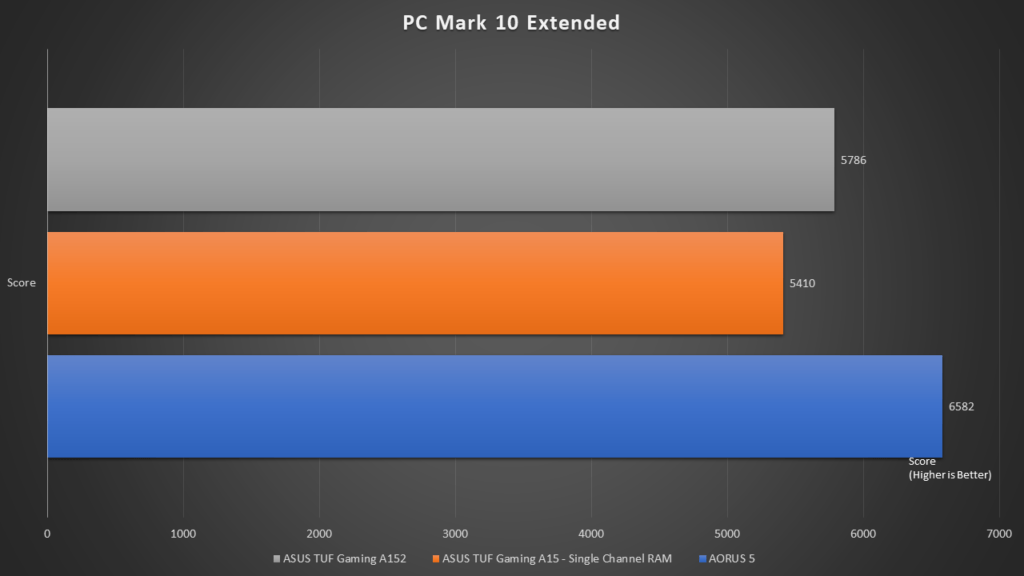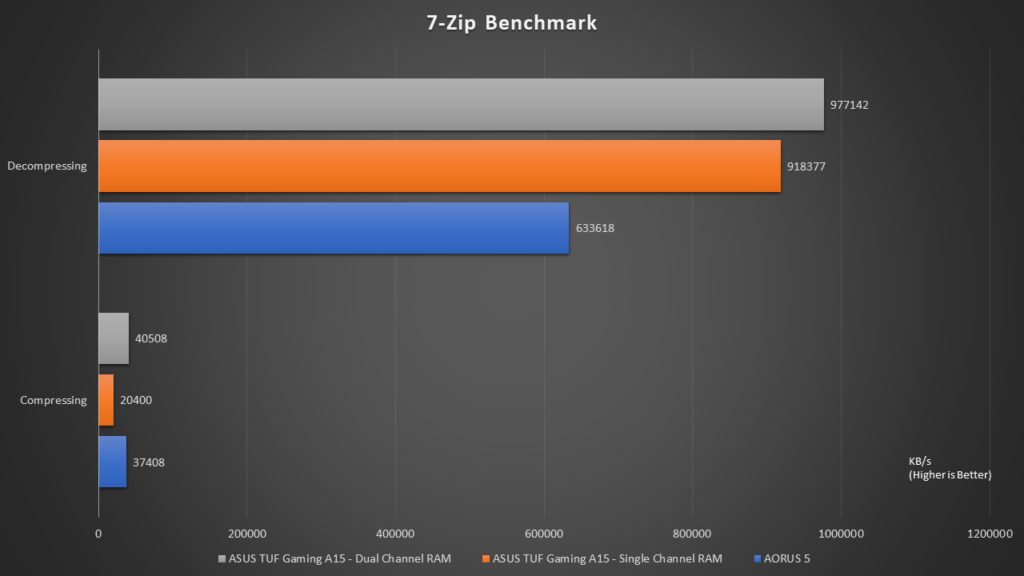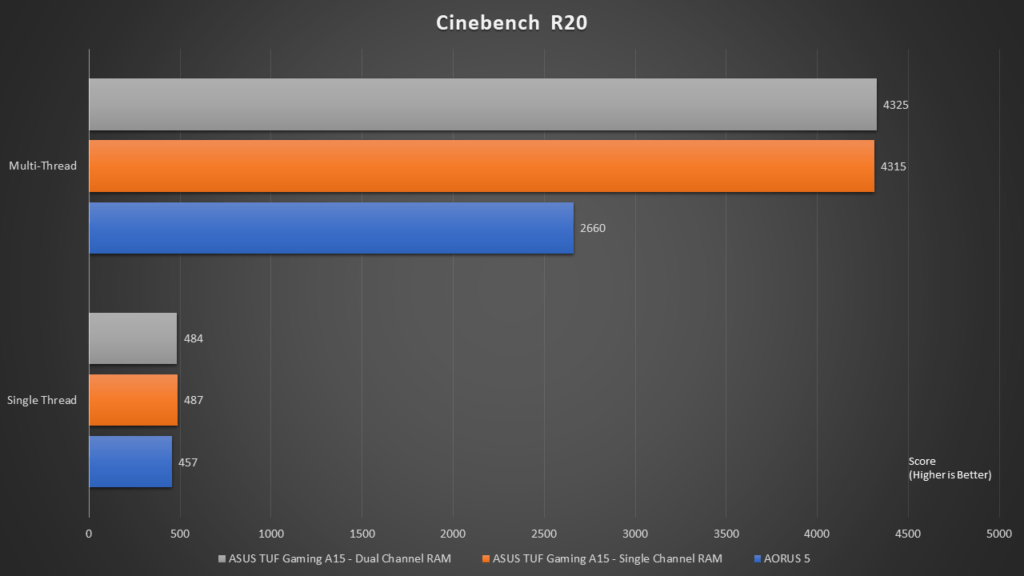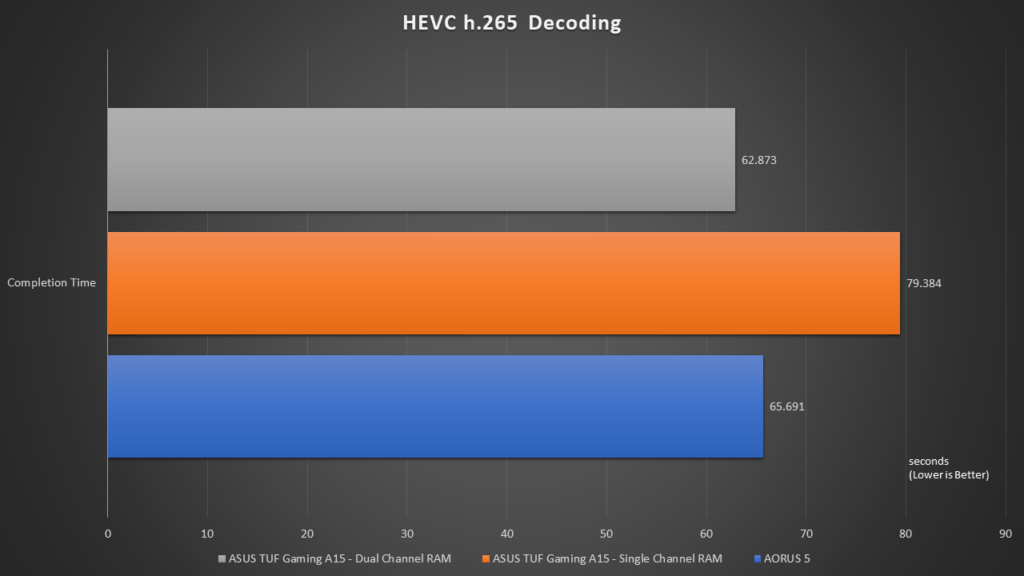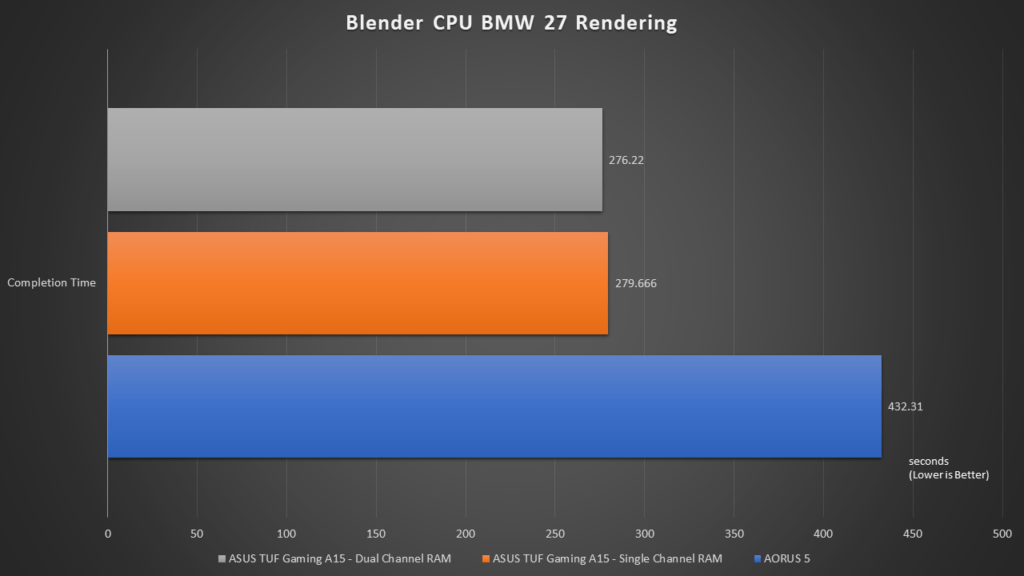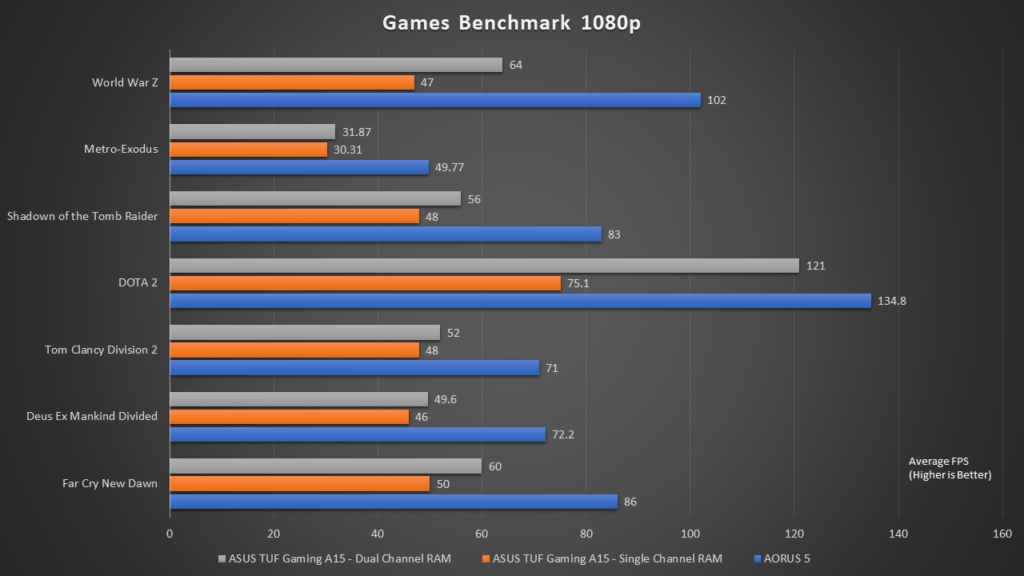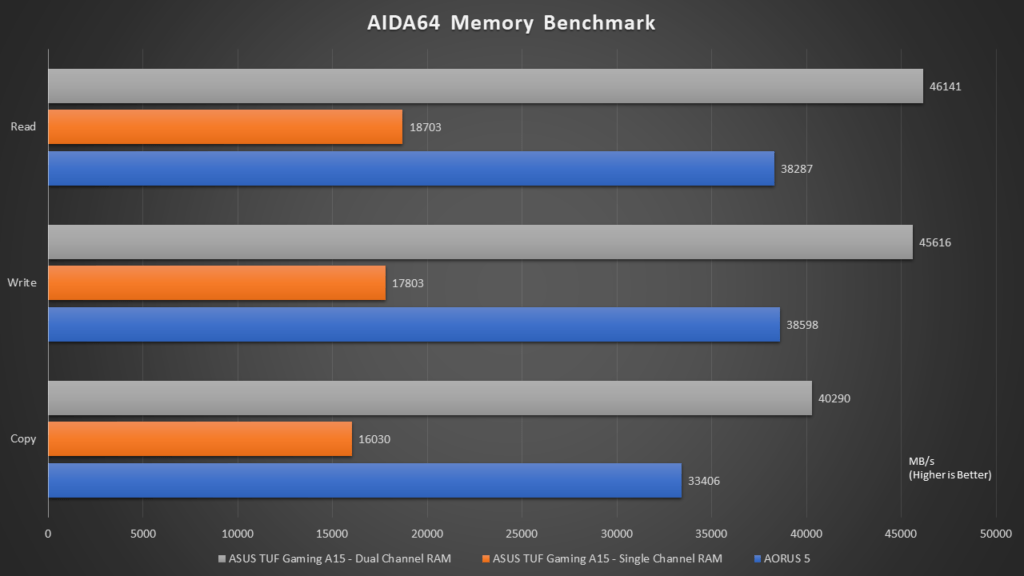 From our tests, we can see that the ASUS TUF Gaming A15 notebook is in fact a very capable machine. The notebook shines in compute tasks, thanks to the AMD Ryzen 7 4800H processor which comes with a significant lead over what Intel has to offer at this price point. This also means that if you are using the TUF Gaming A15 for work, it is expected that you can be more productive, as tasks can complete faster.
However, when it comes to games, we still found the GeForce GTX 1650 graphics card to be not as suitable for 1080p resolution gaming. It was unable to reach a requirement of 60FPS in most of our game benchmarks at High settings. For a smoother gameplay, you would probably need to reduce graphics quality for higher frame rates.
We also took note that adding an additional RAM stick to allow the system to run in dual-channel memory mode resulted in a performance improvement in most our tests. We would recommend that you should also upgrade the system with another RAM to allow the system to run at its full potential.
Battery Life and Temperature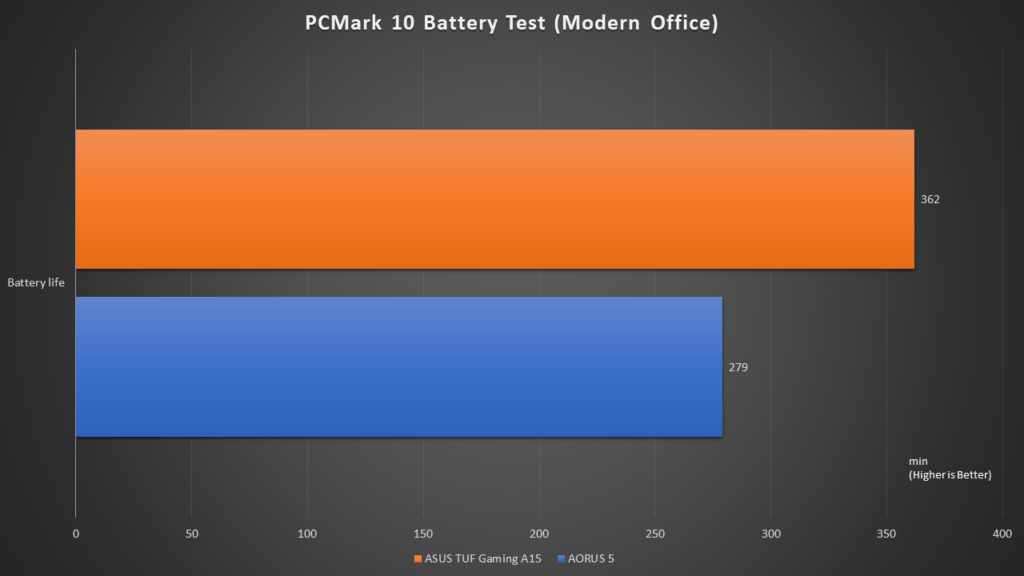 The ASUS TUF Gaming A15 had a much longer battery life than the AORUS 5. It lasted about 1.5hrs longer than competition, despite having a smaller battery capacity. This shows the efficiency of the AMD Ryzen 7 CPU and the GTX 1650 combination.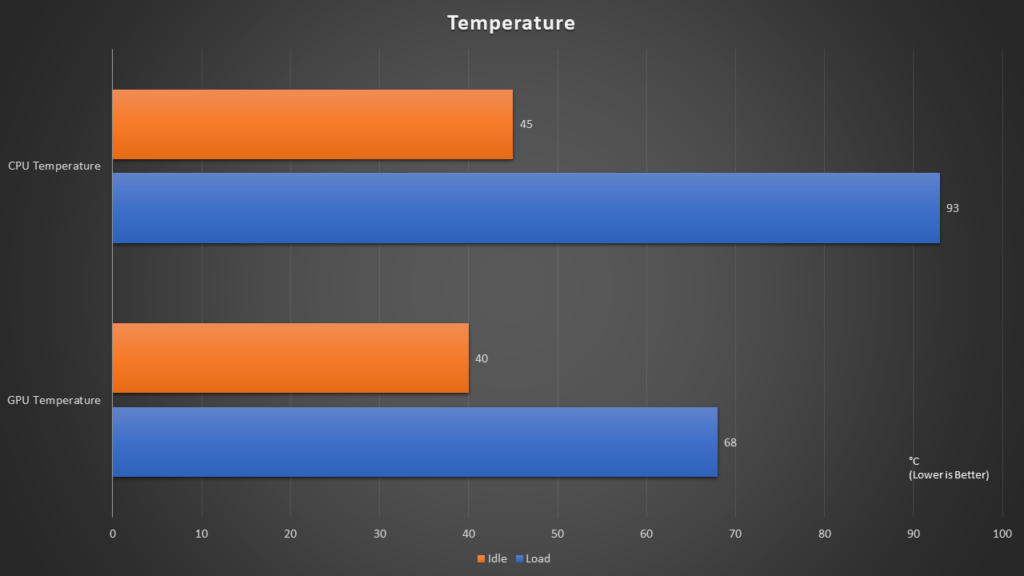 Even though the CPU temperature was recorded to reach a maximum of 93°C, it came down to about 80°C by automatically reducing its CPU core clock. It's understandable and expected that temperatures will reach these numbers on load, so it's nothing out of the ordinary.
Conclusion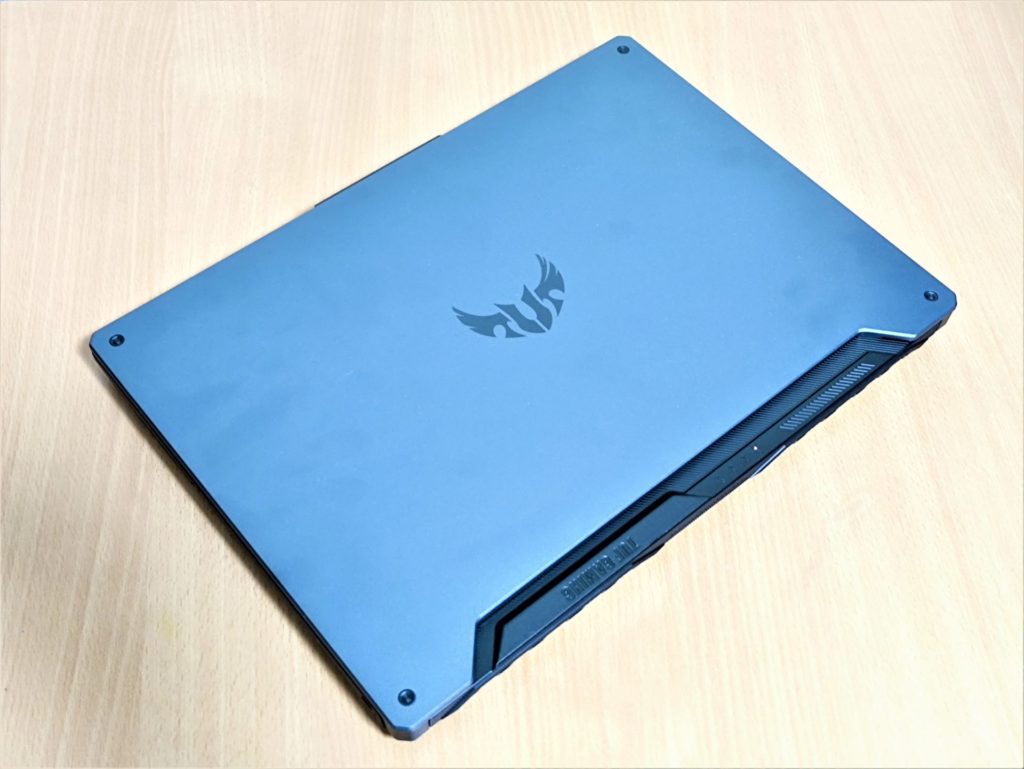 The ASUS TUF Gaming A15 comes at a great price point of S$1498 with a premium Ryzen 7 4800H processor and a dedicated NVIDIA GeForce GTX 1650 graphics card. We found this notebook to perform very well in usual compute tasks, but it failed to meet the mark in games. If ASUS was to introduce a GTX 1660Ti variant for the Singapore market instead, we would have a clear and firm recommendation for our readers. However, this time, we would only recommend the ASUS TUF Gaming A15 if you need the raw compute performance of the Ryzen 7 4800H and wouldn't mind gaming at a lower graphics quality.
Nonetheless, the ASUS TUF Gaming A15 still boasts great battery life as well. We can see where this product can fit in the market. It would still be a great choice for gamers who are on a tight budget, and want a product that's the bang for the buck.