If you are familiar with Western Digital's product range, you will be aware of how they segment their products by colour. Green is usually for the entry-level or low powered products; Blue is for mainstream while Black is for high-end enthusiast grade. It has been more than 4 years since we last reviewed the first Western Digital (WD) SSD, which is the WD Blue, right after WD's acquisition of SanDisk. Almost 4 years later, many improvements have been made to SSD technology. We've finally got the opportunity again to test out another Western Digital SSD. This time, getting our hands on the WD BLACK SN750.
If you see "BLACK" in a WD product, you will be able to expect high performance and the best from the company. The new WD BLACK SN750 is one of the fastest SSDs that the brand has to offer. Even though it has been more than a year since the launch, it still remains one of the popular choices for system builders. The question is: Can this drive keep up with competition and new products in the market? In this review, we will compare the WD BLACK SN750 with some of the other offerings available in the market today.
WD BLACK SN750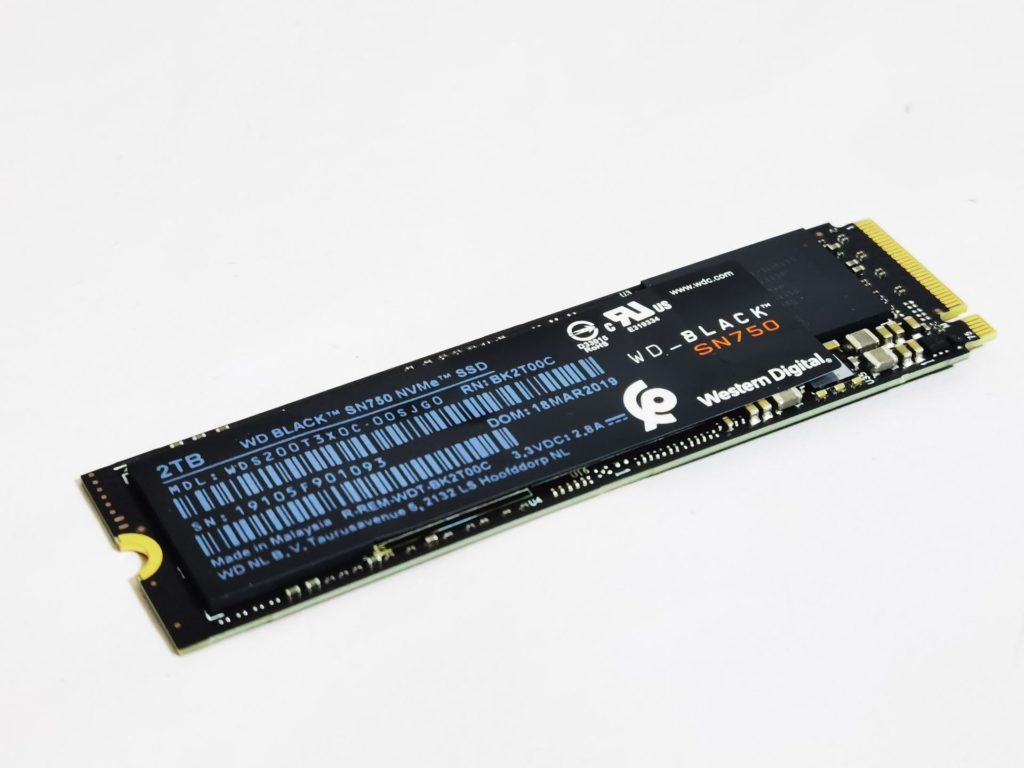 The WD BLACK SN750 is available in capacities ranging from 250GB to 2TB. For our review today, we have the 2TB variant with us. This high capacity SSD is made possible by WD's 64-layer 3D NAND technology. Well, if you put matters into today's perspective, a 64-layer 3D NAND also means that the flash used on the WD BLACK SN750 is BiCS3. Judging that many SSD manufacturers have already produced and commercialized BiCS4 (96 layers) based SSDs in greater storage capacities and expected performance, and that BiCS5(112 layers) has already been developed, the WD BLACK SN750 looks somewhat outdated.
The WD Black SN750 2TB SSD uses a PCIe Gen 3.0 x4 interface. It is based on the M.2 2280 (22 x 80mm) form factor that should be compatible with almost all current motherboard with a M.2 slot today.
Capacity
250 GB
500 GB
1 TB
2 TB
Form Factor
M.2 2280 single-sided
optional heatsink (except 250GB)
Interface
PCIe 3 x4 NVMe 1.3
Controller
Western Digital in-house
NAND Flash
SanDisk 64-layer 3D TLC
Sequential Read
3100 MB/s
3470 MB/s
3470 MB/s
3400 MB/s
Sequential Write
1600 MB/s
2600 MB/s
3000 MB/s
2900 MB/s
Random Read
220k IOPS
420k IOPS
515k IOPS
480k IOPS
Random Write
180k IOPS
380k IOPS
560k IOPS
550k IOPS
Power
Peak
9.24 W
9.24 W
9.24 W
9.24 W
PS3 Idle
70 mW
70 mW
100 mW
100 mW
PS4 Idle
2.5 mW
2.5 mW
2.5 mW
2.5 mW
Warranty
5 years
Write Endurance
200 TB
0.4 DWPD
300 TB
0.3 DWPD
600 TB
0.3 DWPD
1200 TB
0.3 DWPD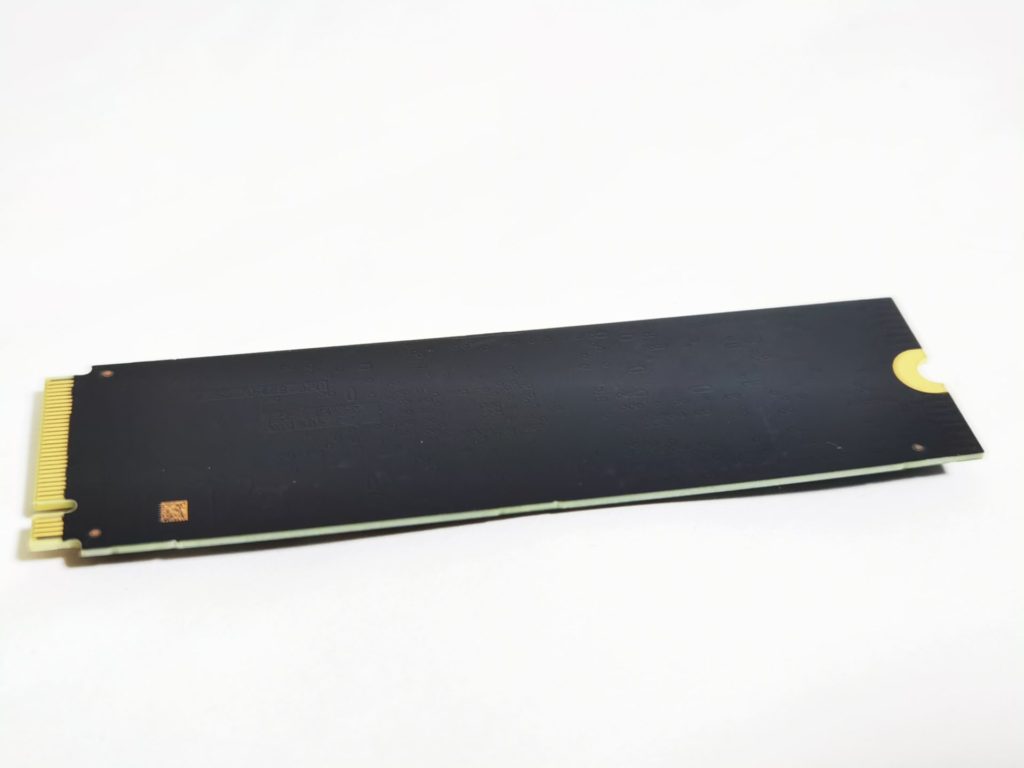 Despite the fact that the WD BLACK SN750 comes in a considerably large 2TB capacity, all memory chips and components are only found on a single side of the SSD. The reverse side of the M.2 form factor drive remains bare.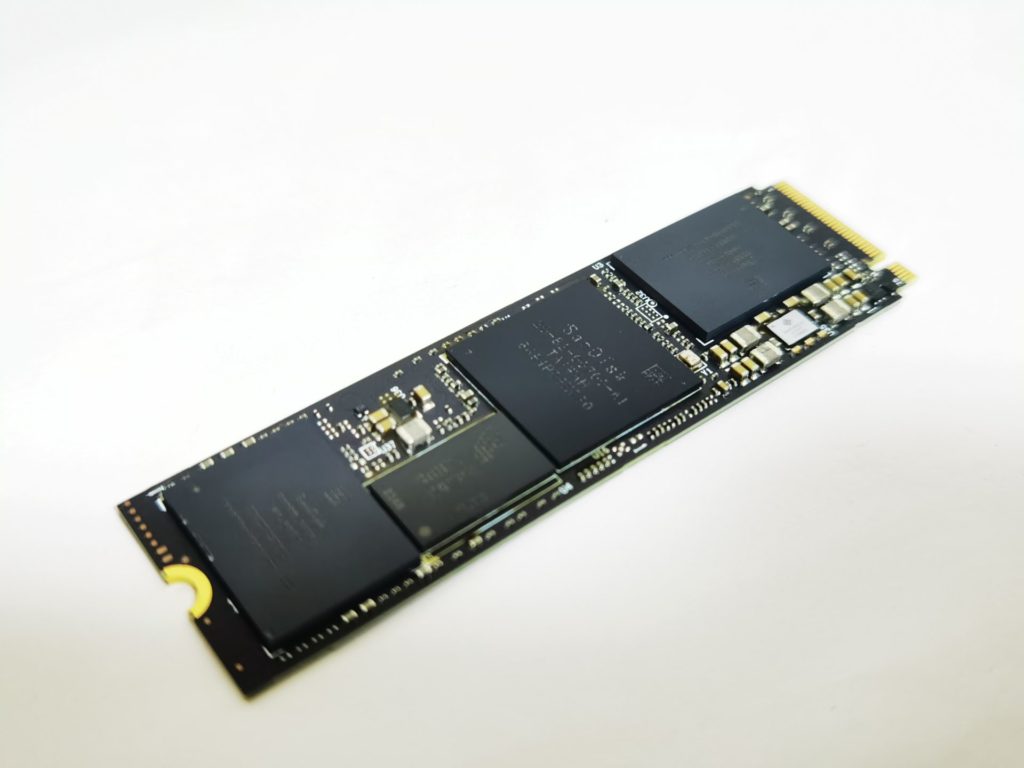 If you just focus on the key components on the WD BLACK SN750, you will find the whole layout to be rather simple. It has its main SSD controller that's paired with 2 x 1TB (8Tbit) NAND Flash chips. Furthermore, this combination is further enhanced with an additional Micron memory for storage caching, reducing the read/write performance gap between the NAND flash and system memory.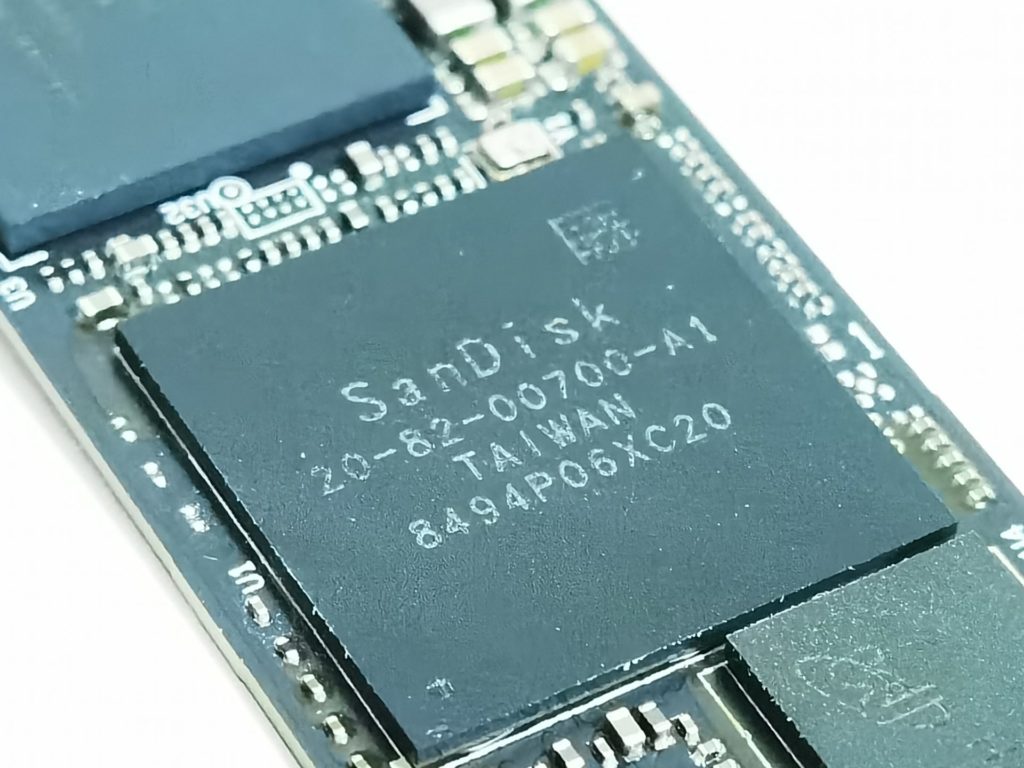 The WD BLACK SN750 uses an in-house SanDisk 20-82-00700-A1 controller. With a little more digging, we found out that this SSD controller is based on a triple-core ARM Cortex-R design and is built on the 28nm process. In additions to optimization hardware management, there were also software improvements made in terms of transfer commands and operations. This controller has been made to respond more efficiently to data readings and reduce the wear on memory cells.
One of the main features of this controller that is also able to treat some portion of the TLC NAND to operate in SLC mode, so as to add an additional cache between the DRAM cache and NAND flash. This further improves the performance of the overall drive.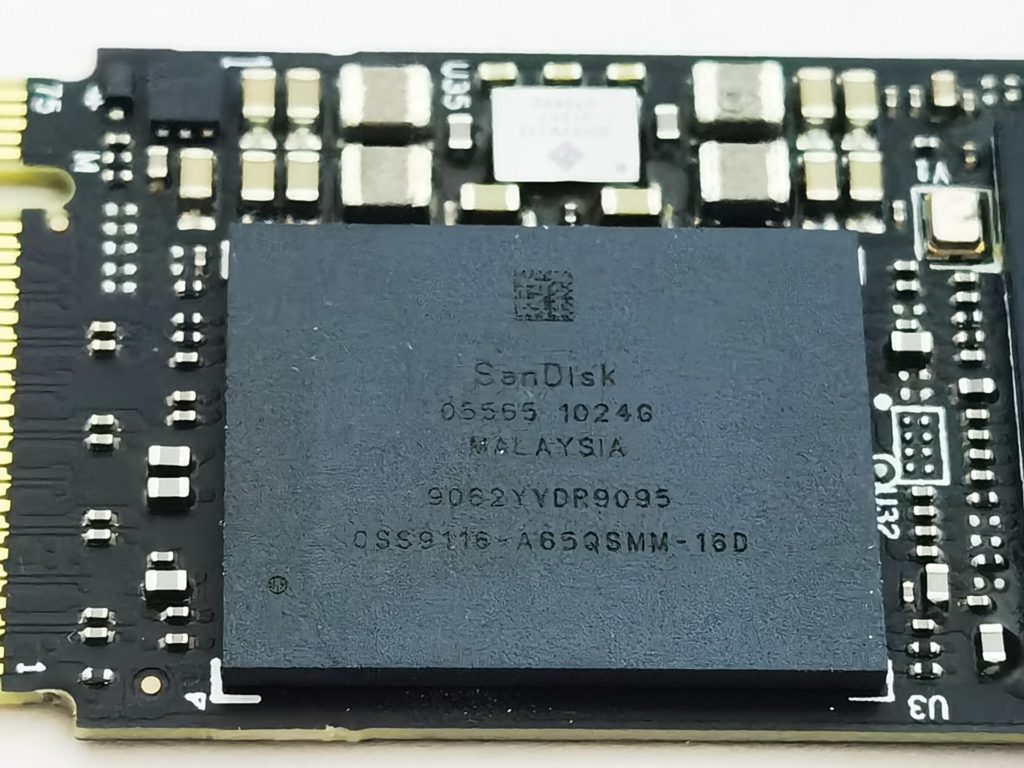 For the NAND Flash, this SSD utilizes 2 x SanDisk BiCS3 64 Layer 3D TLC NAND. Each die comes with 8Tbit of storage (1TB) and with just two of these, it gives the whole SSD a whooping 2TB capacity.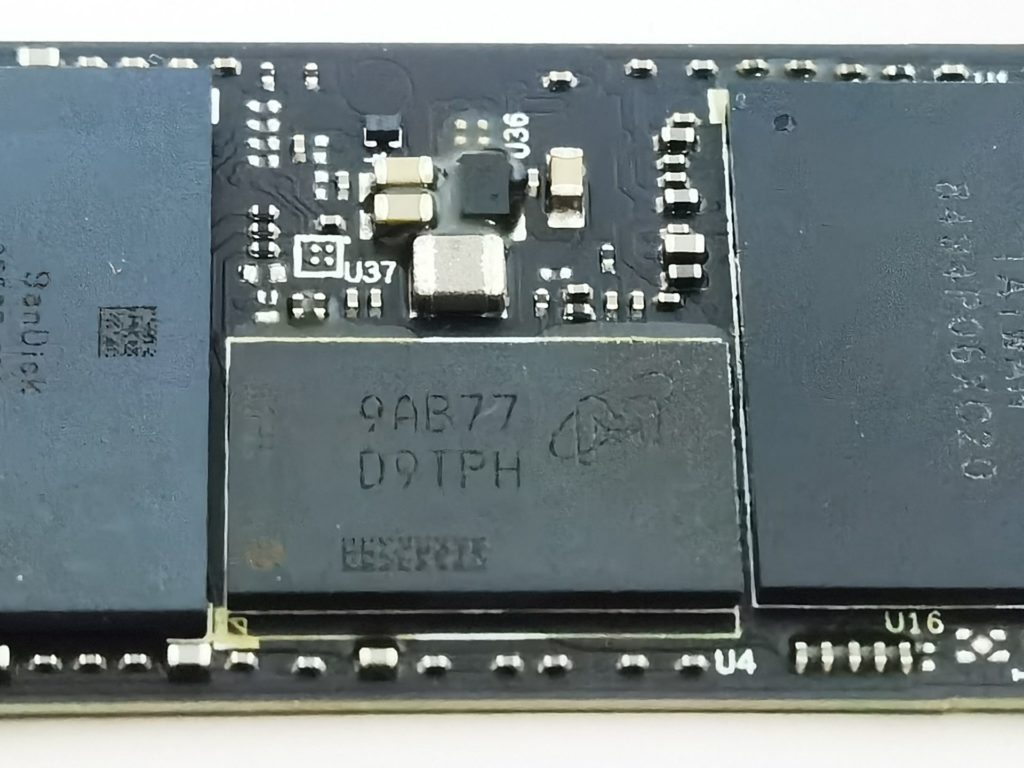 For disk cache, the SN750 utilizes a Micron D9TBK 2GB (16Gb) DDR4 2400 DRAM chip. It's actually quite impressive to see a SSD with a full 2GB worth of DDR4 memory for cache. As most system memory runs on DDR4 these days, it is expected that reading and writing directly to the cache will be very fast, and only limited by the PCIe 3.0 x4 interface.
Testing Methodologies and System Configuration
In our tests, we are going to compare this drive to three other high-end NVMe SSDs in the market. They are the AORUS NVMe Gen4 and Seagate FireCuda 520 Gen4 and Kingston KC2000 SSDs. The former two are PCIe 4.0 based SSDs and are expected to perform beyond the bandwidth limitation of PCIe 3.0 x4. The latter SSD is also based on PCIe 3.0 x4 interface. We want to find out how far apart the WD Black SN750 is when compared to next-gen PCIe 4.0 SSDs, and also a current-gen PCIe 3.0 mainstream SSD.
Our system is setup as such:
Specs
Main System
CPU
AMD Ryzen 9 3900X
RAM
G.Skill Trident Z Royal 3600MHz, 2 x 8GB DDR4 Kit
Main Storage
Transcend SSD230S 512GB
Test SSD : WD Black SN750 2TB
GPU
Sapphire PULSE Radeon RX 5600 XT 6G
Motherboard
ASRock X570 Steel Legend
CPU Cooler
AMD Wraith Spire Cooler
OS
Windows 10 Pro 64 bit
Drivers
Radeon Software Adrenaline 2020 20.2.2
Performance Results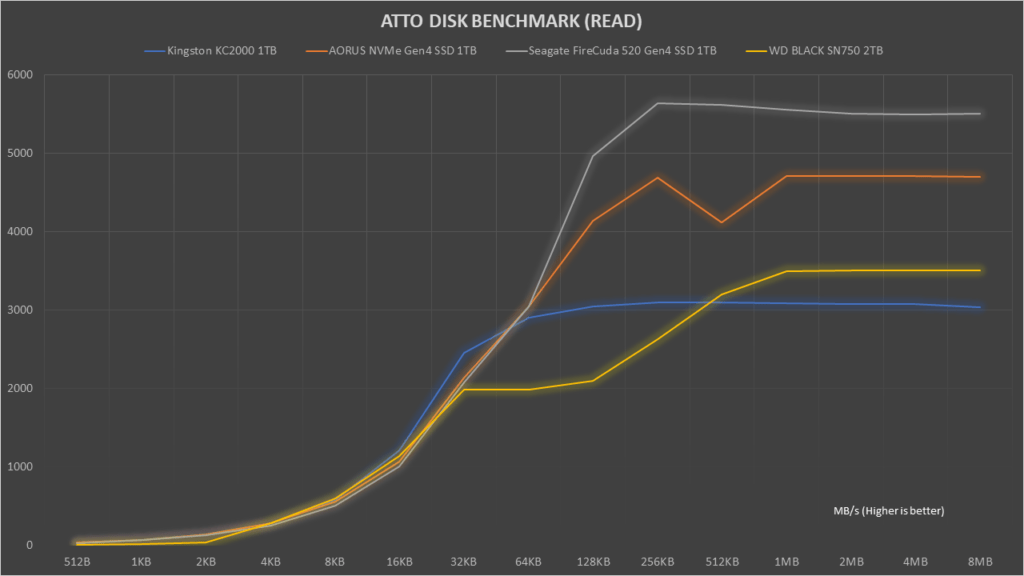 Just based on the ATTO read speeds, we can see that the WD Black SN750 is somewhat lacking when it comes to reading data of small data packets. It tends to suffer when compared to the rest of the other SSDs in 512B, 1KB and 2KB size tests. However, from 4KB onwards, it was on par, if not better than the other SSD, until the 32KB mark. The drive then maxed out its maximum read speed at 3504MB/s.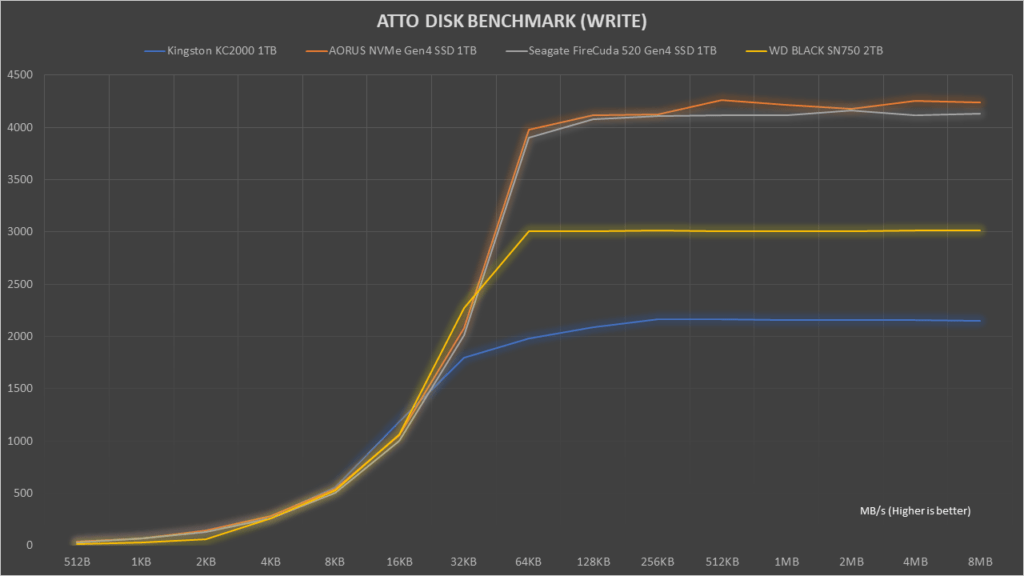 The write speeds on the WD BLACK SN750 also shown similar patterns to the its read speeds in the ATTO Disk Benchmark.
Generally, just based on this synthetic test, we can see that it's still not comparable to those PCIe Gen4 SSDs, but is quite a fair bit faster than a mainstream PCIe 3.0 SSD. In fact, it's also interesting to see that even a BiCS3 NAND based WB BLACK SN750 is even performing better than the BiCS4 NAND based Kingston KC2000 1TB.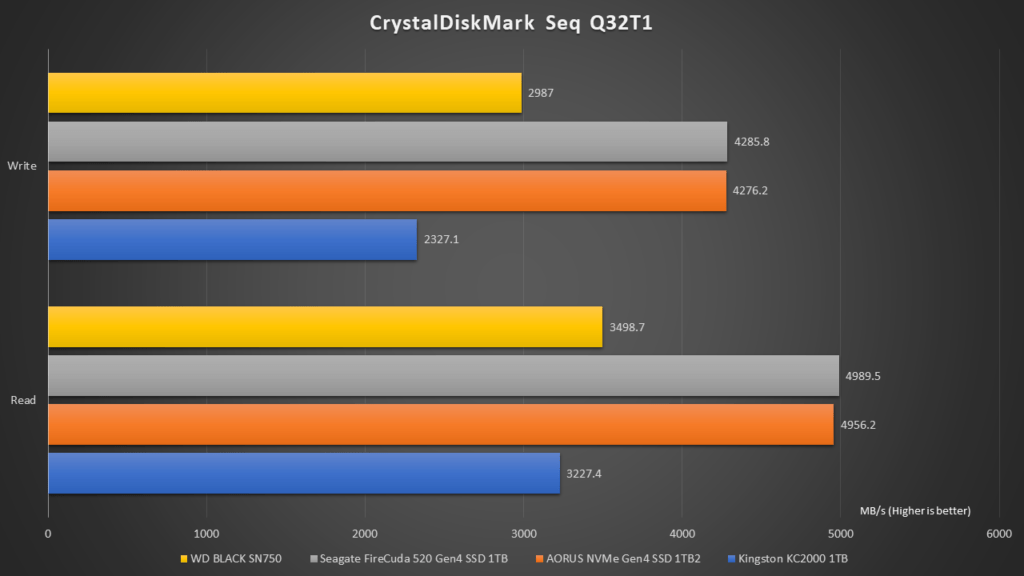 In the CrystalDiskMark test, we can see that the performance trends are similar to those shown within the ATTO Disk Benchmark results.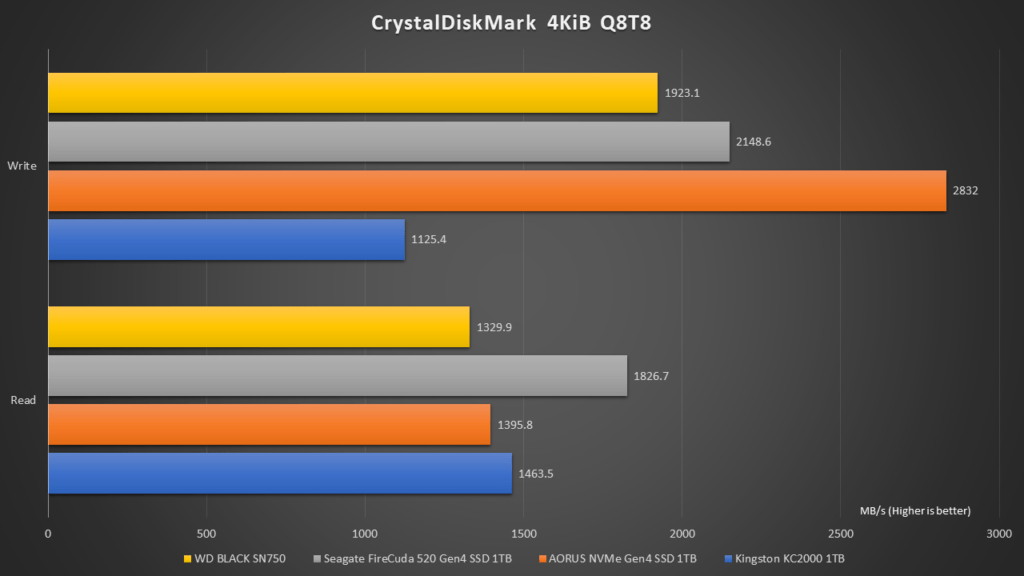 However, when it comes to the CrystalDiskMark 4KiB Q8T8 Read test, the WD BLACK SN750 2TB was seen to be lacking behind competition. This means that this drive is less effective than its Gen4 competitors when it comes to handling multiple commands at a time.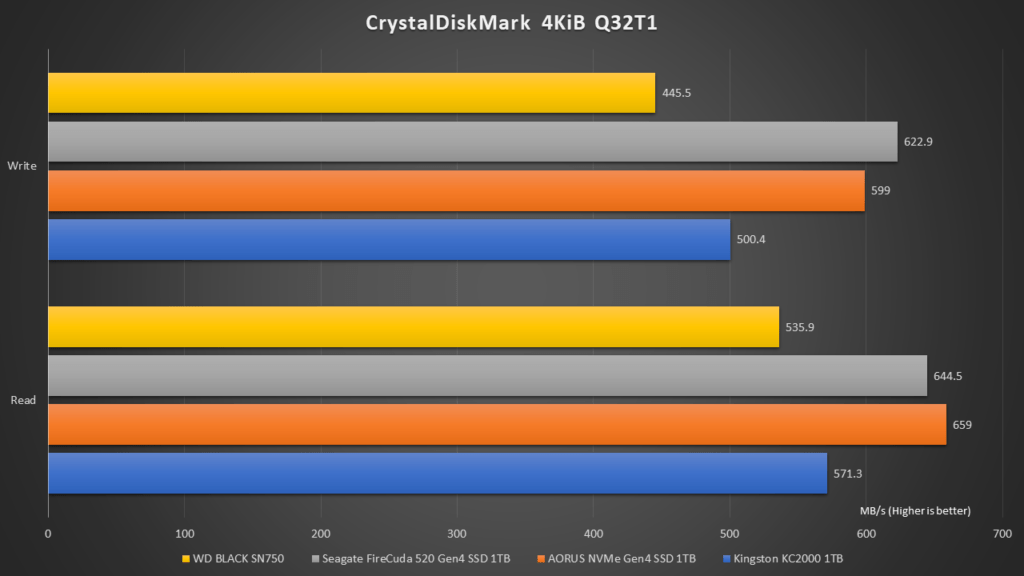 For both read and write tests of 4KiB Q32T1, the SN750 was also seen to perform worse than the other compared SSDs.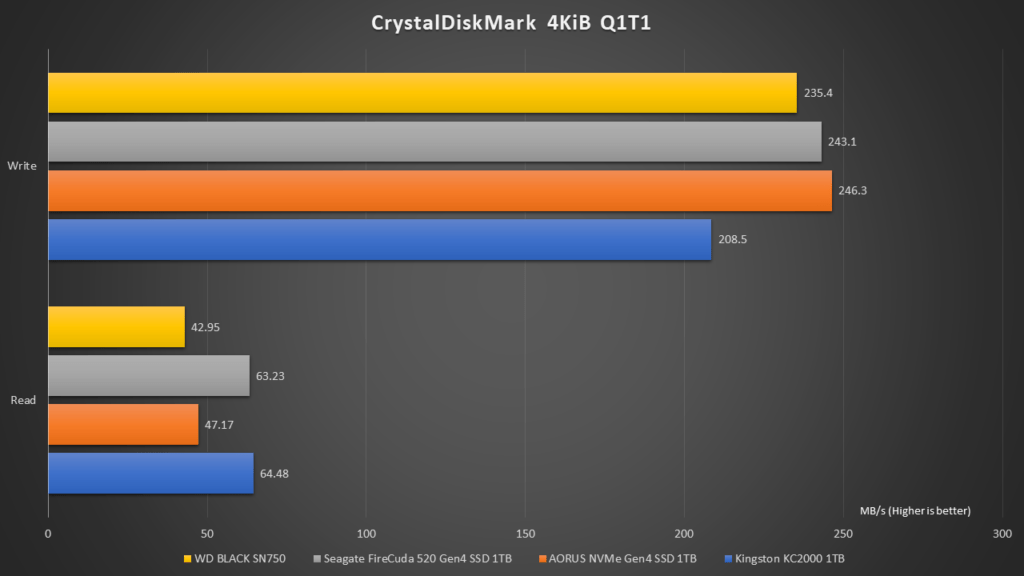 Lastly, for the 4KiB Q1T1 test, the WD BLACK SN750 did fine in the write test, but poorly in the read test when compared to the rest.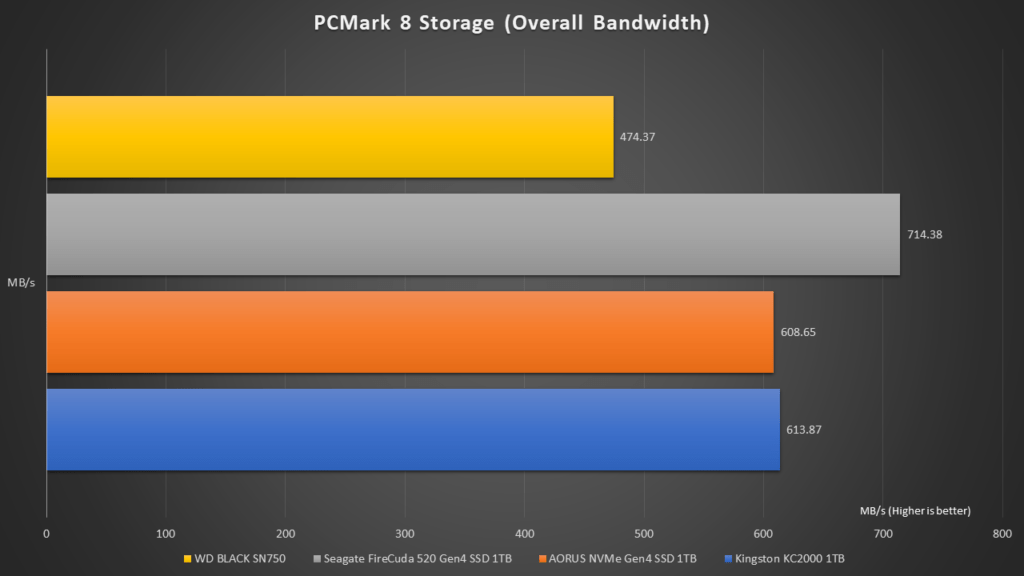 In a more real-world simulated test, PCMark 8 runs a number of applications such as Adobe Illustrator, World of Warcraft and Microsoft office applications. As we can see, in fact, the WD BLACK SN750 performed the worst in the mix. This probably shows the limitations of its NAND flash. In these simulations, it could be that the SSD caching system does not work as effectively as when in synthetic benchmarks. Therefore, the overall SSD performs poorer, especially when many operations are to be done to the NAND flash directly. This shows the limitations of the older NAND technology as opposed to those found on the compared SSDs.
Conclusion
There is no doubt that the WD BLACK SN750 is a promising and high-performance Solid-State Drive in the market. By showing us rather impressive synthetic benchmark results, we can understand why it is such a competitive product in the market. It is faster than most mainstream PCIe 3.0 NVMe SSD, and it was really able to show its strengths in the various benchmark tests. We can attribute this performance to the in-house SSD controller.
However, we hoped that the WD BLACK SSD series can soon be refreshed with newer NAND flash technology which will bring about higher I/O speeds and larger capacities. This SSD is due for an upgrade, as we hope that it will soon arrive. Perhaps, WD will hopefully have its own PCIe Gen4 SSD soon.
Availability
The WD BLACK SN750 NVMe SSD is available from all major retailers and online stores. It comes in both with heatsink and non-heatsink variant. Prices of these SSDs are shown below
| Capacity | Non-heatsink | With heatsink |
| --- | --- | --- |
| 250GB | S$99 | – |
| 500GB | S$169 | S$199 |
| 1TB | S$359 | S$399 |
| 2TB | S$859 | S$899 |