Together with the announcement of the new Intel Z490 chipset, motherboard manufacturers did their best to release a slew of new motherboard to support the new 10th Generation Intel Core Desktop processors. For ASUS, ensuring that they can target every segment of the market, they also released 5 different series of motherboard to meet the needs of the customers. They are namely ProArt, Prime, TUF Gaming, ROG STRIX and ROG Maximus.
At the highest end, the ROG Maximus series is created for overclockers and extreme gamers. They are the flagship series and are expected to feature the latest technology from ASUS. To better understand the legacy of the ROG Maximus, we had to lay our hands on a ROG Maximus XII motherboard. Thanks to ASUS Singapore, we had the opportunity to review the ROG Maximus XII Formula.
In case you missed our Introduction and Overview of the ROG Maximus XII Formula article, you should take a look at that first. In this article, we will put our efforts in understanding the other features and performance of this motherboard. Of course, we will also try to overclock the CPU on this motherboard to see how far we can go.
Here are some of the RGB lighting and physical features which we didn't manage to test previously. Let's get straight into some of the features of this motherboard.
Software Utilities
AISuite
The most important software utility for ASUS motherboard is the AISuite. AISuite consists of a combination of features that is used to monitor, configure and control the ASUS motherboard. Of course, the ASUS ROG Maximus XII Formula will work directly with AISuite.
AISuite allows users to control the system voltages, frequencies and power limit. You can even use it to overclock your CPU or system DRAM. It also helps you to set how aggressively the motherboard should react to fluctuations in current or voltages, which will be useful to ensuring the stability of your system when overclocked.
Other useful features such as the customization of fan profile and setting of fan curve can also be done.
AURA Sync

To control the RGB lighting on the motherboard, you can also install the ASUS Aura Sync Utility. This utility not just only works with ASUS motherboards, but any other Aura Sync compatible hardware in the market. You can have full control of your RGB on either the motherboard or any other connected peripherals. There are also many lighting effects for you to choose from.
Of course, the most important feature of Aura Sync is that you can actually synchronize all the different RGB enabled components together.
GameFirst

The GameFirst VI is also another software that comes together with the ASUS motherboard. You can download this utility directly from the motherboard's support page. For competitive gamers, every single performance improvement matters. The GameFirst VI software allows you to prioritize network packets from different software, thus allowing lower latency and higher throughput, giving you an edge when it comes with networked games.
BIOS
Nothing much has changed for the UEFI BIOS Utility of ASUS motherboards. Everything is just arranged logically, and it's easy to find the settings you want easily. One of the unique features of the newer generation of ASUS ROG motherboard is its AI Overclocking feature. Since the introduction of the Intel Z390 chipset, AI Overclocking has been introduced to the new ROG motherboard.
AI Overclocking basically tries to understand the cooling capabilities of your CPU cooler. To make sure that you know what you are doing, ASUS has even included a very comprehensive step by step guide within the BIOS itself.
AI Overclocking requires the user to stress test the system. It will then understand the performance of the CPU cooler and will assign a score to it. Based on this score, it will then apply a overclocked CPU frequency to the system.
We did try out the AI Overclocking feature, but it didn't really achieve a stable system. Therefore, for our overclocking tests, we only managed to manually overclock the system based on the traditional trial and error method. More on overclocking in the later section.
Test Setup and Methodologies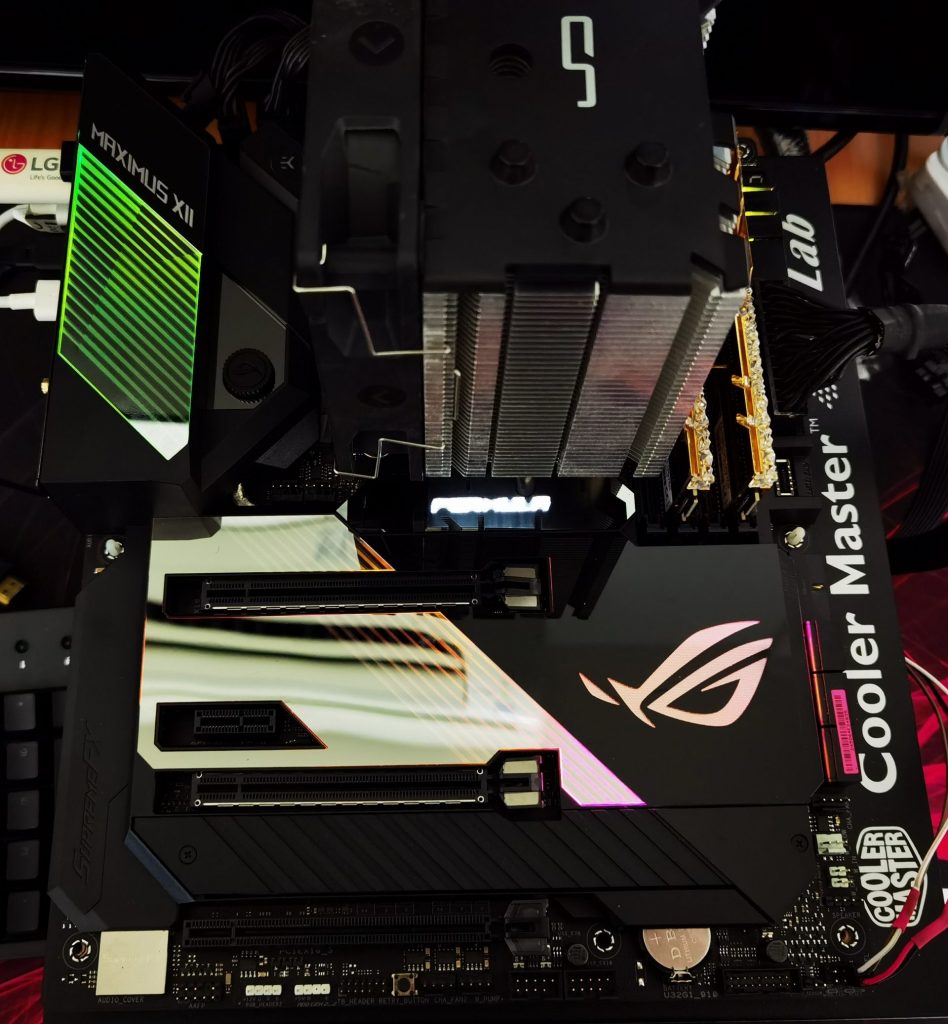 For our tests, we had the ASUS ROG Maximus XII Formula compared to the Gigabyte Z490 AORUS MASTER. They are both equipped with identical system components and are configured to perform at the same default settings. Both setups are also configured to the XMP profile of the GSkill Trident Z Royal 3600MHz memory we had.
Specs
Main System
CPU
Intel Core i5 10600K (ES)
RAM
G.Skill Trident Z Royal 3600MHz, 2 x 8GB DDR4 Kit
Main Storage
Transcend SSD230S 512GB
GPU
PowerColor Red Dragon RX5600XT 6GB
Motherboard
ASUS ROG Maximus XII Formula
Gigabyte Z490 AORUS MASTER
CPU Cooler
Cryorig H7
PSU
Cooler Master V1000
OS
Windows 10 Pro 64 bit
The benchmark settings are as follows:
| | | |
| --- | --- | --- |
| Test | Configuration | Settings |
| PC Mark 10 Extended | Default | Default |
| 7-ZIP Benchmark | Default | Default |
| Cinebench R20 | Default | Default |
| HEVC h.265 Decoding | Default | Default |
| Blender BMW27 | CPU blend | Default |
| Far Cry New Dawn | 1080p | High Settings |
| Deus Ex Mankind Divided | 1080p | High Settings, DX12 |
| Tom Clancy Ghost Recon Breakpoint | 1080p | High Settings |
| DOTA 2 | 1080p | As per Benchmark Guide |
| Shadow of the Tomb Raider | 1080p | High Settings, DX12 |
| wPrime 1024M | Default | Default |
| SuperPi32M | Default | Default |
| AIDA64 Memory benchmark | Default | Default |
Performance Results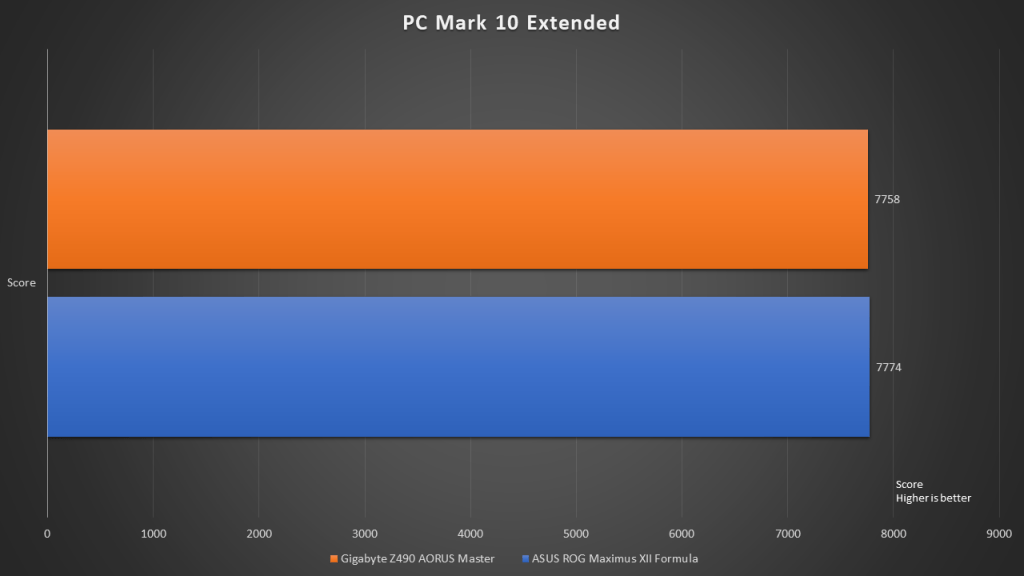 The PCMark 10 Extended benchmark usually gives a good indication to the overall performance of the system. In this case, we can see that the ASUS ROG Maximus XII Formula was slightly faster than the Gigabyte Z490 AORUS Master. However, we shouldn't just conclude based on this test that the ASUS ROG Maximus XII Formula is a better motherboard. As the score difference is very small, it is still within the margin of error. In fact, we can expect very similar performance throughout the tests, as both motherboards are running exactly on the same components and platform.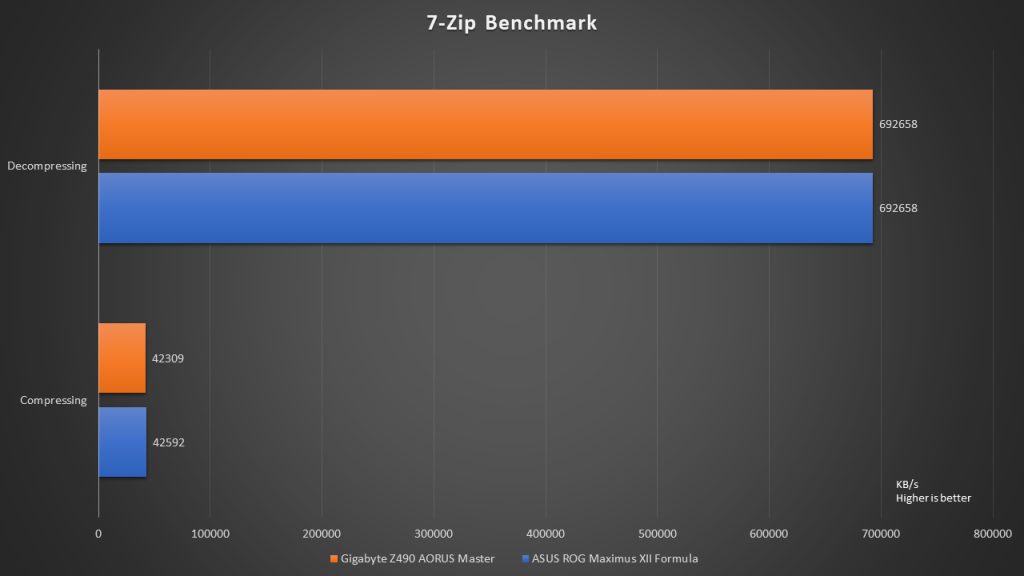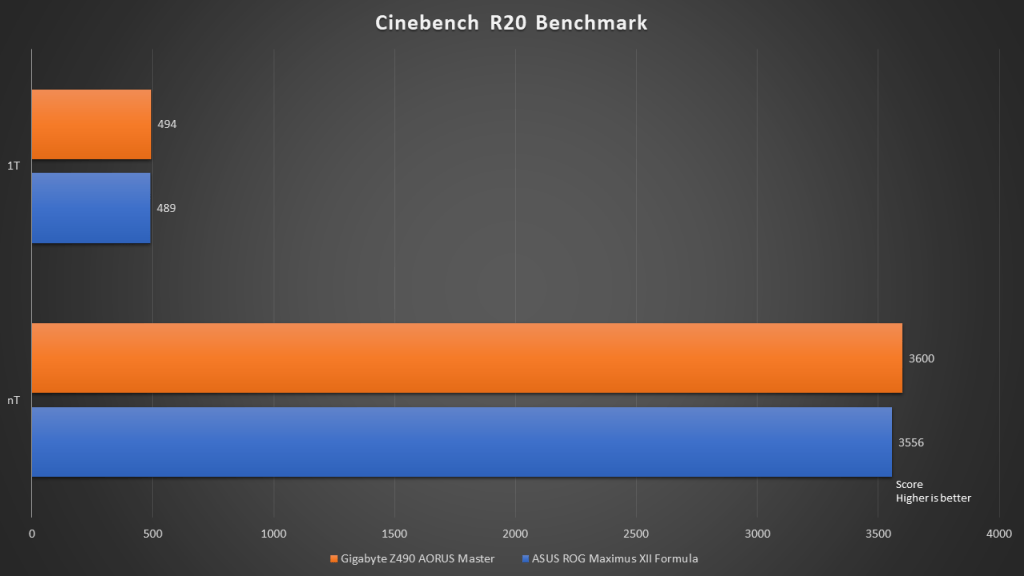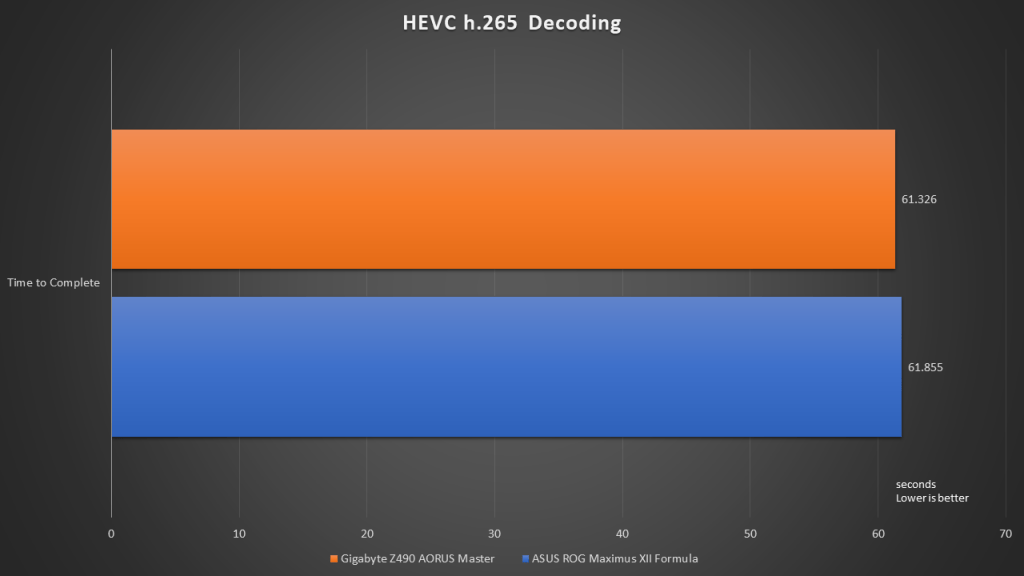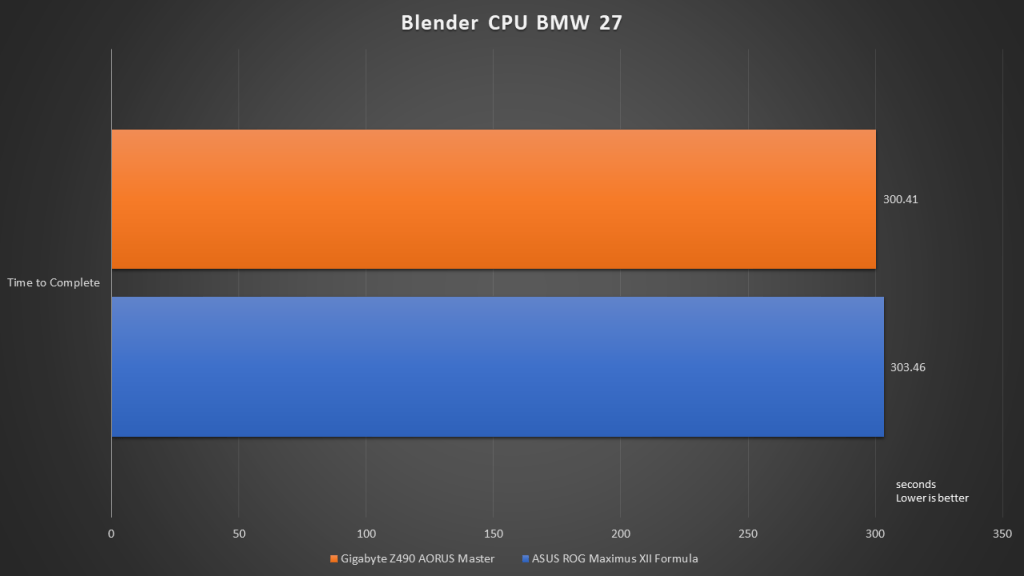 For the other application based tests above, we can also see that the scores are largely similar. However, it seems that the ASUS ROG Maximus XII Formula always came in a tad slower than competition.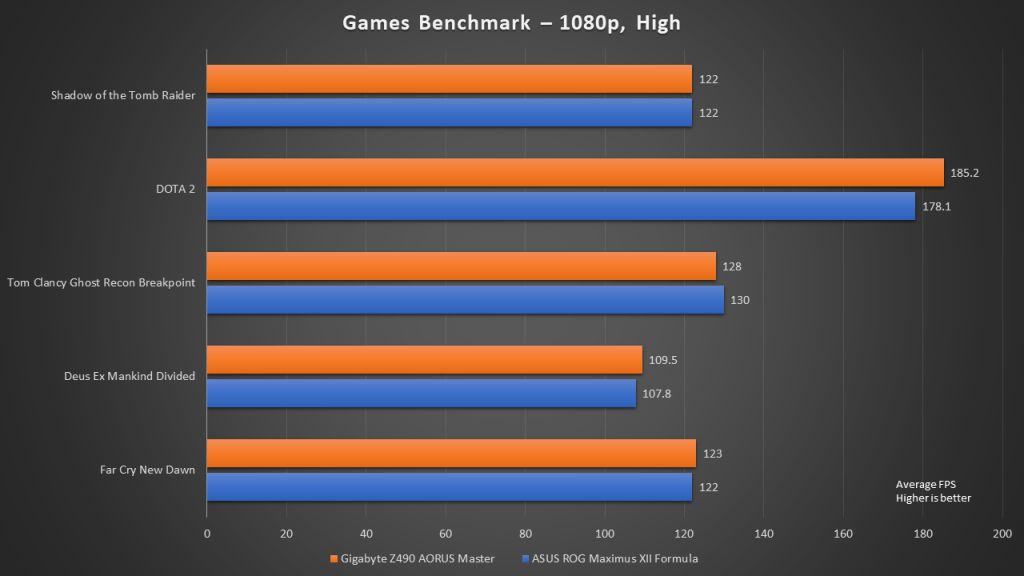 As for games, the performance results differences are again negligible. To take a closer look, DOTA 2, which is known to be a CPU heavy game, showed about a 7FPS difference. The ASUS ROG Maximus XII Formula seems to perform worse in CPU bound games.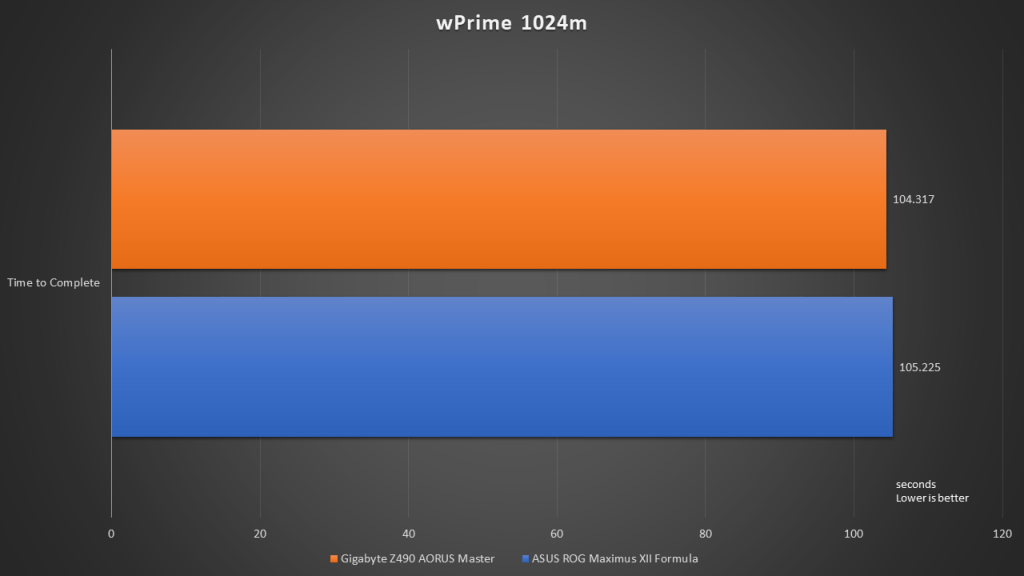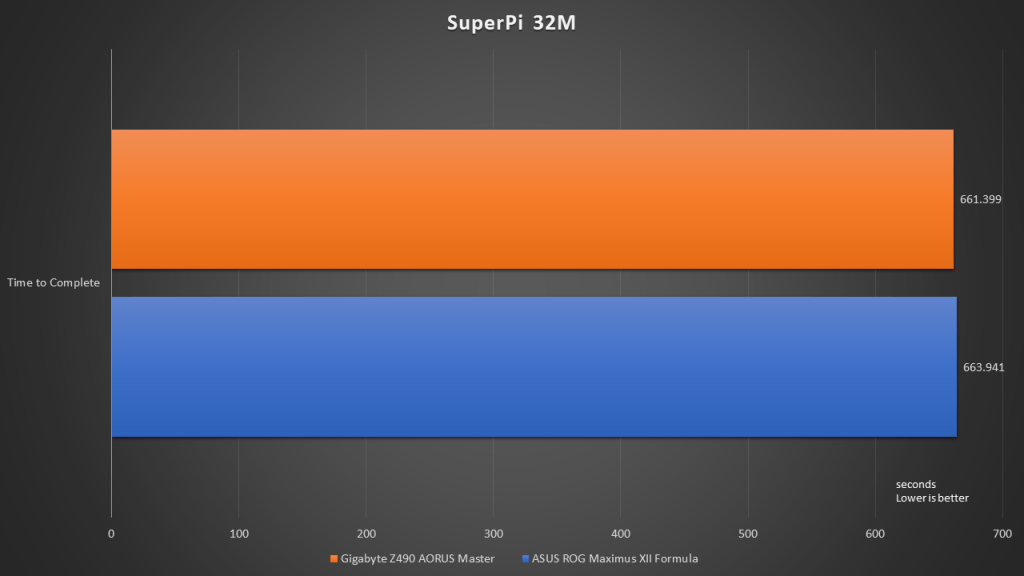 Interestingly, we realised the ASUS ROG Maximus XII Formula consistently performed worse (even though very minimal) in benchmarks which have a focus on the CPU. This pattern appears across all our CPU focused benchmarks.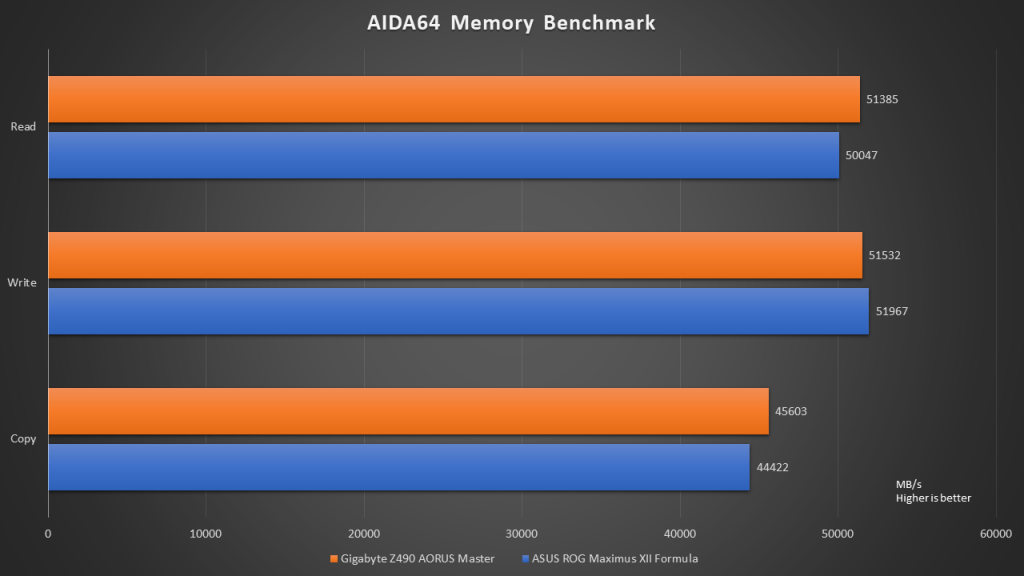 Even though both motherboards have their memory clocked at the same configuration, we can see that the ASUS ROG had an advantage in Write speed, while the Gigabyte Z490 AORUS MASTER achieved a higher read and copy speed.
Power Consumption and VRM Temperatures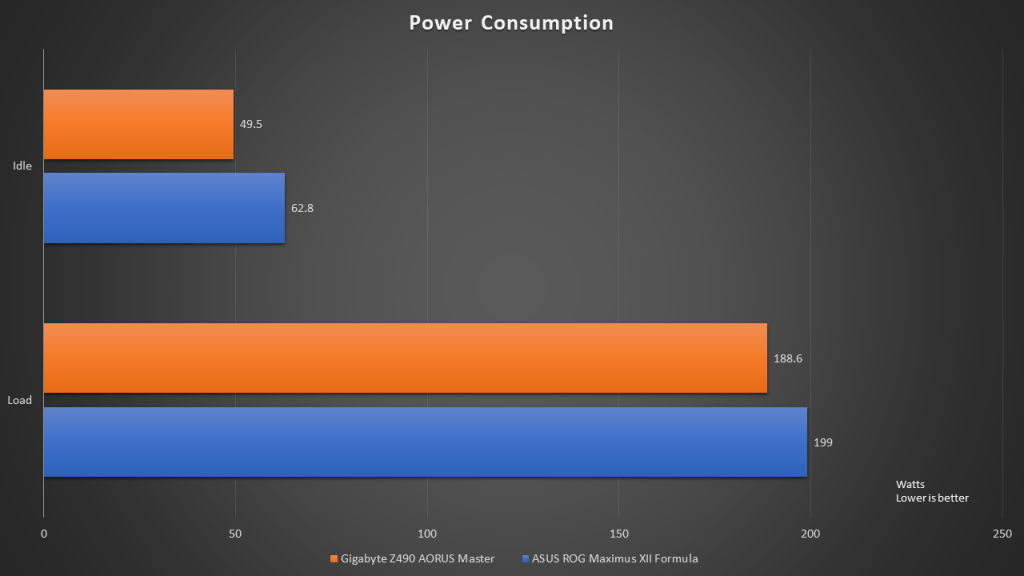 Interestingly, we can see that the ASUS ROG Maximus XII Formula consumes a higher amount of power in both Idle and Load situations. This is likely caused by two factors (1) a more aggressive voltage buffer for the CPU, which allows the system to be clocked at a higher speed and be more stables and (2) have more advanced features and RGB lighting on the motherboard.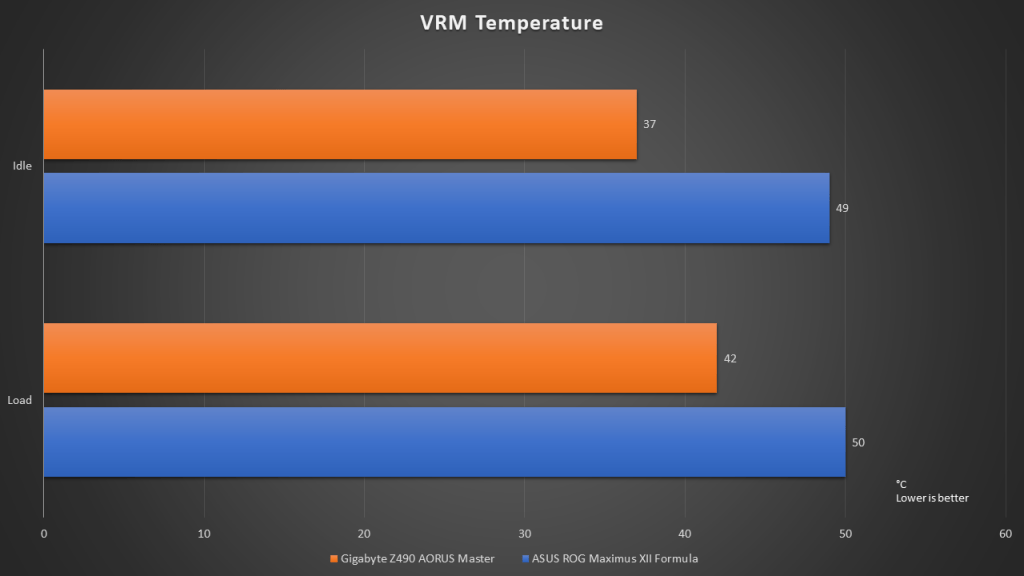 This is also the reason why the ASUS ROG Maximus XII Formula had higher VRM temperatures as well, as it was constantly trying to over compensate voltage levels in order to keep the system stable.
Overclocking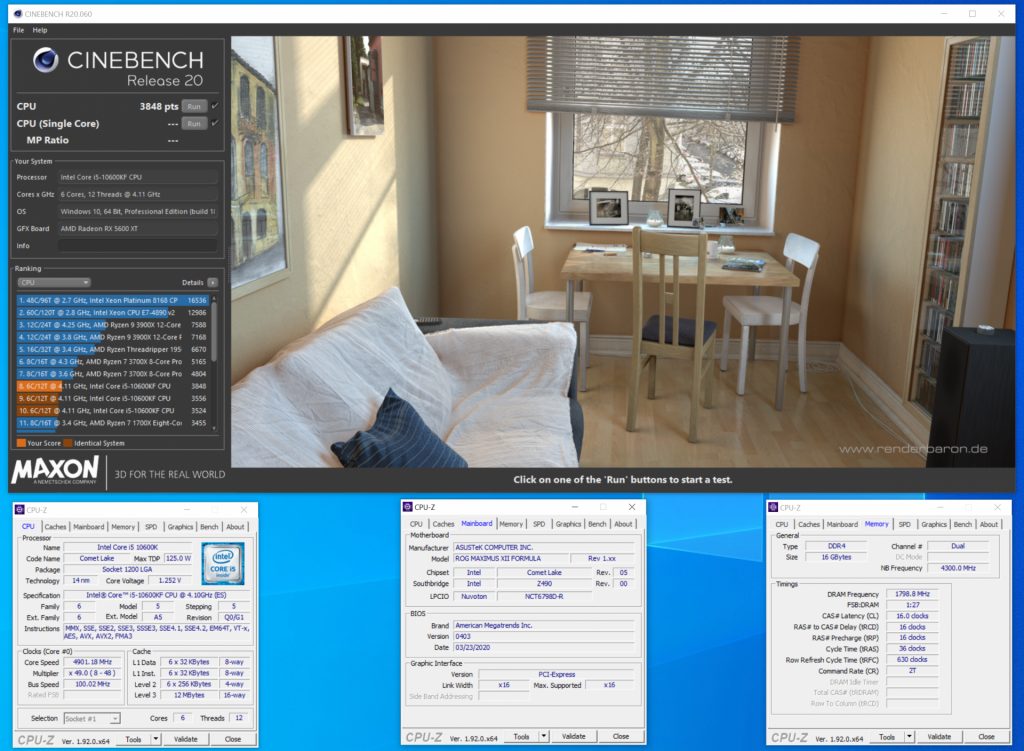 Honestly speaking, even though we tried to push the Intel Core i5 10600K beyond 5GHz, we were largely limited by thermals. Our CPU cooler was not able to handle the heat produced by the CPU, which resulted in thermal throttling during our tests. In the end, the best we could do on the ASUS ROG Maximus XII Formula was 4.9GHz with 1.25V applied on the VCore. We understand that if we had a more efficient CPU cooler in place, we could achieve even higher scores on this system.
Conclusion
Based on our overclocking experience, we can also see how the ASUS ROG Maximus XII Formula is designed for power users. As the motherboard prioritizes performance and stability over efficiency, we also saw a downside. A higher voltage at stock speeds of the CPU has led to higher temperatures on the CPU, which if used with a less efficient CPU cooler (such as the one which we were using), could also mean poorer CPU performance. This was shown in our tests.
Don't get me wrong. The ASUS ROG Maximus XII Formula is a superb piece of motherboard, just simply looking at its features alone. There is no doubt that this motherboard is designed to perform. We just want to make sure that users have the appropriate cooling solutions paired with this motherboard to get the most out of it.
If you are looking at a new desktop system based on the new Intel Z490 chipset and the 10th Generation core processors, while at the same time planning to equip it with a custom water loop, the ASUS ROG Maximus XII Formula should be the best choice you can make out there. It is designed to work extremely well with custom water cooling solutions.