It has been quite a while since I've last had the opportunity to review a ASUS ROG Maximus motherboard. In fact, it has been close to 6 years! I was previously testing the ASUS ROG Maximus VII Ranger. Time has passed so quickly, and I can't believe that the ROG Maximus motherboard series is already in its 12th iteration.
The new ASUS ROG Maximus XII Formula motherboard is based on the new Intel Z490 chipset. It comes with a new socket, i.e. LGA 1200, that will support the latest Intel Comet Lake S, aka Intel 10th Gen Core processors. One of the key difference in this product offering as compared to the 9th gen is that the current generation of processors will have more cores at the same SKU level, while clocked at higher speeds. Despite slight process improvements to bring about higher efficiency, it is still expected that these new processors will consume more power. Therefore, a high performance and stable motherboard will be fundamental to the whole PC system. This is where the ASUS ROG Maximus XII comes into play.
The ASUS ROG Maximus XII Formula is branded and designed for the gamers. Other than being able to properly operate the CPU and other components, it must also come with features that give gamers the edge when they are playing games. While performance is one thing, the overall experience while gaming is also equally important. That is why features such as fast networking, a good audio performance and value-added software utilities can also make a huge difference to the journeys a gamer can have with a motherboard.
The ASUS ROG Maximus XII Formula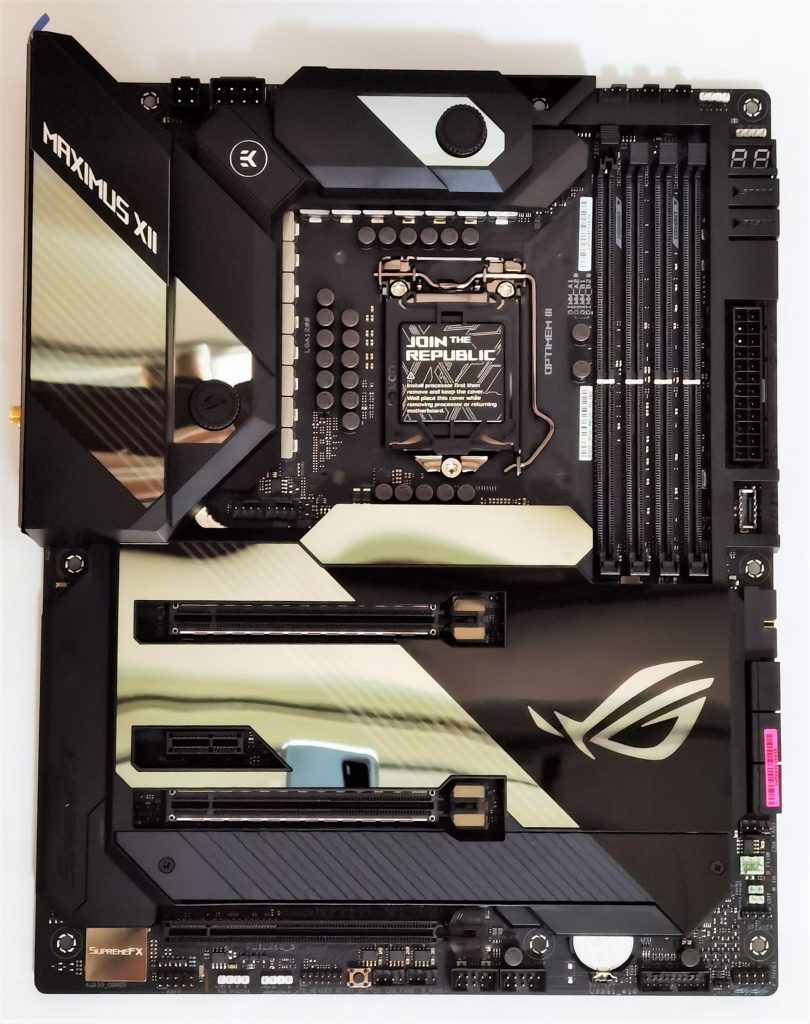 While the each of the motherboard in the ROG Maximus series vary with their own character, the Formula embraces the custom water-cooling scene. The Formula's identity is in its Crosschill VRM heatsink, which was designed with a water-channel within. This allows the motherboard to be cooled either by air or liquid. The current CrossChill EK III hybrid heatsink on the Maximus Formula is said to be capable of running up to 50°C cooler than standard air-cooled designs.
The Maximus XII Formula also targets a clean and minimal look, rather than spotting flashy and overly complex design elements. This is why, the motherboard comes in a rather classy monochrome colour scheme, doing away with its signature ROG red and black combination.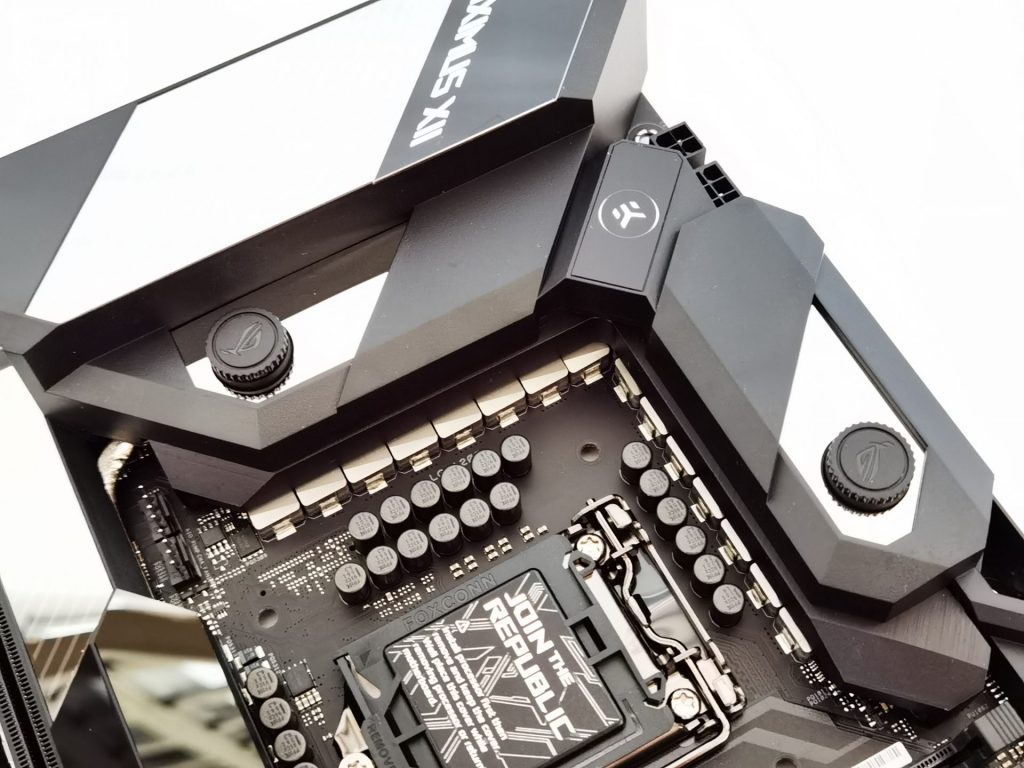 Specifications
CPU Support
Intel® Socket 1200 for 10th Gen Intel® Core™, Pentium® Gold and Celeron® Processors

Supports Intel® 14 nm CPU

Supports Intel® Turbo Boost Technology 2.0 and Intel® Turbo Boost Max Technology 3.0**

* Refer to www.asus.com for CPU support list

**Intel® Turbo Boost Max Technology 3.0 support depends on the CPU types.

Chipset
Intel Z490
Memory
4 x DIMM, Max. 128GB, DDR4 Up to 4800MHz OC, 2933/2800/2666/2400/2133 MHz Non-ECC, Un-buffered Memory *

Dual Channel Memory Architecture

Supports Intel® Extreme Memory Profile (XMP)

OptiMem III

* 10th Gen Intel® Core™i9/i7 CPUs support 2933/2800/2666/2400/2133 natively, Refer to www.asus.com for the Memory QVL (Qualified Vendors Lists).

Storage
Total supports 3 x M.2 slots and 6 x SATA 6Gb/s ports

Intel® Z490 Chipset :

1 x M.2_1 socket 3, with M key, type 2242/2260/2280/22110 storage devices support (SATA & PCIE 3.0 x 4 mode)*4

1 x M.2_2 socket 3, with M key, type 2242/2260/2280 storage devices support (PCIE 3.0 x 4 mode)*5

6 x SATA 6Gb/s port(s)

1 x M.2_3 socket 3, with M key, type 2242/2260/2280 storage devices support (PCIE 3.0 x 4 mode)*6

Support Raid 0, 1, 5, 10

Intel® Rapid Storage Technology supports

Intel® Optane™ Memory Ready

LAN
Intel® I225-V 2.5Gb Ethernet

Marvell® AQtion AQC107 10Gb Ethernet

ASUS LANGuard

Wireless Data Network
Intel® Wi-Fi 6 AX201

2×2 Wi-Fi 6 (802.11 a/b/g/n/ac/ax) support 1024QAM/OFDMA/MU-MIMO

Supports up to 2.4Gbps max data rate

Supports dual band frequency 2.4/5 GHz

Supports channel bandwidth: HT20/HT40/HT80/HT160

Supports CNVI interface

Bluetooth
Bluetooth v5.1*

*BT 5.1 function will be ready in Windows 10 build 19041 or late

Audio
ROG SupremeFX 7.1 Surround Sound High Definition Audio CODEC S1220

– Impedance sense for front and rear headphone outputs

– Supports : Multi-streaming, Front Panel Jack-retasking, up to 24-Bit/192kHz playback

– High quality 120 dB SNR stereo playback output and 113 dB SNR recording input

– Supports up to 32-Bit/192kHz playback

Audio Feature :

– SupremeFX Shielding™ Technology

– Gold-plated jacks

– Optical S/PDIF out port(s) at back panel

– Premium Japanese audio capacitors

– Audio Cover

USB Ports
Rear USB Port ( Total 10 )

4 x USB 3.2 Gen 2 port(s)(3 x Type-A + USB Type-CTM)

6 x USB 3.2 Gen 1 port(s)(6 x Type-A)

Front USB Port ( Total 9 )

1 x USB 3.2 Gen 2 front panel connector port(s)

4 x USB 3.2 Gen 1 port(s)

4 x USB 2.0 port(s)
Accessories

Found in the box is your standard accessories from ASUS ROG. They also also provided some additional swag, such as ROG stickers and a key chain.

What caught my eye was this specially braided high quality SATA cables. These cables should look good in the case.
Input/Output Interfaces

The ASUS ROG Maximus XII Formula comes with a very comprehensive set of I/O ports at the rear I/O panel. Like most high-end motherboard in the market, its I/O shield is integrated directly onto the motherboard.
Let's explore the various buttons and ports from the left to the right. On the most left, we can see a Clear CMOS button. Then we spot the BIOS flashback button. This button allows the flashing of BIOS firmware without the need of a CPU, DRAM or graphics card installed. To find out more about BIOS flashback, you can visit the ROG Forums.
Moving on, there are 6 x USB 3.0 ports. It's interesting to see that this motherboard still comes with a P/S2 port for legacy keyboard and mouse. Then, there are two Ethernet ports, one of which is a 10Gbps port while the other is a 2.5Gbps port.
The following 4 USB ports in red are USB 3.1 Gen2 ports, which can operate at a speed of 10Gbps. One of which is a USB Type-C port.
The Maximus XII Formula also comes with built in Wi-Fi connection. This is enabled by the Intel CNVi interface, where the actual wireless networking module is found on the CPU instead of an additional add-on card on the motherboard.
Lastly, there are 5 x Gold plated audio jacks and a single SPDIF connector for audio input and output.
Storage Expansion

The ASUS ROG Maximus XII Formula comes with 6 SATA 6Gbps ports. This should support traditional hard drives or standard 2.5″ SSDs.

M.2 SSDs can also be installed on the motherboard. Two of these slots are found under the heat sink above the bottom most PCIe slot. The SSDs can be installed opposite to one another. The board supports M.2 SSDs of lengths varying from 4.2cm (2242) to 8cm (2280). Also, as part of the accessories provided in the box, there is a small thermal pad that can be installed on the slot in order to help dissipate the heat from the bottom side of the SSD to the larger metallic heat sink. Of course, the top of the SSD will also be cooled by the removable metal slab which also acts as a heatsink.

The last M.2 slot is found at the back of the motherboard.
PCIe Expansion

The ASUS ROG Maximus XII Formula is equipped with a total of 4 PCIe 3.0 slots. Only the top most PCIe 3.0 x16 slot runs at the full x16 mode. The rest of slots runs at PCIe x1, PCIe x8 and PCIe x4 respectively. Of course, it is recommended that you install your graphics card or any high bandwidth PCIe peripherals in the first PCIe slot.
It's all about the RGB

Like many other modern motherboard in the market, they must be equipped with RGB lighting capabilities. The two main areas of where there is RGB lighting on the ASUS ROG Maximus XII Formula is at its I/O and PCH heatsink area. Of course, these are all AURA compatible lighting, and therefore, can be synchronized to your preferred style and colours via the AURA Sync Utility.
An interesting feature of the Maximus XII Formula is its 2″ Livedash OLED display. Users can add their own customization to display their preferred image or animation on the motherboard. Alternatively, the default items that can be shown are information on CPU frequency, device temperatures, fan speeds or other information from the Water-Cooling Zone.
During POST phase, the Livedash OLED will show POST codes – that's definitely something very useful for PC troubleshooting!
Power Circuitry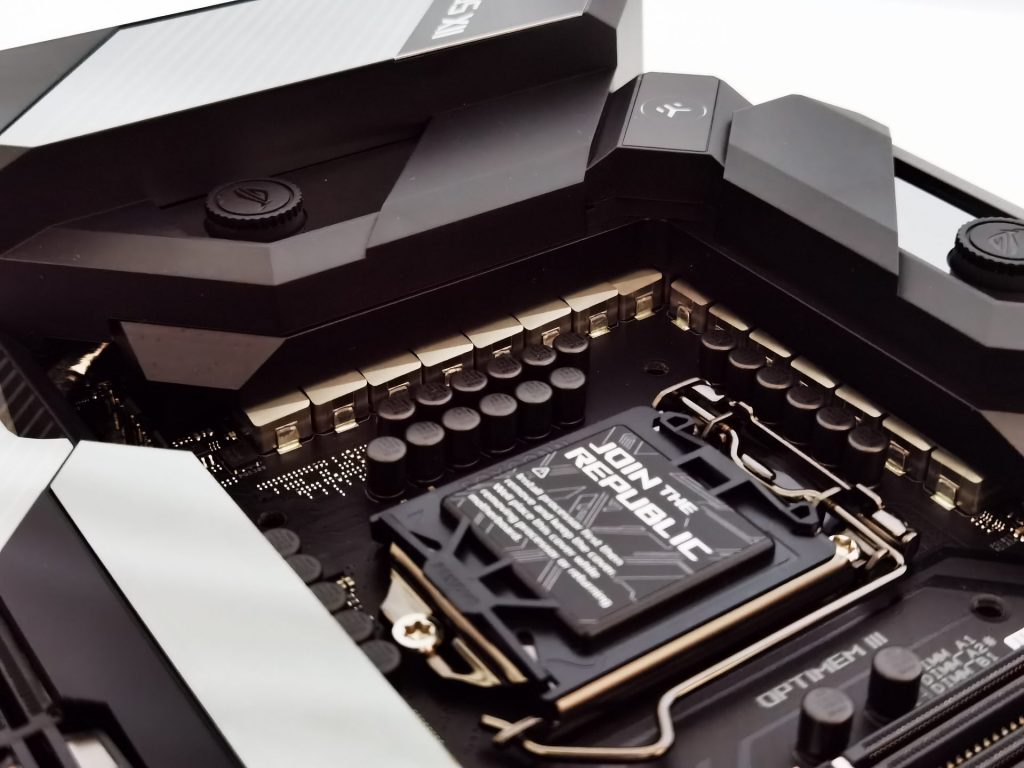 The new ASUS ROG Maximus XII Formula is equipped with a power circuitry that comprises of 16 70-amp power stages across 7 phases.

The ASUS team designed the motherboard with a teamed power stage design to ensure that the power circuitry is able to react quickly to the demands of the system components. This design allows the adaptation to rapidly fluctuating current caused by various power demands from system components, while maintaining as cool as possible.
Of course, it is expected that ASUS only used the best components to achieve such a feat. Each Power stage is accompanied by a high-permeability MicroFine alloy-core choke rated to handle 45 amps. They have also used 10K Japanese-made black metallic capacitors which are rated to last thousands of hours at high operating temperatures.
It's the kind of decisions made by the ASUS team on the no-compromise design and choice of components that gives end-users the confidence in their product. This could most likely be why their motherboard performs very stably and can last for a long time.
Advanced Cooling Features
Other than the CrossChill EK III VRM block which was the key feature of the motherboard, there are also many other note-worthy areas which ASUS ROG has employed to keep the motherboard cool.
As we can see, a large part of the motherboard is covered by a heatsink. This helps the heat from the core components to be dissipated quickly into the surrounding environment. The M.2 SSDs installed on the front side of the motherboard also have their own dedicated heatsink to ensure that they can perform at their optimal speed without any thermal throttling.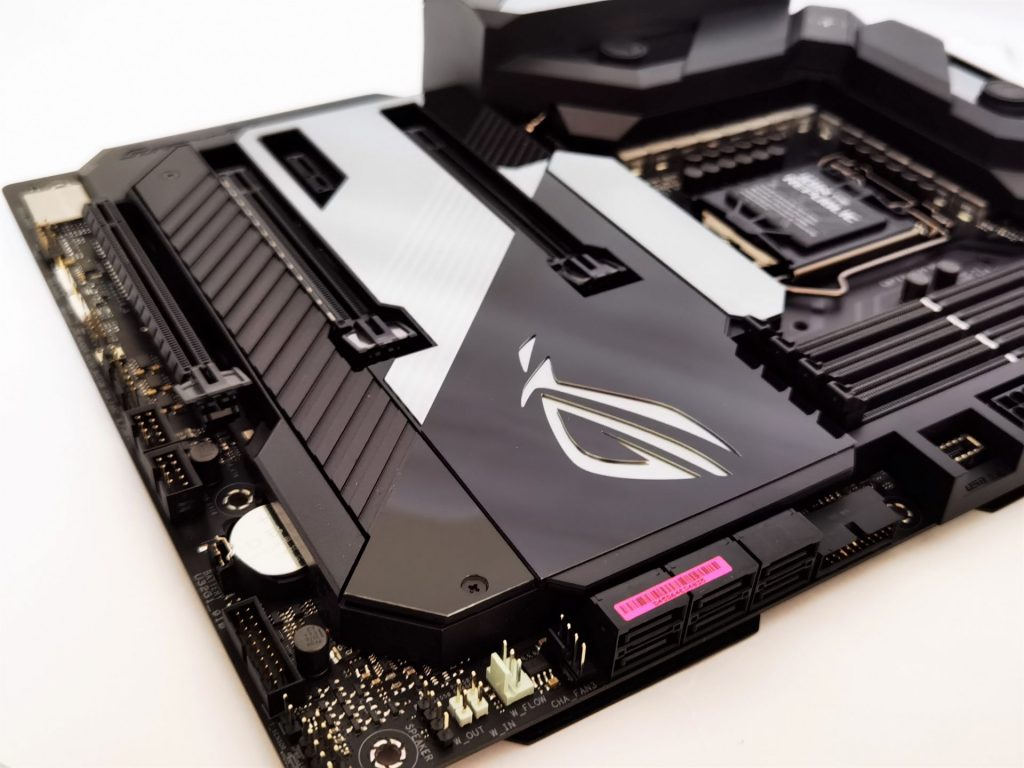 Furthermore, AI cooling feature helps to effectively cool the whole computer system without the need for users to worry too much about customizing fan curves. AI Cooling helps to manage and control all motherboard connected fans to ensure that the best possible fan speed settings are applied under various system load and temperature, while trying to keep noise to the minimum.

The back of the Maximus XII Formula Motherboard is also covered with a solid steel backplate. This backplate not only helps the motherboard to maintain its strength and withstand heavier weights, but it also is a giant heatsink for the motherboard.
Enhanced Gaming Features
As mentioned, performance of a PC is only a part of the equation for gamers wanting the ultimate gaming PC. The following are some of the important features which are also fundamental to the entire PC gaming experience.
ROG SupremeFX Audio Technology
The ROG SupremeFX Audio Technology is a combination of multiple audio components and circuitry design that aims to provide the best possible audio performance to gamers. These are the features
Audio Line Shielding – They key audio circuitry is shielding from the other components on the motherboard so as to reduce interference. This ensure that the sounds coming our from the PC stays as true to what it is supposed to be without any disruptions or distortions.
ESS ES9023P – The ESS® ES9023P digital-to-analog converter creates a perfect balance for top-tier audio clarity capable of 112db DNR /-94dB THD+N for superior front-panel output.
S1220 codec – 10 DAC channels provide simultaneous 7.1-channel playback, independent 2.0-channel, multiple-stream stereo to front-panel outputs
Switching MOSFETS – Unique design allows the codec's impedance-sensing function to be ported with either the front or rear headphone outputs
Nichicon CAPS – Fine-quality Japanese-made components that produce a warmer, natural sound with exceptional clarity and fidelity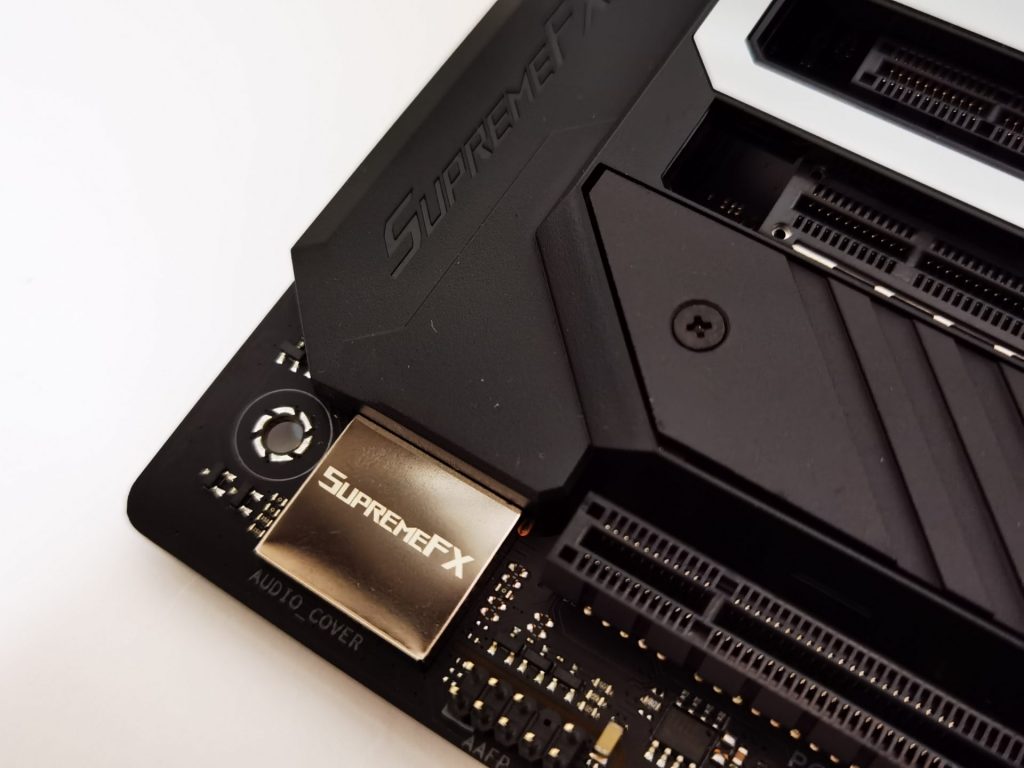 Optimized Networking
As we have realised earlier, the ASUS ROG Maximus XII Formula prioritized network bandwidth as part of its key features. Therefore, instead of just plain Gigabit ethernet ports, there are a single 10Gbps Ethernet and 2.5Gbps Ethernet ports. This also makes this motherboard great to be used in a workstation where large files are to be frequently transferred over the network. This feature could potentially increase the productivity as well.
Moreover, the latest 802.11ax wireless standard is also found on this motherboard.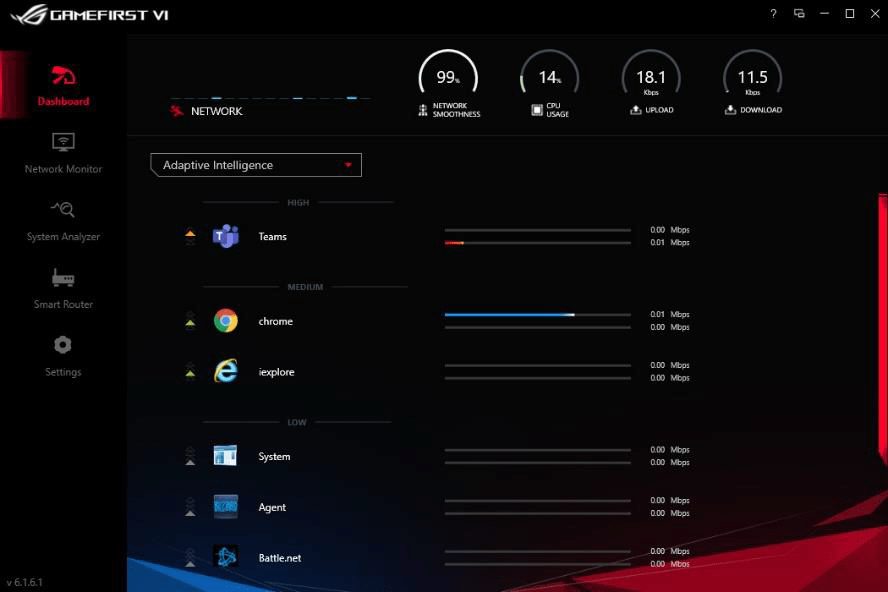 Regardless if you are using a wired or wireless connection, another concern to gamers is latency. Latency is also a very important factor when it comes to playing online games. Therefore, ASUS has even included their AI Networking capabilities in the GameFirst VI software utility to improve network performance of prioritized applications. With "Adaptive Intelligence" mode enabled, the software adapt to different PC usage scenarios.
The software will switch application priority and adjusts bandwidth depending on the situation. When gaming, it prioritizes game packets to ensure smooth online gameplay, even when high-quality video or large files are being streamed or transferred at the same time.
Conclusion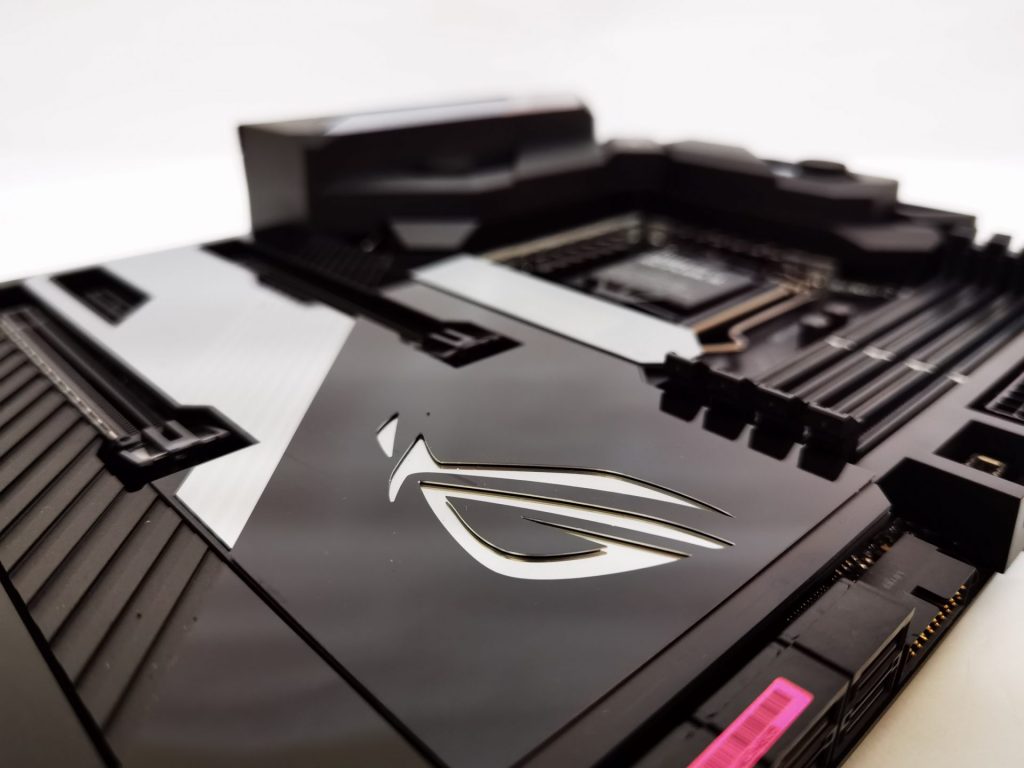 No doubt, we can see that the ASUS ROG Maximus XII Formula is a product of many years of dedication and reiteration of designs by the ROG team. By striving for excellence, the ROG Maximus XII Formula should be considered to be at its pinnacle of motherboard technology. There isn't really any complains we can find on this motherboard, even if we wanted to nitpick.
However, our real conclusion can only come when we put this motherboard to the test to understand its performance and overclocking features. These information will be shared with you in a separate article when the embargo for performance benchmarks of the 10th Gen Intel Core processors is lifted.
So do look out for the upcoming performance review of the ASUS ROG Maximus XII Formula motherboard.