The Gigabyte Z490 AORUS MASTER Motherboard was announced 3 weeks ago. If you haven't had the chance to take a look at our introduction of the Gigabyte Z490 AORUS Master Motherboard, do check it out here. As Intel has just lifted the embargo for the performance results of the new Intel 10th Generation Core processors for desktops, we can only discuss more about the performance and other features of this motherboard today.
Here are some of the RGB lighting and features of the Gigabyte Z490 AORUS MASTER Motherboard which we didn't manage to see previously.
Let's get straight into some of the features of this motherboard.
Software Utilities
All Gigabyte motherboard come with optional utilities that can be downloaded from their website. At the core of all the software program is the Gigabyte App Center. The Gigabyte App Center is a collection of software to better help control your motherboard.
One of the most useful motherboard utility is EasyTune. EasyTune allows the monitoring and setting of various hardware components on the motherboard.
For the layman, they can simply make use of the Smart Boost features to apply their preferred power profile. They can choose between ECO, Default or OC mode, which applies a specific configuration to their CPU clock, either to improve system performance or achieve lower power consumption.
If you are a more advanced user, you can also move into the other tabs of the EasyTune software for further tweaking and settings. Users can easy change frequencies and voltages of their CPU and Memory modules. They can also change the power settings of the motherboard under the Advanced Power tab.
At the time of test, we were unable to get "AutoTuning" feature of the EasyTune software to work. It would run and overclock the CPU, but the settings were not actually applied. We completed our Overclocking trials via the BIOS, which will be discussed in later sections.

The Gigabyte Z490 AORUS MASTER Motherboard comes with the RGB Fusion utility. Like many of the Gigabyte graphics card which we have tested, the RGB Fusion software allows users to configure the RGB lighting on the Gigabyte motherboard as well. Specifically, there are two RGB zones on the motherboard that can be controlled, specifically the VRM area, and the chipset area. Configuration of RGB settings was a no-brainer using this software, with settings being applied automatically.
BIOS Settings
Gigabyte has mentioned that they have redesigned their whole UEFI BIOS in order to make them more logical and easier to find things. Even though we did find an improvement over what was provided to us in the past, there are definitely still areas of improvements.
What we really liked about the the BIOS is its Tweaker tab in advanced mode. All the key settings to changing of system performance levels are all located into one location, making it to easy to navigate.
Test Setup and Methodologies

For our tests, we had the Gigabyte Z490 AORUS MASTER compared to the ASUS ROG Maximus XII Formula. They are both equipped with identical system components and are configured to perform at the same default settings. Both setups are also configured to the XMP profile of the GSkill Trident Z Royal 3600MHz memory we had.
Specs
Main System
CPU
Intel Core i5 10600K (ES)
RAM
G.Skill Trident Z Royal 3600MHz, 2 x 8GB DDR4 Kit
Main Storage
Transcend SSD230S 512GB
GPU
PowerColor Red Dragon RX5600XT 6GB
Motherboard
Gigabyte Z490 AORUS MASTER
ASUS ROG Maximus XII Formula
CPU Cooler
Cryorig H7
PSU
Cooler Master V1000
OS
Windows 10 Pro 64 bit
The benchmark settings are as follows:
| | | |
| --- | --- | --- |
| Test | Configuration | Settings |
| PC Mark 10 Extended | Default | Default |
| 7-ZIP Benchmark | Default | Default |
| Cinebench R20 | Default | Default |
| HEVC h.265 Decoding | Default | Default |
| Blender BMW27 | CPU blend | Default |
| Far Cry New Dawn | 1080p | High Settings |
| Deus Ex Mankind Divided | 1080p | High Settings, DX12 |
| Tom Clancy Ghost Recon Breakpoint | 1080p | High Settings |
| DOTA 2 | 1080p | As per Benchmark Guide |
| Shadow of the Tomb Raider | 1080p | High Settings, DX12 |
| wPrime 1024M | Default | Default |
| SuperPi32M | Default | Default |
| AIDA64 Memory benchmark | Default | Default |
Performance Results

Based on the PC Mark Extended test, we can see that the Gigabyte Z490 AORUS MASTER was seen to be a tad slower than the ASUS ROG Maximus XII Formula. This could be considered within the margin of error.

In the 7-Zip benchmark there was also a slight difference of performance in the compressing performance. The Gigabyte Z490 AORUS MASTER is about 200KB/s slower.

However, when we move on to tests which focuses more on CPU performance, the Gigabyte Z490 AORUS MASTER starts to show its advantage.


Even though the Gigabyte Z490 AORUS MASTER is faster, we can see that it's only that fraction of a second faster, which essentially means that both motherboards performed similarly. This is an expected performance level as they are essentially based on the same platform, running at the same speed.

Even for games, the results are still pretty similar. This essentially shows that both boards have got what it takes to take the best out from the new 10th Generation Intel Core i5 processor.


Further CPU tests also shows that the Gigabyte Z490 AORUS MASTER tends to inch ahead of competition.

Even though both motherboards have their memory clocked at the same configuration, we can see that the Gigabyte Z490 AORUS MASTER achieved a higher read and copy speed, while the ROG had an advantage in Write speed.
Power Consumption and VRM Temperatures
Both our power and VRM temperature tests are taken by
(1) Idle – Restarting the system, and leaving it as it is for 3 minutes. The readings are then taken
(2) Load – Running Intel Burn Test – until the readings of temperature and power consumption stabilizes.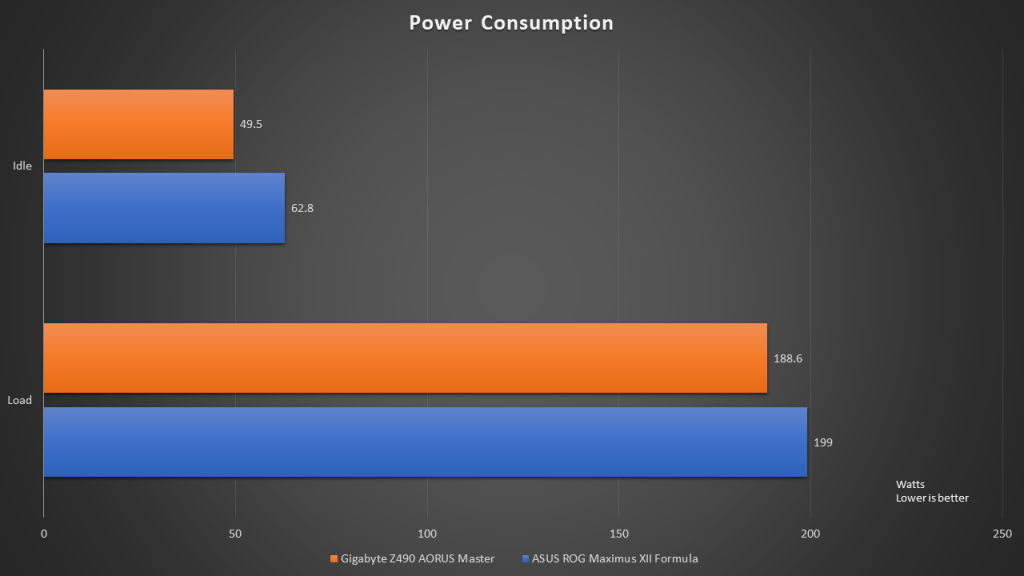 In terms of power consumption, we understand that the Intel Core i5 10600K, being a 125W TDP CPU, will consume quite a bit of power when it is stressed tested. When compared between the two boards, it apparent that the Gigabyte Z490 AORUS MASTER always consumed less power than the ASUS counterpart. Of course, we would expect this because the ROG motherboard is overloaded with many other features.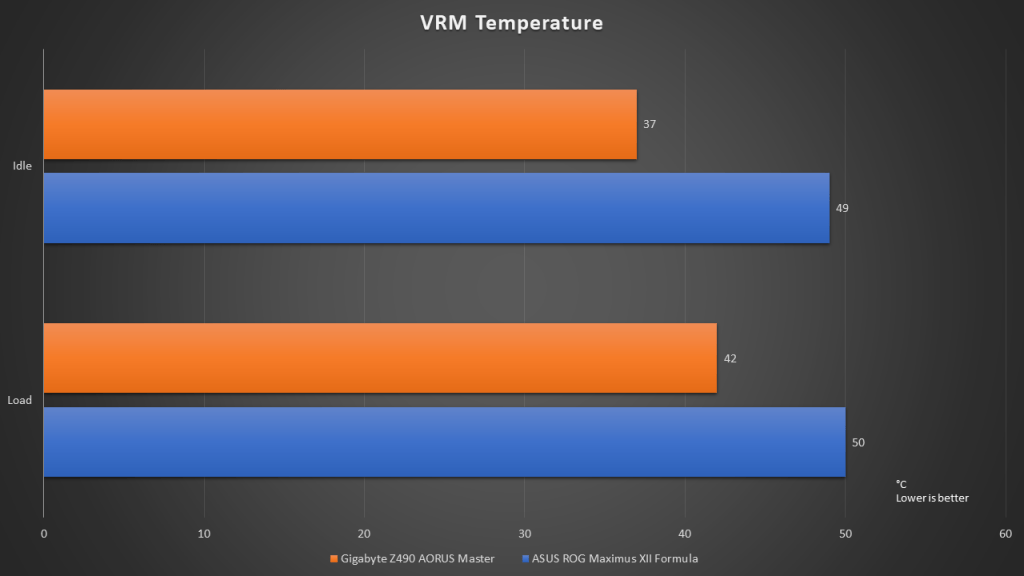 Interestingly, the Gigabyte Z490 AORUS MASTER was also able to cool its VRM much better than competition. We understand that a Intel Core i5 10600K will not come close to challenging the power delivery system of both motherboards, as it relatively consumes lesser power than higher end parts such as the Core i9. Both these motherboards are made to run with the beast of a Core i9, and therefore, still runs extremely well with the Core i5.
However, it seems to us that the Gigabyte Z490 AORUS MASTER was able to perform both at a lower power consumption and lower VRM temperature, which is testament of a good and efficient motherboard with adequate cooling.
Overclocking

Based on our trials, we managed to push the Intel Core i5 10600K to 5GHz at 1.3V on all cores. This should be considered quite a good score, even though the overclock could be considered not as significant. The Intel Core i5 10600K is expected to reach a turbo boost clock of 4.8GHz (but not on all cores). This overclock yielded a score of 3957, up from a stock performance of 3600. That's about a 10% improvement in performance. Not bad!
And as mentioned, as this is only a Core i5 processor and not a Core i9 processor, the VRM temperatures are still kept relatively low, similar to the temperatures when we had the system on load.
Conclusion
We were very satisfied with the Gigabyte Z490 AORUS MASTER as it was able to reliably perform up to expectations. Overclocking on the motherboard was also rather straightforward, and we had no issues increasing the core frequencies to reach our overclocked speeds.
The Gigabyte Z490 AORUS MASTER also had been tested to show how well it stays cool. Based on our tests, it performed both cooler and consumed less power when compared to competing products. This really sets the motherboard apart.
If you are looking for the a new Z490 motherboard that performs and promises to give you that reliable performance, be sure to check out the new Gigabyte Z490 AORUS MASTER.