Gigabyte has just announced their latest Z490 AORUS Motherboard series for the new 10th Generation Intel Core Series desktop processors. Also known to many as the Comet Lake-S processors, these are the 4th revision to the initial Skylake architecture from 4 years ago.
To get on board with the Comet Lake-S processors, users are required to purchase a new LGA1200 compatible motherboard. As of the time of writing, only the Intel Z490 chipset supports these new processors.
Of course, many motherboard manufacturers have also announced their new lineup of Z490 motherboard. Gigabyte, being one of the bigger players in the market, have also included new Z490 motherboards to their high-end AORUS series. AORUS is the premium gaming brand from GIGABYTE that aims to provide gamers with the ultimate experience.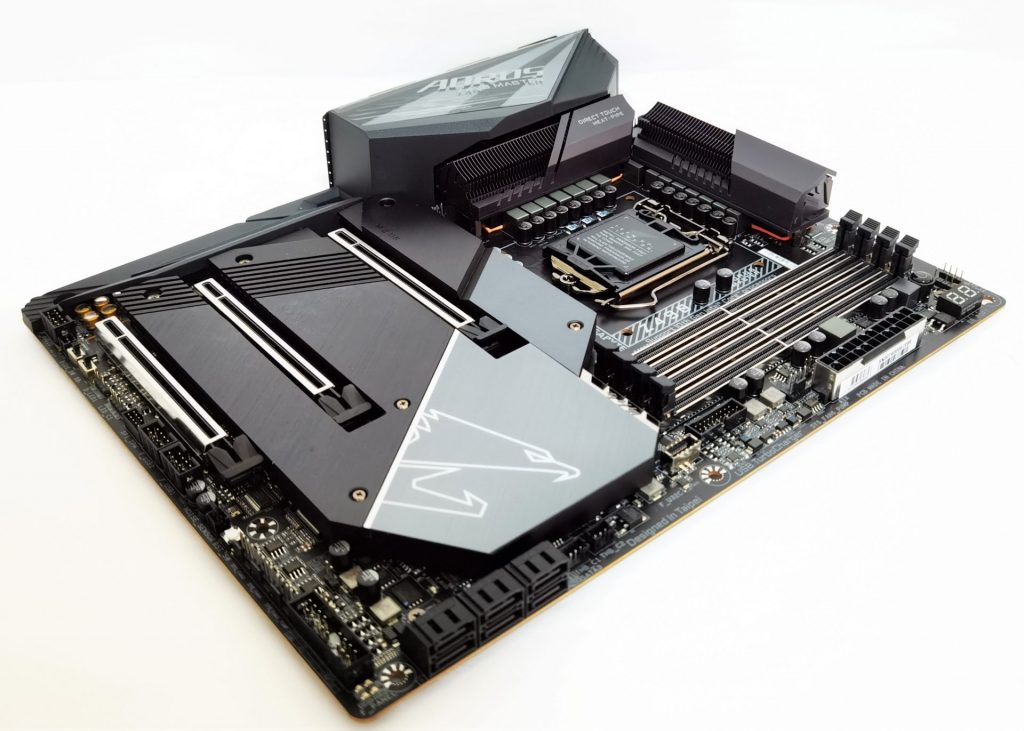 We were fortunate enough to have our hands on the new GIGABYTE AORUS Z490 Master motherboard for review. However, as the performance embargo of the new Comet Lake-S processors are only due a few weeks down the road, we are only going to focus on the motherboard features in this article.
The GIGABYTE AORUS Z490 Master Motherboard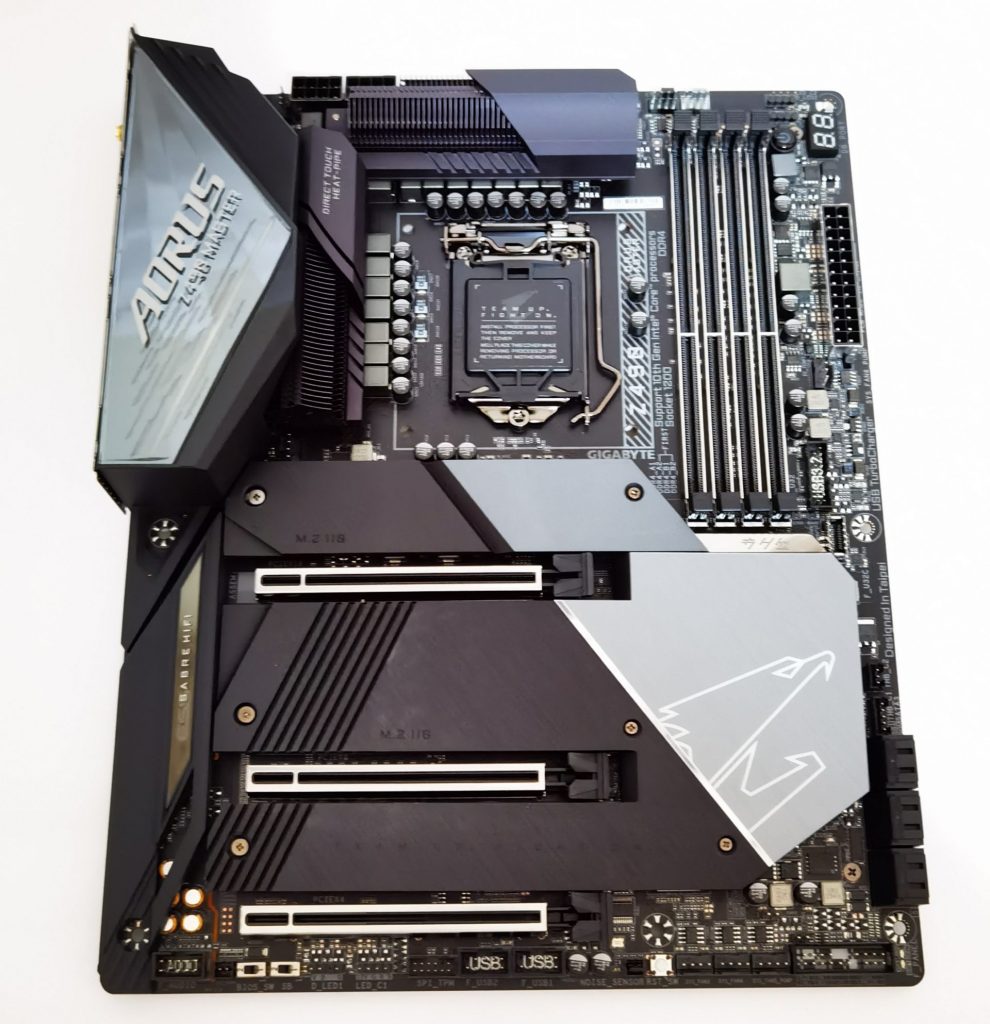 The AORUS Z490 Master is the second in line to the whole AORUS lineup. It is a small step down from the feature rich AORUS Z490 Xtreme motherboard. While most of the base motherboard features are the same, the Z490 AORUS Master targets power users with more practical features. Sometimes, you simply do not need to go for the best to have the same performance and experience.
Supports 10th Gen Intel® Core™ Series Processors
Dual Channel Non-ECC Unbuffered DDR4, 4 DIMMs
14 Phase Digital VRM Solution with 90A Smart Power Stage + Tantalum Polymer Capacitors Array
Shielded Memory Routing
Fins-Array II Heatsink + Direct Touch HeatpipeII
Intel® 2.5GbE LAN with cFosSpeed+ Intel®WiFi6 802.11ax 2T2R & BT5 with AORUS Antenna
125dB SNR AMP-UP Audio with High-End ESS SABRE 9118 DAC, ALC1220 and WIMA Audio Capacitors
Triple Ultra-FastNVMePCIe3.0 x4 M.2 with Thermal Guards II
Q-Flash Plus Update BIOS without Installing the CPU, Memory and Graphics Card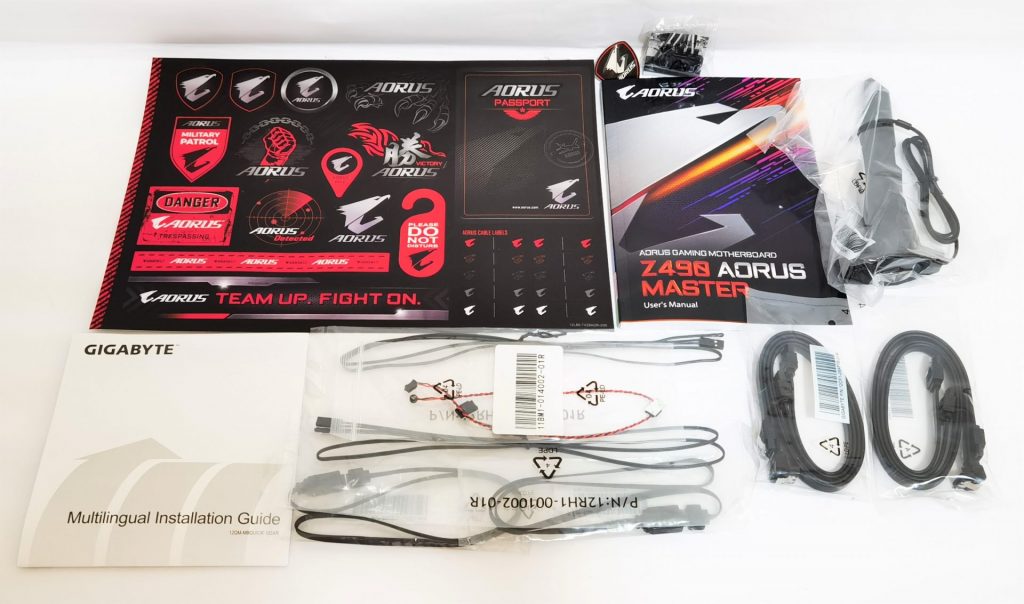 Accessories and swag that comes with the Z490 AORUS Master
Input / Output

The GIGABYTE AORUS Z490 Master motherboard comes with many connectivity options at the rear I/O panel. Let's discuss each features from the left to right.
Q-Flash Plus
As part of a new feature to the AORUS motherboard, the Q-Flash Plus is a motherboard BIOS flashing utility that is built right into the motherboard. This allows users to flash the motherboard's BIOS even without the need of a CPU, graphics card or RAM installed.
WiFi 6 Support
We can see that this motherboard comes built-in with 802.11ax Wi-Fi standard. This allows the motherboard to reach wireless network performance of over gigabit speeds. The WiFi features are provided via Intel Integrated Connectivity, where wireless connectivity IP comes directly from the Intel processors. This feature also provides the motherboard with Bluetooth 5.0 capabilities.
2.5Gbps Ethernet Port
To do better than the competing products, the Z490 AORUS Master motherboard also features an integrated 2.5 Gigabit ethernet port. As we move towards faster internet bandwidth, the inclusion of this feature should allow this motherboard to also be more future proofed. It will also be a good choice as a workstation motherboard for those who requires the additional network bandwidth for their work.
Enhanced DAC Sound Processing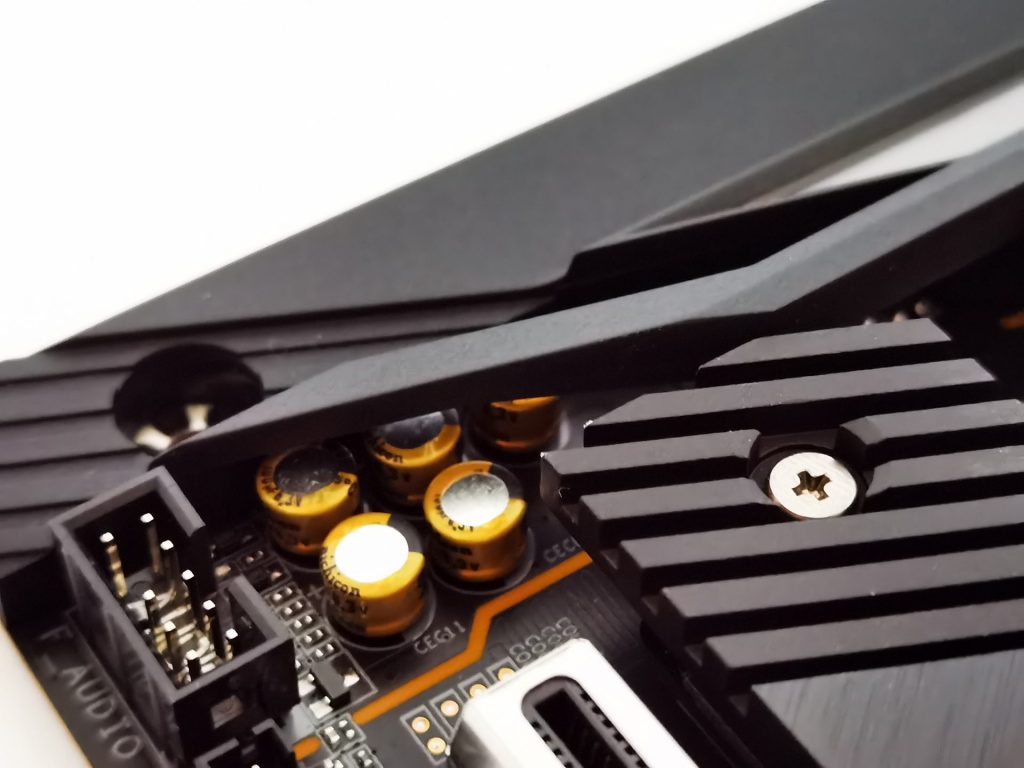 The Z490 AORUS Master also comes with an integrated DAC and amplifier to improve the overall experience of the user. The audio output quality of a PC system will have direct impact on the gaming experience of the user. Therefore, as a gaming focused motherboard, premium audio features is a must.
This motherboard comes with a 125dB SNR AMP UP Audio – this feature automatically determines the impedance of the headphones connected and adapts to it by providing adequate amplification. Moreover, Gigabyte has also chosen a high-end ESS SABRE9118 DAC with dedicated WIMA Audio Capacitors for the best possible audio quality output for this motherboard.
Storage Expandability

The motherboard also comes with 4 x SATA 6Gbps ports.

It has has 3 x M.2 slots for M.2 based SSDs. It's interesting to see that both the top side and the bottom side of the SSD will be cooled by dedicated heatsinks on the motherboard. Do remember to remove the protective film on the thermal pads before the installation of the SSDs!
PCI Express Expansion

The Z490 AORUS Master also comes with 3 x physical PCIe 3.0 x16 slots. The first slot is electrically an x16 slot, followed by the middle x8 slot and lastly, an x4 slot. It is said that this motherboard will support new PCIe 4.0 interface when new Intel CPUs with this capability comes to the market. (That is, if the new next-gen Intel CPUs it still supports the Z490 chipset.)
Back Plate

The Z490 AORUS Master also comes with a backplate that aids in the sturdiness of the motherboard. This helps the motherboard from being bent excessively due to the weight of the attached components, which can cause damage.
Extreme Power Design
| | | |
| --- | --- | --- |
| VRM Spec | AORUS XTREME | AORUS MASTER |
| VRM | 16 Digital | 14 Digital |
| Vcore PWM | ISL69269 | ISL69269 |
| VCore Phase Doubler | ISL6617A *8 | ISL6617A *7 |
| PWM Amps. | 90A | 90A |
| Vcore Driver/MOS | ISL99390B *16 | ISL99390B *14 |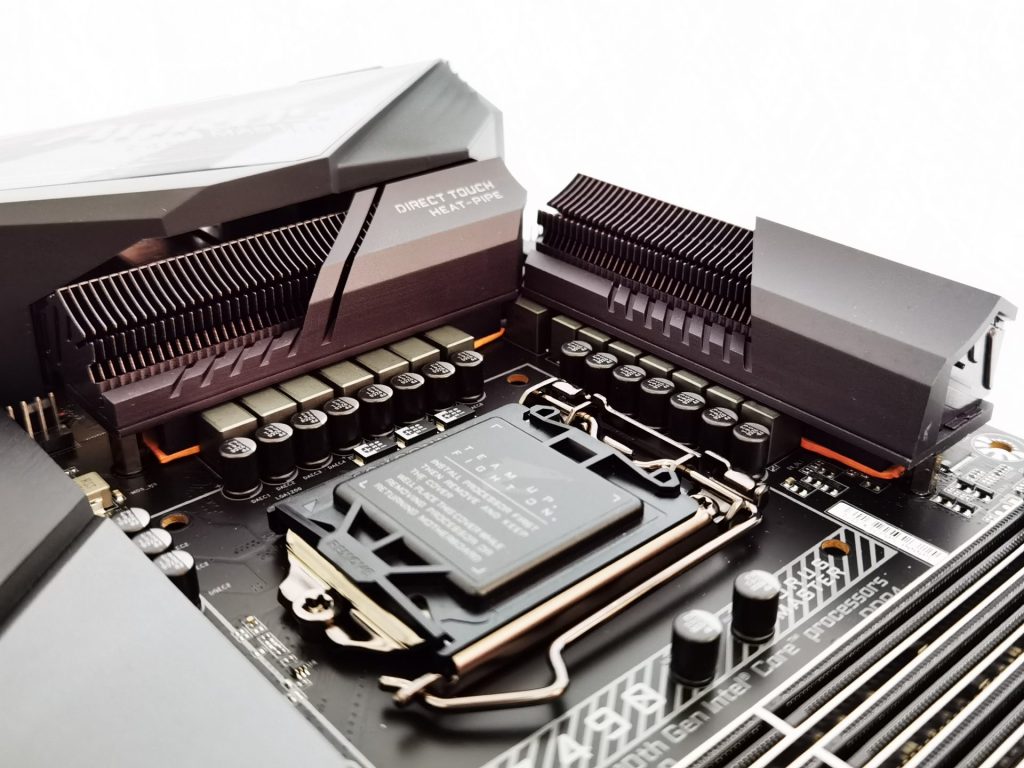 The new AORUS Z490 motherboards come with a pure digital CPU power design. This includes a digital PWM Controller with Smart Power Stages, and is capable of providing up to 90A of power from each phase. Jargons aside, for the layman, this essentially means that the motherboard has been specially design to provide smooth power delivery. This helps to ensure stability every possible condition.
The new power delivery design is required because of the demanding new CPUs from the Intel Comet Lake-S series. The new Intel Core i9-10900K that comes with 10C/20T is able to reach a maximum of 5.2GHz on its Turbo Boost Max 3.0 speed. This is even before enthusiasts try to push it further by overclocking the CPU. Of course, it is expected that such a over achieving power delivery system will be able to provide such power to the CPU.

This new power design is enabled by a fully load-balanced VRM design with doublers and a tantalum polymer capacitor array. This new design aims to allow instant provision of power requirements to the CPU as and when needed. The tantalum polymer capacitor array can improve transient response and stability under high CPU frequencies. Efficiency is a key point in this new design – this has led to lower temperatures on the VRM area.

New and Updated Cooling Solution
As expected, thermal dissipation is also one of the key features of a motherboard. Especially while using the motherboard with a high end CPU, different power delivery components are expected to get hot. This is why Gigabyte has employed an improved cooling solution to keep its temperature well under control.
Fins-Array II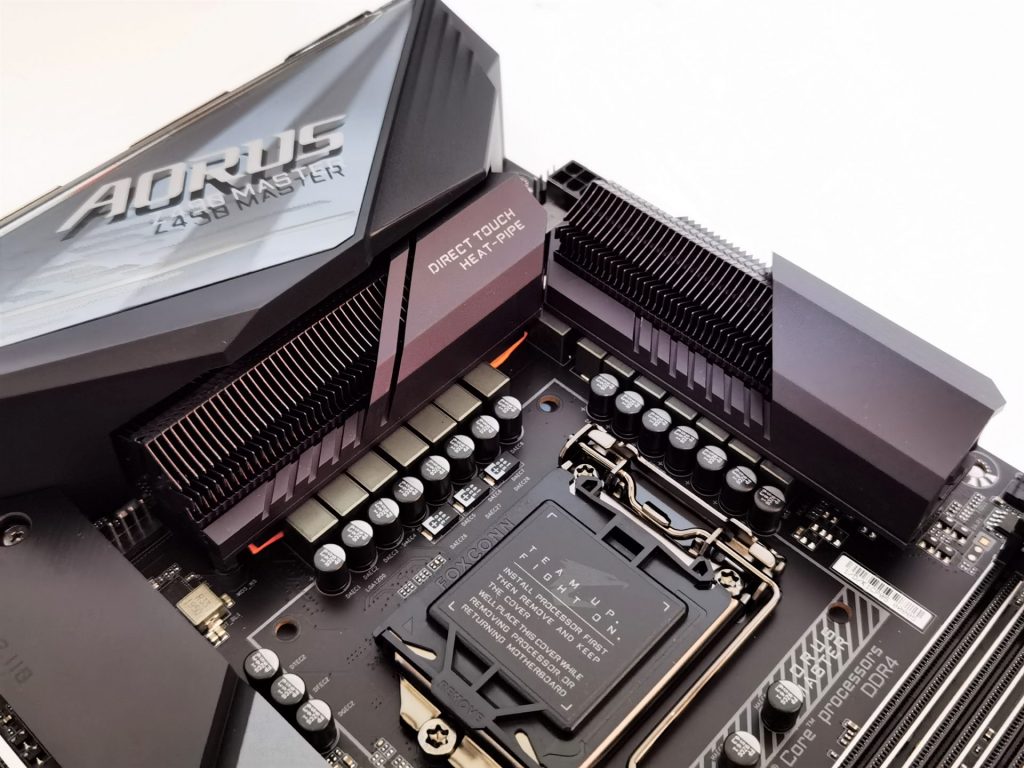 Unlike traditional heatsinks where individual metal fin have a smooth surface, the Fins-Array II method uses a louvered stacked fins technology to increase the surface area for heat dissipation. Heat that flows through the fins are expected to always move to the edges due to their lower temperature. This small change to the fin design can help to dissipate heat away even faster than traditional designs.
Direct-Touch Heatpipe II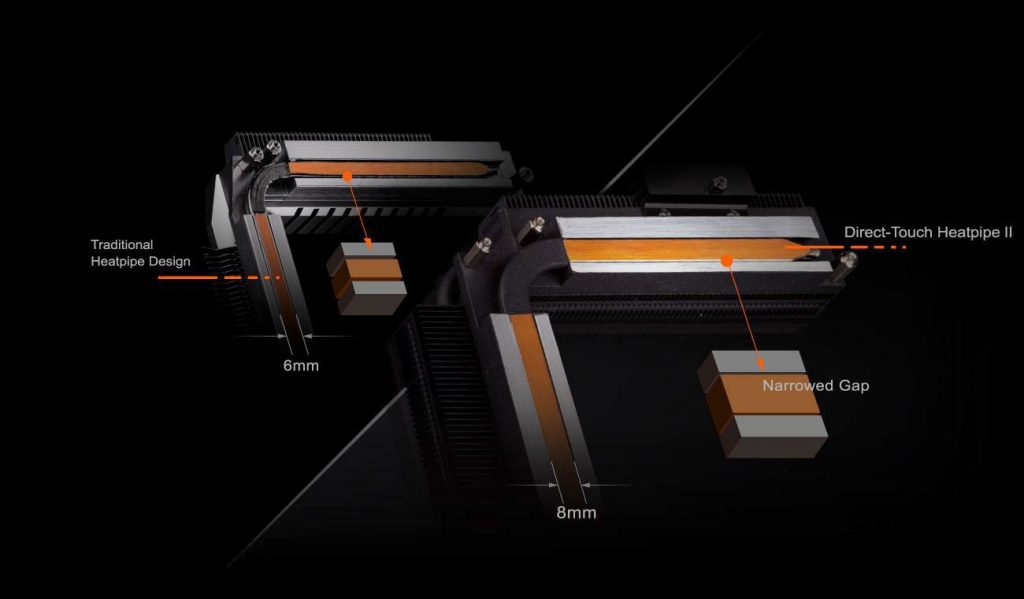 Found right on the top of the MOSFETs is a dedicated heatsink which sole purpose is to bring heat away from it. Gigabyte has also increased the thickness of the heatpipe, so that it can narrow the gap between the heat pipe and heatsink to enhance heat dissipation.
Nano Carbon Coated Fins-Array
Moreover, on top of the added benefits of the Fins-Array II technology, an additional layer of Nano Carbon coating material has been added. This material enhances thermal radiation for more efficient release of heat to the environment. GIGABYTE claims that this new coating allows the heatsink to be 10% cooler than before.
Extreme Memory Design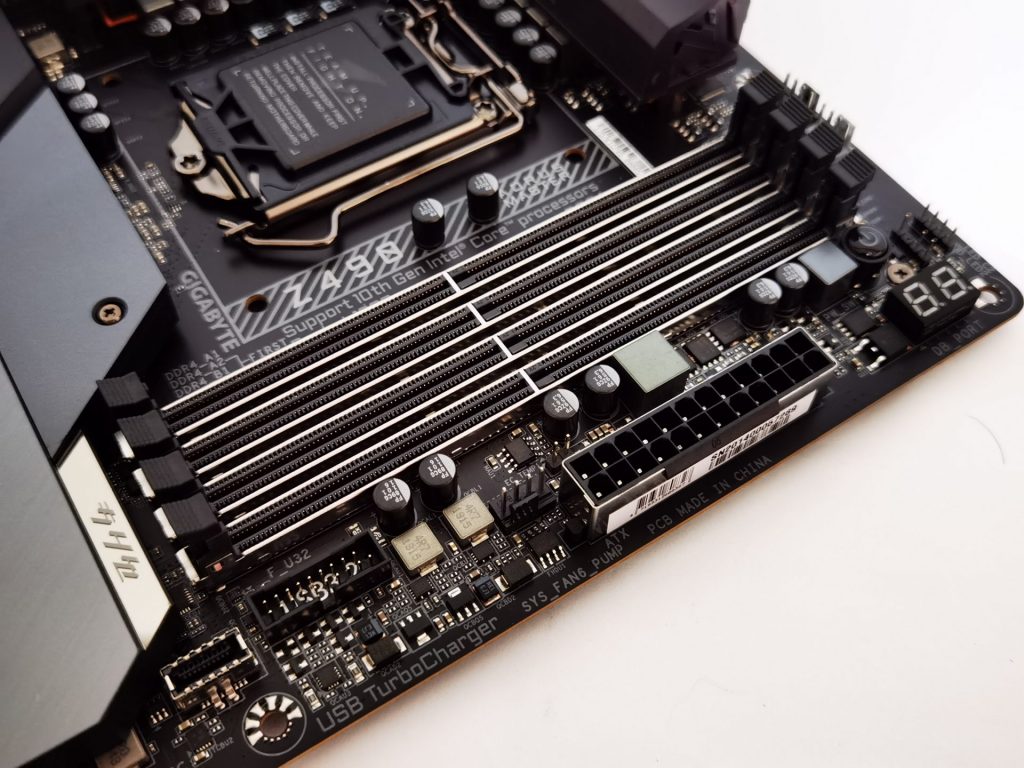 With an additional touch to improve the system memory's performance and stability, Gigabyte has added individually shielded memory routing methods, SMT DIMM and Tantalum Polymer Capacitor arrays to ensure the most stable power delivery to system memory. This unlocks the potential of memory overclocking on the AORUS Z490 Master motherboard.
As such AORUS is confident that their platform will be compatible with high speed memory modules with XMP profiles that are 4800MHz and beyond.
Conclusion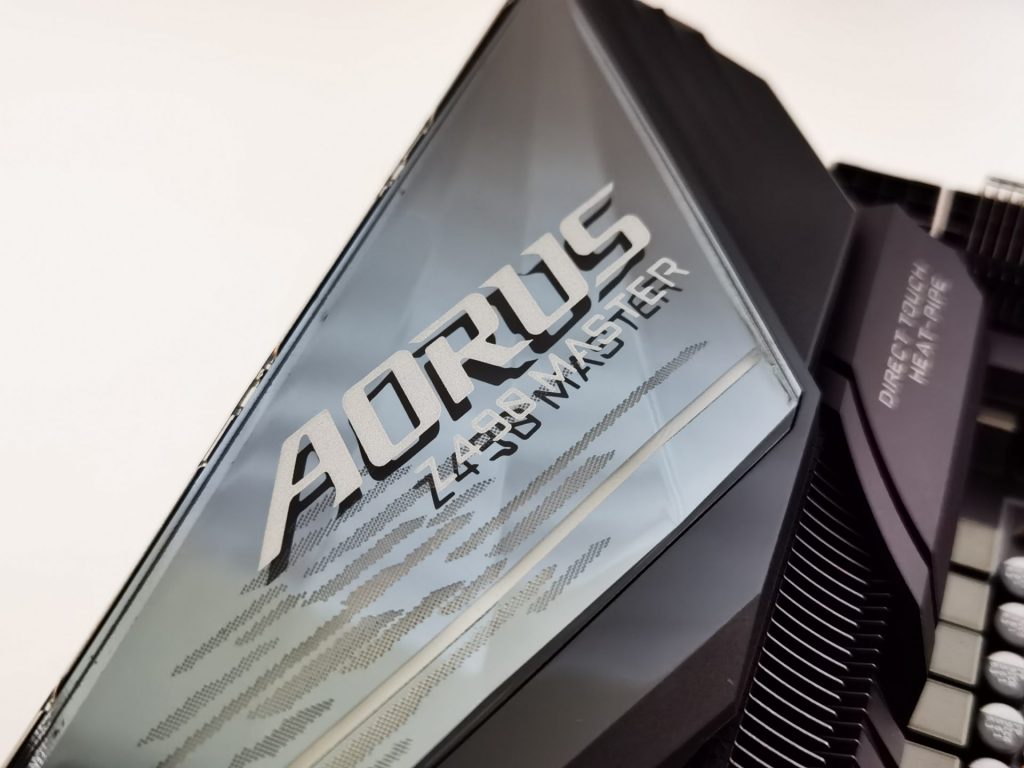 The Gigabyte Z490 AORUS Motherboard is a very feature-packed motherboard. Armed with the latest and greatest power delivery design, and the use of new components, this motherboard is made to perform. We are eager to put this motherboard to the test so as to better understand how it can perform with the new Intel Comet Lake CPUs.
Do look out for the performance and overclocking capabilities of this motherboard in our next article a few weeks later.