We have with us today the Razer Blade 14 (Mid 2023 Model). This laptop proudly showcases the culmination of Razer's efforts. At its heart lies the formidable AMD Ryzen 9 7940HS, an absolute powerhouse boasting eight cores, a mind-boggling 5.2GHz boost frequency, and a 54W TDP that propels it into a league of its own within the world of mobile CPUs.
Join us as we delve into the remarkable features and capabilities that make the Blade 14 a true monster of a laptop, setting new benchmarks for portable computing excellence.
Configurations
The Blade 14 continues the legacy of its predecessor by seamlessly integrating robust components within an elegant and slim framework. At its core, the uniformity of the AMD Ryzen 9 7940HS processor across all Blade 14 variations holds immense promise.
This processor boasts an impressive octa-core architecture with a remarkable turbo boost of up to 5.2GHz—figures that could even give desktop aficionados pause for thought. The Nvidia GeForce RTX 40 graphics chips featured in the lineup offer a staggering 140-watt peak graphics power rating, a feat that outperforms even select 17-inch gaming laptops.
Distinguishing our model from the foundational version, which sports an RTX 4060 graphics card and 16GB of RAM, lies the inclusion of the RTX 4070 GPU. Across all iterations, a capacious 1TB SSD ensures ample storage, and the potential for post-purchase upgrades extends to both the RAM and SSD.
Design: Elegance Redefined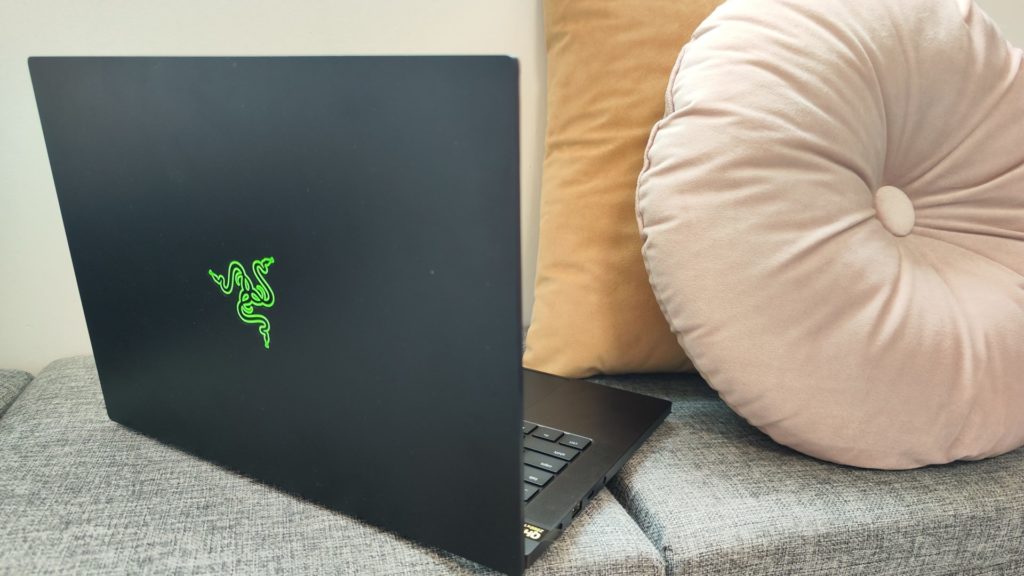 In the realm of minimalist design, the Razer Blade 14 emerges as a true masterpiece, capturing hearts with its irresistible simplicity. A jet black aluminum lid, adorned with the iconic Razer logo in its signature green hue, evokes admiration.
The quintessential Razer design language takes center stage in the Blade 14, beginning with its meticulously crafted CNC aluminum chassis—eschewing stamped metal for an aura of sophistication. The chassis elegantly unites three components: the lid and the upper and lower halves, culminating in a structure that exudes solidity and resists any notion of flex.
Raising the lid reveals a similarly understated black metal deck, where a generously sized trackpad and a 60% keyboard coexist harmoniously, framed by ample space on both flanks.
The chassis of the Razer Blade 14 stands as a testament to its robustness, defying any attempts to warp or bend under pressure. Complemented by a resilient hinge, this laptop elevates tactile experience to a premium level, transcending beyond its impressive specifications and captivating display.
Dimensionally, the Razer Blade 14 measures a sleek 12.23 x 8.97 x 0.7 inches, all the while tipping the scales at a mere 4.1 pounds. The remarkable lightweight feel is a feat to behold.
Display: A visual marvel
Encompassing a breathtaking 14-inch QHD+ 240Hz, 2560 x 1600-pixel matte display, the Blade 14's display boasts remarkable color depth and an exceptionally high peak brightness. In a world where gaming laptops occasionally falter in delivering exceptional visuals, Razer stands resolute for the most part.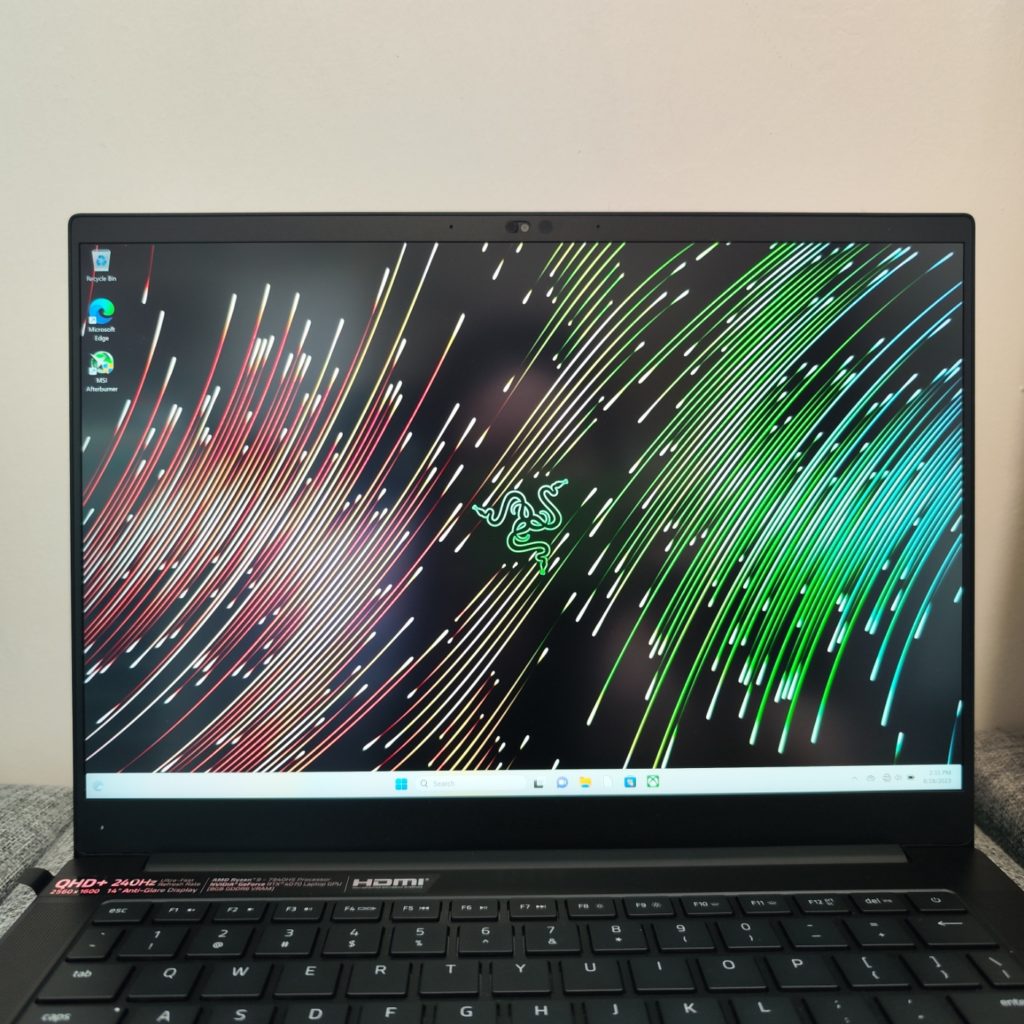 The 16:10 aspect ratio display stands as a testament to Razer's commitment to excellence. Its 2,560-by-1,600-pixel resolution harmonizes seamlessly with the prowess of the RTX 40 GPUs, particularly when the game takes advantage of Nvidia's performance-boosting DLSS technology. With roughly 10% more vertical real estate compared to its predecessor, the 2,560-by-1,440-pixel 16:9 equivalent, this display promises a richer visual experience.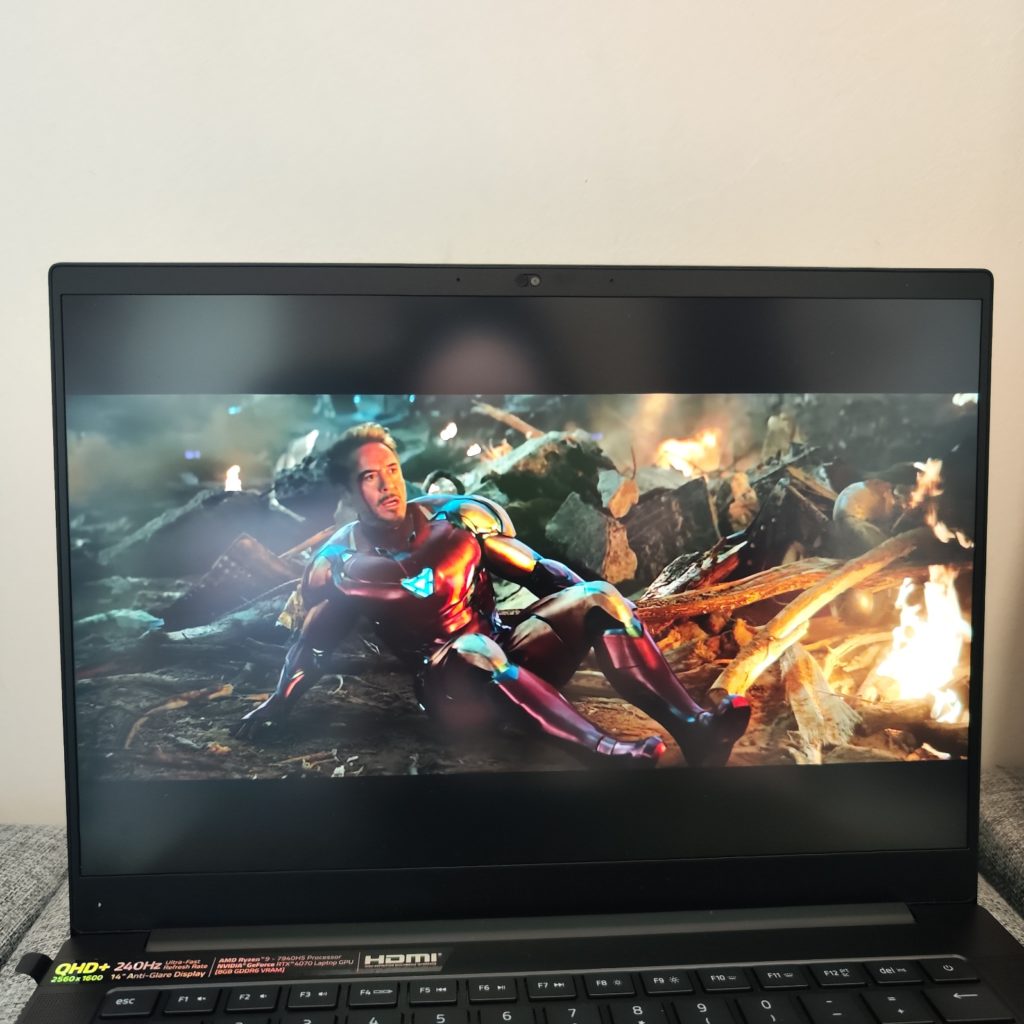 Beyond the numbers, Razer's dedication to quality shines through with above-average screen brightness and color coverage. The anti-glare surface effectively mitigates reflections, adding to the overall visual comfort. Boasting a 240Hz refresh rate, a swift 3ms response time, and AMD FreeSync Premium to combat frame tearing, the technical prowess of this display is nothing short of awe-inspiring. While touch support isn't a given on a gaming laptop, its absence is hardly noticeable.
In a real-world scenario, watching Marvel movies left an indelible impression. Each building, car, and character stood out distinctly to showcase the display's remarkable prowess.
Keyboard and trackpad: Fuss-free, Intuitive Navigation
The keyboard of the Razer Blade 14, compact yet brimming with potential, brings a touch of chromatic wonder to your fingertips. Each key comes alive with per-key Razer Chroma support, allowing a canvas of up to 16.8 million colors to express your style. A thoughtful touch awaits as the Fn key is pressed, illuminating the F1-F12 keys while dimming the rest, making it effortlessly clear which keys align with the function. With a quick glance, you can pinpoint the keys primed for functional use.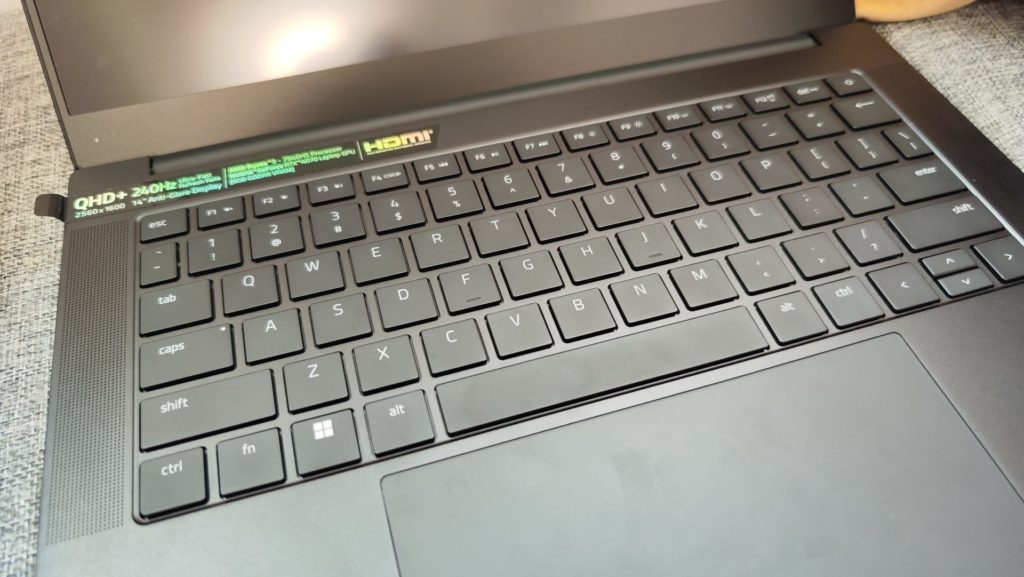 Among the array of marvels, the function keys themselves offer a gamut of utility, delivering anticipated options such as brightness adjustment, volume control, keyboard backlight manipulation, print screen, and even the ability to project the display.
Moving to the touchpad, an expansive 5.9 x 3.4-inch space awaits—offering a canvas for seamless interaction. Whether it's the gratifying glide of your fingertip during file navigation, the graceful drag-and-drop maneuvers with folders, or the satisfying selection of multiple items, the touchpad proves itself smooth and rewarding. Notably, Windows multitouch gestures are handled with ease, whether you're swiftly shuffling between windows or discreetly tucking away tabs to reveal the desktop.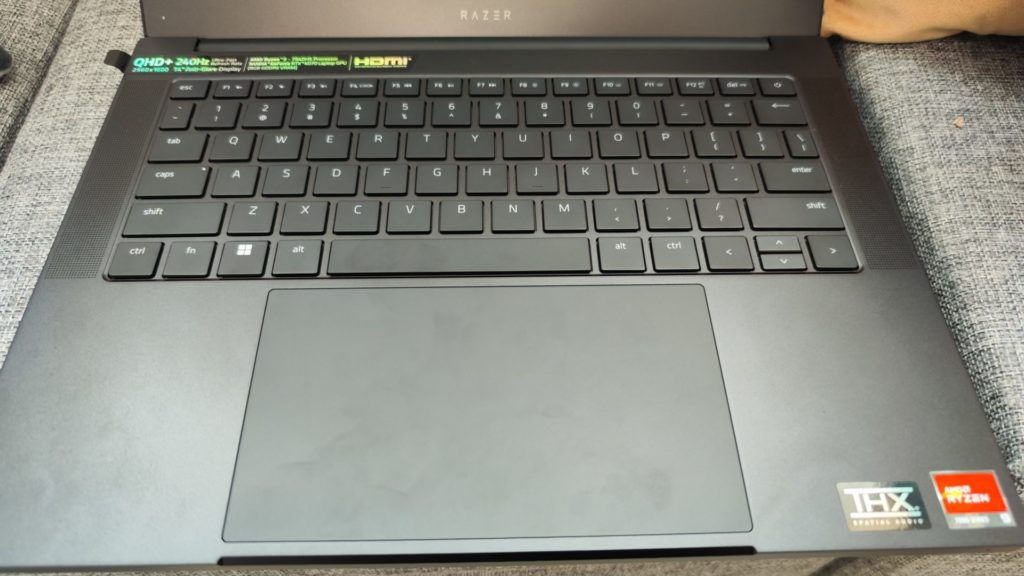 In the realm of input and navigation, we have nothing to complain about. Each keystroke and gesture resonates with precision and satisfaction.
Ports: Versatile connectivity at your fingertips
The Razer Blade 14 emerges as a connectivity powerhouse, strategically furnishing a robust collection of ports to cater to your diverse needs. The right side plays host to a wealth of options, including a USB 3.2 Type A port and a USB 4 Type-C port fortified with Power Delivery capabilities. An HDMI 2.1 port further enriches this ensemble, facilitating seamless external display connections. And for those who prioritize security, a Kensington Lock slot offers reassurance.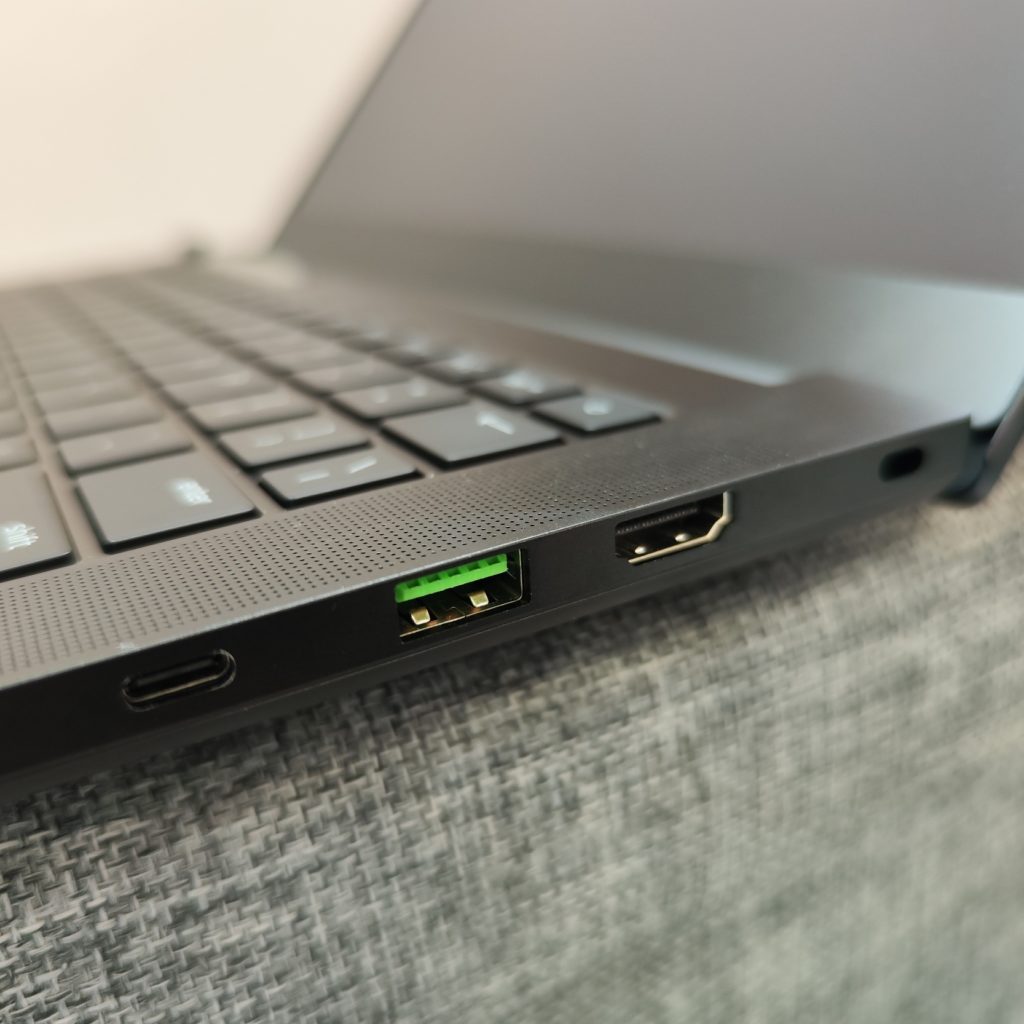 On the left, another USB 3.2 Type A port and USB 4 Type-C port extend the connectivity repertoire. Complementing these is the audio jack and an AC power port ensuring that your laptop remains powered and ready for action at all times.
Empowering Control: Razer Blade 14's Synapse App and THX Audio Enhancement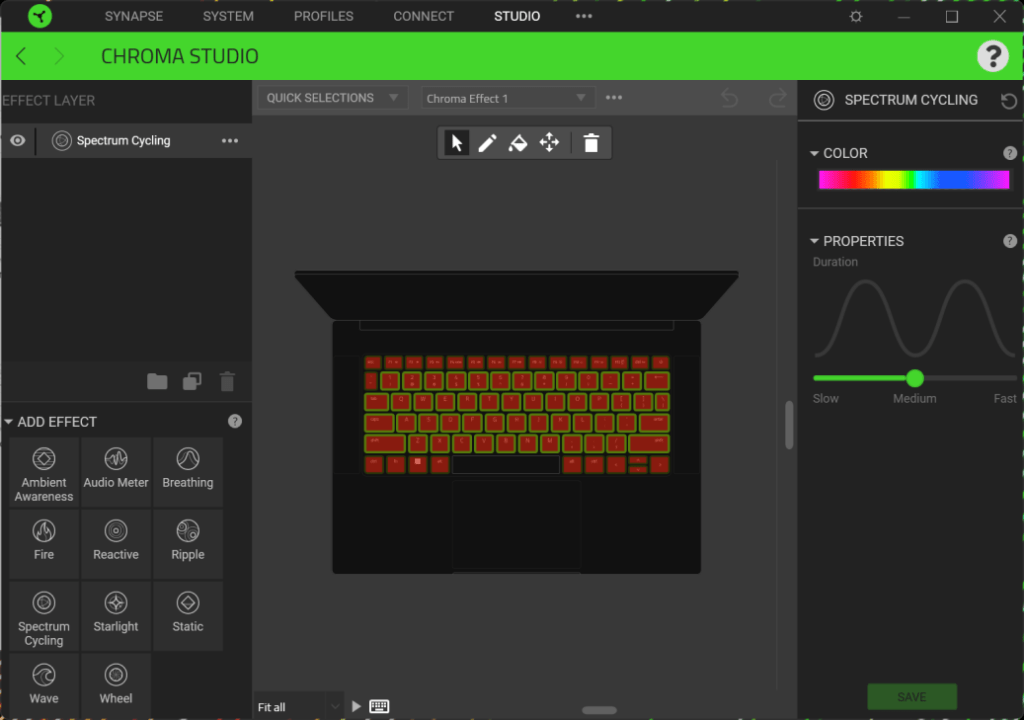 Elevating your interaction with the Razer Blade 14, the Synapse app introduces an abundance of value, transcending mere functionality to provide a realm of customization and optimization. At the forefront, the capacity to redefine your keyboard backlighting stands as an enticing proposition. The Chroma Studio section becomes a playground of creativity, offering both presets and comprehensive custom modes that empower you to craft intricate effects, layered dynamics, and captivating patterns. A guiding tutorial ensures a seamless journey into this realm of possibilities.
Synapse takes its utility further by enabling keyboard macros and introducing a gaming mode—a haven for uninterrupted gameplay by disabling the Windows key and potential disruptors.
Venturing into display settings, the Blade 14 grants the ability to transition to a power-conserving 60Hz screen refresh rate while on battery—a default setting contributing to the impressive battery life observed in our benchmarks.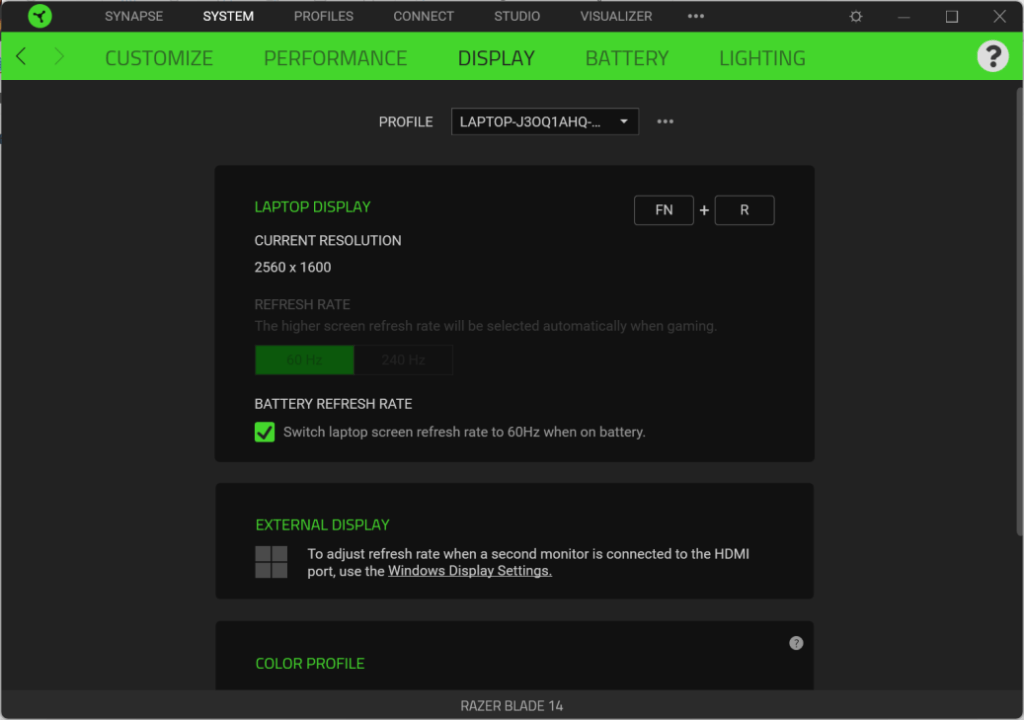 Battery settings reveal a hidden gem—the life optimizer. This feature nurtures the long-term health of your battery by preserving its optimal charge level.
Razer's thoughtfulness extends beyond the app with the integration of the THX audio app. This addition proves significant, particularly for the keyboard-flanking speakers. The default music profile offers versatility, while cinema and gaming modes bestow an expanded soundstage, enhancing your immersion while keeping the heart of the melody intact.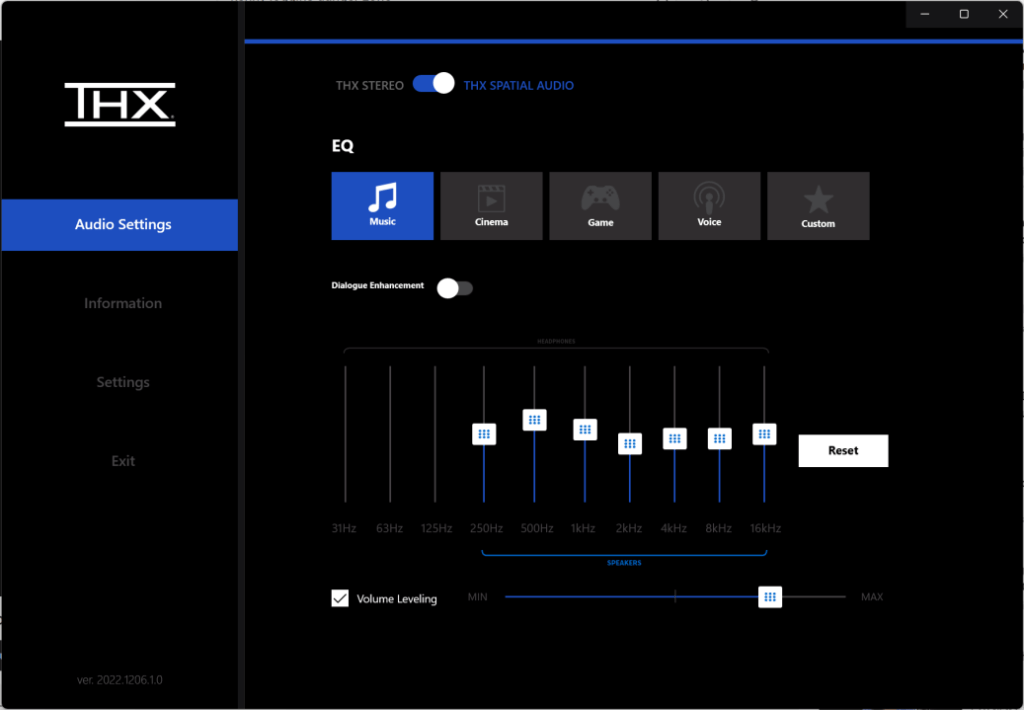 Audio: Stealthy front-firing speakers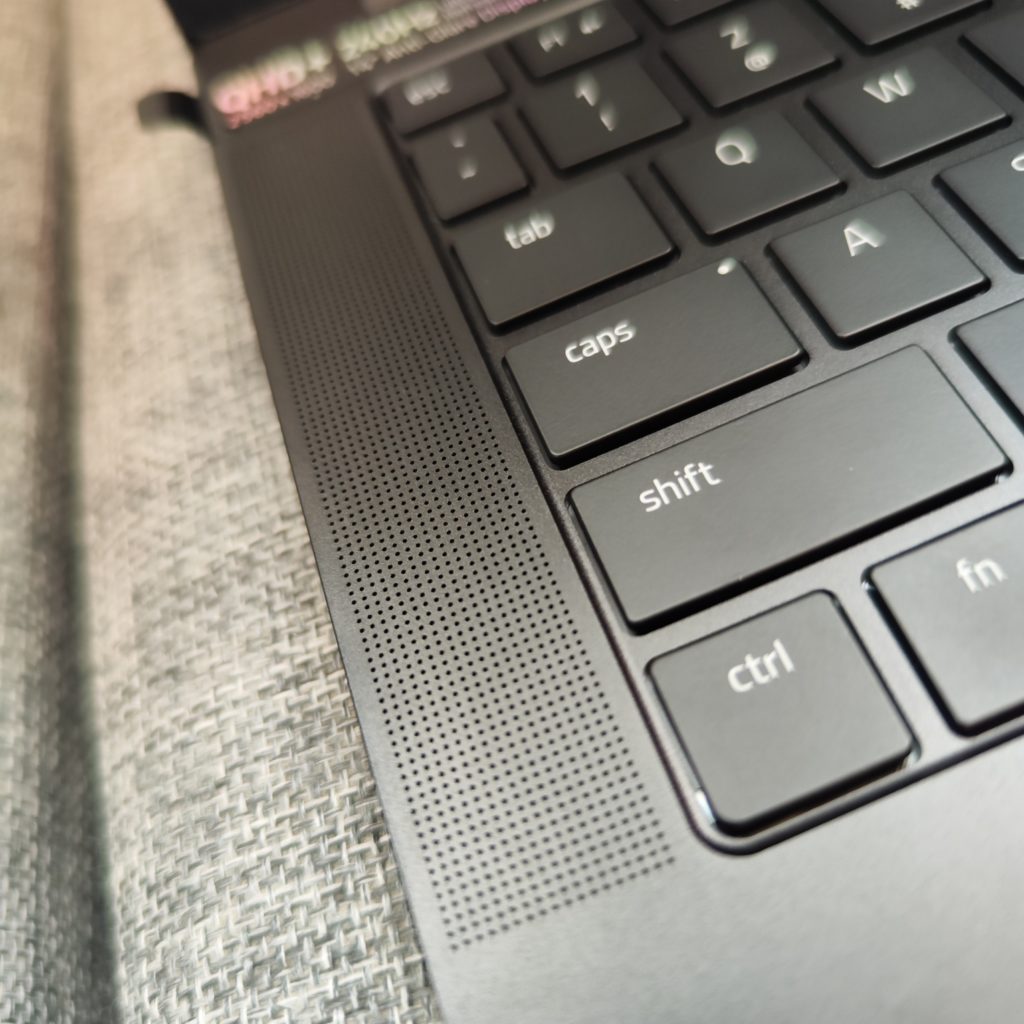 Concealed with finesse, the Razer Blade 14's unobtrusive front-firing speakers initially elude the eye. My astonishment unfolded as I engaged in auditory exploration—sampling music and immersing myself in gaming sessions. A remarkable audio experience ensued, challenging the norm where bottom-firing speakers impress. However, Razer defies this notion, seamlessly integrating the speakers into the laptop's deck. The outcome is a potent blend of impactful, vibrant, and resonant audio that accompanies your gaming escapades and musical interludes with equal prowess.
Battery: Enduring powerhouse
Crafted to endure your entire day's endeavors, the Razer Blade 14 accompanies you through work, play, and creative pursuits, unfaltering from sunrise to sunset. Bolstered by an array of enhanced battery health features, this iteration of Blade 14 elevates your experience to new heights.
On our test, in just a single hour, the Blade 14 charges up to 80%, ensuring minimal disruptions to your momentum. The 68.1 Wh battery packs the necessary punch to sustain throughout the day, while the added assurance of a 2-year battery warranty guarantees lasting reliability.
Pricing and availability
The Razer Blade 14 is available here. Prices range from $2,989.00 to $4,559.00, depending on the configuration that you choose.
Verdict
In the vast landscape of gaming laptops, the Razer Blade 14 emerges as the definitive champion. It's not just the sum of its parts, but a masterful amalgamation of excellence that defies expectations.
Delivering on every front, the Blade 14 transcends the realm of gaming prowess. Its robust build exudes a premium aura that complements its premium (read: pretty hefty) price tag, while the display dazzles with vibrant brightness and captivating color depth. The speakers create an auditory symphony that's nothing short of impressive, and the commendable battery life sustains your experiences throughout the day.