Fed up with those clunky vacuum cleaners tied down by cords? Tired of playing hide and seek with stubborn dust that just won't budge? And let's not even talk about those corners that seem to mock your cleaning efforts! Well, hold onto your broomsticks, because the DreameBot L20 Ultra is about to change your cleaning game forever!
Intelligent MopExtend™ Technology – precision edge cleaning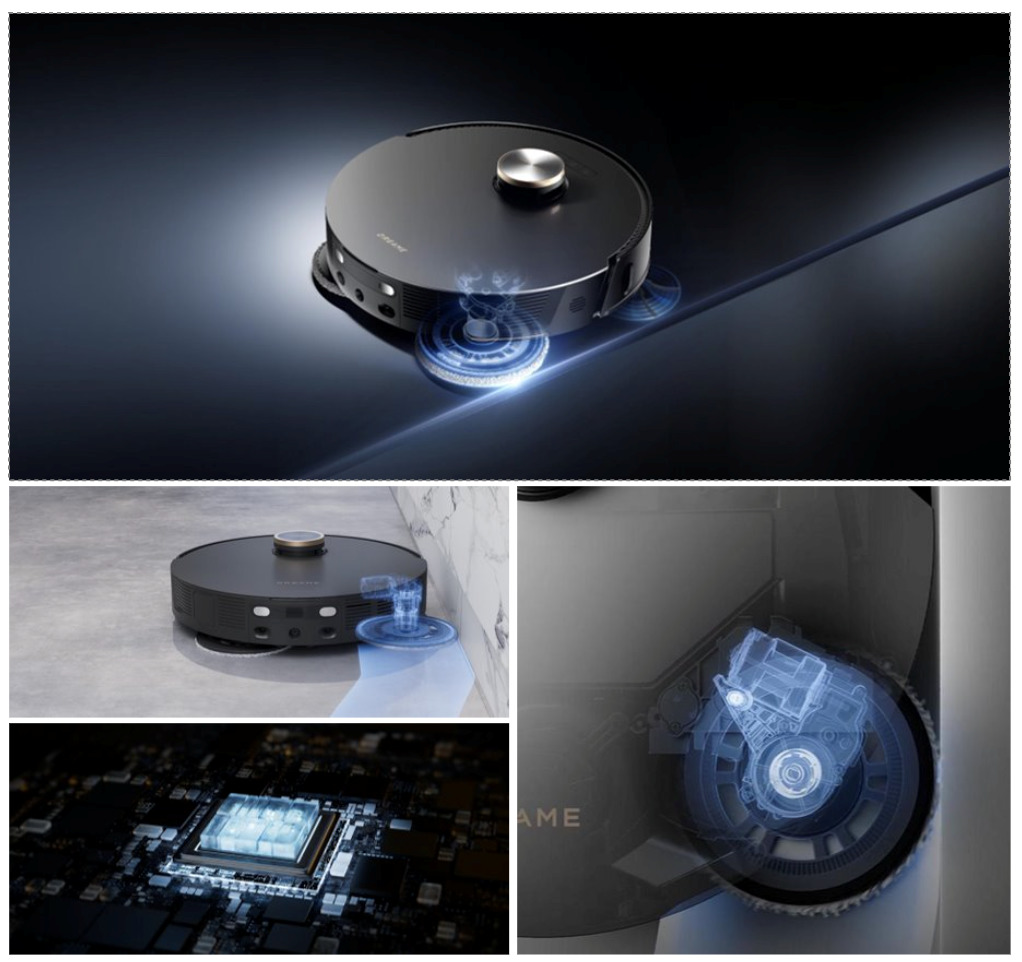 Let's talk precision – cleaning within a mere 2mm of baseboards. Sounds too good to be true, right? Not with the DreameBot L20 Ultra! This cutting-edge cleaning champ brings you Intelligent MopExtend™ Technology, a game-changer that redefines what clean really means.
Picture this: the FIRST robot cleaner in the world that can actually extend its mop and reach those tricky corners and edges. It's like having a cleaning ninja that sneaks into every hidden spot. But it's not just about being fancy—it's about results.

No more worries about cleaning area leaks along straight walls – the L20 Ultra's MopExtend™ assembly has got your back. Plus, it tackles those pesky right-angle edges too, making sure not a speck is left behind. But it doesn't stop there. Table and chair legs? Covered. The L20 Ultra supports them too, giving a whole new meaning to thorough cleaning.
With the magic of the Position Sensitive Detector, the L20 Ultra navigates edges and corners like a pro. The MopExtend™ assembly automatically stretches the mop until it's just 2mm* from the edges – that's some serious precision cleaning! And with smart algorithms, even complex or large homes don't stand a chance against this cleaning genius.
Automatic Mops Removal Technology – avoid thick carpet from getting wet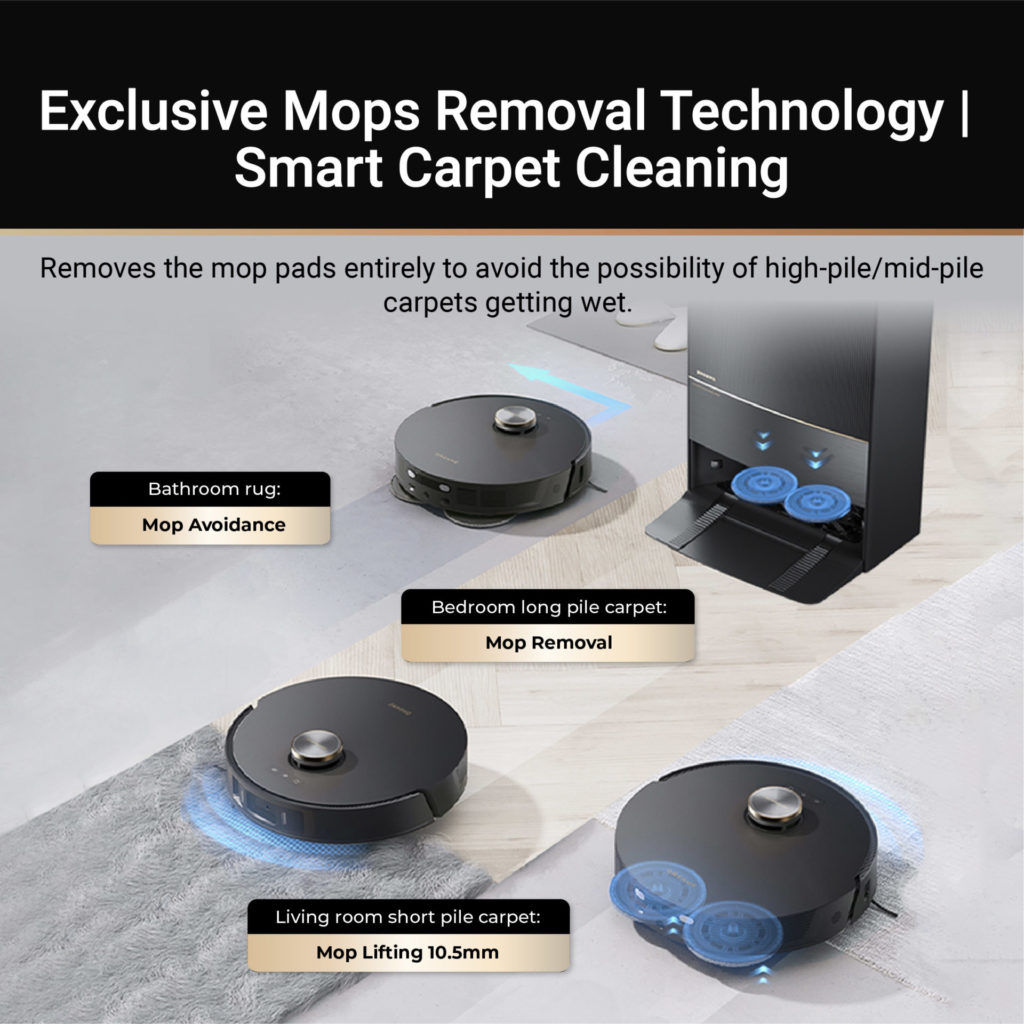 DreameBot L20 Ultra isn't just a vacuuming wizard – it's also a carpet-care magician. Bid farewell to soggy carpets and say hello to a home that's not just clean, but beautifully dry. With the revolutionary Automatic Mops Removal Technology, you're in for a whole new level of cleaning mastery.
Imagine this: you've got plush carpets that you adore, and you want them to stay dry and fabulous. The L20 Ultra hears you loud and clear. Thanks to its ingenious Automatic Mops Removal Technology, even the thickest of carpets won't find themselves swimming in water anymore.
Here's the lowdown: the L20 Ultra is like your carpet's best friend. It knows how to treat different surfaces, and it's got a special trick up its sleeve – carpet detection that's nothing short of genius. It's like having a smart robot sidekick that understands exactly when to switch to "carpet mode." And when that switch flips, get ready for some magic.

Watch as the L20 Ultra zips back to its base, bidding farewell to the mops and saying hello to boosted suction. This robot means business when it comes to tackling those stubborn messes on carpets. But wait, there's more! If you're dealing with low-pile carpets or delicate rugs, the L20 Ultra has you covered.
With its 10.5mm* mop lift and suction boost, you're getting a whole new level of cleaning without any wet aftermath. And guess what? The power is in your hands with the app's customizable settings. Choose your carpet strategy – mops off, mops raised, or full-on carpet avoidance. In fact, it's like having a remote control for clean carpets. Just imagine setting the L20 Ultra to "Vacuum Then Mop" mode, and watch it work its magic.
So go ahead, test its might on high-pile or mid-pile carpets, and see the results for yourself. With the DreameBot L20 Ultra, you're not just getting a cleaner home – you're getting a cleaner future. It's time to elevate your cleaning game and experience carpet cleaning like never before.
Worry-Free CleanGenius™ -> dirt detection technology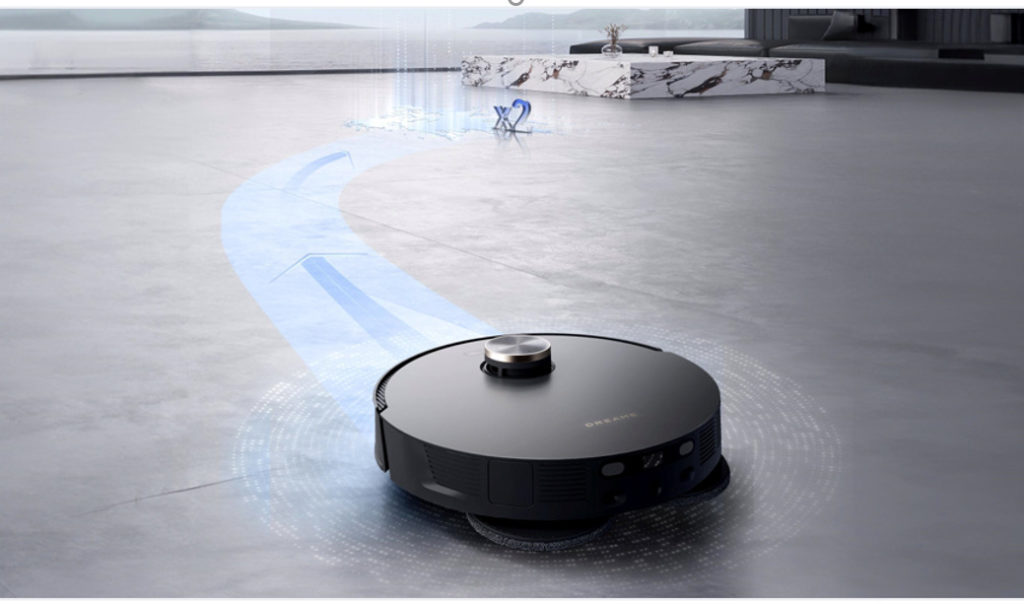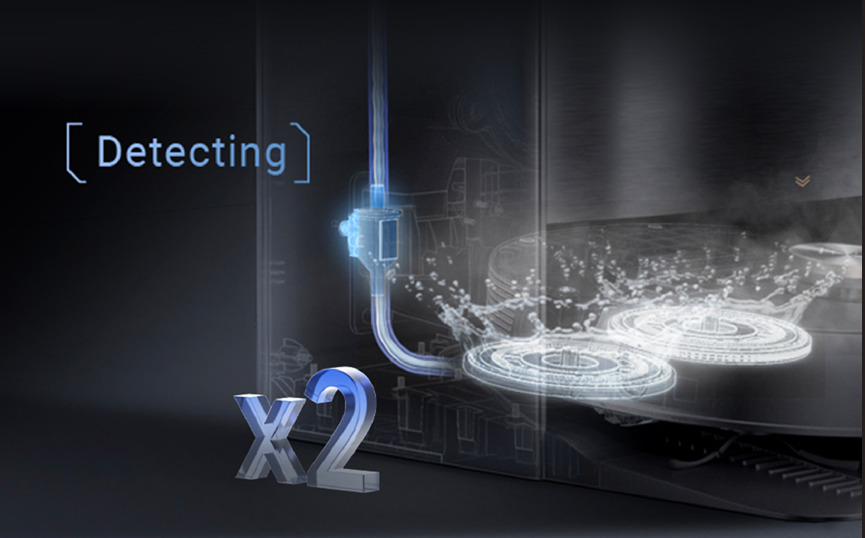 Prepare to be amazed further: the L20 Ultra isn't your ordinary technology; it's the ultimate cleaning ally with a revolutionary CleanGenius™ technology that can bring your cleaning game to the next level. This technology is all about reading the dirt levels of your mop pads and floors.
And guess what? If things aren't up to par, CleanGenius™ rolls up its sleeves and gets back to work. When the L20 Ultra returns to its base, it doesn't just call it a day. It checks the dirt level on the mop pad and floor, and if it's anything less than perfect, it dives right back in for another round of cleaning. Say farewell to overlooked spots and say hello to pristine perfection.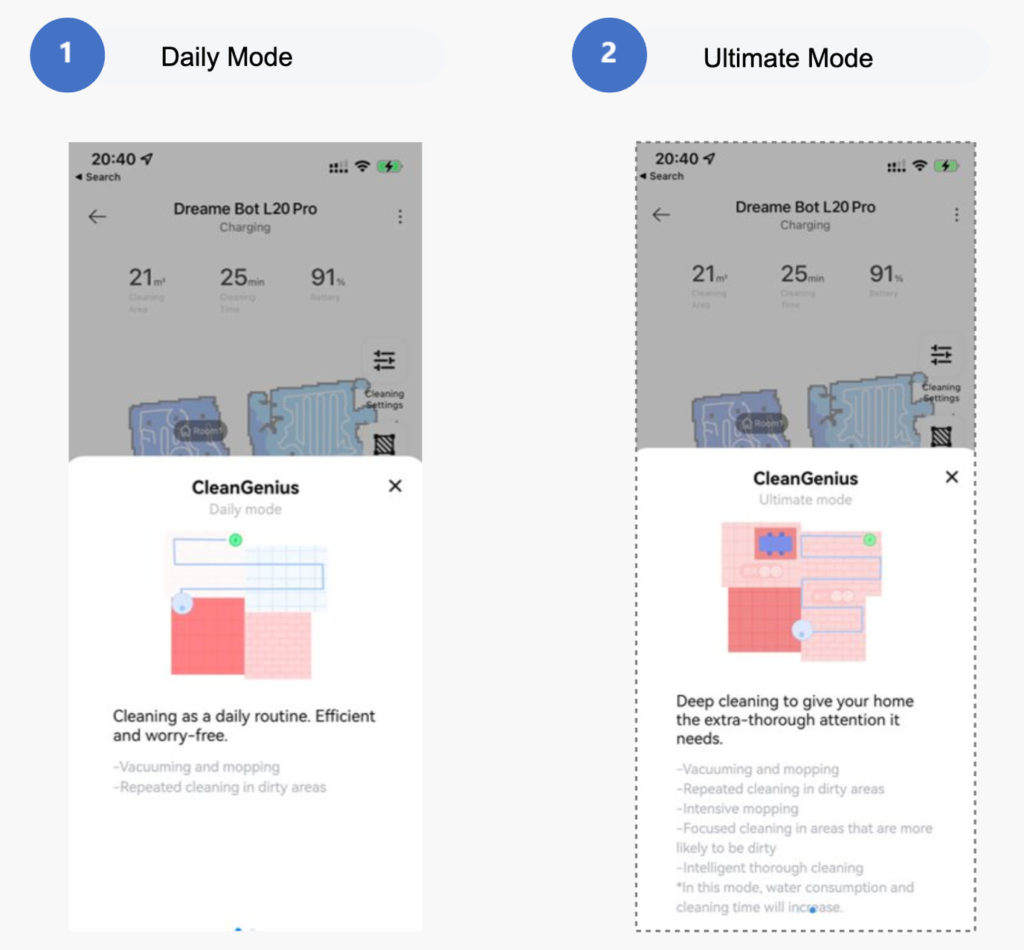 But the L20 Ultra doesn't stop there – it's got even more tricks up its sleeve.
Here's where the magic truly happens. The L20 Ultra learns your home's unique layout and offers you two fantastic cleaning modes: Daily Mode and Ultimate Mode, accessible through the app. It's as if you've got a personal cleaning assistant that knows precisely what your space requires. So go ahead, reclaim that extra time you've always wished for.
In the app, you'll discover the power of customization. Choose Daily Mode for those quick touch-ups that keep your home looking its best day in and day out. And when you're ready to kick it up a notch, activate Ultimate Mode for a deep and comprehensive clean that leaves no nook or cranny untouched. With these two dynamic cleaning modes, the L20 Ultra adapts to your lifestyle effortlessly, giving you the freedom to focus on what truly matters.
Water Hookup Kit – Auto refilling and draining 
Imagine it: no more grappling with manual fill-ups and messy drains. The L20 Ultra takes it up another notch by connecting directly to your water pipes, ensuring an uninterrupted flow of fresh water and seamless drainage. It's akin to having a personal cleaning sidekick that knows exactly what you require. And with the genius of the automatic base station, you're stepping into a home where the floors are not just clean, but invigoratingly pristine.
But wait, there's more – let's delve into the remarkable features that make the DreameBot L20 Ultra a true game-changer:

Auto-Empty: The L20 Ultra is engineered to make your life easier. With the DualBoost 2.0 technology and a spacious 3.2L dust bag, it effortlessly empties itself for up to an impressive 75 days. Your cleanup game just got simplified to tossing out the bag – it's that hassle-free.
Auto Water Refilling: Picture this: the robot's water tank is automatically refilled to keep the mop pad perfectly wet, maintaining its peak cleaning efficiency. It's like having a cleaning assistant that's always prepared for the job.

Automatic Solution Adding: The L20 Ultra takes precision seriously. It tops itself off with just the right solution-to-water ratio, ensuring your floors get the tailored cleaning they deserve.
Water Hookup Kit for Auto Refilling and Draining: This is where convenience reaches new heights. By connecting a water supply pipe and a drainage pipe, the Water Hookup Kit achieves auto refilling and draining, eliminating the need to wrestle with heavy water tanks. Picture a world where lifting, filling, and carrying become things of the past – the L20 Ultra makes it a reality Your cleaning routine just went from tedious to a breeze. (Please note that the Water Hookup Kit is available in select regions and can be purchased separately.)
7,000Pa Suction Power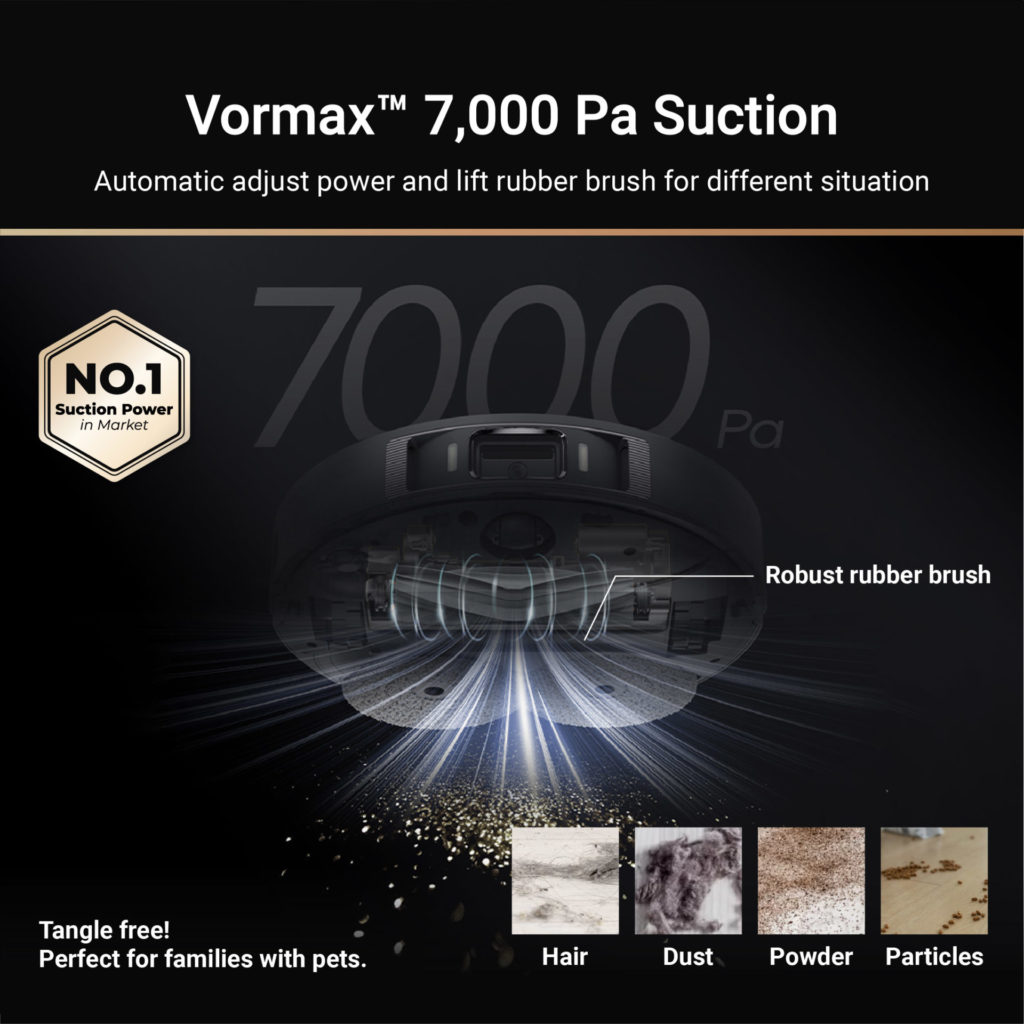 Here's the grand finale of innovation – the DreameBot L20 Ultra's 7,000Pa suction power, setting an unmatched benchmark that leaves the competition in awe. Get ready to witness not just a vacuum cleaner, but a true force to be reckoned with. From nuts to pet litter, this machine conquers them all effortlessly. With a suction capability like this, stubborn debris is about to meet its match.

Picture this: 7,000Pa of suction prowess, designed to extract household debris from the depths of carpets and whisk it off hard floors. It's not just a claim; it's a reality you can witness with your own eyes. Say goodbye to those stubborn particles like dog or cat food, soybeans, oatmeal, and more – the L20 Ultra devours them with gusto. And all it takes is a quick selection in the app, choosing "Vacuum Only" mode and dialing up the power with "MAX Suction."
But the L20 Ultra's capabilities extend beyond cleaning alone. For families with beloved pets, it's a game-changer. Tackling pet hair and litter with grace, this vacuum enhances the lives of both pets and their humans. And here's the icing on the cake: when it comes to maintenance, we've got you covered. Say goodbye to tangled hair troubles as you effortlessly remove them by hand or with a simple tissue. It's convenience reimagined.
Revolutionize Your Cleaning Routine with DreameBot L20 Ultra
Elevate your cleaning game with the DreameBot L20 Ultra and experience a whole new level of efficiency and ease. From its revolutionary Intelligent MopExtend™ Technology to Automatic Mops Removal, CleanGenius™ dirt detection, Water Hookup Kit, and the unmatched 7,000Pa Suction Power, it's more than just a vacuum cleaner – it's a game-changer.
Just check out how this vacuum cleaner compares with other top brands in the market: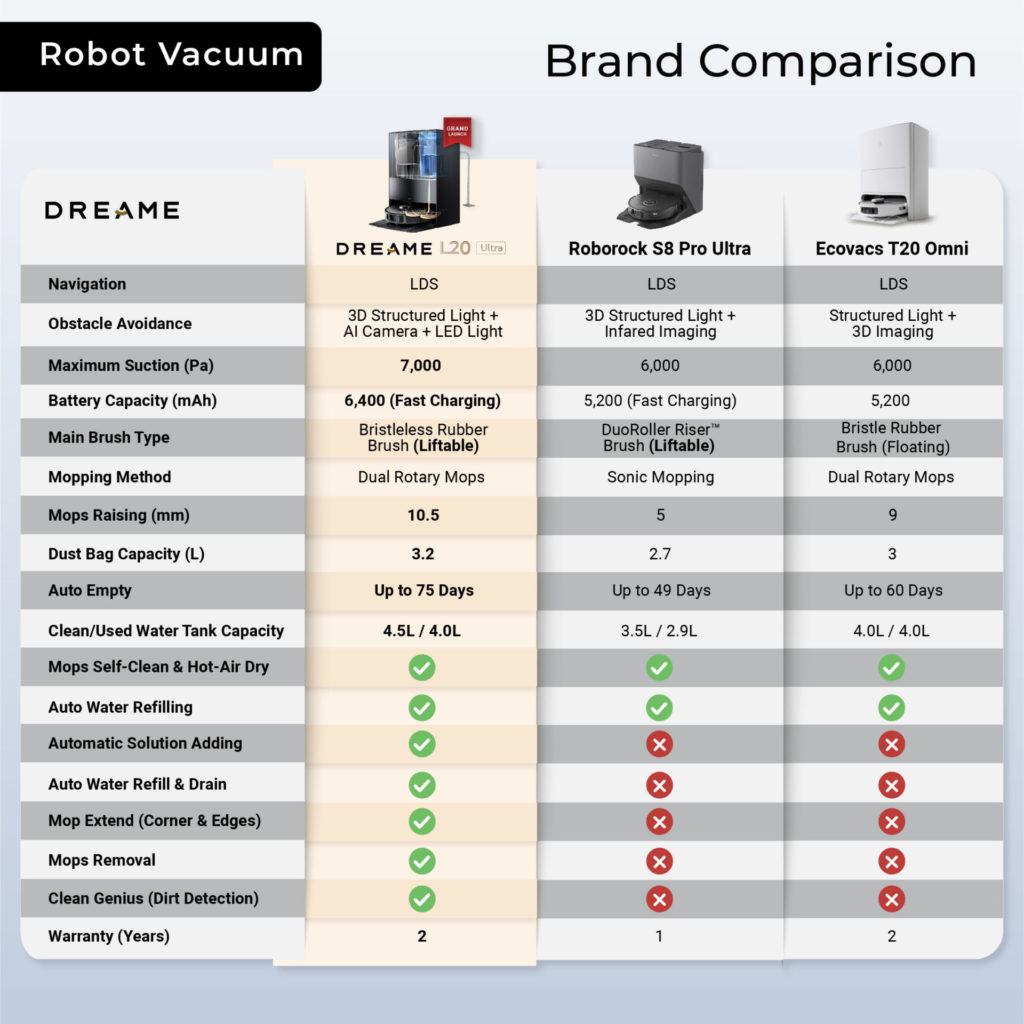 So, what are you waiting for? Why not upgrade to the L20 Ultra and enjoy the unmatched power and precision of this smart cleaning companion?
Visit their official website, dreame.sg, to explore the extraordinary features of the DreameBot L20 Ultra Robot Vacuum.
But wait, there's more! As part of Dreame's grand launch promotion, you can enjoy an incredible $260 off when you use promo code DREATTR at checkout. This amazing offer is valid until September 30, 2023. Don't miss out on this fantastic opportunity to revolutionize your cleaning routine.
Ready to experience the future of clean? Click here to make your purchase now!
Elevate your home cleaning experience with DreameBot L20 Ultra Robot Vacuum – where innovation meets cleanliness. Order now and step into a world of effortless tidiness.
Offer valid for a limited time. Terms and conditions apply.