ASUS has been trying hard to reach the enterprise and business market segment with their ExpertBook lineup of products since its introduction in 2020. Experimenting with various form factors and keeping the business users and professionals in mind, the ExpertBook products are designed with different quality attributes than standard consumer grade laptops.
For a computing product made for businesses, reliability, usability, and durability takes the center stage. To business owners, their day to day computing tools just simply have to work, and they probably aren't too concerned about getting the latest features or over the top performance.
Expanding the ExpertBook lineup, ASUS has also recently introduced the ExpertBook B3 Detachable (B3000). The ExpertBook B3 Detachable is a versatile multi modal computing device that can adapt to different usage scenarios with its various forms. By incorporating rather unique design elements, the ExpertBook B3 Detachable looks like a non-conventional computing device.
It is also one of the few Windows 11 S Mode based computing device that runs on a ARM based processor. Certainly, many will be concerned if the device can really perform and work as expected to the requirements of businesses. We've got an answer for you. Read on to learn more.
The ASUS ExpertBook B3 Detachable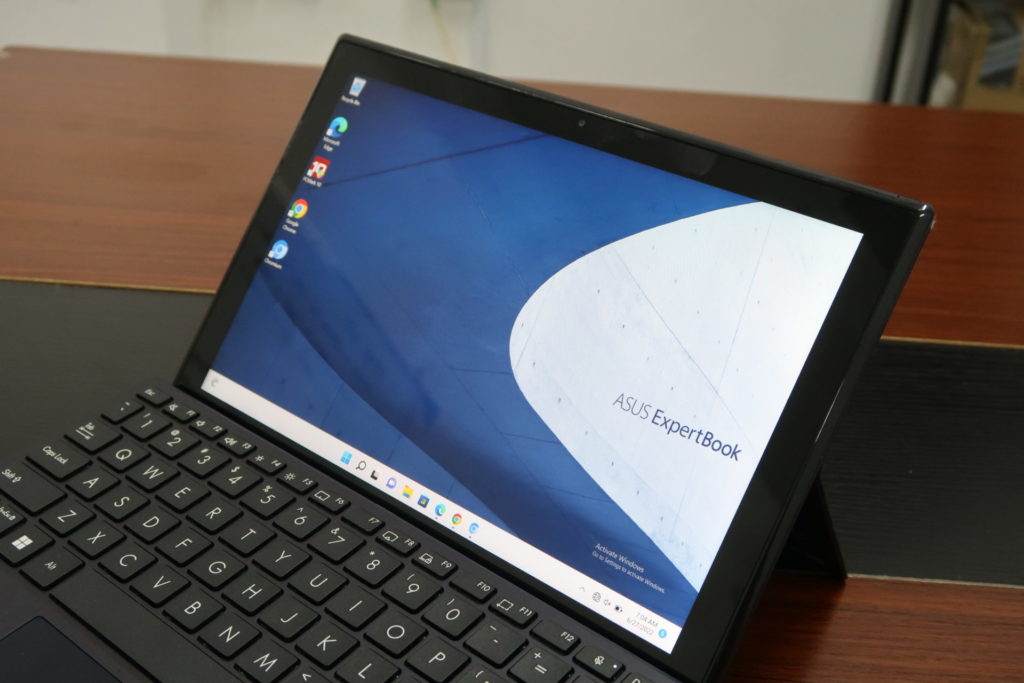 On the first look, many will tend to compare the ASUS ExpertBook B3 Detachable with the Microsoft Surface computing devices. Both devices use some sort of kickstand design for its display to put it in an angle for optimal viewing to the user. Furthermore, a detachable keyboard is also bundled to make the whole product work almost like any other laptops.
What makes the ASUS ExpertBook B3 Detachable different from the Microsoft Surface product is that the former can also support portrait mode. Its kickstand can actually be fully removable, and can be folded in an adjacent angle in order to place the device in a portrait more. Such a mode could possibly be useful if you are using the ExpertBook B3 Detachable for some web browsing or to read some documents.
Of course, the ASUS ExpertBook B3 Detachable is equipped with a stylus supported touch screen. It also comes with a garaged stylus which is kept within the tablet itself. To use it, you simply have to plug it out from the rear of the device and start drawing away.
Even though the main unit of the ASUS ExpertBook B3 Detachable looks rather thin, after adding its Stand Cover and the keyboard, we've got the say that the device looks rather bulky instead. However, rest assured that the whole device only weighs about 0.6Kg, so it is still one of the most portable Windows 11 devices in the market today.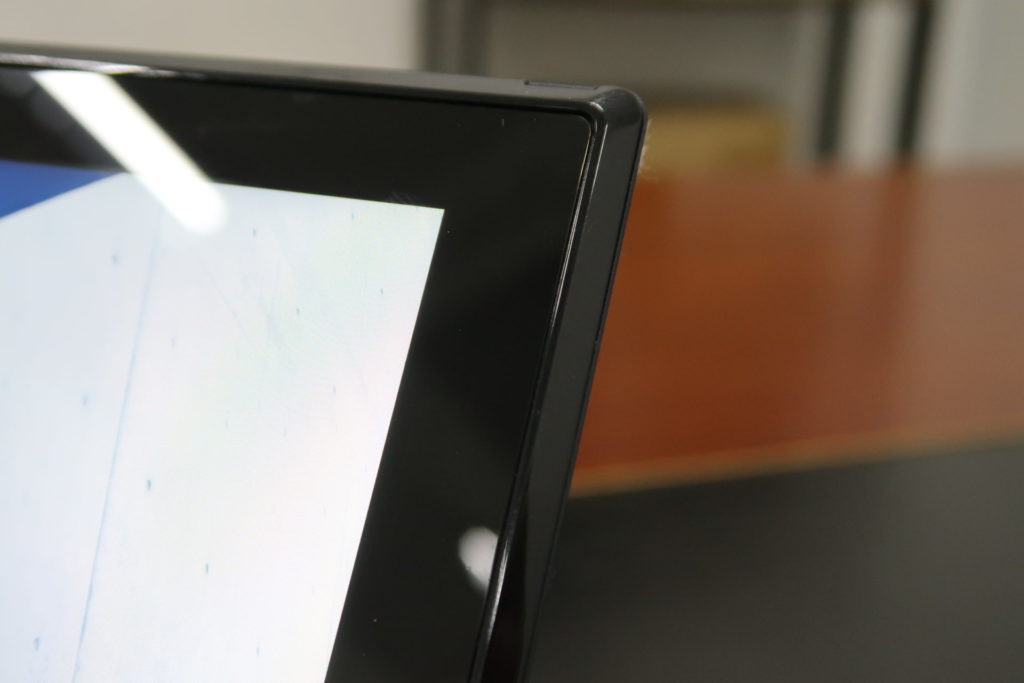 One of the key issues I have with the ASUS ExpertBook B3 Detachable is that even though the device has a 10.5-inch display, ASUS has to increase the overall size of the tablet unit in order to accommodate a usable keyboard. This causes the ExpertBook B3 Detachable to have rather thick bezels, which could be quite an eyesore for many.
Using the ASUS ExpertBook B3 Detachable
Putting performance aside (you could probably understand what to expect now), the ASUS ExpertBook B3 Detachable certainly holds many unique features that keeps the device largely usable for professionals, regardless of the use case and environment. I particularly appreciated the portability of the device, as its lightweight and small foot print certainly makes it easy to carry around.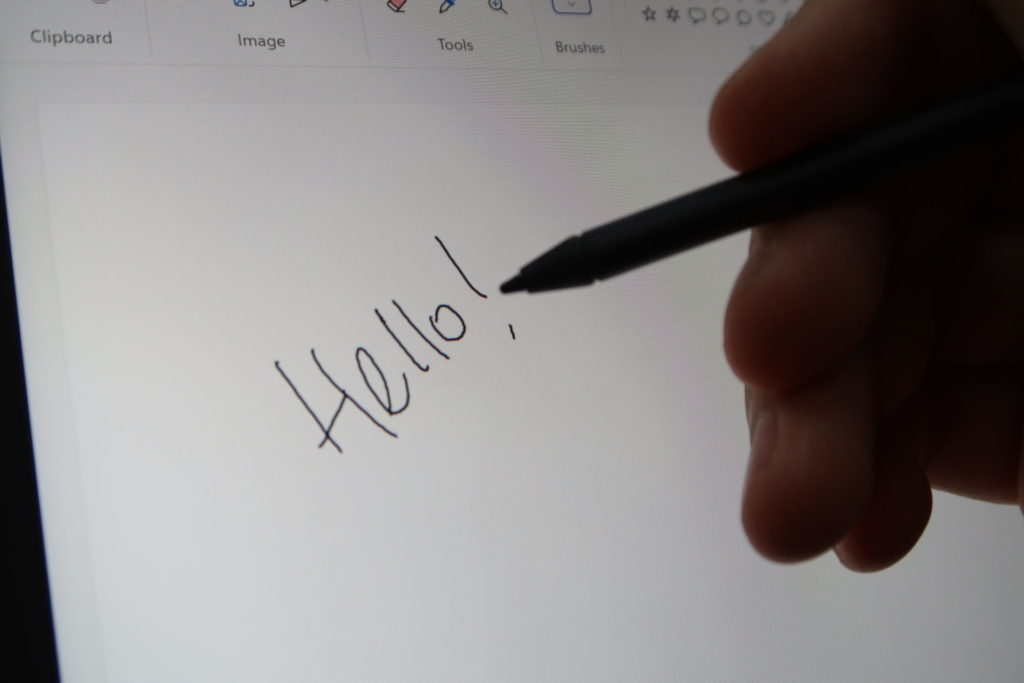 However, tradeoffs for a portable and lightweight device. Personally, I would have preferred a larger display size for my work, as a 10.5″ display is considered too small for me to properly work on.
I also have to give it to ASUS for including every single accessory of the ASUS ExpertBook B3 Detachable inside the whole package. With the purchase of the ASUS ExpertBook B3 Detachable, you will also get the Stand Cover, stylus pen, as well as the detachable keyboard. Unlike other brands, all these additional items are usually sold separately as accessories.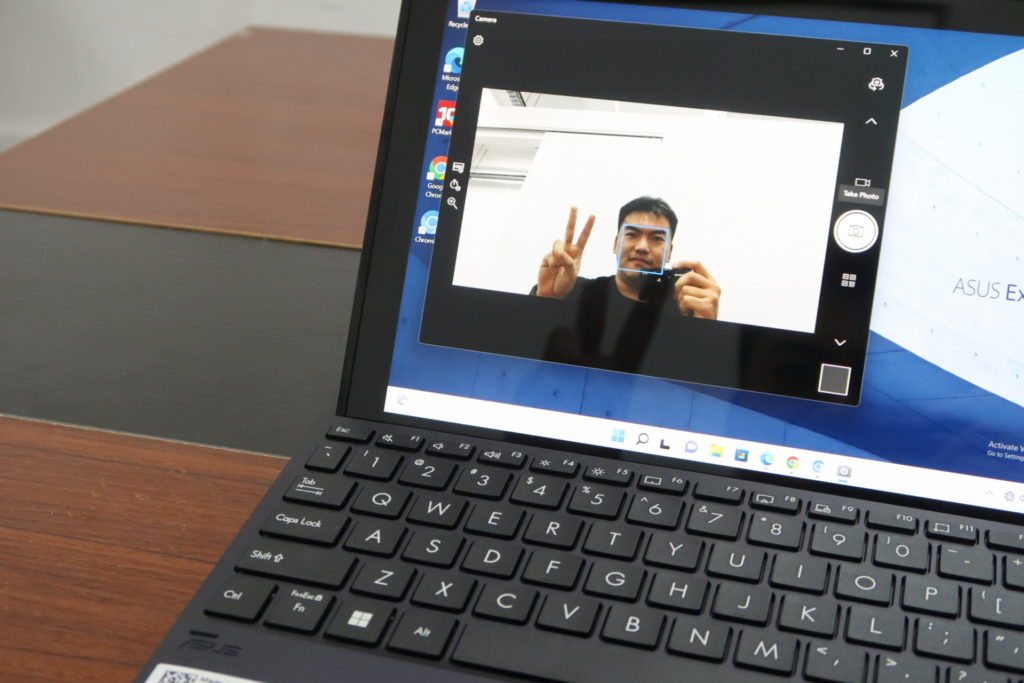 To cater to the new workforce where remote work is common, the ASUS ExpertBook B3 also comes with a high resolution front and rear camera for ultra clear web conferencing sessions or simply if you just want to capture some nice photos on the device.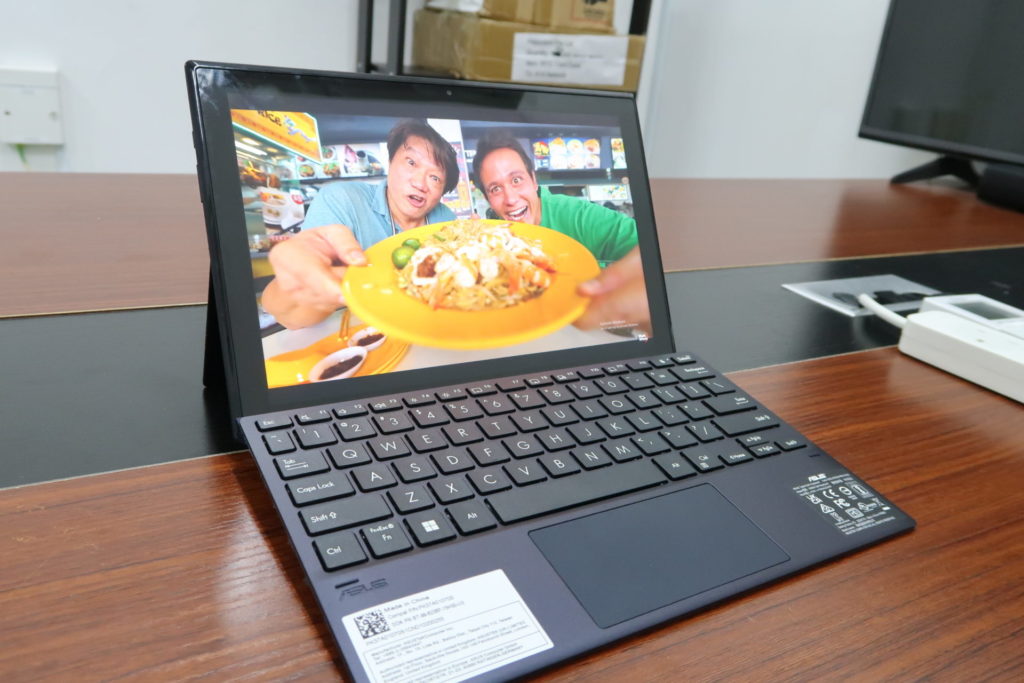 I've also got to say that I was quite impressed with the built-in speakers of the device. Despite it being a considerably compact device, the sounds coming from the speakers were still impactful and expressive. Coupled with the high resolution 1920 x 1200 LED backlit glossy display, the ASUS ExpertBook B3 is also a great device for watching movies and consuming media.
While it all seems good, the deal breaker for the ASUS ExpertBook B3 Detachable is its performance. Hold your horses, as it's going to get ugly from here onwards.
ARM on Windows? Are you sure?
For starters, the Windows Operating System is developed to work on the x86 and extended x64 instruction sets. Two of the most popular brands of processors that can run well on these instruction sets are Intel and AMD, and of course, we can see many Intel and AMD based Windows 11 devices in the market today. On the other hand, ARM based processors can run well on Android devices, iPhones and even Macbooks.
This is how Microsoft supports ARM processors to run Windows 11 – Emulation. For usual Windows applications to run, the operating system has to emulate the applications via a binary interface known as ARM64EC. To put it simply, instead of running applications natively like how they would on an x86 processor, the operating system will now have to take the x86 instructions and emulate it as an ARM based instruction. Of course, this emulation create unnecessary overheads that impedes system performance. You can learn more from "State of Windows on ARM 64: a high-level perspective" by Chips and Cheese.
Browsing YouTube with x86 compiled Chrome browser, running via emulation
Browsing YouTube with Microsoft Edge, natively compiled for ARM
I think when you start using the ASUS ExpertBook B3 Detachable, you will soon realize that once you are running applications that are not compiled for ARM, their performance will usually suffer. Things wouldn't just run as they would on a typical PC.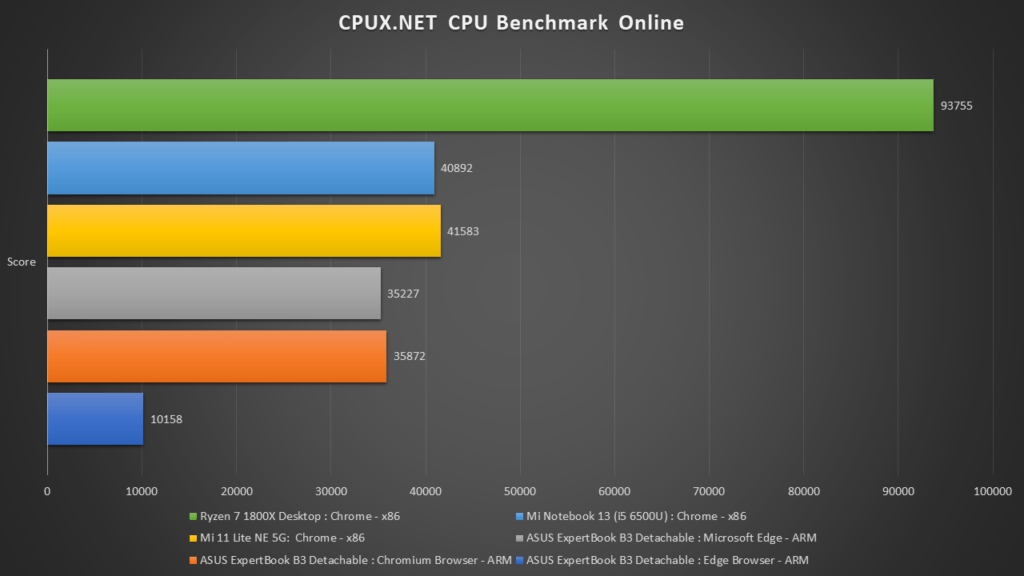 To show the performance difference, we ran a few tests on the ASUS ExpertBook B3 Detachable. With the CPU Expert Test, we could run CPU tests across multiple devices and browsers. Our tests consisted of (1) Microsoft Edge Browser (based on Chromium) for ARM, (2) Google Chrome (x86, emulated for ARM) and (3) Chromium Browser (complied for ARM). We also compared the test results with other android smartphone and also x86 powered Windows devices to better understand the performance difference between CPU architecture and emulation overheads.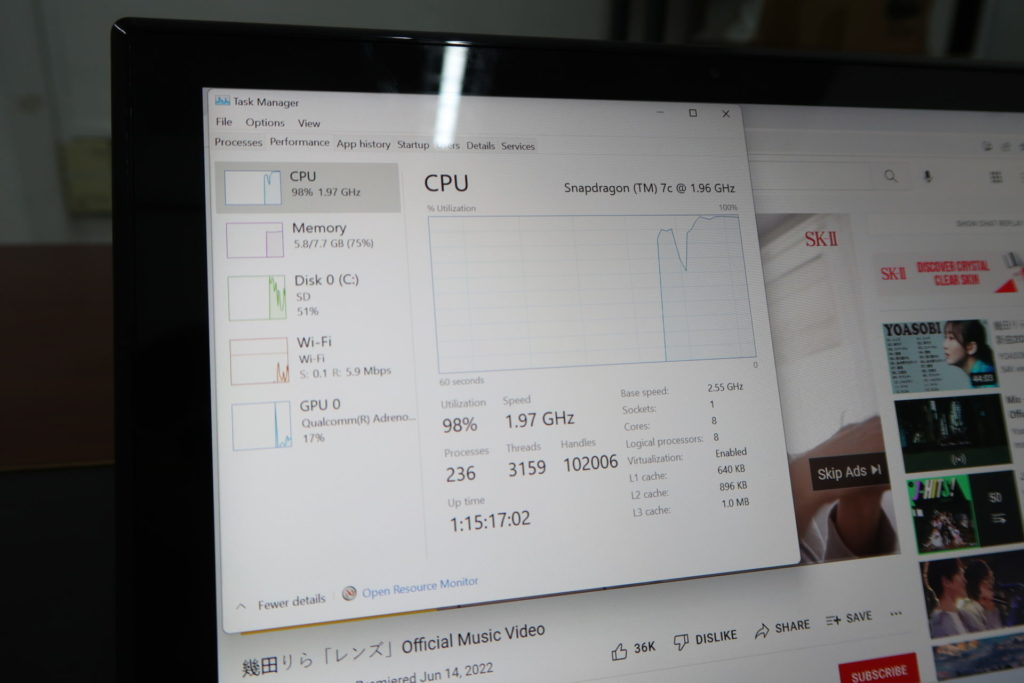 Certainly, we can see how emulation on ARM based devices with Windows 11 affects the performance of the applications. Moreover, if you plan to run Microsoft Office programs, which is currently still based on ARM64EC, you will be affected as well. Honestly, for the layman, they probably wouldn't understand all these differences between instruction sets, emulation and microprocessor architecture. I'm quite certain that they will be disappointed when they realise that their programs that they used to run on an Intel or AMD machine wouldn't run as well on the ASUS ExpertBook B3 Detachable. How could we recommend a product to our readers if this was the case?
Amazon Appstore to the rescue?
For Windows 11, there is a feature known as Windows Subsystem for Android, which allows you to run Android applications on your Windows 11 machine. What's interesting is that since the ASUS ExpertBook B3 Detachable is an ARM based device, it can in fact run the Android apps natively! This means that the Android applications are going to run as well as they are supposed to when on an Android device.
You can install Android apps on the ASUS ExpertBook B3 Detachable from the Amazon Appstore. To learn how to do it, you can visit this Microsoft Windows support page : Install mobile apps and the Amazon Appstore.
Final Words and Conclusion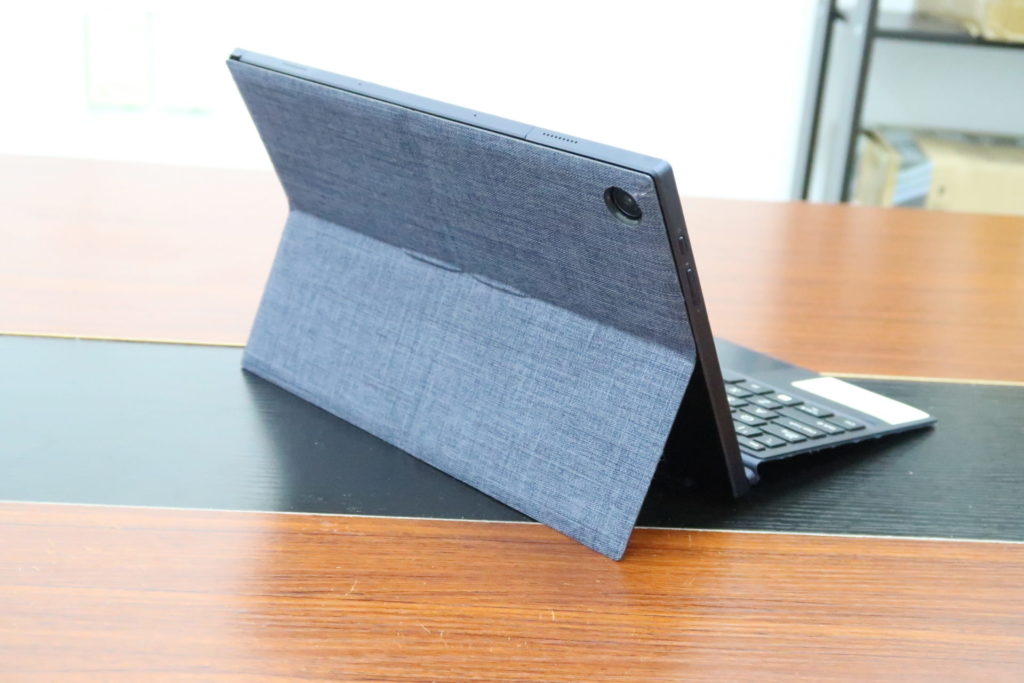 Don't get me wrong. In terms of design, the ASUS ExpertBook B3 Detachable looks great. It's versatile and can change from one mode to another to best suit your usage of it. Of course, the choice of the having an ARM based Qualcomm Snapdragon 7c Gen 2 running the device was also based on good intentions – no doubt, ARM based processors are more power efficient and can give users extended battery life that would never be possible on a standard Intel or AMD based machine today.
The choice for using Windows 11 for the ASUS ExpertBook B3 Detachable is questionable. I would really say that ASUS would have just be so much better off if the ASUS ExpertBook B3 Detachable just ran on Android. Today's Android operating system is more than capable to meet the needs of professionals and businesses. Rather than having to deal with the technical complications for users who just simply want things to work, just have the device work with Android. It's going to run seamlessly that way. Windows 11 for ARM isn't really the right way to go, regardless of how much Microsoft wants to push for it to work.
Unfortunately, we are unable to recommend the ASUS ExpertBook B3 Detachable despite how well it is designed. It's software and performance simply doesn't meet expectations.