When AERO notebook computers were first launched 2016, Gigabyte had a very clear proposition – to bring high performance, yet portable and lightweight laptop computers to professionals. More specifically, their target was the content creators, as it was a growing market then and even today. That was also why the AERO series laptops also came with many features which were catered just for professionals, such as having individually factory-calibrated and X-Rite™ Pantone® Certified display panels. This allowed designers and content creators to be sure that colours that they see on their screen is what they intended them to be.
While the target market for the AERO laptops has not changed, we have gradually seen that the notebooks are starting to focus a lot more on performance, rather than portability. Over the years, the weight of the AERO laptops has gradually increased. The AERO 14 (2016) weighs 1.89Kg, AERO 15-X9 (2018) was at 2.0Kg, AERO 15 OLED XA (2019) was at 2.1Kg. Today, the AERO 5 XE4, which features the latest Intel 12th Generation processor and NVIDIA's GeForce RTX 3070 Ti weighs 2.3Kg.
While being ultra slim and portable may not be an tag we can put on the Gigabyte AERO series notebooks, it is still largely designed for content creators. In this article, we are going to take a deeper look into the AERO 5 XE4 notebook, to understand the performance and benefits it brings to content creators.
The AERO 5 XE4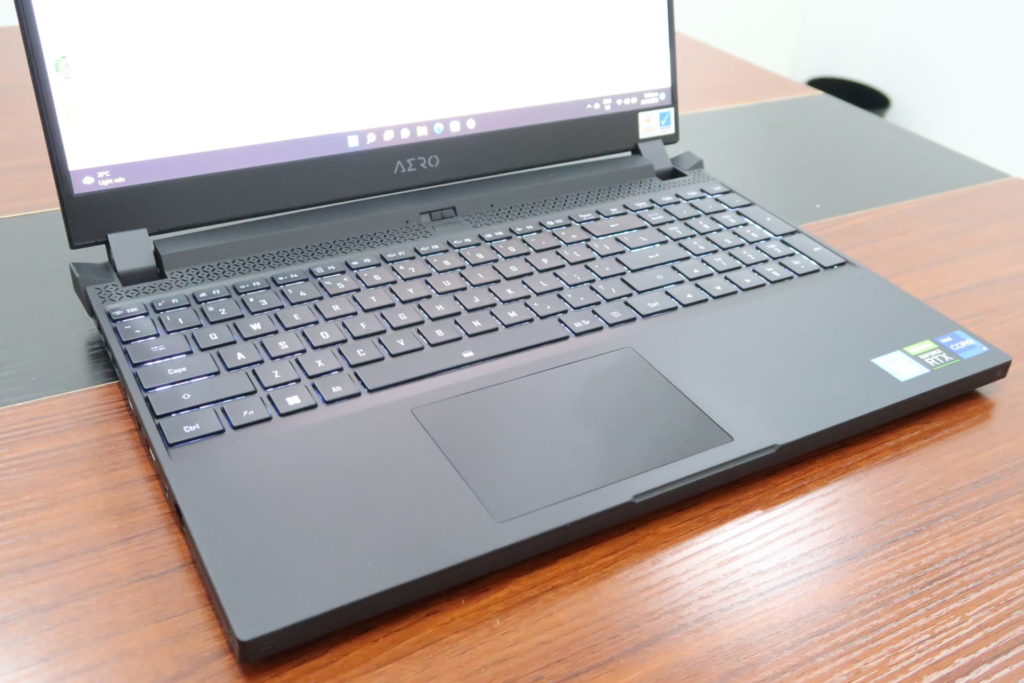 The design of the Gigabyte AERO 5 hasn't changed much as compared to its predecessors. Gigabyte has mentioned that the AERO 5's style is inspired by the aerodynamic design of an automotive, which gives the notebook a sense of power of elegance. We shall leave it to you to decide if it's really the case.
The notebook's keyboard includes a numpad. Actually, due to the limited width of the notebook to allow the display to still retain this thin-bezel design and to fit the 15-inch display, the AERO 5's keyboard does seem quite cramped. Seen from the picture above, there is little to no space left at the sides after the corner keys.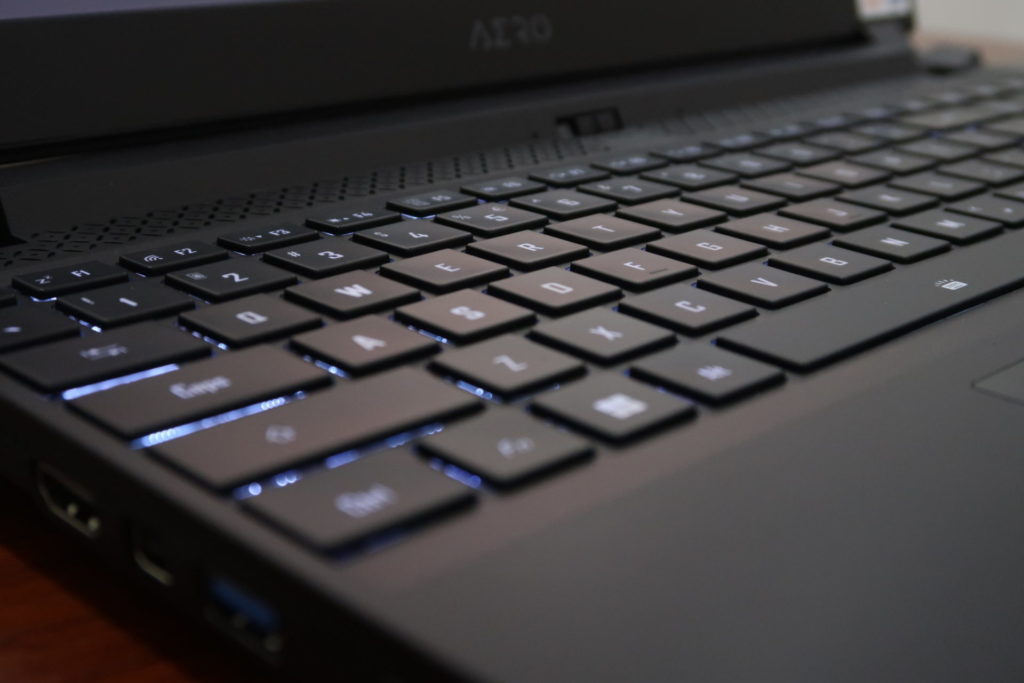 However, unlike previous generations, the AERO 5 XE4 only comes with a white backlit keyboard now. It's understandable, as the notebook is catered for a professional setting. Having a RGB backlit keyboard perhaps doesn't suit the purpose of the laptop.
On top of that the AERO 5 still retains its classic thin bezel design to give it a premium and futuristic look.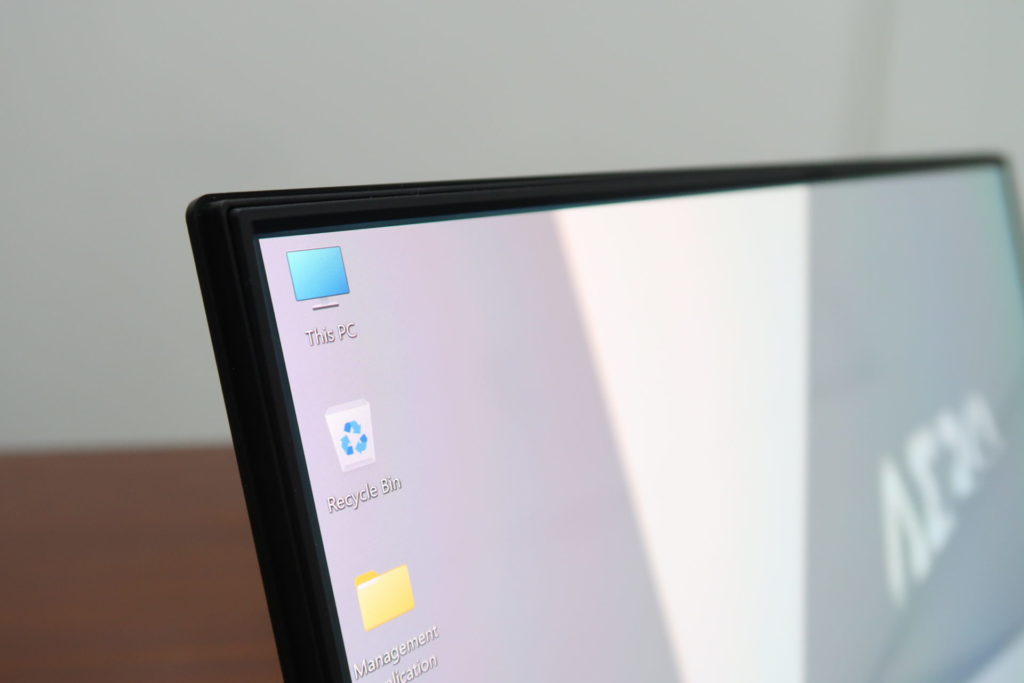 Unfortunately, the webcam is still placed at the bottom of the display. The placement of the webcam could have been better, as it capture the user in video conferences in a rather awkward angle. This issue should already be fixed in the same generation's AERO 16 and AERO 17. Even the AORUS 15 XE4 had its webcam placed at the top of the screen, while still retaining its thin bezel design.
However, the placement of the webcam at this position made it possible to add a cover to the webcam. If you worry about the webcam spying on you, perhaps you will appreciate the inclusion of the physical cover that blocks the webcam.
Specifications
Model
AERO 5 XE4
CPU
12th Gen Intel® Core™ i7-12700H (2.3GHz~4.7GHz)
Display
15.6″ Thin Bezel Samsung UHD 3840×2160 AMOLED display
(VESA DisplayHDR 400 True Black, 100% DCI-P3)
*X-Rite™ Certified, individually factory calibrated & Pantone® Validated Color Accuracy
Memory
2x DDR4 slots (DDR4-3200, 8GB*2)
GPUs
NVIDIA® GeForce RTX™ 3070 Ti Laptop GPU 8GB GDDR6

Boost Clock 1485MHz, Maximum Graphics Power 130W

NVIDIA Max-Q Technologies: CPU Optimizer, Rapid Core Scaling, Optimal Playable Settings, Dynamic Boost 2.0, Resizable BAR, and Optimus™ Technology.
Storage
2x M.2 SSD slots (Type 2280, supports 2x NVMe PCIe Gen4)
Keyboard
Backlit Keyboard (Single Color, white)
I/O Port
3x USB 3.2 Gen1 (Type-A)
1x Thunderbolt™ 4
1x HDMI 2.1
1x mini DP 1.4
1x 3.5mm Headphone/Microphone Combo Jack
1x UHS-II SD Card Reader
1x DC-in Jack
1x RJ-45
Audio
2x 2W Speaker Microphone DTS: X® Ultra Audio Technology
Communication
LAN: RTL8125BG-CG REALTEK (2.5G) Ethernet
WLAN : Intel® Wi-Fi 6E AX211 (Gig+) Wireless (802.11ax, a/b/g/n/ac/ax compatible)
Bluetooth: Bluetooth® V5.2
Adapter
230W
Battery
Li Polymer 99Wh
Dimensions
35.7(W) x 25.4(D) x 2.36 ~ 2.74(H) cm
Weight
2.3 KG
The AERO 5 XE4 is equipped with some of the premium PC components in the market. For compute, it has the 20-core Intel Core i7-12700H which utilizes a hybrid core architecture to maximize its performance level and energy efficiency. This is then coupled with the NVIDIA GeForce RTX 3070 Ti which is more than capable of powering all the creative applications out there. It also makes the AERO 5 a suitable machine for 3D gaming as well.
On top of that, the AERO 5 XE4 also comes with a 4K AMOLED display that is Pantone validated and X-Rite Certified. The panel is even HDR capable, and is rated at DisplayHDR 400 True Black.
I must say that when I first turned on the notebook computer, the AMOLED display did really stand out as the colours and contrast on it was simply amazing.
On the right side of the device, we can find the power jack, a SD card slot, a USB Type-C port and 2 x USB Type-A ports. On the left side, we spotted a HDMI port, a mini display port, a USB Type-A port, an 3.5mm audio jack and also an Ethernet port.
Software
The GIGABYTE Control Center comes preinstalled on the AERO 5 XE4. With the GIGABYTE Control Center, you can easily manage the health and key vitals of the notebook, or even modify settings to make it suit your needs. You can also use it to activate what GIGABYTE calls the "AI Mode", which cleverly understands your usage of the PC to best adopt a power plan that optimizes performance and battery life. You can also change the fan curve settings and set keyboard macros with this software. Moreover, this software also helps you to check for the latest drivers and updates, so as to ensure that you have the latest drivers installed.
Inside the AERO 5
It was quite easy to remove the bottom cover of the AERO 5. By using a torx screw driver and a pry tool, we could easily gain access to the notebook's internal components.
The SSD used is the GIGABYTE AG470S1TB-SI. This is a GIGABYTE branded SSD product, and is a PCIe Gen4 NVMe SSD that is capable of speeds of over 7GB/s. There is also another M.2 slot for additional storage expansion.

The RAM modules used on the AERO 5 are removable. This means that you can easily upgrade the notebook with RAM of larger capacities. Our review unit came with 2 x 8GB Crucial DDR4 3200MHz modules.
Usage Experience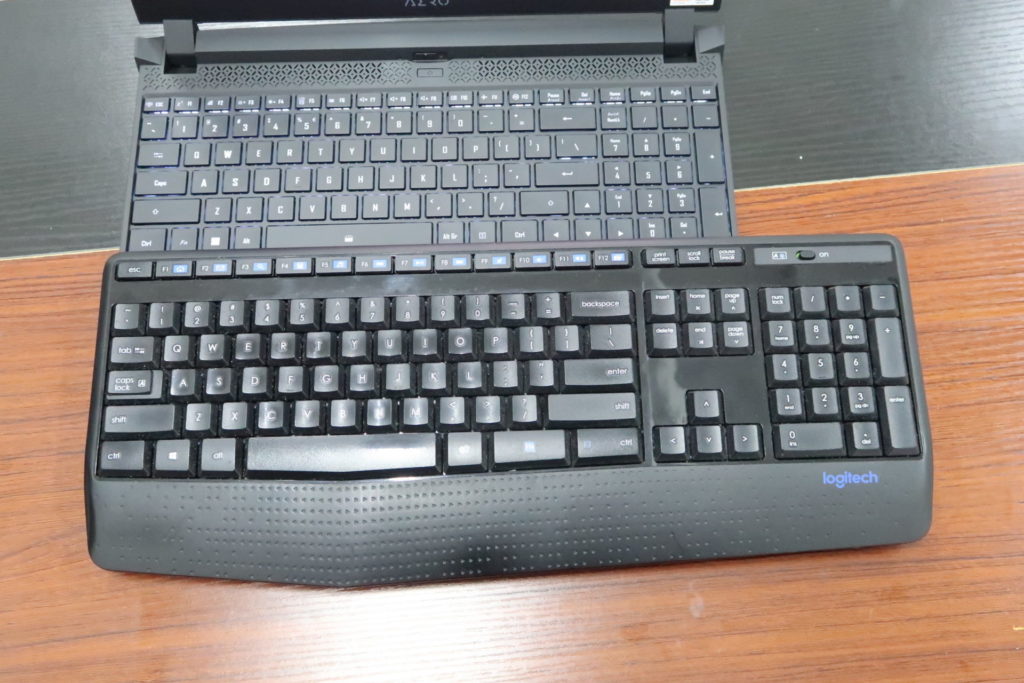 While using the AERO 5 XE4, I've got to say that it took me quite a bit of time to get used to the notebook's keyboard layout. While most notebooks of this size preferred to leave out the numpad in order for the keyboard to retain its original and standard size, GIGABYTE has decided to squeeze in the numpad to serve a different purpose. I personally think that content creators probably wouldn't use the numpad as much, and would generally just preferred a full-sized well-spaced keyboard instead.
The current key layout was simply cramped and squeezy, and I believe that for most users, their typing error rate would be quite high, due to the unfamiliarity of the unconventional layout and size.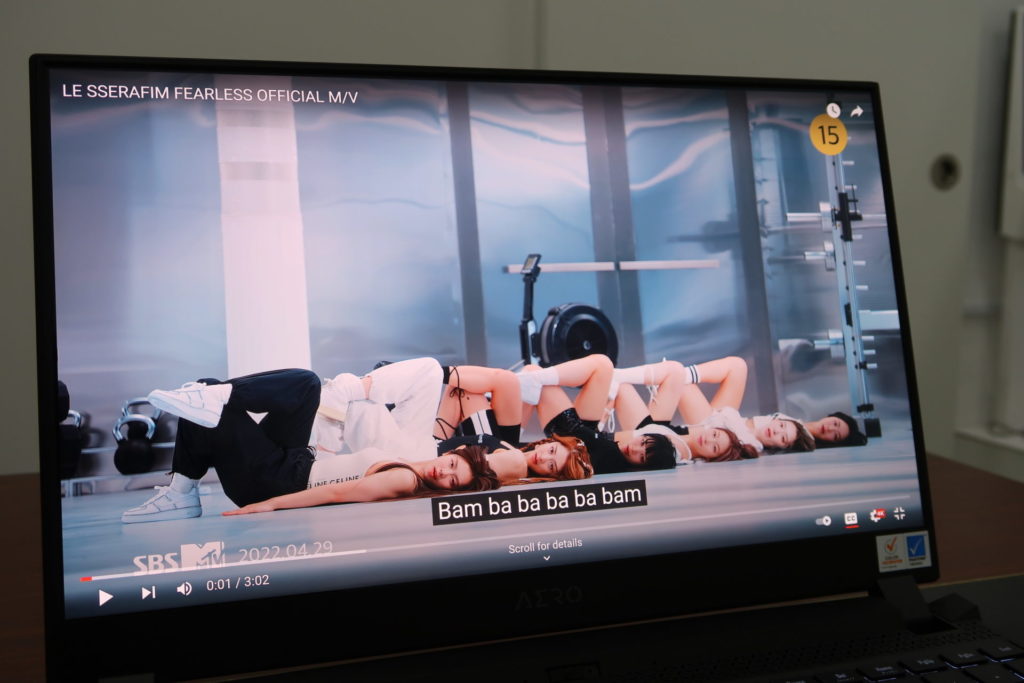 However, when it comes to media consumption, we've got to say that the AMOLED display has certainly allowed the AERO 5 to stand out. Because of its high contrast ratio, the blacks on the screen looked truly black. As the panel is also colour calibrated, we can be certain that the what we see on the screen is what is truly intended by the creators as well.
Paired with the built-in speakers that were able to well present a range of sound types, I would generally say that the AERO 5 is a good system for casual watching of movies or listening to music. I also enjoyed playing games on this computer as well, and had a generally pleasant experience.
Test Setup
In our tests, we are going to pit the AERO 5 XE4 with the AORUS 15 XE4, AORUS 17 XE, as well as their predecessor – the AORUS 17G YC. This will allow us to find out if the there is actually any difference between performance levels between the AERO and AORUS models. At the same time, similarly to the previous review, the comparison the the AORUS 17G YC can also put some perspective into the performance level between different generation of products.
For more information about the specifications of the AORUS 17G YC in comparison, you can revisit our review of the AORUS 17G YC.
Benchmark Utility
Settings
Remarks
PC Mark 10 Extended
Default
–
7-ZIP
Default
–
HEVC h.265 Encoding/Decoding
Default
–
Blender CPU BMW27
Default
–
Cinebench R20
Default
–
AIDA64
Default
–
Game Settings
Far Cry New Dawn
High
DirectX11
Deus Ex Mankind Divided
High
DirectX12
Tom Clancy Division 2
High
DirectX11
DOTA 2
Default
DirectX11
Shadow of the Tomb Raider
High
DirectX12
Metro – Exodus
High
DirectX12
World War Z
Ultra
Vulkan
AI Benchmark
–
As Per Instructions
Performance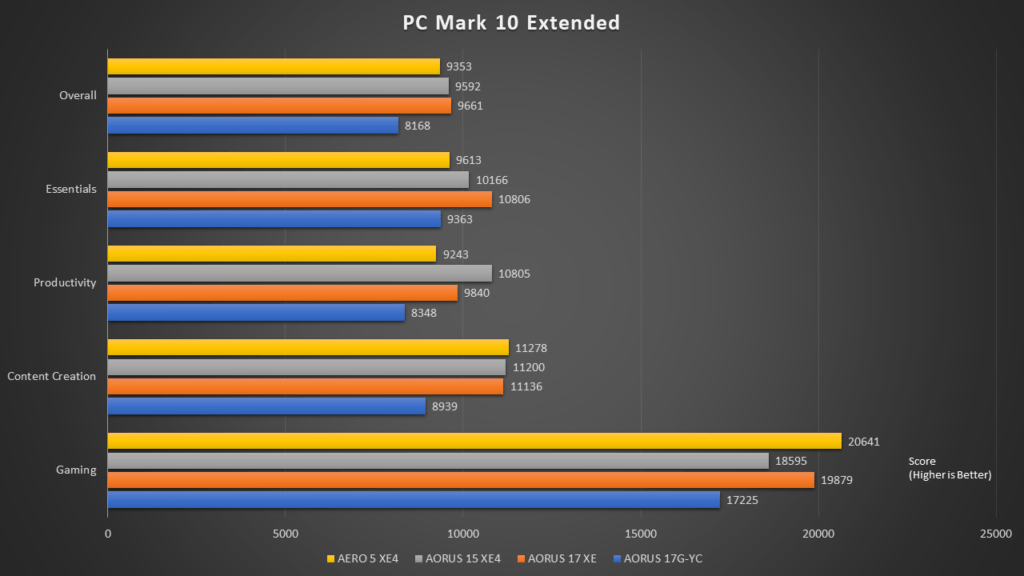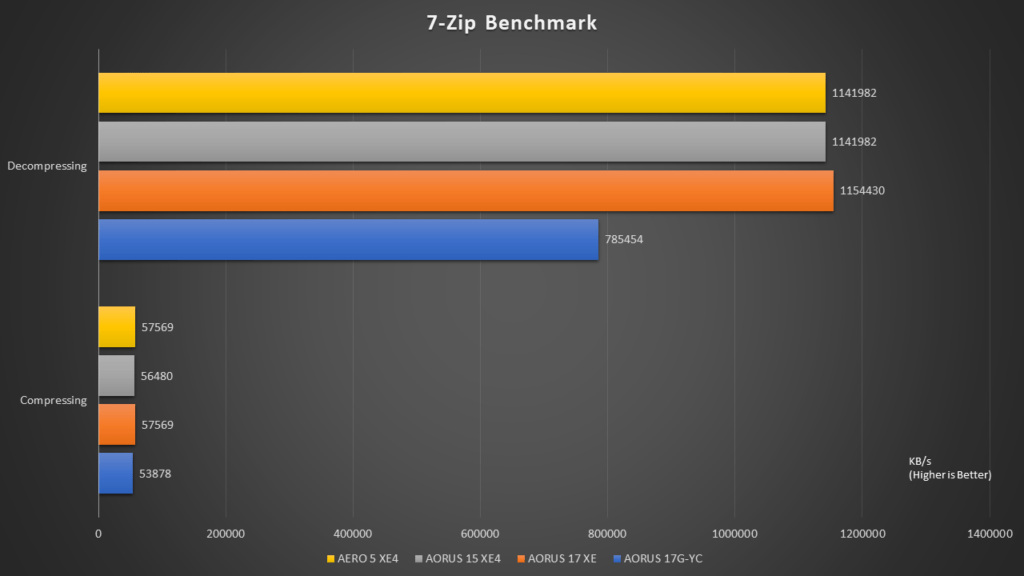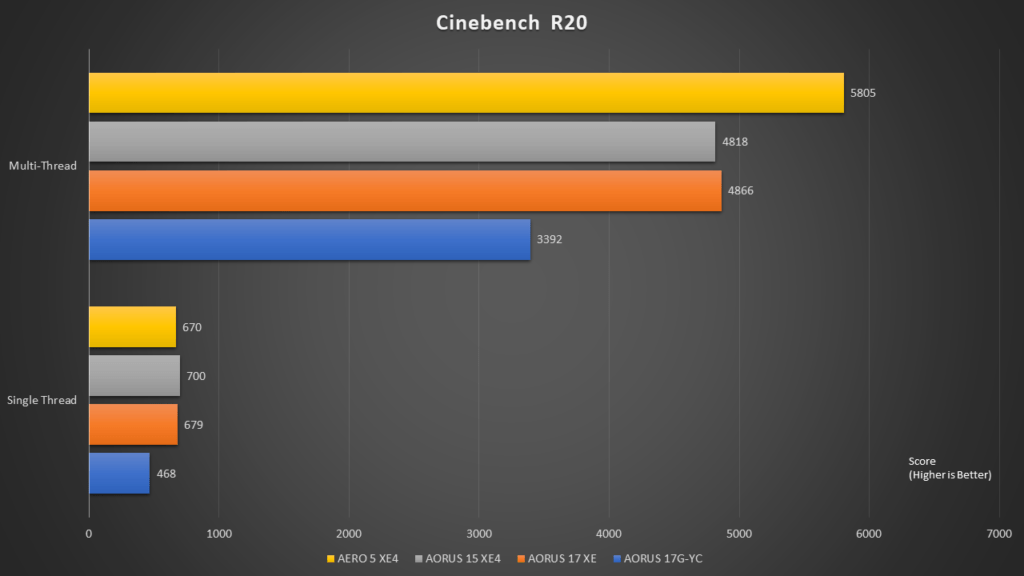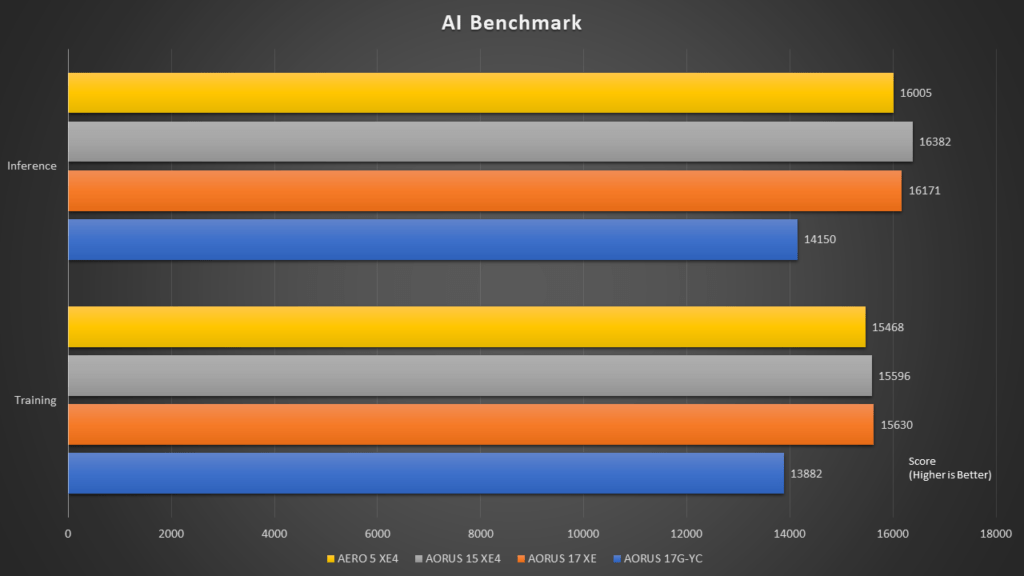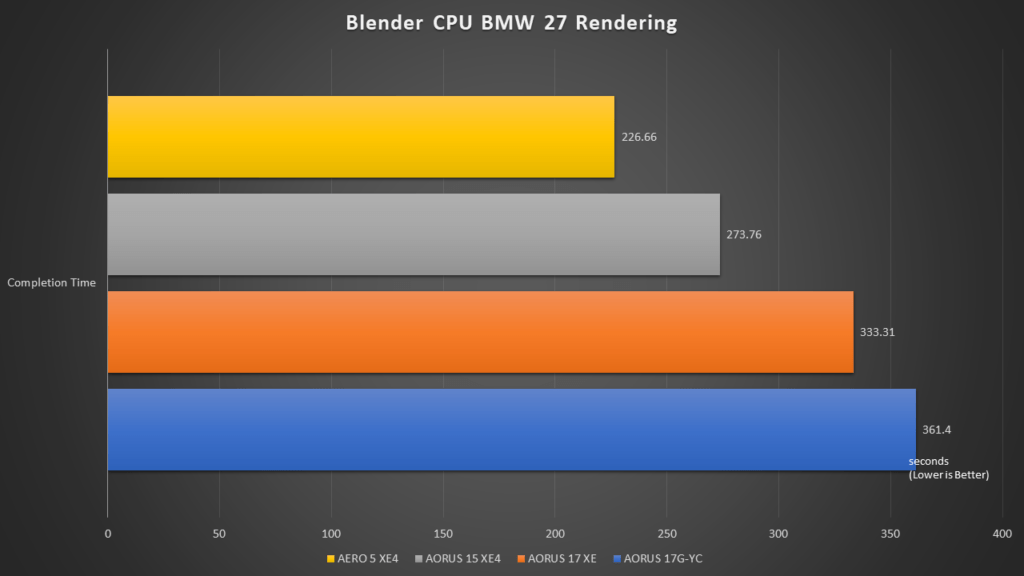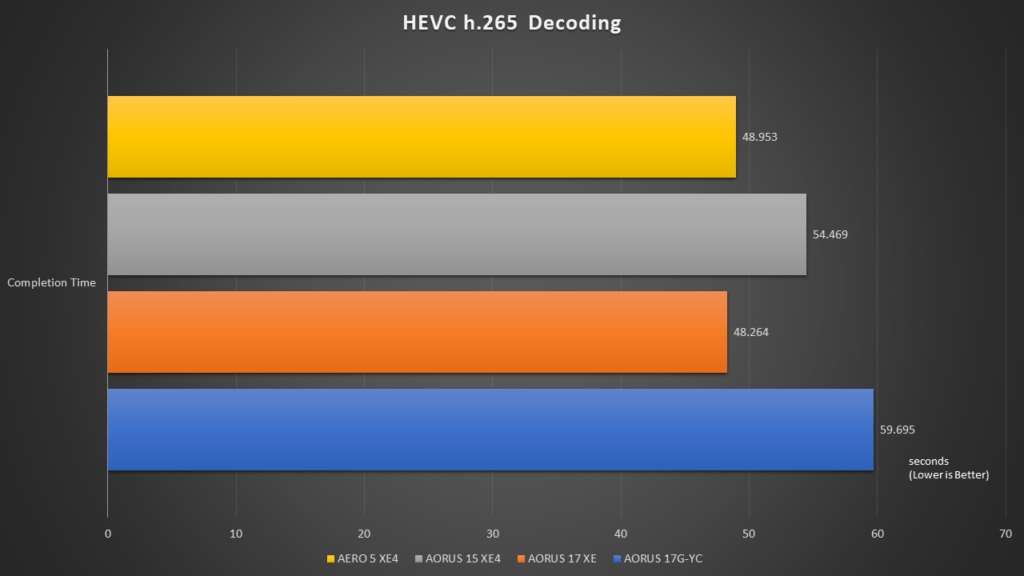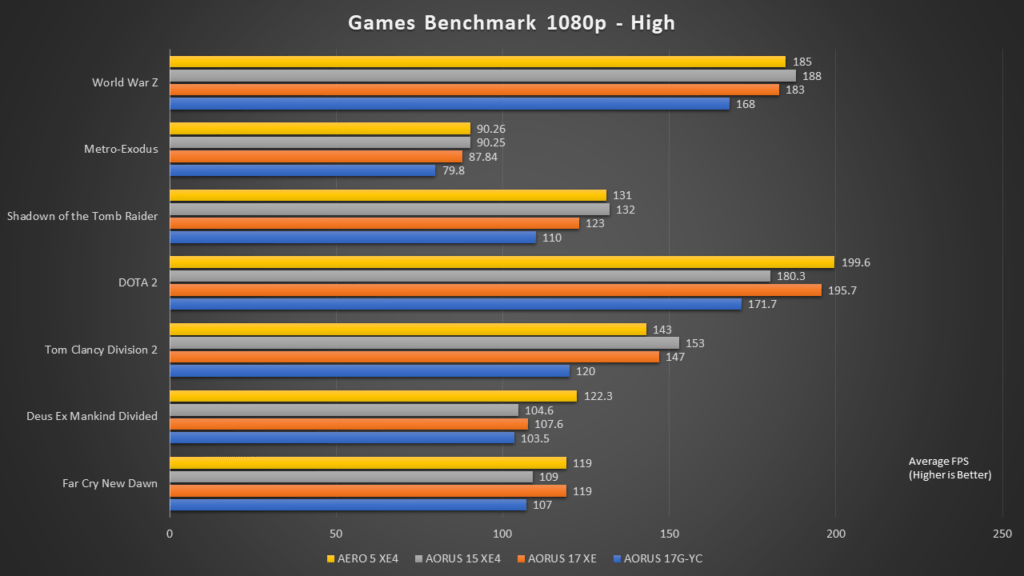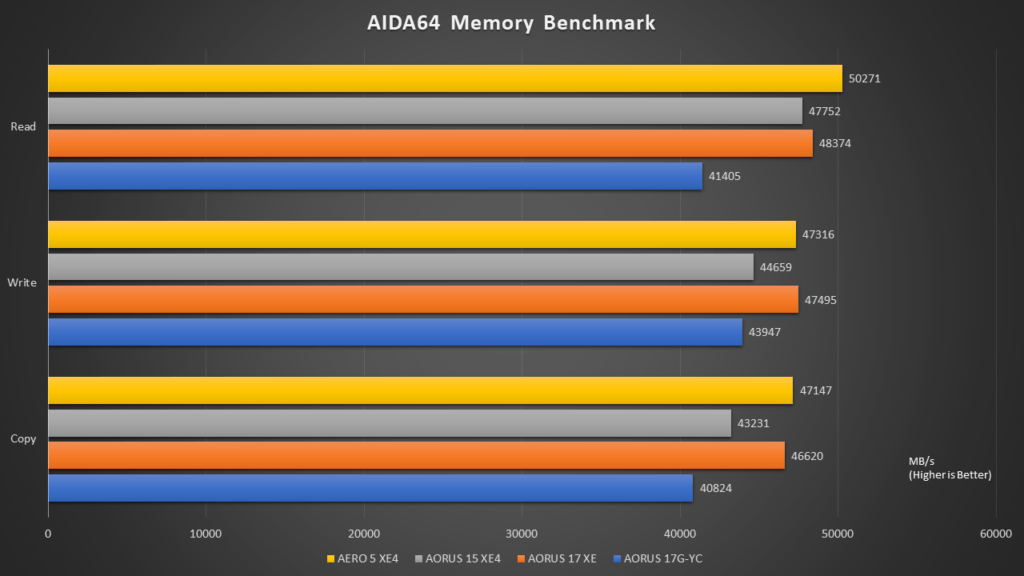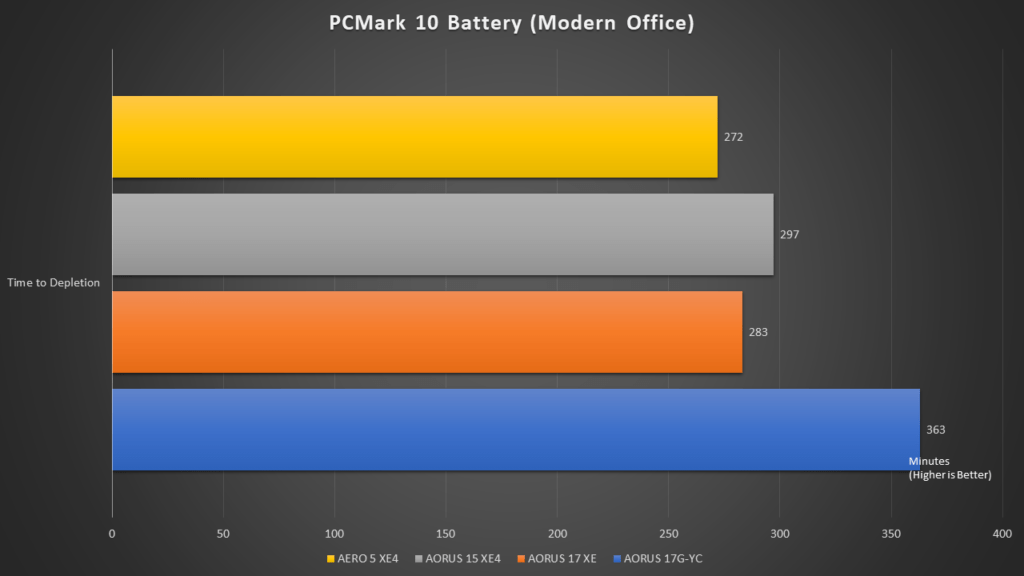 The AERO 5, AORUS 15 and 17 had very similar specifications, the performance levels wouldn't differ too much. As expected, they didn't. However, it seems like the AERO 5 did have an advantage with it comes with multi-threaded workloads, as it was able to perform significantly better in Cinebench, and Blender tests. This could be attributed to its better thermal and power management, which allowed the processor to run at a more performant state for better performance.
Final Words and Conclusion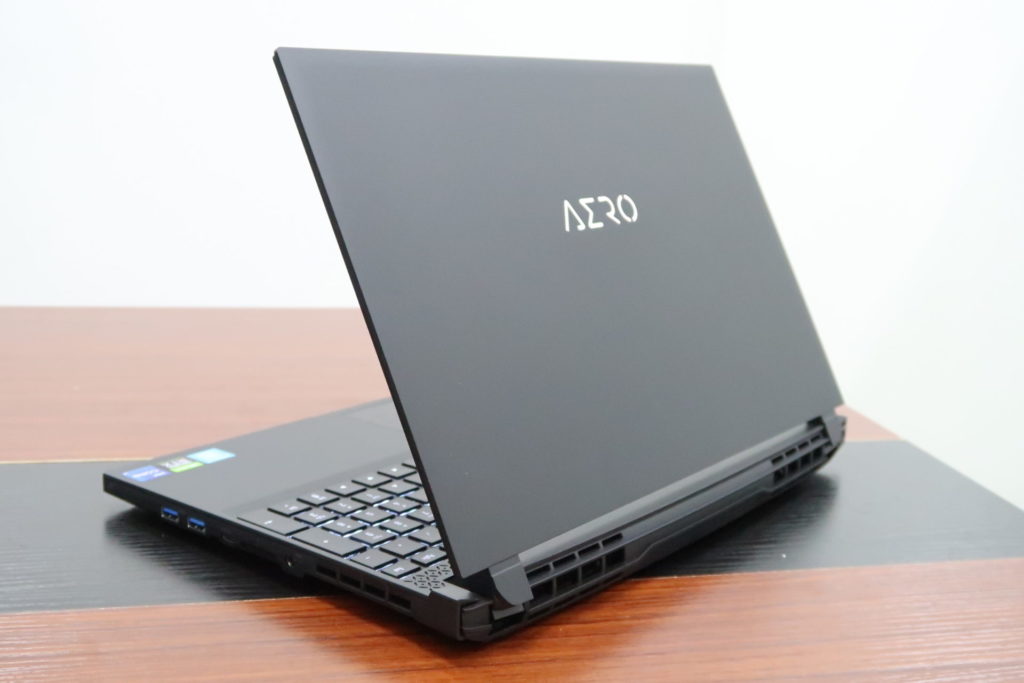 It is unfortunate that the Gigabyte AERO notebook series have seem to lost its charm, as it's not exactly any much different from the AORUS series now. Regardless, content creators and designers will certainly still appreciate the features on the AERO 5 XE4, which are fundamental to their work. This largely revolved around the notebook's display, which is colour calibrated and validated, high resolution (4K) and with great AMOLED colour representation.
Now that the AERO 5 XE4 has improved its performance with the latest CPU and GPU, the professionals can also appreciate the improved productivity from the notebook.
Since there are a limited number of products in the market that is catered specifically for designers and content creators, the AERO 5 XE4 is certainly still a notebook to consider.
The AERO 5 XE4 is now available at S$3,549.00 and it can be purchased at Shopee and Lazada.