The Gigabyte AERO 15 notebook computers have been popular to many users because of its good design, relatively light weight and superb performance. They are usually positioned as portable high-end gaming systems and are targeted to entice PC gamers. However, Gigabyte saw the growing number of professionals purchasing the AERO 15 notebooks for professional work as well. Therefore, at the launch of the new AERO 15 notebook at COMPUTEX 2019, Gigabyte decided to put the focus of this lineup specifically for content creators.
While there hasn't been any drastic change to the main look and feel of the AERO 15, the new AERO 15 is in fact quite different from its predecessors. To better cater the AERO 15 for professional work such as content creation, Gigabyte went ahead to integrate a 4K OLED panel onto this notebook. It is also one of the few notebooks in the market that has been certified by NVIDIA as a GeForce RTX Studio system.  This new certification program from NVIDIA gives confidence to consumers when selecting their new notebook for professional and content creation work.
Putting all the talk aside, let's take a closer look at the device.
Specifications and I/O
We managed to get our hands on a unit with the GeForce RTX 2070 Max-Q. There are also other SKUs for the Gigabyte AERO 15 available for the Singapore market, which ranges from a GTX 1650 to the RTX 2080.
Specifications
Details
Model
GIGABYTE AERO 15 OLED XA RTX 2070
CPU
Intel Core i7-9750H
GPU
NVIDIA GeForce RTX 2070 GDDR6 8GB (Max-Q)
OS
Windows 10 Pro
Display
15.6" Samsung UHD AMOLED display
Color Calibrated x-rite PANTONE Certified Display
System Memory
Samsung 16GB DDR4 2666MHz
Storage
512GB Intel 760P M.2 PCIe SSD
Audio
Nahimic 3 Powered
Network
Killer Ehternet E2600
Killer Wireless-AX 1650
Dimensions
356 (W) x 250 (D) x 200 (H) mm
Weight
~2.1KG (w Battery, M.2 SSD)
The new Gigabyte AERO has been refreshed with the latest 9th Generation Intel Core i7 processor. Together with the upgrade, the notebook is also equipped with the latest Wireless AX technology. It is good that this new notebook comes with the new Wireless AX capabilities, as it is expected that the new 802.11AX wireless standard will become mainstream in the very near future.
Furthermore, the biggest change to the AERO 15 is its use of Samsung's premium AMOLED displays. These have largely been seen only on smartphones and Samsung's own large displays, but never on notebook computers. It's the first time that these AMOLED displays are arriving to notebook computers.
Honestly, other than these notable differences, there isn't much else to talk about. If you are interested to find out more about what the AERO 15 is all about, you can view our review of the previous generation AERO 15 here.
Design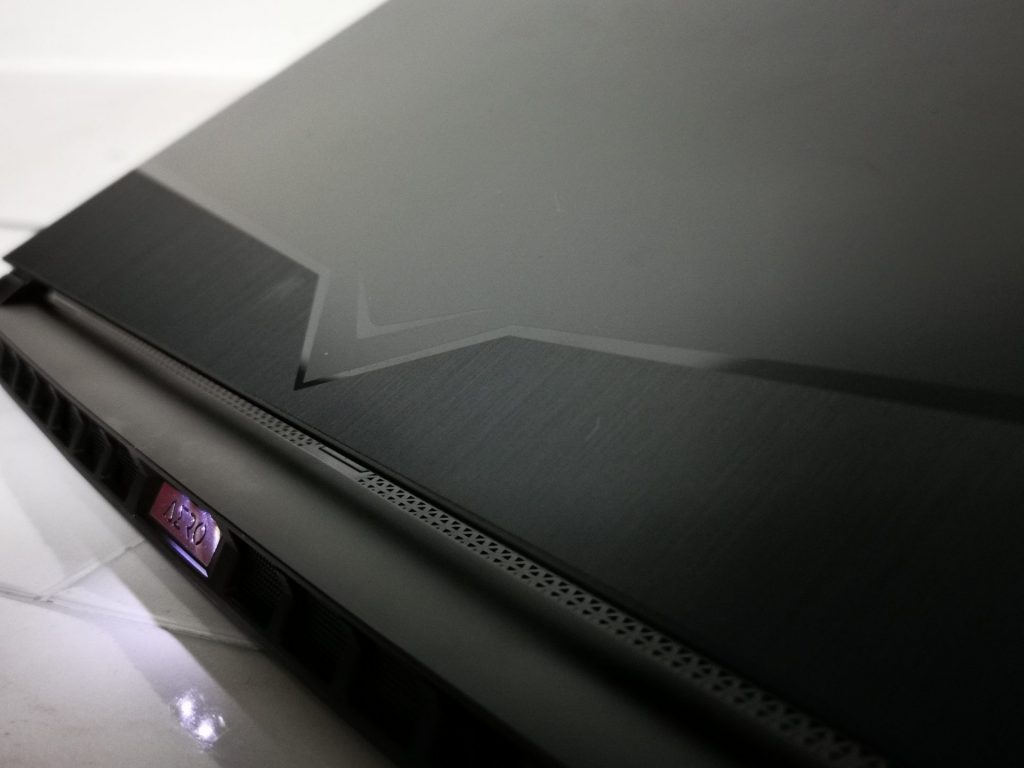 There are some slight cosmetic changes to the new Gigabyte AERO 15. Most notably, instead of the Gigabyte logo on the lid, Gigabyte has went straight ahead with the AERO branding. Meanwhile, they have also changed the detailing on the lid from a honeycomb design to a sleek brushed metal finish. We preferred this new design as it looks more integrated onto the whole notebook's theme, unlike the previous style which seemed out of place.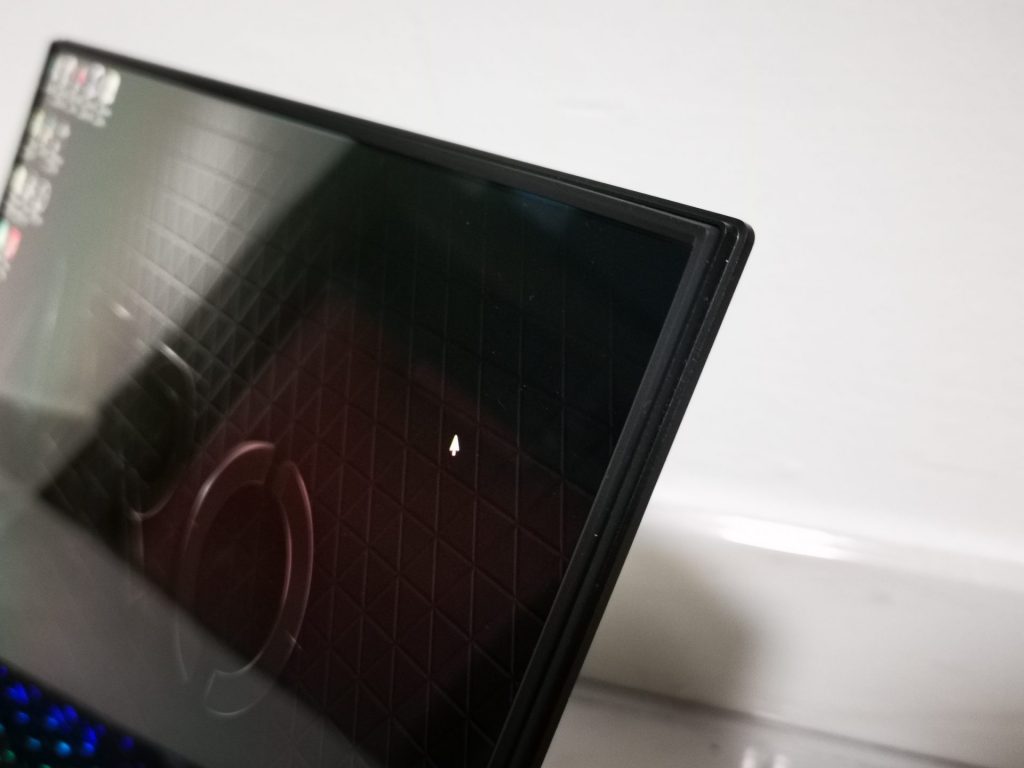 The notebook still retains its unique "close to no bezels" design, which has been loved by many. Gigabyte must have also listened to users' feedback on the ugly thick bottom bezel of the display, and decided to make it thinner. Instead, they lifted the display slightly higher and had to leave a gap between the display and the main body.
Although the new design decision improved the aesthetics of the machine, it made the webcam placement worse. The webcam, which is in an awkward position in the first place, could not be tilted in any way to face the user naturally. In fact, the whole webcam seems to be totally unusable. Nobody would want to conduct a video conference with their webcam only capturing the underside of their neck! I would rather that Gigabyte leave out the webcam altogether for this notebook, than to include something this bad. Perhaps, the webcam shutter/cover is meant to cover the webcam 100% of the time.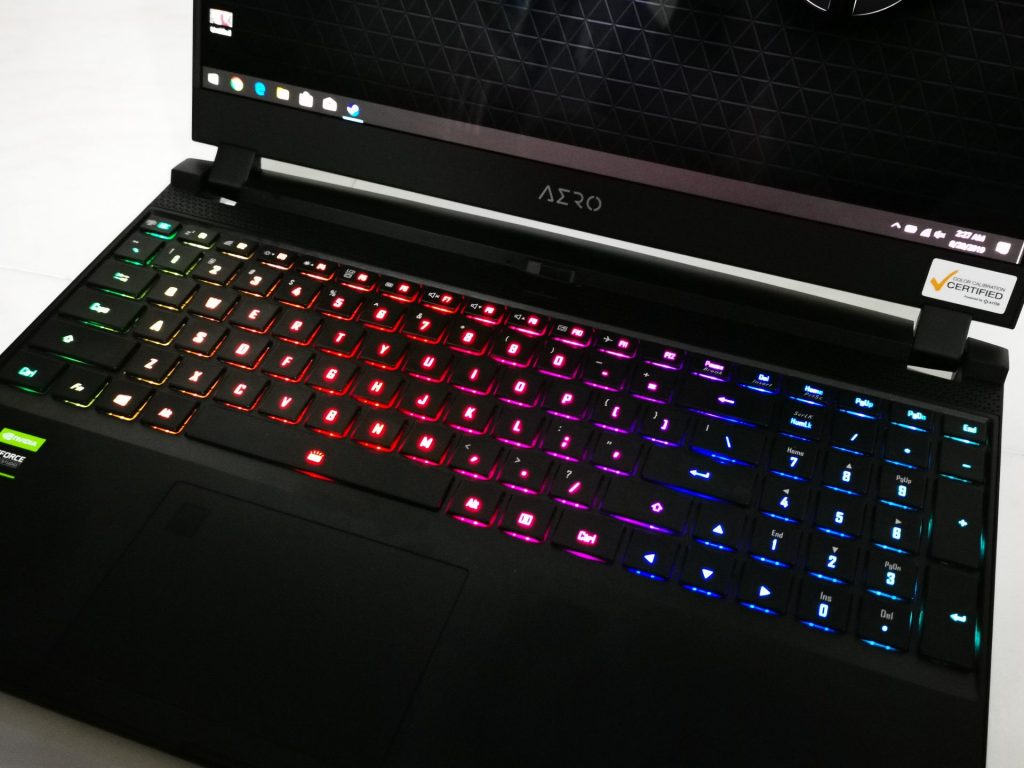 Previous generation designs included round elements (such as the power button and webcam lens). This time, Gigabyte has also streamlined the whole design of the notebook, and included only square or rectangular shapes. This has indeed made the whole aesthetic integrated and gives the machine a complete look.
Similarly, the unit still comes with a per-key customizable RGB enabled keyboard.
Samsung's AMOLED panel just looks so good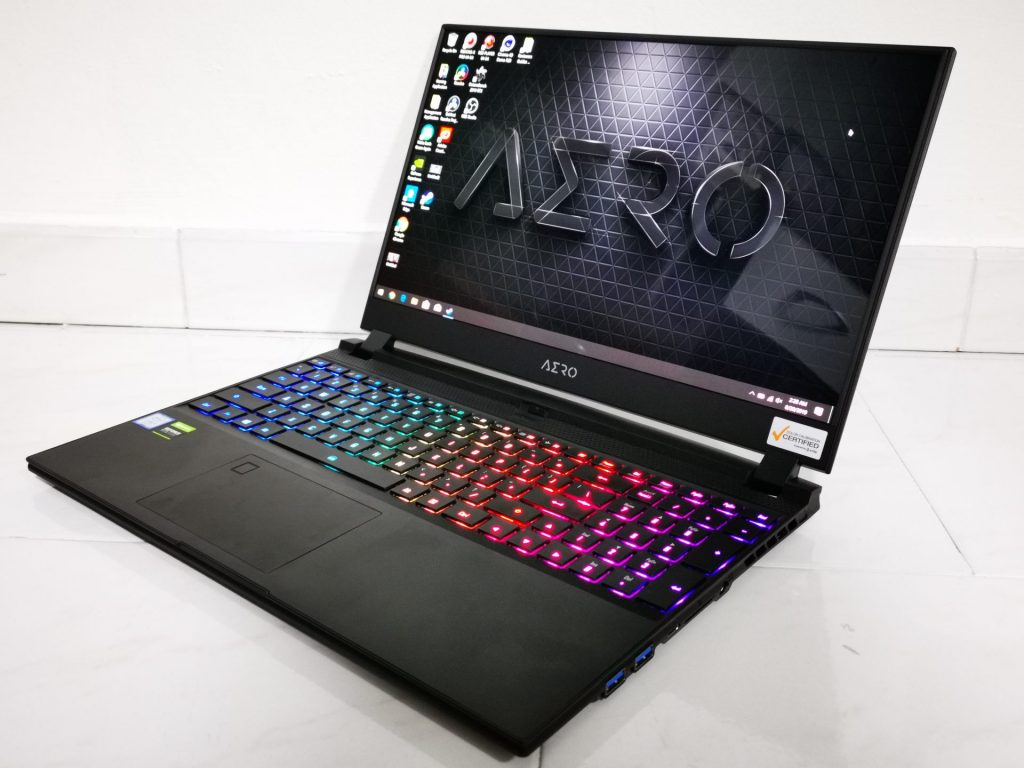 The change from a usual IPS panel to AMOLED was a welcomed move. The new Gigabyte AERO 15 was no doubt able to produce extremely pretty images, thanks to the high contrast ratio made possible by the AMOLED display. With such a technology, blacks are a lot better represented without any light pollution from large LED backlights. Regardless if you are playing games on this unit, or simply just watching a video, I'm very sure that you will fall in love with this new display.
Productivity Works
The Gigabyte AERO 15 OLED XA notebook is NVIDIA GeForce RTX Studio certified. In short, NVIDIA has specifically confirmed that this new notebook will work very well in various productivity software and applications. This is made possible by the notebook's hardware components, as well as the use of NVIDIA's Studio Drivers (as opposed to Game Ready Drivers). Studio Drivers are specifically created to allow the GPUs of the system to perform well and reliably when working with creativity applications.
Together with dedicated processing units within the RTX graphics card, such as the RT and Tensor cores, professionals are able to accelerate their work on top creative applications such as 3ds Max, Arnold, DaVinci Resolve and Autodesk Maya etc.
GPU Accelerated REDCODE RAW Decoding and Processing with CUDA


REDCINE-X Professional software has been developed to make use of the RTX 2070 Max-Q's CUDA capabilities for accelerated decoding. With the support for CUDA, Gigabyte AERO 15 OLED XA can perform much faster than other competing technologies. As shown above, with CUDA, the same task for REDCINE-X Pro completed 3 times faster than traditional OpenCL methods.
RTX Octanebench 2019


RTX octanebench utilizes the RTX graphics card accelerated ray tracing capabilities to create ray traced graphics. Thanks to the use of RT cores on the RTX graphics card, the system was able to perform ray tracing graphics creation with ease. This is also how, with RTX On, that the system was able to produce a much higher score than with it switched off.
DaVinci Resolve 16
DaVinci Resolve is a video editing application developed by Blackmagic Design. With the close integration between the software and NVIDIA technologies, the software was able to make use of advanced GPU-accelerated features efficiently and quickly complete their workload.
In the example above, the Gigabyte AERO 15 OLED XA was able to complete the tasks smoothly.
3DMark Benchmark

Even though the Gigabyte AERO 15 OLED XA excelled in productivity and creativity tasks, it did not perform as well for game benchmarks. This is most likely caused by the use of Studio drivers instead of Game Ready drivers, which are not game optimized. Nonetheless, users can expect better gaming performance when they install the Game Ready driver instead.
Conclusion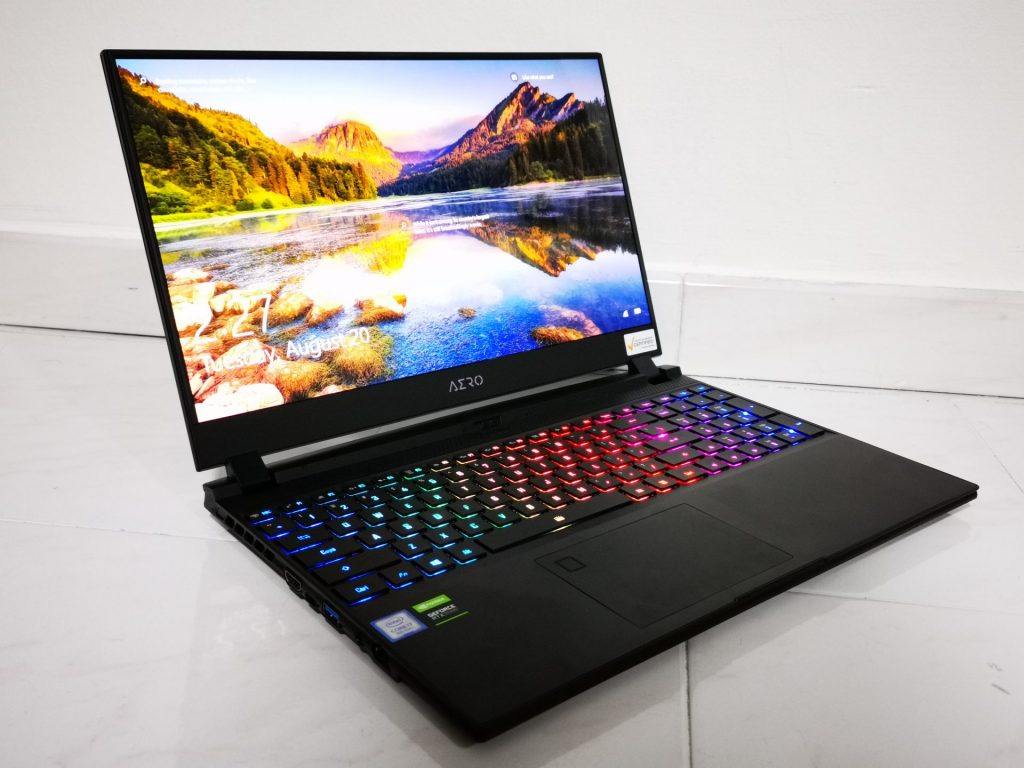 The Gigabyte AERO 15 OLED XA is no doubt an excellent notebook for professional and creativity work. It has shown its capabilities when running popular creativity software, while being able to make use of dedicated GPU hardware to accelerate many tasks for improved productivity. Moreover, its beautiful 4K Samsung AMOLED display also makes this device good for both work and media consumption.
Gigabyte's pursuit for perfection was also shown in the design of the new AERO 15. They looked at the small aesthetic imperfections on the previous generation AERO 15 and improved on them to produce the new AERO 15. However, they may have overlooked the placement of the webcam this time.
If Gigabyte was to design the AERO specifically for professional and creativity work, perhaps they would have just removed the RGB lit keyboard function altogether. I don't think anyone doing professional work will see the RGB keyboard useful in anyway. Perhaps, this could also lower the cost of the device to make it more competitive in the market.
The Gigabyte AERO 15 OLED XA RTX 2070 is available at a price of S$3,799. The purchase will also come with a free Gigabyte Gray bag and a M6880X Mouse.