ASUS ZenBook Pro Duo (UX581): World's first ScreenPad™ Plus laptop with14-inch full-width 4K ScreenPad™ Plus touchscreen interacts seamlessly with main display for enhanced creativity
ASUS ZenBook 14/15 (UX434/UX534): The world's most compact designs with the four-sided frameless NanoEdge display, the evolved ScreenPad™ 2.0 secondary touchscreen with larger display, enhanced productivity and upgraded experience
ZenBook Edition 30: Luxury limited-edition Pearl White 30th anniversary model features genuine Italian leather lid cover and full matching accessory set
SINGAPORE (28 August 2019) — ASUS today announces the all new ZenBook series, comprising of the ZenBook Pro Duo (UX581), ZenBook Duo (UX481), ZenBook 14/15 (UX434/UX534) and ZenBook Edition 30 (UX334FL). This is the series of premium laptops that introduces the groundbreaking new revolutionary new ScreenPad design for enhanced productivity and upgraded experience.
ASUS ZenBook Pro Duo (UX581)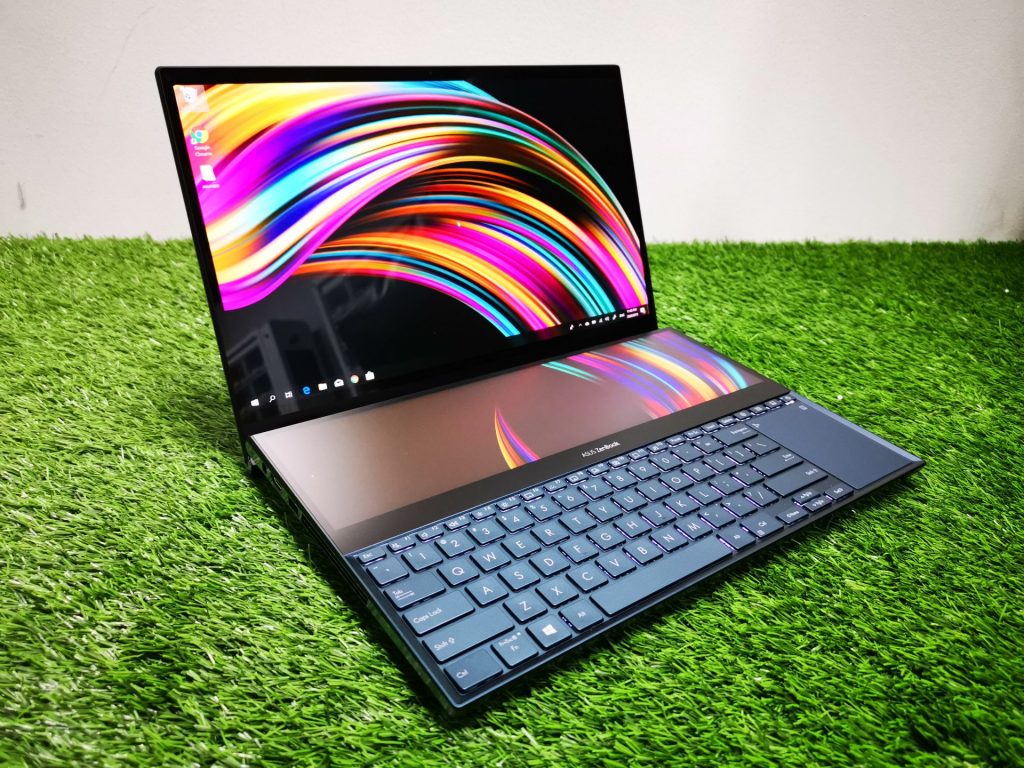 The ZenBook Pro Duo (UX581) is a groundbreaking laptop featuring the new ASUS ScreenPad™ Plus, a revolutionary 14-inch full-width secondary touchscreen that expands and enhances the interactive capabilities offered by the original ASUS ScreenPad™.
The ScreenPad™ Plus offers endless creative possibilities for content creators, allowing productivity-enhancing workflows and easy multitasking. It integrates seamlessly with the primary display, and the built-in ScreenXpert software includes a wide selection of useful apps, tools and utilities that allow users to easily enjoy the efficiency benefits of the ScreenPad™ Plus.
Extreme performance for effortless creativity is provided by 9th Generation Intel® Core™ processors, combined with 32GB RAM and an NVIDIA® GeForce RTX™ 2060 GPU, with ultrafast storage provided by up to a 1TB PCIe® 3.0 x4 SSD.
The ZenBook Pro Duo (UX581) features a stunning 4K UHD (3840 x 2160) OLED touchscreen for breathtaking visuals, a 4K (3840 x 1100) ScreenPad™ Plus and an ASUS NumberPad dual-function touchpad. The display is a frameless four-sided ASUS NanoEdge design, with ultraslim bezels for immersive visuals and an ultracompact form factor.
The brand new Celestial Blue gives the ZenBook Pro Duo (UX581) a sophisticated air of timeless innovation. It is also decorated with a unique asymmetric version of the iconic Zen-inspired spun-metal finish: an intriguing design detail that gives the ZenBook Pro Duo (UX581) a totally unmistakable identity.
Create the Uncreated: Ultimate Productivity
The unique 4K ScreenPad™ Plus on the ZenBook Pro Duo (UX581) gives users the ability to enjoy the productivity and efficiency benefits of using two separate displays on a single portable device. The full-width, high-resolution 32:9 aspect-ratio touchscreen sits directly above the laptop's keyboard, providing a greatly enlarged visual workspace while preserving the standard laptop form factor.
ScreenPad™ Plus can be used just like any standard second display in Windows to display visual content, or users can take advantage of many time-saving features and functions built into the ScreenXpert control software to simplify multiscreen window and app management. These include handy quick controls such as App Switcher, ViewMax and App Navigator that enable intuitive interactions and easy cross-screen referencing between the main display and ScreenPad™ Plus. Task Group lets users lock instantly into work mode by opening multiple tasks with a single touch.
Users can also drag discrete apps, toolbars or menus onto ScreenPad™ Plus to reduce clutter on the main screen and enhance work efficiency. Creators can dock their tools such as video previews, timeline controls, code windows or audio mixer panels onto ScreenPad™ Plus to optimize their workflow. Social communications apps placed on ScreenPad™ Plus allow users to keep up to date and respond instantly to messages while working, without having to switch between windows.
Adaptive functions, pioneered in the original ScreenPad™, also offer enhanced workflow. ASUS is working with developers including Corel® to optimise adaptive ScreenPad™ tools for the ultimate productivity. However, any Windows app can be used with ScreenPad™ Plus, with no need for a specific ScreenPad™ Plus-enabled version[i].
Using the bundled stylus[ii] — or any other active stylus — enables yet another layer of interactivity for users, with ScreenPad™ Plus offering a superbly stable platform for writing or drawing. A bundled deluxe palm rest[iii] enhances the ErgoLift tilting keyboard design even further for the most comfortable drawing or typing experience ever.
Ultra-powerful Performance
The ZenBook Pro Duo (UX581) is designed for extreme performance to enable effortless creativity. It is powered by a 9th Generation Intel Core i9 eight-core processor with up to an unprecedented 5GHz Turbo Boost frequency and 32GB of DDR4 RAM. The gaming-grade NVIDIA GeForce RTX 2060 GPU, powered by the NVIDIA Turing™ architecture, is a game-changing GPU that offers users the power of ray-tracing for the ultimate visual realism.
A 1TB PCIe 3.0 x4 SSD ensures ultrafast data access at all times, and the full set of I/O ports includes a Thunderbolt™ 3-enabled USB Type-C™ (USB-C™) port. The latest Intel Wi-Fi 6 with Gig+ (802.11ax) takes wireless speeds to the next level, for super smooth connections to the world.
To ensure silky-smooth operation and maximum performance are available at all times, there is a dedicated Turbo Fan button to boost cooling at any time, and the ErgoLift hinge improves airflow under the laptop for better thermal performance.
This potent specification makes ZenBook Pro Duo (UX581) one of the most powerful laptops available for discerning on-the-go creative professionals, and ensures an ultra-fluid cross-screen workflow when using ScreenPad™ Plus.
Brilliant Visuals
The 4K UHD NanoEdge OLED touchscreen on the ZenBook Pro Duo (UX581) is truly amazing, with a four-sided frameless design featuring an 89% screen-to-body ratio that gives users more screen, and fewer distractions. This brilliant display technology delivers ultra-vivid colours and deep blacks.
To display the most vivid, most realistic colours possible, the ZenBook Pro Duo (UX581) supports an exceptionally wide colour gamut with 100% DCI-P3 coverage and HDR. The DCI-P3 colour space — widely used in the motion picture industry — is increasingly the preferred choice of creative professionals for its increased range of possible colours, and makes images on the ZenBook Pro Duo (UX581) look simply stunning.
ASUS ZenBook Duo (UX481)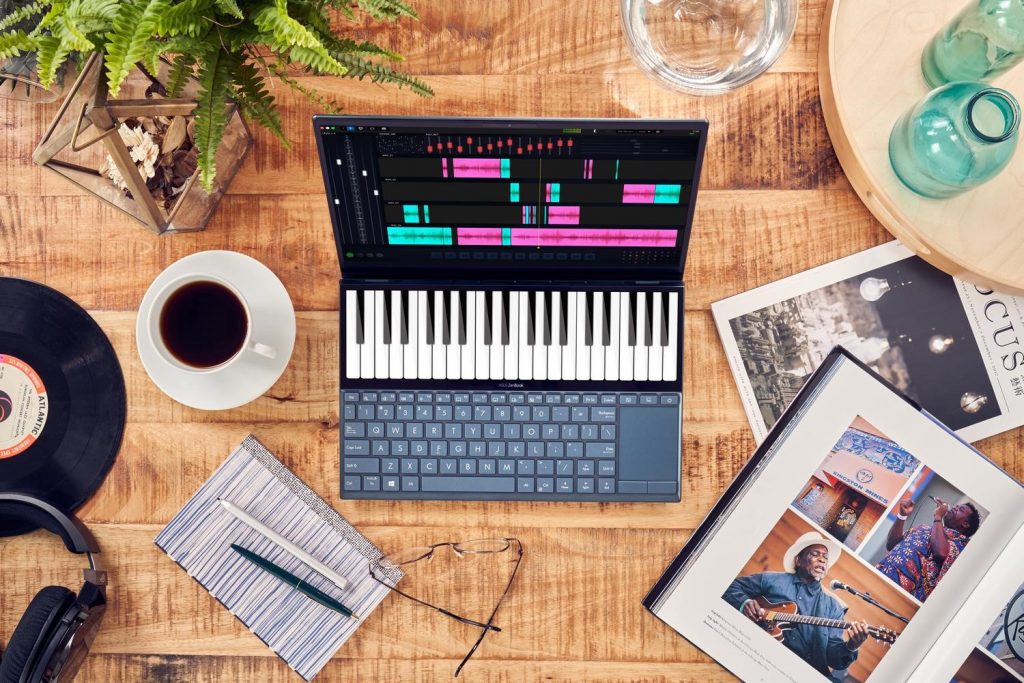 ASUS ZenBook Duo (UX481)
The 14-inch ultraportable variant, ZenBook Duo (UX481) is also available, featuring a frameless four-sided NanoEdge Full HD display and a Full HD ScreenPad Plus. It is powered by the 10th Generation Intel Core i7 processor and a GeForce MX250 GPU.
For users requiring a smaller and more affordable ScreenPad™ Plus laptop, the ultraportable 14-inch ASUS ZenBook Duo (UX481) is the perfect choice. It supports the same great ScreenPad™ Plus features as its larger sibling, but in a lighter and smaller chassis.
ASUS ZenBook 14/15 (UX434/UX534)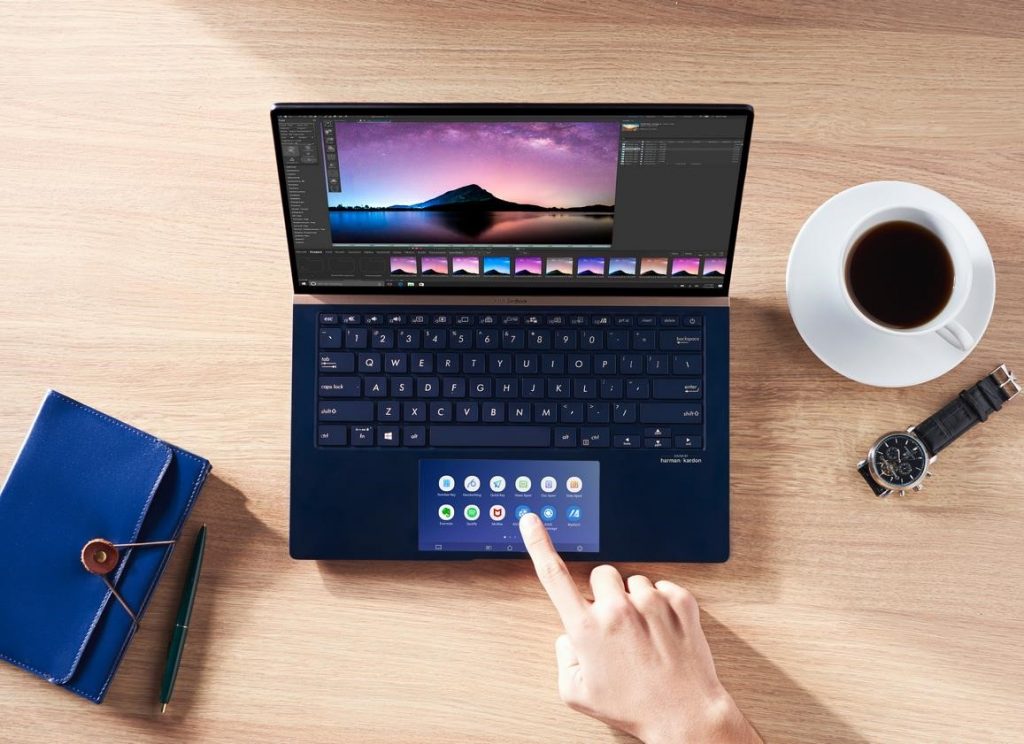 ASUS ZenBook 14 (UX434)
The latest ZenBook 14 (UX434) and ZenBook 15 (UX534) laptops, which now feature the revolutionary ASUS ScreenPad™ 2.0. It upgrades the traditional laptop experience, adding an interactive secondary screen that enhances productivity for endless possibilities. Its intuitive new smartphone-like interface enables easy task management and allows the creation of seamless multitasking workflows.
Both laptops feature a four-sided frameless NanoEdge display, with up to a 95% screen-to-body ratio that gives them the world's most compact footprint in their respective classes2.
The combination of performance and mobility is a defining feature of the ZenBook series, and the new models feature a full complement of high-performance components including 8th Generation Intel® Core™ i7 quad-core CPUs, up to NVIDIA® GeForce® GTX 1650 Max-Q graphics, 16GB RAM, ultrafast PCIe® SSDs and gigabit-class Wi-Fi 5.
The Intelligent Touchpad, Evolved
Powered by the new ScreenXpert software, ScreenPad™ 2.0 now has a larger 5.65-inch touchscreen that offers many new features and benefits. This interactive secondary touchscreen enhances productivity, allowing for more efficient workflow. It includes a collection of handy ASUS utilities to boost productivity: Quick Key enables one-tap automation of complex keyboard sequences, Handwriting for natural text input, and Number Key for rapid data entry. The revised smartphone-like interface is more intuitive for improved ease of use. Third party developers can also use the ASUS API to optimize their software and user experiences for ScreenPad™. The hardware is now also more energy efficient than its predecessor, allowing for 2.5X longer[iv] battery life when ScreenPad™ is in use.
The World's Most Compact Designs
The new ultralight and ultraportable ZenBook models boast the smallest footprints in their class6, a feat made possible by the frameless NanoEdge displays. These stunning 14-inch and 15.6-inch displays feature ultraslim bezels on all four sides, creating up to a 95% screen-to-body ratio that maximises the screen area in the minimum physical space.
The result is simply breathtaking: the near-borderless visuals deliver a more immersive viewing experience with less visual distraction, making the ZenBook series the perfect choice for on-the-go creativity or entertainment.
Complementing the ultra-compact design, the traditional ZenBook style and elegance is apparent at a glance: all models feature the iconic Zen-inspired spun-metal finish on the lid, and there is a choice of prestigious Royal Blue anodised finishes, enhanced with gold lid logos and a contrasting Rose Gold trim bar above the keyboard for an extra touch of luxury. The ASUS ErgoLift hinge design tilts the keyboard automatically for a comfortable typing experience, and also aids cooling.
Maximum Performance
The new ZenBook 14 (UX434) and ZenBook 15 (UX534) are built to deliver unbounded on-the-go performance, featuring the latest 8th Generation Intel® Core™ i7 processor and a range of fast graphics options, including NVIDIA® GeForce MX250 discrete graphics on the ZenBook 14 (UX434) and the ZenBook 15 (UX534) is equipped with high-performance NVIDIA GeForce® GTX 1650 GPU.
Both models are equipped with PCIe® SSDs and 16GB of RAM, making ZenBook ideal for creating complex documents, mining data, retouching photos, editing videos, or simply taking a gaming break. The new ZenBook 14 (UX434) and ZenBook 15 (UX534 let users do more, and do it quicker.
Mobile professionals need to stay connected — at the fastest speed possible. Both ZenBook 14 (UX434) and ZenBook 15 (UX534 feature gigabit-class Wi-Fi 5 (802.11ac) for ultrafast downloads and smooth streaming with greater range and more stable network connections than ever before. Additionally, the latest Bluetooth® 5.0 lets users access all the benefits of the latest low-power peripherals and accessories.
Designed for non-stop, on-the-go lifestyles, the new ZenBook 14 (UX434) and ZenBook 15 (UX534 give users the freedom to work all day on a single battery charge — up to an impressive 14 hours for ZenBook 14 (UX434), and an incredible 17 hours for ZenBook 15 (UX534)8.
ASUS ZenBook Edition 30 (UX334FL)
ASUS ZenBook Edition 30 (UX334FL)
The limited-edition ZenBook Edition 30 (UX334FL), a luxurious Pearl White model that has been specially designed to celebrate the 30th anniversary of ASUS, and which features a hand-crafted genuine Italian leather lid cover. It draws on the ASUS heritage but is designed with an eye on the future, and features the finest leather craftsmanship as a mark of our confidence. It is an amazing laptop that is another milestone in our search for incredible.
Back in 2006, ASUS created the S6F Leather Collection, the world's first laptop to incorporate genuine-leather panels. The ZenBook Edition 30 (UX334) brings a futuristic twist to that classic look, with a lid encased in luxurious Pearl White genuine Italian leather — hand-crafted and hand-stitched for perfect fit appearance — for a pure, bold style statement. The Rose Gold anodised diamond-cut edges and trim bar, accompanied by the exclusive 18-karat rose-gold-plated 30th anniversary logo on the lid, are eye-catching additions that give ZenBook Edition 30 a look of pure luxury.
The ZenBook Edition 30 (UX334) is exclusively equipped with a complete set of premium accessories, including a Pearl White mouse, a leather-look box and mouse pad, and a genuine-leather sleeve. It is a very special collection for a very special laptop.
AVAILABILITY & PRICING
The ZenBook Pro Duo (UX581) will be retailing at $4,998 starting from today. The ZenBook 14/15 (UX434/UX534) and the ZenBook Edition 30 will be retailing from $2,098 and at $2,198 respectively in COMEX Show, while the ZenBook Duo (UX481) will be retailing later in September at $2,198. All models will be available at ASUS Brand Shop, ASUS Online Store and all authorised retailers.
[i] Window layout may be affected on some apps
[ii] Stylus supplied with UX581 only
[iii] Palm rest supplied with UX581 only
[iv] Based on comparisons made when watching videos on ScreenPad 2.0 UX562FDX (7.8 hours) and ScreenPad UX580GE (3.03 hours).
5 As of May 8, 2019 based on internal ASUS market analysis comparing ZenBook 13/14/15 laptop size to competing products in their class (laptops with a screen measuring 13.3 inches, 14 inches and 15.6 inches) from vendors including Acer, Apple, HP, Huawei, Lenovo, Microsoft and Samsung.
6 Based on comparisons made when watching videos on ScreenPad 2.0 UX562FDX (7.8 hours) and ScreenPad UX580GE (3.03 hours).
7 Battery life test configuration: Intel® Core™ i5-8265U, 8GB RAM, FHD display, 256GB PCIe® SSD. Battery tests conducted by ASUS in May 2019 using the MobileMark® 2014 Office Productivity scenario. Test settings: Wi-Fi enabled, display brightness set to 150nits. Actual battery life may vary depending on product configuration, usage, operational conditions and power management settings. Battery life will decrease over the lifetime of the battery.
8 Specifications, content and product availability are all subject to change without notice and may differ from country to country. Actual performance may vary depending on applications, usage, environment and other factors. Full specifications are available at http://www.asus.com