One of the biggest announcements at CES 2021 is the launch of the new mobile GPUs from NVIDIA. The new Ampere architecture based GeForce RTX 3000 series GPUs are expected to power most of the gaming notebook computers in the market this year. Manufacturers have already announced that they will be bringing these new notebooks into the market as early as February, so we can expect them on our shores real soon.
Being one of the up-and-coming players in the gaming notebook market, Gigabyte has also decided to launch their flagship AORUS 17G in Singapore as well. The AORUS 17G is the brand's eSports focused product line, which has been specially crafted and designed to meet the demands of eSports gamers. This is why, AORUS has partnered with G2 Esports and included their team players during product development. Now, coupled with renewed hardware, the new AORUS 17G is poised to perform better than ever, providing a superb experience for both professional and casual PC gamers.
In this article, we are going to take a look at the specifications and features of the AORUS 17G. Of course, we will also put the AORUS 17G to the test, and to determine if it lives up to all the hype that it has brought about.
The AORUS 17G Gaming Notebook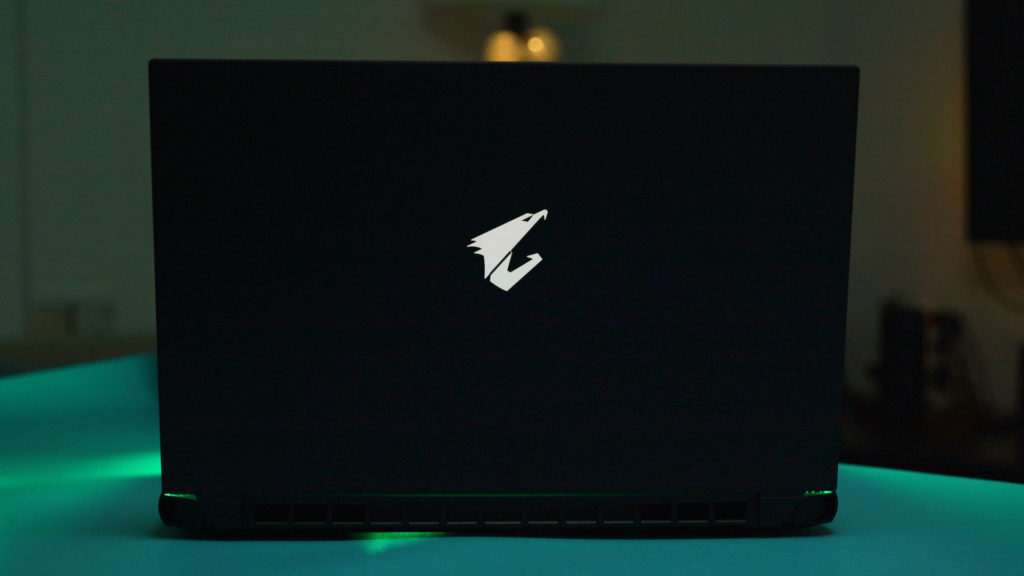 The new AORUS 17G Gaming Notebook now comes with the new NVIDIA GeForce RTX 3080 Max-Q GPU. As it is said that the latest Intel 11th Gen 8-core H-series processors have just only started manufacturing and will only be available to the market in Q2 this year, many manufacturers have opted for the Intel 10th Gen H-Series CPU for their current release instead. This is why, the AORUS 17G only comes with the Intel Core i7-10870H CPU, instead of something from the Intel 11th Generation of products.
Moreover, we realized that most of the flagship high performance gaming notebooks now come with the Intel Core i7-10870H processor, instead of the Core i7-10875H processor. This also means that CPU performance is expected to be slightly worse when compared to those which were released earlier with the Core i7-10875H processor. The main difference is only in their core frequency, where the Core i7-10870H has a 100MHz disadvantage. The performance difference shouldn't be too big.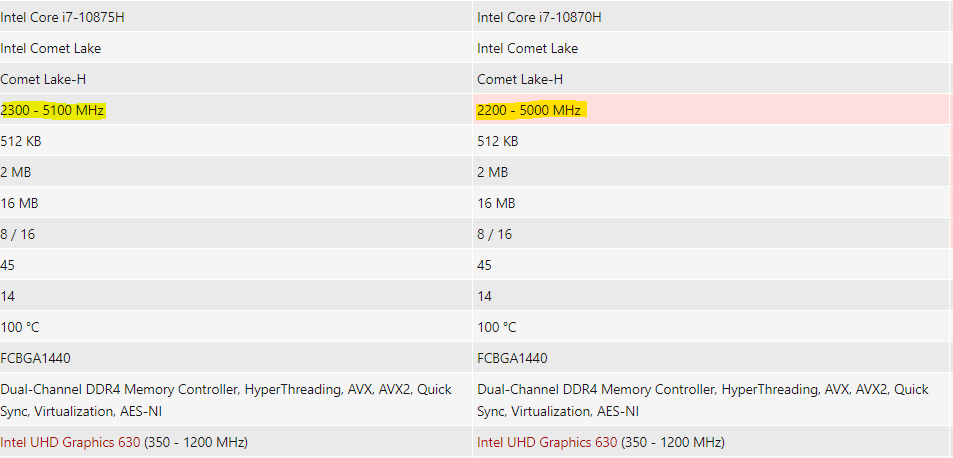 Specifications
Details
Model
GIGABYTE AORUS 17G-YC
CPU
Intel Core i7-10870H (8-core processor)
GPU
NVIDIA GeForce RTX 3080 Max-Q GDDR6 8GB
OS
Windows 10
Display
17.3" 300Hz FHD IPS-Level Panel
System Memory
Samsung 16GB DDR4 (2 x 8GB)
Storage
1TB

 ESR01TBTLCG-EAC-4

Audio
Nahimic 3 Enabled
Network
RTL8125-BG REALTEK (2.5G) Ethernet
Intel AX200 Wireless
Dimensions
405(W) x 276(D) x 26(H) mm
Weight
~2.7KG (w Battery, M.2 SSD)
There's nothing much we can expect more from the AORUS 17G when it comes to hardware specifications. With the AORUS 17G-YC, you are getting pretty much everything that's the best in the market right now, and there's only minimal room for further upgrades.
300Hz Colour Calibrated IPS Panel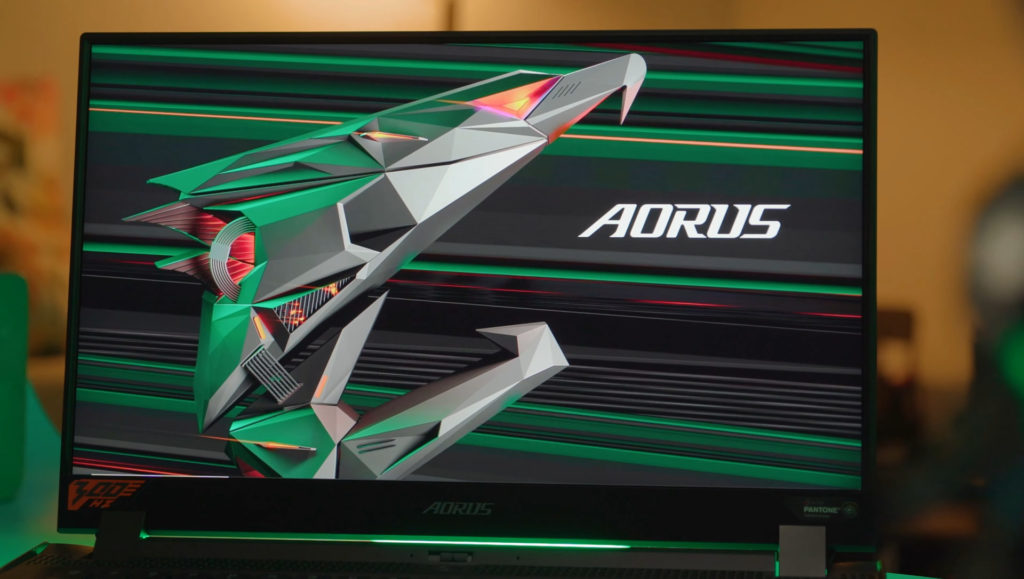 First up, the AORUS 17G is equipped with a 300Hz FullHD 1080P display. This is one of the few 300Hz display panel that's found on gaming notebook. Of course, as we can expect, a high refresh rate monitor allows gamers to respond faster to the changes on the screen. It also reduces screen tearing, lag and blur on the display.
Moreover, the AORUS 17G's display panel are also specially calibrated to reach 72% of the NTSC, 100% sRGB colour space. The panel is also individually calibrated and comes with X-Rite Pantone certification. This means that the display panel is going to be colour accurate. It allows the AORUS 17G to also be suitable for content creators and professionals who rely on accurate colours for their work.
As for the design, the AORUS 17G features the world's thinnest 3mm display bezel, making the whole notebook looks refined and premium. It really brings out the sleekness of the notebook, making it very appealing to the eyes.
True Mechanical RGB Keyboard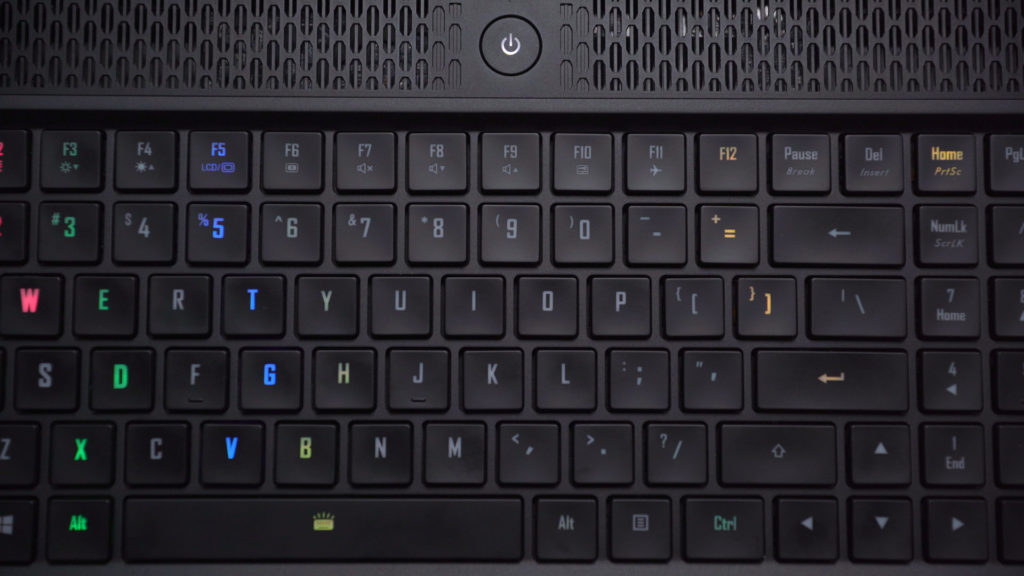 Another key feature of the AORUS 17G is its use of mechanical key switches for its keyboard. Understanding that eSports players need their system to respond very quickly to their inputs, AORUS has decided to include the mechanical keyboard for the AORUS 17G. The switches on the mechanical keyboard is also specially designed to register a keystroke with a shorter trigger distance, making response faster.
AORUS worked with Omron to include their Omron B3KL key switches for the mechanical keyboard on the AORUS 17G. Even though these are low profile key switches, it still feels and performs very well like any other full-sized key switches. These key switches have a full 2.5mm key travel distance, and each actuation point is at the 1.6mm mark. Each key is even rated to have a 15 million key stroke lifespan, so you will be assured of the longevity of your keyboard.
While we are talking about the keyboard, the AORUS 17G also comes with a RGB keyboard. Each key on the RGB keyboard can also be individually customized. The AORUS Control Center App makes it easy to change the different RGB lighting effects on your keyboard, making sure that you have full control over your preferred RGB lighting style.
I/O Ports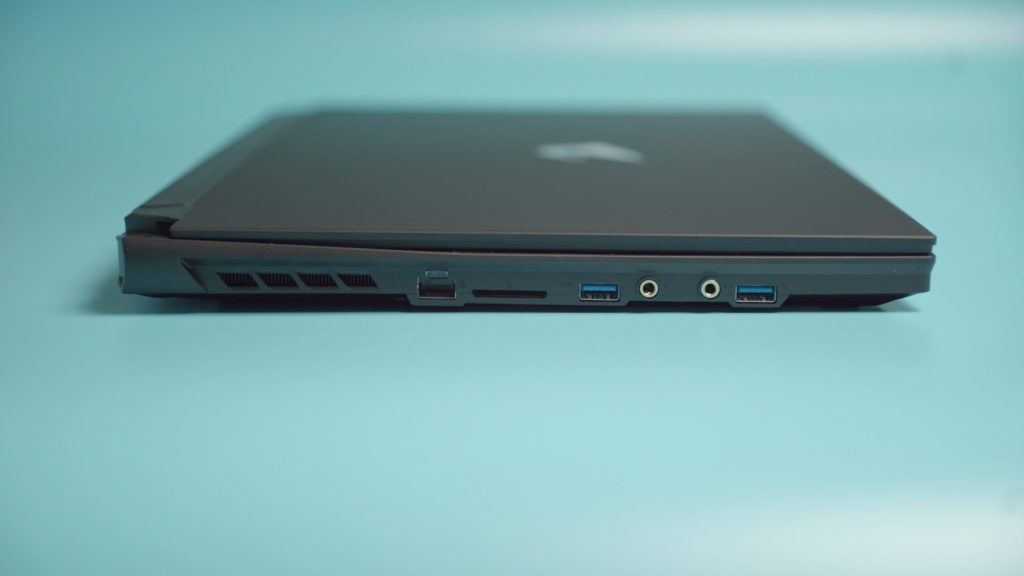 On the left side the AORUS 17G sports a 2.5Gbit Ethernet port, a UHS-II SD Card Reader slot, 2 x USB 3.1 Gen1 ports and a pair of microphone and earphone jack.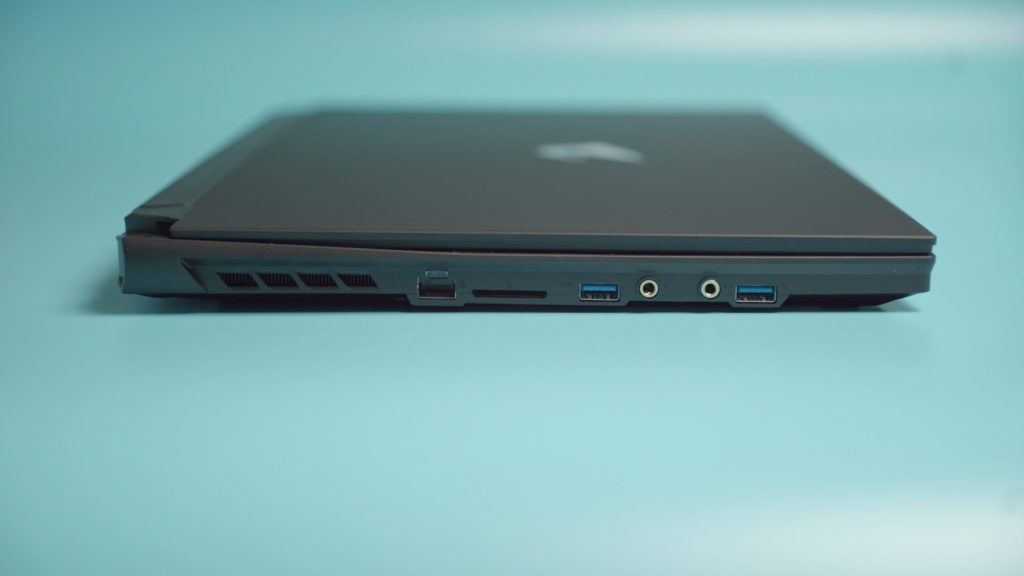 On the right side, there's another USB 3.2 Gen 1 port, a Thunderbolt 3 (USB Type-C) port, a mini Display Port, HDMI port and a DC-In Jack.
Inside the AORUS 17G
Cooling Solution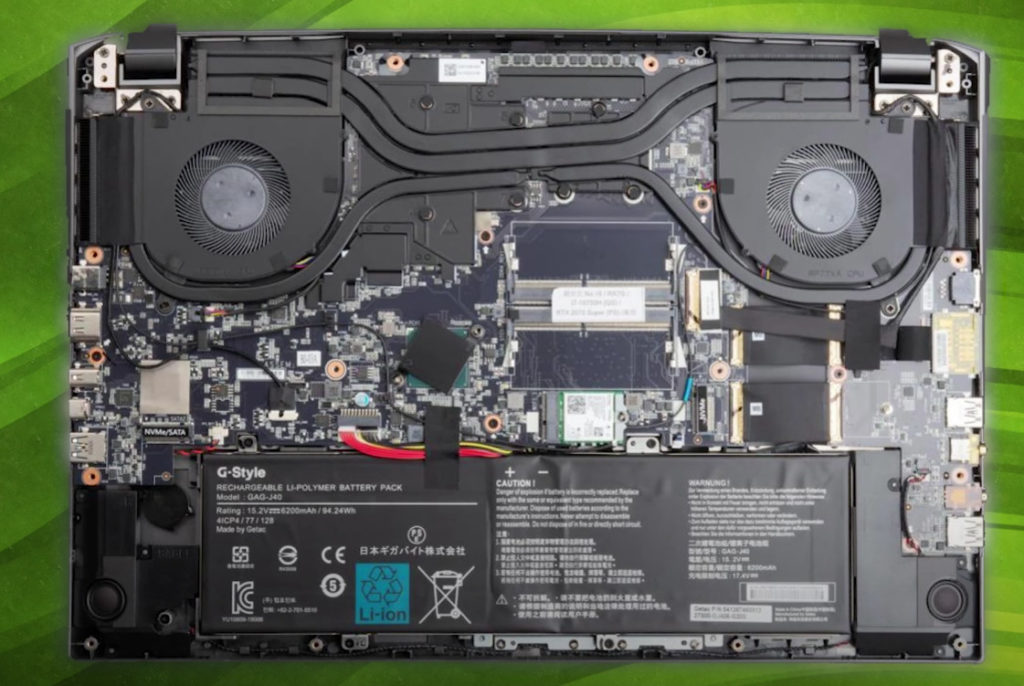 Internally, we can also spot this notebook's specially designed cooling system which comprises of two large fans and 5 heatpipes that pulls cool air in from the sides and exhaust the heat generated from the system components to the rear of the unit. It's quite a clever design, as you won't feel the heat directed towards you. Moreover, even when using the notebook, we didn't really feel the heat on the keyboard area as well.
Expansion Possibilities

The AORUS 17G comes with two DDR4 SODIMM slots. You can easily upgrade your system memory if you wish to. It also has two M.2 2280 slot, one of which is already populated with that 1TB SSD, while the other is empty for you to add in an additional SSD. The secondary M.2 SSD slot does support both NVMe and SATA based SSDs.
Test Setup and Performance Results
We will be comparing the AORUS 17G with the ASUS ROG Strix SCAR notebook which we've reviewed previously. There are two key areas which we want to find out. Firstly, we want to better understand the performance difference between a RTX 3080 Max-Q as compared to the RTX 2070 SUPER*. Secondly, would like to find out if the small 100MHz difference in the Intel Core i7 10870H (AORUS 17G) would result in a large performance disadvantage over the Intel Core i7 10875H (ROG Strix SCAR).
* we could have preferred to test a notebook with a RTX 2080 SUPER, but it was unavailable to us.
Settings
Remarks
PC Mark 10 Extended
Default
–
7-ZIP
Default
–
HEVC h.265 Encoding/Decoding
Default
–
Blender CPU BMW27
Default
–
Cinebench R20
Default
–
AIDA64
Default
–
Game Settings
Far Cry New Dawn
High
DirectX11
Deus Ex Mankind Divided
High
DirectX12
Tom Clancy Division 2
High
DirectX11
DOTA 2
Default
DirectX11
Shadow of the Tomb Raider
High
DirectX12
Metro – Exodus
High
DirectX12
World War Z
Ultra
Vulkan

First up, PC Mark 10 Extended – it's interesting to see that despite the AORUS 17G had a much higher score in the overall test, in fact, it was behind the ROG STRIX Scar 15 in the Essentials and Productivity test. We understand that CPU in the AORUS 17G is about 100MHz slower, but it shouldn't result in such a gap.

As expected, with any tests that relies on the CPU, the AORUS 17G seems to fall behind. In the 7-Zip decompressing test, we also saw the AORUS 17G falling behind competition.

This is also the same for the Cinebench R20 test. But it is expected, as indeed, the Intel Core i7-10870H found on the AORUS 17G is slightly slower than the Intel Core i7 10875H on the ROG Strix Scar 15. However, what worries us is the score gap in any multi-threaded tests. The score is just far too wide. This is also reflected on the Blender CPU test.
*Gigabyte has reached out to us and stated that the AORUS 17G was able to reach a score of 3875 based on their official tests. We were not able to replicate the review unit in our labs to achieve a score near this. 


For other tests, such as the HEVC h.265 decoding test the AORUS 17G had no issues and was faster than competition.

Despite the anomaly in CPU tests, there is no doubt that the AORUS 17G comes up on top when it comes to games. This shows the true advantage and strength of the RTX 3080 Max-Q based notebook system.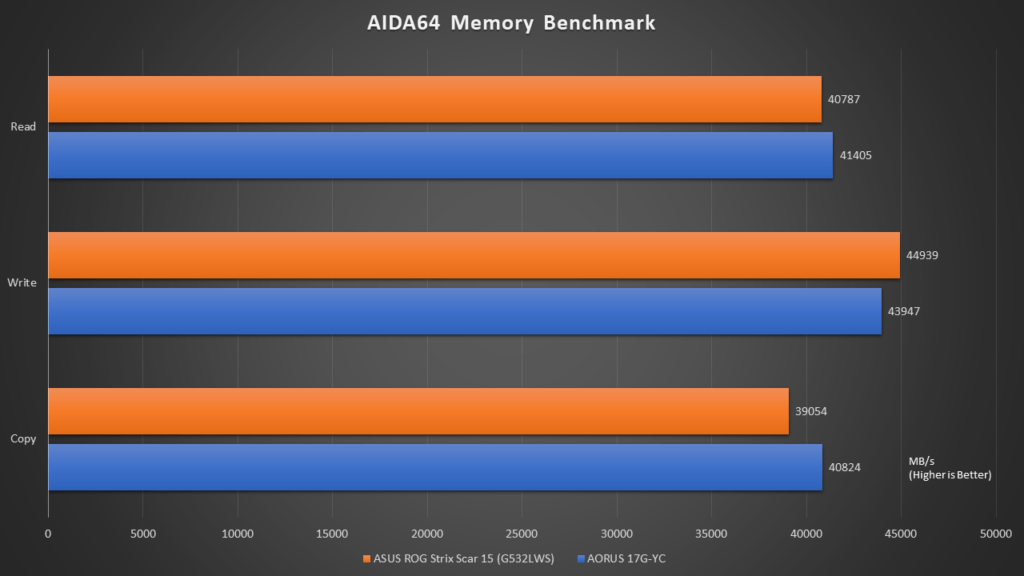 As for memory benchmarks, the AORUS 17G also meets the mark, showing comparable memory performance levels.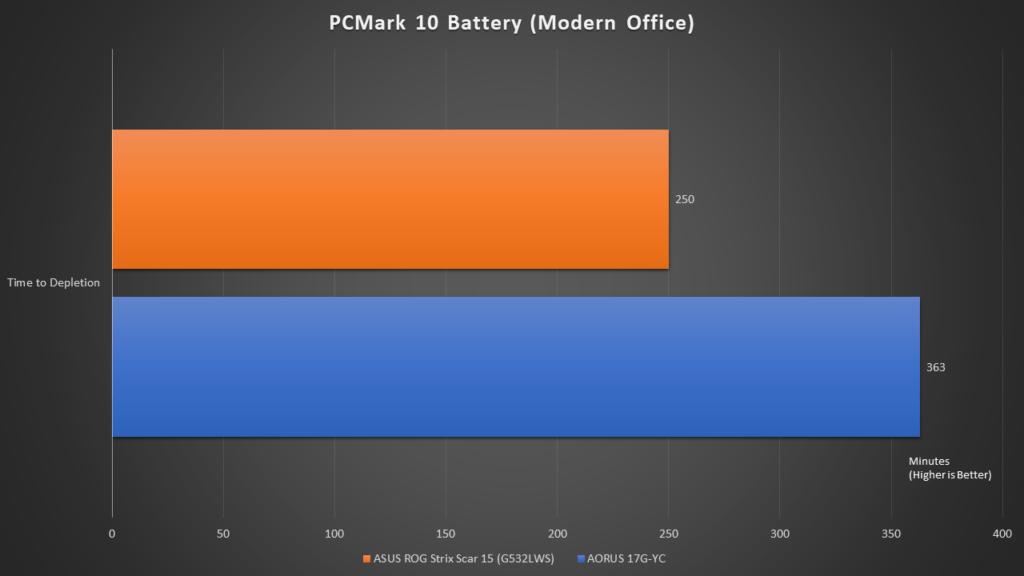 The notebook also had superb battery life as compared to competition. As it has a larger chassis, Gigabyte was able to include a 99Wh battery within it. This allows the notebook to reach a 6hr 3 min result on the PC Mark 10 Battery (Modern Office) test.
Temperatures

The unexpected poor CPU performance could be attributed to power and thermal throttling of the AORUS 17G. As seen in our temperature tests, when the CPU reaches a max of 91 degrees, it throttled, and placed the CPU at a steady state of 70 degree celcius, which also limits its clock speed at this rate. This is why we saw that the system wasn't able to perform as well in multi-threaded applications.
Intel Extreme Tuning Utility confirmed our suspicion, stating both thermal and power limit throttling on the AORUS 17G. Tests were also done with Azure AI turned on.
Conclusion
The tests have shown what we need to know about this notebook. It's great for games, but it should perform better when it comes with usual productivity applications. Gigabyte would probably need to improve their power and thermal state management on this notebook, so that they could squeeze even more performance out from this unit.
Nonetheless, all the different gaming features, such as the Nahimic Surround audio, mechanical keyboard, super fast 300Hz refresh rate, 2.5Gbit Ethernet and other gaming features have made a AORUS 17 a very compelling gaming system. Perhaps, while gaming in 1080p resolution, performance may not matter so much after all, as these other features contributes to an overall superb gaming experience.
In the end, it boils down to your budget, and what else is available in the market. Until we've tested other gaming notebooks with the new RTX series GPU, cannot be so sure if we would recommend the AORUS 17G yet.