You've probably come across a ton of true wireless earbuds by now – so much so that they are starting to look the same to you. They're either a tiny bean-shaped bud that fits in your ear or come with stalks that stick out like the Airpods, right? Well, you obviously haven't seen the Sony LinkBuds.
The Sony LinkBuds are probably one of the strangest looking true wireless earbuds we've seen. They are Sony's smallest earbuds to date, and feature a unique open-ring form factor that is designed to allow you to be cognizant to your environment even as you listen to you favourite jams. The result? Sony claims that the LinkBuds can be worn all-day without fuss. Let's see if Sony's gamble paid off.
Specifications
| | |
| --- | --- |
| Headphone Type | Open, Dynamic |
| Weight | Earbuds – 4.1 g x 2Charging case – 34 g |
| Bluetooth Version | 5.2 |
| Supported Audio Formats | SBC, AAC |
| Frequency Range | 2.4GHz band (2.4000GHz -2.4835GHz) |
| Effective Range | 10 metres |
| Water Resistance | Yes, IPX4 |
| Battery Life | Continuous music playback = 5.5 hoursContinuous communication = 2.5 hoursWaiting time = 11 hours |
| Charging | USB Charging (with Case) |
What's in the box
The Sony LinkBuds came in a simple and fuss-free packaging that screams environmentally-friendly. No plastic is included in the packaging material for the earbuds, so you don't have to worry too much about the impact your purchase makes on the environment. Open up the packaging for your LinkBuds and you'll find 5 sizes of fitting supporter to suit different ear shapes, and a USB-C charging cable.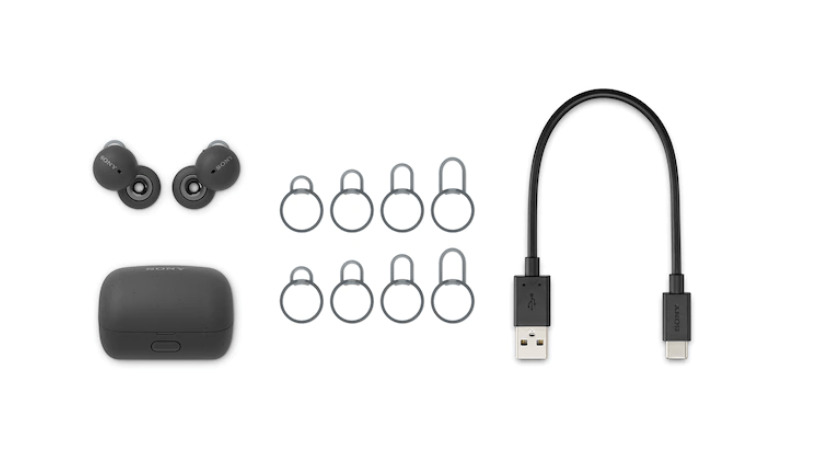 Design and fit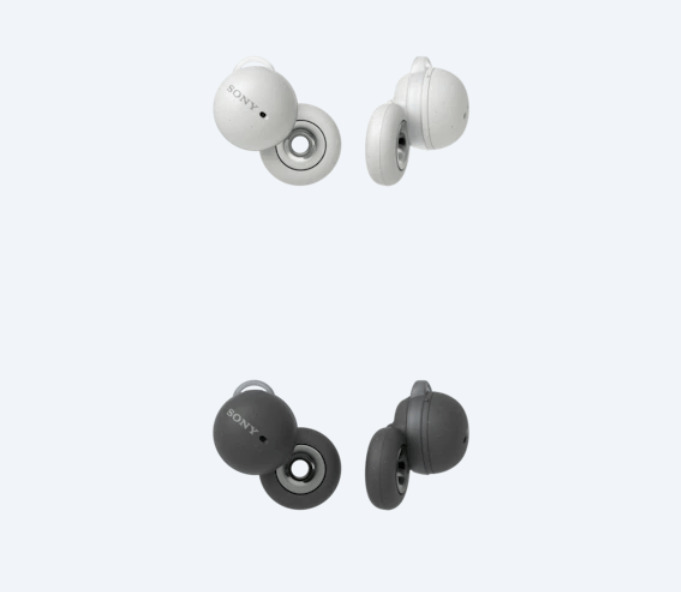 The Sony LinkBuds are available in 2 color options – Gray and White. We'll be reviewing a set of the gray ones.
The case
As mentioned, the LinkBuds are Sony's smallest earbuds to date. At approximately 41.4 x 48.5 x 30.9mm, the case is equally pocket-friendly and lightweight. Consistent with Sony's green efforts, the charging case is made from recycled plastics derived from car components. It feels good in the hands and does not scratch easily.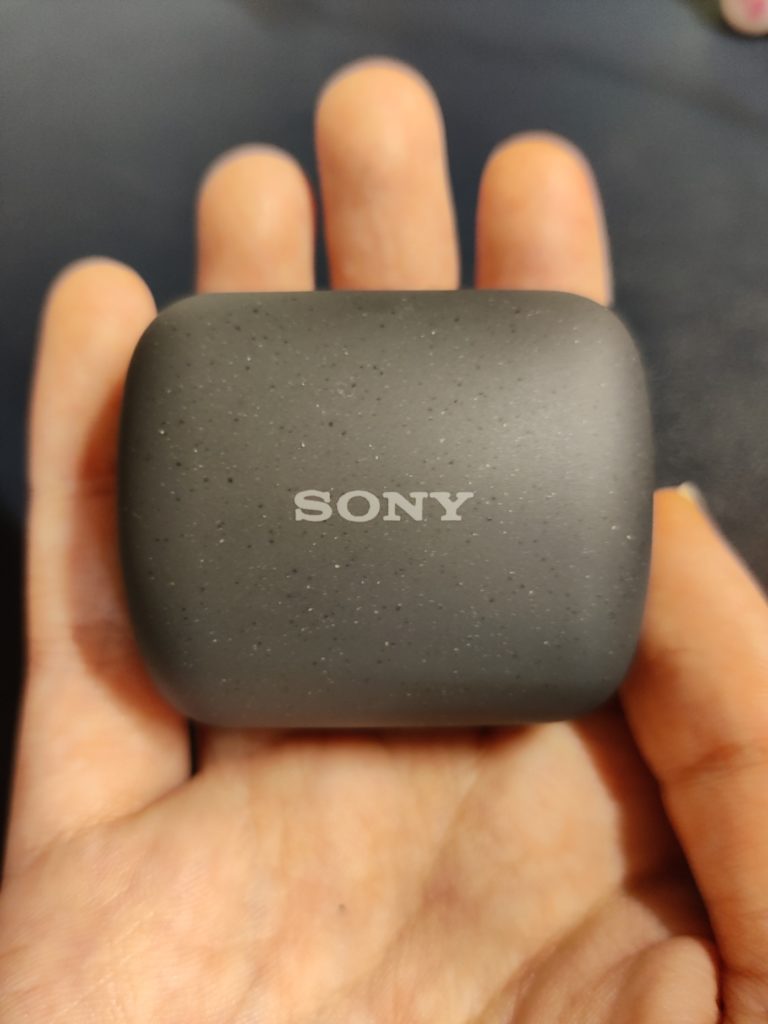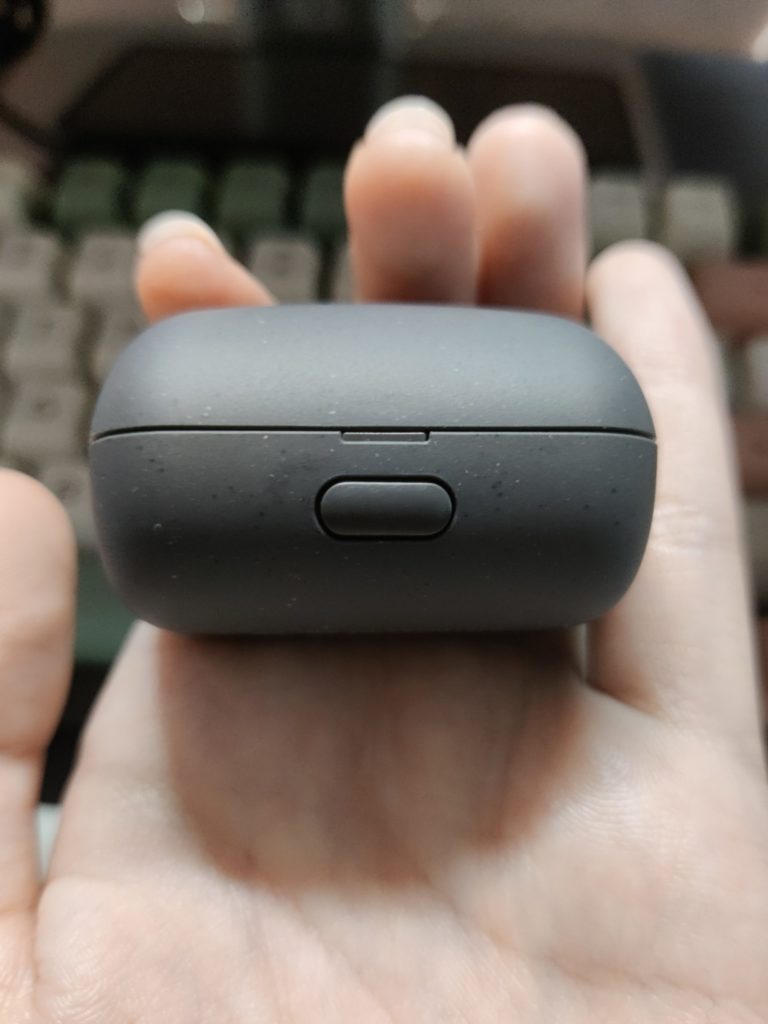 Sony kept things simple with the charging case. On the lid, you'll find the brand's logo and at the back, a pairing button and a USB-C charging port. At the front, you'll find a button that you have to press to flip up the lid – not something we're particularly used to. Pressing on the button reveals the earbuds and an LED light on the case that doubles as a battery indicator.
The earbuds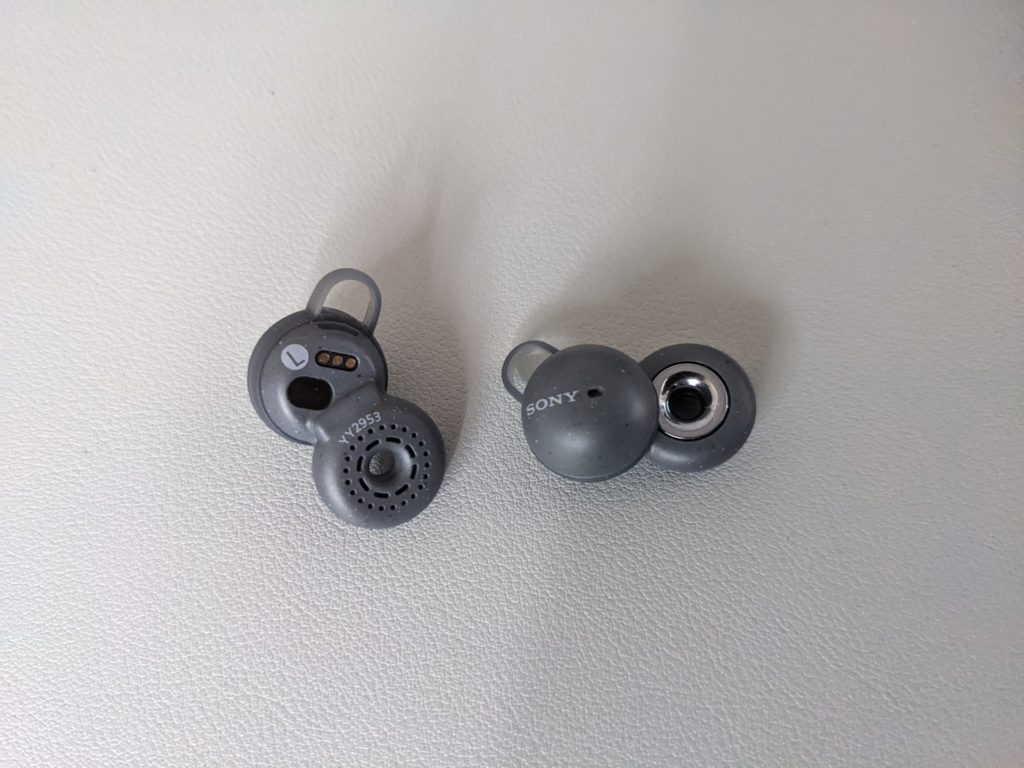 Now, on to the funky earbuds. They're made of the same recycled materials as the charging case. The LinkBuds, which look like something out of Black Mirror, weigh close to nothing, lending a hand to its comfort and fit. After having it on for hours, it feels like the LinkBuds are barely there. They sit well in the ear and are comfortable to wear. We've heard of differing opinions, though. Some users felt that the LinkBuds did not fit their ears well and were uncomfortable to wear. So it really boils down to anatomy.
Snapping the buds into the case is a breeze. They align with magnets and remain firmly in place. They are also not hard to remove.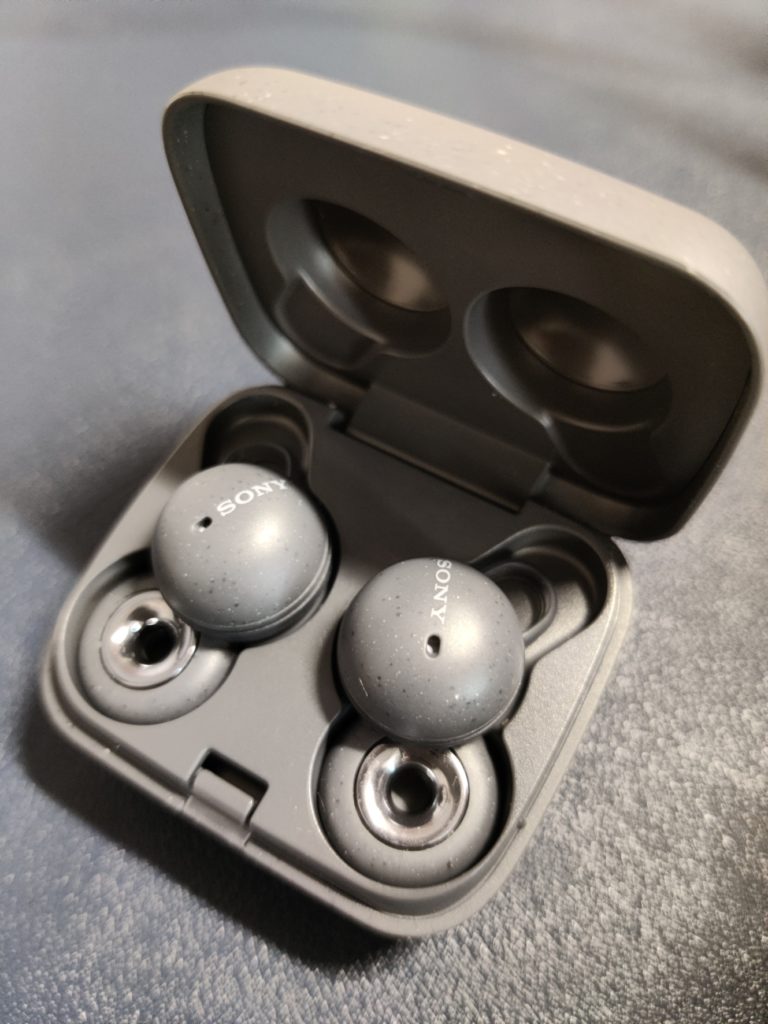 The LinkBuds come with an IPX4 water-resistance rating so gym buffs don't have to worry about breaking a little sweat in them. It's also secure enough to not dislodge while exercising.
Setup and mobile app
To set up the LinkBuds, you've got to download the Headphones Connect app and follow the prompts. It's a very detailed process. There's even an option for you to enable Sony's 360 Reality Audio feature where you have to snap a picture of each of your ears for the app to analyze your ear shape to customize an immersive sound experience for you.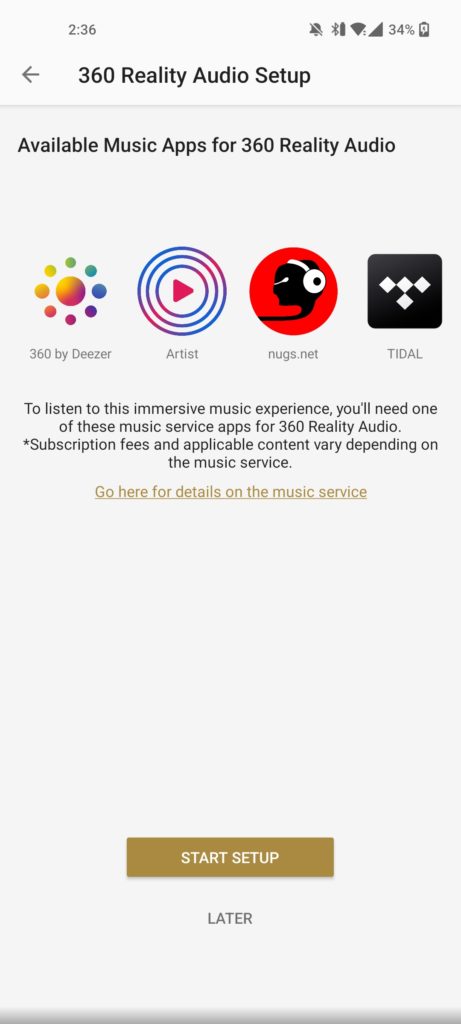 The Connect app also allows you to see how much battery life your earbuds and charging case have left, toggle between equalizer presets (or adjust the frequency sliders manually if you prefer), enable Spotify Quick Access for faster Spotify playback, and enable Adaptive Volume Control, which increases the volume of your music if the earbuds detect that you're in a noisy environment.
You may also toggle DSEE audio upscaling and Speak-to-Chat, select whether your music should be paused automatically when you remove the earphones, and check for software updates.
Overall, we found that setting up via the app was simple and straightforward. The free app was also comprehensive and easy to use.
Controls
Like most other wireless earbuds, you can control your music playback by tapping on the housing of the Sony LinkBuds. You must be thinking "what housing? This thing is tiny". Well, to control your audio playback, you make use of Sony's Wide Area Tap feature, which allows you to tap the area in front of your ears to control the earbuds. Yes – you tap on your face to get the thing to work. Dystopian or ingenious? You make the call.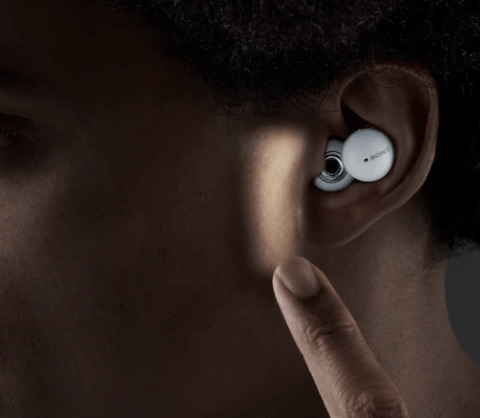 On our test, touch controls work decently well. Although, you've got to tap on your face pretty firmly to get the LinkBuds to register the touch, so you risk looking a little crazy.
There are two control options – double tap or triple tap. The earbuds also let out a sound to indicate that it has registered your taps, which is a nice feature. 
In addition to touch controls, you'll find:
an adaptive volume control feature that will automatically adjust volume based on how noisy your environment is.
an automatic play/pause when you take the headphones in and out.
Speak-to-chat, where playback automatically pauses when you talk.
You can make changes to all of these controls via the mobile app. (Pro-tip: if you're one to sing your heart out when listening to music, you might want to turn off Speak-to-chat.)
Audio quality
The open-ring design offers the Sony LinkBuds a wide soundstage that you would not usually get with an in-ear headphones. As mentioned, the LinkBuds support Sony 360 Reality Audio. The feature worked great and made it sound like music is coming at you from every direction.
The LinkBuds also feature a V1 audio processor, a 12mm ring driver with high-power neodymium magnets, Sony's proprietary Digital Sound Enhancement Engine (DSEE) for upscaling lossy audio, and support for spatial audio.
On our test, these technical specifications translate to an audio experience that is well-balanced, and with minimal distortion. For the most part, sounds are rich. Specifically, mids and highs are clear and crisp. Lows, on the other hand, aren't particularly strong, probably because the earbuds do not create a seal at the ear canal. Even with the bass boost EQ mode activated, bass is almost absent, especially if you're out and about in a noisy environment. So if you love bassy music, you might be disappointed.
Because there is no ANC at play here, you'll be able to hear ambient sounds around you – which is exactly what the earbuds are designed to do. Unfortunately, that also means that details of the audio that you're listening to can be lost as you take in sounds from your surroundings. 
Battery life
Sony claims that the LinkBuds will last you 17.5 hours – 5.5 hours from the earbuds itself and 12 more hours offered by the charging case. The earbuds support fast charging, which is supposed to get you an extra 1.5 hours with a 10-minute charge time.
On our test, Sony's claims are accurate. For a device that you're supposed to wanna put in your ear all-day long, the battery life is pretty disappointing in our opinion. Most earbuds, even with ANC on, can last more than 20 hours with their charging case. The Nothing Ear (1), for example, comes with a charging case that provides 34 hours of total playback.
But seeing as the LinkBuds are tiny, it makes sense that Sony isn't able to fit a larger battery into the device. 
So, if all-day battery life is something you terribly need, the LinkBuds aren't for you.
Price and availability
The Sony LinkBuds are available here for SGD 269. 
Verdict
If you're looking for a pair of lightweight, pocket-friendly wireless earbuds with a wide soundstage and controls that look straight up like a sci-fi film, the Sony LinkBuds are worth considering. But if you're looking for a truly all-day device or one with spectacular sound quality, the LinkBud's disappointing battery life and lack of bass will be problematic.
That said, for a first-generation product, the Sony LinkBuds offer several innovative ideas and design choices that give us a sneak peek into the future of earbuds. And seeing as how Sony introduced features like Wide Area Tap, we are more than thrilled for the arrival of Sony LinkBuds 2.