The already saturated wireless earbuds market has a new entrant – Nothing. Nothing is a London-based consumer technology company founded by Carl Pei, co-founder of OnePlus. Today, we put Nothing's first product – the Nothing Ear (1) – to the test to see if it lives up to the hype.
Nothing Ear (1): Specifications
| | |
| --- | --- |
| Water Resistance | IPX4 (Splash resistant) |
| Connectivity | Bluetooth 5.2, SBC, AAC |
| Battery Life | 4 hours with noise cancellation (24 hours with case) |
| Earbud Dimensions | 28.9 x 21.5 x 23.5mm |
| Earbud Weight | 4.7g each |
| Driver Size | 11.6mm |
| Charging Case Dimensions | 58.66 x 58.6 x 23.7mm |
| Charging Case Weight | 57.4g |
| Charging | USB-C, Qi wireless charging |
Nothing Ear (1): Design and build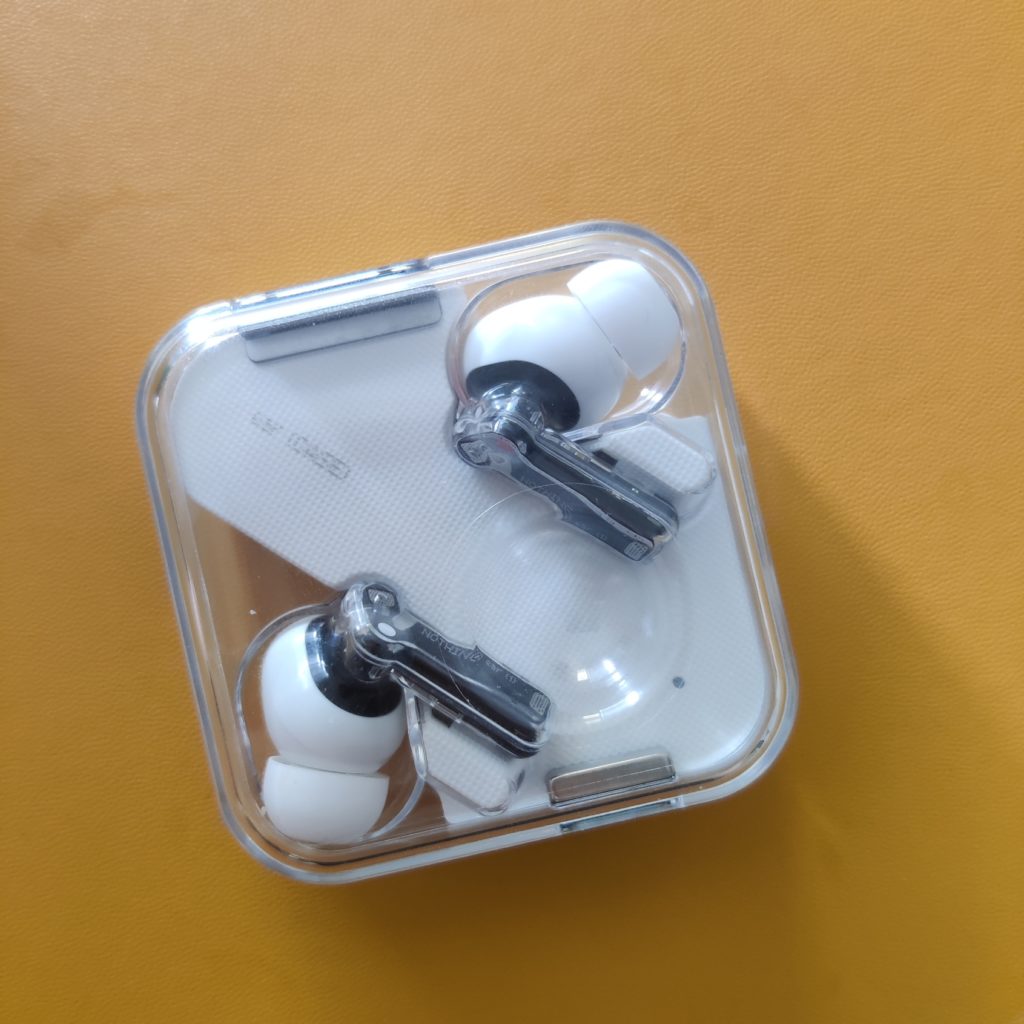 Even though its form is similar to that of the Airpods Pro – think silicon tips with stalks – the Nothing Ear (1) stands out uniquely with its transparent aesthetic. The earbuds itself are partially transparent for you to look at various visible sensors, magnets and circuits. The transparent stalk connects to a white earbud piece with a traditional silicone earbud tip.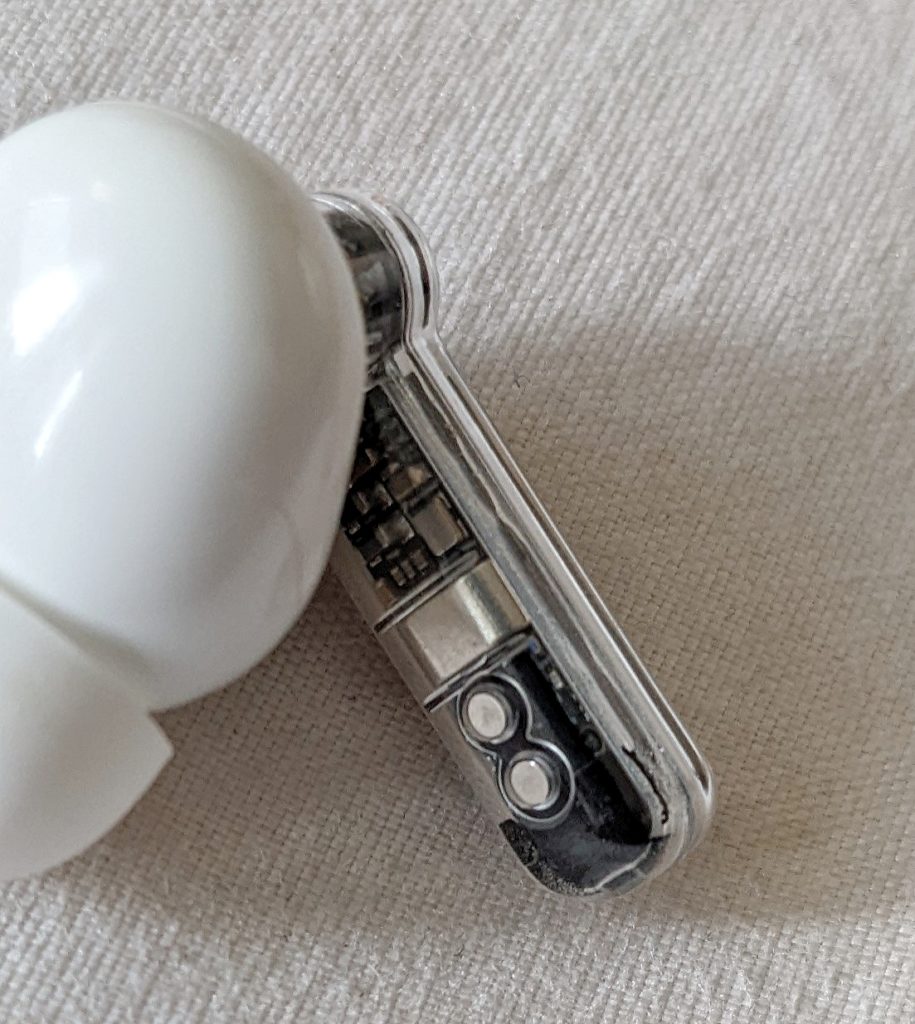 Each earpiece weighs 4.7g and feels comfortable and secure in the ear, even with the default eartips. The earbuds are also IPX4 water-resistant which means you can work out freely in them without worry.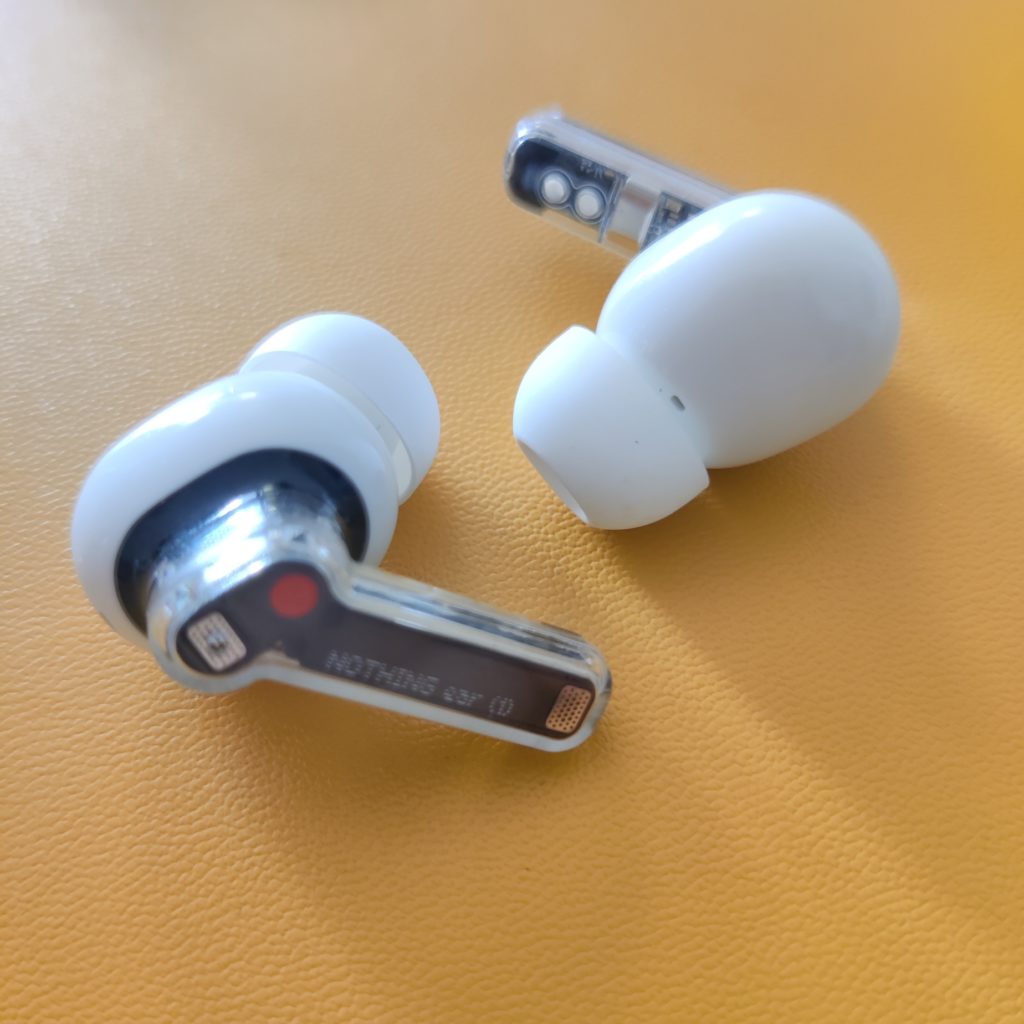 The earbud's unique design extends to its charging case – a square-shaped transparent case with rounded edges. The magnetic clasp on the case felt smooth and sturdy. It charges via USB-C or Qi wireless charging.
Nothing Ear (1) definitely stands out in terms of its design. We loved that Nothing paid attention to tiny details that contribute to a better user experience. For example, the right earbud comes with a red dot on the side corresponding to a red dot on the right side of the case so you need not fumble to figure out which piece goes where.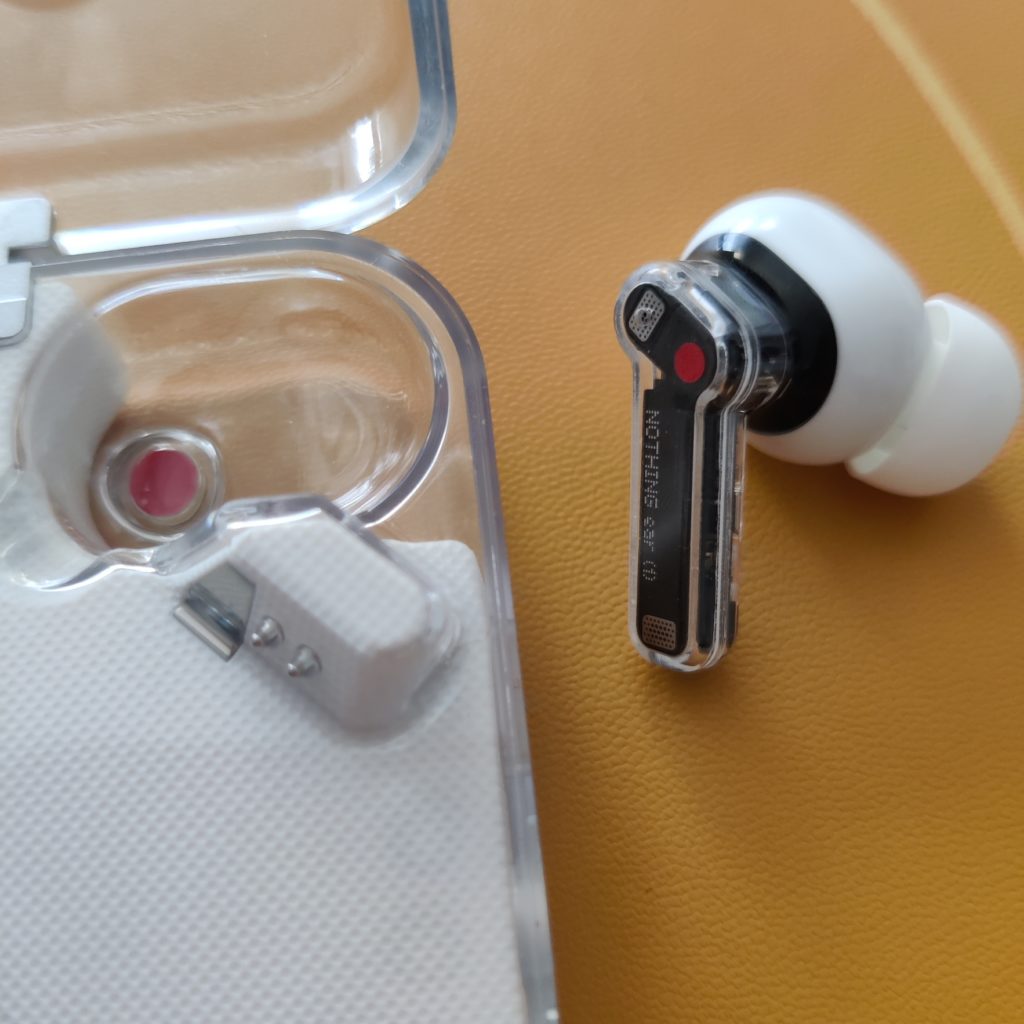 Additionally, the case itself has a circular dent the fits a thumb perfectly for easy holding.
These were small but important design choices that made using the earbuds that much more enjoyable.
Nothing Ear (1): Features
We've established that Nothing Ear (1) aced the aesthetics test. Let's take a look at some of the Ear (1)'s key features.
Ear (1) app
The Nothing Ear (1) comes with a dedicated app for you to customise the earbuds. The app also offers the ability to update the buds' firmware, disable in-ear detection, and locate lost earbuds.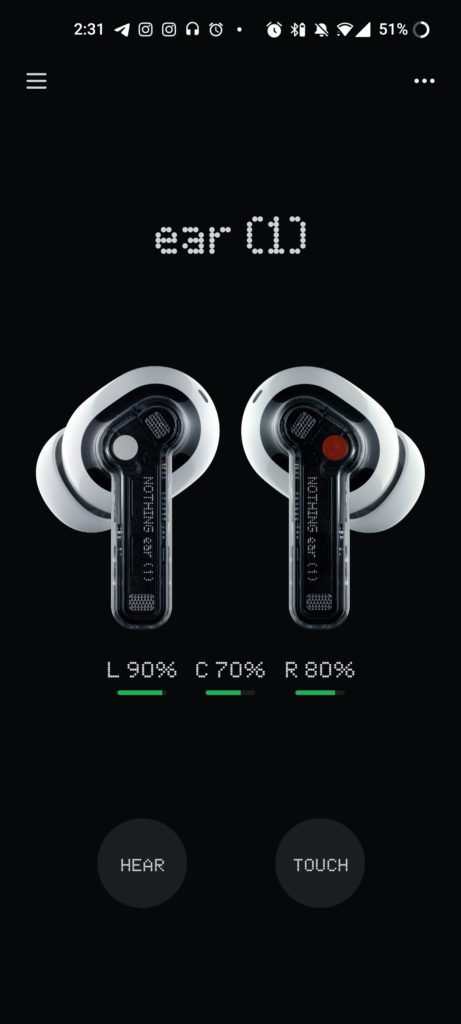 On the main page, you'll find an image of the earbuds with the battery life of each earbud reflected on a bar.
Below that, you'll find two buttons – "Hear" and "Touch. The former allows you to customise your sound and includes an equalizer function and options like 'light' or 'maximum' noise cancellation, transparency mode, or off. The latter, on the other hand, pulls out a menu that lets you customise your preferred gesture controls.
Overall, we found the app simple to use without any bells and whistles. The option to turn on a Dark Mode was pretty neat too.
Tap and swipe controls
As mentioned above, you're able to customise the earbuds' gesture controls. You can customise the triple-tap or tap-and-hold gestures of either earpiece. With triple-tap, you may choose to configure it to skip to the next song, go back to the previous song, or perform no action at all. With tap-and-hold, you can either have it activate noise cancellation or nothing at all.
Volume adjustments can also be made by swiping up and down the stem of either earpiece. On our test, the gesture controls worked pretty seamlessly. However, we wished that Nothing could've had a more comprehensive gesture control panel with multiple options for customisation.
Sound and noise cancelling
The earbuds active noise cancellation, along with the isolation provided by the eartips, offer two levels of noise cancellation that block out a significant portion of noise.
When set to maximum, the earbuds successfully blocked out low rumbles but were unable to block out higher tones. I could, for example, still hear my annoyingly squeaky fan that was next to me with maximum noise cancellation on.
The transparent mode works pretty well to bring surrounding noise back for when you need to be aware of their surroundings. It's worth noting that when switching between modes, there isn't a voice indicating what modes you've toggled to. All you'll hear is a beep and you'll need to figure out the mode you landed on.
We were glad to see that Nothing included active noise cancellation for a earpiece at this price point. Compared to its more expensive rivals, however, Nothing's active noise cancellation technology isn't much to rave about.
Call quality
With three high-definition microphones, the Nothing Ear (1) offers pretty decent call quality. The stalks on the earbuds also allow for an ideal microphone placement (closer to the mouth) for louder and clearer vocal quality.
On our test, we took calls outdoors and the Ear (1) was able to isolate the user's voice from surrounding noise for clear and sufficiently loud vocals.
Battery life
Nothing claims that the Ear (1) can last 4.5 hours with active noise cancellation and 6 hours without. On our test, the earbuds lived up to the brand's claims and lasted 4 hours and 24 minutes with constant playback and noise cancellation set to the maximum.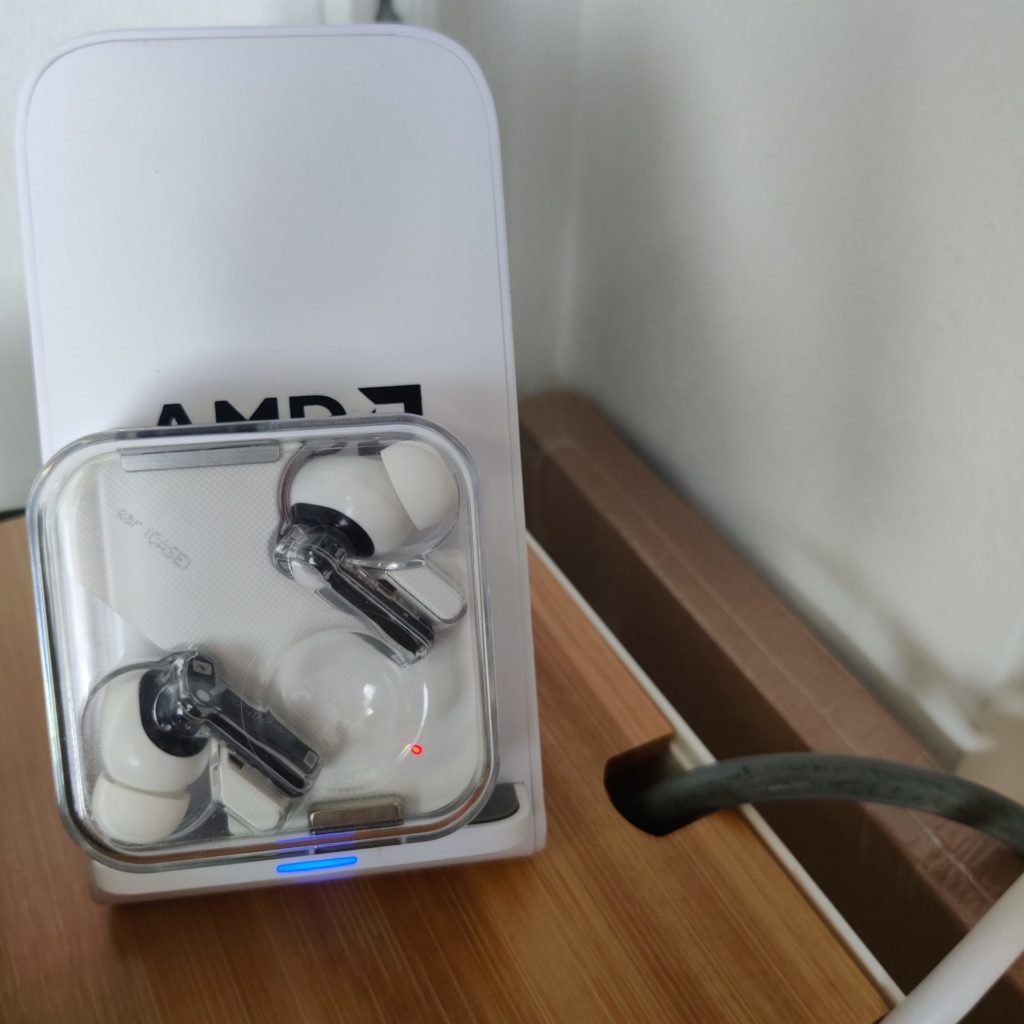 Nothing Ear (1)'s charging case provides 34 hours of total playback and can be recharged via USB-C or wireless charging. Impressively, thanks to a quick charging function, 10 minutes of charging the case provides 8 hours of battery life and 10 minutes of charging the earbuds gives you an hour of playback.
Nothing Ear (1): How it sounds
Nothing Ear (1) supports Bluetooth 5.2. As for codecs, Android users should take note that there's no support for aptX and LDAC. For Apple users, the AAC codec is supported.
Nothing claims that the earbuds' 11.6mm dynamic driver and spacious air chamber provide advanced bass, mid, and treble performance. On our test, the earphones feature a pleasant, energetic sound that is appropriate for regular use. It's well-balanced, with nice highs and treble, and a deep, well-controlled bass. Most music genres sound okay, and most users will be satisfied with what they hear.
If you're an audiophile, however, you may feel that sounds lack detail and are far from perfect when compared to more premium earphones on the market.
Nothing Ear (1): Pricing and availability
The Nothing Ear (1) is available here at SGD$179 (~USD$99).
Final verdict
Nothing strips away all the bells and whistles you'll find on premium earbuds to offer nothing but the essentials. At $179, you get a stylish and comfortable pair of earbuds with active noise cancellation, decent battery life, a commendable app, and sound quality that most users will be happy with.
All in all, Nothing is definitely on to something here and we can't wait to see (and hear) the brand's next product.
Check out our reviews of other audio devices: