The history of headphones is a long one. We've gone from big, chunky, over-the-ear headphones to more compact in-ear headphones. While over-the-ear headphones often deliver acoustically accurate sounds, they are often bulky and a hassle to bring around. On the other hand, in-ear headphones, while sleek and trendy, can be uncomfortable to wear. It is in this context that Mu6 Ring represents a middle ground – it is a lightweight headphone that's comfortable enough to be an all-day wearable audio gear.
In this Mu6 Ring review, we'll take a look at the good and the bad of this unique pair of headphones to see if it's the one for you.
A quick introduction
Mu6 is relatively new brand and a brainchild of a group of self-proclaimed "music lunatics" who have spent close to a decade researching on and exploring noise reduction headphones.
The Mu6 Ring is a "wireless air conduction" headphone that boasts these specifications:
| | |
| --- | --- |
| Impedance | 20 ohms |
| Sensitivity | 112 +-3db |
| Frequency Response | 20-20,000Hz |
| Bluetooth | 5.0 |
| Bluetooth Range | 10 meters |
| Power Input | 5.0 V |
| Battery Capacity | 200 mAH |
| Talk time | 9 hours |
| Audio Playback | 9 hours |
| Standby Time | 200 hours |
| Charging Port | Micro-USB |
| Weight | 35 grams |
| Colour | Dark blue |
| Water Resistance | IP55 water resistant |
What in the world is "wireless air conduction"?
Before we jump right into the review, here's a quick crash course about how the Mu6 Ring works.
Mu6 has made it a point to differentiate the Ring with bone conduction headphones which are thought to be uncomfortable or cause headaches due to the vibrations used to transmit the sound through the cheekbones.
Instead, Mu6 Ring is powered by air conduction. Basically, the device has speakers that rest slightly in front of your ears. With these speakers, airwaves enter through our inner ear, vibrate the eardrum which passes the vibrations to the inner ear. The inner ear converts these vibrations into electrical signals and then our brains decode these signals into sound.
This leaves your ears open to ambient sounds and you aware of your surroundings so that you can run, cycle and drive safely.
Mu 6 Ring: What's in the box?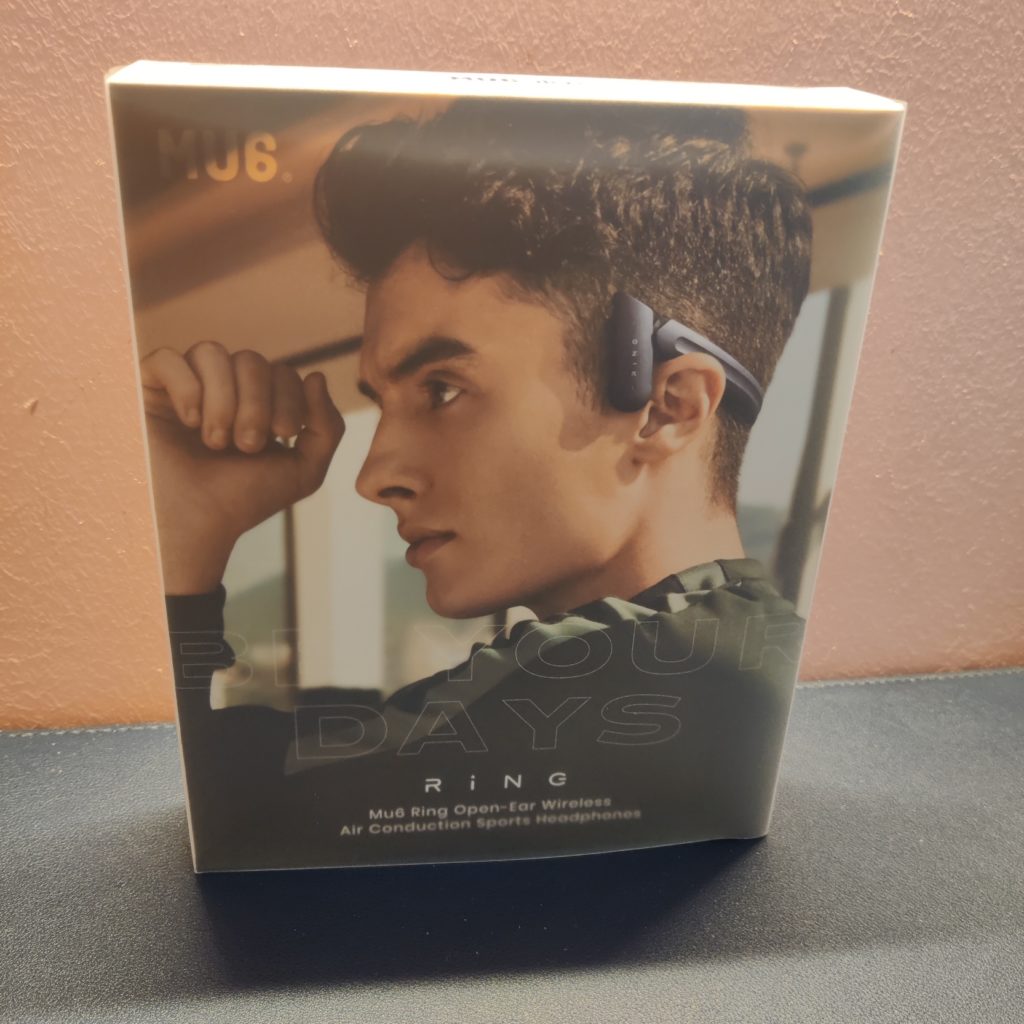 The Mu6 Ring comes in a box that looks like a DVD drama box set you'd get from Poh Kim in the 2000s. Inside, you'll find the headphone itself, a charging cable as well as an instruction sheet.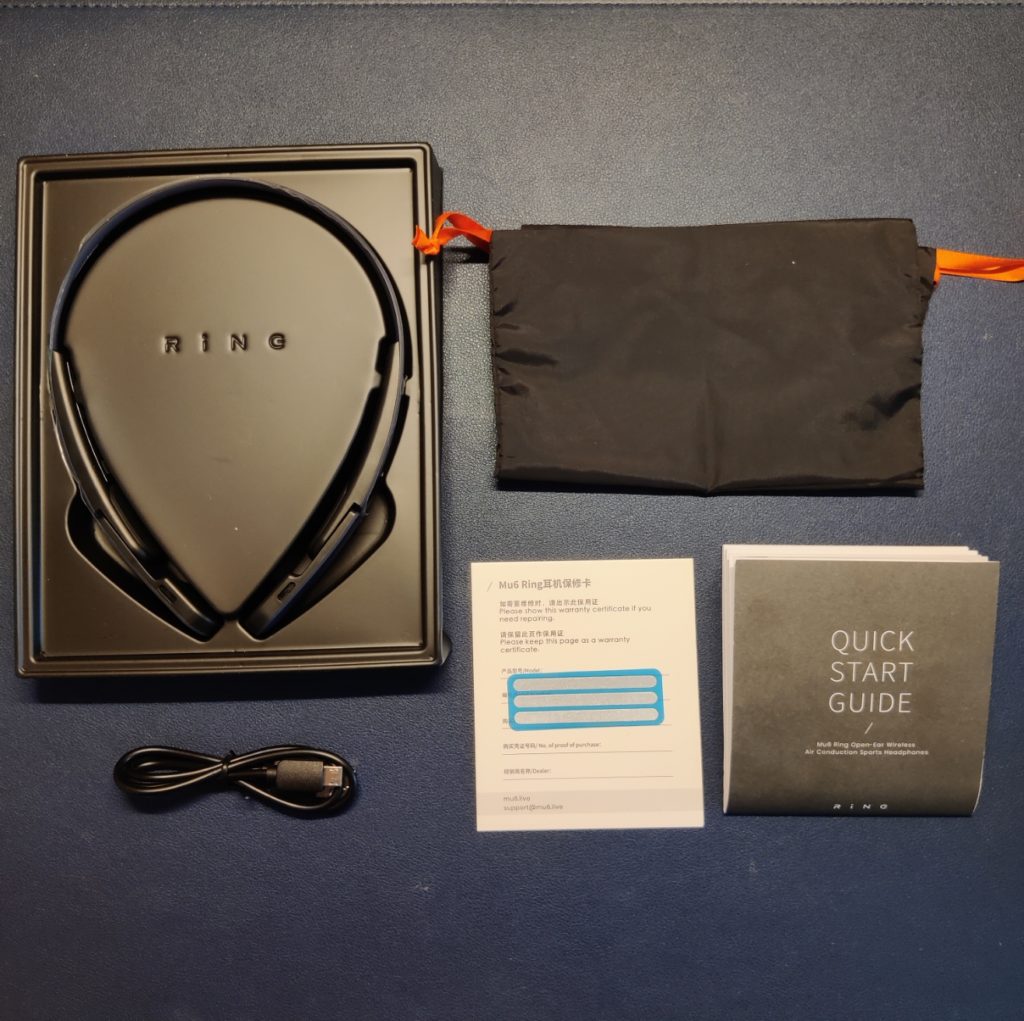 Mu6 also kindly threw in a carry bag for you to bring your headphones around, and some reflective strips for those who go out in the night.
Mu6 Ring: Look and feel
At 35 grams, the Mu6 Ring is extremely light. On the right side, you'll find the power button and volume controls, along with the charging port. Despite all controls being on one side of the headphones, the device is evenly-weighted. That's pretty important because if the headphones are heavier on either side, it's going to cause discomfort to users who wear their headphones all day.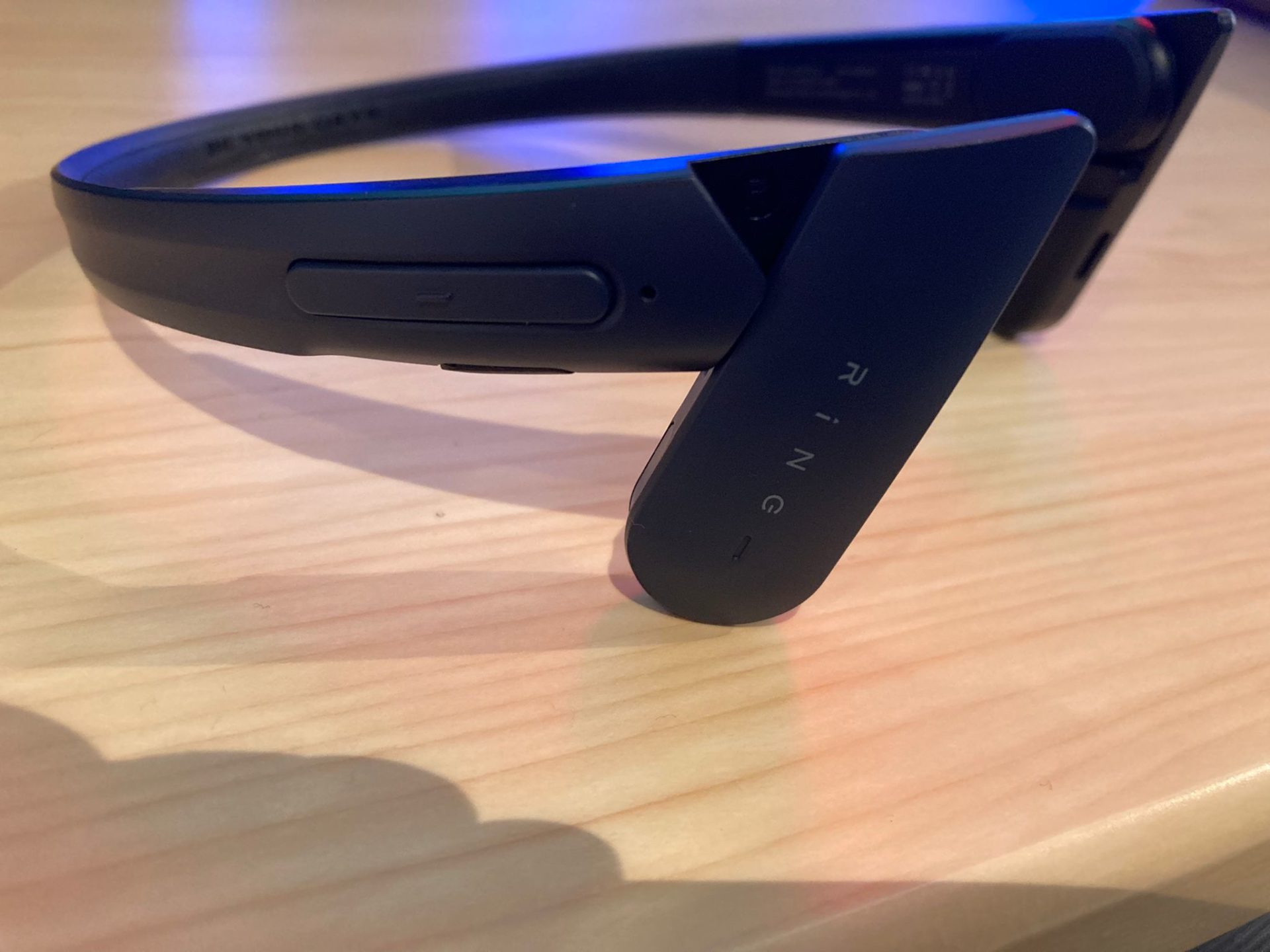 We particularly loved that Mu6 Ring kept its end-users in mind. The headphones' earbuds feature a groove for the arms of glasses or sunglasses to pass through comfortably. It works to keep your glasses secure during workouts that demand big movements.
The band-style headphones are also pretty flexible and malleable. The earbuds can be angled and adjusted through a 120-degree pivot so that you can adjust how close (and loud) you'd like the audio to be. This adjustability also means that you never have to fuss over the fit of your earbuds. They will fit you no matter the size of your skull or ears.
When worn, the Mu6 Ring looks like something out of a Black Mirror episode. You'll definitely need some time getting used to the look of it. But that said, overall, the Mu6 Ring looks and feels quite well-built. We didn't feel like we'd break the headphones when bending the device and adjusting the earbuds.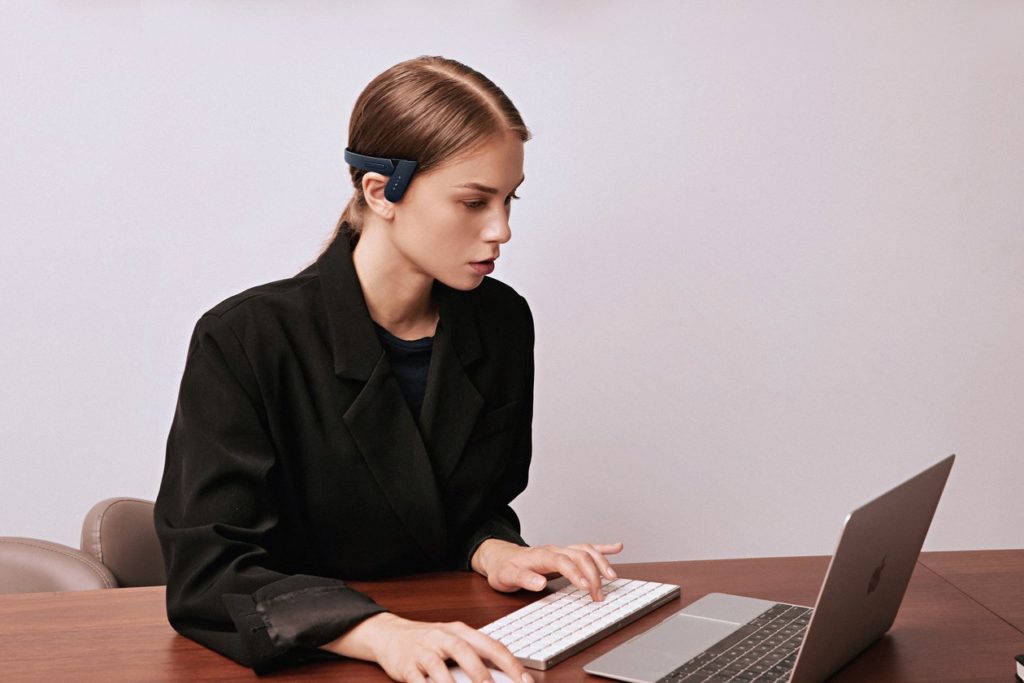 Mu6 Ring: Installation and set-up
The Mu6 Ring is easy to set-up. Simply hold down the power button for two seconds to switch the device on. Thereafter, your phone (or laptop) will be able to sense the Mu6 Ring for you to initiate pairing. The process was easy and fuss-free and we loved that the Mu5 Ring shipped with 100% battery so we could use it right away.
Mu6 Ring: Battery life
The Mu6 Ring is packed with a 200 mAH battery. Mu6 claims that the users can enjoy up to 9 hours of battery life. On our test, we found that they weren't lying – we used the headphones continuously and it lasted us a little over 8 hours. That will last you a full day at work, or last you multiple workouts throughout the week.
We were slightly disappointed, though, that Mu6 decided to go with a Micro-USB port to charge up the headphones. A USB-C port would have been that much more convenient.
Mu6 Ring: Overall performance
We'll put it out there: The Mu6 Ring isn't the device for you if you're an audiophile looking for a pair of headphones that will provide you with the best audio quality. Particularly, bass-heavy music is where the Mu6 Ring slightly struggles. So if you're in the mood to fully appreciate every beat of your music, reach out for a pair of in-ear or over the ear headphones.
Additionally, compared to in-ear and over-the-ear headphones, the Mu6 Ring features a significantly higher degree of sound leakage. Those working or working out really near you are likely to hear what you are listening to. (But hey, with social distancing in place, this should not be a problem!)
That said, however, the device is great daily headset that offers a fairly adequate overall performance. The speakers delivered well-balanced sounds that shine when we used the headphones to listen to podcasts, news, radio, and casual music listening while walking around, mopping the floor, or working out. The right-hand speaker also houses a microphone that allows for for hands-free phone calls and zoom meetings.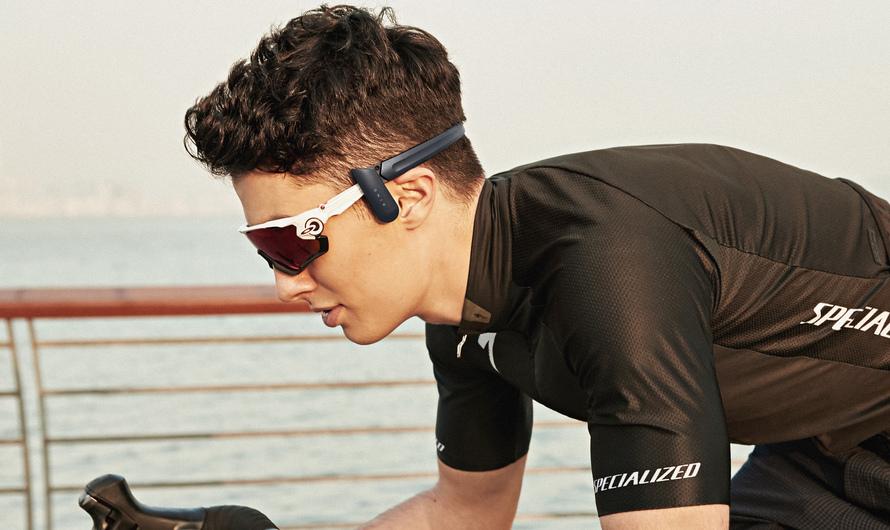 Besides, Mu6 seems to exclusively market the Ring as a workout device. In that regard, it does its job pretty well. During a jog, the it was very comfortable to wear. You never have to worry about earbuds slipping out of your ear during an intense workout. Sound was adequately clear and crisp, and it also helps that the headphones are water-resistant and sweat-resistant.
Pricing and availability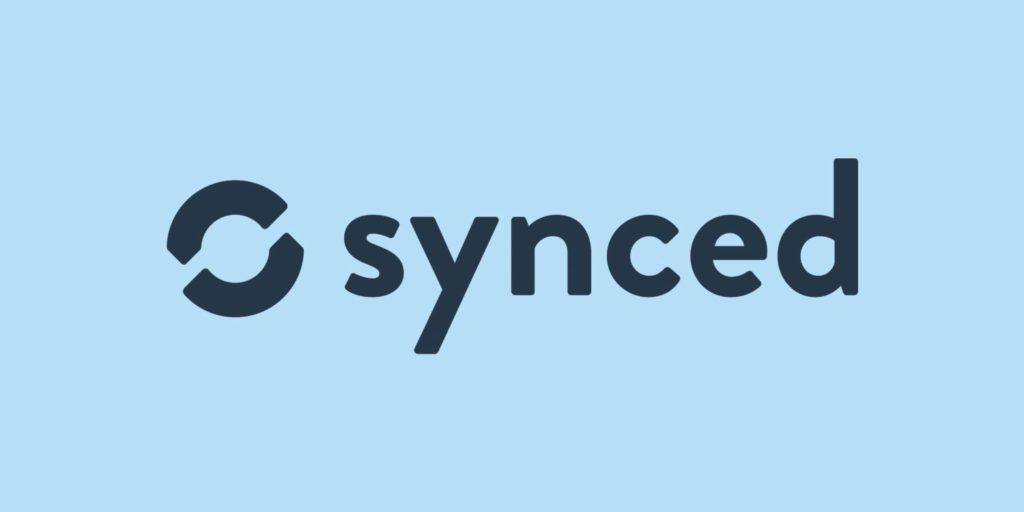 Synced, a new generation tech store building exciting experiences around a curation of alternative and innovative tech brands, carries the Mu6 Ring at its online and physical stores.
As part of Synced's exclusive launch promo, the Mu6 Ring is priced at $89 instead of its usual $119.
You can buy it here.
Alternatively, if you prefer a more hands-on experience, you can head down to Synced's physical store to give it a go!
The verdict
The Mu6 Ring is a great pair of headphones for working and working out.
If you are perpetually on a Zoom call while working from home, the Mu6 Ring is a great alternative to in-ear headphones that may be uncomfortable after long hours. The open-ear design of the headphones will also allow you to be aware of your doorbell ringing when your food or delivery packages arrive at the door.
In the same way, if you are on the lookout for a pair of workout headphones that are sweat- and water-resistant, the Mu6 Ring is a great and comfortable choice that eliminates the risk of your earbuds falling out.
But with significant sound leakage and slightly poor bass audio quality, the Mu6 Ring wouldn't be for you if you're looking for the best headphones on the market.
Check out our reviews of other audio devices: