The ASUS Zenbook series has been around for more than a decade, and was even once deemed as the epitome of an "Ultrabook" – thin, light, yet powerful machines. With the introduction of the latest 12th Generation Core Processors from Intel, ASUS will be refreshing and updating their lineup of Zenbook notebooks. Of course, what we would expect from the refresh is better efficiency, performance, and portability.
Recently, OLED displays are gaining popularity and are found in many notebook computers. Since the price of large OLED panels are becoming more affordable, notebook manufacturers are gradually adopting such panels to consumers instead. Of course, with OLED technology, notebook displays can have an overall improved higher picture quality and contrast ratio. This brings improved experiences to consumers both in media consumption and games. Recently, we've also reviewed the ASUS Vivobook 13 Slate OLED, as well as the Zenbook 14X OLED, which blew our minds.
The latest ASUS Zenbook 14 OLED UX3402 is updated with both the 12th Generation Intel Core processor, and also equipped with an OLED display. To best understand how these two technologies changes the whole user experience on the notebook, we need to experience it. Thankfully, we've gotten our hands on a review unit from ASUS to try it out. Here are our thoughts.
The ASUS Zenbook 14 OLED UX3402
The ASUS Zenbook 14 OLED UX3402 looks largely similar to its predecessors. It retains its classy minimal design, which would be attractive to many professionals and students alike. While ASUS has kept things simple, it does not mean that they have had to trade minimalism with usability, or reduce good to have features. Let's take a closer look.
The ASUS Zenbook 14 OLED comes with an almost bezel-less design. This not only makes the whole unit look sleek, but also allows the notebook to be kept portable. Since the notebook also comes with an OLED display, a thin bezel also means that you will be able to enjoy a more immersive viewing experience when consuming your media.
At the same time, the ASUS Zenbook 14 OLED is also equipped with a web cam that fits right at the top bezel. In the past, many would have thought that fitting a webcam there would also mean that the notebook will need to be designed with a thicker top screen bezel. With improved industrial design, the bezel can also be kept thin as well now.
Since we are on the topic of display, it is also worth nothing that the Zenbook 14 OLED comes with a 16:10 display instead, of the typical 16:9 display. This will provide more vertical space for the screen, allowing users to see more content. It will be extremely useful for those who are using the notebook for productivity applications, such as excel or word processing. Software developers would also appreciated the added vertical space, as they will able to see more code on the screen now.
Moreover, the display also looks extremely sharp and clear, as it is a 2880 x 1800 resolution display. This resolution has more than two times the number of pixels found in standard 1080p displays. You can easily reduce the display scale level on your windows laptop in order see even more content on the same size of screen. It's truly well-suited for work and office applications.
Furthermore, the same display panel is also Pantone validated it can be quite useful for creative professionals who require an colour accurate display. It is also VESA DisplayHDR TRUE BLACK 500 certified, which really shows its capabilities in superior dynamic range and contrast ratio over even standard HDR display.
The lid of the Zenbook 14 OLED has also been made simplified. In the past, there would be rather large ASUS logo on the notebook's lid. Now, it's just a small ASUS Zenbook brand that's barely noticeable. Generally, this makes the whole design a lot more refined, as the logos don't come in the way and conflict with the notebook's style. The two accented lines also aims to replicate the 'A' from ASUS, which looks quite interesting. The whole design style isn't right in your face, which changes the way we perceive ASUS notebooks.
While the Zenbook 14 OLED remains to be designed with a very thin profile, it still possesses full sized ports. On the left side of the device, we spotted a USB Type-A port. On the right side, there is also a full HDMI port, a 3.5mm audio combo jack, 2 x USB Type-C Thunderbolt ports, and even a MicroSD card slot. It's rather interesting to have a MicroSD storage expansion slot on a notebook. It allows users to easily upgrade their storage on their notebook easily.
ASUS has also designed the Zenbook 14 OLED with its signature ErgoLift design. If you realize, if you were to push the display back to a certain degree, the keyboard will be slightly lifted up from the surface. This allows both improved ergonomics, as well as heat dissipation through the bottom of the notebook. It's certainly quite an ingenious design!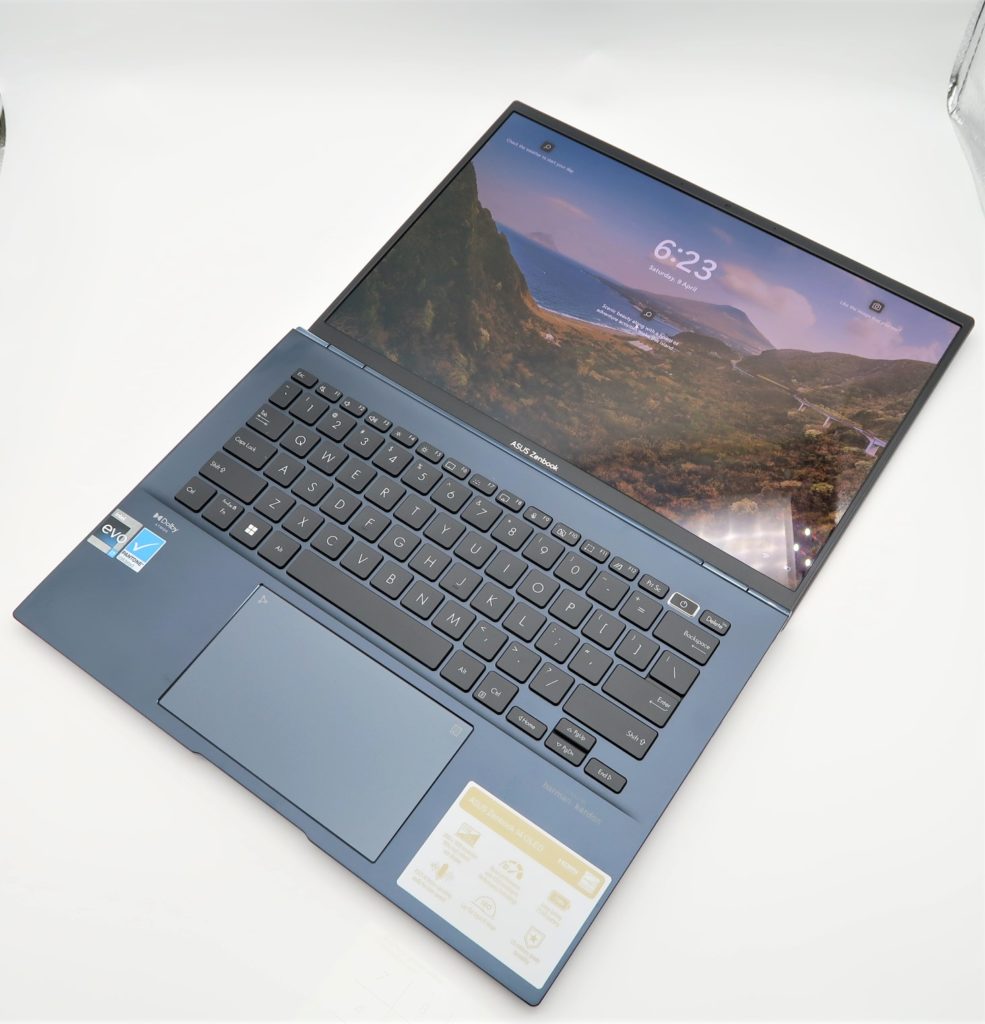 The hinge on the Zenbook 14 OLED also allows the whole notebook to be laid flat on the surface. It's probably useful if you would like to share content with another person who's at the other side of the table.
Specifications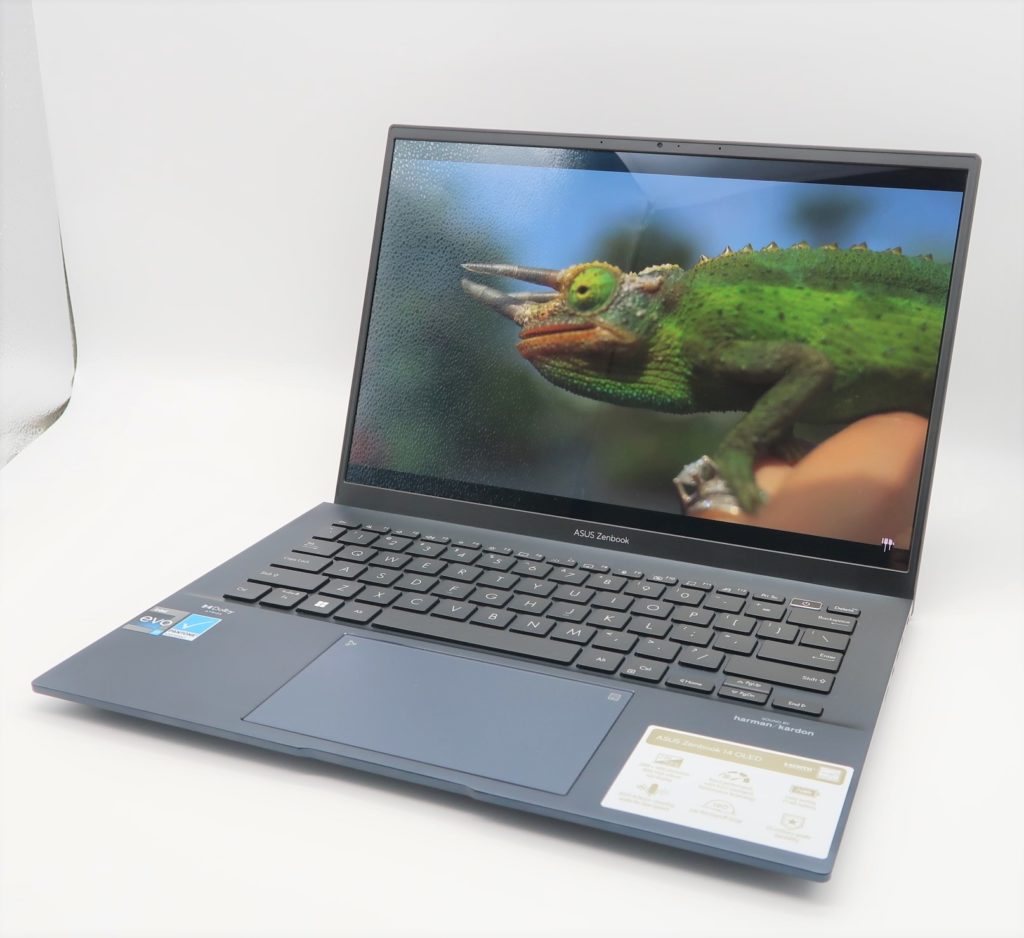 Model
ASUS Zenbook 14 OLED UX3402
Price
S$1,899
CPU
Intel Core i7-1260P (4 P-Cores, 8 E-Cores) 2.1GHz to 4.7GHz
Display
14-inch 2880 x 1800 OLED Display
Operating system
Windows 11 Home
Graphics
Iris Xe (96EU)
Memory
16GB 4800MHz LPDDR5
VRAM
N/A
Storage
512GB Samsung PM9A1 SSD
Wireless
Wi-Fi
Intel Wi-Fi 6E (802.11ax)Bluetooth®Bluetooth V5.0
Camera
3DNR webcam
I/O ports
1 Audio Jack Combo
1 x HDMI
1 x USB 3.2 Gen 1 (Type-A)
2 x Thunderbolt 4 Type C Port (also supports charging)
1 x MicroSD Card Slot
Battery & Power
75Wh lithium-polymer battery
USB Type-C PD Charging
Colour
Ponder Blue, Aqua Celadon
Weight
1.39Kg
User Experience
If you are someone who's transiting from a typical IPS laptop display to an OLED display, your mind will be blown away. An OLED display really allows the subjects on the screen to "pop", as it is able to best reproduce the colours from the media as intended. It makes it excellent for movies, as the blacks are really black, and the bright areas can be made very bright. With individually lit pixels instead of zoned backlights, an OLED display changes my impression of how good things can look on a screen.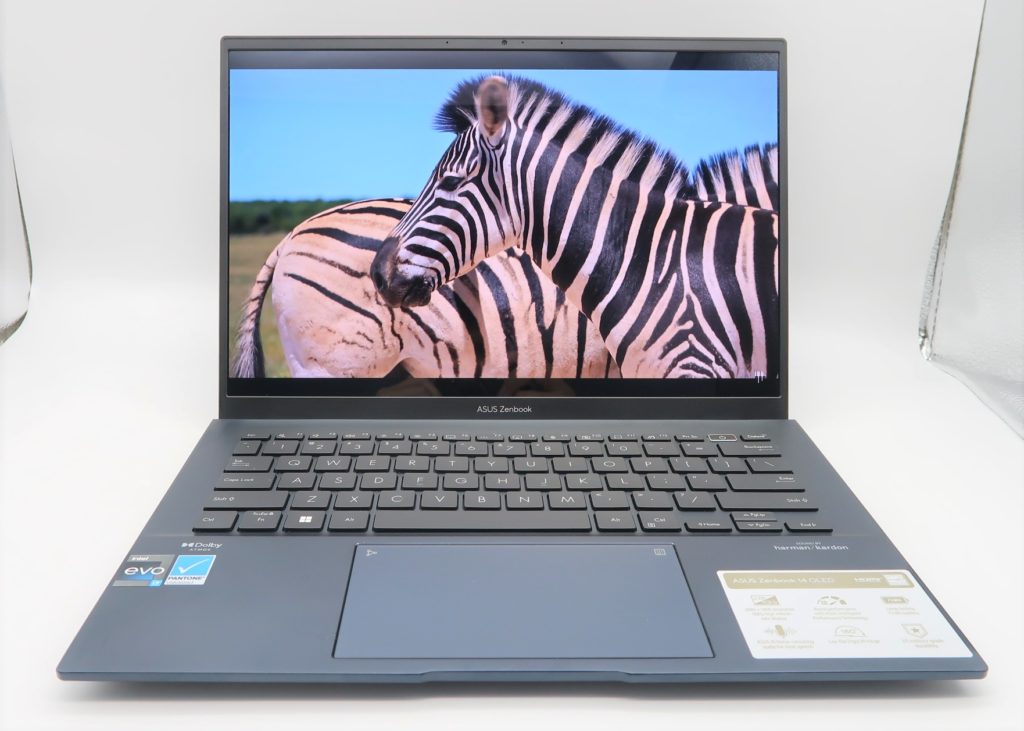 To be honest, even though it's just a photo of a HDR video played over YouTube in the sample photo above, you can already see how contrasts bring the Zebra alive.
Media consumption and entertainment experience is a lot more than just ensuring that things look good on a display. Its speaker quality is just as important.
Indeed, it's quite amazing that the ASUS Zenbook 14 OLED managed to have their speakers to be certified by Dolby Atmos. If you aren't aware of Dolby Atmos, it is a technology that allows precise sound placement around you, even with just a set of stereo speakers. I've got to say that it worked extremely well. I was simply impressed at how the Zenbook 14 OLED was able to bring the whole cinematic experience onto a thin and light computer. You've just got try it to believe it.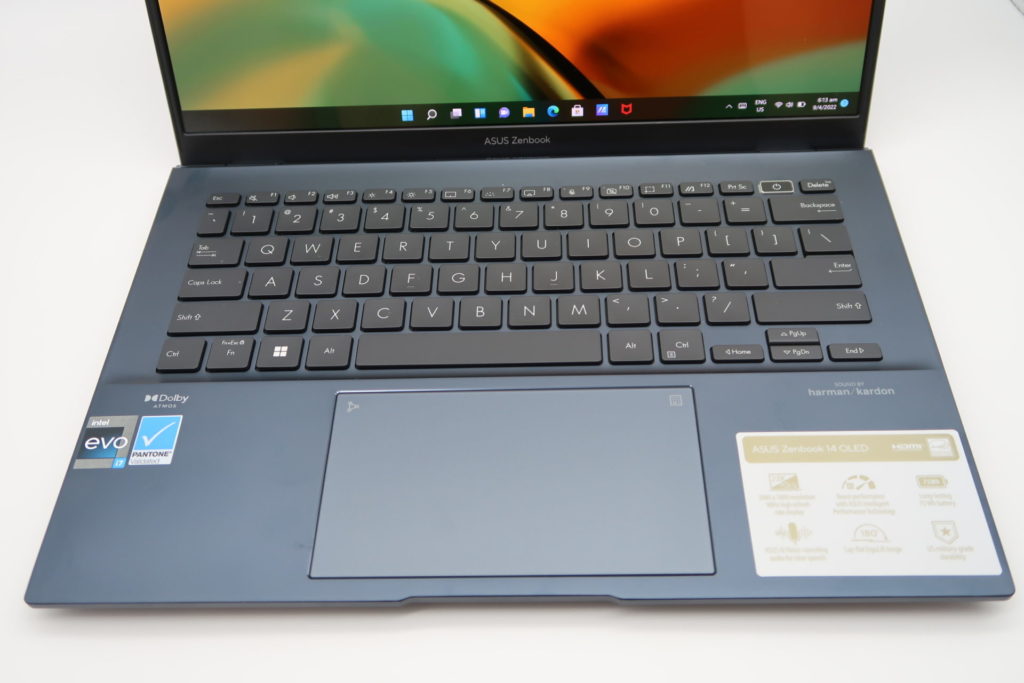 Moving on, I also very much enjoyed my time working on the Zenbook 14 OLED. The keyboard is well-spaced, and this time, it seems that ASUS has finally sought my feedback and removed the additional keys found on the most right of the keyboard (they used to be the Home, Page Up/Down and End keys). Typically, users will reach to the far top right end of the keyboard to reach out to the backspace. The previous design will lead to the accidental pressing of the Home key instead. This issue had now been resolved as a more conventional keyboard layout is adopted.
It is also because of this layout, it was extremely easy to get used to typing on the Zenbook 14 OLED. I was able to get up to speed without much effort at all. Additionally, the large trackpad on the notebook also makes it easy to move the cursor around. It also felt responsive, which could be attributed to two things – (1) fast response of the trackpad (2) 90Hz refresh rate of the display (higher than the typical 60Hz). I also liked that the trackpad can be changed into Numpad mode with just a press of a button. It's certainly quite a clever design to add a Numpad onto a 14-inch notebook.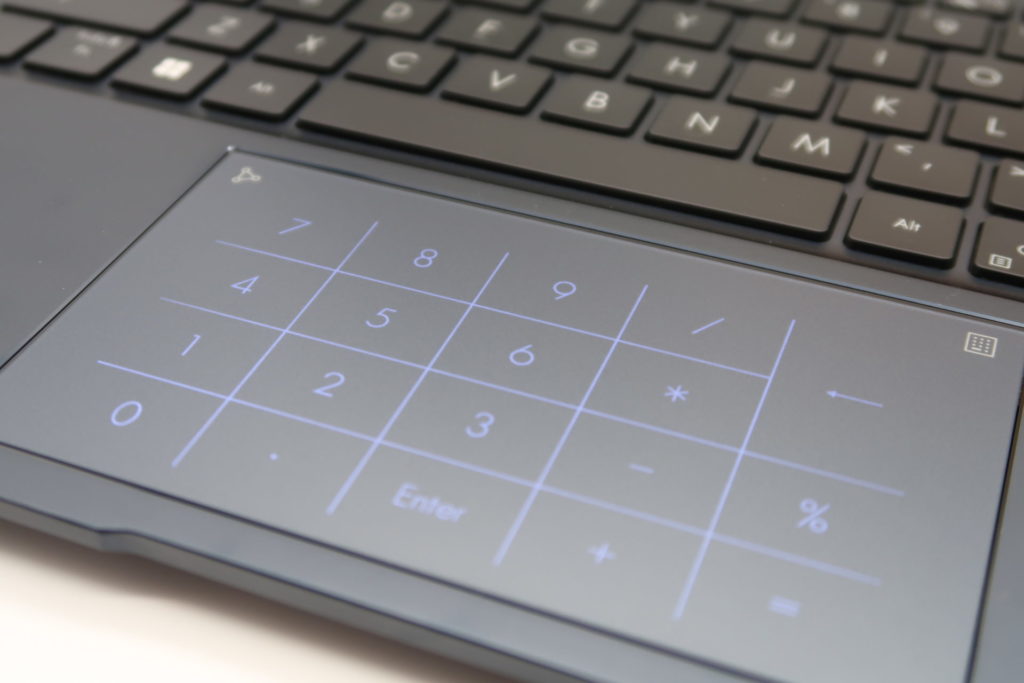 Test Setup and Performance
We are going to pit the ASUS Zenbook 14 OLED against the Huawei Matebook 14s which we've reviewed recently. Both notebooks are similarly priced, with the Huawei being priced $100 more.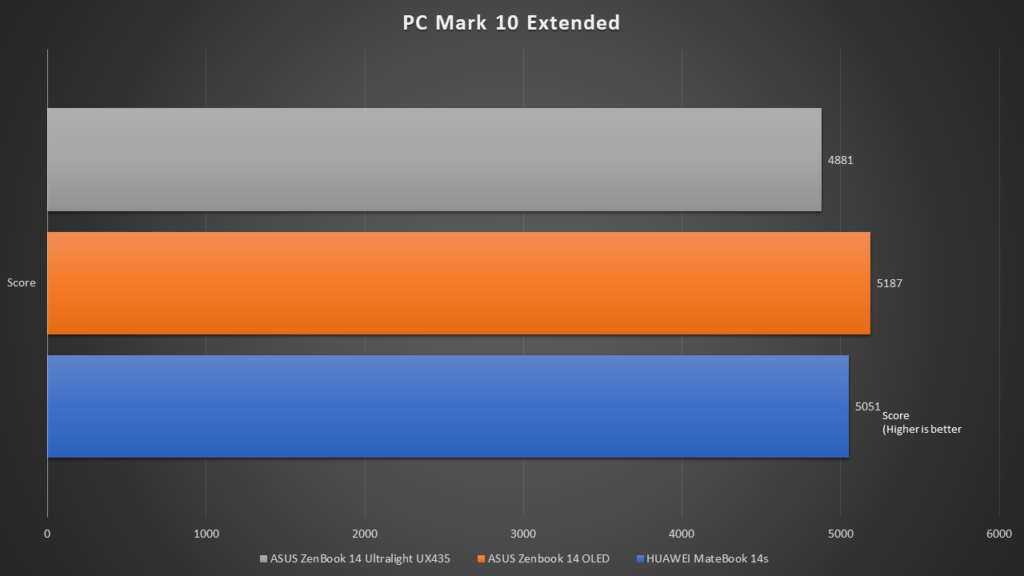 Based on the results from PC Mark 10 Extended, which tests the general performance of the notebook across multiple use cases such as office applications, web browsing and light gaming, the ASUS Zenbook 14 OLED came up on top.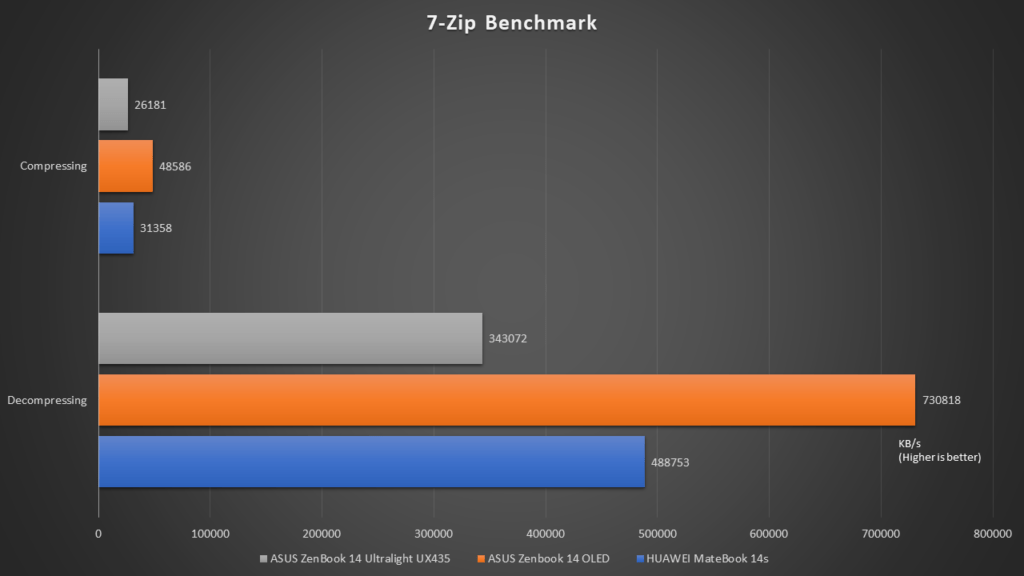 Similarly, as the Zenbook 14 OLED has more P-cores and E-cores combined, it was able to perform significantly better in the 7-Zip benchmark as well.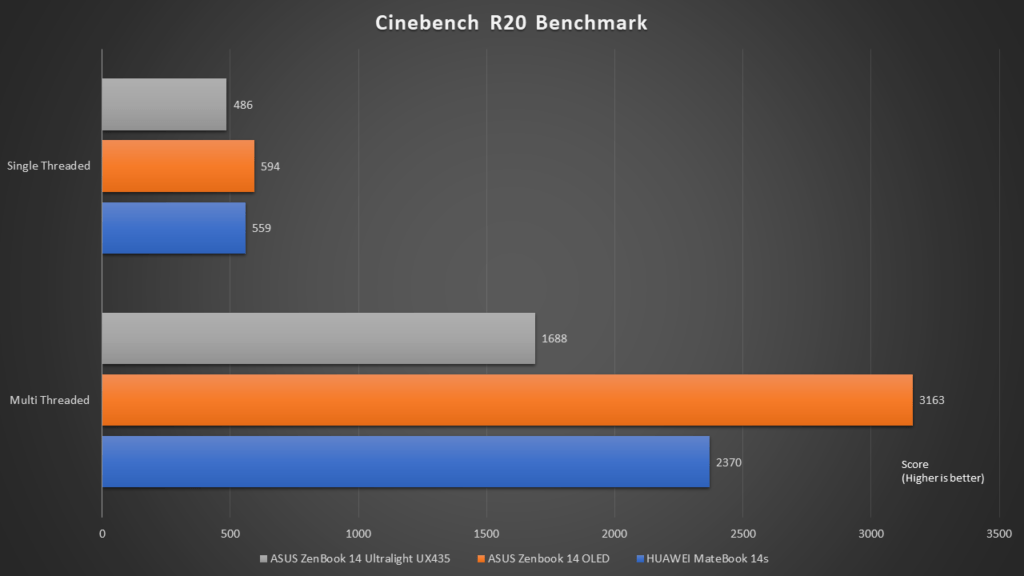 The ASUS Zenbook 14 OLED's Core i7-1260P processor, with its improved architecture and process technology, was able to perform better in both single threaded and multi threaded workloads as well. It really shines and leaves predecessors behind in the multi-threaded benchmark, as the hybrid core architecture was able to dynamically shift itself to bring an optimized performance level to the notebook.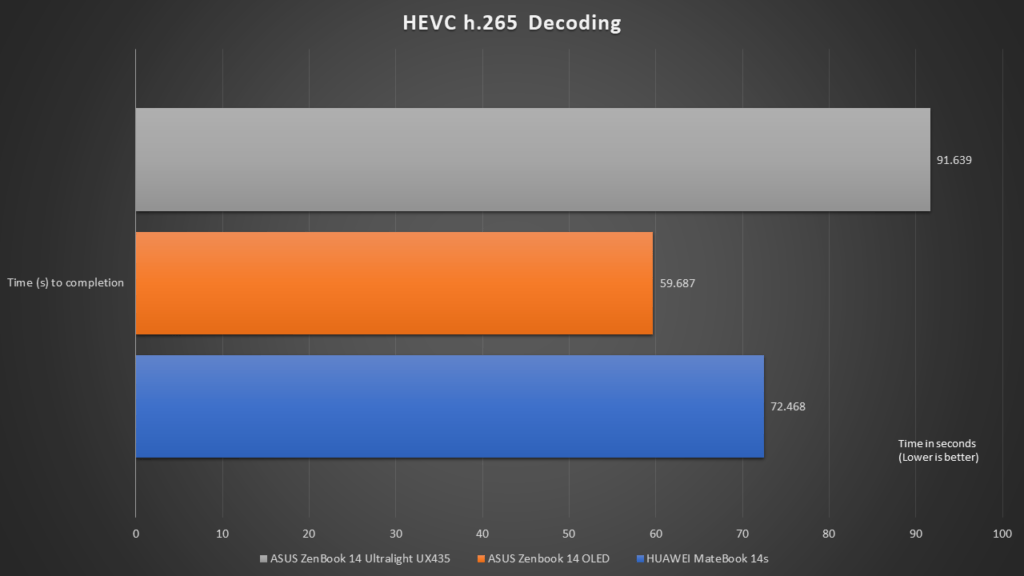 In terms of professional and media decoding workload, the ASUS Zenbook 14 OLED was also able to perform faster than the other products. This really means that the Zenbook 14 OLED will give you significant time savings if you are working on productivity applications.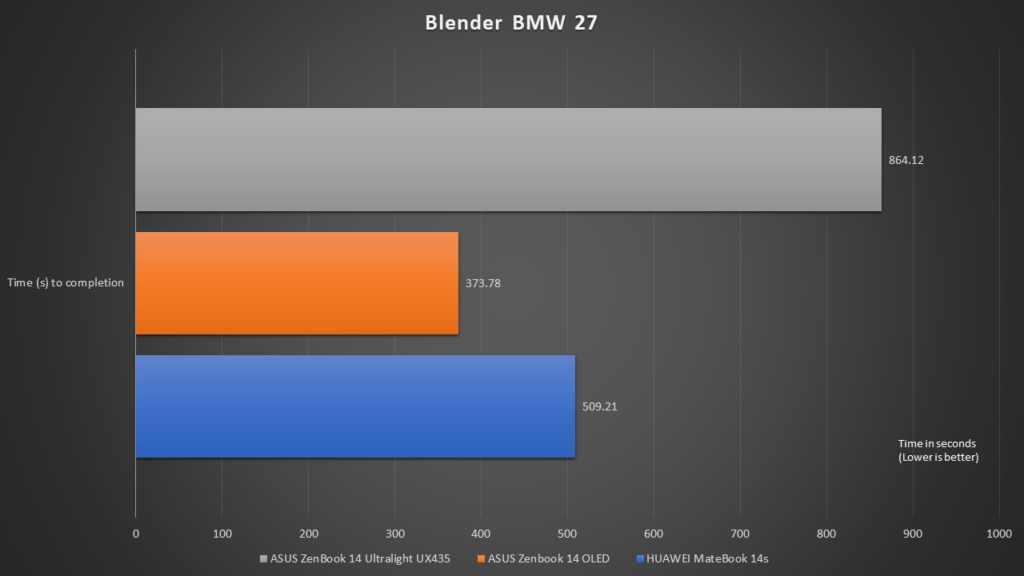 As for graphics rendering, the latest Intel 12th Generation Core processors also excelled. It was able to significantly reduce render time.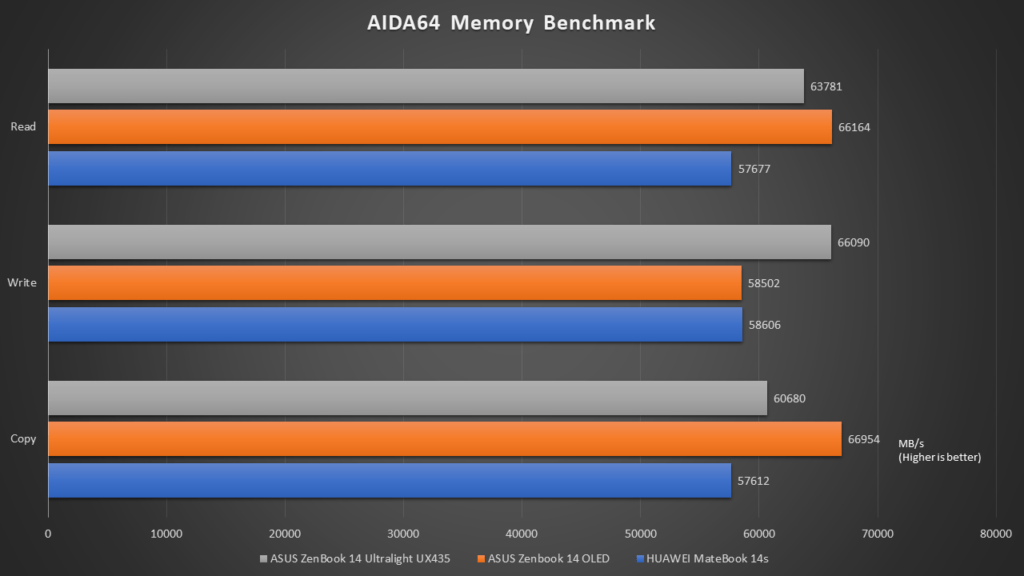 The ASUS Zenbook 14 OLED, which also utilizes the faster DDR5 memory, is designed for both improved efficiency and better performance. This can be seen particularly in the read and copy tests in AIDA64.
Battery Life
With the PC Mark 10 Modern Office benchmark suite, the ASUS Zenbook 14 OLED managed to achieve a result of 10h 36 min. The Huawei Matebook 14s was 44 minutes longer at 11h 20 min.
Final Words and Conclusion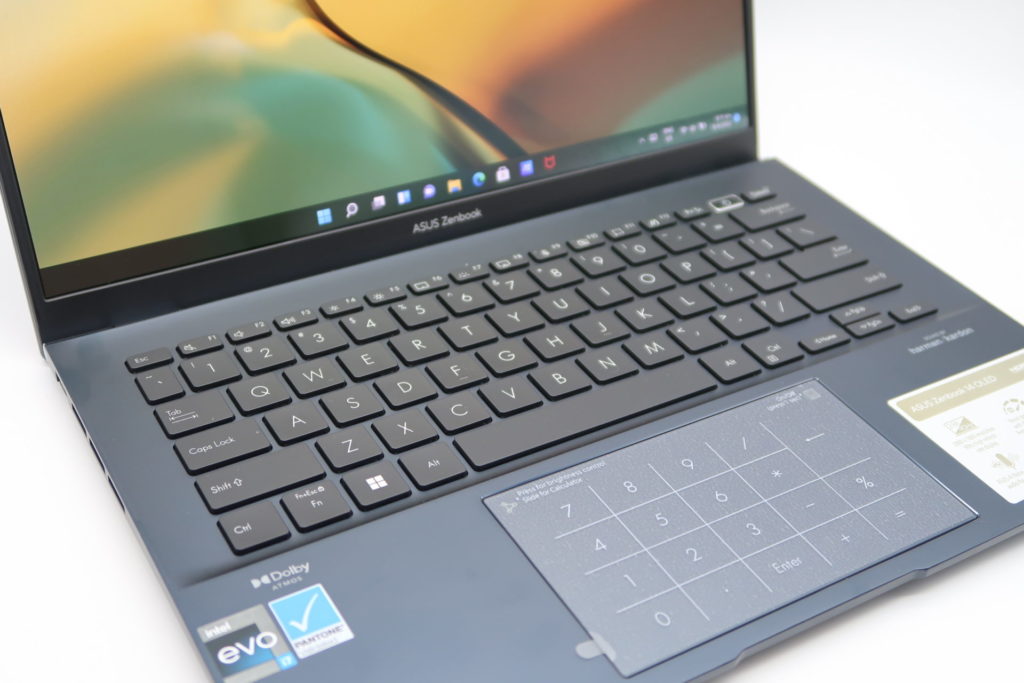 A few days ago, I was still singing praises about the Huawei Matebook 14s, as I thought that it was a very well-designed notebook computer that excelled in many aspects. However, now, when compared to the ASUS Zenbook 14 OLED, the Huawei Matebook 14s just doesn't seem so impressive after all.
We've got to say that the ASUS Zenbook 14 OLED is certainly a very competitive notebook PC. Priced at S$1899, it is S$100 cheaper than our subject for comparison. Moreover, it even comes with a OLED display, which one-ups the overall entertainment experience of the notebook. Thanks to the latest 12th Generation Intel Core processor, this also allows the notebook to run so much faster. Together with the latest chipset, its DDR5 memory and support for PCIe 4.0 SSD simply makes the notebook an almost perfect notebook for today. It even weighs lighter and is more portable. Suddenly, the Huawei Matebook 14s just seems to have totally lost its ground and retains no value to a consumer any more.
The ASUS Zenbook 14 OLED has come close to perfecting the notebook experience for me. Be it for work or play, the Zenbook 14 OLED had performed and served me well. Honestly, I do not have any complaints about the product.
Most definitely, if you are looking out for a new thin and light notebook computer in the market that promises great performance and superb entertainment consumption experience, we would most certainly recommend the ASUS Zenbook 14 OLED.