Unlike the usual high-end notebooks which we were used to reviewing, ASUS has sent us the Vivobook 13 Slate OLED this time. The Vivobook 13 Slate OLED is designed specifically for a group of audience that wants a new device mainly for media consumption or just some simple work. Forget about high-end specifications of ultra fast speeds. The Vivobook 13 Slate OLED is equipped with features that are tailor-made for its specific group of audience.
In this review, we are going to experience the ASUS Vivobook 13 Slate OLED, and see if its unique design style, form factor and performance and features can cater properly to meet the requirements of its intended audience.
The Vivobook 13 Slate OLED
The Vivobook 13 Slate OLED is a versatile convertible notebook computer. Similar to the Microsoft Surface Pro/Go products, it uses a kickstand to hold the main "screen" in place for computing in a laptop mode. A detachable keyboard can also be easily magnetically attached to the main unit, giving you the full laptop experience. The only main difference is that the kickstand for the Vivobook 13 Slate OLED is attached to the main tablet unit via magnets, instead of being built into it. To further complete the product, ASUS has also made the tablet compatible with its ASUS Pen 2.0 stylus. This really allows the Vivobook 13 Slate OLED to be used for a multitude of use cases.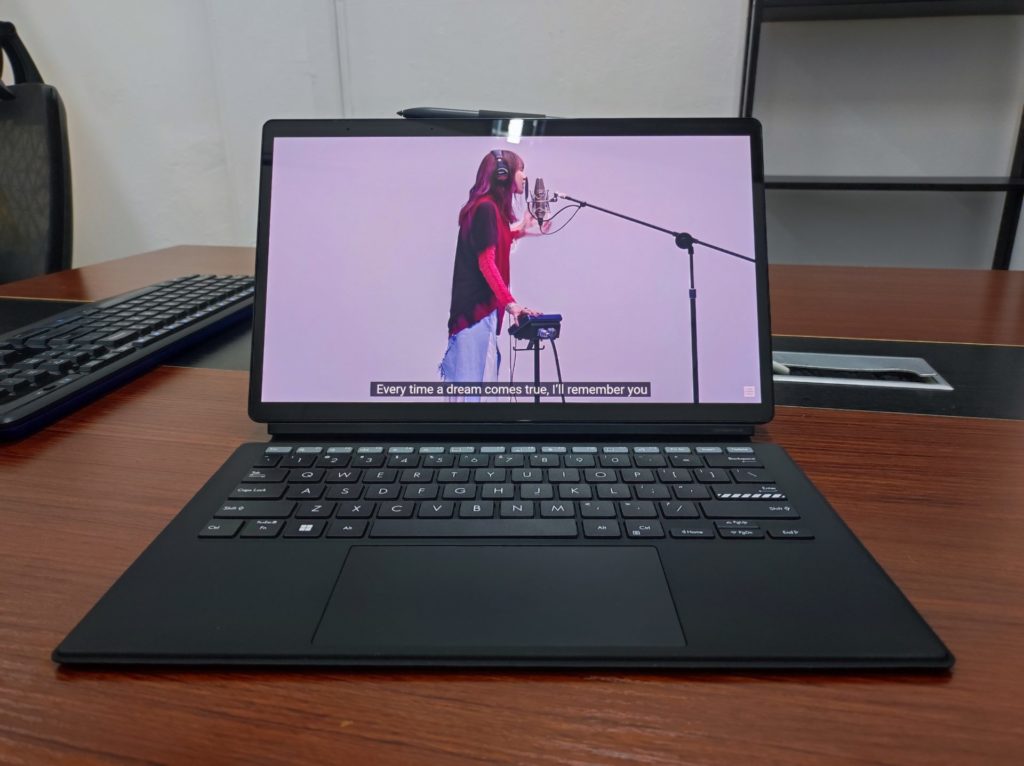 As the name suggests, the Vivobook 13 Slate OLED also comes with an OLED touchscreen display. This makes the notebooks perfect for media consumption, be it for viewing of the latest movies, or streaming your favourite shows from Netflix. The 13.3-inch OLED touchscreen is capable of supporting Dolby Vision, which is a proprietary HDR technology from Dolby. Furthermore, the display is also PANTONE Validated with cinema-grade 100% DCI-P3 gamut, and DisplayHDR True Black 500 certified as well.  Of course, in comparison, there is no other Windows based tablet PC which such a display capability, and such a feature do set the Vivobook 13 Slate OLED apart.
Unlike your typical performance-focused notebook computer, the Vivobook 13 Slate OLED focuses a lot more on usability and experience instead. As such, it is only equipped with an Intel Pentium Silver N6000 processor, 8GB of LPDDR4x RAM, 256GB of M.2 PCIe 3.0 SSD. The Intel Pentium Silver N6000 processor, which is commonly seen in entry level laptop devices, should be adequate to power the whole device. Moreover, as the processor also focuses on power efficiency, we should also be able to get a longer battery life on the Vivobook 13 Slate OLED. Regardless, we have to experience it for ourselves to know if this processor is actually good enough for handling the kinds of workloads we throw at it.
Usage Experience
Having an OLED touch screen does make the difference when it comes to watching movies or YouTube clips with the Vivobook 13 Slate OLED. We were able to enjoy the high contrast ratio between the bright and dark parts of the image, allowing the subjects to really stand out from the screen. Moreover, as HDR is also supported on the Vivobook 13 Slate OLED, the the images on the display just seem so much more colourful and detailed. Having an OLED display does really provide that ultimate viewing experience.
Since the speakers are placed on the two sides of the tablet PC, the sounds are fired towards the sides of the device, rather than towards you. Regardless, we've got to say that the speakers on the Vivobook 13 Slate OLED is of high quality, and its sound signature was focused on the mids and high. Instead of impactful music with tons of bass, the shift was towards clarity and immersiveness instead. Depending on the genre and type of media you are playing, you will either love it or hate it.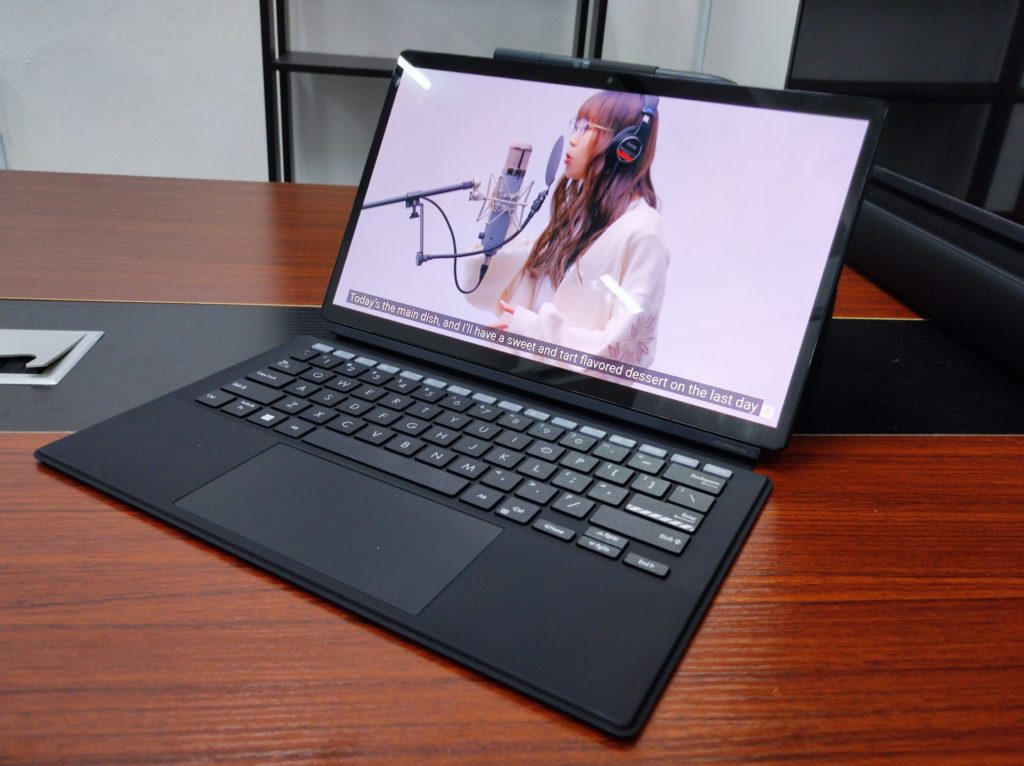 Thankfully, our concerns were unjustified as the Vivobook 13 Slate OLED managed to play and stream videos just fine. It was able to even stream 4K videos directly from YouTube without much hiccups. Indeed, the pairing of the Intel Pentium Silver N6000 quad core processor is sufficient enough to allow the Vivobook 13 Slate OLED serve its purpose well.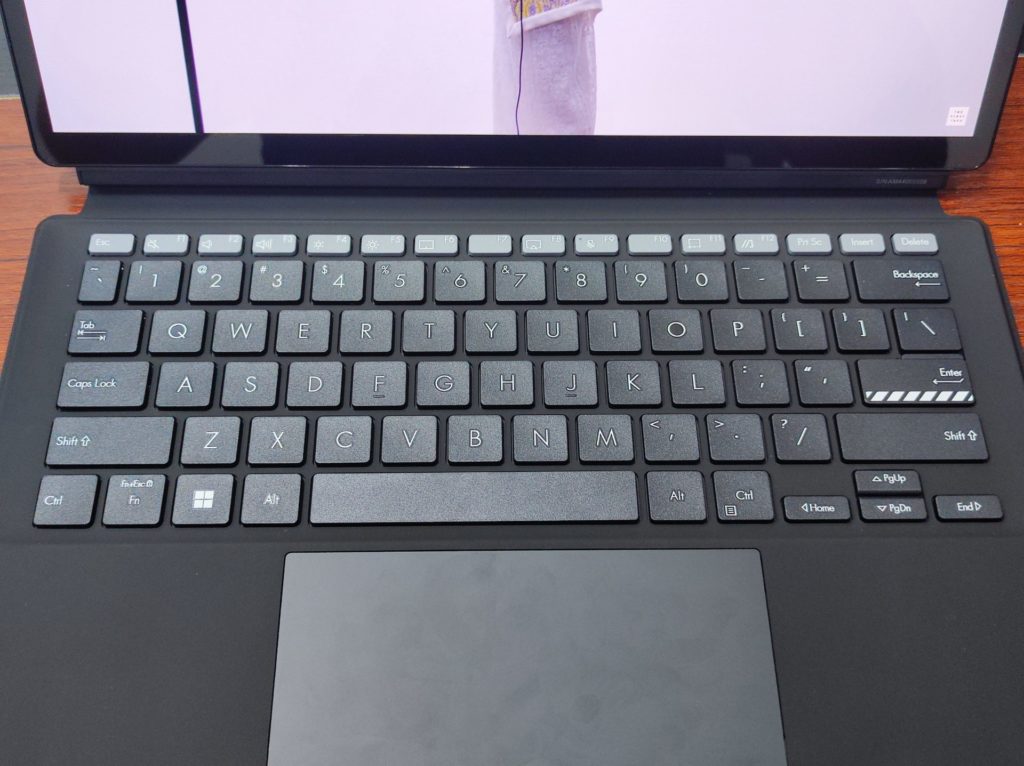 The Vivobook 13 Slate OLED does still perform well when it comes to web browsing or simple tasks such as word processing. However, if you open too many applications at a time, or try to do many tasks at once, the device will start to be less responsive. It can be quite obvious and even annoying at times, when all you want to do is just to get some work done. It's quite a pity, as the Vivobook 13 Slate OLED still has a pretty decent keyboard layout that made typing quite enjoyable. Its support for stylus was also very useful for notetaking and perhaps even digital art jamming.
Even though the Vivobook 13 Slate OLED was rated to weigh slightly less than 800g, but the sad fact is that with all the accessories included, the device weighed about 1.4Kg. Of course, my guess is that if you purchased the Vivobook 13 Slate OLED, it is most likely that you wouldn't leave out its accessories when you're on-the-go travelling or working remotely outside. You will have to bare with 1.4Kg of weight in your bag, which in today's context, is considerably heavy for an ultraportable tablet PC.
Performance







Conclusion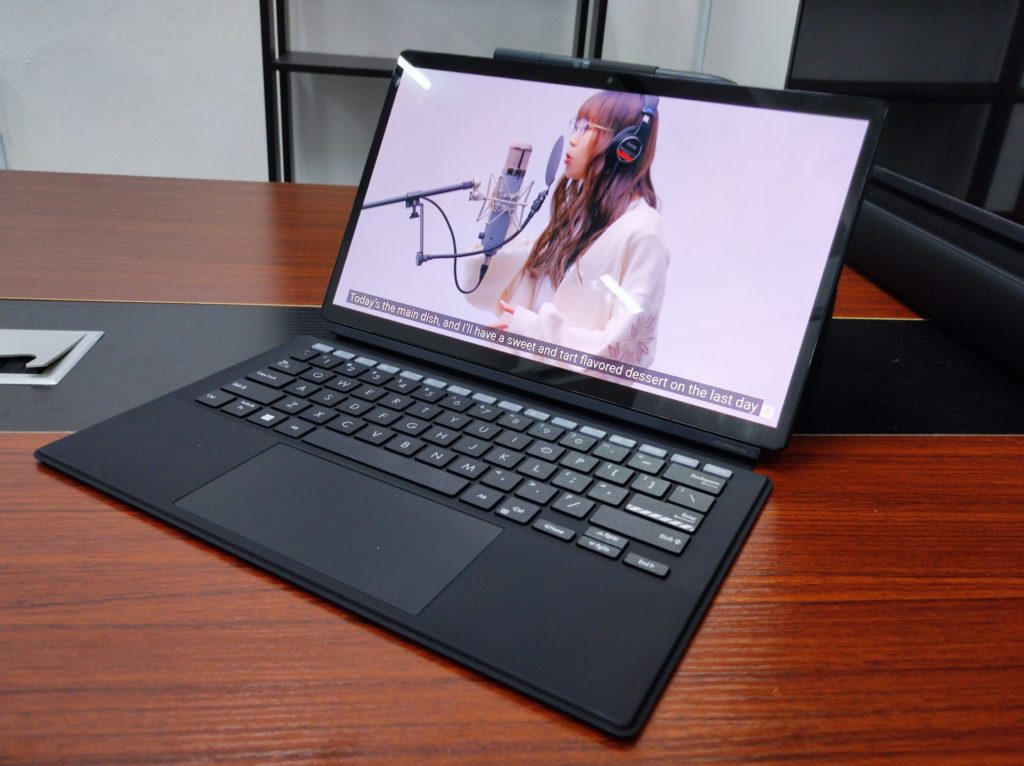 The Vivobook 13 Slate OLED is not the productivity power house that you are looking for, but rather a just good enough entertainment device that can certainly give you the that superb media consumption experience. Its long battery life also ensures that you are covered for the whole day with just a single charge, providing you with never ending entertainment throughout. Its OLED display is what makes this device standout.
The Vivobook 13 Slate OLED trade blows with the Microsoft Surface Go 3, but really stands out in terms of its performance and entertainment capabilities. We would have wished that the ASUS Vivobook 13 Slate OLED would weigh slightly lesser and more portable, so that we would have a clear recommendation for it.