Not everyone needs a high performance notebook computer for their day-to-day use, especially when all you do is some simple word processing, browse the internet, check emails and watch videos. For the mobile and busy executives, perhaps a notebook's portability and battery life is more important than having the best of the best for compute performance. In fact, most people today have PCs that have more resources than what they actually need, and often, their PCs are underutilized. Ultimately, notebook computers in the market are positioned and marketed to serve a specific audience. The Microsoft Surface Go 3 is a portable 2-in-1 tablet & laptop computer that caters to those who seek portability and versatility.
In this article, we are going to take a look at the various features of the Surface Go 3 to determine if this trimmed down version of the Surface Pro still remains to be a usable machine for the masses.
The Microsoft Surface Go 3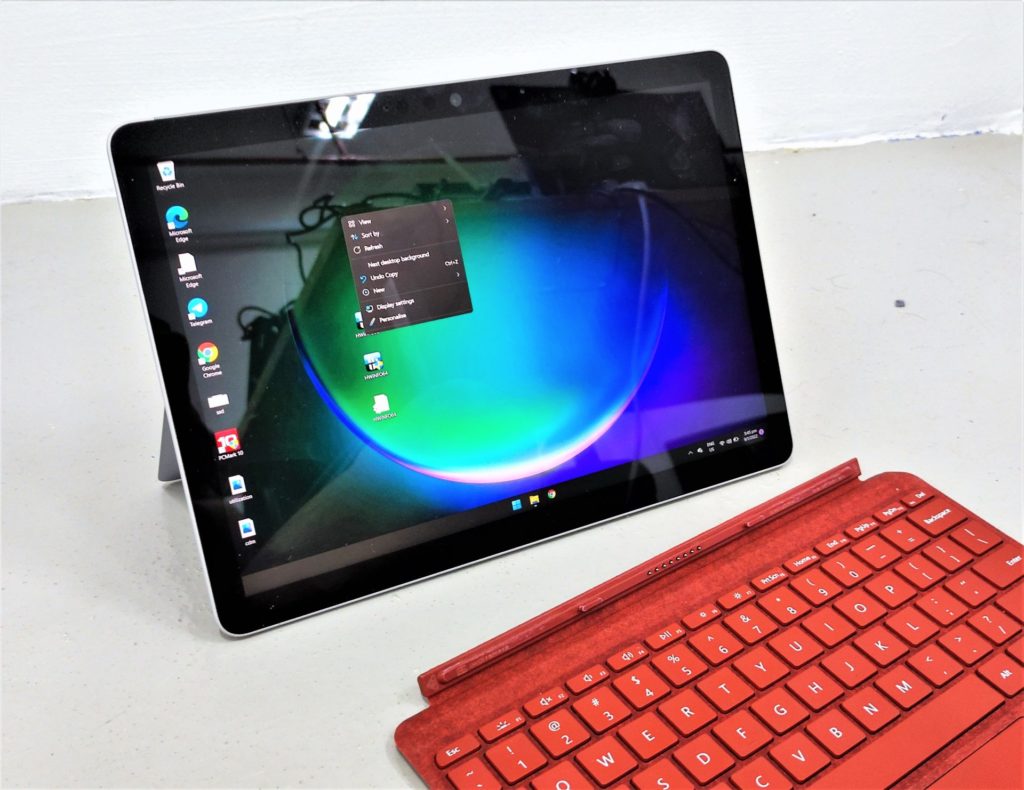 For a start, the Microsoft Surface Go 3 comes with a 10.5″ IPS 1920 x 1280 touch display. It's designed to be modular and versatile, and you can easily add peripherals and even its uniquely designed Type Cover for added productivity. Furthermore, it also supports a stylus, which is known as a Surface Pen, for quick notetaking and even digital art.
Our first impression of the Microsoft Surface Go 3 is that it is a piece of technology that is extremely adaptable, fitting into the various use cases of different professions. As all of the accessories are optional, you can truly define what you want your Microsoft Surface Go 3 to be, and only purchase what's required.
All computer components are well fit into the base unit, making it a fully capable Windows based tablet device. Our review unit came with the Dual-Core Intel Pentium Gold 6500Y processor with 8GB of LPDDR3 RAM.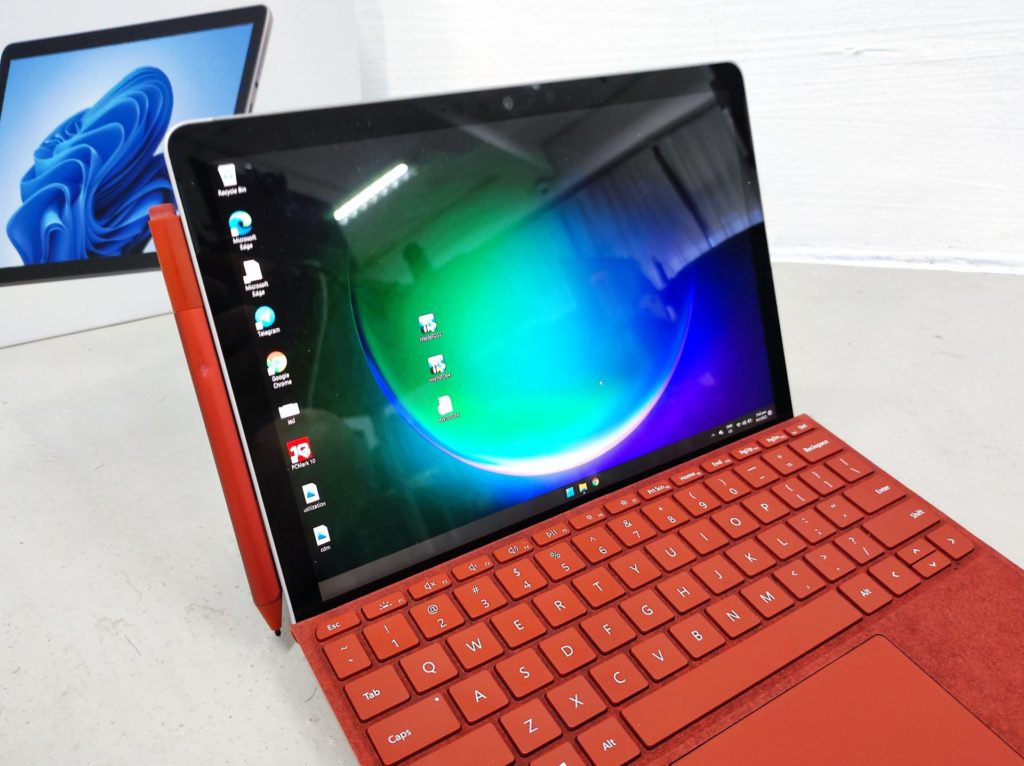 It was possibly because of the compactness of the Surface Go 3 device that Microsoft was unable to design the device with smaller display bezels. As such, we do see that the Surface Go 3 still has a rather dated thick bezel design. Despite such a limitation, the designers still managed to fit two speakers on the left and right side of the unit, enabling stereo effects on the Surface Go 3. It also features Windows Hello supported front facing 1080p camera, and also a rear facing 1080p camera for photos capturing.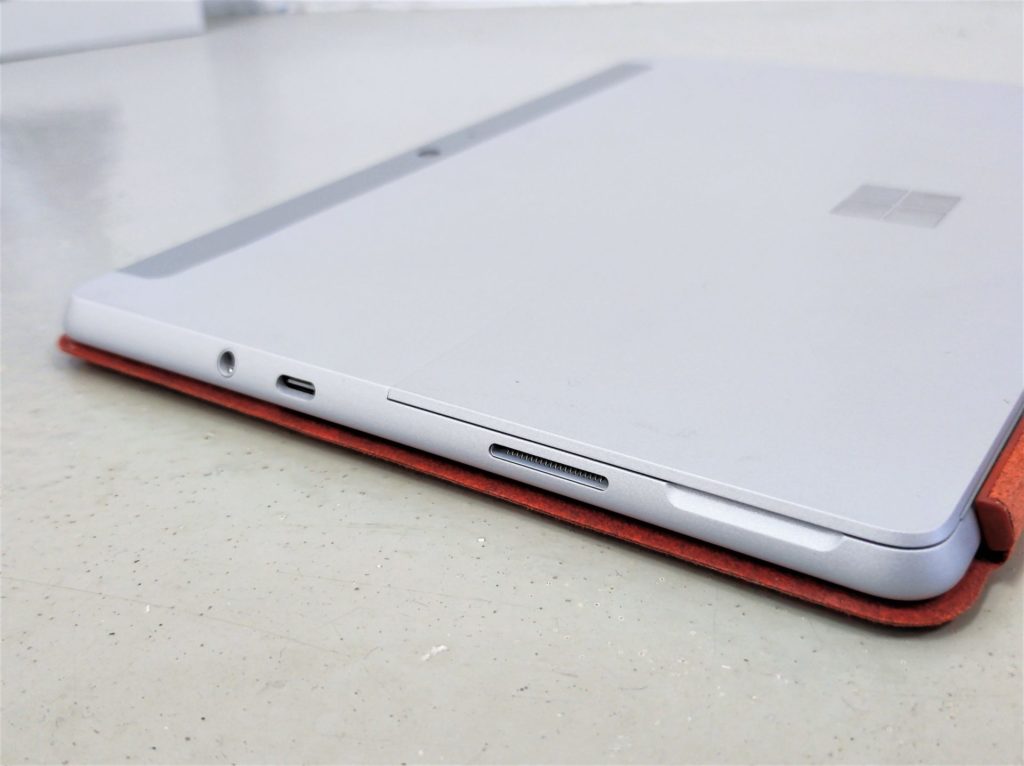 The Microsoft Surface Go 3 has retained its minimal design style, and the unit looks clean and simple. It only comes with a single USB Type-C port, and audio combo jack and a charging port. If you plan to add more peripherals to this device, you'd probably need a USB Type-C dongle for more expandability. Personally, I'd preferred if there were a couple more (or at least 1 more) USB ports on the device. I also found it perplexing that Microsoft would rather use their own non-conventional power connector for the Surface Go 3, rather than a more common USB Type-C charging port.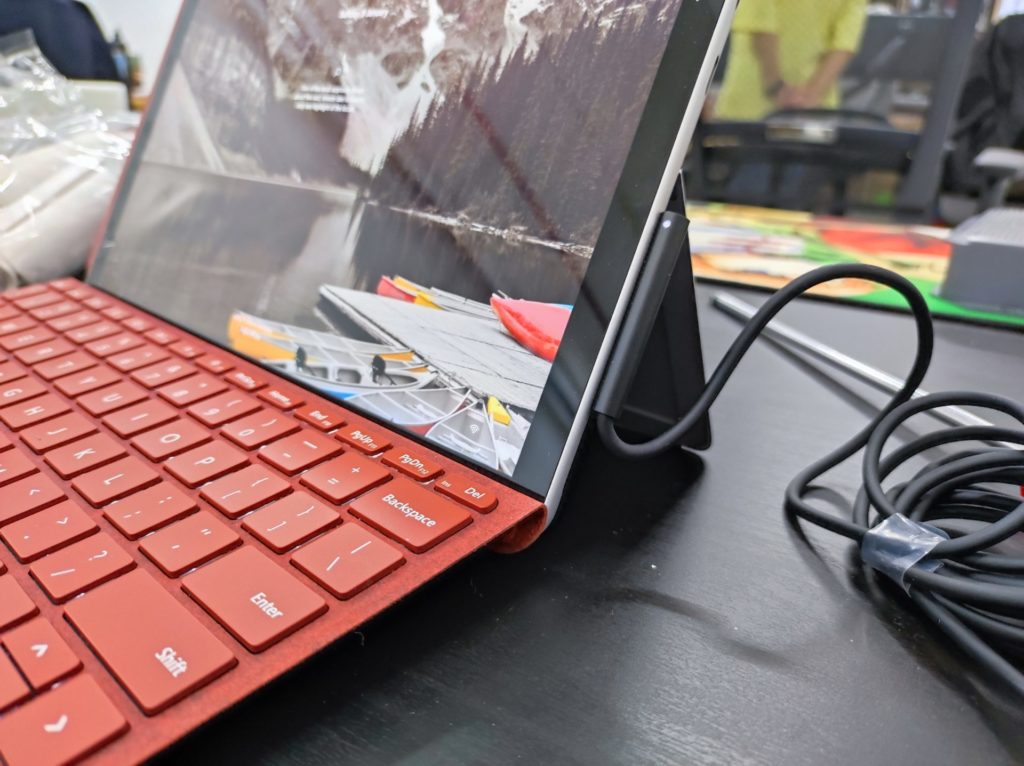 Despite that, the power connector for the Surface Go 3 does have its fair share of benefits – it's magnetically attached to the unit. In an event that you accidentally trip on the power cable, it will snap right out from the main unit without pulling the device along.
At the back of the device, behind the kickstand is a MicroSD card slot. You can easily expand the storage of the Surface Go 3 just by popping in an additional inexpensive MicroSD card.
One of the most innovative feature of the Surface product is its unique kickstand. Unlike some designs where the angles of the kickstand is fixed, the Microsoft Surface Go 3 comes with a strong and stable kickstand which allows you to place it in any angles that you prefer. It even goes all the way down to an almost flat angle, allowing you to use the stylus and draw things on the screen easily. Moreover, we've got to say that the kickstand keeps the screen in place, reducing screen wobble significantly. Such problems are very common in conventional touchscreen laptops.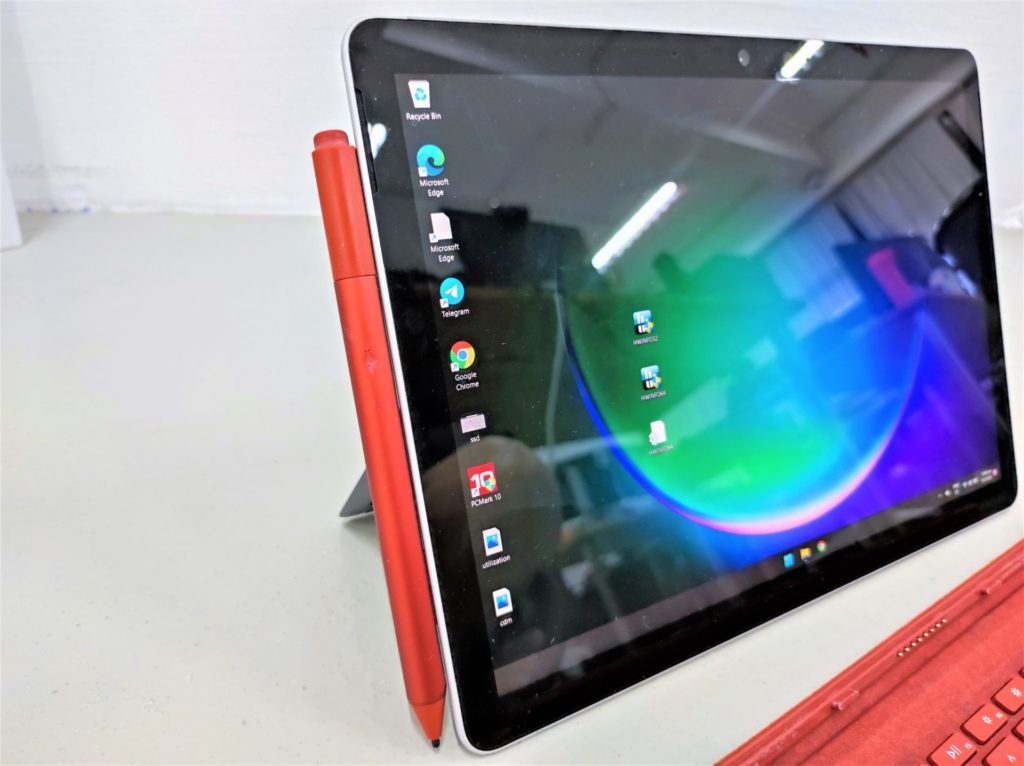 Our review unit also came with a red Type Cover and a red Surface Pen. Both peripherals snap right onto the base unit and we were able to get to work immediately without much efforts.
Usage Experience
Generally, it was quite a pleasure using the Microsoft Surface Go 3, but there were also some misses.
As the Surface Go 3 comes with a FHD+ resolution for a 10.5″ display, the pixel density is much higher than other larger display sizes. This makes the content on the device look a lot sharper than usual. Moreover, the display also has a good range of brightness levels, well-suited for different lighted environments. The colours on the display are also well-calibrated. Added with the glossy gorilla glass on top of the device, the images and graphics on the device just seems to pop.
However, like all glossy screens, the Surface Go 3 is still susceptible to the horrors of fingerprint and stains on its display.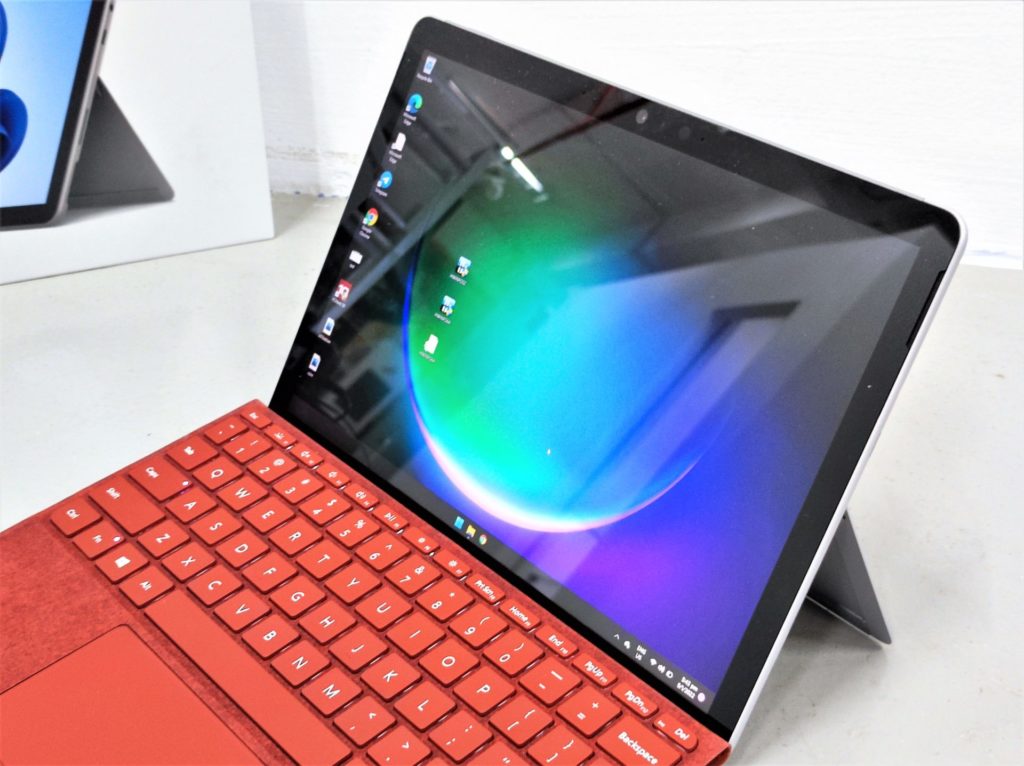 Furthermore, as the display comes in a 3:2 aspect ratio, video content which are usually in 16:9 and 16:10 aspect ration will not fit as well on the screen. Do expect that you will see black bars while watching your favourite movies. Nonetheless, having a 3:2 aspect ratio display also means that you can see more vertically, which is great for productivity applications such as word processing and software development.
While we are on the topic of watching videos and enjoying media on the Surface Go 3, we've got to say that we were quite impressed with the speakers on the unit. The forward-facing speakers are optimally placed, ensuring the best possible stereo listening experience to users. For its size, even though the audio coming out from the speakers were lacking in depth and had a focus on the mids and highs, we thought that it's decent enough for casual listeners.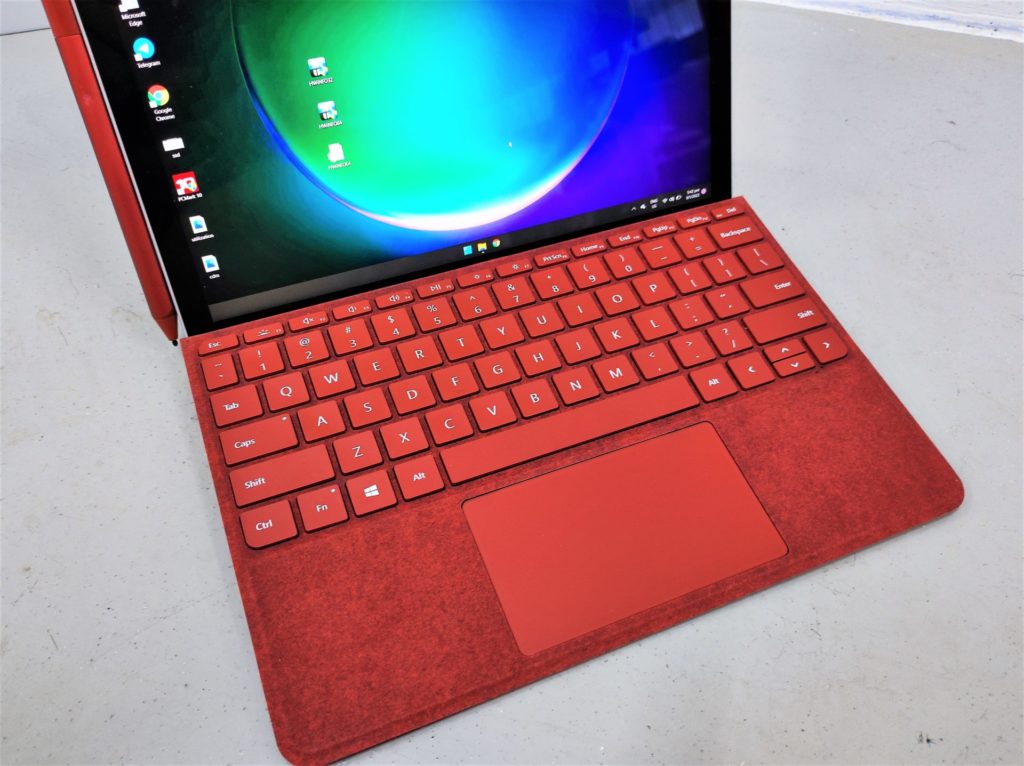 I had some mixed reactions while typing on the Type Cover keyboard. Due to the size limitations of the Surface Go 3, I found that the keys were quite cramped. For someone like me who have larger hands and used to full-sized keyboards, I was very prone to typing errors on the Type Cover. The situation gets better after slightly getting used to the key layout, but I'd be more productive if there was a larger keyboard for me. Thankfully, you would have the option for that, as the Type Cover is an optional accessory. You could perhaps look for a decent bluetooth keyboard and pair with with the Surface Go 3 for improved productivity.
As for the trackpad on the Type Cover, I didn't like it at all. The trackpad responds slower than normal, and sometimes, I would find it even more effective if I would just touch the screen to get to what I want.
Lastly, I found the Surface Pen to work quite well on the Surface Go 3. It responds very quickly to my inputs, and I found taking notes with the Surface Pen to be very effective. The caveat while using the Surface Pen to interact with the screen is that the device can get quite hot. Sometimes, the display gets so hot that it even gets uncomfortable to rest your palm on the display.
Performance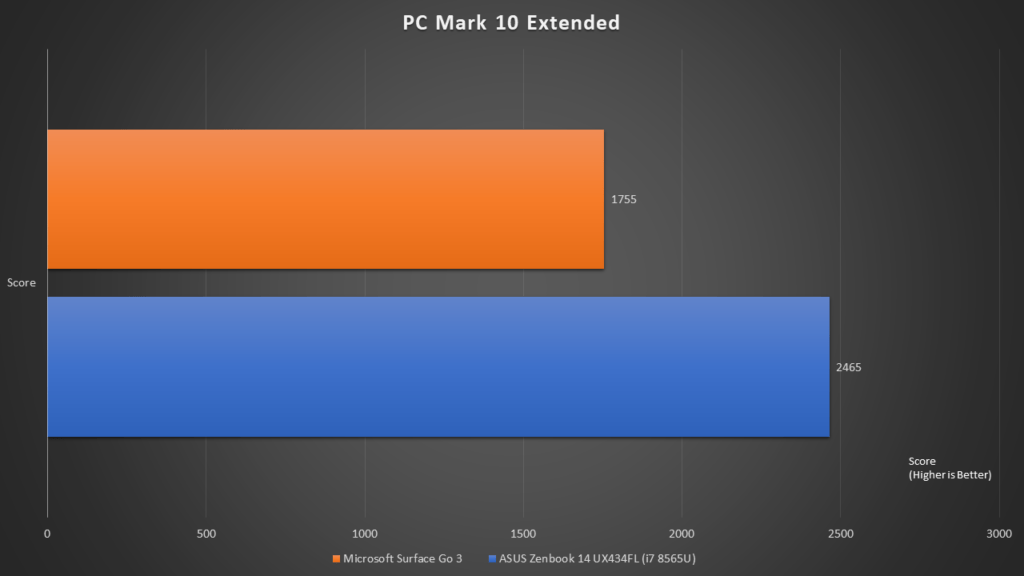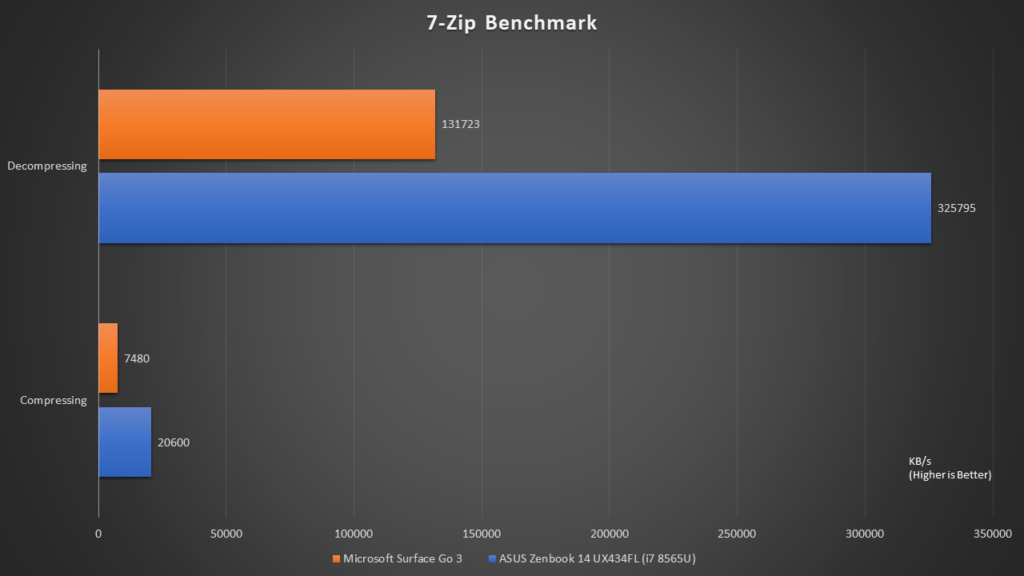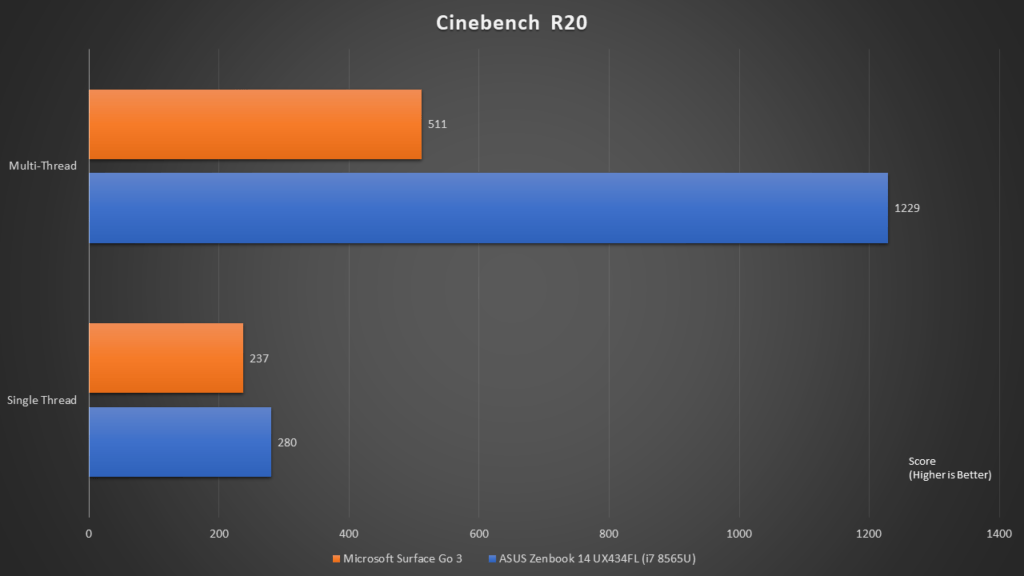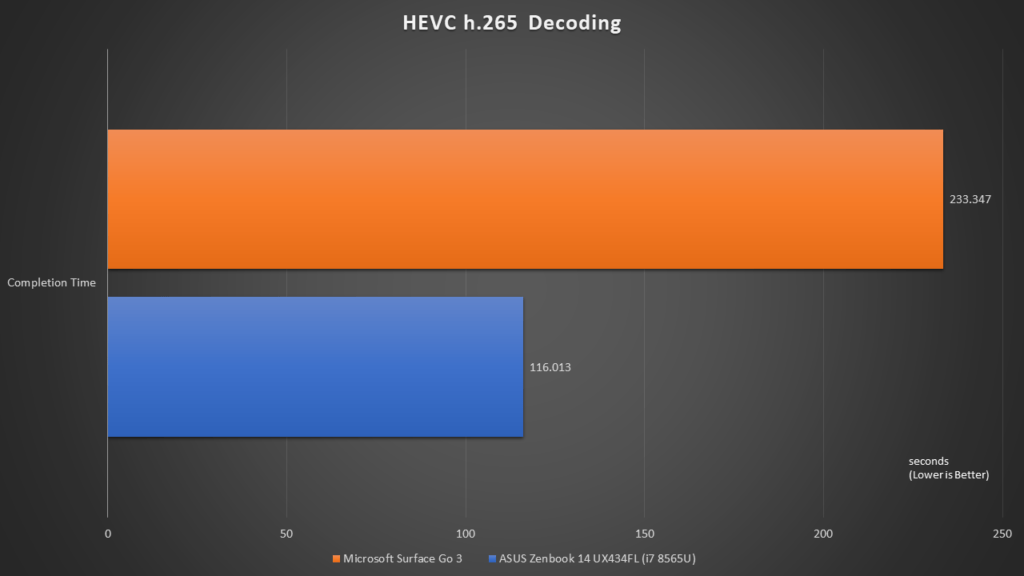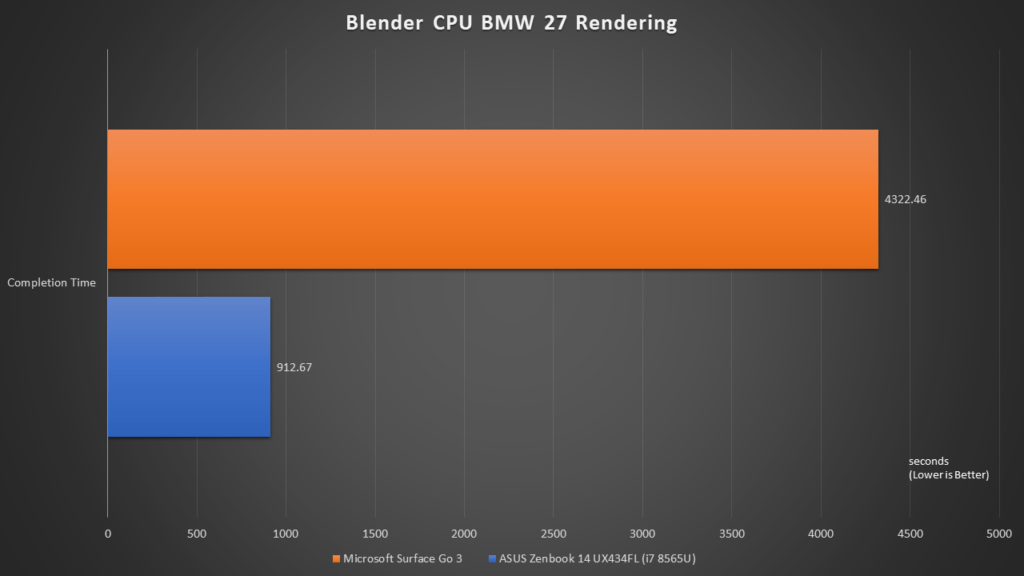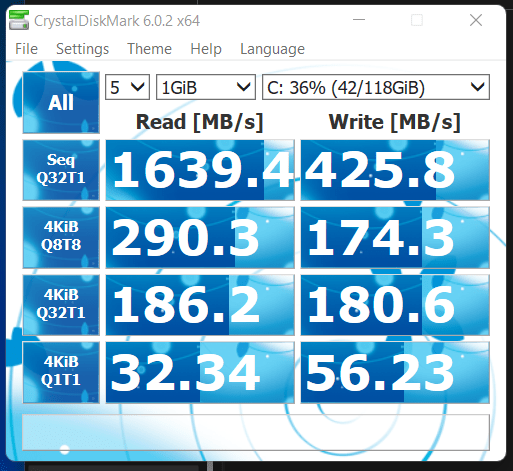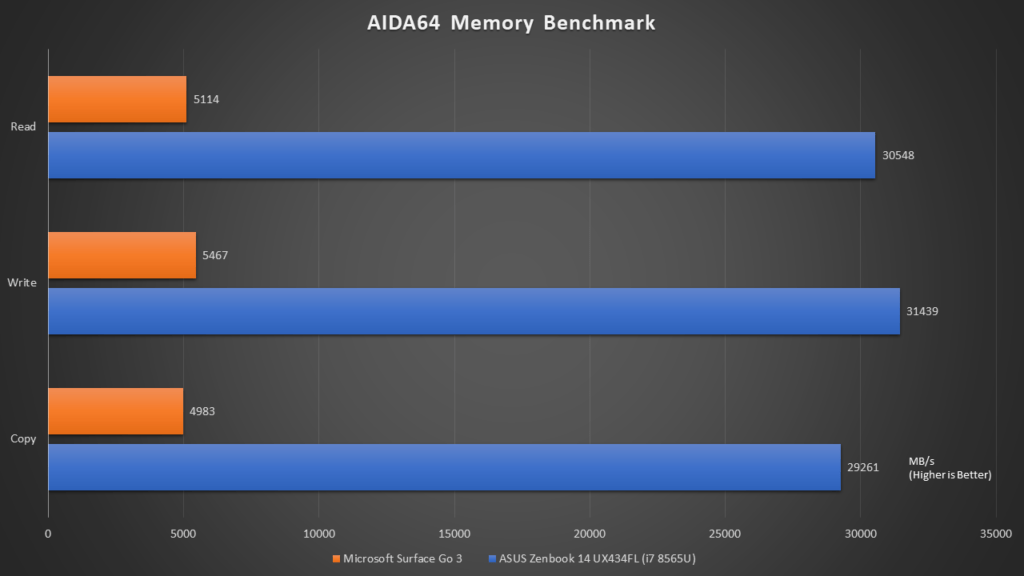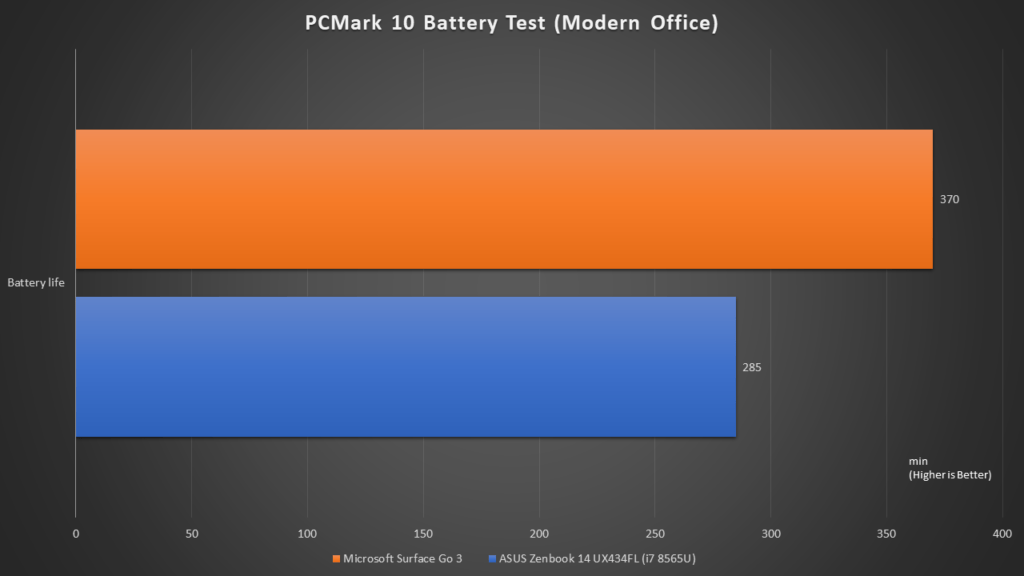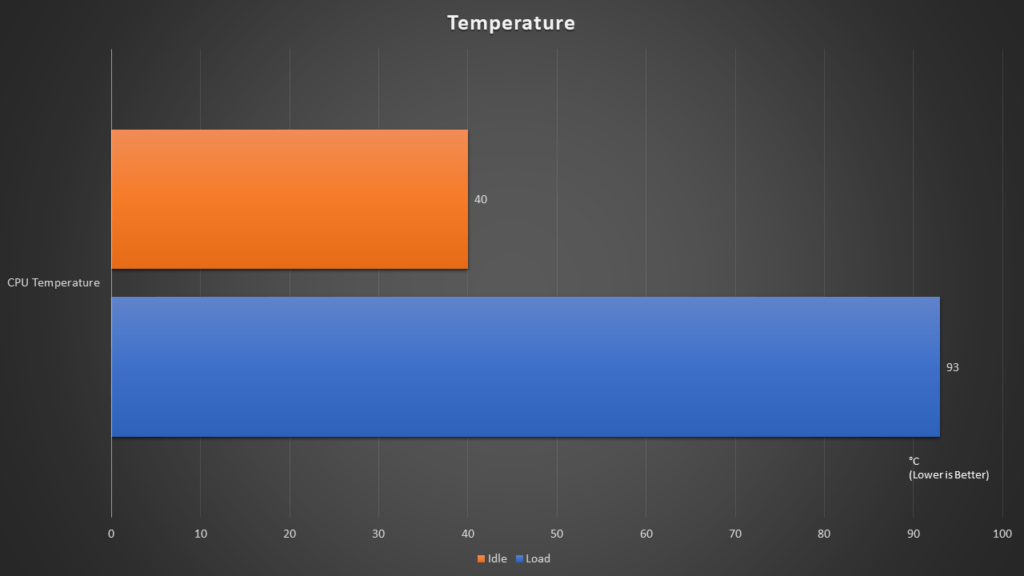 I think the numbers really tell us that the Microsoft Surface Go 3 doesn't excel in its performance level. You can forget about playing games or even doing more professional work on this product, as it is simply not designed for it. Simple day-to-day tasks such as office applications, internet surfing or media consumption are considerably smooth, but you'd have to remember to close other tasks in the background if you are not using them, as they will take up precious resources on this PC.
You'd probably not expect the PC to run as smoothly and as responsively as any other higher-end notebooks in the market, but it meets the mark for day-to-day use.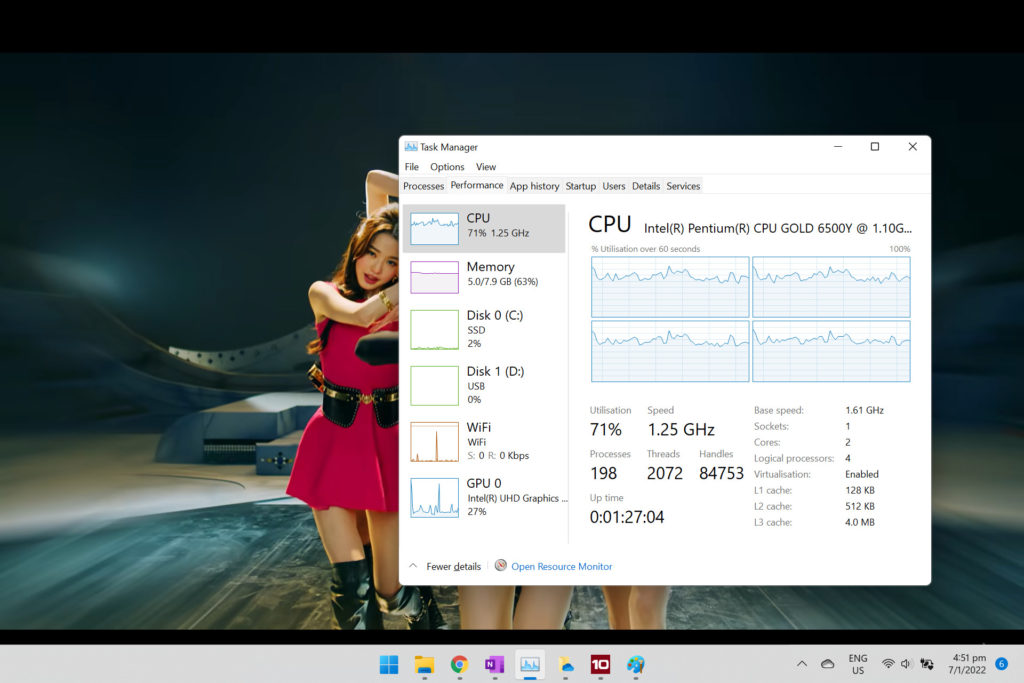 You may also understand that there is also a Core i3 version of the Microsoft Surface Go 3 in the market. Looking into the detailed specifications of both the Intel Pentium Gold 6500Y and Core i3 10100Y processor, there isn't really too much difference. I'd rather spend less on the Pentium Gold version for products of this positioning, as the premium that you are going to pay for the Core i3 version just wouldn't justify.
Conclusion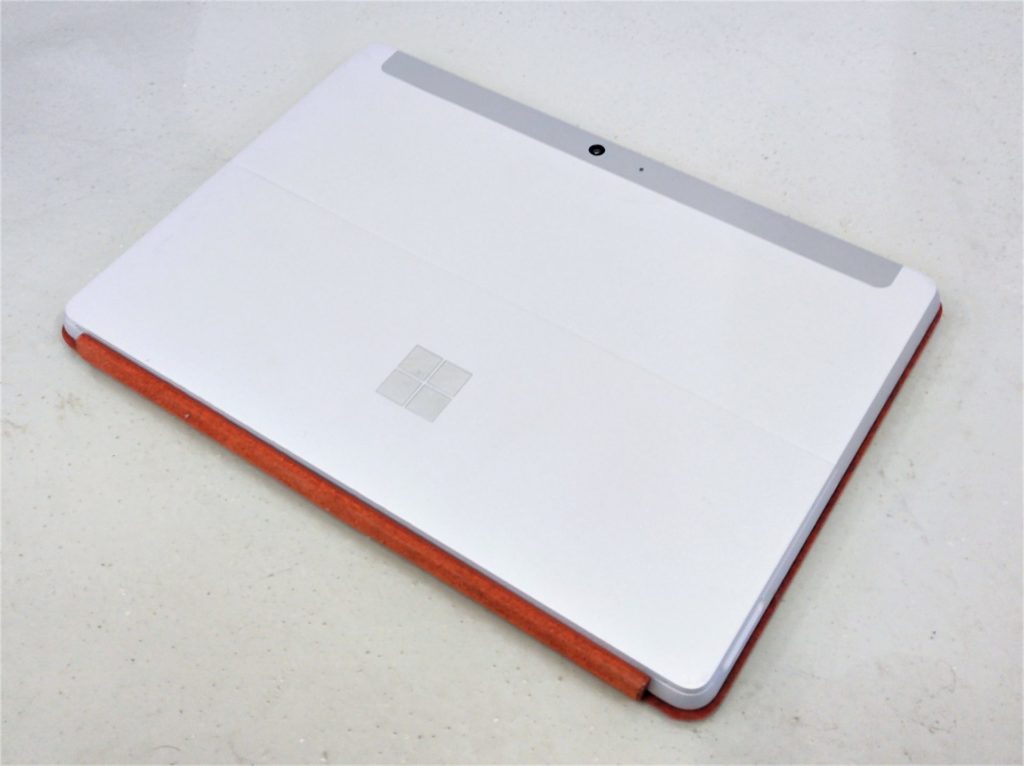 At a price of S$848, the Surface Go 3 (Intel Pentium 6500Y w 8GB RAM & 128GB SSD) is considered to be an affordable PC to own. It's versatility and all-rounded features make it a unique product that works well regardless of what you are using it for. Particularly, I find the Surface Go 3 to be well suited for students and journalists who will appreciate the product's portability and stylus support. However, I do feel that the battery life still falls short as compared to what's available in the market.
You pay for what you get. The Surface Go 3 may not meet the mark for many in terms of performance, but its attractive price point would attract consumers who simply don't need that kind of performance level. Thankfully, Microsoft also has the Surface Pro to cater for those who seek more.
Pricing and Availability
Surface Go 3 is already available via commercial authorised resellers AsiaPac Distribution, Insight Technology Solutions, JK Technology and UIC Asian Computer Services. Authorised retailers include Best Denki, Challenger, Courts, Gain City, Harvey Norman, Microsoft Store and Microsoft authorised stores on Lazada and Shopee.
Model
Surface for Consumer

(in SGD)

Surface for Business

(in SGD)

Surface Go 3

10th Gen Intel® Pentium Gold, 4GB RAM, 64GB eMMC

10th Gen Intel® Core i3, 4GB RAM, 64GB SSD

10th Gen Intel® Pentium Gold, 8GB RAM, 128GB eMMC

10th Gen Intel® Core i3, 8GB RAM, 128GB SSD

*Pricing applies to eligible commercial Education customers only

$599

N/A

$848

$928

$678 / $599*

$758

$838*

$998