Gamers out there will be familiar with Roccat, a German computer accessories manufacturer based in Hamburg. The maker of premium quality gaming accessories dabbles in products such as mice, mousepads, keyboards, notebooks, and headphones. Today, we'll put to test the Roccat Kone Pro Air, the wireless version of the popular Roccat Kone Pro to see if wireless gaming mouse that you should consider.
Specifications
| | |
| --- | --- |
| Size: | 125.6 x 72 x 40 mm |
| Size (inches): | 4.94 x 2.83 x 1.57 in. |
| Ambidextrous: | No |
| Weight: | 75 g |
| Number of Buttons: | 5 (including wheel click) |
| Main Switches: | ROCCAT Optical |
| Wheel Encoder: | Mechanical |
| Sensor: | PixArt PAW3370 |
| Resolution: | 50–19,000 CPI |
| Polling Rate: | 125/250/500/1000 Hz |
| Cable: | 1.8m, USB-C |
| Software: | Yes |
In the box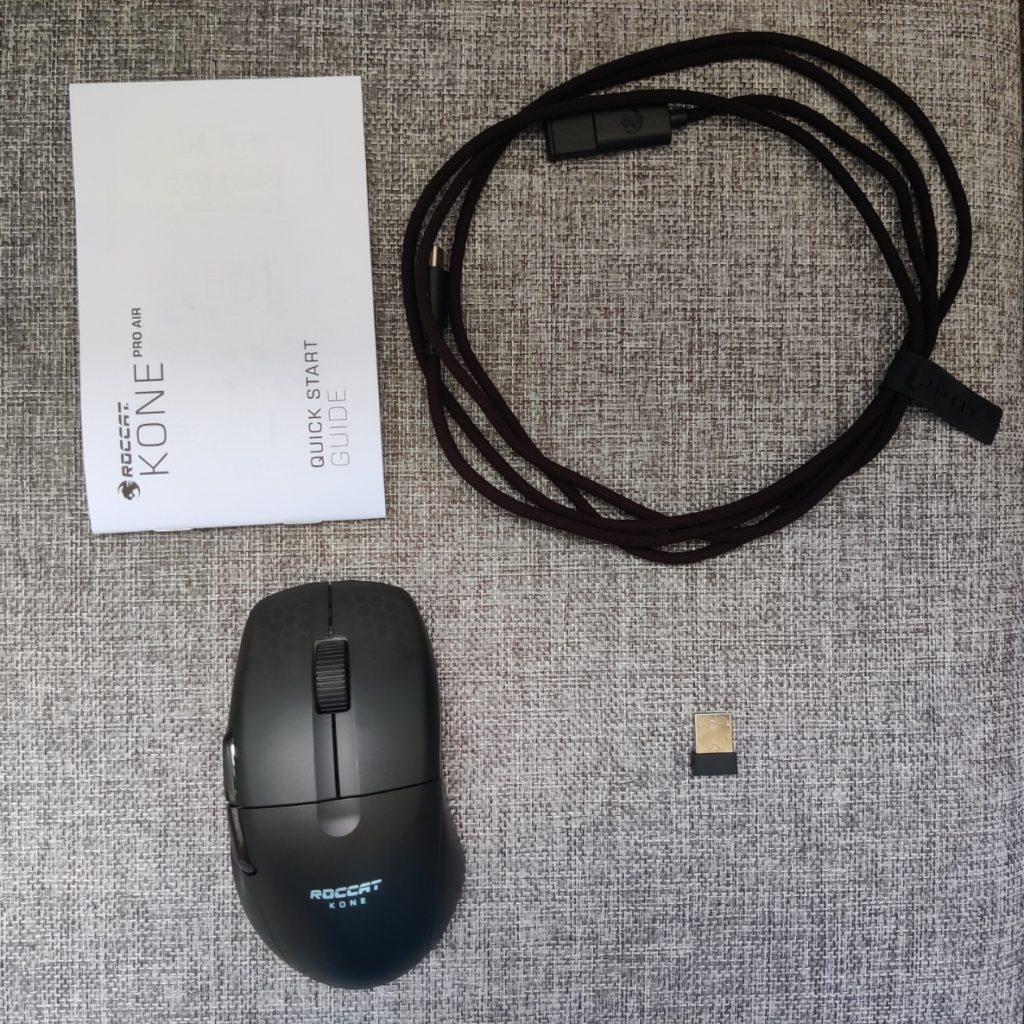 Along with the mouse itself, you'll find these items in the packaging:
PhantomFlex charging cable (USB Type-A to Type-C)
Quick start guide
Wireless dongle
Set up
The Roccat Kone Pro Air's set up process is simple. You can either:
Use the wireless dongle for fast and reliable 2.4GHz gaming
Use Bluetooth if you're merely scrolling the web – it might introduce lag during gameplay
Connect the mouse to your PC using the 1.8m PhantomFlex USB-2 to USB-C charging cable
Design and performance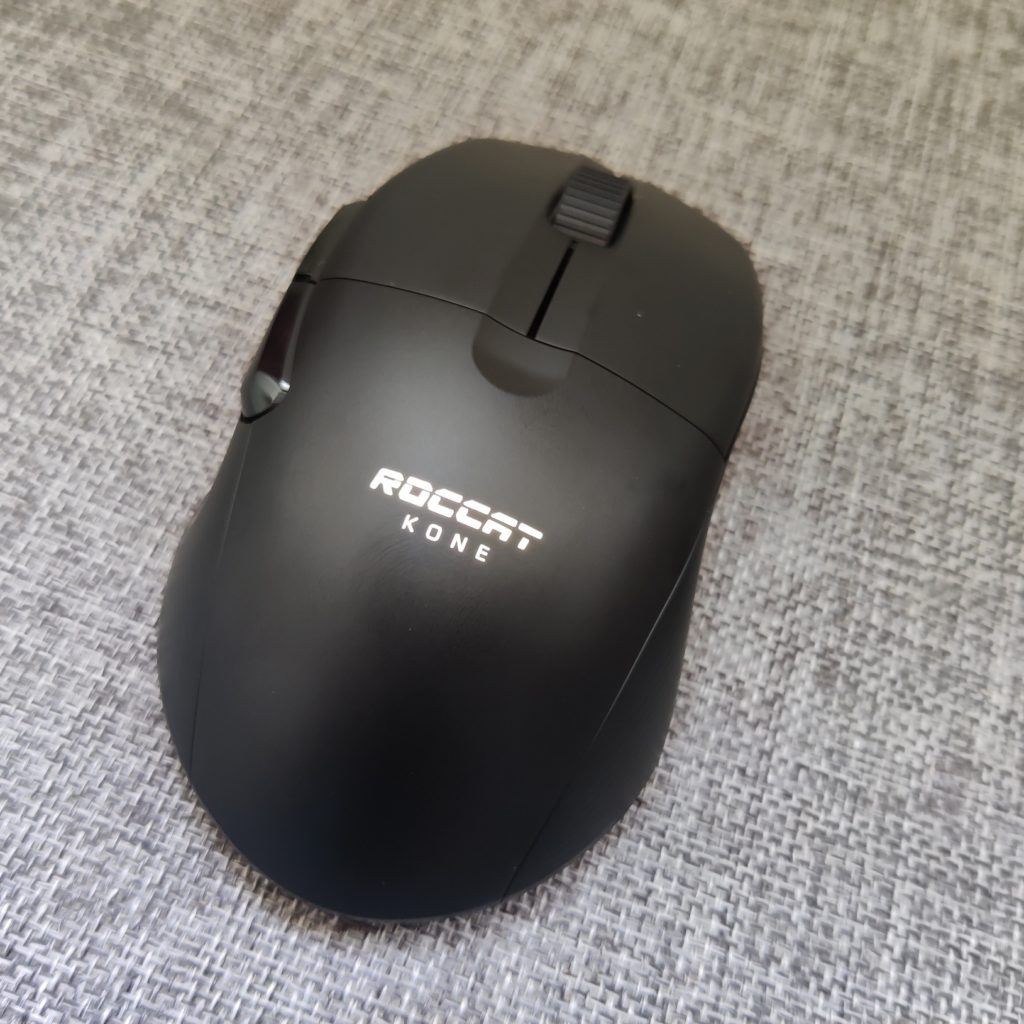 The Kone Pro Air is available in two colour options: Ash Black or Arctic White. Our review set came in Ash Black, which looks pretty simple and sleek. The mouse is pretty lightweight. At 75g, the Kone Pro Air isn't the lightest wireless gaming mouse you'll find out there. But thanks to its honeycomb design hidden underneath the mouse's solid plastic exterior. Hiding the honeycomb design is a great choice because it makes cleaning a much simpler affair.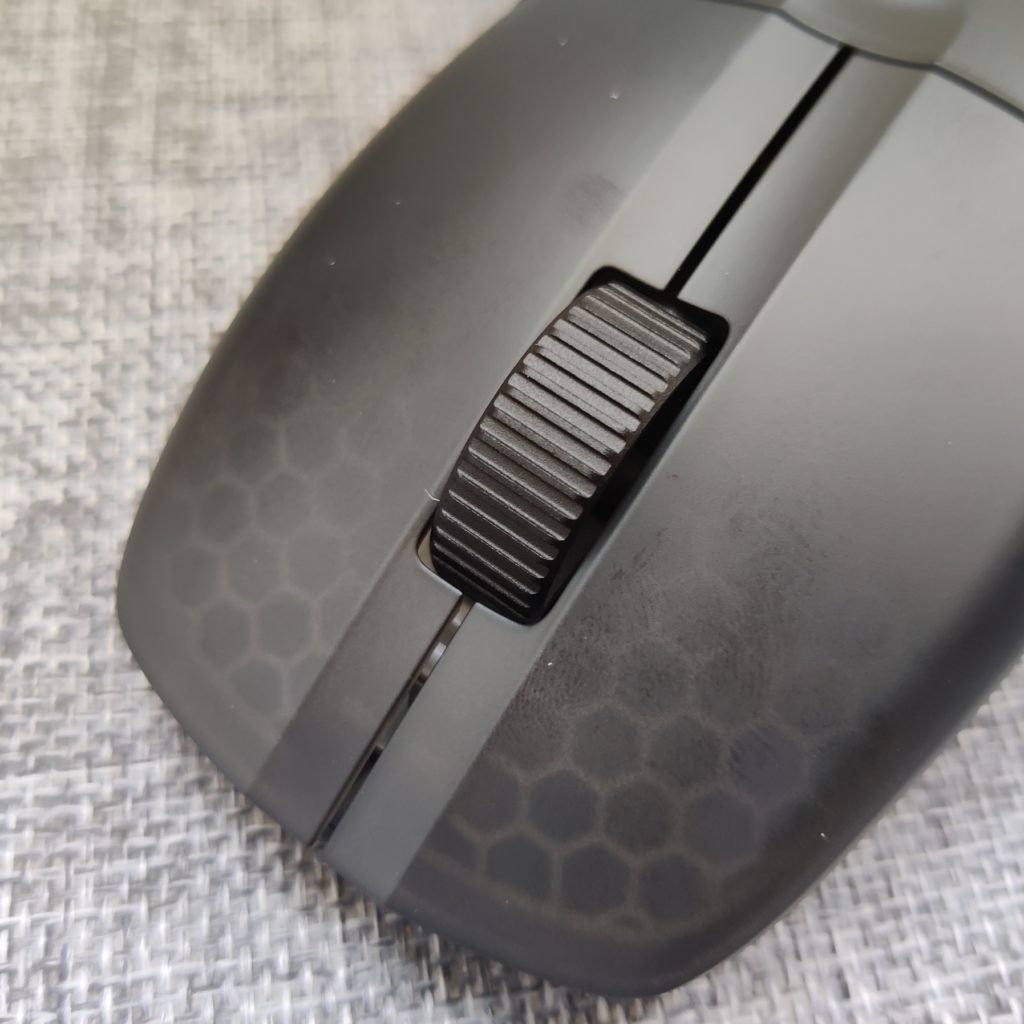 Roccat designed the Kone Pro Air to be ergonomic – your right hand should rest comfortably on it, whether you hold a palm or claw grip. There are slight indentations (with slightly textured surfaces) on both sides of the mouse so that you get a nice grip even while you're deep in play.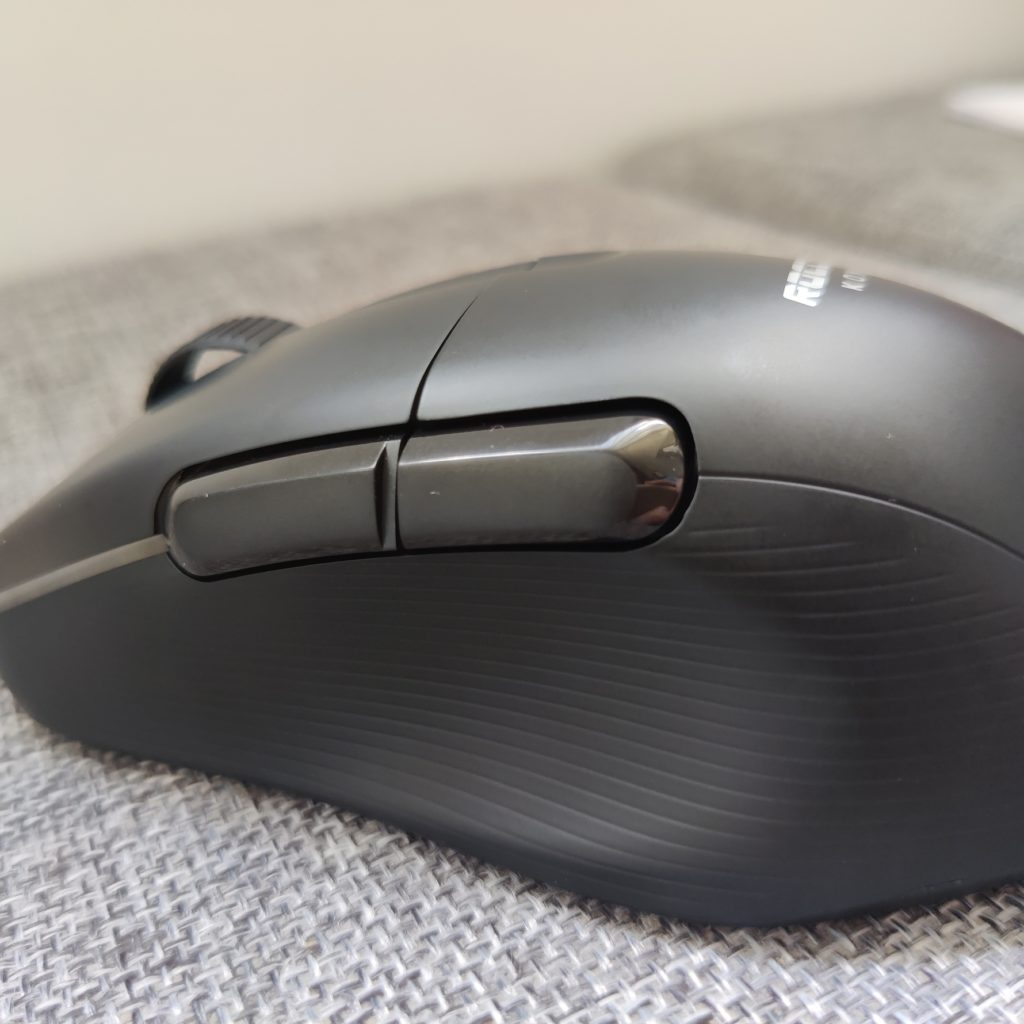 The mouse sees a five-button design which includes two click panels, a wide scroll wheel, and two thumb-side buttons. The scroll wheel isn't silent, but it shouldn't bother most people. It also feels tactile, like all the buttons on the mouse.
There is a sixth button hidden underneath next to the power switch. This button allows you to cycle through customizable mouse profiles. It's a little strange that you have to turn the mouse over to change its profile, but perhaps the designers didn't want you to change profiles by accident.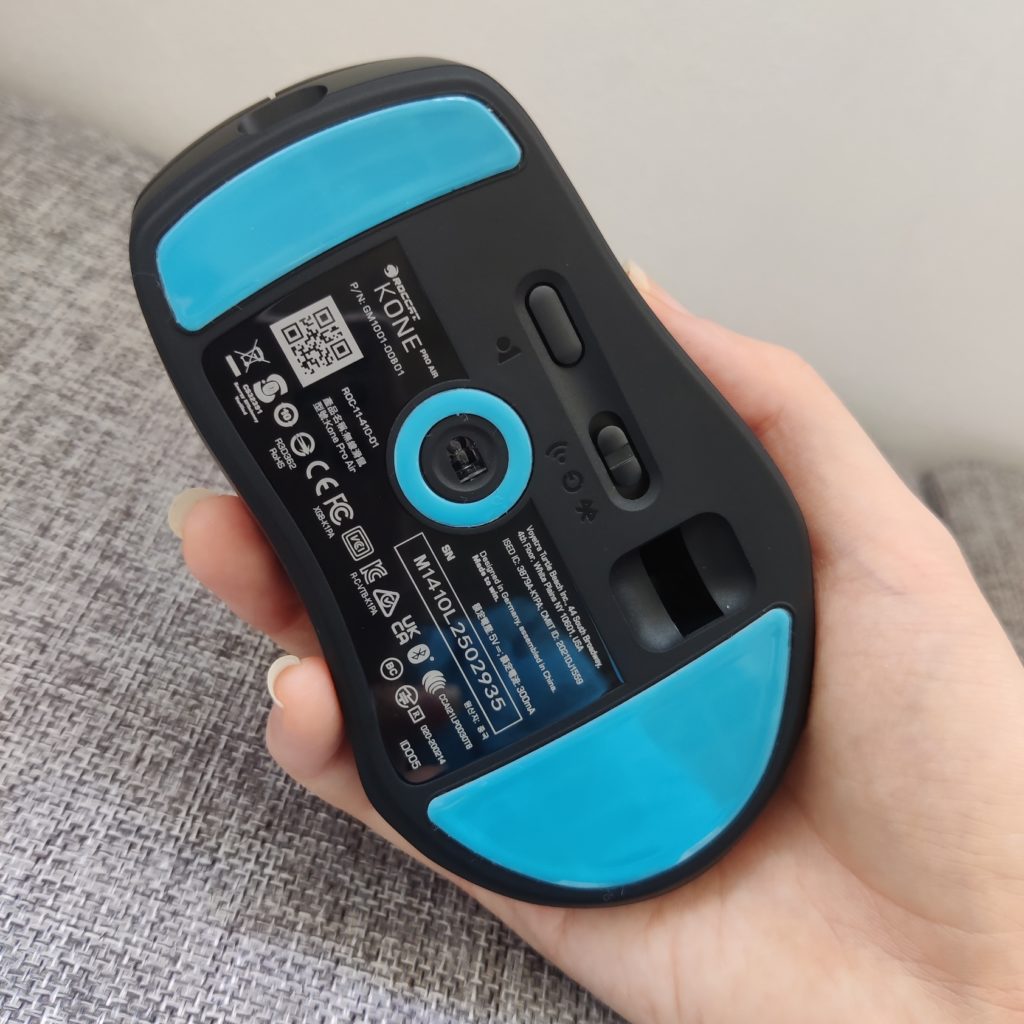 The underside of the mouse also features heat-treated PTFE glides for rapid and effortless movement while gaming, as well as excellent reaction. The glides really do make a world of difference. Movement was smooth and unhindered.
The Roccat Kone Pro Air makes use of the brand's Owl-Eye optical sensor to reach 19K DPI with 50g acceleration. It also has a 1,000Hz polling rate and adjustable lift-off sensitivity. These features translate to a eSports-focused mouse that offers fast, accurate, and responsive tracking.
Software
Roccat's Swarm software allows you to customize a variety of settings on this mouse, such as remapping buttons, modifying the DPI level, and changing the RGB settings.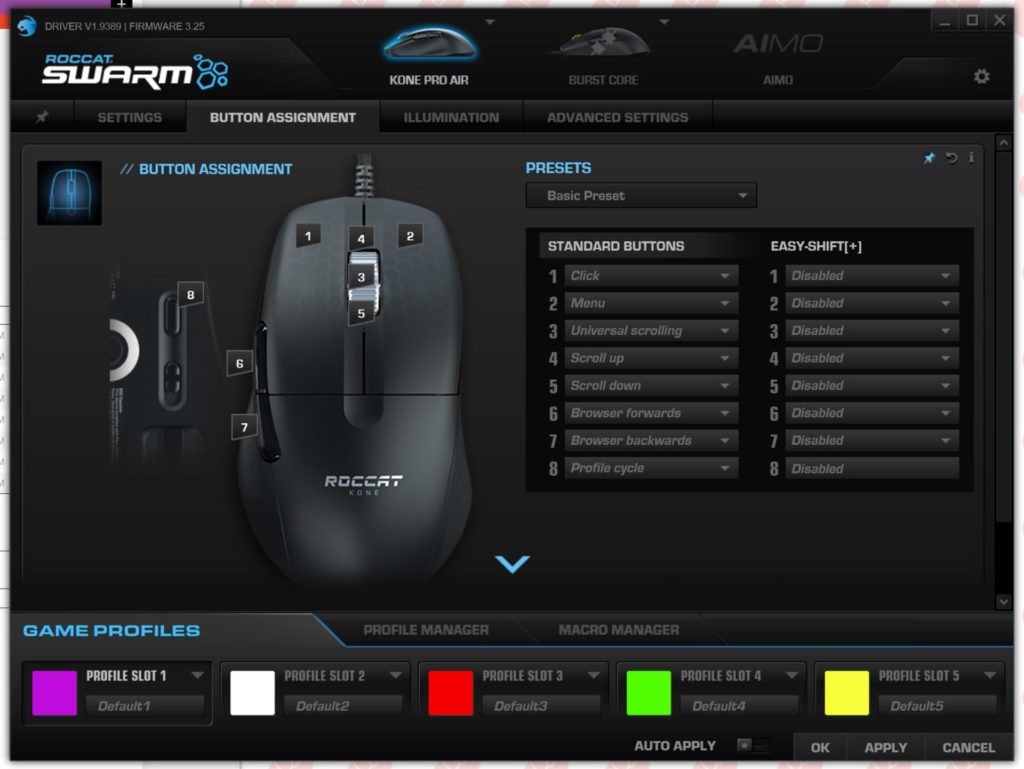 You may store profiles to the mouse as well, allowing you to have various settings for different games or activities and easily switch between them. All settings are stored to the on-board memory, therefore the software does not need to be running at all times.
Overall, the software is easy to use and grants you great control over how you'd like your Kone Pro Air to function.
Lighting
RGB lighting is one of the features that distinguishes the Kone Pro Air from the competition. That's because Roccat deviated from the standard by placing the illumination beneath the left and right buttons. The light shines through the honeycomb pattern under the outer shell. There's also a space around the edge and in front of those buttons that let more light in. This design may call out to you because instead of hiding the illumination behind your hand's palm, this mouse uniquely illuminates your fingers while you play, adding on to that gaming aesthetic that you may be aiming for.
On Roccat's software, there are a seven pre-defined lighting effects – AIMO, Wave, Fully Lit, Heartbeat, Breathing, Blinking, and Battery Indication. You can go further to set custom colors and adjust the brightness and transition speed of each setting too.
Battery life
Roccat claims that the Kone Pro Air promises 100 hours of battery life on wireless connection. Of course, that depends on the RGB lighting settings and specific use cases. On our test, in 2.4GHz mode with RGB lights turned on, the mouse lasted over a week of everyday use. Perhaps that's because Roccat set the mouse to go to sleep after three minutes of inactivity.
When the battery dies, simply connect the USB charging cord to your computer and use the mouse wired while it charges. Roccat equipped the mouse with a rapid charging tech that can juice it up to offer 5 hours of use after 10 minutes of charge.
Pricing and availability
The Roccat Kone Pro Air is available at S$199.00 at the following online marketplaces:
Lazada – https://bit.ly/ROCCATLazmallShopee – https://bit.ly/ROCCATShopeemallOSTsome.com – https://bit.ly/ROCCATOstsome
Verdict
At S$199.99, the Roccat Kone Pro Air isn't the most wallet-friendly gaming mouse you'll find out there. Its price point also automatically places itself in direct competition with many top-tier wireless gaming mice. That said, the Kone Pro Air still puts up a great fight. With excellent battery life, a comfortable, lightweight, and ergonomic design, the Roccat Kone Pro Air is a gaming mouse worth considering, especially if you're already a proud owner of other Roccat gaming peripherals. You can synchronise the RGB lights on the Roccat Kone Pro Air with your other compatible devices for the ultimate gaming set up.
If you'd like to explore other options, check out some of our gaming mouse reviews: