SuperSolid has been around since 2018. As a locally Singaporean owned company and brand, they aim to bring high performance computer peripherals, such as monitors, mouse and keyboards to the average Singaporean. Just recently, they have just released their new Gemini One Wired Gaming Mouse to the market.
The Gemini One Wired Gaming Mouse
Our first impression of the Gemini One Wired Gaming Mouse was that it looked somewhat gimmicky. Why would a mouse have interchangeable covers, customizable buttons and weights? It seems that the designers of this mouse simply want to put as much features into a single product just to beef it up and try to position it as a "one for all" mouse.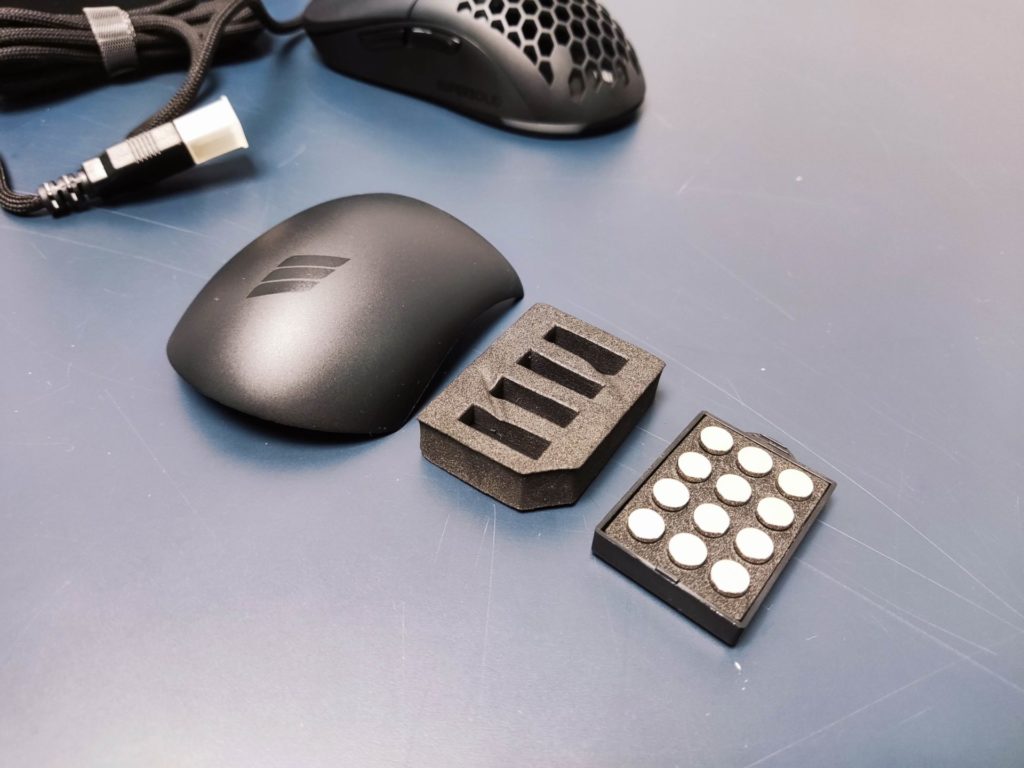 Don't get me wrong, as I learned to not judge a product from its first impressions. I could not be more wrong.
The SuperSolid Gemini One Wired Gaming Mouse is nothing of that sorts. In fact, in my opinion, each area of customization allows the user to make sure that the mouse can fit his/her needs. Instead of what I thought was gimmicks, is real usability features in a mouse. While I sing some praises of this product, let me explain the various features of what makes this mouse so special, nothing which I have ever come across before.
Lightweight, high responsive mouse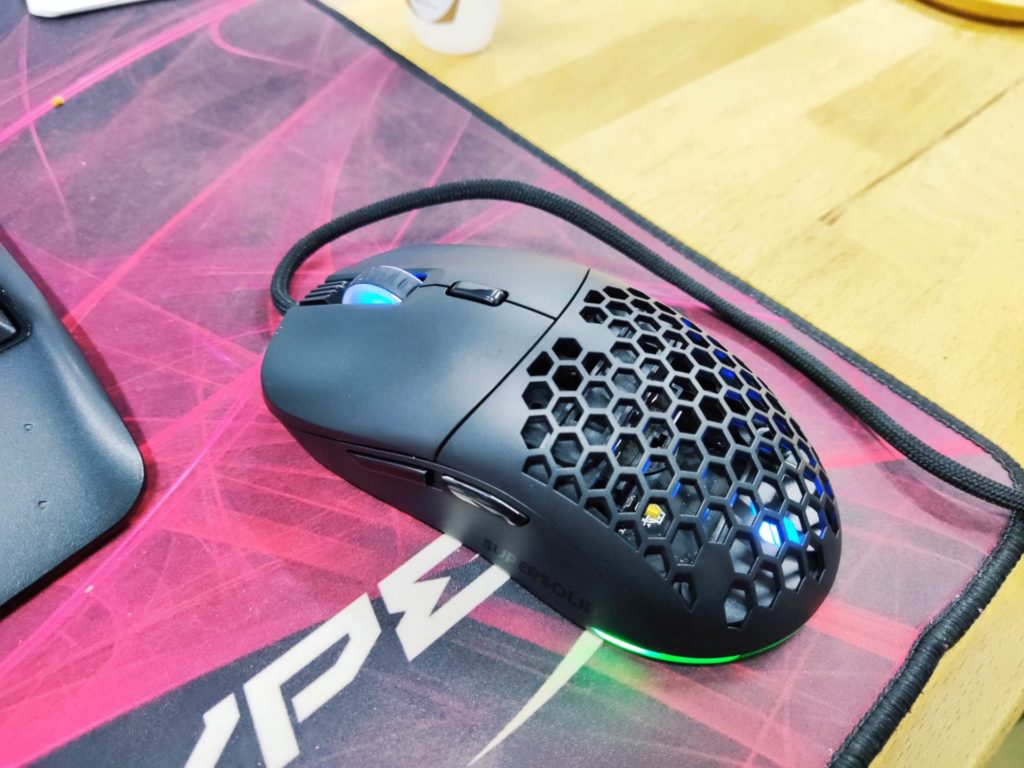 The default configuration of the Gemini One Wired Gaming Mouse out of the box is an extremely lightweight product. As some gamers are very sensitive to speed, being able to quickly respond and move the mouse could be pivotal to the outcome of the game. That is also why extremely lightweight mouse such as the Cooler Master MM710 are so popular. Even though the Gemini One doesn't fall into the extreme lightweight gaming mouse category, starting at a weight of 75g is a great start. For new comers trying out a lightweight mouse for the first time, you could really feel the difference.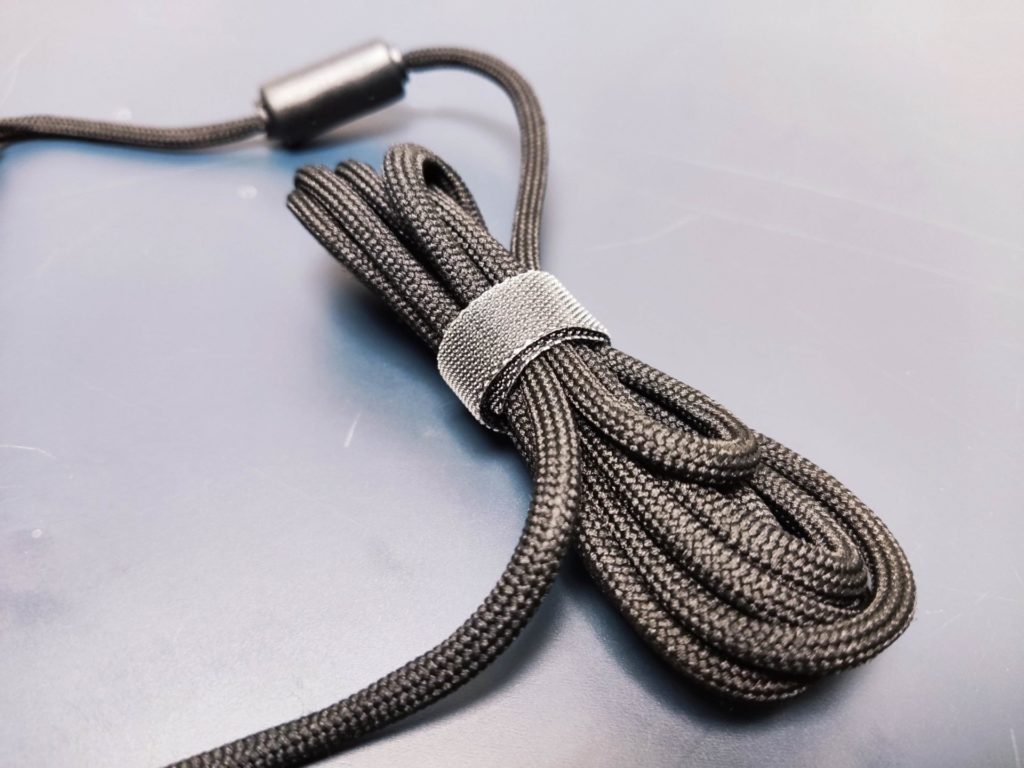 Particularly, to ensure that the mouse is not burdened by the weight of its cables, the cables on this mouse is also wrapped with a light fabric-like material paracord. We only managed to understand these design aspects of the mouse after using it for some period, and could really appreciate the thoughts put into the conceptualization of such a product.
Also, to ensure that the mouse can respond quickly, it is also equipped with the Pixart 3389 sensor that has a sensitivity of 16,000DPI. As the Gemini One also uses the high quality Omron mechanical switch for its buttons, pressing on the mouse buttons also feels quite good. It's firm and precise.
The full specifications of this mouse are as follows:
Max Sensitivity
16,000DPI
Tracking Speed
400 IPS
Max Acceleration
50G
Polling Rate
1000Hz
Programmable Buttons
7
Size
124.5 x 64 x 42mm
Connectivity
USB – A / 1.75m Paracord Cable
Switch Type
Omron Mechanical Switch
Switch Lifecycle
20 Million Clicks
Mouse Feet
Teflon
Image Sensor
Pixart 3389
Weight
75G – 97G
RGB lighting
Wheel / Internal/ External
RGB Software
Windows Only
Accessories
2 x Covers
12 x Weights (1.25g each)
2 x Sets of Side buttons
Steady and precise mouse
As mentioned earlier, the key factor that sets the SuperSolid Gemini One from competing products is its customizability. If a lightweight mouse is not what you are looking for, or let's say the hexagonal patterned cover isn't something that rings your bell, you have the ability to make that change.
The covers on the Gemini One are attached to the main unit via magnets. It's extremely easy to change the cover of the mouse, as the magnets will make sure that the covers will simply fall right into place.
With the fully enclosed cover, the SuperSolid Gemini One now spots a totally different look. It's very minimal, just the style that we like it to be.
Also, to add on the weights to the mouse to give it a bit more heft, you can simply add the number of weights onto this little provided tray and slide it right into the compartment of the mouse. You can keep trying with a combination of number of weights to see which suits you the best.
Similarly, you can also remover the buttons on either side of the mouse as well. If you are wary that you could accidentally click on the side buttons, you can simply change the buttons to their covers to solve your problems. Both the buttons and covers are also magnetically attached, so installation and replacement are also very straightforward.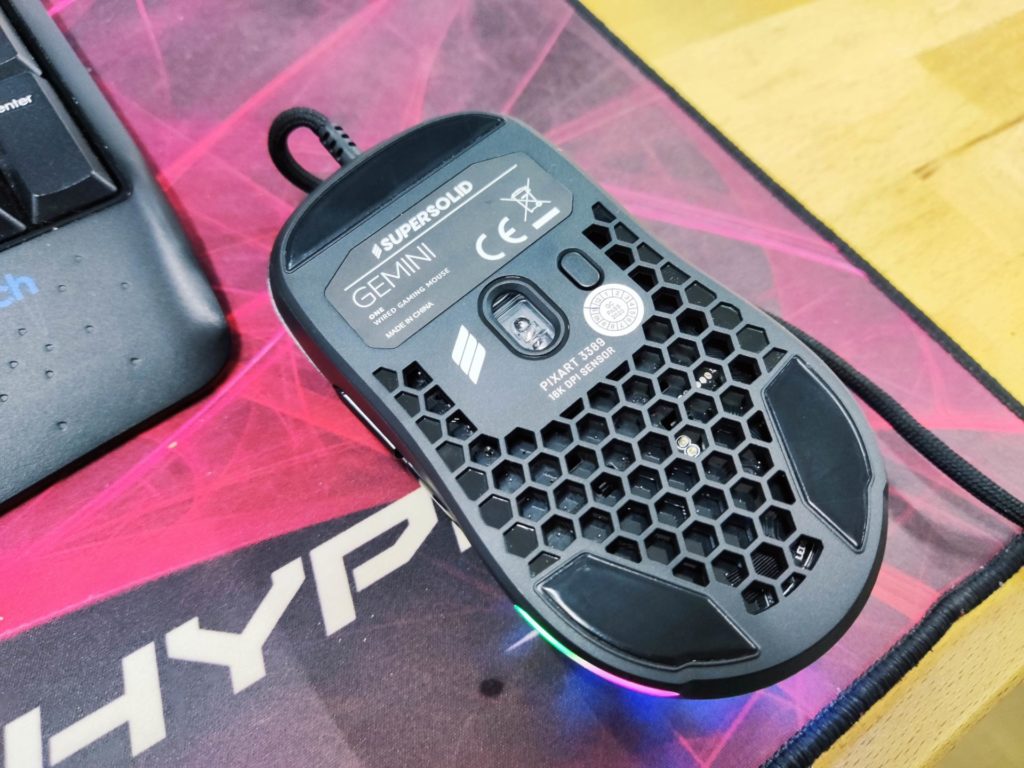 The mouse also has feet made of Teflon, allowing you to slide the mouse easily on any kinds of surfaces. There is also a button at the bottom of the mouse to allow you to change the different lighting effects on the mouse.
Final thoughts and conclusion
If a product is designed for the mass market, we know that they would usually fail because it lacks a target audience. However, SuperSolid sets the Gemini One gaming mouse apart by allowing it to appeal to a generalist and a specialist at the same time. Regardless of how you customize the mouse, it still can perform pretty well.
Honestly, I didn't have high hopes of the SuperSolid Gemini One when I was first presented with it. After trying it out, it has become my daily driver for all my works and games.
There isn't a one size fits all product, but with its unique customizability features, the SuperSolid Gemini One certain tries its best to make everyone happy. And I'm pretty happy with it.
Where to get
The SuperSolid Gemini One is available from today onwards at $89 on the Dreamcore Official Store on Lazada and $69 when bundled with a Dreamcore PC on Dreamcore's website.