T05 Technologies Pte Ltd was commissioned by Easy M Smart Technologies Pte Ltd to develop a payment integration system for the brand's Easy M Unmanned Smart Kiosk System (EMUSKS), the first smart vending machine with AI Dynamic Visual recognition technology in Singapore.
With breakthrough innovation such as Dynamic Visual Recognition using AI Algorithm, Automatic Bill Settlement and Intelligent ERP, Real-time Data Analysis and Data Management, as well as an Intelligent Anti-Theft Monitoring System, EMUSKS places no restrictions on what products can be sold, how goods are displayed, or how consumers choose a product. Consumers can simply tap their credit card, open the doors of the vending machine, take what they want, and make payment. 
Objective
While AI vending machines like EMUSKS are already popular in China, Easy M Smart Technologies' decision to tap into the Singaporean market meant that the brand needed to redesign its technology – particularly to be able to accept payments locally. 
In other words, for the successful deployment of EMUSKS in Singapore, Easy M Smart Technologies required a smooth development of the Credit Card Payment Acceptance System (CCPAS) for consumers to gain access to its machines with credit cards. 
With that in mind, Easy M Smart Technologies approached T05 Technologies to develop a credit card acceptance payment system for its machines. 
Details
The payment process on EMUSKS is enabled by its integration with T05 Pay Solution – an android payments app that was pre-installed and configured on the EMUSKS System Controller Android device. 
T05 Pay Solution was designed to support three main functions: (1) Pre-authorization of an amount on a Credit Card, (2) Deduction of bill amount, (3) Release of withheld Pre-authorization funds
Pre-authorization of a transaction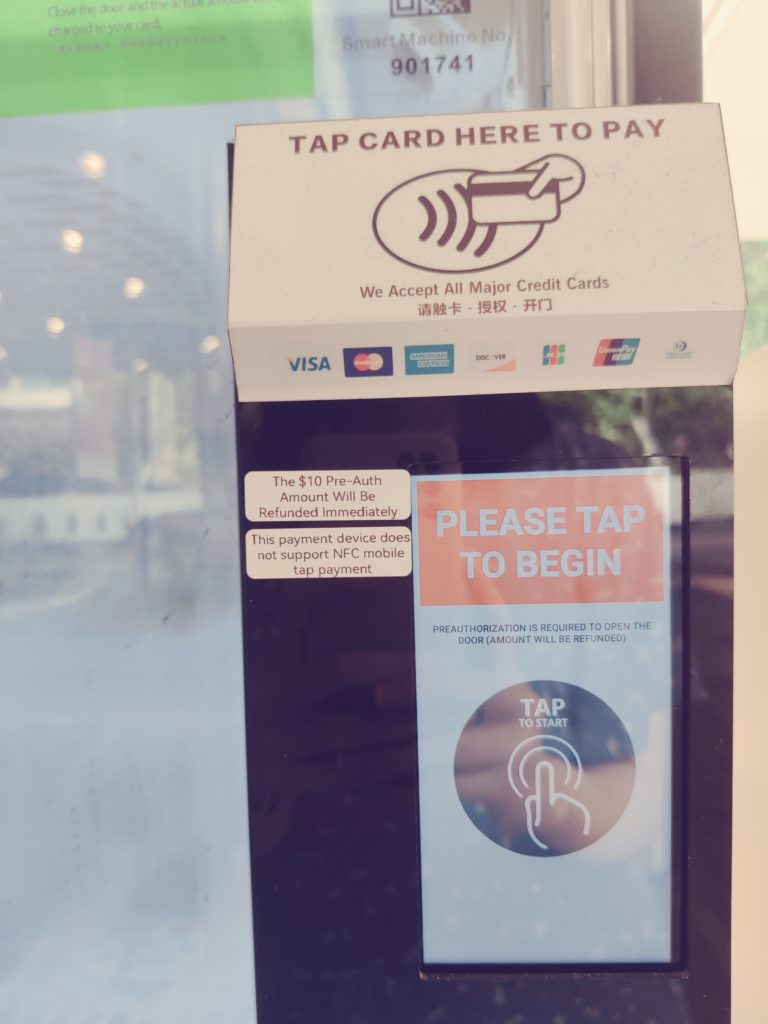 When the EMV Certified Credit Card reader on the EMUSKS detects a card, it will process a pre-authorization request with the credit card issuing bank. EMUSKS provides business application logic layer to communicate with the T05Pay Payment Mobile App solution via Android Deep-Link Integration.
Thereafter, T05 Pay will return with the outcome of the Pre-Authorization. If the card is authorized, the  consumer can proceed to open the cabinet of the EMUSKS to retrieve what they'd like to purchase. 
Release of pre-authorization amount and Deduction of amount
After the user has closed the cabinet doors upon retrieving all the required items from within the EMUSKS, order information that has been retrieved by the EMUSKS System Controller will be sent to the T05 Pay Solution. 
T05 Pay Solution will then automatically deduct the total price of the order from the previously presented card and release the pre-authorization amount. 
Outcome
With successful payment integration enabled by T05 Pay Solution, Easy M Smart Technologies has risen to become Singapore's largest AI vending machine network. Its vending machines are flowered across the island in homes, offices, and dormitories. 
Dancing Bacon's usage of the AI Smart Vending Machine 0:00 to 1:14 :