As the Singapore Government continues to strategically position the country as an international Data and Analytics Hub as well as a Smart Nation, schools in Singapore are beginning to focus their efforts on providing quality education and opportunities for students to pursue a career in data analytics and Artificial Intelligence (AI).
Temasek Polytechnic, a tertiary education institution in Singapore, is no exception. In a bid to ensure that its students are ahead of the game, the school has developed a slew of niche facilities catered to the students of Temasek Polytechnic's School of Informatics & IT.
The Specialist Centres and Learning Enterprises are developed to emulate up-to-date industry operations and to facilitate industrial collaboration and consultancy. With state-of-the-art facilities which provide a conducive environment for enhancing the professional and academic capability of staff and students, the school hopes to nurture talents and competent professionals in the areas of AI & Analytics and better prepare students for the world of work.
TP AI Demo Lab
Standing among the various centres in the school's AI & Analytics Hub is the TP AI Lab, which showcases the latest infrastructure, facilities, software, and datasets to facilitate learning of comprehensive business intelligence and analytics skillsets in a data-rich environment.
Capable of supporting the end-to-end business analytics life cycle, and focusing on areas such as business intelligence, data mining, social media analytics and predictive analytics, it also promotes industry collaboration and capability building by enabling students and staff to undertake relevant industry projects, and conduct applied research and development in advanced analytics.
Here are some of the projects and solutions that are currently showcased at the AI Demo Lab for students and visitors to explore and engage with.
Personnel Profiling with Facial Recognition
Right at the entrance of the AI Lab, students will be greeted by a large 42-inch display that is connected to a USB camera and a custom client server. An application turns the large display into an AI showcase by identifying and profiling people as they enter the centre.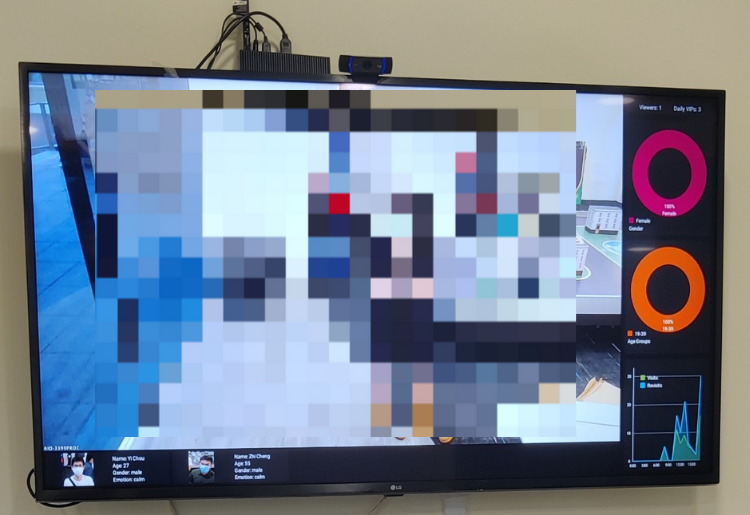 In addition to identifying the gender and age of the visitor in real time, the system is able to count the number of overall visitors and unique visitors it engages with, determine VIP visits, provide information about visits by time, determine the gender and age ratio of visitors, and even read the emotions of visitors.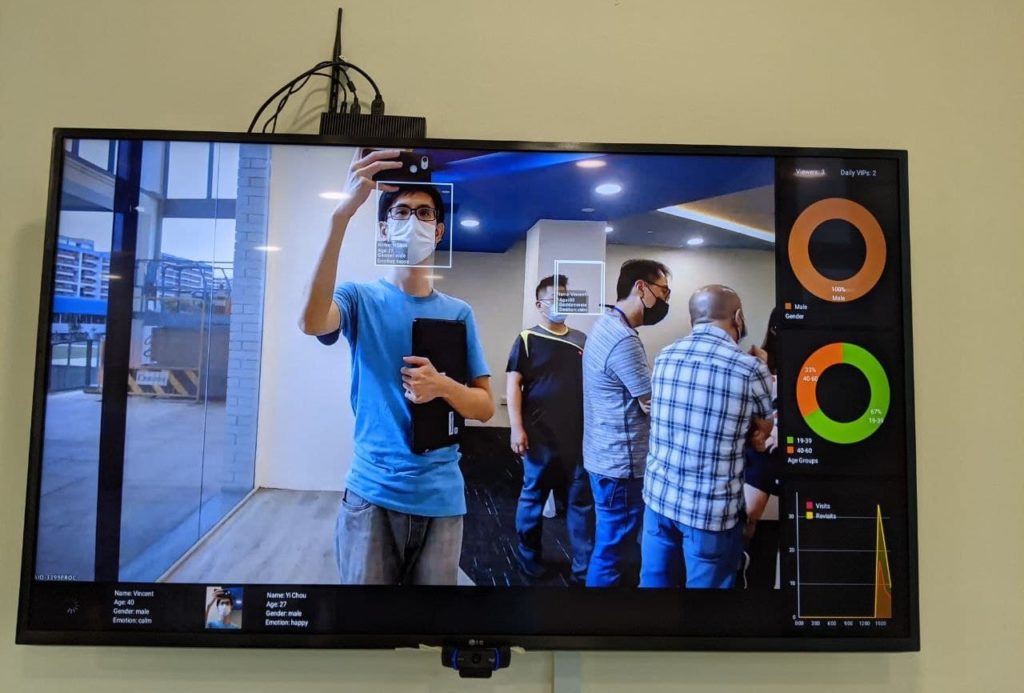 The project helps students appreciate the potential and capability of normal cameras in capturing and identifying personnel and profiles as well as in tracking and counting crowds within premises.
Crowd Analytics with Customized Dashboard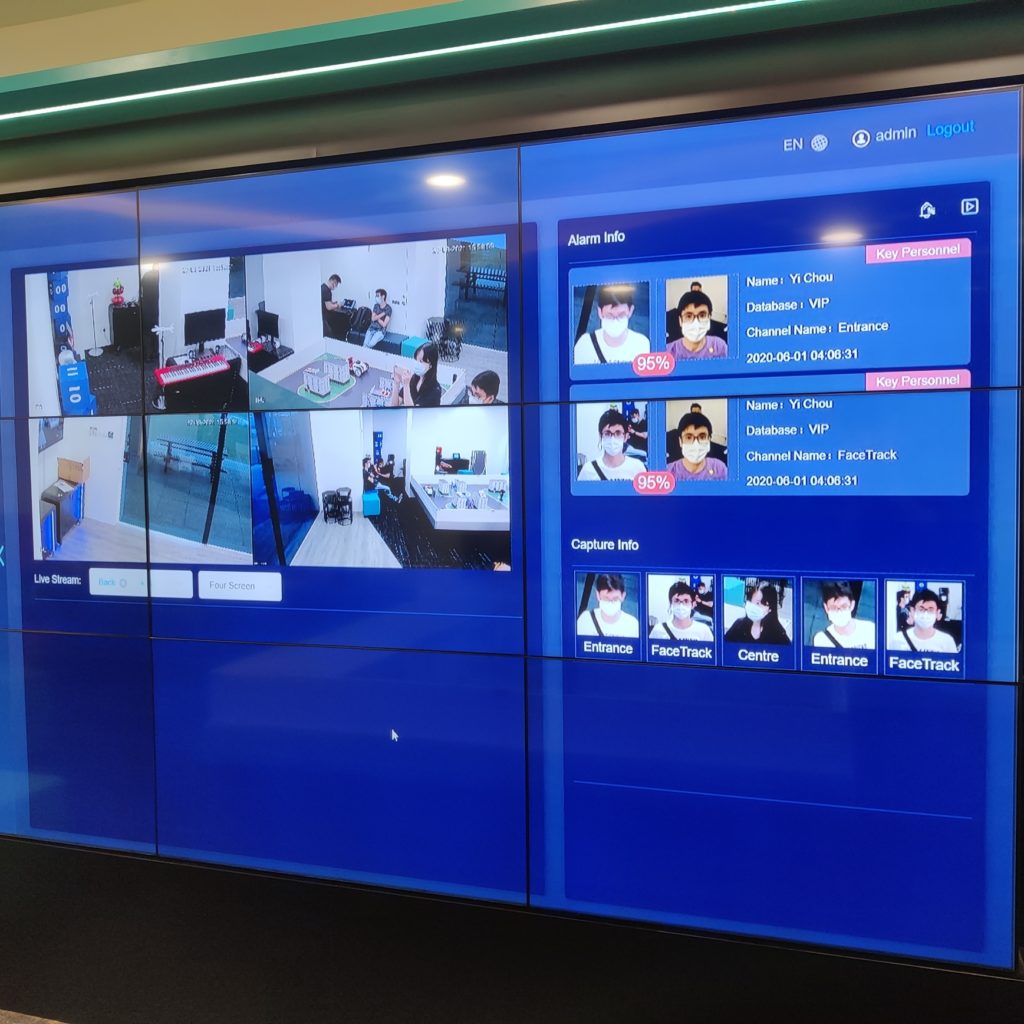 In addition to the camera at the entrance, multiple other cameras are fitted around the AI Demo Lab. The user profile data captured from these cameras will be channelled and displayed on a customized dashboard for further analysis. The dashboard includes a map-based UI that is accessible on the web and supports a variety of daily, weekly, or monthly statistics in the form of graphical displays like donut graphs and trend lines.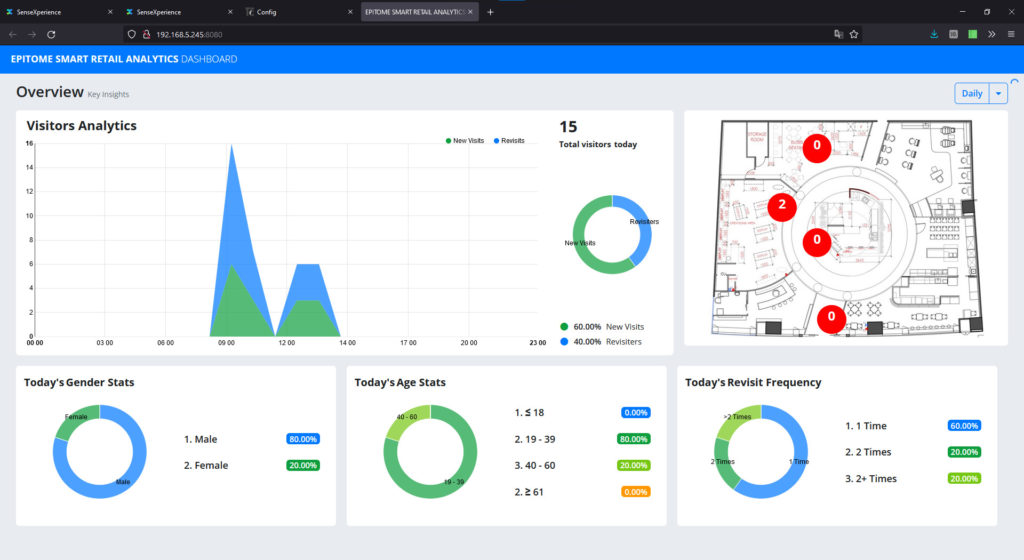 The system also supports the creation and replacement of heat maps zones. Collated statistics and data can then be extracted for applications such as demographics analysis, visitor footfall analysis, VIP management, queue management, just to name a few. The dashboard can be displayed on a separate screen as well.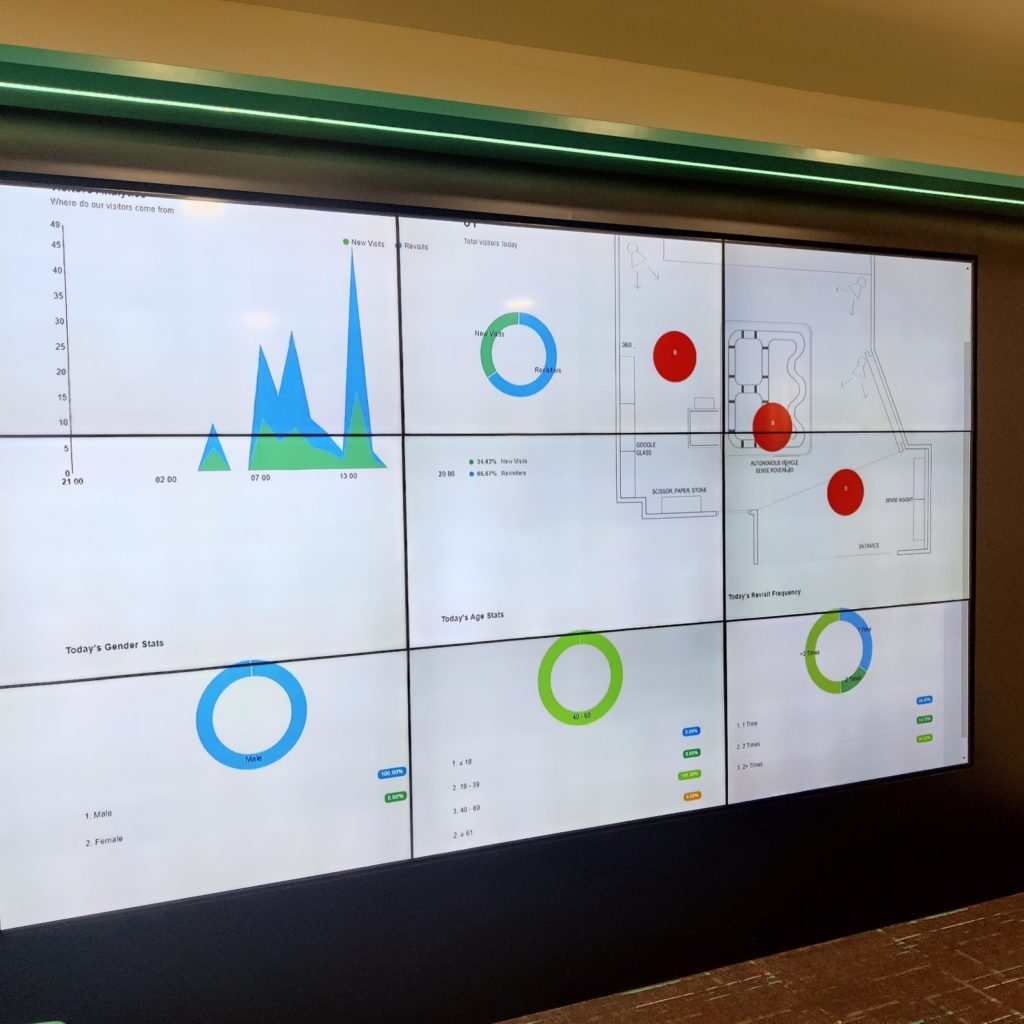 Crowd analytics has also allowed for routine checks for store overcrowding, for individuals who are not wearing a mask or have worn it incorrectly, or for safe distancing within a given space.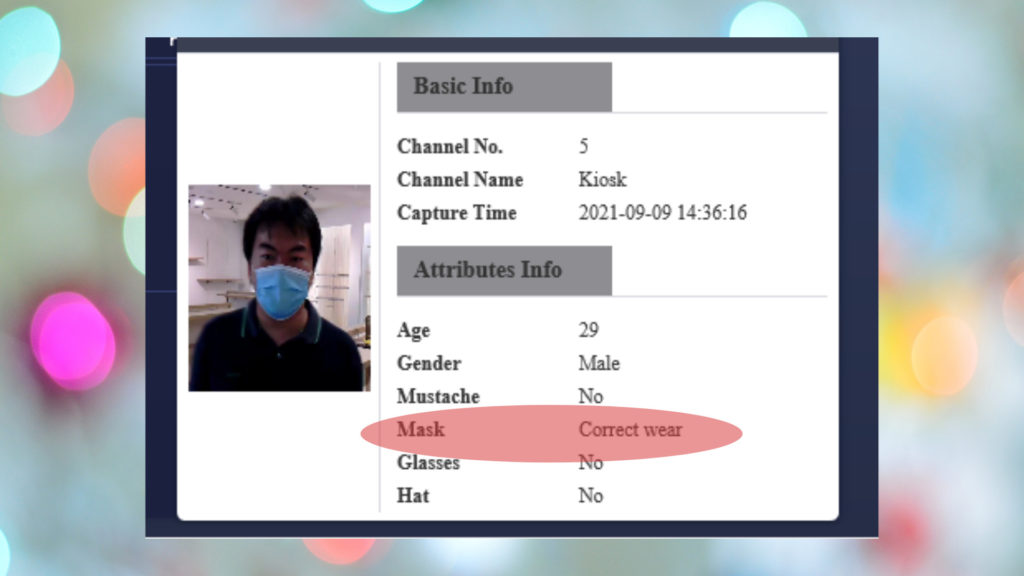 Autonomous Programmable 1:10 Scale Car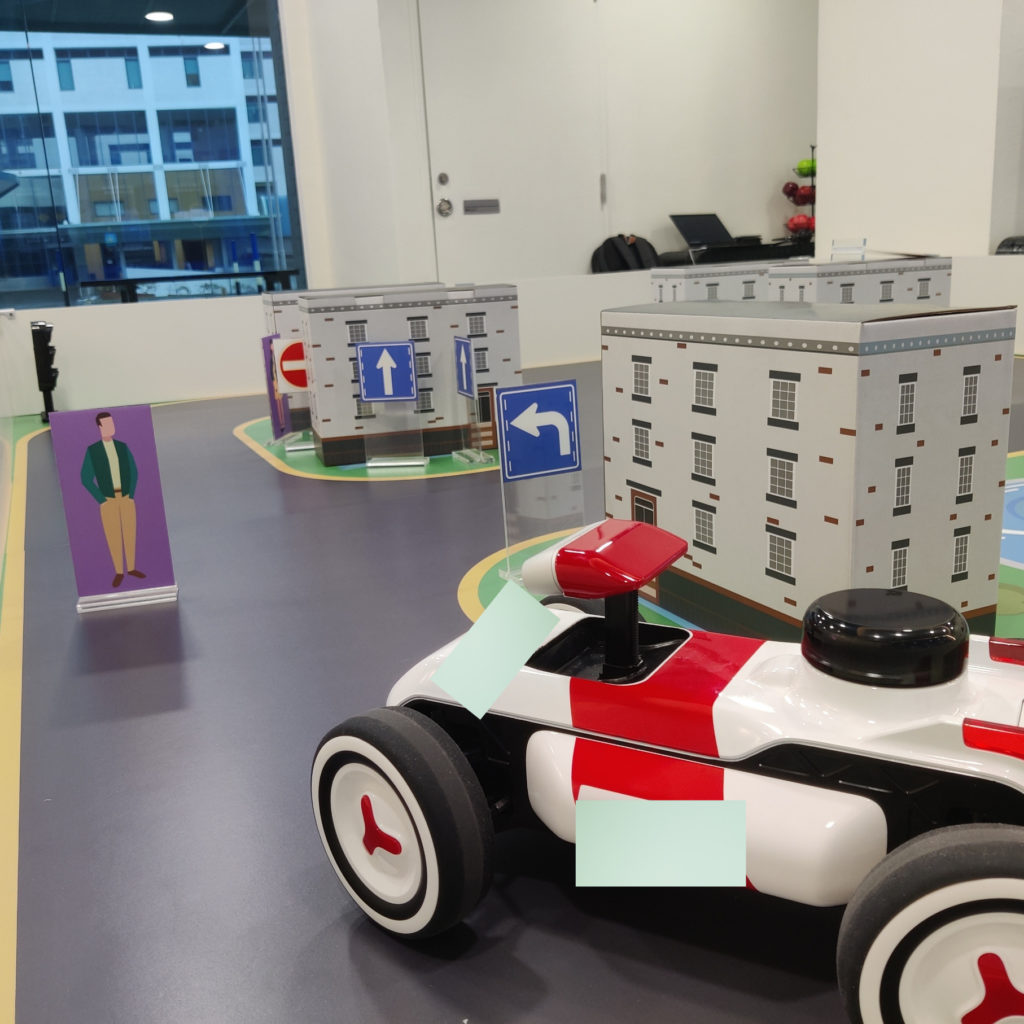 Visitors will be drawn to the centre of the AI Demo Lab which features a 1:10 scale autonomous driving car that is a miniature version of the level-4 autonomous driving system of a 1:1 autonomous driving car. The autonomous car comes complete with a circular track, traffic lights, and sign markers. The car uses onboard sensors for autonomous driving and can be connected to a PC for programming. After which, users can position the car, traffic lights and sign markers around the track and maneuver the car on the track.
Equipped with lane recognition, traffic sign recognition, barrier avoidance, pedestrian detection, LIDAR, and path planning technologies, the 1:10 scale driving car will be able to drive autonomously.
TP AI Demo Lab: Opportunities for Students' Engagement
In showcasing the various projects mentioned above, the TP AI Demo Lab presents endless opportunities for students' exploration and learning. Such exhibits provide project-based engagement for students to customize more complex tracks or models in the future.
For example, the Personnel Profiling with Facial Recognition system allows students to customize their own UI based on the visitor data gathered by the system. It can therefore be integrated onto third party systems. Likewise, the autonomous car can be programmed in multiple ways.
Ultimately, the TP AI Demo Lab is an exciting space where students are able to learn and appreciate the power and value of AI technologies so as to develop the skills to become competent professionals in the areas of AI & Analytics.
The projects within the TP AI Demo Lab are integrated by T05 Technologies Pte. Ltd.
About T05 Technologies Pte. Ltd.
T05 Technologies Pte. Ltd. is a global technology solutions provider based in Singapore. T05 Technologies solves the most important challenges facing today's businesses. With a portfolio of over 100 successfully completed projects, T05 Technologies dwells into different industries such as finance, healthcare, manufacturing, education, defense and F&B. T05 Technologies also owns T05 Pay, a payment integration provider, The Tech Revolutionist, a technology media site and HouseTrac, a HR Tool for the service industry.