It's interesting to realize that nothing much has really changed when it comes to the design of a computer mouse. While there are many new and innovative ways to go about moving the cursor onto your screen, the computer mouse is still the most popular choice.
In order to ride on the rising wave of eSports and the PC gaming market, many PC peripheral brands have been releasing different iterations of the same thing over and over again. I think we are all familiar with what's popular out there right now – meaningless RGB lightings and perhaps outrageous number of buttons that only makes sense if you are an avid MMORPG gamer.
I am more of a strong believer in performance and usability than aesthetics. After having the experience of trying out various kinds of mice, I would have been numb by now, but this new computer mouse did catch my eye at COMPUTEX 2019 – the Cooler Master MM710.
All about the Cooler Master MM710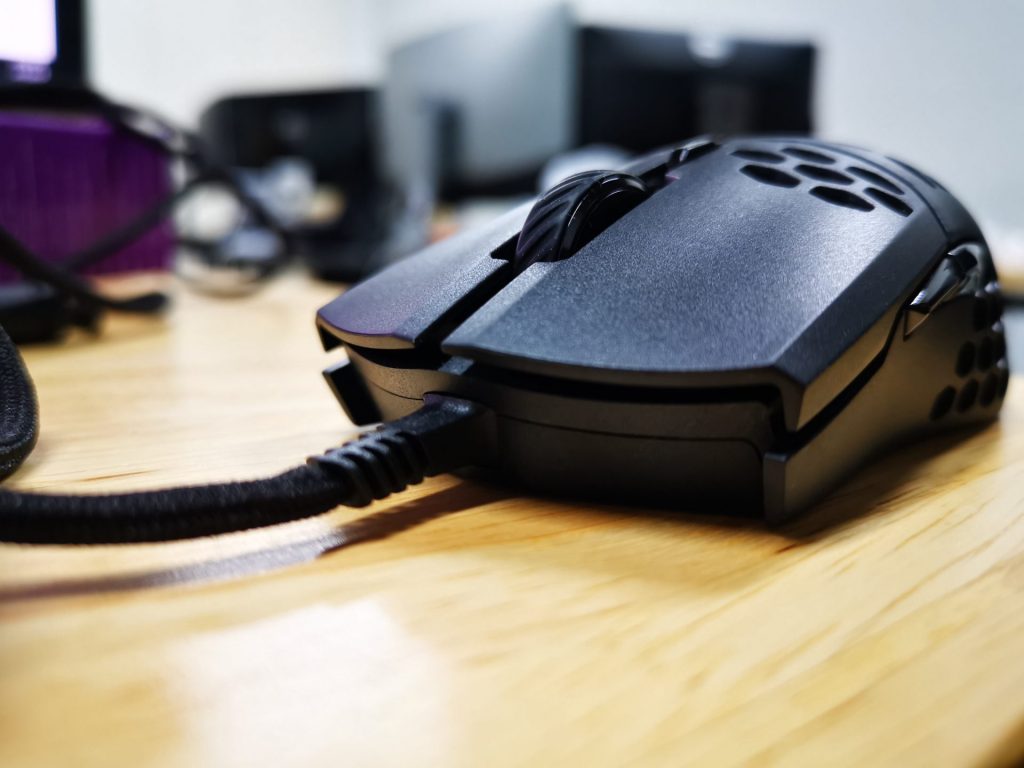 The proposition of the MM710 was simple – it aims to be one of the lightest mice available. Of course, being an extremely light weight mouse comes many benefits. Users can be a lot more responsive when it comes to operating their computers (unless you are someone who only uses a command line operating system), and there will also be less strain on their hand/wrist.
To be honest, the MM710 is not the first when it comes to mouse of such design. Some of their competition includes the Glorious Model O, as well as the Finalmouse – which decided to give up designing computer mice and work on sneakers instead. The MM710 is probably the first mouse in the market to come from a more established PC peripheral brand.
Carefully Designed for Optimal Performance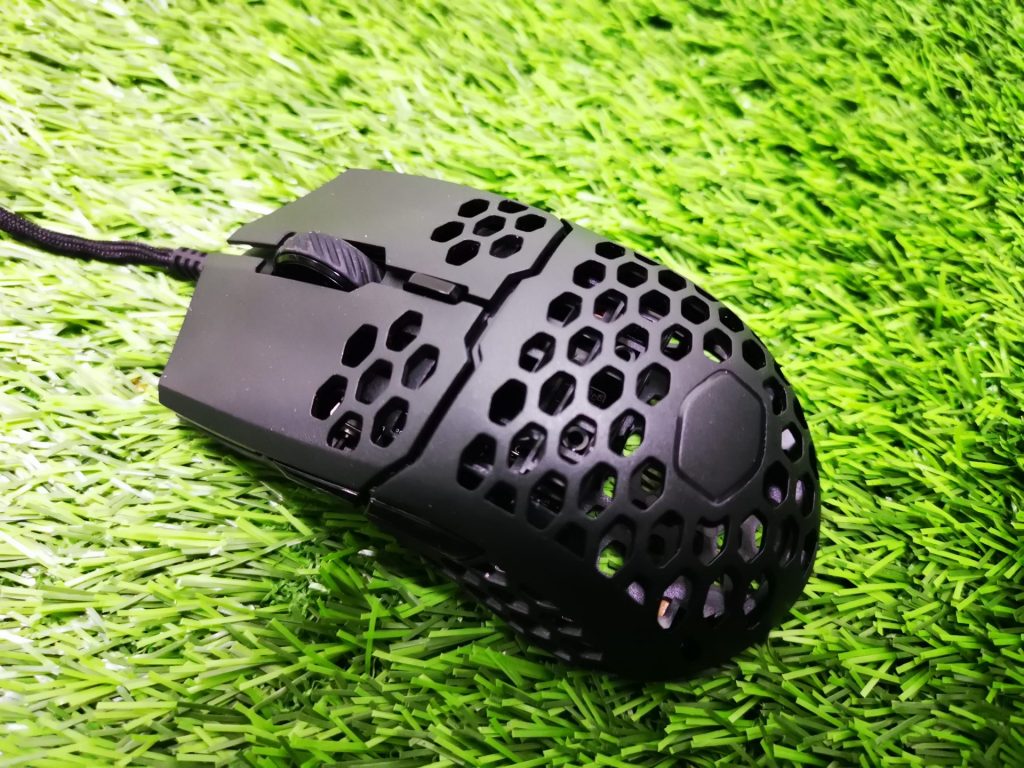 The Cooler Master MM710 has been specifically designed to achieve what it sets out to be. With a closer look at the mouse, we can understand the effort and thought the designers from Cooler Master have placed in this product.
To get started, the Cooler Master MM710 is mainly enclosed with a lightweight honeycomb shaped shell. On a side note, we could have guessed that this honeycomb pattern resembles the shape of the Cooler Master logo.
Thanks to this largely hollow design, the whole mouse remains extremely simple, only providing what's truly required. Despite it being simple, it still features a 16,000 DPI PixArt PMW3389 optical sensor. This places the mouse at the top of its class, suitable for fast paced games and situations where response is critical.
Many may wonder the usability of a mouse that only weigh this light. For comparison sake, many of today's mice weighs in excess of 70g. To achieve usability on a mouse as light as the Cooler Master MM710 is no easy feat. For instance, because of its light weight, there could be higher possibilities of the mouse toppling over with just a light push. Or it could also be that the rigid cables will seriously hinder the performance of the mouse.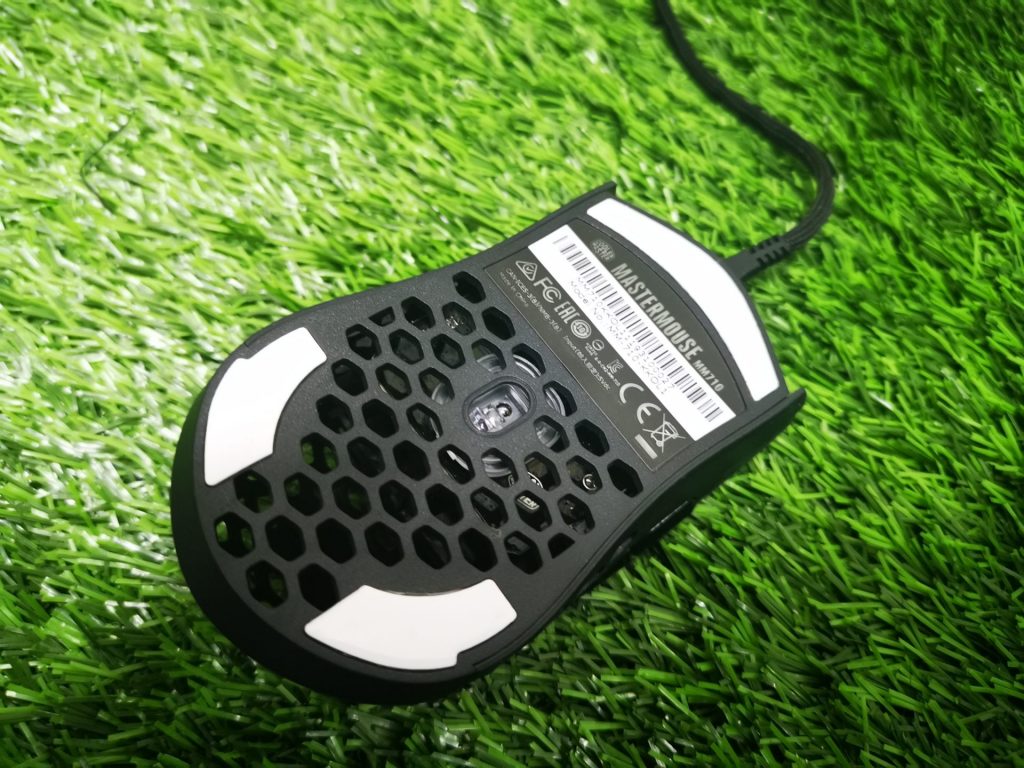 We were simply glad that Cooler Master already thought about all these issues and have solved them gracefully. To ensure a smooth control and consistent glide of the mouse on any surfaces, they have used a PTFE material for the mouse feet. In case the feet wear out, Cooler Master has even included an extra set of these feet in the package as well.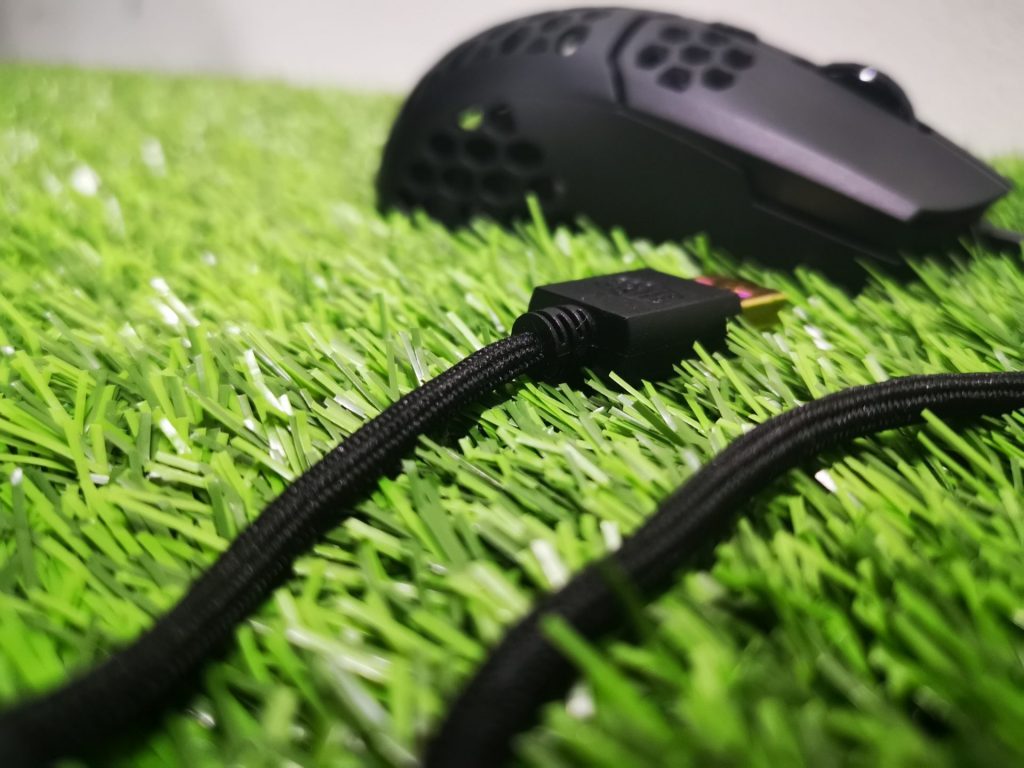 They have also used an innovative Ultraweave cable design, which allows the cable of the mouse be extremely lightweight. It's just like having a piece of fabric attached to the mouse.
Usage Experience and thoughts
The first thoughts I had when I first used the Cooler Master MM710 was – "Wow! This mouse is amazingly light!". Just after a short while using the product, I was already convinced that a light weight mouse was my preferred choice. When compared to standard PC mice, it felt that I was able to accomplish things at a much faster rate. It was amazing how the mouse was able to properly track the movements and glide across its surface with so little effort.
Honestly speaking, even though the MM710 is specifically marketed as a gaming mouse, I really felt that it is a great mouse to have even with general work. My hands were also a lot more comfortable when maneuvering with the MM710 due to its light weight. This design is perhaps good for ergonomics, and is suitable for office work as well.
It seems that the Cooler Master MM710 is an all-rounder, being able to perform in various use cases, be it games or productivity work. The whole mouse is also very well built, with all buttons providing a solid and crispy click.
Putting performance aside, I just adored the fact that the mouse is designed with usability in mind. It does not complicate matters with inconvenient buttons, or adds in unnecessary decals just for the sake of the "gaming" feel. We can see that every single feature and aspect of the mouse has been properly thought about and serves a specific purpose. Furthermore, everything is kept simple. It's really a valuable characteristic that's lacking in many products today.
Oh. I've also almost forgot to mention that the mouse has a matte finish – which is less susceptible to fingerprints and stains.
Not everyone can accept such a design
Even though I am quite a fan of the Cooler Master MM710, I can also understand that others may not feel the same.
For users who have already been too used to using a heavier mouse, they can find the MM710 "too light", and thus, less precise and jerky. Moreover, we must agree that the Honeycomb pattern on the shell of the mouse may not be immediately accepted by users, due to its unconventional design.
Even for me, I had to get used to looking at it due to a certain degree of trypophobia (don't Google it!).
There are also thoughts that the holes on the mouse can easily trap dust and dirt, causing the mouse to be a pain in the ass to maintain. However, Cooler Master has assured us that the main controller PCB is splash and dust proof. This means that as long as you don't purposely dip this mouse in water, this product will be able to last long.
Affordable Choice
Just by comparing this class of light weight mouse, the Cooler Master MM710 brings immense value to the table. Competing products all cost more than the S$99 price tag of the MM710.
Additionally, with Cooler Master being an established brand in the world, you wouldn't be afraid of after sales service and support of the product. This would probably not be the same with smaller companies with limited operations locally.
Conclusion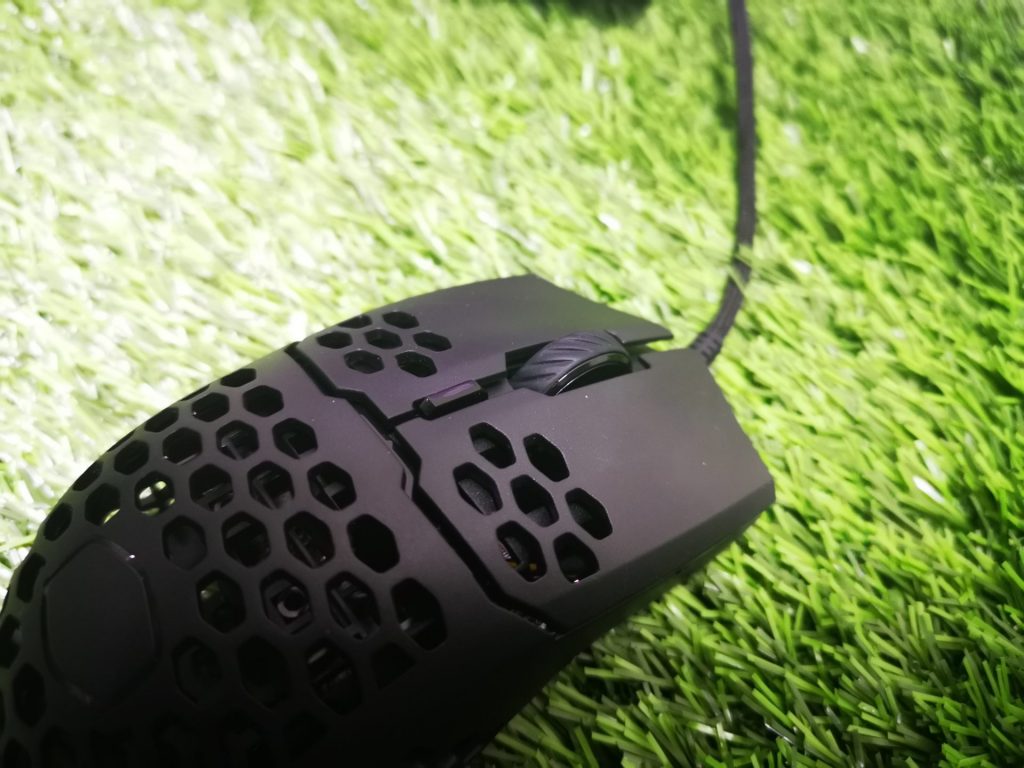 My team and I have decided to come to a conclusion that you will either love the Cooler Master MM710, or hate it. Regardless, if you are someone like me who is open to the idea of having a highly responsive and strain-free experience of a lightweight mouse, the Cooler Master MM710 is the way to go.
The Cooler Master MM710 is inherently a well-designed light weight mouse that suits any kind of compute use case. Its comparatively affordable price allows users to make a rather straightforward decision when it comes to a mouse in this class. Highly recommended!
Availability and Promotion
The Cooler Master MM710 is currently available for pre-orders until the 10th September 2019. It is expected to ship in late September.
By pre-ordering @ S$99, you can get a free MP750 Soft RGB Gaming Mouse Pad (worth $49)
Where: Challenger Hachi | GameProSG | Endless Passion
If you would like to try out the MM710, you can also visit Cooler Master's Booth at #E1-10 during COMEX 2019 which is held at Suntec Singapore from the 5th to 8th September 2019.