As a self-proclaimed audiophile, I've always favoured wired IEMs over their Bluetooth counterparts. Even so, I cannot deny the convenience of wireless earphones for working out, walking around, or even getting up to take a snack from the office pantry while still enjoying AC/DC. I used to believe that this freedom of movement came at the expense of sound quality – which is surprisingly not the case for Sony's new WF-C500 earbuds.
Unboxing
I was presented with a small, neatly packed box. Unwrapping the layers of cardboard and paper to reach the treasure(s) that lay within made me reconnect with my seven-year-old self on Christmas morning. 
Along with the earphones and their case, Sony also provides a charging cable, replacement tips in different sizes, and an instruction pamphlet. You can also download their app to experiment with EQ and different sound profiles. 
Appearance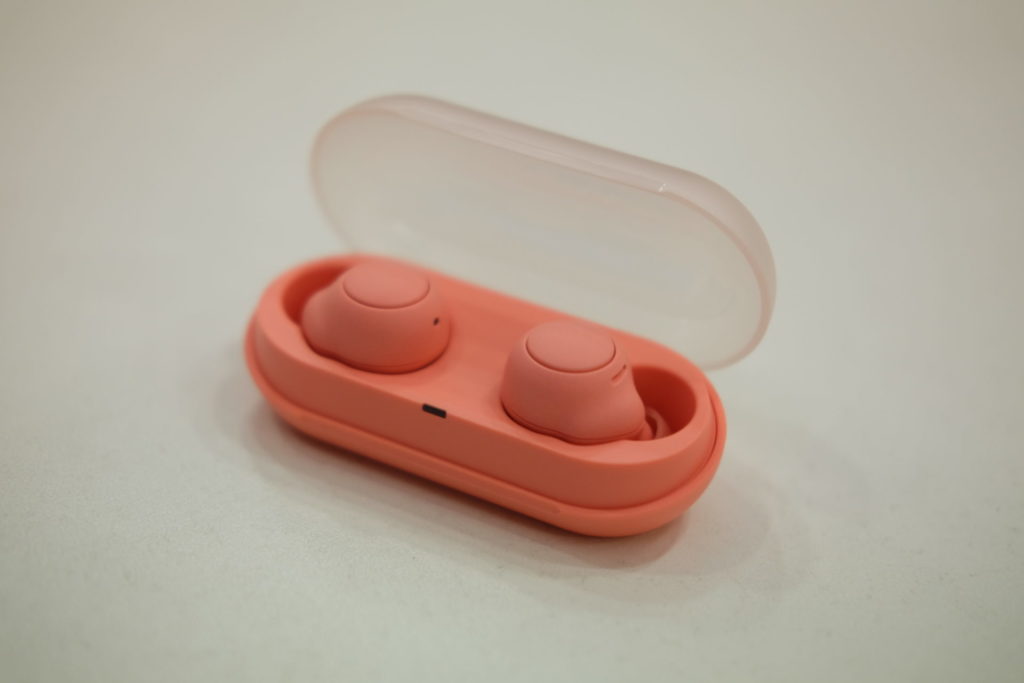 The model I'm reviewing comes in a delightful peachy orange, a deviance from your typical monochromatic earphones. Although the black or white options may be more attractive to several potential consumers, I felt the pop of colour on my table made a dreary day less taxing. The case is small and pill-shaped, which is more portable than its predecessors from Sony, and this made it easy to slip into my pocket without being intrusive. The lid is also translucent, allowing you to admire your babies charging obediently inside. Of course, at this price range, the case is made of plastic, which can feel cheap to the touch. Even so, the lid felt secure, so I wouldn't worry too much about losing your earphones whilst they are still kept inside the case.
Using the WF-C500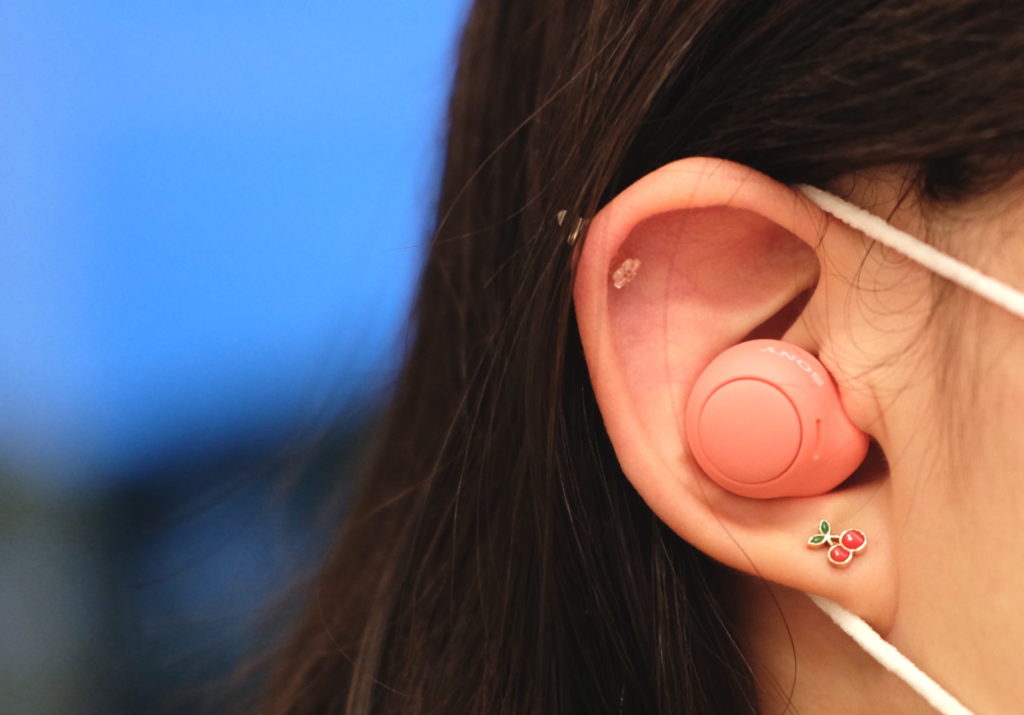 I was surprised at how comfortably these earbuds sat in my ear. I've had a lot of trouble in the past finding proper tips that allowed my earphones of choice to nestle inside my ear canal without sliding out after a few minutes. But even with violent headbanging (to Neil Diamond's timeless hit Sweet Caroline, at my own personal chagrin as I hoped no one noticed), the WF-C500 stayed firmly put. Inside the packaging lies replacement eartips for your perusal as well, so you can choose between small, medium, and large sizes to correspond to your orifice of choice. (It is advised to only insert these earbuds into your ears, but hey, it's a free country.)
Connecting the earphones to your device only takes a moment. I was disturbed by the faint but noticeable hiss, especially before I played some music, which came and went throughout my listening sessions. It wasn't too intrusive, but more particular users may find this rather irritating. 
These are not noise-cancelling earphones, but the isolation is pretty good, assuming you get a decent fit in your ear. I was pretty much lost to the world while listening to songs like Guns N' Roses' Sweet Child O' Mine. I could barely hear the sound of my boss calling my name to get my attention. The bean shape of the earphones are also quite comfortable, but they have a certain heft to them which is, while not overly weighty, definitely noticeable. This did reassure me of their constant presence in my ears, but I am rather partial towards lighter earbuds.
However, as noted by multiple reviews already, the battery life of 10 hours (20 if you include the extra charge stored in the case) is rather dismal. This is honestly a deal breaker for me, because I am chronically forgetful and terrible at remembering to plug my devices into their respective charging outlets before bed.
Sound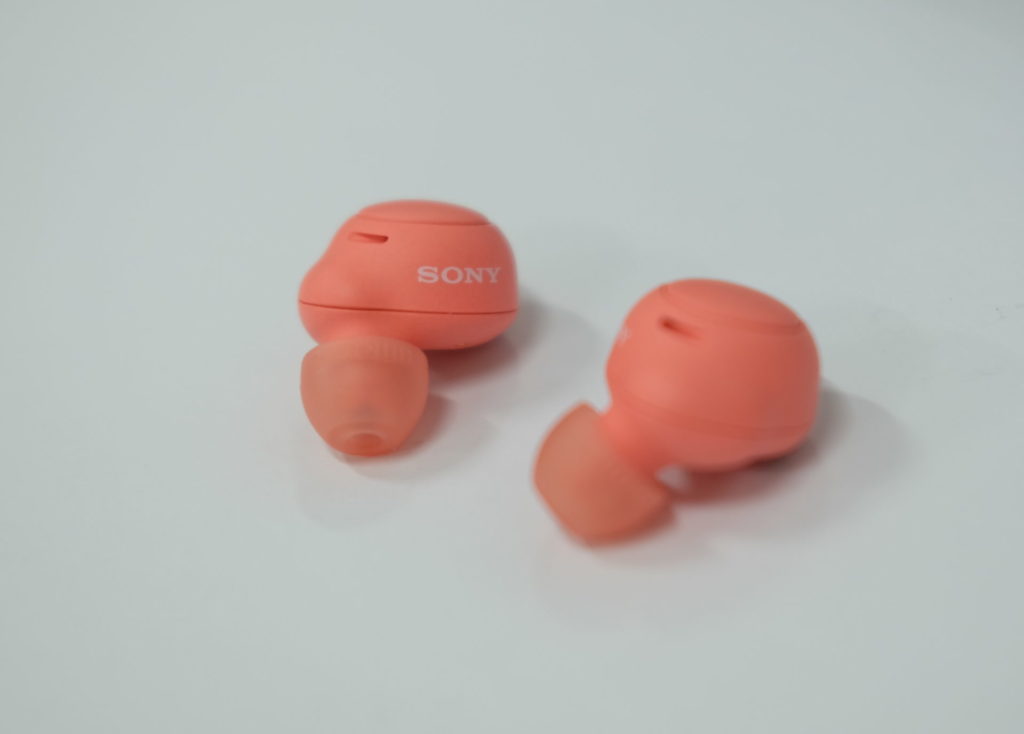 I tested the WF-C500 with a variety of genres. Sony has continued to provide us with their signature slightly-warm sound. The bass is quite clear, if not rather "safe". I am not a big bass-head, but I felt that the bass can be slightly anti-climatic. It was solid in Nirvana's Heart-Shaped Box, but I found myself yearning for more depth and fullness, especially in the middle bass, to create a rounder sound. 
Mids and vocals are clear, which shone through in Royals by Lorde. As someone who is quite picky about my mids, I was pleasantly surprised at how the WF-C500 portrayed the richness of mezzo-soprano voices, more so than I would have expected at its price range. Even so, the shine of the vocals seem to wear off, and the mids almost become bland after a while. When listening to Pumpkin by The Regrettes, I found the lead singer's voice to take on an ever-so-slightly metallic tang which felt unnatural. Furthermore, separation is lacking. This isn't too much of an issue for songs like Cecily Smith from the musical Fly By Night which only has the lead singer and a guitar. But for tunes that pack more instruments, such as DADDY ! DADDY ! DO ! by Masayuki Suzuki and Chiquitita by ABBA, I found the sound somewhat discordant and messy.
Treble seems a little too sharp, which becomes tiring after long sessions. I found this to be almost uncomfortably so – classical pieces like Sarasate's Navarra performed by Itzhak Perlman were rendered almost screechy, and the whines of the guitar riffs in Dead! by My Chemical Romance were reminiscent of the wailing infant that seems to be on every airplane. Roll off also seems to fall short of satisfaction while listening to Coldplay's Sparks, but this may be asking too much of earphones at this price.
Even so, the bright sound was not necessarily unenjoyable if I looked past these flaws. They reflect the price tag on the WF-C500, and I have had worse experiences with earphones costlier than these. I am not disappointed with the sound quality, but I cannot help but wish for a little more depth, especially in the mids and treble. 
The soundstage presented is relatively narrow, but not really in an intimate sense. As a result, imaging is affected – the instruments seem clustered, and I found it quite hard to truly get into the flow of the music. Songs like Conan Gray's Lookalike didn't achieve their intended airy, almost ethereal effect with the WF-C500. 
Conclusion
I would say that Sony's WF-C500 is not bad for its price per se. They would make a great gift for a partner that isn't too anal about audio, or just something to use at the gym. The added convenience of Bluetooth is also undeniable. But I couldn't really get swept into the music, the battery life is rather dismal, and one has to consider the multitude of options available at this extremely competitive price point, like the Jabra Elite 75t and Panasonic RZ-S500W.