LG's latest ultrawide gaming monitor, the UltraGear 38GN950, boasts a 38-inch screen, QHD+ (3840 x 1600) resolution, G-Sync support, 144Hz refresh rate and various other interesting features. If you're on the hunt for a new gaming monitor, here are some reasons why (or why not) the LG UltraGear 38GN950 could be the game-changing gaming monitor that you have been searching for.
LG UltraGear 38GN950: Specifications
Screen Size
37.5-inch
Screen Curvature
2300R
Resolution
3840×1600 (UWQHD+)
Panel Type
IPS
Aspect Ratio
21:9 (UltraWide)
Refresh Rate
8-bit color: 144Hz (160Hz OC)
10-bit color: 120Hz (or 160Hz with 4:2:2)
Response Time
1ms (GtG)
Adaptive-Sync
FreeSync Premium Pro
G-SYNC Compatible (48-160Hz)
Ports
DisplayPort 1.4, 2x HDMI 2.0
Other Ports
Headphone Jack, 2x USB 3.0
Brightness
450 cd/m²
Brightness (HDR)
600 cd/m²
Contrast Ratio
1000:1 (static)
Colors
1.07 billion (8-bit + FRC)
98% DCI-P3
HDR
DisplayHDR 600
Backlight
Edge-lit, 12 dimming zones
VESA
Yes (100x100mm)
LG UltraGear 38GN950: Installation & Setup
When I first saw the box that the 38GN950 came in, I expected the installation and setup process to be a hassle. With heavy components and a gigantic frame, I was hesitant to begin installation.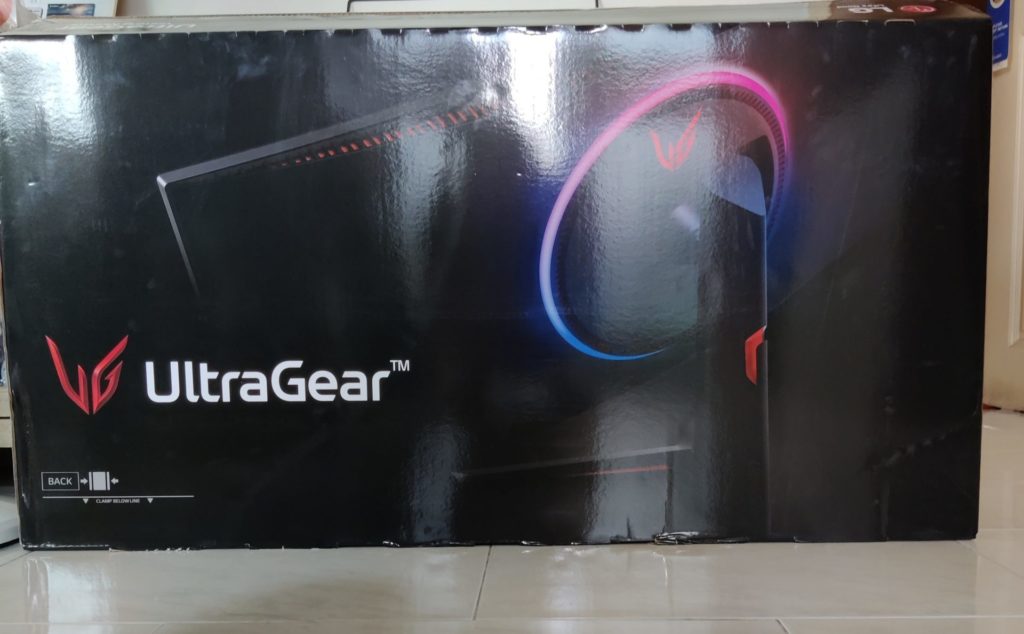 To my surprise, the gaming monitor was really easy to setup. The 38GN950 came in three parts: the main 38-inch display, an arm with a VESA mount on top, and a V-shaped base. The three parts were easy to connect – without any tools, it took me less than 15 minutes.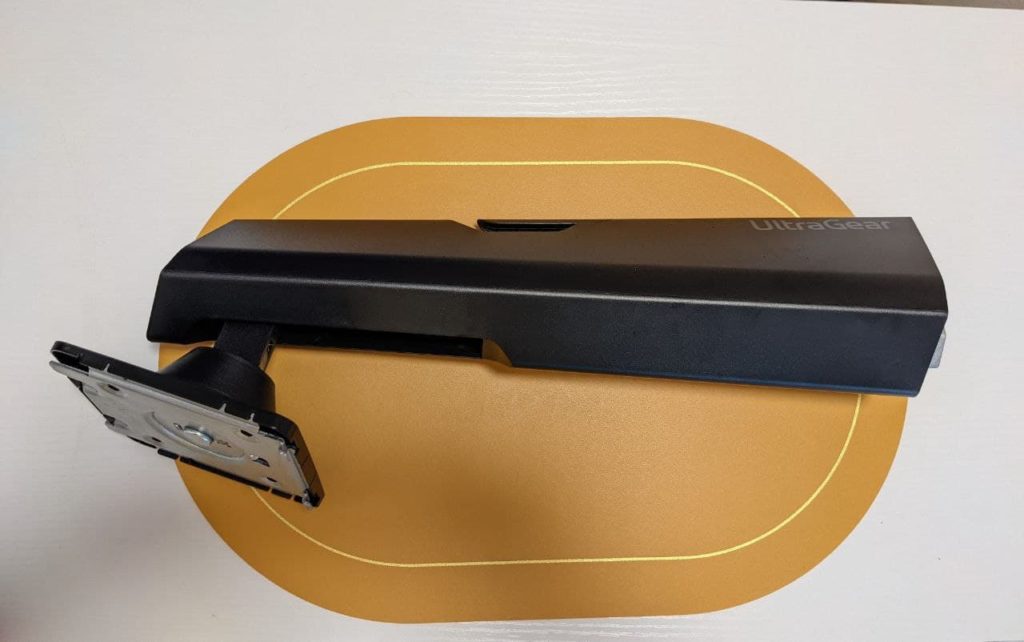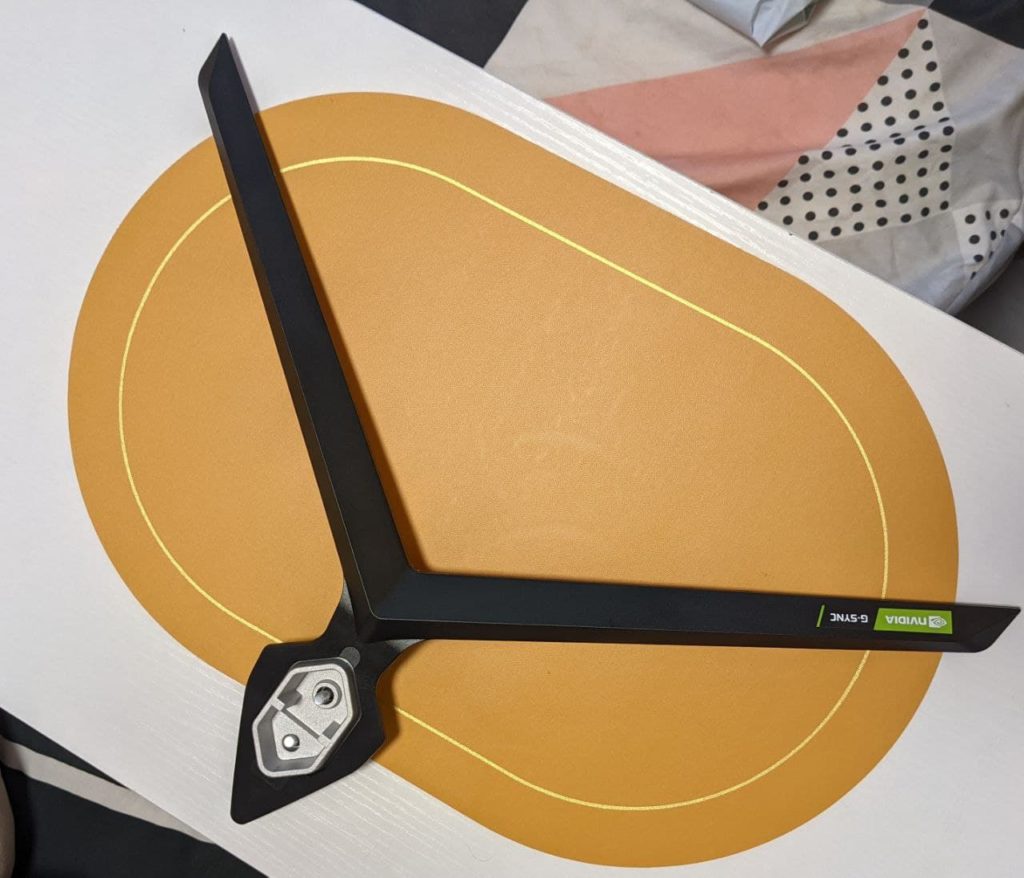 First, screw the cylindrical arm onto the legs. Then, attach the VESA mount tabs on the arm into the bracket on the back of the monitor until you hear a click.
Now comes the hard part – finding a space big enough to place your new 38-inch monitor. Guess it's time to Marie Kondo your desk? Alternatively, you could place the monitor on the wall with the VESA mount.
LG UltraGear 38GN950: Design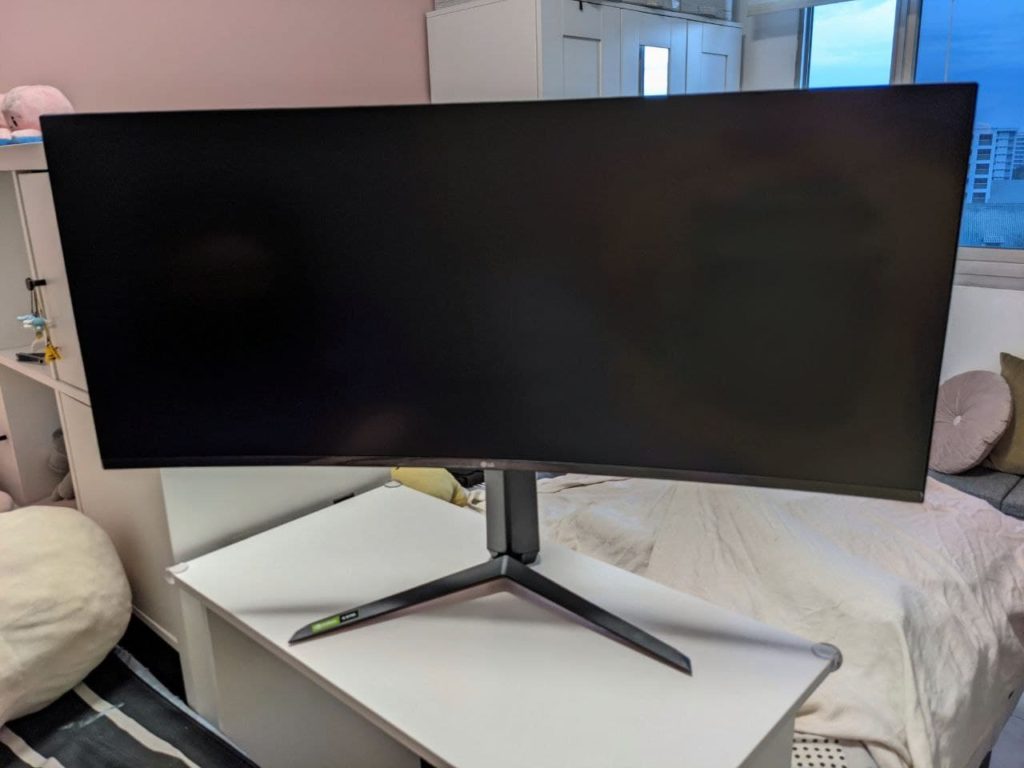 After you've found a space to accommodate you new gaming monitor, you can begin to appreciate the LG UltraGear 38GN950's design and appearance.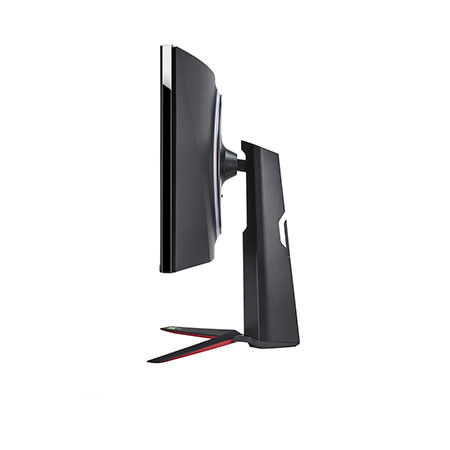 The 38GN950 looks somewhat similar to the Huawei Mateview GT (check out our review of it here). Its stand is sturdy and provides good ergonomics, with up to 110mm of height adjustment, a -5°/15° tilt, 100x100mm VESA mount compatibility, and a +/- 3° pivot for screen balance. The screen, however, cannot be swiveled to the left or right.
From the front, you can admire the monitor's curves. Its 38 inch display features thin bezels on top and at the sides. The bottom bezel is slightly thicker. From the back, you'll find a circular LED lighting to complement your gamer aesthetics. With 48 RGB LEDs, the light is plenty bright. You can even create sync the lights with on-screen video or audio to create atmospheric lighting.
LG UltraGear 38GN950: Connectivity & Interface
At the back panel of your LG UltraGear 38GN950, you'll find a DisplayPort 1.4, two HDMI 2.0 ports (limited to 75Hz at 3840×1600), a headphone jack, and a dual-USB 3.0 hub. Although you'll be able to connect your gaming headset directly to the monitor, you may be disappointed to know that you'll not find dedicated headphone and microphone jacks. We also wished that the monitor came with a built-in speaker.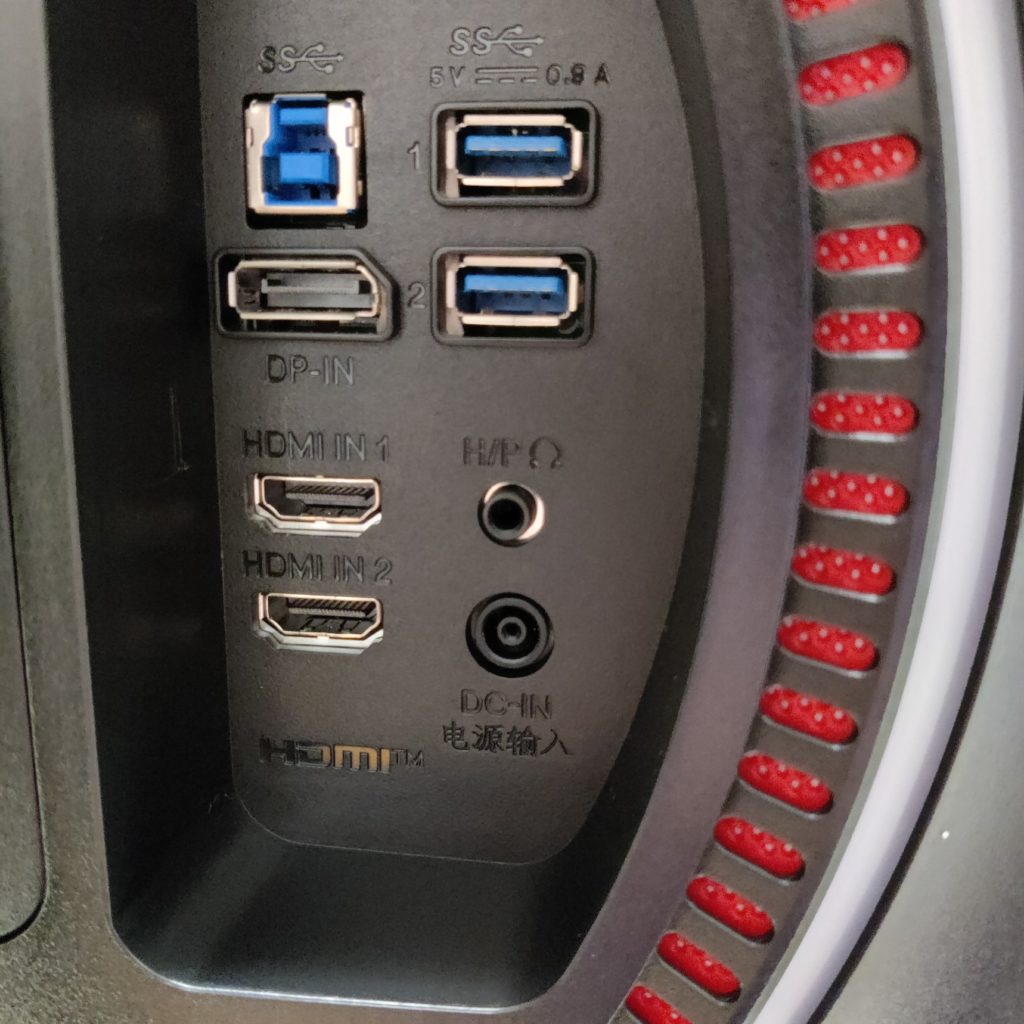 Furthermore, for those placing their monitors right in front of a wall, plugging in a new device will be a chore as they may be a little tricky to reach.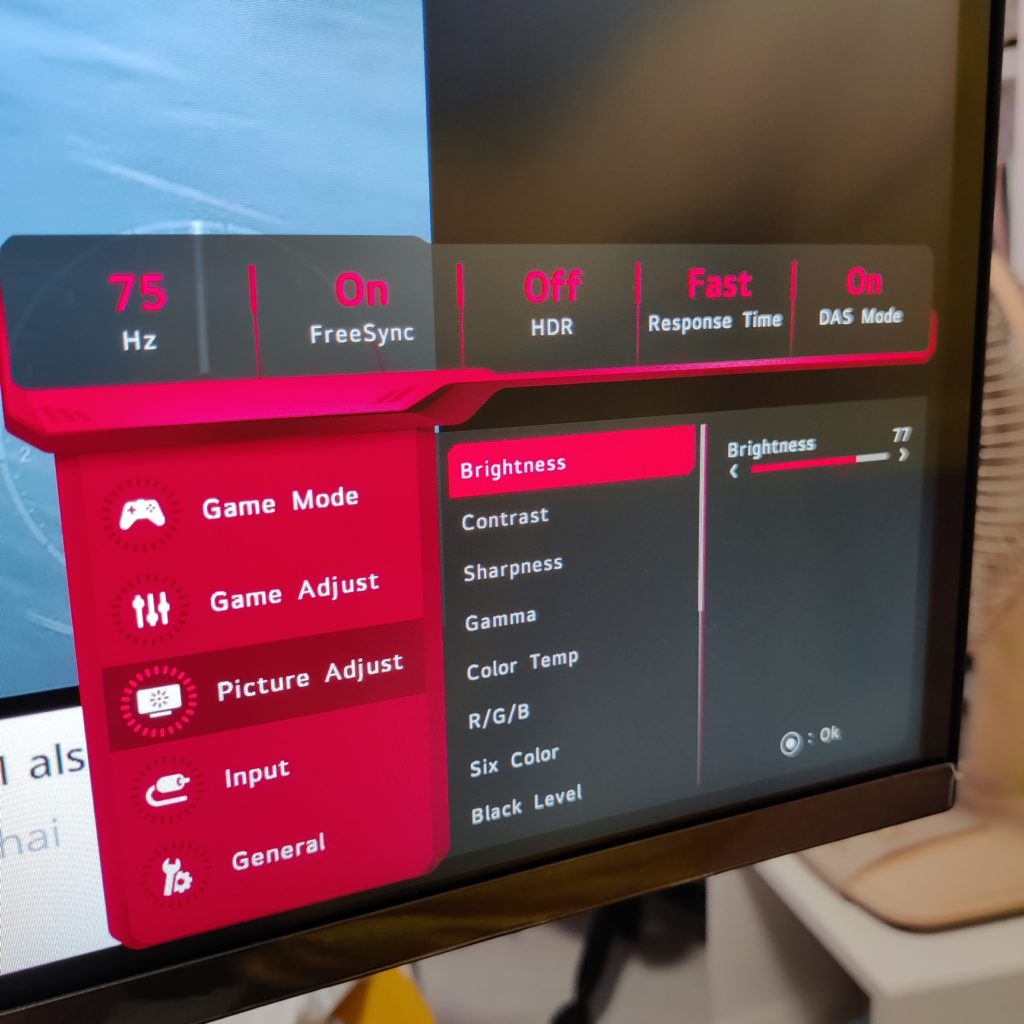 To navigate through the menus of the LG UltraGear 38GN950, you'll have to play around with the joystick located at the middle of the bottom edge. Pressing down on the joystick will turn on the monitor. A menu with power-off, settings, inputs and game modes will also be brought up.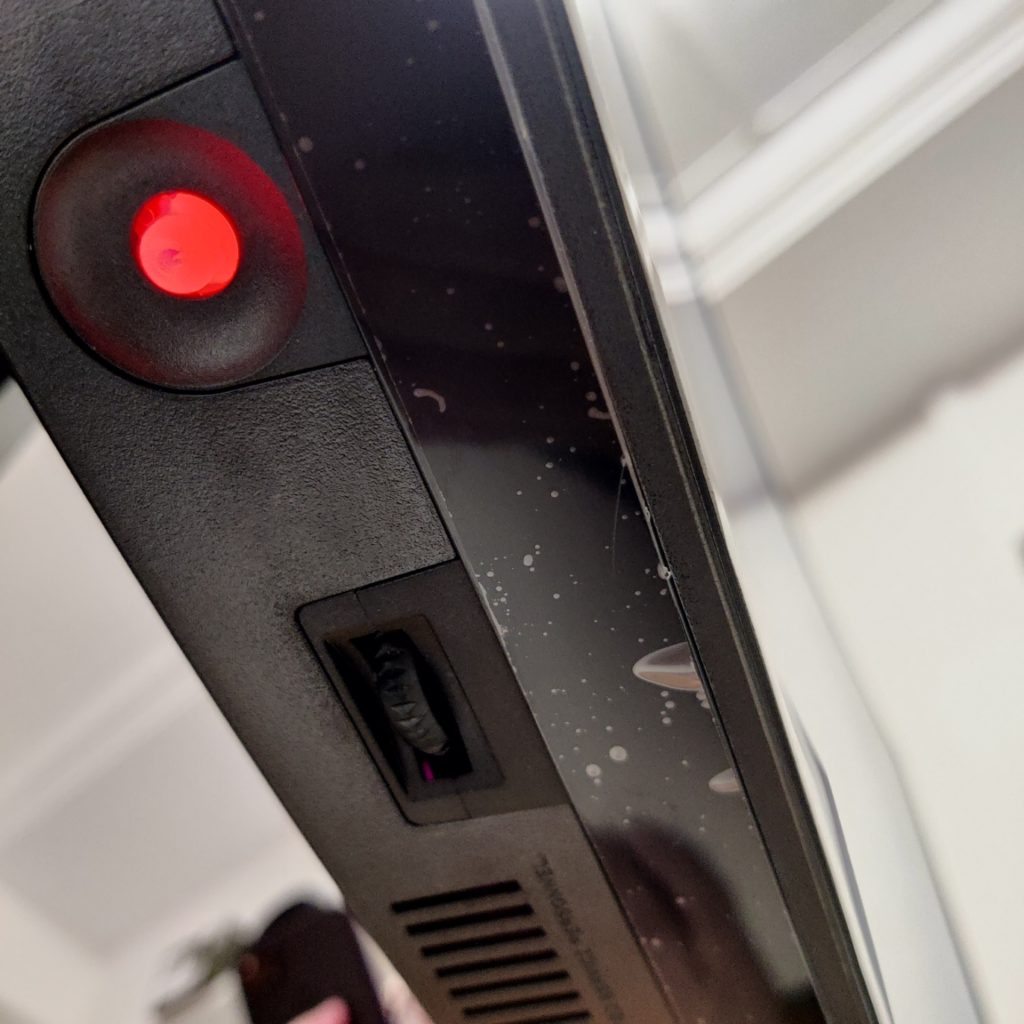 Next to the joystick, you'll see a scroll wheel that allows you to modify and customize the RGB lighting settings. Turning the wheel will reveal six different lighting options: four static colors (purple, red, blue, and light blue), a Peaceful option that gently changes colors, and Dynamic, which displays a kaleidoscope of vibrant colors.
LG UltraGear 38GN950: Display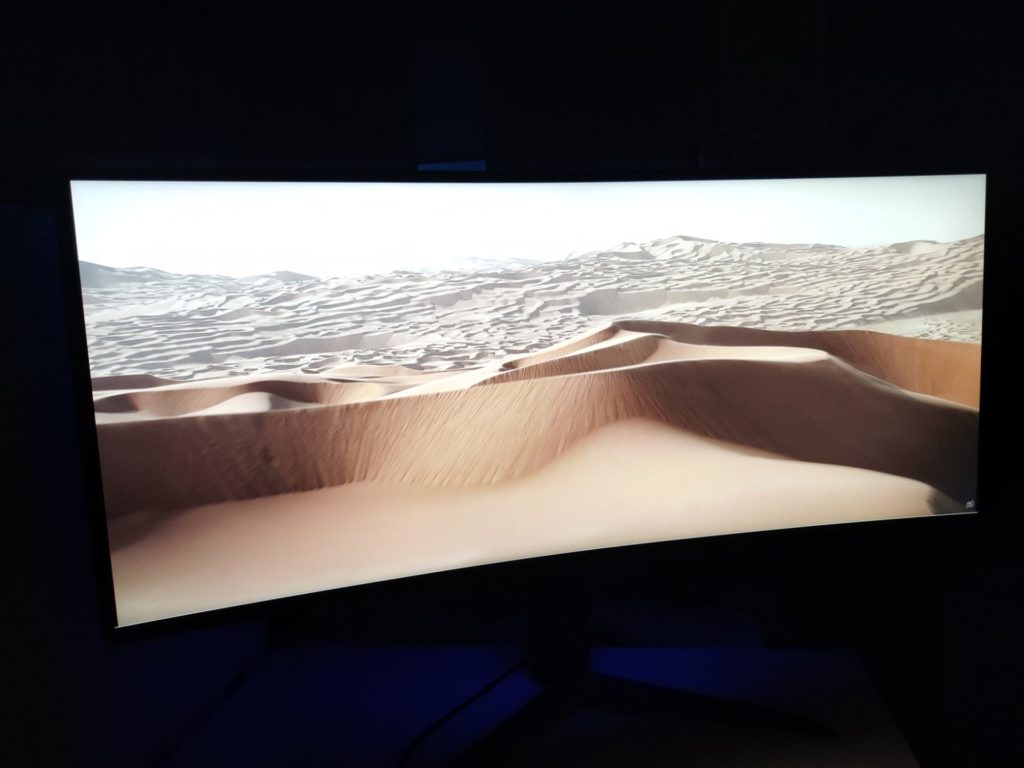 The LG UltraGear 38GN950 isn't just an expansive 38 inch 21:9 curved display, it also offers a fast 1ms Nano IPS display with 144Hz refresh rate that is overclockable to 160Hz.
The Nano IPS display provides over 98% of the DCI-P3 colour space, which is the professional film industry standard. With a 3840×1600 resolution, images appear clear and hyper-realistic.
The monitor also supports VESA DisplayHDR 600 for great HDR visual quality and NVIDIA G-SYNC technology, which ensures smooth performance and prevents screen tearing.
LG UltraGear 38GN950: Gaming Performance
The LG UltraGear 38GN950's 21:9 aspect ratio and large screen enhances the immersive experience that you'll get with many games. For pro-gamers who were let down by the Huawei MateView GT's 4ms reaction time, this monitor's 1ms response time will not disappoint. Coupled with the monitor's high refresh rate, the 38GN950 delivers optimal gaming performance, especially with fast-paced games.
Specs aside, several gaming features are worth mentioning. Particularly, the monitor comes with various picture presets – FPS, RTS, Reader with a low-blue light filter, and two customizable Gamer profiles, Black Stabilizer, which improves visibility in darker games, as well as customizable crosshairs.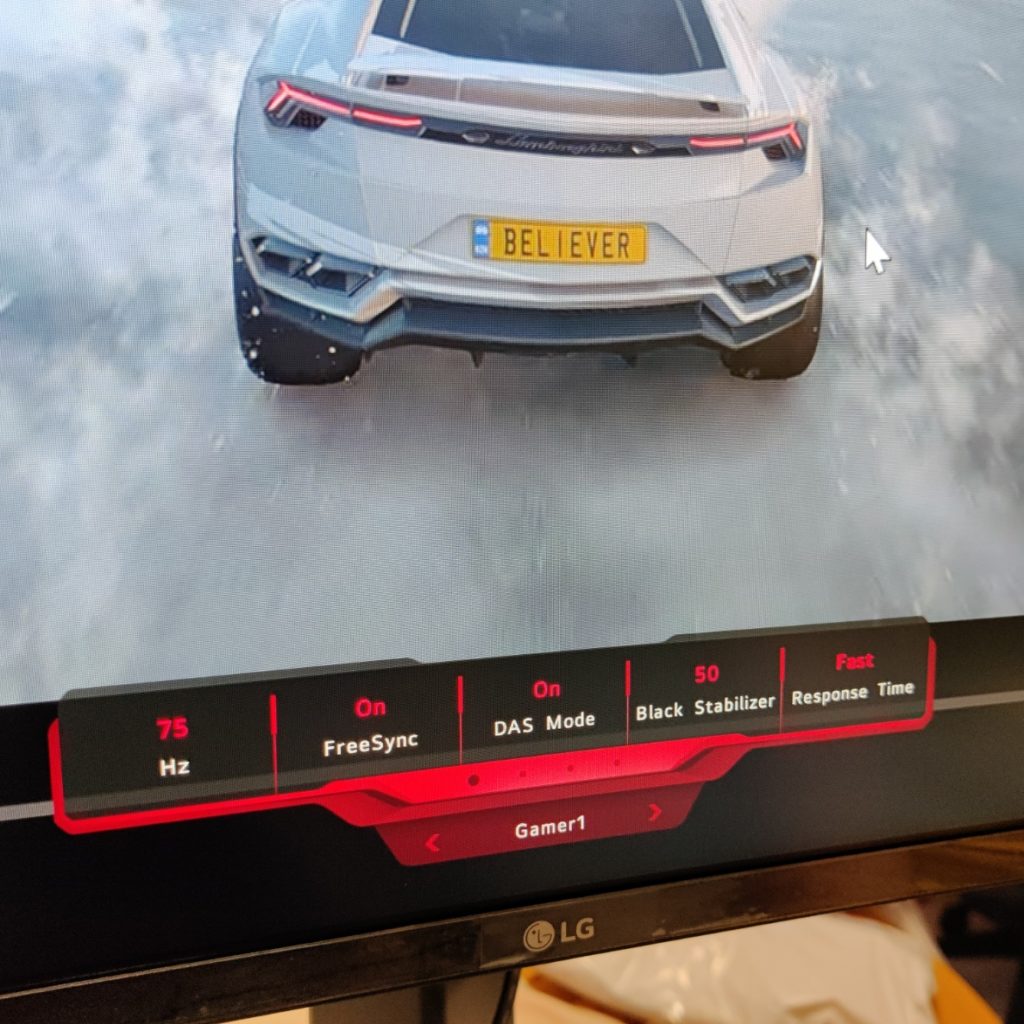 You'll also find four gamma presets, manual color temperature settings, and 6-axis hue/saturation among other advanced image adjustment tools.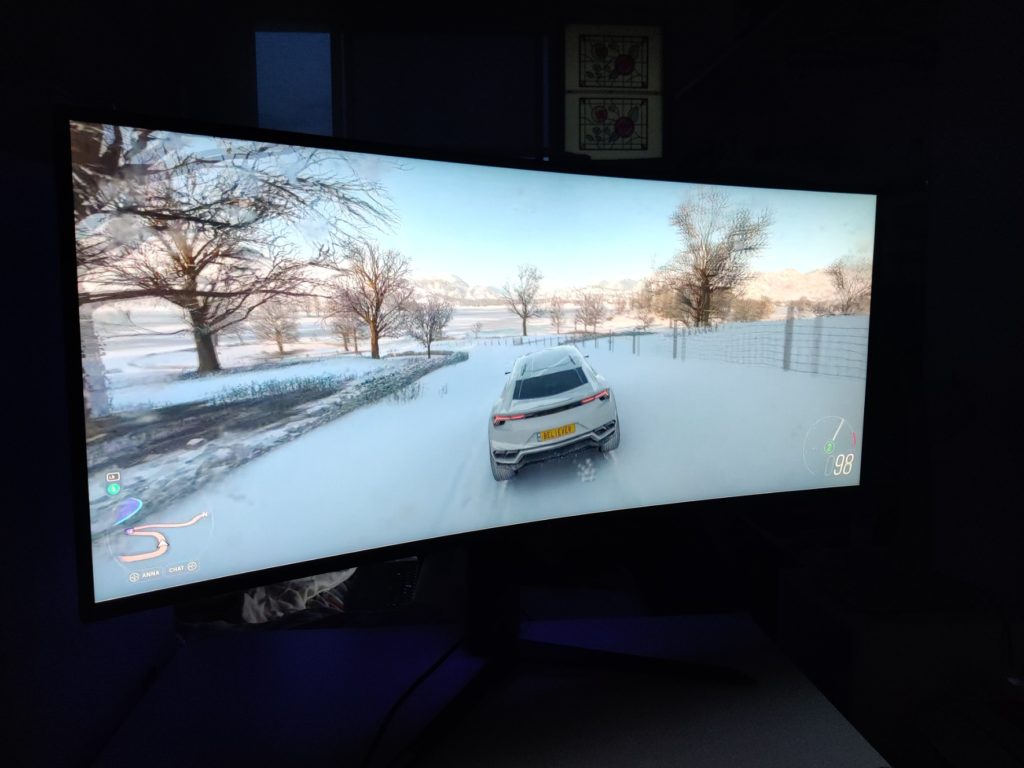 We tested Forza Horizon 4 on the LG UltraGear 38GN950, and we were greatly impressed. Colors were intense and rich, details were vivid, contrast was excellent, and brightness was more than adequate. Black levels were rich too, thanks to the monitor's Black Stabilizer. All in all, it was an extremely smooth and immersive experience.
LG UltraGear 38GN950: Productivity
While productivity is unlikely to be the main reason for you to get the LG UltraGear 38GN950, it's still good to know that the monitor doesn't disappoint in this aspect. Its 38 inch screen offers more than enough space for you to work off of. Having numerous windows and programs open at once for day-to-day usage wouldn't be an issue either.
Users in the creative industry, such as photographers and video editors, will also benefit from the monitor's accurate color reproduction thanks to DCI-P3 98% color gamut support.
LG UltraGear 38GN950: Pricing & Availability
The LG UltraGear 38GN950 is available for SGD 1,999 at authorized retailers Best Denki, Challenger, COURTS, Harvey Norman and Gain City from July 1 2020.
For assistance on LG products, informative content, and useful video guides, check out LG's Customer Service YouTube channel.
The Bottom-line
When you're forking out $1,999 for a gaming monitor, you should expect to receive a top-notch product. And that's where we can't help but nitpick. It's definitely a huge miss that LG omitted a built-in speaker with this monitor.
That aside, the LG 38GN950 is still a stunning gaming monitor with a 38-inch panel, 1 ms reaction time, 144Hz refresh rate, and NVIDIA G-Sync compatibility. There's much to love about the monitor's extensive feature set, superb performance, and attractive appearance (I mean, check out its funky RGB lights).
If you're a serious gamer with some money to spare, the LG UltraGear 38GN950 is worth considering. If you're on a budget, however, it might be best to look away.